Small apartments can be great, especially in big cities: lower rent, better location and less time spent on cleaning. Smaller places even became a trend among millennials because when you save money on rent, you have more for traveling and exploring the world. So let's see how to use every inch and get the best of your small apartment.
Small Apartment, Big Personality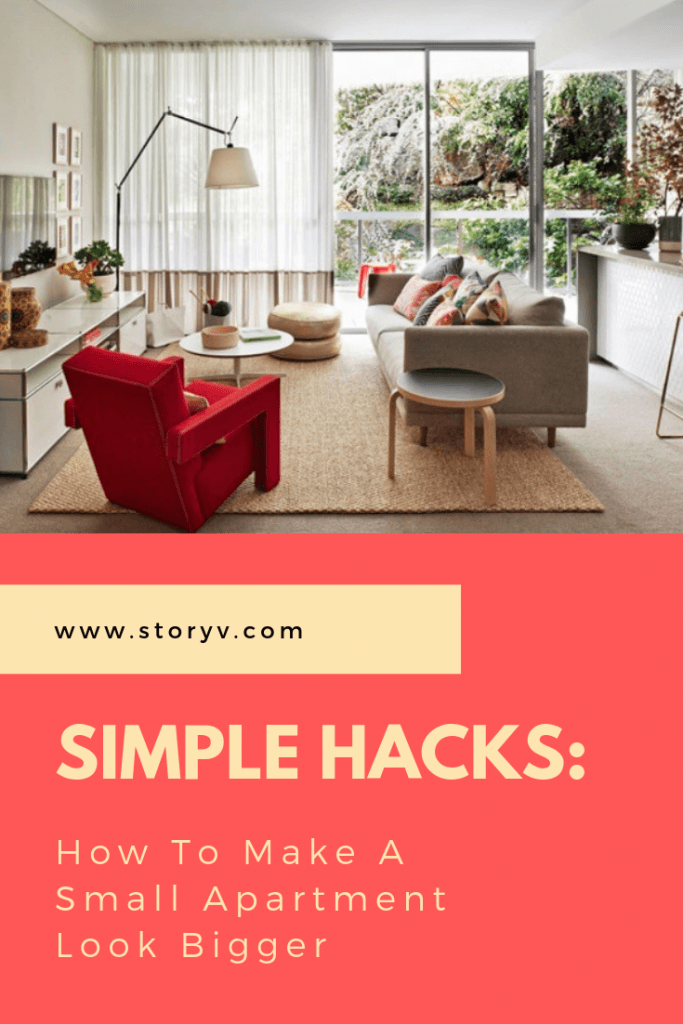 There are many benefits to owning or renting a smaller apartment, but the lack of space and visually making the place look bigger are an unavoidable issues. Here are simple and useful tricks to get the most of your small apartment.
Use Rugs and Colors to Separate the Space
The idea of open concept is not for small apartments. The solution is simple, yet it allows you to be creative. Use rugs and color coordination to separate the space, making it look more interesting and of course, bigger.
Multi-purpose Furniture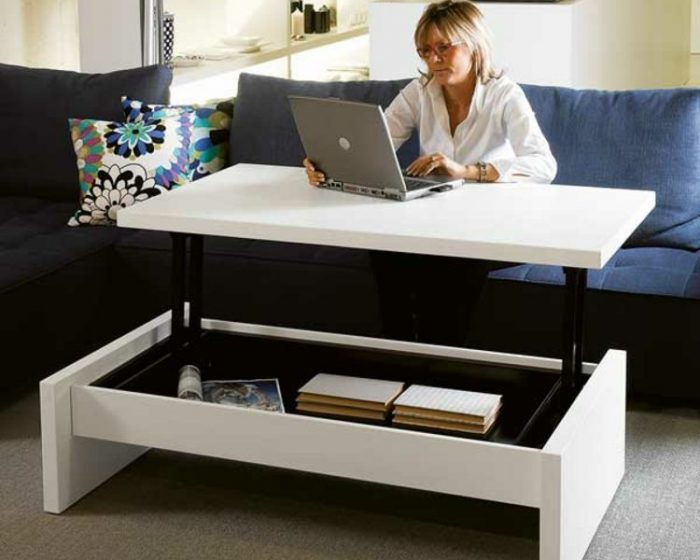 A drop-leaf table or lift-top coffee table for instant office, vintage-inspired suitcases, corner shelves, and bookcases, these are all great pieces that don't cost much but they are functional and they serve the main purpose while having an extra storage place.
Use sleek, contemporary built-ins for additional storage. These pieces are now easy to find and it is true: no matter how much you embrace minimalism, you can never have too much storage space.
Lights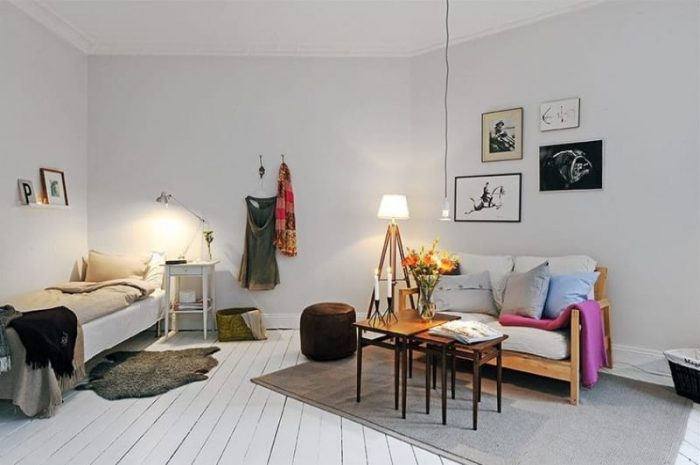 Instead of one central light source, make your home shine brighter with statement lamps and mirrors. Placing a mirror across from a window is the best way to reflect light and make the room feel larger.
Color Palette
Use pastels as well as a striped patterns. It is well known that light colors make space open up, while stripes are a great optical solution. Rugs with vertical stripes will make a room look longer.
Opt for lighter colored flooring as well as wall colors to make the room feel airy.
Go Big or Go Home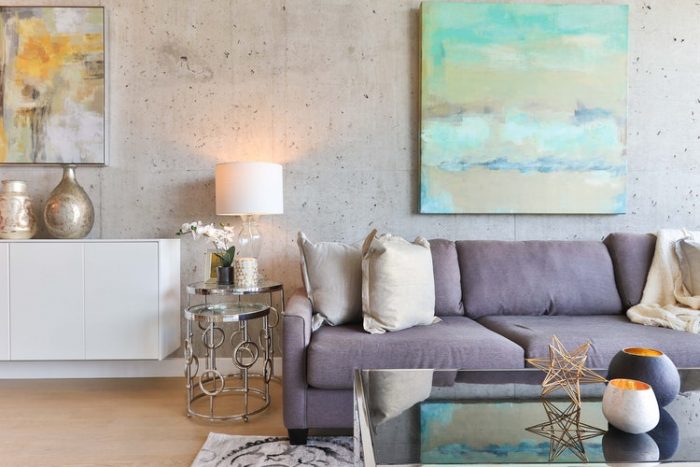 The smaller the space, the less you need tiny decorations. They make everything look smaller and overcrowded. You need big, statement art pieces, large decorations, plants and lamps. It is interesting how much spacier small apartments look with large paintings and oversized decorations.
Pick the Right Sofa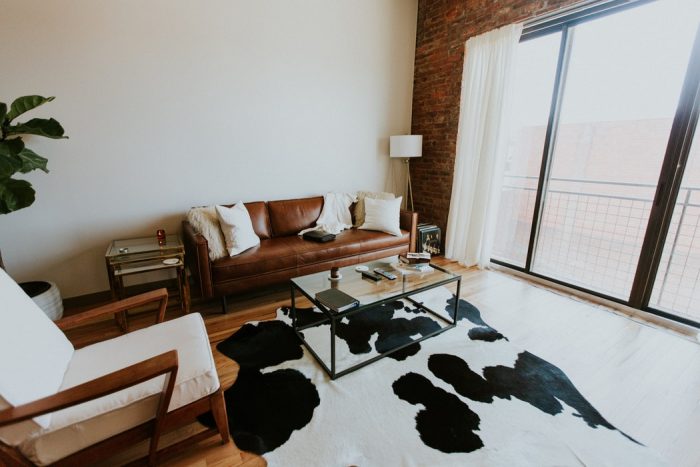 One of the simplest tricks to make a small apartment look bigger and richer is by choosing the right sofa for the living room. First, make sure that it has legs. Yes, this tiny detail is that powerful. Instead of a sofa with a skirt or boxy chairs, bigger pieces with exposed legs are perfect for a small space.
Of course, you want our sofa to be as practical as possible, so the storage for pillows and blankets is a must have. If that's not the bed you sleep on, that extra space can be used to store your seasonal clothing.
Tall and Narrow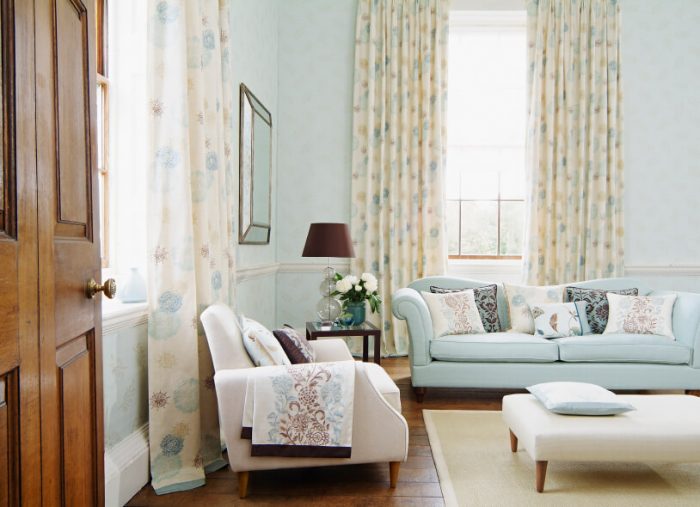 Kitchen cabinets, closets, shelves, all these furniture units should be tall so you get some extra space. If your furniture isn't tall, you can store the things you don't use every day in suitcases or large boxes with cute prints.
Make sure that the drapes hang from the ceiling to the floor; it will make the whole place look bigger.
Don't forget the corners. There are many great shelves ideal for corners, which are most of the time, empty spaces.
Unclutter All the Time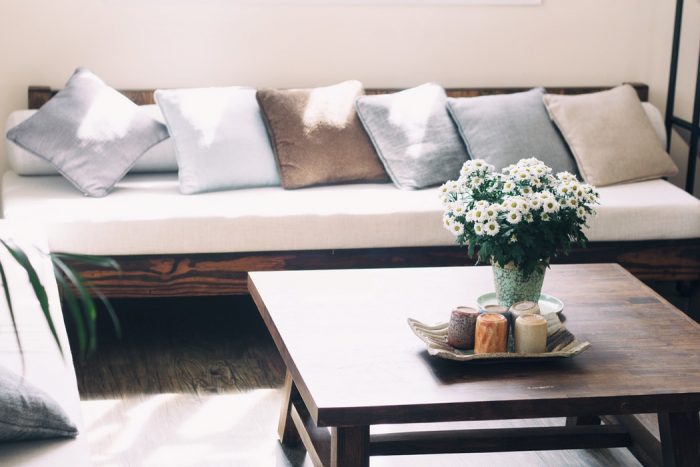 Clutter accumulates over time, which is why you need to declutter at least twice a year. It is always amazing to see how much our needs have changed over one year, so donate, sell and just get rid of the things you no longer find useful.
Many people think that having a small apartment means that your place is all about functionality. In reality, it is your home and while you want to make it functional as possible, you still want to give it personality and your own signature. Our simple tricks sure will help you with finding the compromise between the two.