With so many different perks offered, it's little wonder why a number of people are finding it hard to decide which credit card to choose. That's how far credit cards like the DBS Altitude card have come from. Back in the day, they were just considered a luxury financial tool, but today they are a must-have.
With the prevalence of credit cards today, these companies have become global powerhouses. Credit card companies no longer solely operate in their home markets. One such being the DBS Altitude Credit Card. With stunning rewards such as lounge access and even golfing privileges, it's a card that is hard to pass up.
So, if you're interested in reaping the rewards the DBS Altitude Credit Card offers, continue reading. You can learn how to apply for the card, about the approval process and much more. However, before you apply, you should understand the fees that come with the card.

All About The DBS Altitude Credit Card
One of the most interesting features of this card is that it gives you luxurious travel experiences. From airport lounges to airport transfer services, it can't get better than that.
A benefit that you simply won't want to miss with the DBS Altitude is the three miles that you earn when you spend S$1 on hotel and online flight transactions. However, there's a cap to it, which stands at S$5,000 per month.
You also get two miles for every S$1 in expenditures in foreign currencoes on your overseas trips. On your local expenditure, you earn 1.2 miles for every S$1. When you earn points, one DBS point equals two miles.
Users also get S$1,000,000 in travel accident insurance for you and your companions when you charge your entire trip to the DBS Altitude Card. Also, when you shop and eat at restaurants when you're overseas, you get double the miles until the 31st of March. That means you earn up to four miles per S$1 spent on your travel expenses. The other interesting aspect of this card is that the miles you earn will never expire.
Want These Rewards? Learn How To Apply
You must meet certain criteria to be eligible for this card offer. First, you have to be at least 21 years old and have an annual income of at least S$30,000, for Singaporeans and S$45,000 for foreigners.
In addition, you have to prove that all your information is correct by providing the issuer with relevant documents. Your credit history will have to be checked to determine how much of a credit limit you get if you do eventually qualify.
If you'd wish to apply for this card, you can visit the website and fill in your information. Alternatively, you can save time by using your SingPass Account to apply. Use MyInfo data to complete the application process instantly if you already hold an account with this bank. Your application may take a day to be accepted or denied.
Get To Know The Fees And Charges
With most credit cards, you know that some fees will have to be applied at some point. Here we will tell you about some of the fees.
There are others that aren't disclosed, however. For those, you will need to contact the bank to get more info on them before applying.
      S$192 annual fee on a principal card
      S$96 in annual fees on each supplementary card
      Overlimit fee of S$40
      3% or S$50 as minimum monthly repayment, whichever is higher
      S$100 fee for late payment
      Cash advance fee of 6% of the borrowed amount or S$15, whichever is higher
DBS Bank Info And Address
In case you are in dire need of assistance, you can reach the bank through the 24/7 helpline 1 800 111 1111.
You can also visit the bank in-person at Marina Bay Financial Tower 3, Marina Bay, Singapore.
Golfing Benefits
One of the special features that this card gets you 31% off green fees at particular golfing clubs. As such, this is by far one of the best travel cards for golf enthusiasts. With such a discount, you can easily afford to play many more rounds of golf, which will help you improve your game.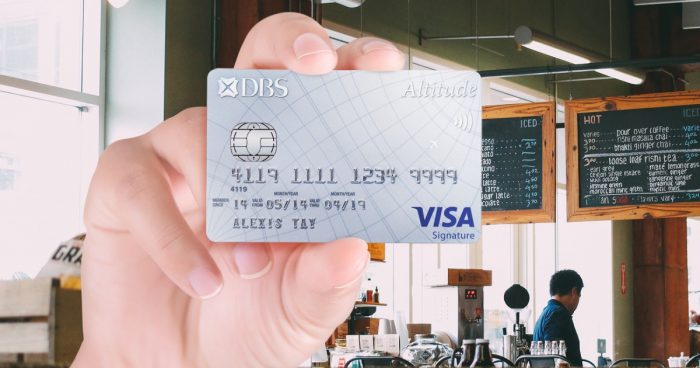 Conclusion
If you're looking for a card that offers a wide array of travel perks and also allows you to earn points on your travels, this is the card you want. Also, if you're into online purchases, especially for your travels, you should consider the DBS Altitude Credit Card.
Note: There are risks involved when applying for and using a credit card. Consult the bank's terms and conditions page for more information.