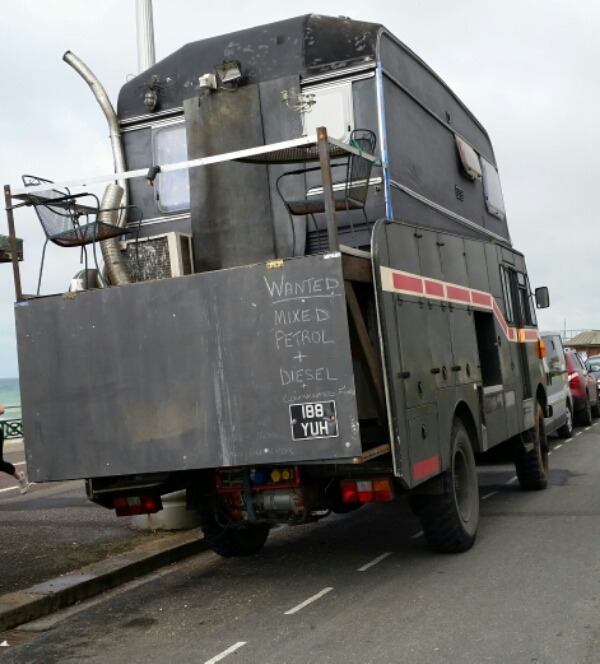 Some days ago we were Scouring the Brighton Sunday Car Boot Sale for some cheap and unique decorations and practical appliances for our new home (the van). As we were driving out of the car park with the back full of new goodies, we were faced with this crazy looking double story vintage motorhome! Unable to catch a picture at the time because the camera had ran out of battery, we moved on, disappointed at our missed opportunity.
Two days later we were driving through Southwick, the next town over from central Brighton and decided to stop in a car park opposite the seaside for a spot of lunch. Much to our delight, there it was, the awesome vintage tank of a motorhome, parked in a prime position with ocean views.
This time we weren't going to miss the opportunity to grab a quick snap so we jumped out of the van and wondered closer. As we stood staring, we noticed some of the quirky little ideas that the owners had come up with.
Out the back, on the top level, was a lovely little balcony for enjoying the summer afternoons, which they had decorated with 2 chairs and a romantic candle. Pinned to the entire back end was a blackboard for writing notes to the public. At that moment it read, "Wanted- mixed petrol + diesel + contaminated fuels", a quick and easy way to find what you need! To top it all off, a personalised number plate saying "188 Yuh" just made it that little bit cooler.
Although this motor-home was probably the most unique we've seen on our travels so far, it's not the only one that has made us look twice. Driving through Southwick yesterday we came across an entire row of campers making use of the only free parking around. Breaking the pattern of white and grey, a vintage red and white polkadot van effortlessly sat amid the rest, depicting the true essence of Brighton.