Awakening to the warmth of sunshine radiating through the gaps of our undrawn blinds, I knew we were about to have a day of amazing adventures.
Rolling over and gently untangling myself from the thin white sheet that lightly covered our legs, I leant across to Dan and said, "get ready, we're going to Noosa".
I'd been hanging out to take Dan to Noosa since we'd arrived on the Sunshine Coast two months earlier, but life got a little in the way.
Before I began traveling, Noosa was where I went to escape and feel as though I was on holiday. It was the picture perfect paradise that felt like somewhere else, except it was only 40 minutes up the road.
Described as one of the most desirable travel destinations in Australia for its beautiful beaches, world class restaurants and sophisticated boutique shopping, Noosa, located on the Sunshine Coast, was (and still is) heaven on earth in my eyes.
I tried not to visit too much, just in case I would get used to it and lose that sense of enchantment upon returning. But since Dan was now in Australia with me, I had to show off how beautiful my backyard really was…
There are so many things to do in Noosa but what better place than Noosa National Park to soak up those feel good summer vibes?
Summertime Adventures: Stumbling Across Magical Rock Pools At Noosa National Park
Planning to visit Noosa National Park? Pin this for inspiration >>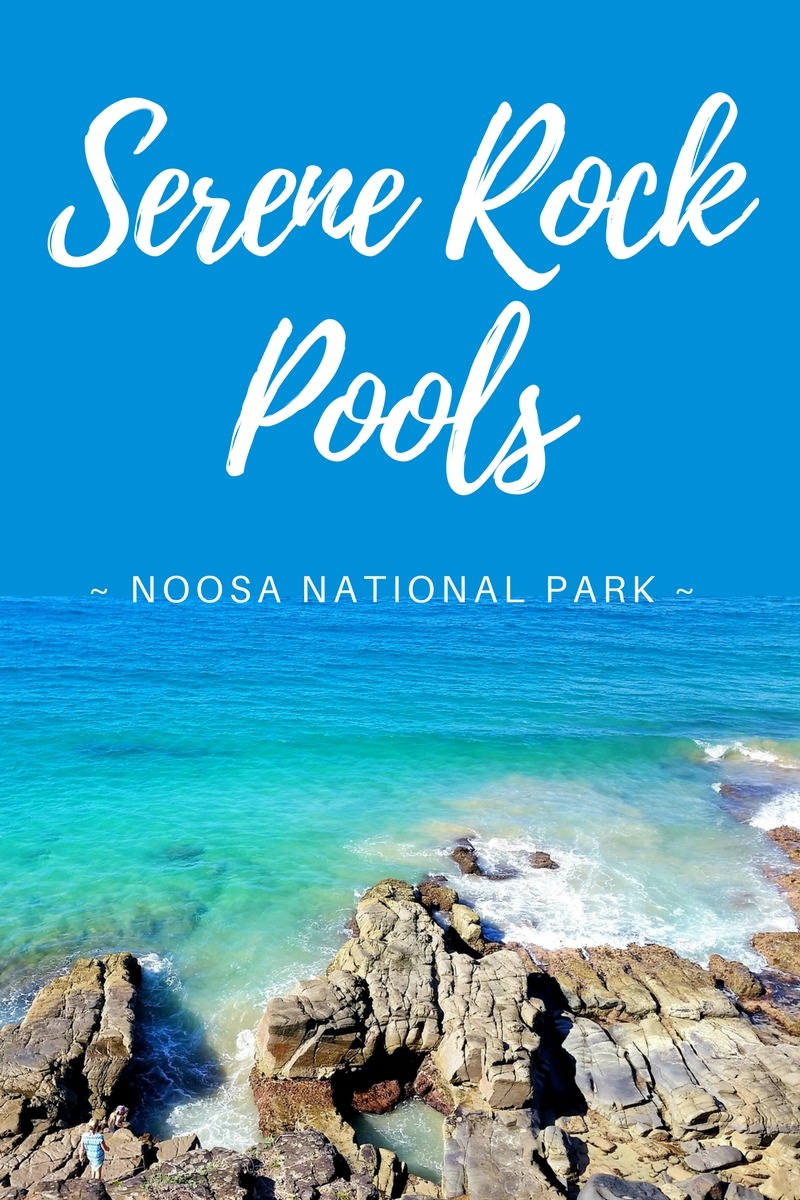 After packing a beach bag with towels, sunscreen and our cameras, we jumped in the car and began our little road-trip up to Noosa Heads.
Upon arriving, parking proved to be difficult. Deep down I already knew that would be the case, but I had a little bit of hope.
Instead of parking near Hastings Street we headed down towards the beach and then turned right onto Park Road which allowed us to follow the coast up to Little Cove.
Beyond Little Cove there is another car park which marks the entrance of Noosa National Park, however, it can be difficult finding a spot there as well.
Our best option was to take the first right after passing Little Cove (Little Cove Road) and park on the side of the street.
Little Cove is one of my favourite beaches in Noosa. It's not much further than Noosa Main Beach, except you can expect to see far fewer tourists and even clearer turquoise water.
If it is your first time in Noosa, then you may want to visit Noosa Main Beach, but I wouldn't spend too long there as Noosa National Park requires more time…
Plan for at least two hours to enjoy a swim at Little Cove before taking a stroll along the coast track in Noosa National Park. Bear in mind, you'll probably want to stop a few times along the way to take in the views (which are seriously beautiful).
Dan and I started our Noosa National Park adventure with a refreshing swim at Little Cove. The clear ocean water felt incredibly calming as soft waves flowed through my hair. This was exactly what I had been craving all summer.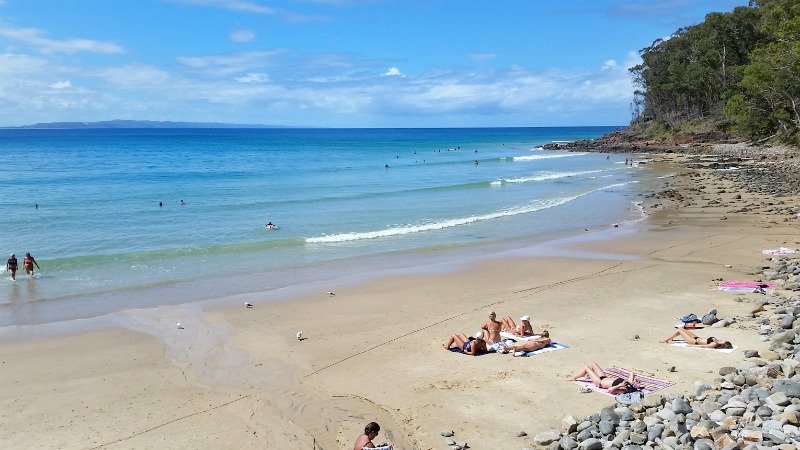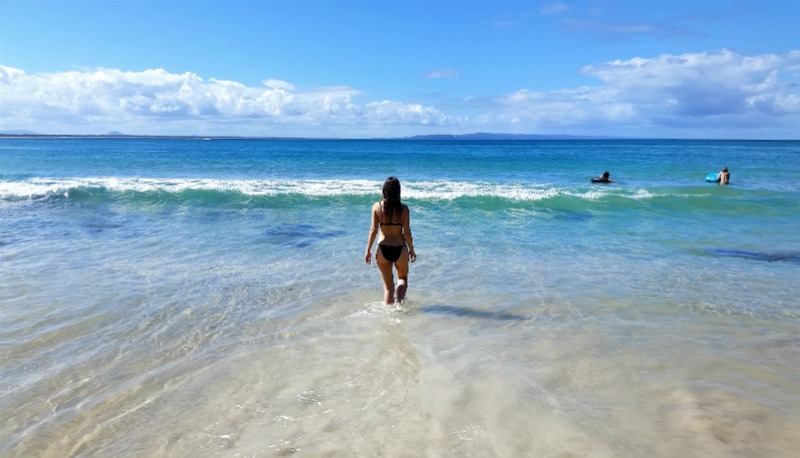 While Dan wasn't used to the stinging sensation of sea lice (which is something you learn to ignore after spending any length of time in Australia) he was also in awe of the remarkable natural beauty surrounding us.
Little Cove ignited a sense of wonder in us that could only be satisfied by exploring further…
Traipsing over a cluster of rocks to reach a set of steps at the southern end of the beach, we couldn't help but look back to admire the picture perfect view of Little Cove behind us.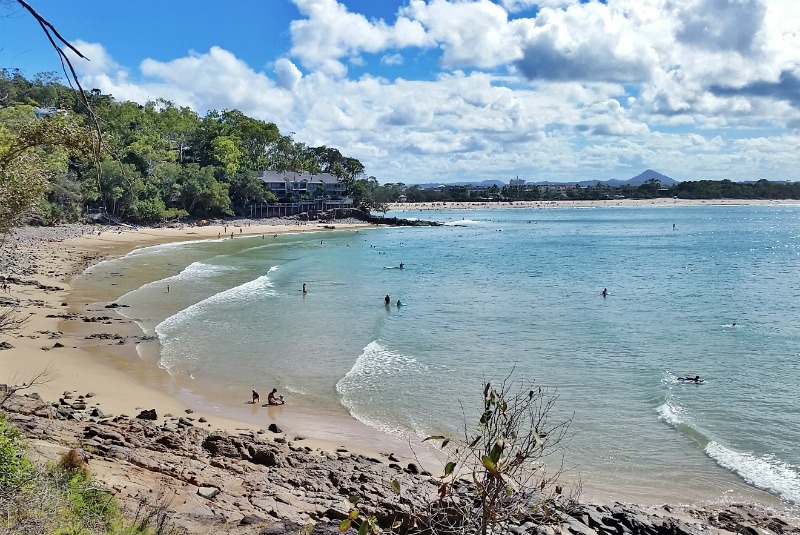 The steps brought us back up to Park Road where we opted to take the boardwalk down and into Noosa National Park.
Along this path you will find freshwater showers to soothe your skin as well as open grassy areas to sit and enjoy the warm Noosa weather.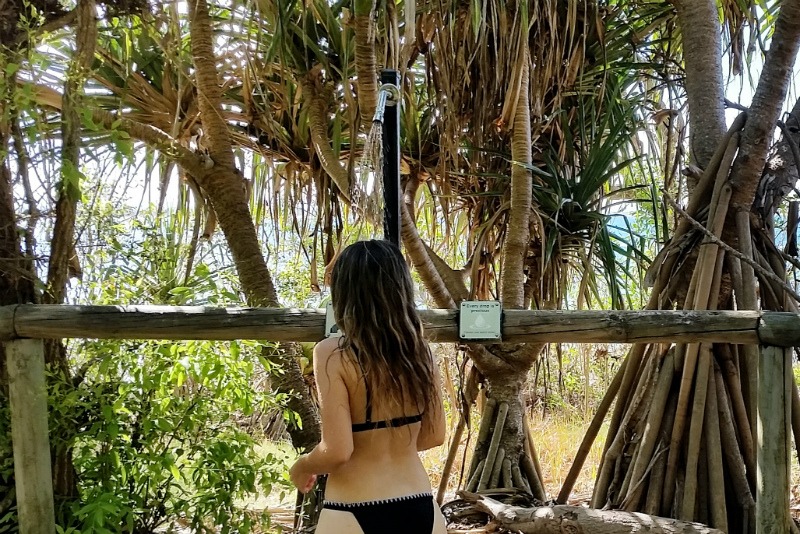 Wandering through and into Noosa National Park we spotted a beautiful little koala resting peacefully on a branch above us. It was my first time seeing a koala in the wild and a magical moment I'd been hoping to experience for a long time.
Noosa National Park is said to be a wonderful area to see koalas in the wild, however I'd never had any luck before… Perhaps the universe was waiting for Dan to arrive.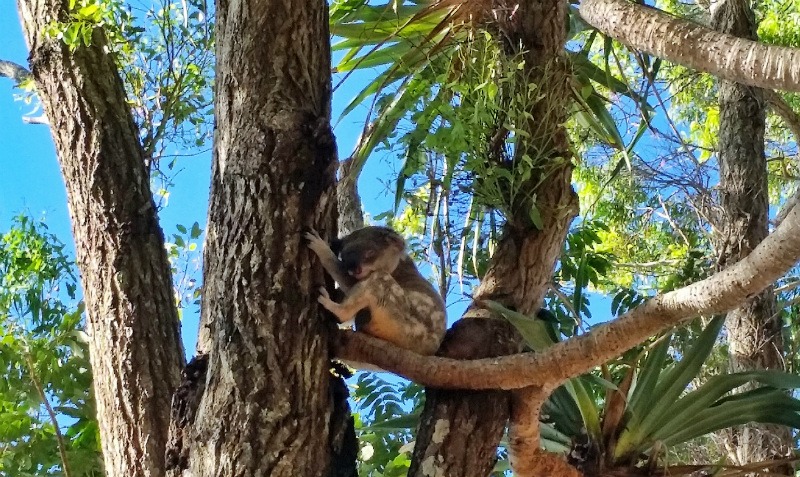 The Noosa National Park coast track provides a rare opportunity to witness some of Queenslands' most alluring natural beauty.
A quick pit stop at Boiling Pot lookout offers the chance to take in superb views which, on a clear day, extend all the way out to Fraser Island…
If you're lucky, you may even spot pods of dolphins or whales (during breeding season) swimming in the bay…
Tropical plant life surrounds the track as it winds its way around the Noosa coastline for 5.4km…
And along the way you'll discover several secluded beaches, including Tea Tree Bay, Winch Cove and Granite Bay which are all said to be ideal swimming spots.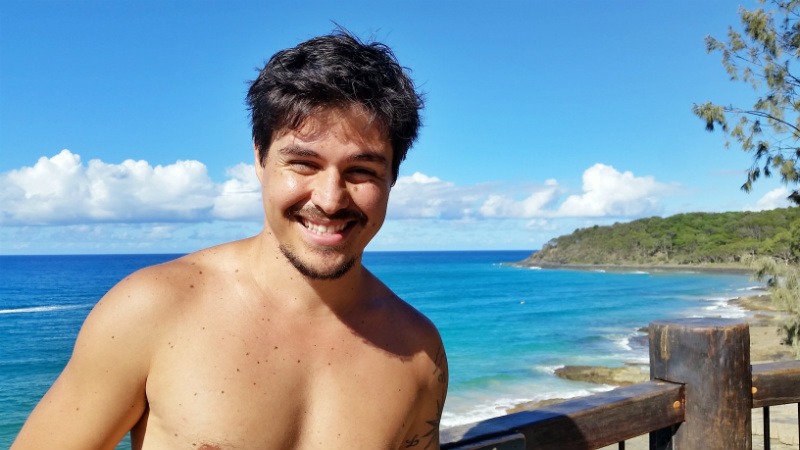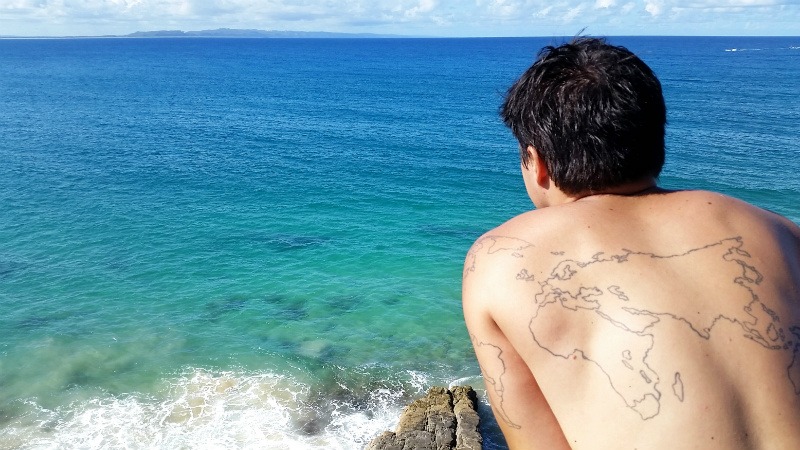 Then you have the fairy pools, an enchanting natural attraction that has been gaining considerable popularity on Instagram over the last few years.
You'll find the fairy pools situated between Winch Cove and Hells Gates, however, don't be surprised if you get all the way there only to discover that a group of other people got there first.
For this reason, we decided to skip the fairy pools altogether and go in search of quieter rock pools where we could enjoy the peaceful environment all to ourselves.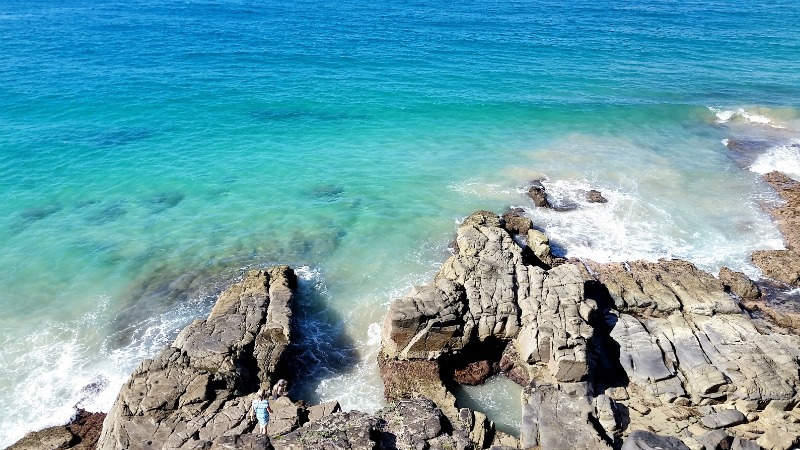 After passing the Boiling Pot lookout we continued on to Winch Cove, where we found our ideal rock pools at the northern end of the beach. Veering off the main coastal track, the two of us adventured down through a row of tropical pandanus trees and into paradise.
There was one other couple relaxing in the sun further up Winch Cove and then there was a group of surfers riding waves at the southern end of the beach. Apart from that, silence.
It was bliss.
At this moment, nothing else mattered…
It was just me, Dan and our little one, sat on the edge of a serene natural rock pool, soaking up the last of the warm summer sunshine and feeling grateful for the beautiful world we live in.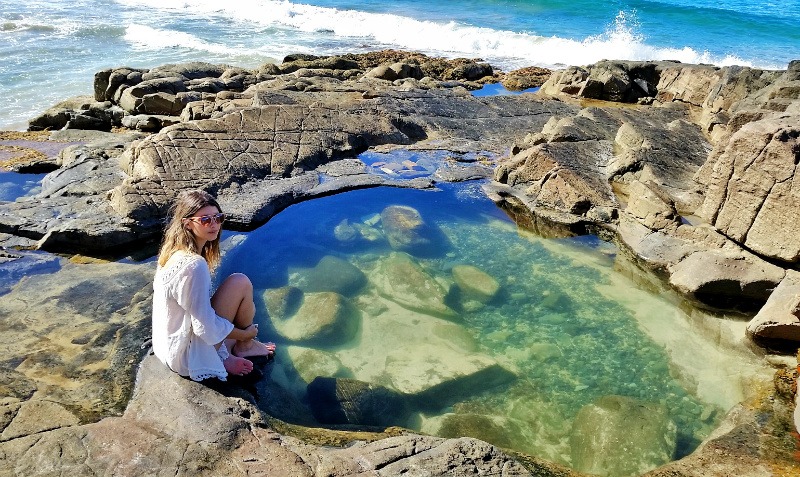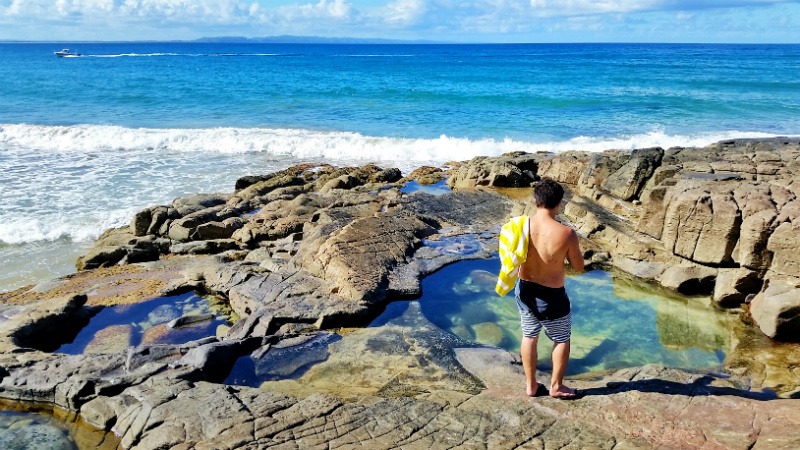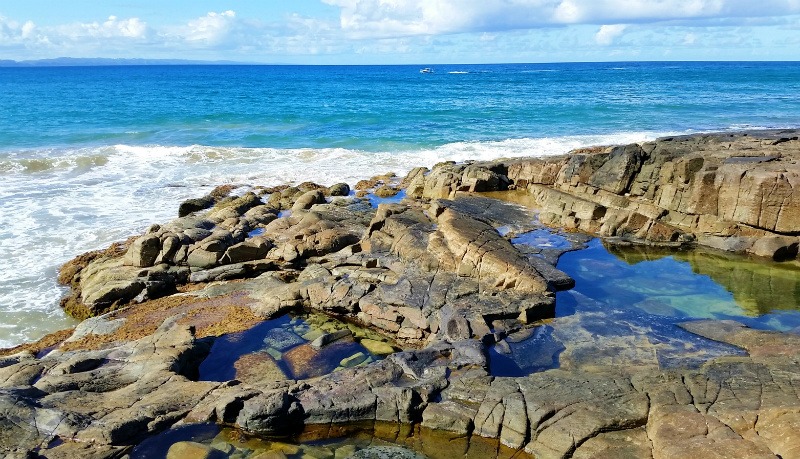 Noosa Accommodation
If you would like to experience Noosa National Park and its beautiful rock pools for yourself, there are a few accommodation options I recommend…
Budget: Nomads Noosa
Mid: Noosa International Resort
Luxe: Sofitel Noosa Pacific Resort
Dining In Noosa
Other than explore the natural wonders of Noosa National Park you can also find some of the Sunshine Coasts' best restaurants and boutique shopping on Hastings Street…
When breakfast calls, try out Café Le Monde for one of Noosas' best bacon and egg burgers – a perfect hangover cure!
For lunch and dinner I recommend tantalising your taste buds at Sails, Bistro C or Locale, followed by a unique ice cream eating experience at Nitrogenie.
If it's a sophisticated night out you're hoping for, look no further than Miss Moneypenny's Bistro C or Café Le Monde.
Concluding Our Visit To Noosa National Park
The breathtaking Noosa National Park stole a little piece of my heart a long time ago, and although I don't spend as much time in Australia these days, Noosa will always be a place I return to.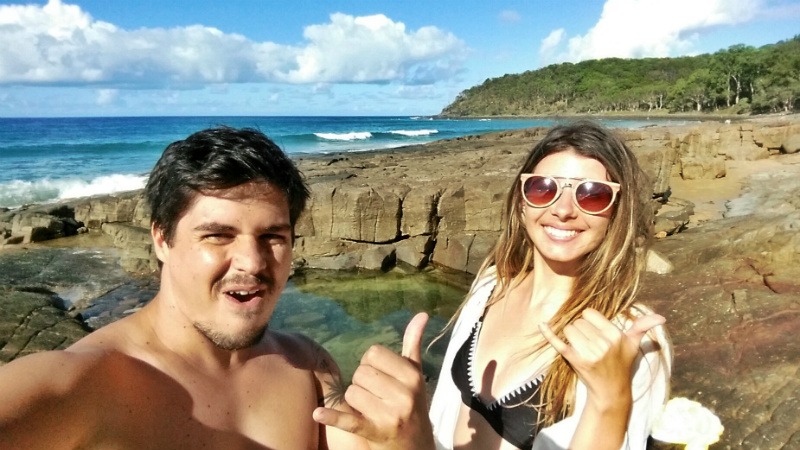 We made a video of our day in Noosa, not only to keep a visual diary, but also to share our experiences with you and help you to make the most of your trip to Noosa. Take a minute to watch below…
Exploring The Rock Pools At Noosa National Park
Tell me, have you had a similar experience at Noosa National Park? I'd love to hear your stories! And if you are yet to visit and have more questions about how you can make the most of your time in Noosa, please don't hesitate to leave me a comment below. To future Noosa adventures!