So you've made it to Medellin and it's time to find a café to work from with WiFi, good coffee and a nice vibe. Where to go? Well, we did the rounds during our two weeks in the city to bring you this list of best cafés with WiFi in Medellin. If you work online and need some recommendations for cafés where you can be productive and enjoy your surroundings, here's where we think you should go!
Digital Nomad: Best Cafés With WiFi In Medellin
Pin this on Pinterest >>

1. Café Zeppelin, El Poblado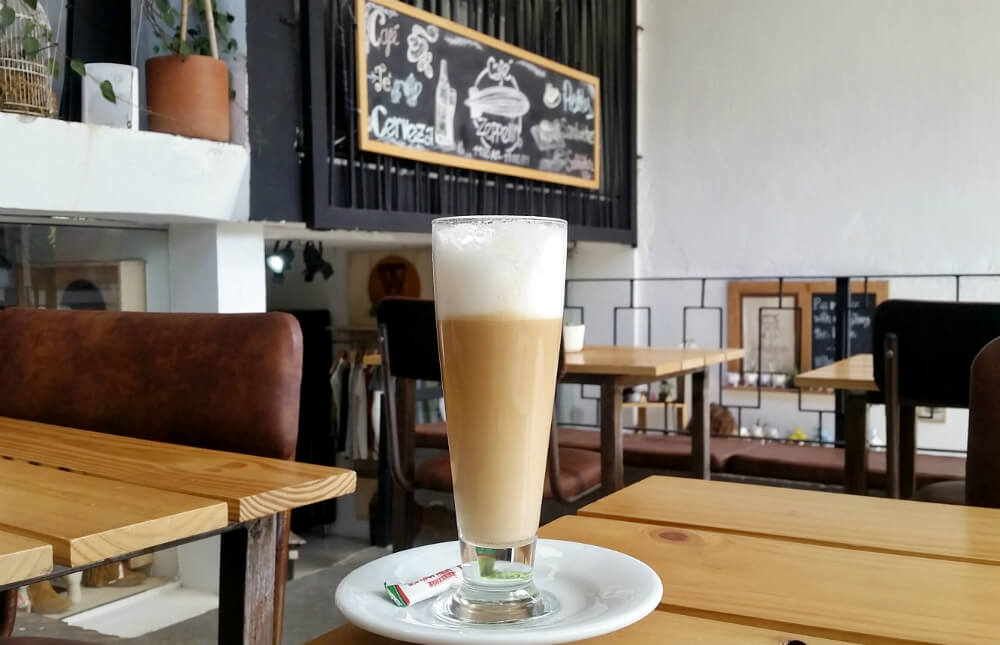 We stumbled across Café Zeppelin one afternoon while walking through the streets of El Poblado. I noticed a funky shop, looked up and there was a café on top of it, so we went and took a gander.
As we walked up the steps there was an outdoor seating area to the left and to the right you could walk into the indoor part of the café. If you walk down to the back of Café Zeppelin there is a cool vintage lounge room where you can sit, drink a coffee and get some work done.
They have a small food menu with sandwiches, tapas and some lunch specials as well as a variety of cakes, beverages and good coffee. WiFi is fast, there are plenty of power points and they stay open all day until 11pm.
a 168, Cra. 37 #8a60, Medellín, Antioquia | Café Zeppelin Website
2. Café Velvet, El Poblado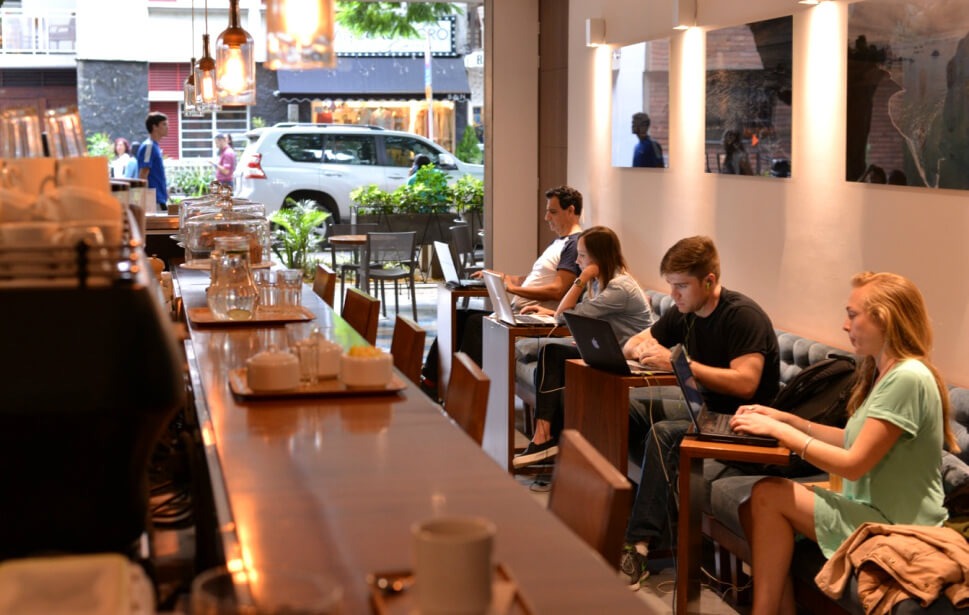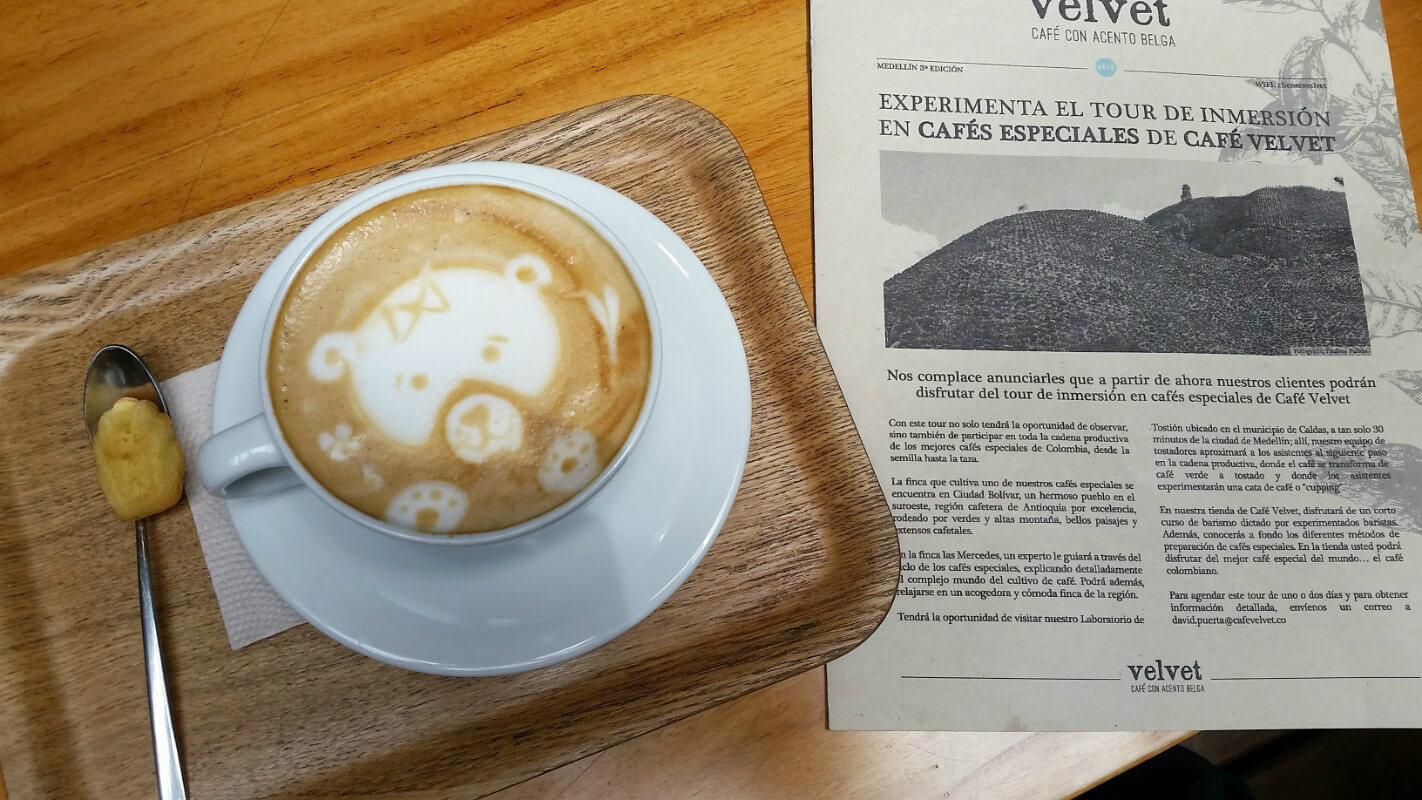 Just a few doors up from Café Zeppelin is a digital nomad hotspot – Velvet Café. Velvet is a large and airy space with plenty of seating.
Opposite the coffee bar is a long booth style seat which is designed for those who are working there alone. You can sit down and grab your own little work station – like a small desk to put your laptop and coffee on.
Again, the WiFi is fast, the coffee is great and they also have a small lunch menu which includes items like empanadas and sandwiches. Try the cheesecake too – it's the bomb.
Cra. 37, Medellín, Antioquia | Café Velvet Website
3. Hija Mia, El Poblado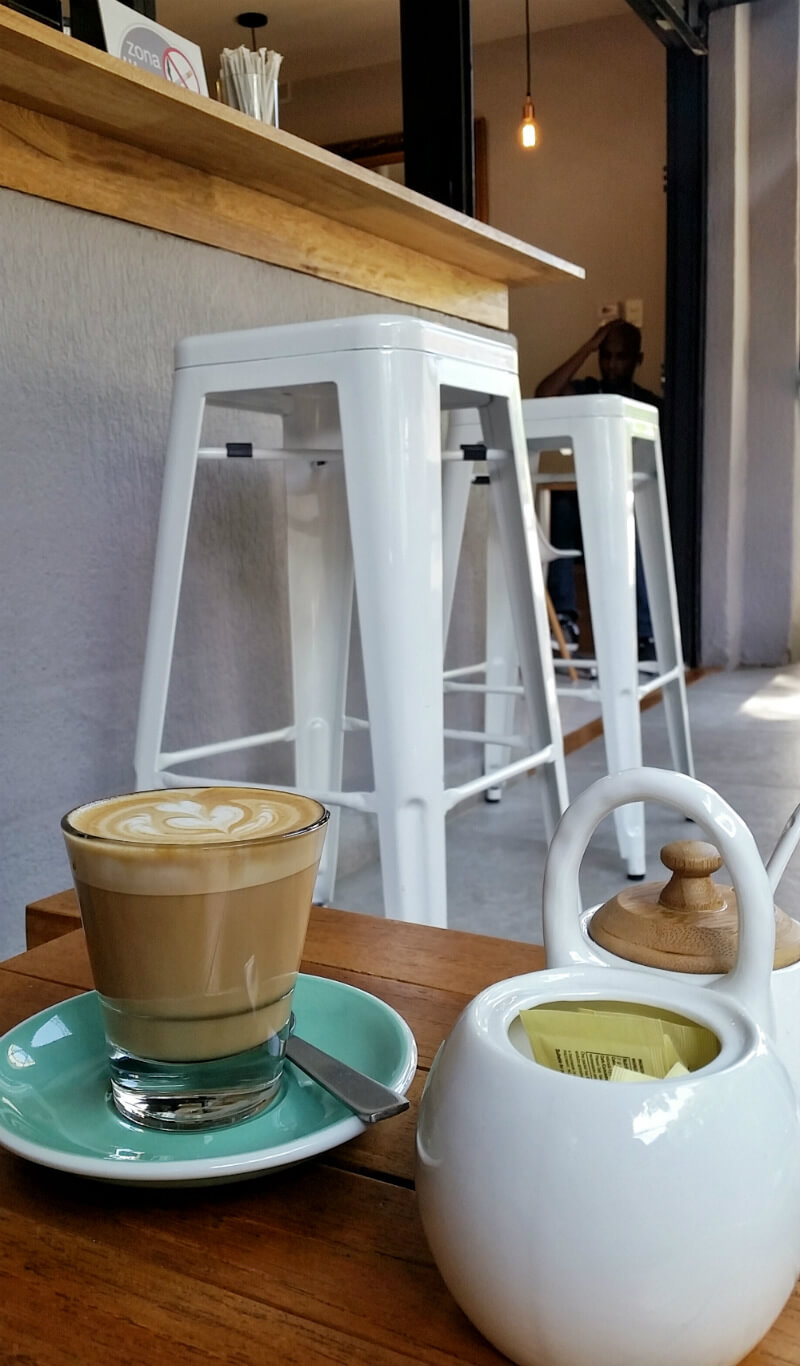 Tucked away in a little side street about 7 minutes walk away from Parque Lleras is Hija Mia. This is a small café with a quiet, chilled out feel to it.
I believe one of the owners is a kiwi so throughout the day they usually have RnB playing over the radio from a New Zealand station while everyone chats away with each other about life and what they're working on.
This is one of those cafés that receives regular returning customers as it's in a residential area. From what I noticed, there are a few digital nomads living in the area. We got speaking to 3 different guys in there, one from France, one from the US and one from Germany so it's pretty multicultural!
Out of all the cafés with WiFi in Medellin we liked Hija Mia because it was more peaceful with less traffic coming in and out so it was easier to focus.
Their coffee is delicious and well priced, the Wifi works well and they have power points for use. This place is cash only though so make a trip to the ATM first.
Calle 11a No 43b -9, Barrio Manila, Medellín, Antioquia | Hija Mia website
4. Pergamino Café, El Poblado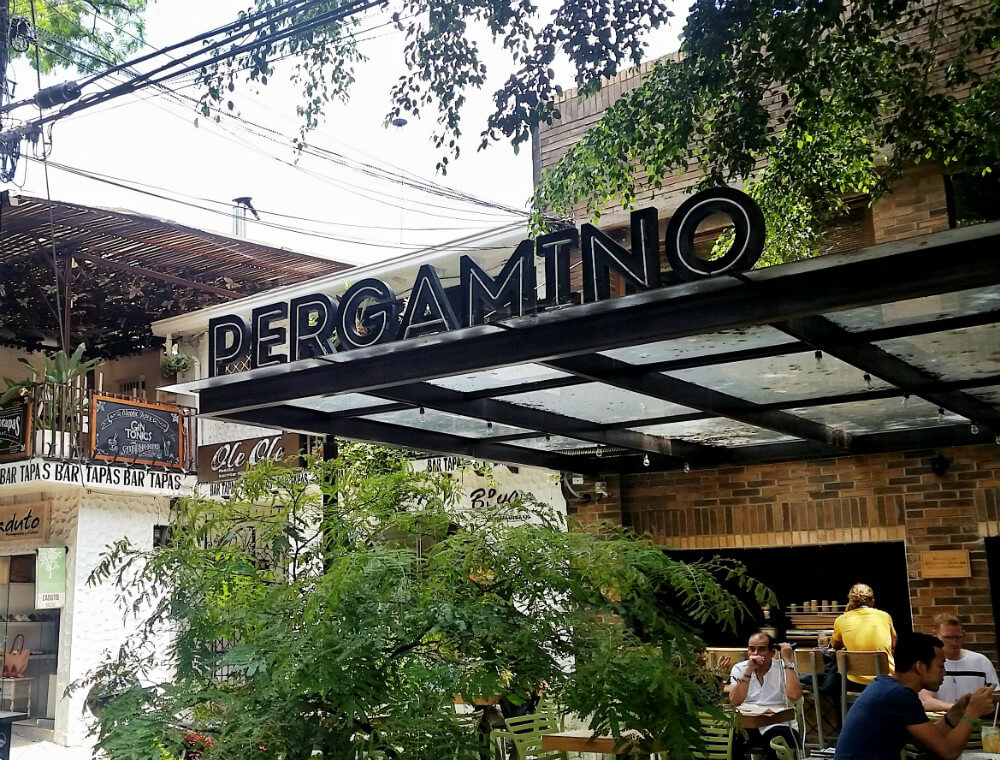 Pergamino Café is one of the top rated cafés in Medellin. In fact, in 2012 it won 'best new café' by Sprudge.com which is apparently the world's most read coffee publication.
To be honest, I don't know a lot about coffee other than if it tastes good to me, it's good enough, so I can't really share too much info on why their coffee is so good.
Pergamino Café is located on the same street as Velvet and Zeppelin which is shaded by trees and lined with lots of funky boutique shops, cafés and bars.
Many people sit in the outside seating area to watch the world go by and others choose to hibernate inside where it's cooler and more comfortable to work.
The café itself is quite big with a modern rustic feel to it. It's frequented by locals, expats and travelers looking for somewhere to chill out with an ice cool frappucino or get some work done.
The WiFi is good but we couldn't find too many power points which may be an issue for you during busy hours.
Cra. 37 #8-37, Medellín, Antioquia | Pergamino Café website
5. Al Alma, El Poblado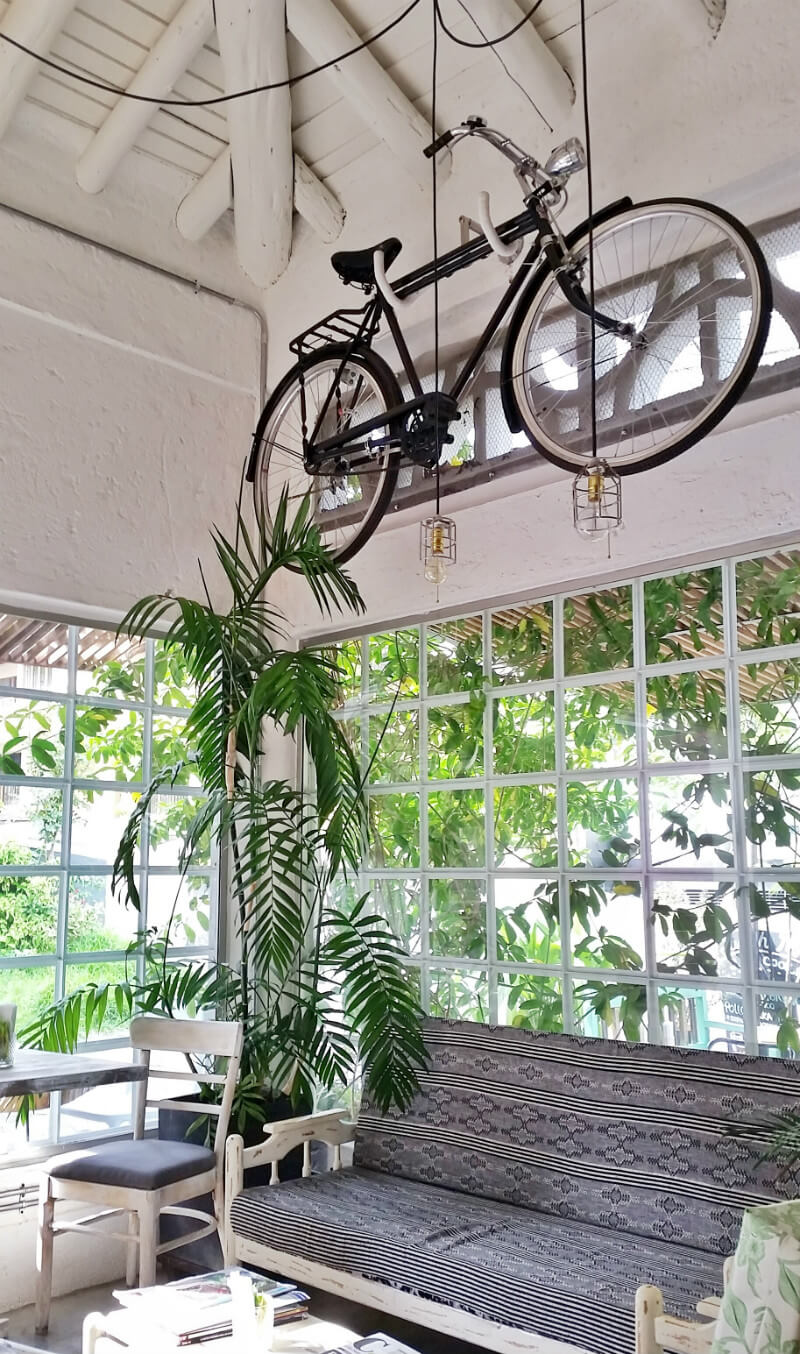 Unfortunately we only found Al Alma Café on our second last day in the city and it just so happened to be one of our very favourite Cafés with WiFi in Medellin! We were so gutted.
Dan reckons it was the best coffee he's ever had but you know, I don't think he really remembers anything past a couple of months ago. Nonetheless, the coffee was great and the atmosphere was soothing.
As soon as you walk in you'll be welcomed by the scent of freshly roasted coffee beans. Grab a bagel or slice of cake and sit down at the little coffee table next to the window.
The morning light shines in through the window and brightens the whole interior of the white painted café. Surrounding you are green plants and hanging above you is a retro bicycle.
I feel like this is the perfect café to visit if you are an early riser. It's located on the same street as Hija Mia but opens earlier. We went to go to Hija Mia and 8:45am and they were closed which was how we discovered Al Alma.
I didn't see if there were many power points but you could pay a visit, drink a coffee and if they don't have power points, then you could move to Hija Mia.
Cra. 45 #55, Medellín, Antioquia | Al Alma website
6. Ubicuo Café, El Poblado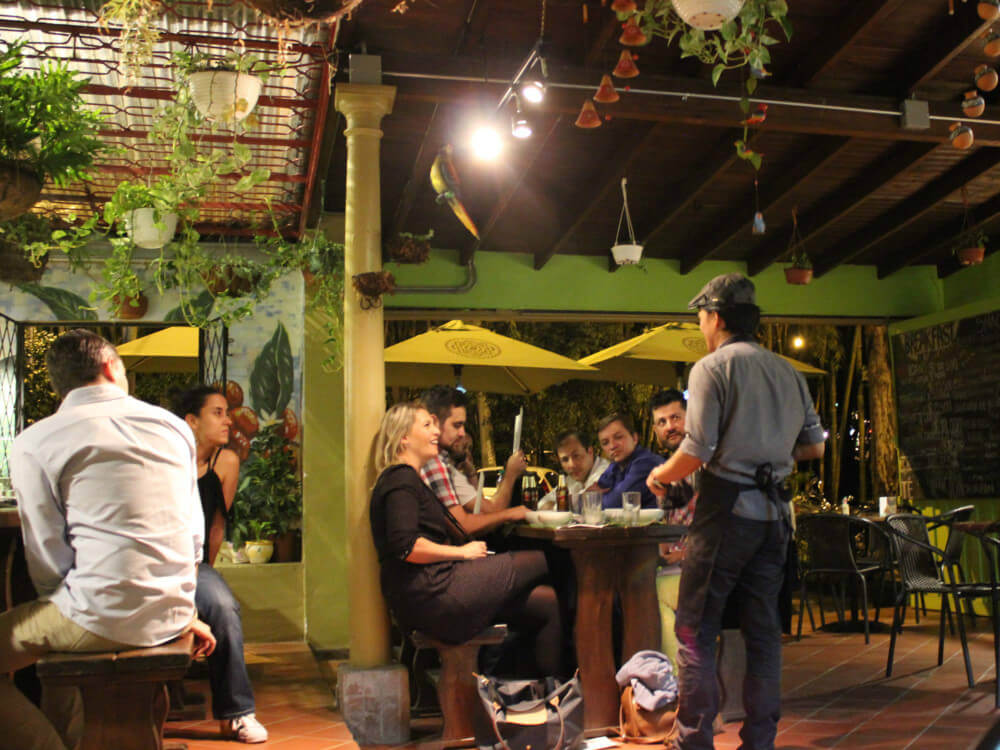 Ubicuo is another café that we spent quite a lot of time at in El Poblado. It's located in the greener area of the neighbourhood near some of the top bars and restaurants, including a delicious vegetarian restaurant next door.
Ubicuo Café is a chilled out space offering coffee, juices, breakfast, sandwiches and cakes. You can sit inside or out but if you're working, you'll probably prefer to sit inside where it's cooler.
This café is comfortable, there are plenty of plugs and the WiFi is usually pretty fast. There were a couple of times when the WiFi decided to quit working for a while though but we've noticed that in a few places here in Colombia.
I recommend Ubicuo Café if you are into the more relaxed kind of cafés.
Cra. 35 #711, Medellín, Antioquia | Ubicuo Café website
7. Café Zeppelin, Laureles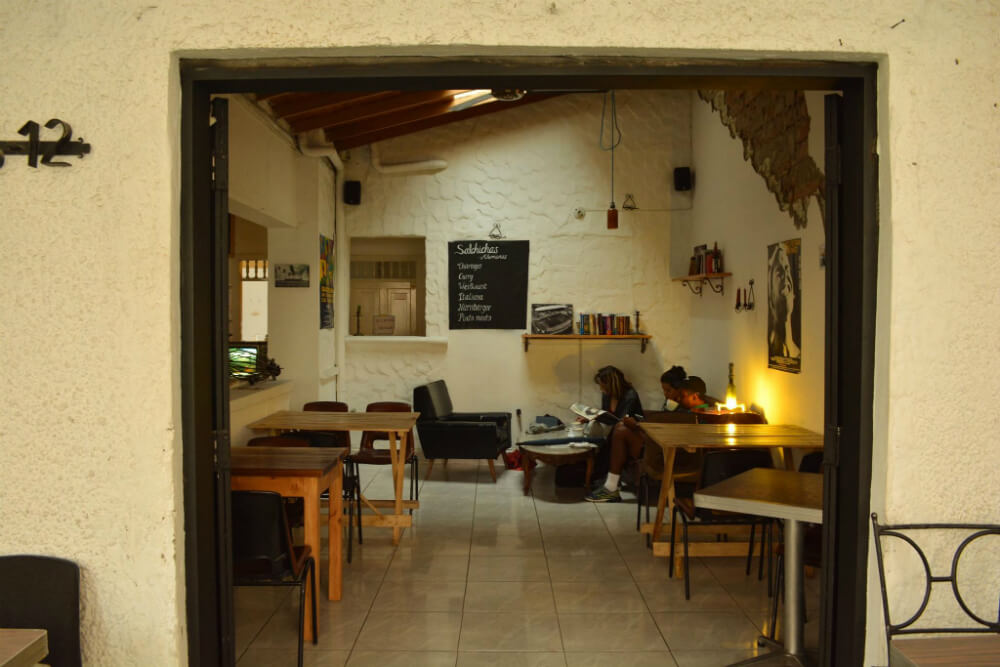 Yes, another Café Zeppelin and yes, going by the interior design of the place, I believe it's the same owners as the one in El Poblado, who are apparently German.
We visited Café Zeppelin in Laureles one evening after dinner and immediately fell in love with the place. It's very thrown together in the sense that none of the furniture matches, the walls are exposed and and there are some odd bits and bobs placed around the space, like a retro TV fish tank.
You can take a seat on a couch or you can sit at a table – there are plenty of seating options to choose from.
We ordered a chai which we thought would be hot but it actually came out like a frappe. Nonetheless, it tasted really good.
The WiFi is a bit slow and there weren't too many plugs around when I looked but it's still a cool place to visit if you've just got an hour or so of work to do.
Transversal 39 #76-12, Laureles | Café Zeppelin website
8. Café Ondas, Laureles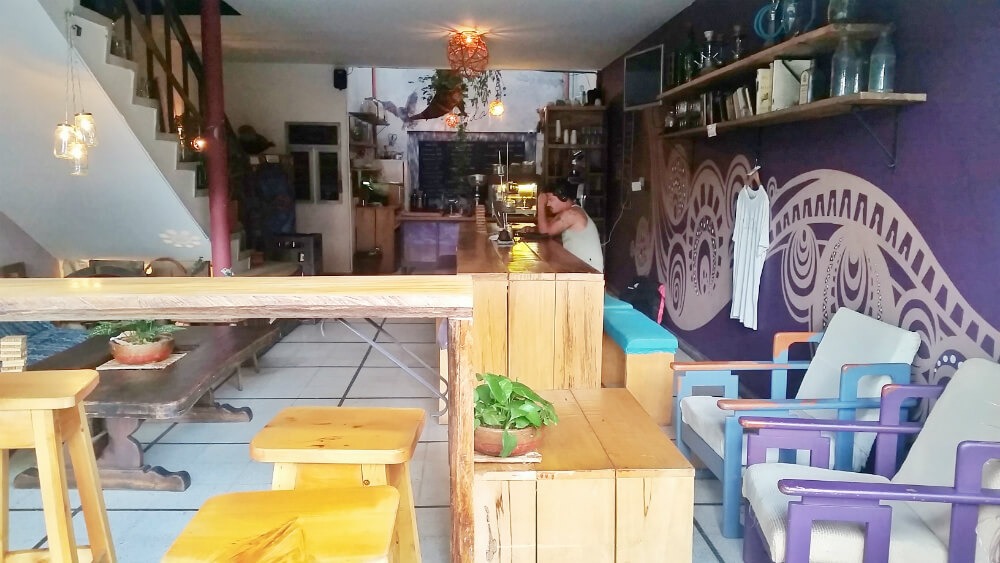 We discovered Café Ondas on our very last day in Medellin. After spending almost two weeks in El Poblado we decided to spend the last couple of days in the neighbourhood of Laureles.
They say that this neighbourhood has an 'up and coming' café scene but I still think it's got a while to go yet. There are a few cafés that are pretty cool though, including Café Ondas.
We'd heard about this place a couple of times through other digital nomads so we thought we'd give it a go.
Café Ondas is actually a café and co-working space. So downstairs is the café where you can buy something and then sit and work or you can pay by the day, week or month to use the co-working space upstairs.
I went and had a look and it's really cool. It's not sterile or modern like a lot of co-working spaces. It's quite chilled and laid back.
If you choose to pay for co-working you get a free daily coffee and then 20% off anything else from the café.
We both had a cappuccino each which was good and then we had the eggs for breakfast. I chose to have mine with the meat which tasted nice but I think I'll have it without the meat next time because my stomach wasn't handling it very well so early in the day.
We worked downstairs pretty much all day and they seemed cool about it. They even brought an extension lead down for us when there were too many people trying to use the power points.
Overall, this is a really nice café to work from in Laureles, Medellin.
Carrera 81 45g – 52 (Corner of 81 & 46) Medellín | Café Ondas website
9. Naturalia Café, Laureles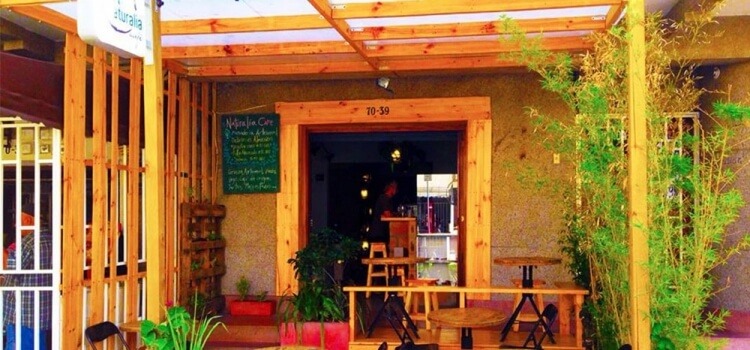 Last but not least, we have Naturalia Café. We'd heard about this place through a digital nomad friend who we met at Hija Mia in El Poblado so we thought we'd give it a try.
As we walked in, we straight away felt like we were walking into a somewhere very green and natural.
They had unique decorations like lightbulbs inside stacked jars and the use of lights inside was kept to a minimum, unless you need one to work, then they turn on the light above your table.
I ordered the fruit with yoghurt and granola which was beautifully presented and Dan had eggs (I didn't even get a chance to taste them because he scoffed it down so fast).
The coffee wasn't exactly what we're into (a little bit bitter for us I think) but it was a nice, quiet environment to get stuff done. The WiFi worked well and there were power points directly underneath our seat.
Circular 3 70-39, Medellín, Antioquia | Naturalia Café website
Whether you're looking for somewhere chilled out or somewhere with a little more energy, there are plenty of great cafés with WiFi in Medellin to drink delicious coffee and get your work done. These 9 cafés are our favourite, go check them out and then let us know what you think!
---
Over to you! Leave your answers in the comments section below…
Have you been to some amazing cafés with WiFi in Medellin that aren't on our list? Let us know!