By now, you've probably seen the spine-tingling Instagram shots of daredevils hanging off 'that cliff' in Rio de Janeiro, Brazil. But did you know that you can get there with a pretty simple bus ride followed by a 40 minute hike? And did you know that it's not AS scary as it looks? In fact, by the end of your trip to Pedra do Telegrafo you could be one of those daredevils with a few crazy Instagram shots of your own.
So how can you get to Pedra do Telagrafo, Rio de Janeiro and what can you expect as a gringo? Well, allow me to enlighten you…
How To Get To Pedra Do Telegrafo, Rio De Janeiro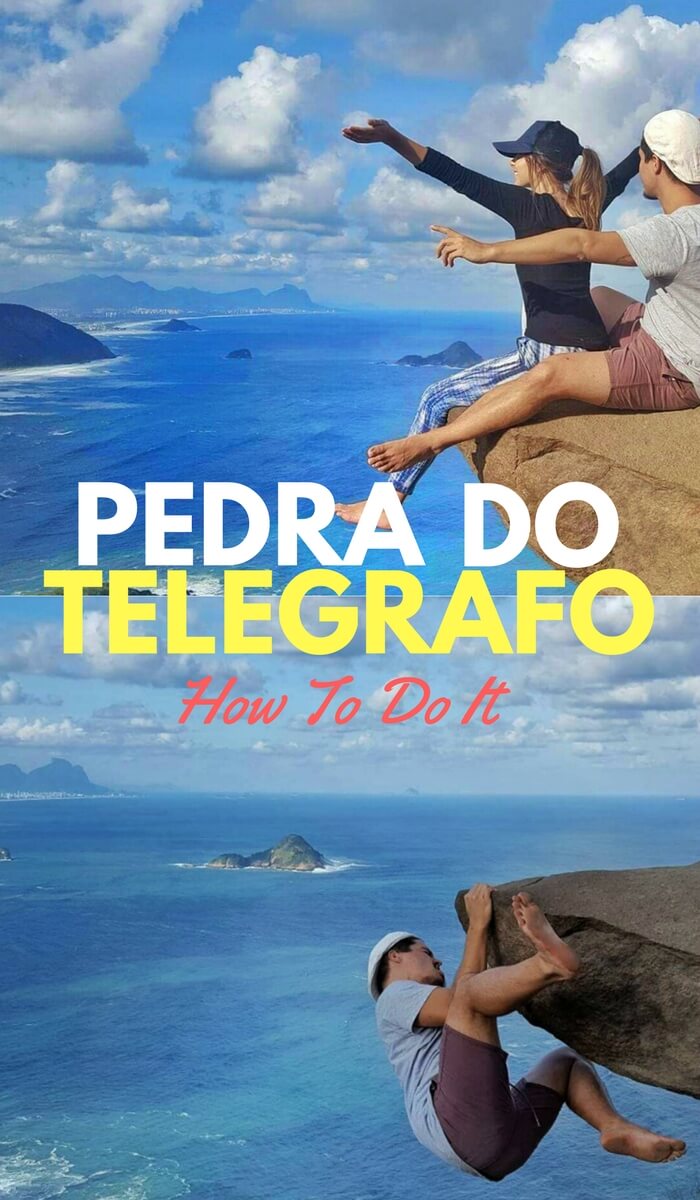 We decided to visit Pedra do Telegrafo the night before going. It was actually one of our Carioca friends who thought about it and we jumped to the idea almost immediately.
We'd seen photo's of this place all over the web but we wanted to find out for ourselves if it was as death defying as it seemed. When you look at all the pictures it seems as though there is a giant drop between the edge of the cliff (where the people hang) and the ocean. But is it really a giant drop? That's what we wanted to know.
Pedra do Telegrafo is still fairly untouched by gringos, mainly because most of us don't know how to get there. However, an increasing number of Rio locals are making the hike up there each weekend as more and more amazing images appear online.
Not only is Pedra do Telegrafo a thrill, the views are incredible. The coastline boasts tall mountains, lush rainforests and beautiful turquoise sea. What more could you want in a view?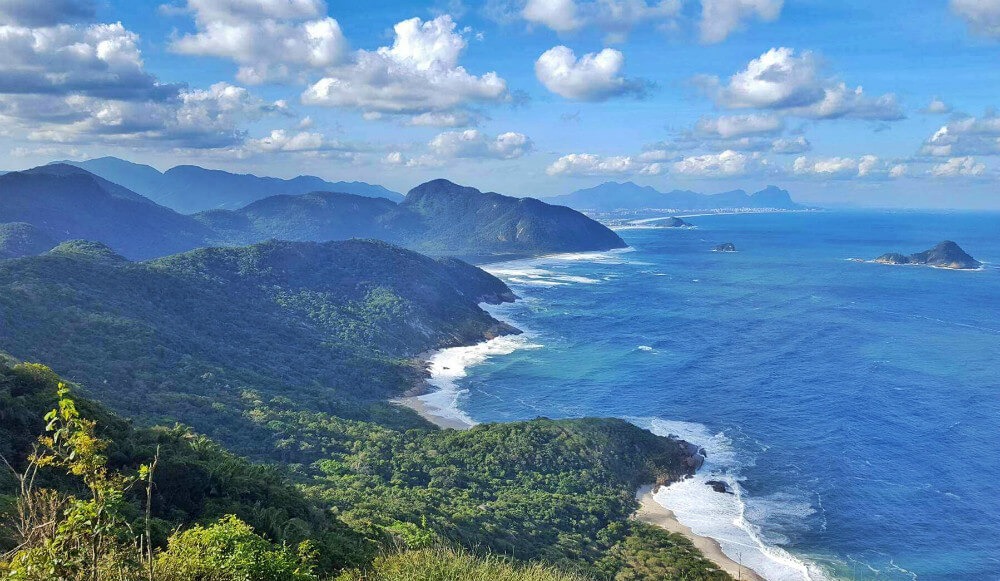 We packed our daypacks early the next morning and left by 8:30am. In our bags we carried Paçoca (a sweet made out of peanuts, sugar and salt – yum), chocolate (healthy, I know) and lot's of water. It is important that you bring plenty of water because the hill is steep and Rio gets hot very early.
Which brings me to my next point – you need to leave early. Not only because of the heat, but because more and more locals are discovering this place which means it can get quite crowded with stressy people wanting their awesome picture taken. Literally, by the time we were leaving, there was a long line of people waiting to have a go at hanging off the cliff.
The best way to get to Pedra do Telegrafo is by bus and then walking. First you need to make your way to Terminal Alvorada. As this is a central terminal, there are plenty of buses to take you there from neighbourhoods like Copacabana, Ipanema, Leblon, Barra da Tijuca and Lapa.
Once you are at Terminal Alvorada you need to find the blue express bus to Mato Alto station. This area is a bit random (not dangerous but kind of in the middle of nowhere) so make sure you go with a few friends. It would be highly beneficial to go with a local or someone who speaks good Portuguese. I don't think I would have been able to do it without the help of our Carioca friends.
You may have to wait at this bus stop for 20 minutes or so and there's not a lot of shade so bring a hat, sunscreen and water. There's actually a little furniture shop where you can sit and wait. I don't think the owner minded us doing that.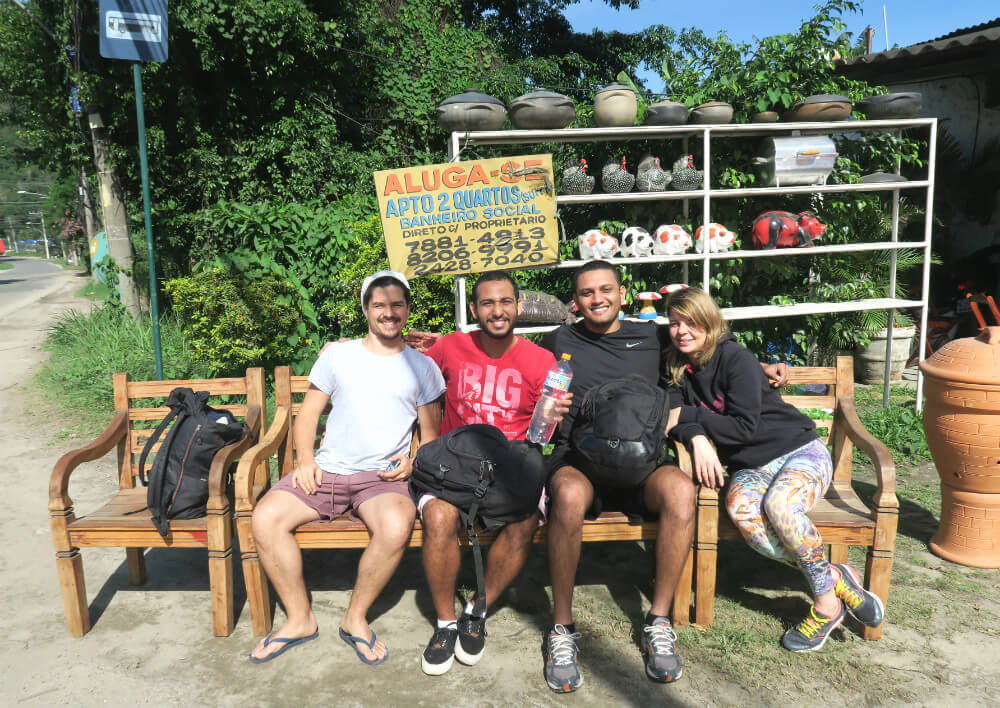 Soon enough, a local bus will come by. You need to make sure it is the 867 going to "Barra de Guaratiba" (Guaratiba beach). If not, ask the driver when it's due to come by. I believe we waited about 20 minutes.
Once you're on the bus, you are right on track to get to Pedra do Telegrafo. On the way you'll get to drive through some local fishing neighbourhoods before arriving at Barra de Guaratiba.
The view of the beach is quite beautiful as you come down the hill. In fact, this beach has a very different feel to the more famous beaches of Rio de Janeiro like Copacabana and Ipanema. It is far more cosy and quiet and the view of the peninsula in the near distance looks similar to something you'd see in Sydney.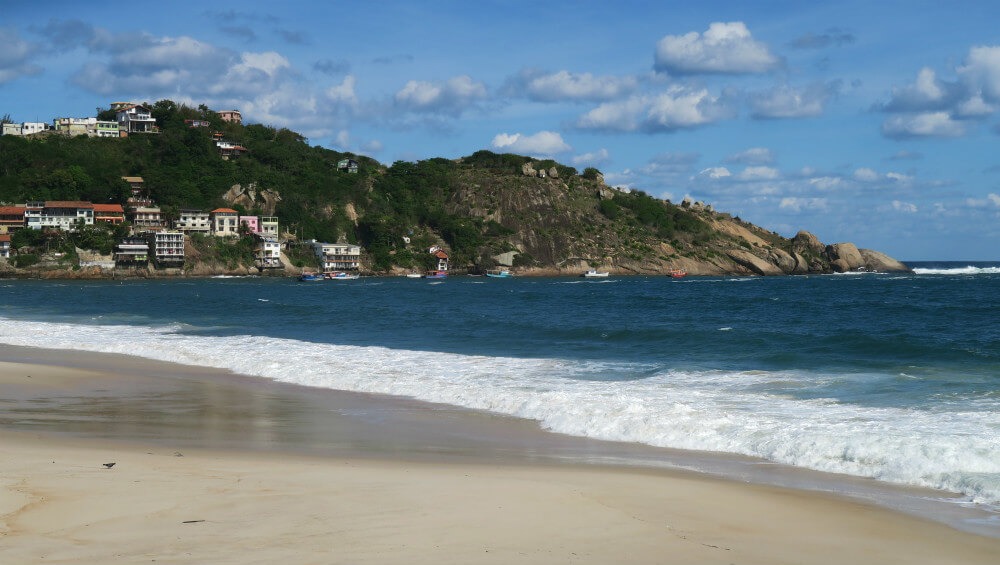 You need to exit the bus here and make your way to the yellow church. The church is pretty obvious but if you do look lost, the locals will help you out. Next to the church is a set of stairs that will take you up into an alleyway. This alleyway is the beginning of your hike up the hill to Pedra do Telegrafo.
To find your way to the top, all you need to look for is the yellow painted footprints on each corner. These will guide you all the way. Luckily a local man pointed these out for us before we attempted to get to the top without any clue of how to get there. Once you know to follow the footprints, it's easy peasy.
The walk starts off in a residential neighbourhood and then you'll slowly start making your way into the forest area up the hill. I must warn you – the hills are steep, even before you get onto the track. To give yourself a little boost before you start climbing up tree roots and sliding around on loose gravel, there are a couple of local ladies selling drinks and cake at the bottom of the track.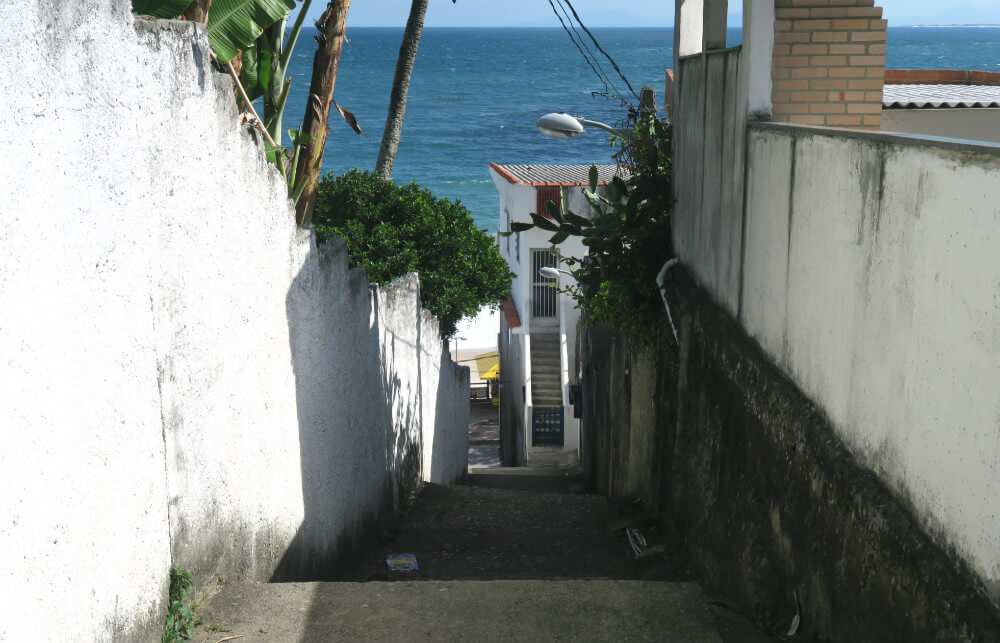 The walk up to Pedra do Telegrafo takes an average of 40 minutes and there is a beautiful rest point about 3/4 of the way up. It's basically a large rock on the left of the track where you can sit and take in breathtaking views over the coastline and river mouth. This is a good time to take some unique photo's of a lesser known view of Rio de Janeiro.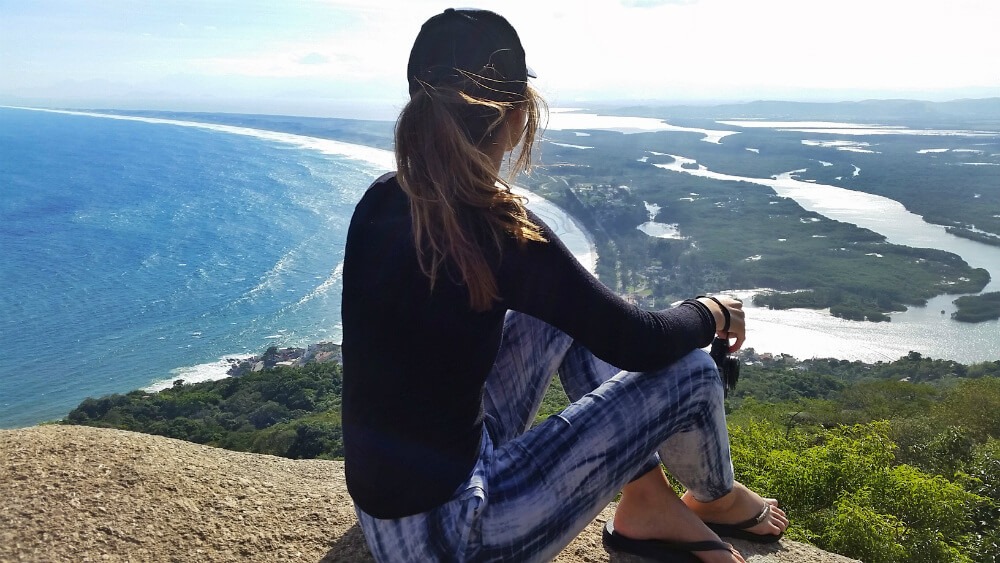 Once you make it up to the top there will be a man waiting there with harnesses, ropes etc. If you are afraid of heights or suffer from vertigo, it might be a good idea to pay for these but if not, they are not necessary.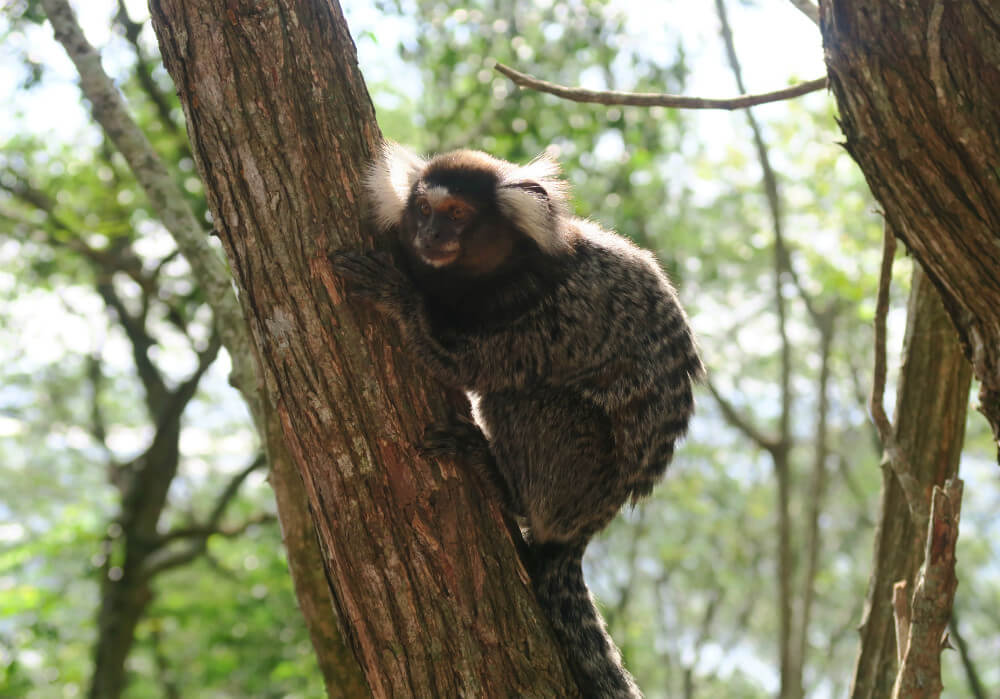 Now you can take in the beautiful view whilst waiting for your turn to hang off the cliff like a daredevil. If it looks as though more people are arriving when you are, it's a good idea to form some kind of a line or system which gives everyone a fair amount of time to take their photo's. This needs to happen when it gets busier because you do get the 'cliff hogs' who take half an hour to get 'just one more shot'.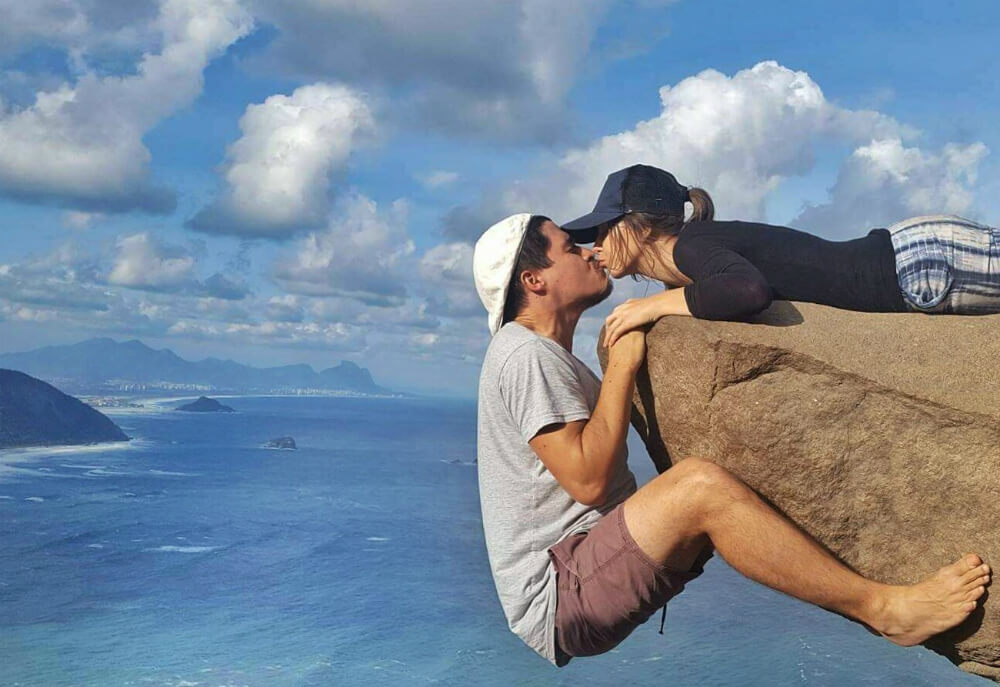 Upon our arrival, we spent ages waiting for a bunch of girls who seemed like they were on a mission to take the next year's worth of Instagram posts. As soon as people started forming a rough line, they realised that it was probably time to let someone else have a go.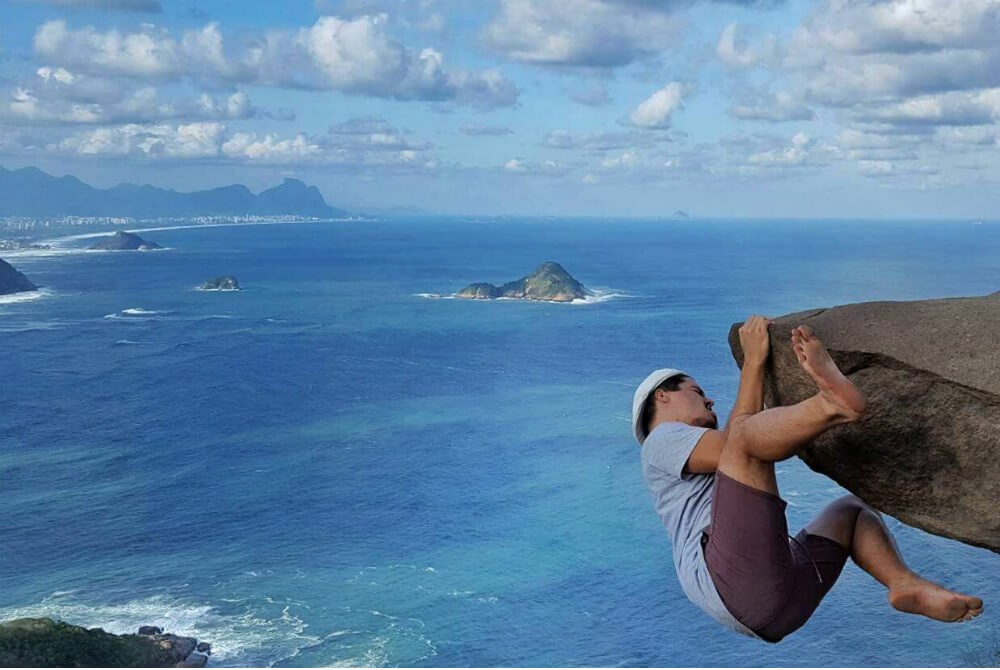 When you come to these kinds of places it can get stressful when everyone wants the perfect picture. People start to get a little on edge (quite literally) when they know they only have a short amount of time to make it happen. Again, that's why I highly recommend getting there early.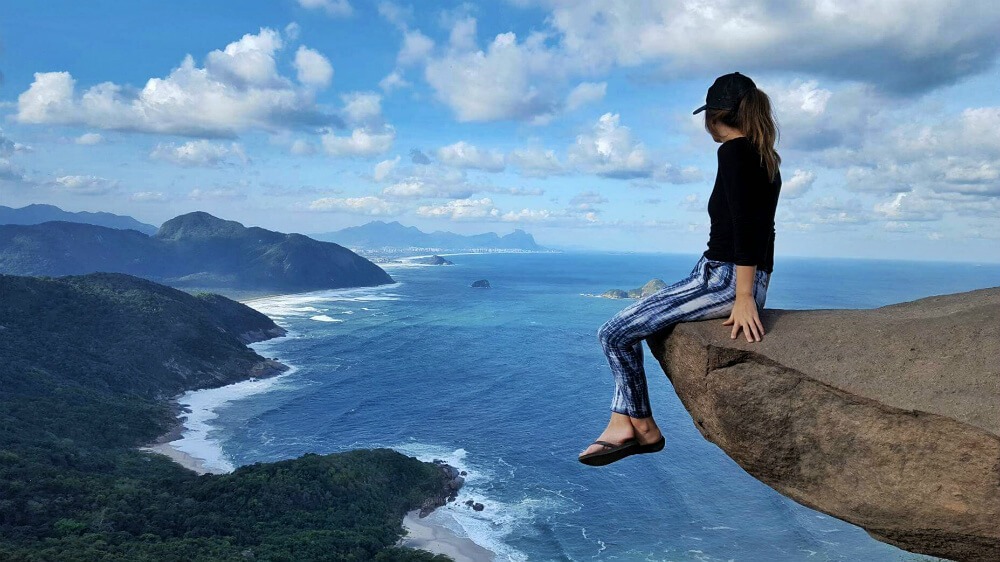 So, is there really a giant drop between the cliff and the ocean or is it just an optical illusion? Well, you'll have to wait and see, won't you!
Even if you are afraid of heights, there are few reasons why I still recommend doing Pedra do Telegrafo and Barra de Guaratiba. One, because it's a unique part of Rio de Janeiro that not a lot of tourists know about yet; two, because the beach and view is beautiful and three, because it's great exercise!
Get a group of friends together and get up Pedra do Telegrafo… You won't regret it!
For more Rio de Janeiro travel tips, see the following:
---
Over to you! Leave your answers in the comments section below..
Have you been to Pedra do Telegrafo? What did you think? Do you have any tips to add?
Are you planning to visit and have more questions about how to get to Pedra do Telegrafo? Ask away!