Adeline and Pierre are a young French couple who are seriously passionate about traveling… So passionate that in 2016 they decided to quit their jobs and embark on a life-changing European adventure.
After 3 whole years of planning and saving they finally jumped in their campervan and took to the open road…
It's now been over 9 months and in this time they have traveled over 24,000km spanning 24+ countries!
Needless to say, Norway has been one of their favourite destinations so far. The country's majestic mountains, deep fjords, and wild habitats may have had something to do with that…
So today Adeline and Pierre are here to share their incredible Norway road trip experience with us as well as their helpful tips on where to go, what to do, and how to make the most of this wonderful country.
Norway Road Trip: This Couple Share Their Best Tips On Traveling Norway In A Motorhome…
Would you love to go on a Norway road trip? Pin this image to your travel board on Pinterest for inspiration >>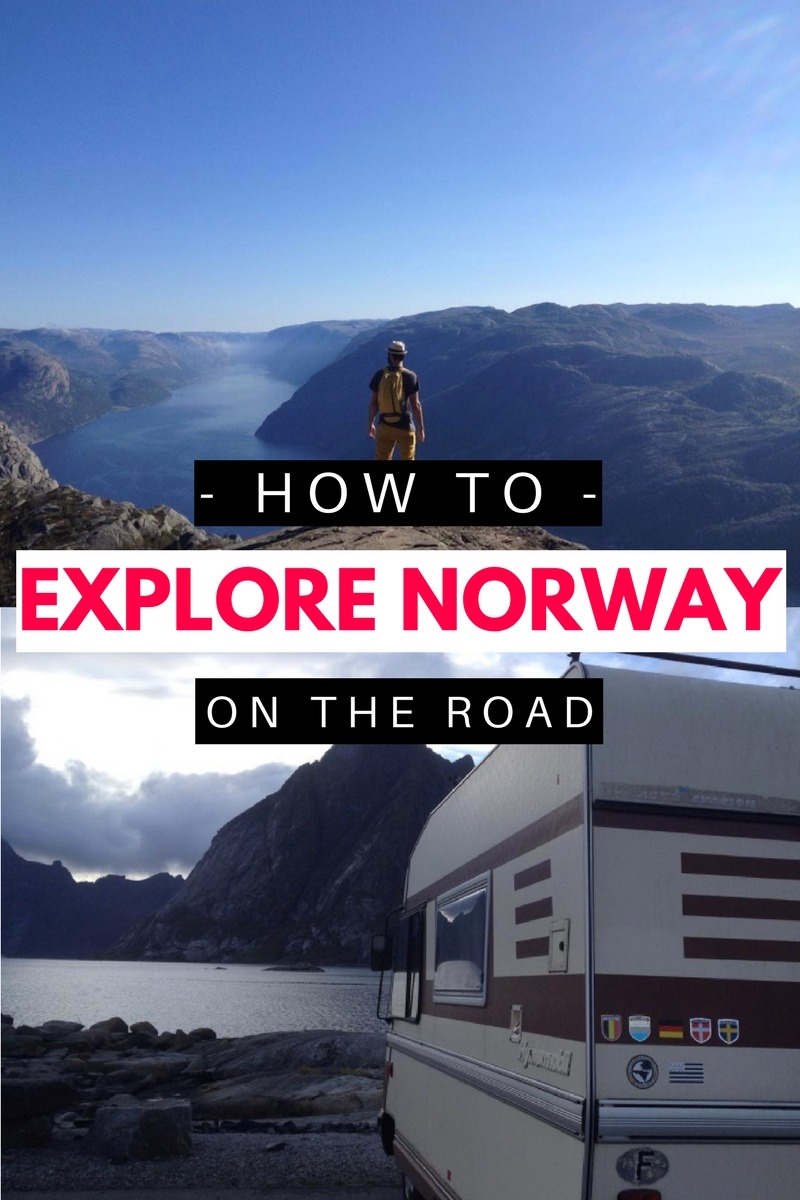 Hi Adeline and Pierre! Tell us a bit about yourselves …..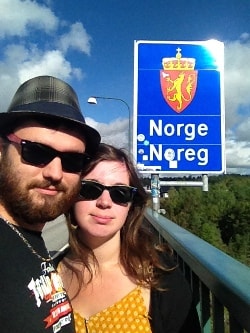 We are a French couple (Adeline, 25 and Pierre, 26) who have loved to travel for a long time now.
Before this journey, we traveled a couple of times together but only for a few days/weeks. We really enjoyed it so we wanted to take one much longer trip.
For three years we planned it, saved money, and finally, at the end of June 2016 we quit our jobs, left our apartment, bought a motorhome and just hit the road.
Our goal: To visit every country in Europe.
It's been 7 months now and we have already been to 17 countries and drove 18,000 km.
When did you first get to Norway and where did you go?
Norway was our seventh country… We crossed the border at the beginning of September 2016 and our first city was Oslo.
Then we drove west to Stavanger, Bergen, and north to Molde, Alesund, Trondheim, and finally Lofoten Island.
After that, we carried on through to Finland.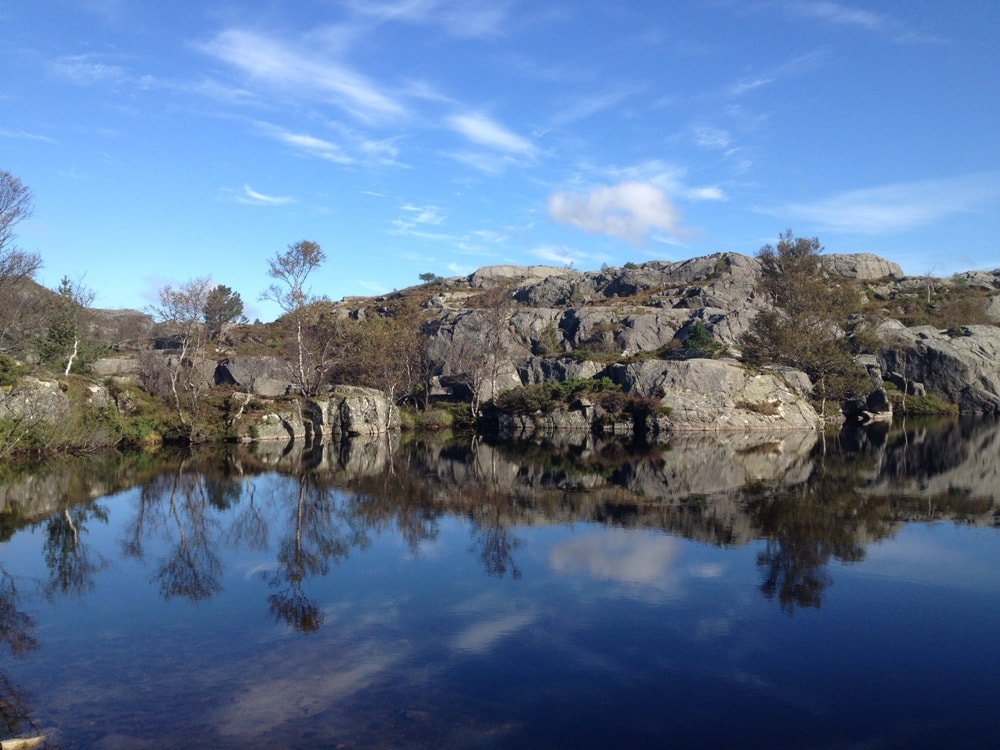 What was it that made you fall in love with Norway and did it inspire you to return?
The west part of Norway is absolutely wonderful!
We drove more than 3,000km in this country, most of it between fjords and mountains.
The landscape there is so beautiful, magical! It's like every corner you turn, you have a new postcard in front of you. 🙂
We had to go quite fast because winter was coming, but we could've stayed weeks, even months there…
Many hikes to do, more cities to visit. We will go back for sure!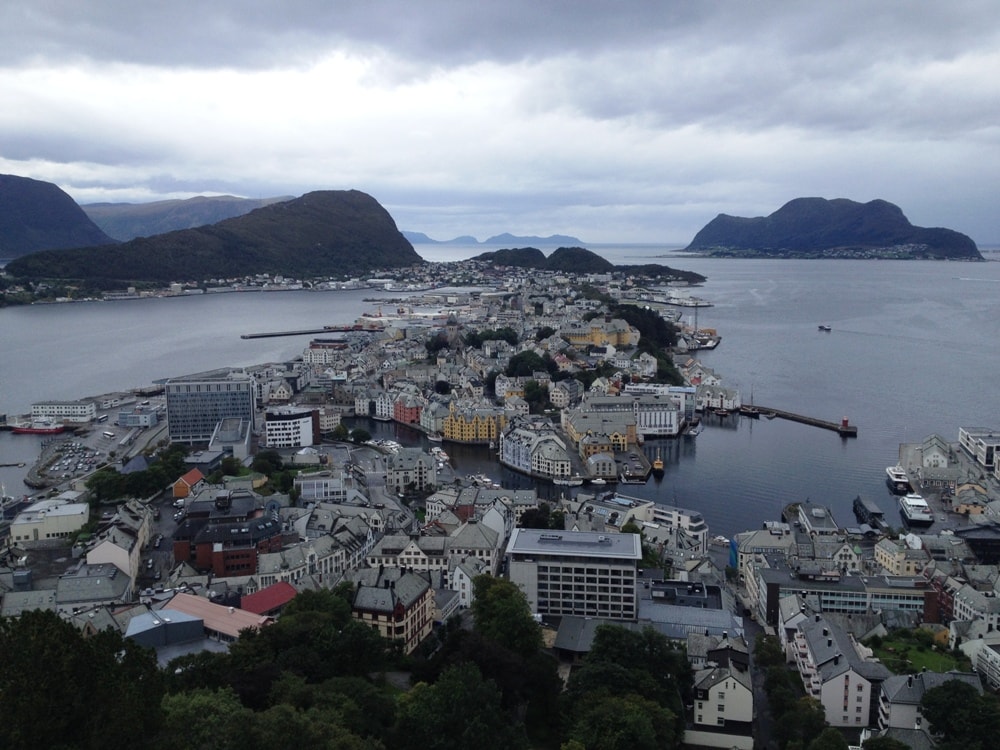 Which cities are your favourite and why? Would you recommend these as Norway road trip destinations?
Norway has many beautiful cities! We think our 3 favourites would be Nusfjord, Bergen, and Stavanger…
Nusfjord is located on Lofoten island and is a UNESCO world heritage site. It's a really cute, old fishing village. The famous red houses called "rorbuer" are really worth seeing.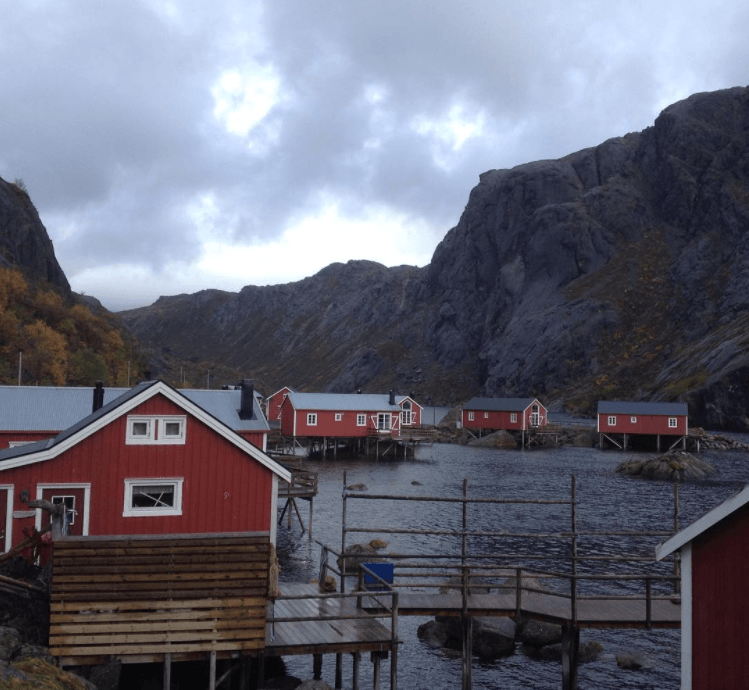 Bergen is Norway's second largest city. Its historical centre with the wooden houses are very unique (also UNESCO) and there are many narrow streets to wind through when you get higher up. In fact, you can enjoy a beautiful view not far from the heaven.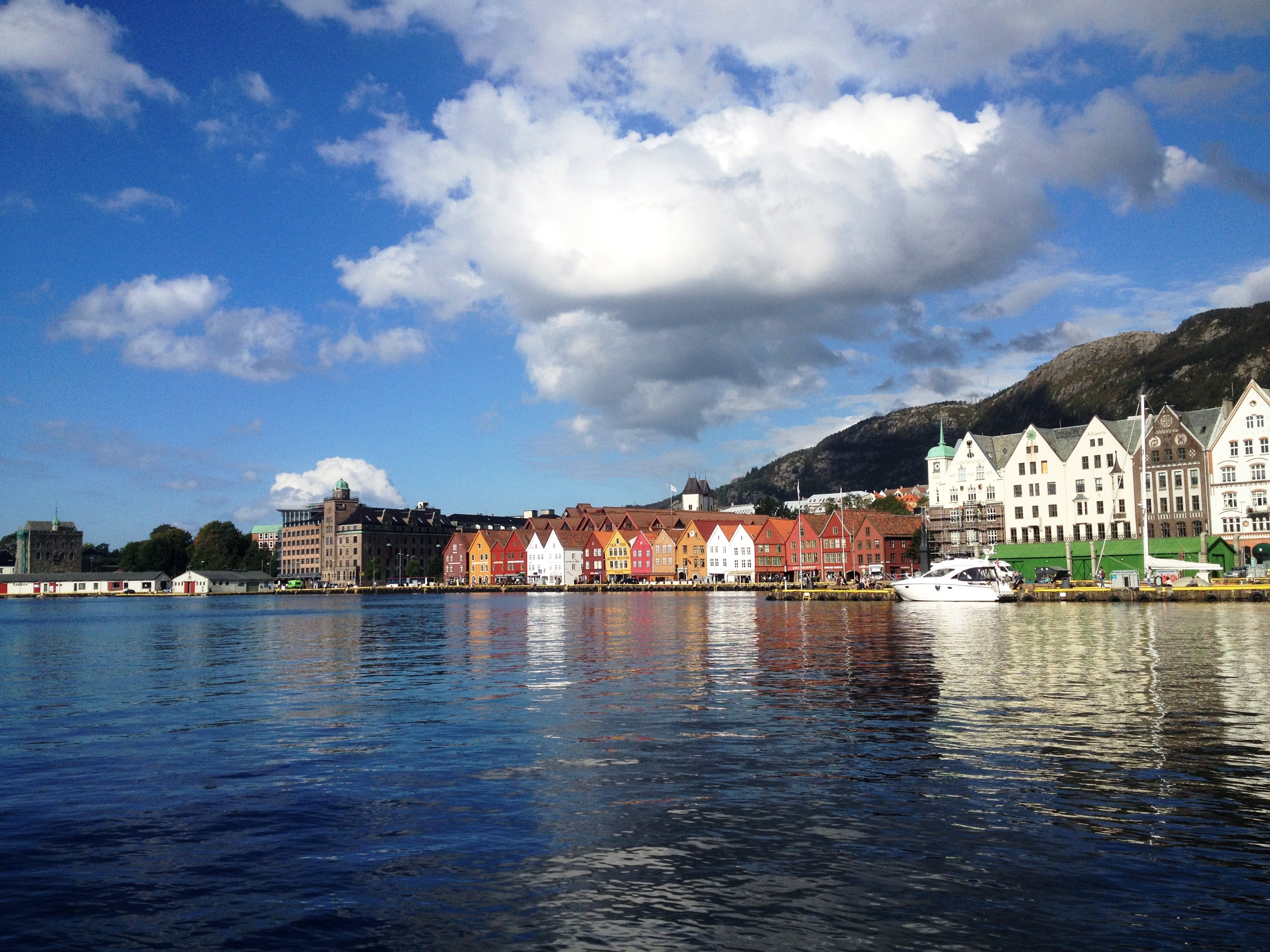 Finally Stavanger, in the South-West, for its animated and colourful streets, and its beautiful monument called "Sverd I fjell" (Swords in Rock in English) ". This monument is made from three 10 meter swords planted into a solid rock just near the sea.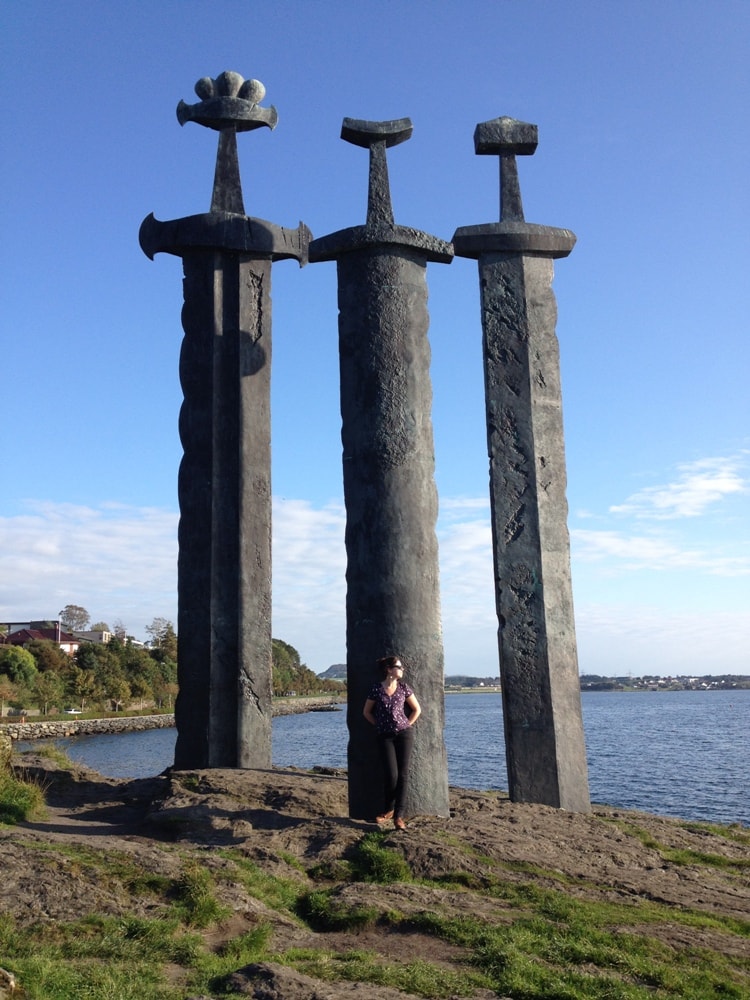 Your absolute top things to do in Norway during a road trip?
1. Hike the Preikestolen: It takes 2 hours of climbing to reach the top of the steep cliff, 600 meters above the Lysefjorden. The sight is simply awesome.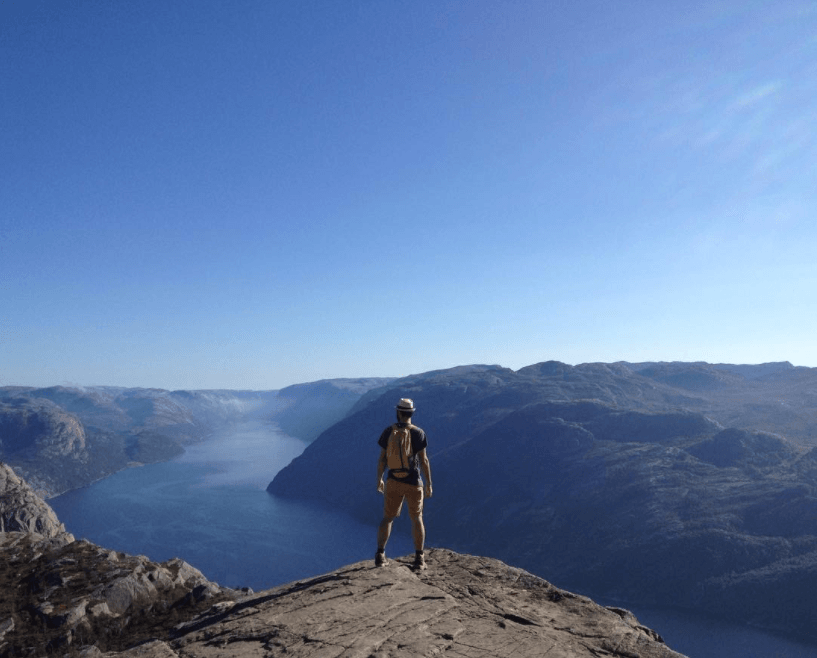 2. Visit the Lofoten islands, one of our favourite places on our whole journey. We arrived by boat from Bodø, and from it, we could see a huge wall of mountains rising out of nowhere in the sea. This whole area has remained wild and in a natural state.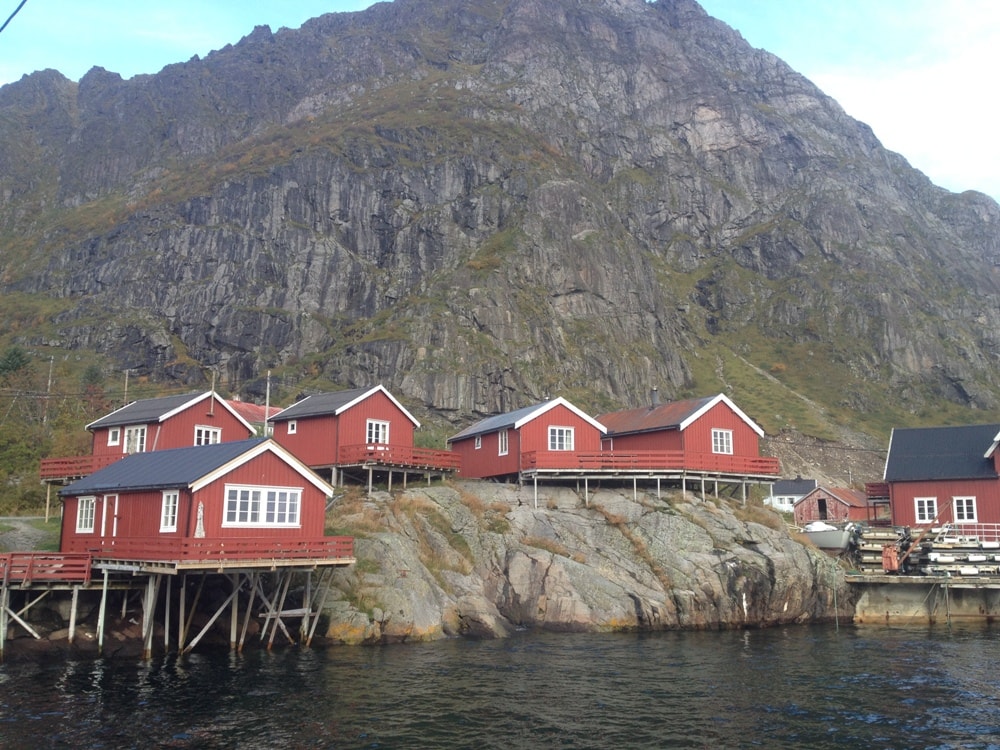 3. Admire the Molde Panorama: 400m above the sea level, you can enjoy a very beautiful view of the city, the fjords, some islands and more than 200 peaks! We stayed at least an hour just looking at the sight.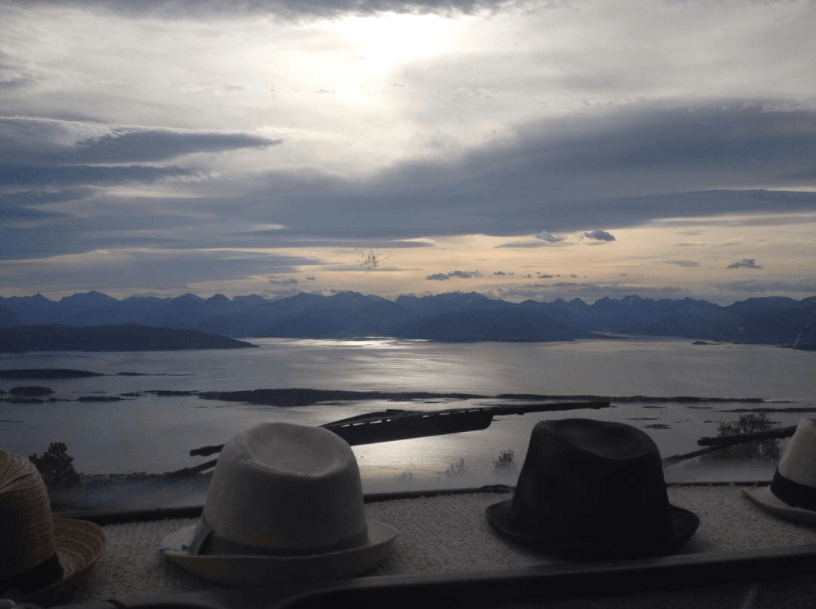 4. Do a road trip on the Atlantic Ocean Road (Atlanterhavsveien in Norwegian): It takes 8km and 12 bridges to cross the ocean, but do it mostly for the famous Storseisundet Bridge, built to resist storms and powerful waves.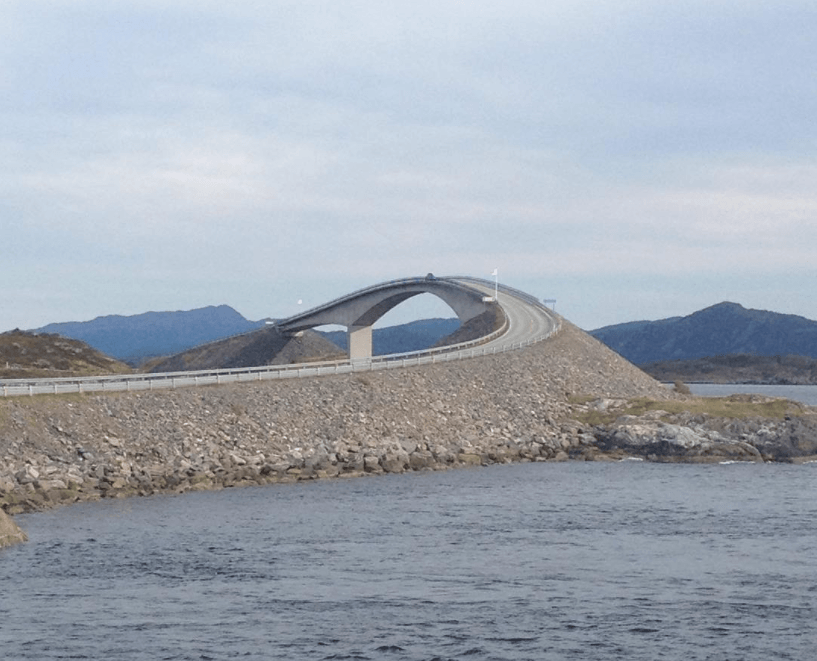 5. Cross the Arctic Polar Circle: From this point to the north cap, the sun never sets in summer and never rises in winter. If you are lucky like we were, you can also see the northern lights, even in September. 🙂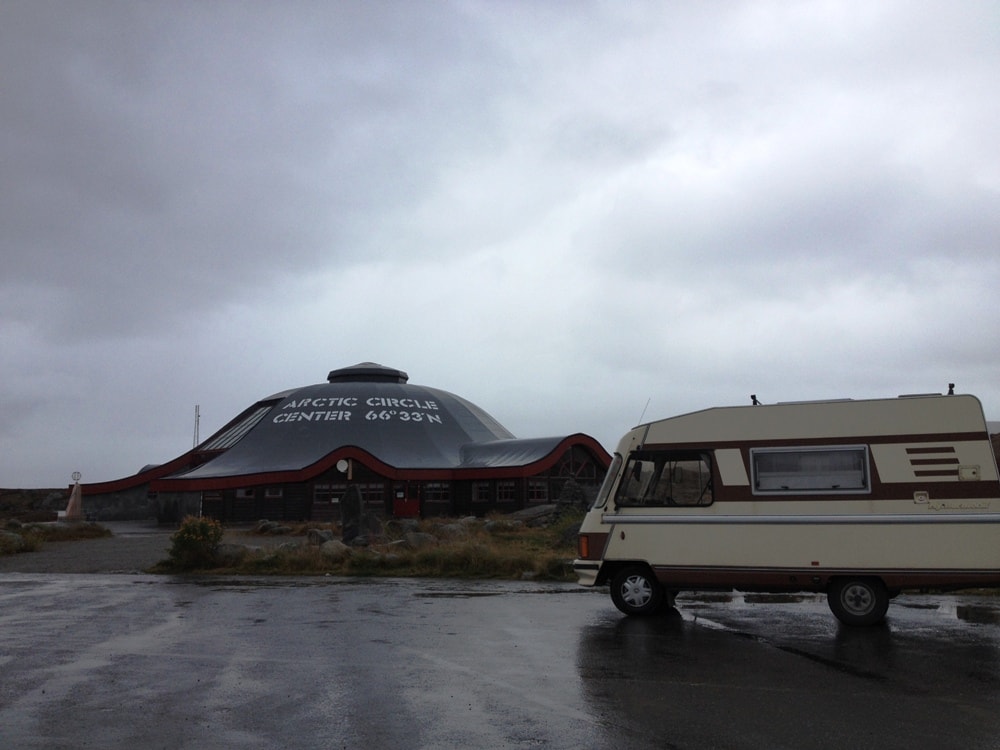 What challenges did you face on your Norway road trip and how did you overcome them? Should people planning to visit Norway be aware of these challenges?
Before we left France we knew that the roads in this country can be difficult. Lots of mountains, fjords and sometimes you don't have any choice other than crossing them.
We thought that our motorhome was strong enough but we overestimated it. 🙂
The road from Oslo to Stavanger was really hard and we were scared that we couldn't go as north as we wanted. But after Stavanger we kept driving on the "main roads" and it was ok.
People should know that if they want to visit Norway by car or motorhome some roads can be tough. Following the main roads and the coast is one of the solutions!
Our second challenge was hiking. Our first hike in Norway was at the Preikestolen. It was a real challenge. Adeline is afraid of heights, so even more for her! But we knew that it was worth it.
We had to climb for 2 hours, and sometimes it was tricky. But we did it and at the end, we felt so happy, like being at the top of the world! The sight up there was so amazing that we stayed several hours just watching it.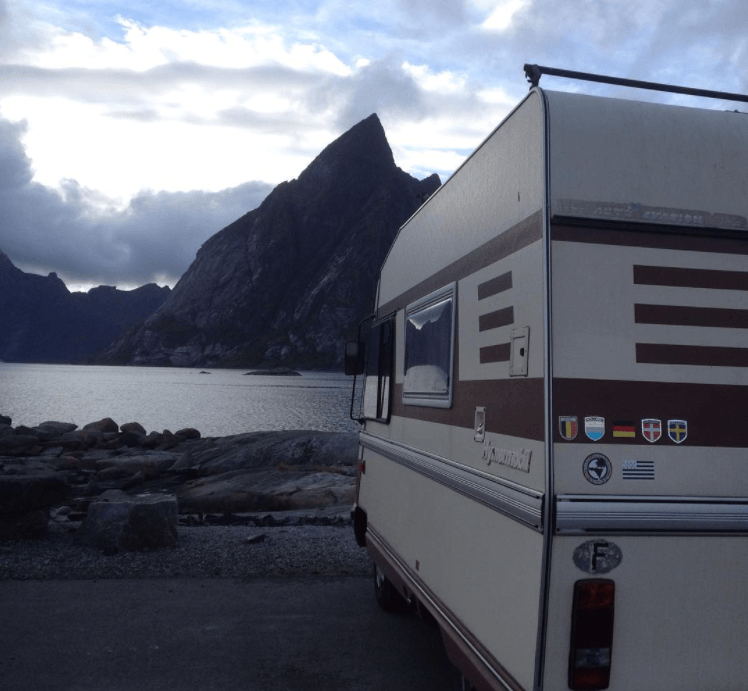 In your opinion, what is the best way to travel in Norway and why?
In our opinion, the best way to travel in this country is with a motorhome, for lots of reasons…
First, you are free to go wherever you want, and not only the "big cities".
There are many spots in Norway that you can go, and you can stop, rest for the night, and enjoy many different views (and you don't have to sleep in hotels).
Also, Norway is a really expensive country so in a motorhome, you don't have to pay for a hotel, and you can cook your own dishes (food and restaurants are really expensive!).
Finally, petrol and diesel are not so expensive there.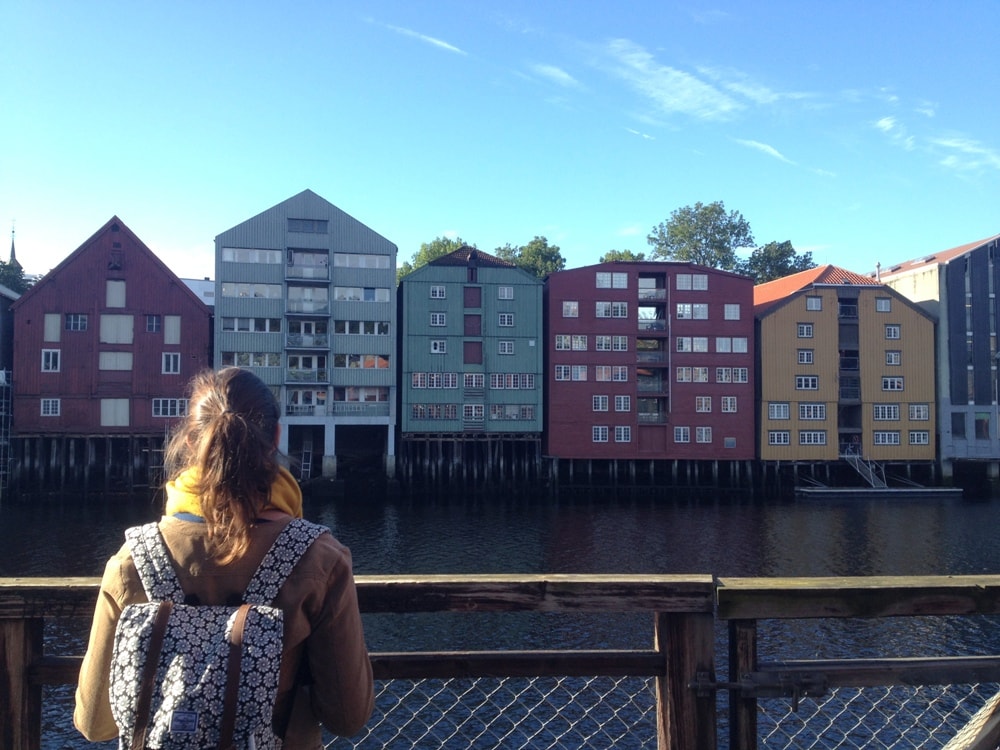 Based on this, what is the approximate cost of road tripping in Norway?
We can't tell exactly how much it cost us but you have to know that…
1. Food is more expensive than every other country in Europe
2. In the west part there are many ferries (some that you cannot avoid)
3. Most of the roads have automatic tolls (bridges, entering in a city, fresh new roads).
What are your most important tips for taking a Norway road trip?
1. Think about the period you want to go to Norway: We were there in September and we think this was a good time to be there… Not so many tourists on the roads or in the cities, the weather is not so bad (even in the north) and during the night you can see the Northern Lights (even if winter is better for it, we saw some and it was magical!!!!)
2. If you are traveling in a motorhome, buy foods in advance (in another country), because while you are there your budget can rise really fast! You can, of course, try some traditional foods during the journey. 😉
3. If there are some places that you want to visit but you are scared of the roads, don't forget that there are many trains or ferries which can bring you there!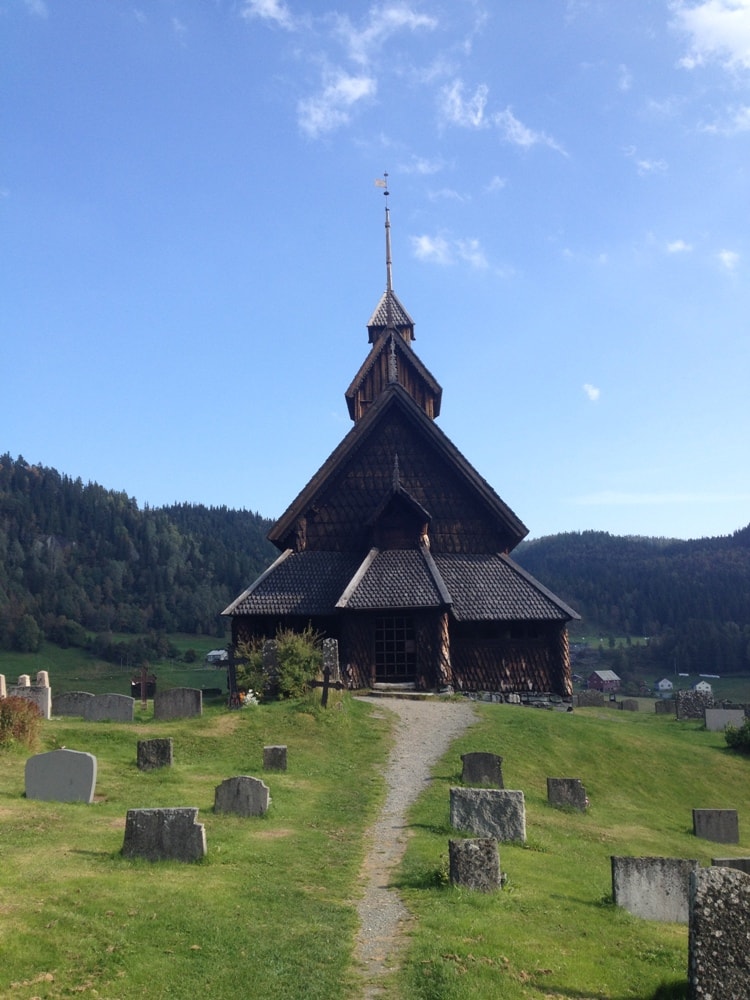 And finally, do you have any last words to inspire everyone reading this to travel to Norway?
Just go there!!!! You won't regret it, we promise you! The landscapes are wonderful, especially the west coast and Lofoten island !!!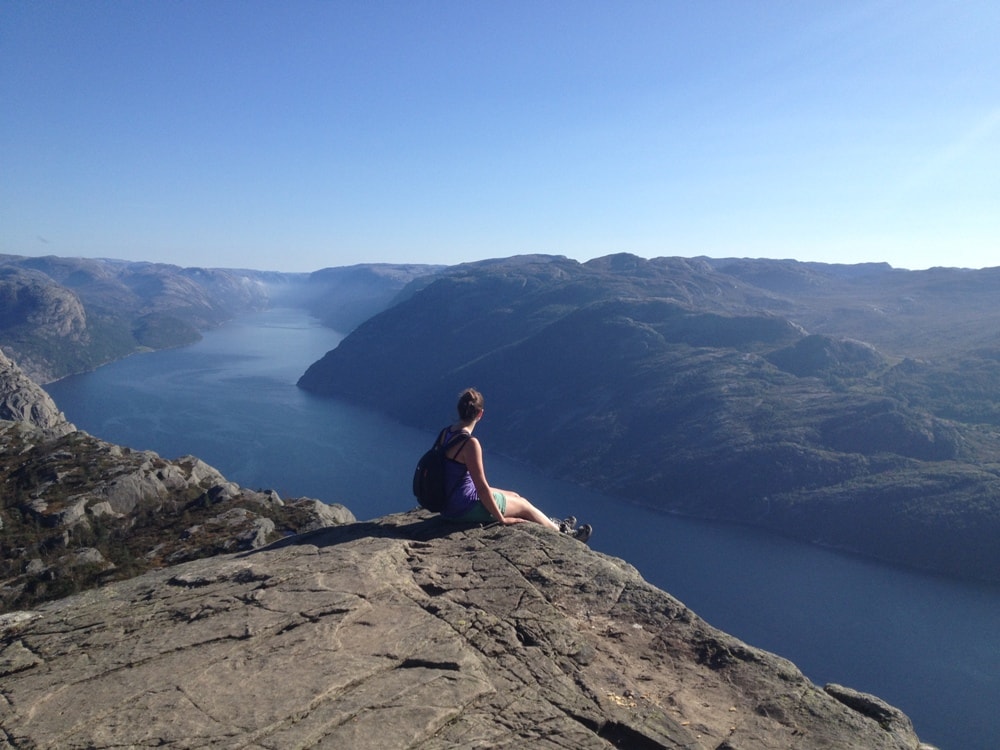 Adeline and Pierre, thank you so much for sharing your amazing Norway road trip experience and travel tips!
To learn about Adeline's and Pierre's next adventures around Europe remember to check their blog and follow them on Instagram and Facebook.

---
Norway Travel Tools
=> Search For Guesthouses & Hotels In Norway
=> Search For Airbnb Accommodation In Norway
=> Search For Cheap Flights To Norway
---
Now it's over to you reading – Leave your thoughts in the comments section below…
Do you love taking wild adventures? Would you consider a Norway road trip? Tell us why in the comments section below! Or perhaps you've already been to Norway… In that case, we'd love to hear your thoughts! Share below…