Earlier this year a friend of mine returned from a trip to Australia with his girlfriend and told me that it had cost them $8,000 for a 3 week trip.
Now, this trip did include renting a car and driving from Adelaide to Alice Springs (the home of Ayers Rock) and back again, but they said their biggest expense was accommodation.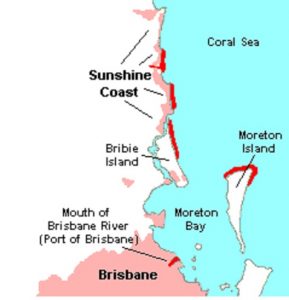 It had always been a dream of mine to visit Australia again one day, having travelled up and down the east coast as part of a Gap Year.
For this trip, my plan was to stay in one location and write for a month.
The Sunshine Coast seemed like the perfect location with its fascinating mix of beaches, rainforest and hinterland; plethora of exotic towns to explore; close proximity to Brisbane; and the best zoo in the world – Steve Irwin's Australia Zoo.
After hearing my friend's story and researching accommodation for myself I realised it was going to be impossible for me to go to spend a month here in rented accommodation.
So, I needed a new plan.
Some other friends told me that they used to housesit instead of renting or buying a property.
They travelled the world for years and spent 6 months housesitting in Melbourne.
They recommended the website Happy Housesitters and from there I found a place in a town called Caloundra that wanted a sitter for 1 month to look after their cat and dog while they holidayed in China.
I'd have use of their car and bicycles… Perfect!
So, I spent the month of March in Caloundra on the Sunshine Coast.
What was it like?
Fabulous. And cheap!
Here's My Favourite Free Things To Do On The Sunshine Coast That I Found Nearby…
1. Go To The Beach
I could sit here writing all day about the Sunshine Coast beaches. There are millions of them and they are all sensational in their own way.
See as many as you can and decide for yourself which are you favourites.
My top 2 are:
Mooloolaba Spit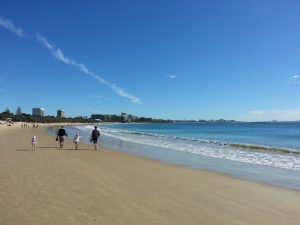 Like a challenge? Get yourself to the spit and see if you can bodysurf the hugely powerful dumping waves.
You'll feel like you're in a washing machine, but if you can last more than a few attempts without getting too badly smashed then you're a champion.
There are also plenty of calm spots for those that prefer a more relaxed ocean experience.
Like seafood? You can find the best fresh seafood on the Sunshine Coast at the Mooloolaba Fish Market just behind the beach. Tip: try the king prawns – just glorious!
Kawana Beach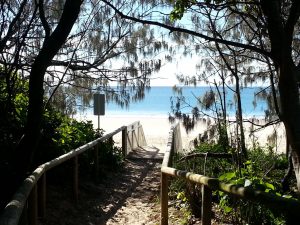 Park up somewhere along Oceanic Drive (running parallel to the Nicklin Way) and make your way through a bit of jungle before you step onto sand and walk down onto a vast expansive of beach.
You might see someone else, but it's unlikely.
This beach is special! My favourite part is just opposite Currawan Street.
Other Notable Mentions:
Currimundi Lake and Noosa North Shore
2. Hike To Baroon Lookout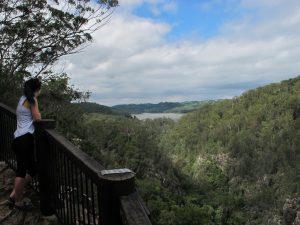 You'll find many spectacular lookouts while housesitting on the Sunshine Coast.
Mary Cairncross Scenic Reserve and Point Cartwright are a couple of great ones, but my favourite is Baroon Lookout.
I stumbled upon it by accident and was so glad I did because it is outstanding!
Truly breathtaking and well worth the 3km hike uphill through the bush.
Go in the morning and have lunch at Secrets on the Lake when you come back down – a delightful restaurant open to the public attached to a beautiful lodge offering rooms in rainforest tree-houses.
3. Explore The Hinterland
Jump in the car and wind your way up into the Sunshine Coast hinterland. It's magical.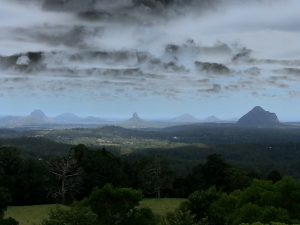 Stop off at the Mary Cairncross Scenic Reserve lookout (if you want to go into Mary Cairncross Nature Reserve it is well worth doing and only costs a small donation of your choosing – see if you can spot a pademelon!) on your way to the endearing little colonial towns of Maleny and Montville…
You can do both in the same day.
Spend the morning pottering about in the charity and souvenir shops of Maleny – maybe enjoy tea and scones in one of the many tea shops – and then head over to The Edge Restaurant in Montville for lunch.
You can get to the Baroon Lookout from Montville if you want to combine trips.
4. Buderim Falls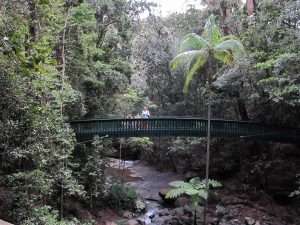 A delightful little town that is well worth a look around, Buderim is also home to a magnificent rainforest walk culminating in the discovery of a superb and majestic waterfall.
It's a trip for all the family as the walk is very manageable for all ages with a board-walked section at the beginning and only a couple of minor obstacles along the way…
At one point you have to negotiate a stream by skipping across stepping stones.
If you like nature and the feeling of being on an adventure without the worry of getting lost, then this trip is for you.
Hate mozzies? Me too! Bring lots of repellent with you on this excursion.
5. Fishing on Golden Beach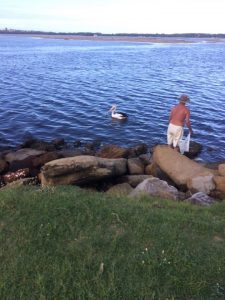 Golden Beach is a cute little beach near Pelican Waters in Caloundra.
If you want to see a pelican then you should check it out.
I would ride my bike to this beach most days from where I was housesitting on the Sunshine Coast.
It was about a 30 minute ride along a bicycle track that meandered it's way past the back of a retail park, around a cricket pitch, alongside a small flying school, through some bush and finally along a shady coastal path.
My favourite spot was at the very end of the beach where I found a bench to sit and write and some fishermen who taught me how to cast.
Interested in Kite Surfing? Golden beach seems to be a popular spot to do it – perhaps because it is fairly shallow, flat water due to shelter provided by Bribie Island but also produces weirdly strong winds at certain times.
So, How much did I spend?
My friends spent $8K in 3 weeks… I don't think I even spent $1K in 4!
And I think I could have spent less if I had really tried.
You don't have to pay for accommodation. You don't have to rent a car. You don't have to eat out unless you want to. You don't even have to pay someone to do your laundry!
With so many amazing things to do for free on the Sunshine Coast, all I really spent money on was food, beer, petrol and the occasional activity that cost money, such as Australia Zoo, a round of golf and flyboarding (which I'll be covering in my next article).
To finish
If you are thinking about going to the Sunshine Coast, or Australia in general, I highly recommend that you look into housesitting. It will save you heaps of money and give you a comfortable base from which to go off and explore your local area or further afield.
Visiting Australia this way saved me a heap of money!
More info
If you are thinking about housesitting on the Sunshine Coast and would like more insight into the area, please check out my coming article entitled Sunshine Coast: Top 10 Things To See And Do.
This little memory trip of my time housesitting on the Sunshine Coast has been fun for me and I hope you enjoyed it too. Please feel free to comment below with any spots on the sunny coast you love!
Like these tips? Pin this image on Pinterest for quick reference >>