Think you've seen the world in all its wonders? Think again!
Tourist destinations around the world might have made our jaws drop in wonder, but that's not even all of it— let alone the best.
There are so many amazing, weird places in the world, waiting to be found, ready make our mouths open wider and our eyes fall deeper in love.
Already tired of following the same itineraries in all the travel guides? Hop on board 'cause we're going to bring you to 12 weird places so mysterious you'll wanna book a flight, ASAP!
For Your Next Trip: 12 Stunningly Weird Places In The World
12. Mt. Roraima, Guyana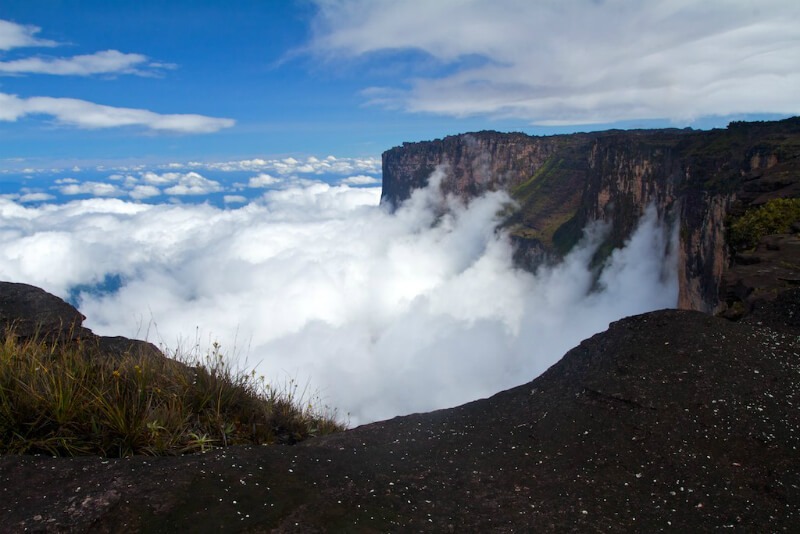 A ship's deck stuck in frozen seawaters? Wrong!
This is Mt. Roraima, nature's spectacle that doubles as a border between South American countries (Venezuela, Brazil, and Guyana) and a perfect hiking destination.
This mysterious landform is believed to have formed during the Precambrian period, giving birth to one of the world's strangest and oldest geographical landscapes.
Its tabletop peak might be deprived of rich vegetation but its surrounding slopes are home to endemic flora and fauna, such as pitcher plants, bellflowers, and bush toads.
Rising at 2,810m above sea level, reaching the astoundingly flat summit of this plateau is like seeing the "edge of the world".
11. Hillier Lake, Western Australia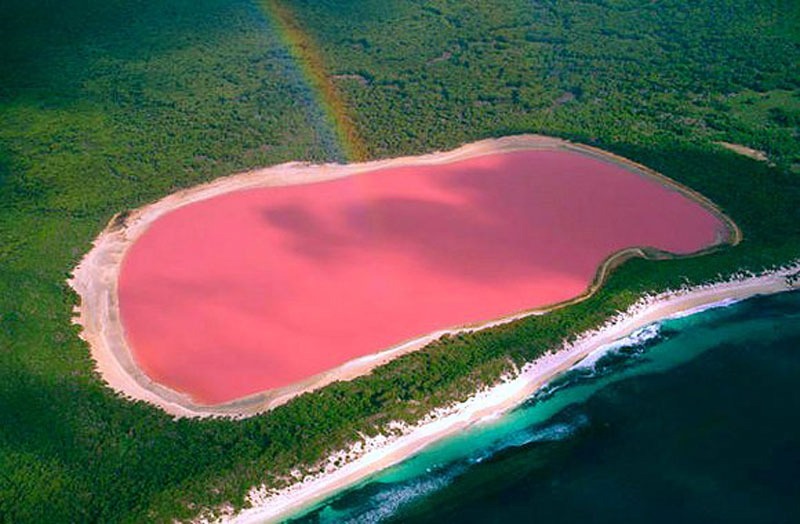 If God made a strawberry milkshake and accidentally poured it over on Earth, that would probably be the reason behind Lake Hillier's unusual hue.
But here's a more logical explanation to that: Due to its high salinity, red-pigmented algae thrives in the waters, giving the lake its pinkish glow.
Even so, the lake is non-toxic so it's still safe to swim around in there.
Only few modes of transport are available, via cruise or helicopter ride, but it is best to observe Lake Hillier's sweet colour up in the air.
10. Marble's Cave, Chile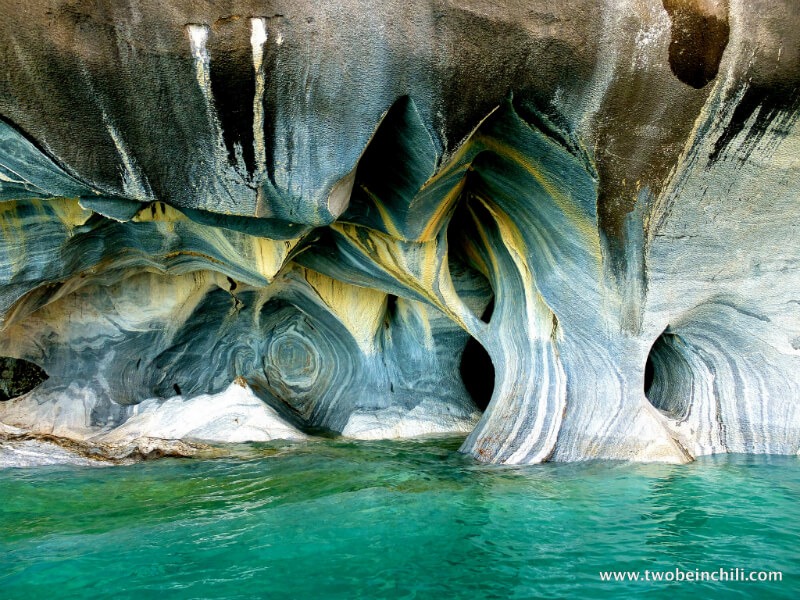 Looks like someone just made a mess of patterns inside the Marble's Cave in Chile...
Whoever it was, they did an excellent job of adding another place to our list of weird places in the world.
6,000 years of calcium carbonate weathering is what it took to carve these rocks to perfection.
Located along the glacial waters of Lake General Carrera, this wonder is only accessible via ferry.
The interior blue shades are basically the reflection of the lake's pure waters, and it changes intensity during different times of the year.
Be sure to visit Marble's Cave at the best time of the year, which is between October to December.
9. Mt. El Teide, Spain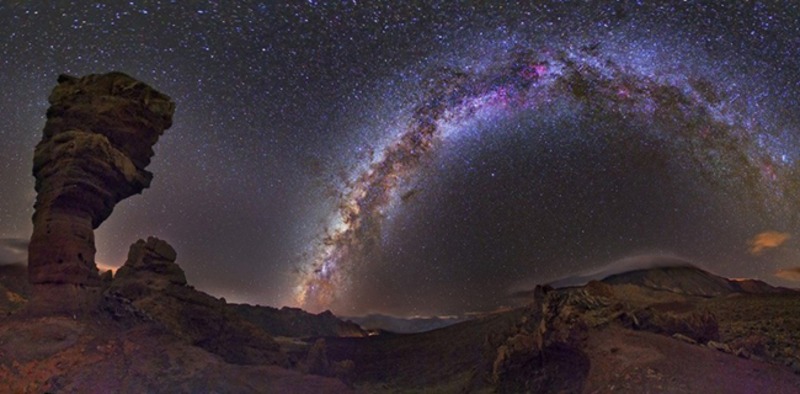 So let me get this straight, folks— it is not the landform that is strangely beautiful, but the view itself.
Look how close you can be to the stars!
Despite being classified as a volcano, Mt. El Teide offers a calming, magical show of sunsets and starlight at its highest peak.
A video of this wondrous spectacle once rounded the internet and now we understand what the hype was all about.
For your "starlight, star bright" chants, Mt. El Teide is simply the best place to send your wishes to the heavens faster.
8. Darvaza Gas Crater, Turkmenistan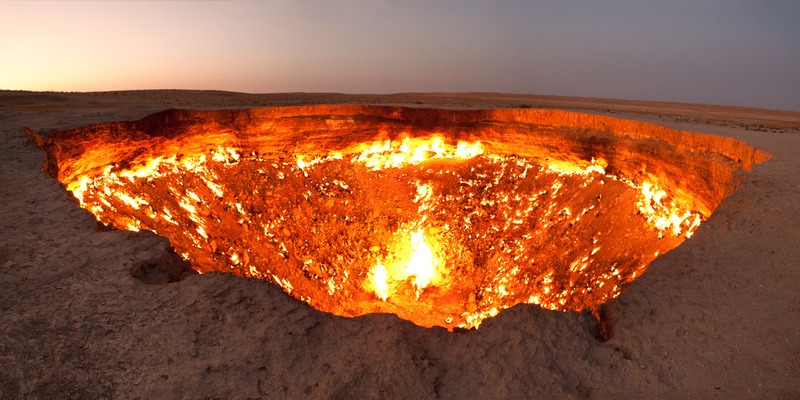 Nope. This is not a scene straight outta' the fantasy movies.
This is our world's very own gateway to hell!
If you're wondering, this so-called "door to hell" by the locals isn't conjured up by sorcerers or exorcists— it's a natural gas crater once lit up with fire by the geologists, thinking it would stop the methane gas from spreading.
Well, it didn't, and so it became the most beautiful "epic fail" in history.
This gigantic fire pit in Turkmenistan has been burning on ever since.
Approximately the size of an average American football field, there's no better place to bring our inner daredevils to than the Darwaza Gas Crater.
7. Waitomo Glowworm Caves, New Zealand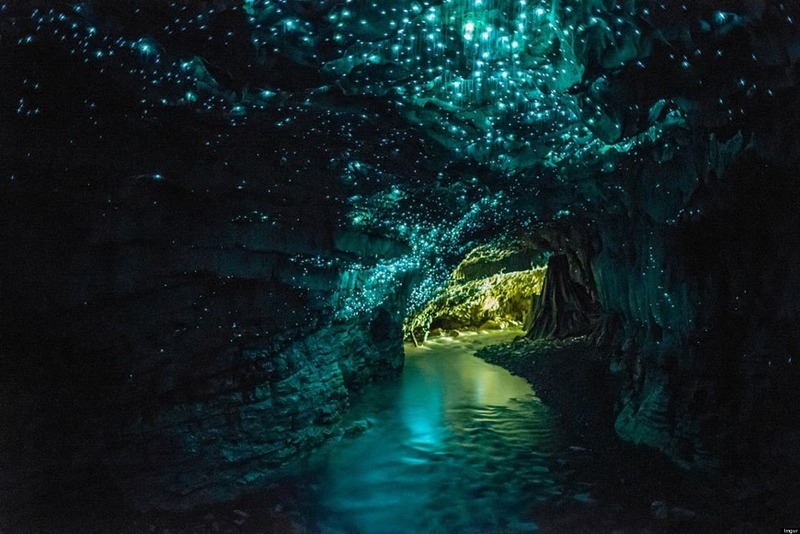 There are lots of "that's so tumblr" places in the world, and Waitomo Cave is undeniably one of them.
Does the word "glowworm" worry you? Don't sweat it, because these glowworms are actually bioluminiscent fungus gnats endemic to New Zealand.
So no chances of icky worms crawling on your head— just a living galaxy of glow-in-the-dark creatures welcoming you into Mother Nature's best light show ever.
The tourist spot is swarming with tourists all around the globe, so it's best to book reservations ahead of time.
6. Salar de Uyuni, Bolivia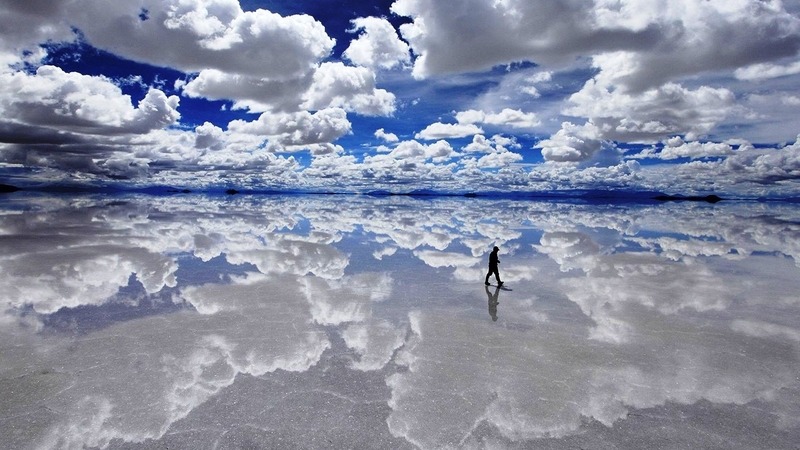 Saddle up, anime fans, because the next destination in the list looks exactly like the opening scene in Tokyo Ghoul's "Unravel".
This salt flat in the middle of Bolivia is so reflective, it is even used for calibrating the government's satellite! That's all thanks to the a salt brine surface which makes the area notably flat.
Though the reflection effect is the main the reason for its boost in tourism, it is by pure luck to experience this spectacle since Salar de Uyuni is a high desert area, so it's mostly dry.
The locals suggest visiting around March to April where there can be a possibility of rain, a much needed element for the reflection.
The spectacle might be elusive, but it will be worth a try.
5. The Great Blue Hole, Belize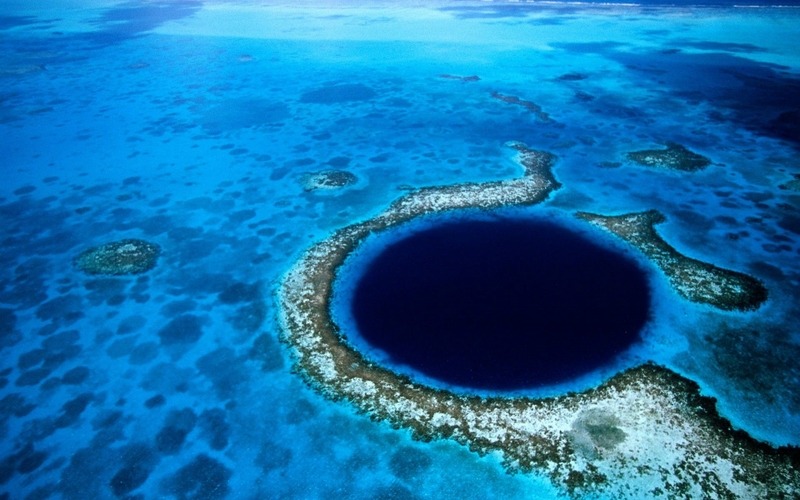 They say when you stare into an abyss, the abyss stares back into you.
But this strange formation isn't an abyss, and an abyss isn't what will stare back into you— crystal clear waters, stalactites, and a variety of marine species will.
Though it seems like complete darkness would welcome us once we jump right in, the Great Blue Hole is actually an underwater sinkhole that is popular for recreational scuba diving.
If you're looking for a colour-rich dive, this site might be a little too bland but the stalactites, Earth's natural chandeliers, are there to compensate.
Several species of fish occasionally say hi to the visitors of their territory, but the larger kind like hammerhead and bull sharks rarely check out their guests.
4. Skaftafell Ice Caves, Iceland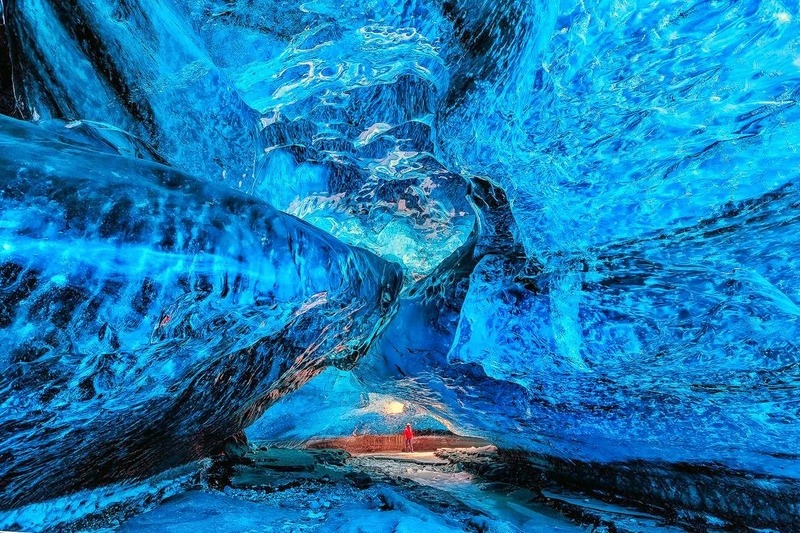 Skaftafell = Arendelle from Disney's Frozen? Close enough!
While this icy wonder looks like Elsa's lair, Skaftafell Ice Cave is a popular destination in an Icelandic town of the same name.
It is a result of age-old ice blocks morphing into pressurised glaciers through time.
When visited during the ideal months, tourists can marvel at the stunning blue glow of the cave as daylight seeps in.
So, wanna build a snowman? If that's a yes, then Skaftafell Ice Cave will be your perfect playground!
3. Socotra Island, Yemen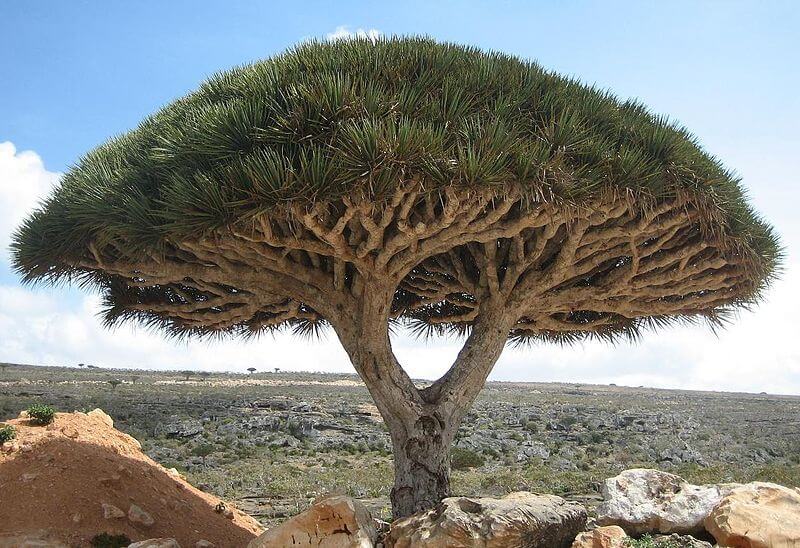 Socotra Island is just one of the many reasons why people came to believe in alien-and-human conspiracy videos on YouTube.
I mean, with its plants and wildlife being the epitome of strange, wouldn't that seem likely?
Which is why Socotra Island has made it to our list of weird places in the world...
Isolated from mainland Africa, this mysterious island seems like a whole new planet on Earth.
Desert roses sprouting at elephant-leg tree, trunks that bleed red sap and succulents the size of giants flock the area in odd display.
Can you believe that roads were constructed in the area only a few years back?
Commercial constructions are considered threats to the ecology of the place, so transportation is quite a challenge...
It is limited to a few minivans, 4WD cars, and motorcycles.
Consider tossing your hotel booking plans away and start packing up your tents since Socotra Island is an amazing eco-tourism spot.
2. Zhangye Danxia, China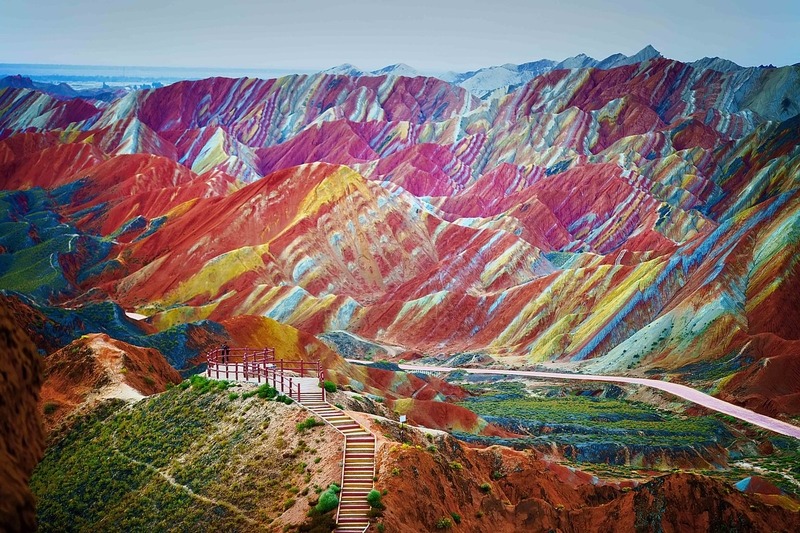 Our world has its life-size abstract painting exhibited in a province of China called Zhangye Danxia.
Thrill-seekers and art lovers alike should come see it.
Mother Nature truly outdid herself by creating a variation of colours in these landforms, brought about by constant weathering and other geological processes.
The mountain range is rich in iron oxide which, combined with other minerals over time, gives the sandstones an artistic stain of reds, yellows, blues, greens— you name it!
Be sure to visit the site no earlier or later than June to September, when the weather makes its play on the landscape and draws out its vibrant colours.
You can reach the place via air or train, so it's all up to you.
Be sure to get there in time for the sunset when the the colourful stripes of Danxia are at their best.
1. Cenote Angelita, Mexico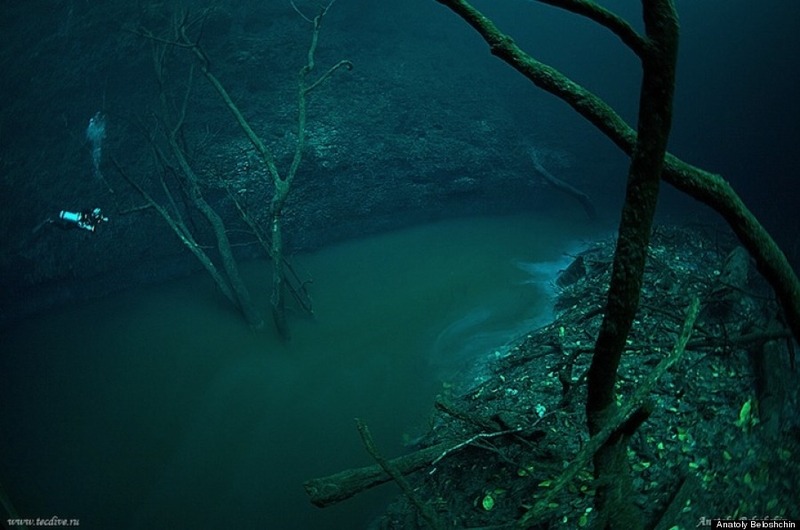 Okay, this may not be the most visually-pleasing among the other twelve, but there's something about this mystifying site which made it a cut above the rest.
Cenote Angelita is a resulting phenomenon of two bodies of water co-existing in one area. Now that's mind-whacking.
Situated along the Yucatan Peninsula in Mexico, this mesmerising river under the sea is separated from the saltwater by a veil of Hydrogen Sufate fog, making the cenote a surreal wonder.
Never in your wildest dreams would you expect a riverbank complete with bare trees and caves to appear 180 ft underwater.
But here's Mumma Earth, just doing her thing.
Weird Places Need Some Lovin'
Mother Nature likes keeping secrets from her children, but they don't stay hidden forever.
There are yet more weird places in the world that make you wonder, "Just how many more are there to amaze us?"
These hidden gems don't only need discovery—they also need our love, care and support, just like anybody else.
So, when you're off and away for your "journey of a lifetime", be sure to pick up your trash, take pictures, enjoy the scenery, and above all else, create memories.
Do you know of some other destinations that scream "weird"? Let us know in the comments and find out just how much of a thrill seeker you are!
Don't forget to pin one of these images on Pinterest to intensify your wanderlust a little more! >>