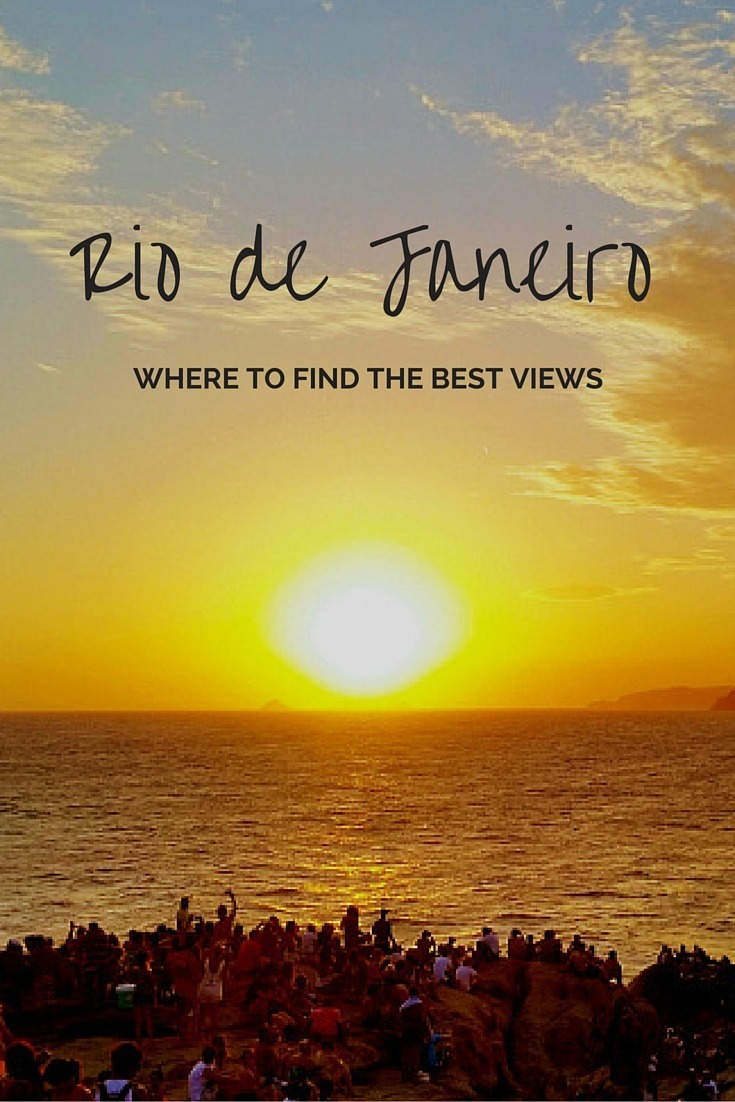 Taking the prize for one of the most picturesque cities in the world, where turquoise blue ocean meets jagged mountains and sparkling city skyline meets tropical rain-forest, Rio de Janeiro is a city of stark contrasts that truly has to be seen to be believed.
If you travel to discover the extraordinary wonders of the world, you won't see it all until you visit Rio de Janeiro. Get your camera ready and prepare to be in awe. Here are 5 settings to capture amazing views of Rio de Janeiro.
Best Views In Rio De Janeiro: Visit These Places To Find Them...
Want to visit these destinations to find some of the best views in Rio de Janeiro? Pin this on Pinterest >>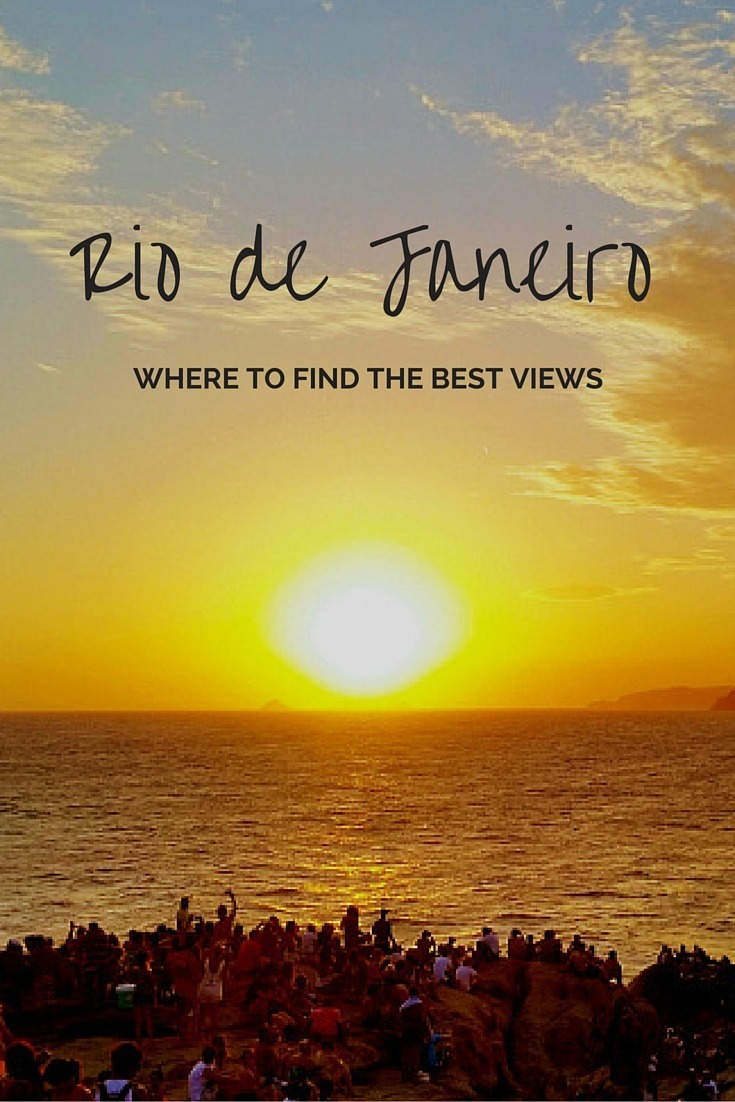 1. Corcovado Mountain
You may or may not have heard of Corcovado Mountain but I'm almost certain you've heard of the prominent statue that stands at the peak, Cristo Redentor, otherwise known as Christ the Redeemer.
Once you've made your way up to the summit of Corcovado Mountain, which rests at 700 metres above sea level, you're spoiled with sensational panoramic views across the city of Rio de Janeiro and it's renowned beaches.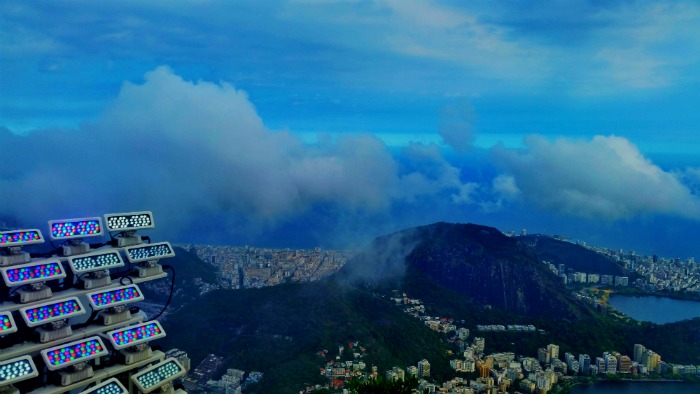 Not only that, when the clouds clear on a bright day, the statue of Jesus Christ dazzles above as the crowd of spectators around you clap and cheer (even if it is just for a few seconds).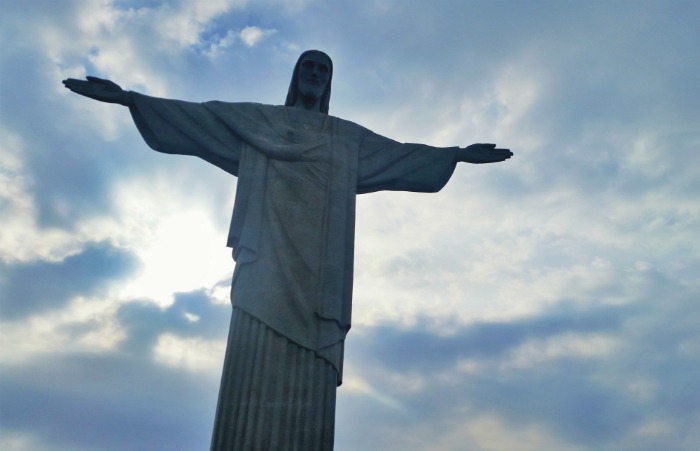 On weekends and school holidays this becomes one of the most popular tourist attractions in Rio de Janeiro, therefore it's best to visit on weekdays and during low season if you want a better chance at capturing some good photograph's.

How to get to Corcovado Mountain: From Copacabana, Ipanema or Leblon, bus 583 will take you to Cosme Velho, the base of the mountain.
From there you can buy a return train ticket to the top for about $46 BRL per adult.
2. Arpoador
Sandwiched between two of Rio's most popular beaches, Copacabana and Ipanema, Arpoador offers visitors the chance to experience one incredible sunset during the height of summer, with awe-inspiring views across Ipanema and Morro Dois Irmãos, otherwise known as Two Brothers Hill.
Traipse the rocky peninsula until you find a comfortable spot to sit, relax and watch the sun descend between 3 small jagged rocks that rest out to sea.
As the large glowing ball shrinks into a mere pinprick and the yellow glow fades into soft tones of peach, the crowd claps and cheers after witnessing a rare moment that only occurs a few times each year.
Arpoador is a photographer's heaven, especially during sunset.
The sky above bursts into an explosion of colours as birds dance around in circles, and on a calm evening, the ocean rests peacefully as observers take their last dip for the day.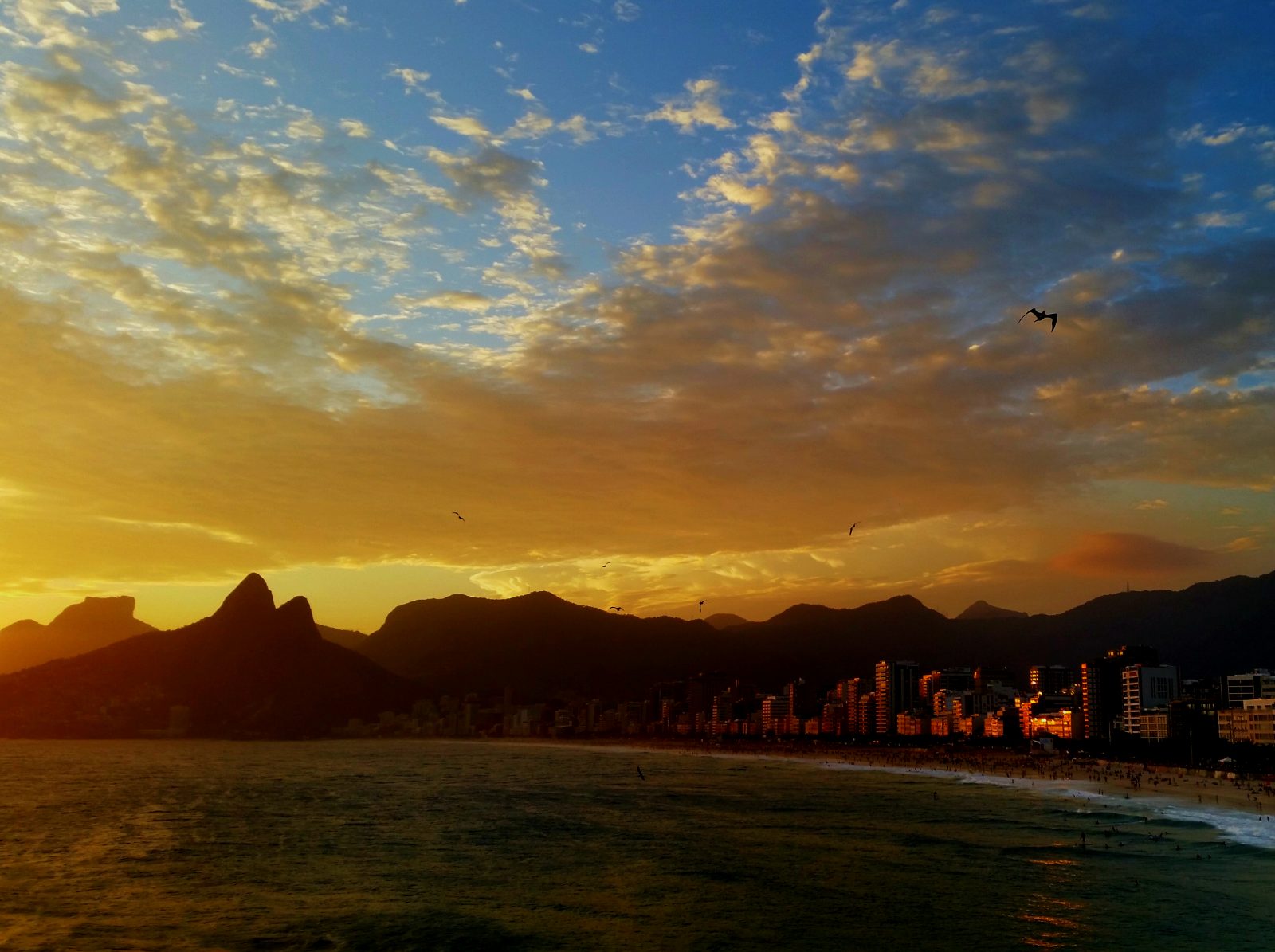 When to visit Arpoador: They say the best time to visit Arpoador and witness the magical sunset is in the middle of summer at approximately 7:30pm.
To skip the crowd on arrival and find a good spot to watch the sunset without too many heads in the way, we recommend getting there between 6:30pm and 7pm.
How to get there: Walking, head towards Ipanema beach if you're coming from Copacabana or Leme or if you're coming from the opposite direction, head towards Copacabana beach. You'll soon come to a rock formation that goes out to sea.
To get around the peninsula you can climb over the rocks or use the small steps located all over.
3. Babilônia Hill & Chapéu Mangueira
Babilônia and Chapéu Mangueira are two Rio de Janeiro favela communities that sit adjacent to each other behind the neighbourhoods of Leme and Copacabana.
As most favelas in Rio de Janeiro are situated up high on the hills behind the glamorous beachfront regions, they often come with incredible views over the colourful buildings below and out to the horizon.
As pacified favelas, both Babilônia and Chapéu Mangueira are safe to visit as a tourist and you can even spend the night if you want the full experience.
You can access both communities from the same road located at the bottom of the hill (in Leme).
As you wind your way up, the road splits and you can turn left for Babilônia or right for Chapéu Mangueira.
In Babilônia there are plenty of unique viewpoints dotted up the hill.
If you're thirsty, Bar do Alto is a fantastic spot to watch the sunset with a Caipirinha in hand.
In summer, the vibrant coloured houses and shacks glow underneath orange skies as the village kids raise their kites in an attempt to take each other down.
From this roof-top bar, you're also spoiled with uninterrupted views over Copacabana Beach.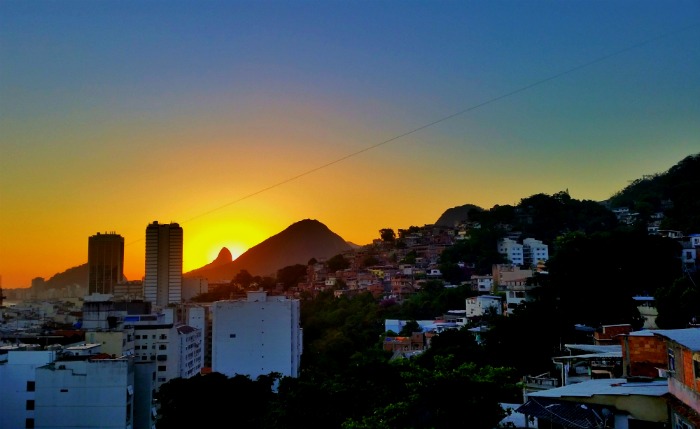 Hike to the top of Babilônia and you'll reach the old army fort. From here you have the opportunity to see Rio de Janeiro from every angle and it's totally mesmerising.
Also, because not many people know about this trail, you're likely to have it all to yourself. I wouldn't advise going after dark as there's little lighting, so stick to early morning or late afternoon (to avoid the heat) and you'll be fine.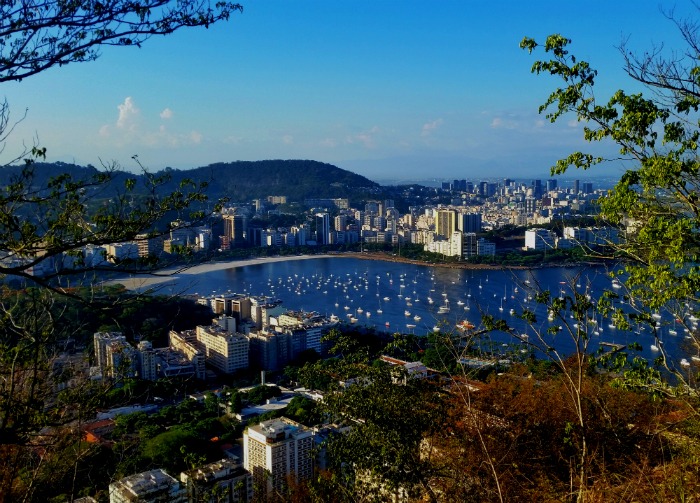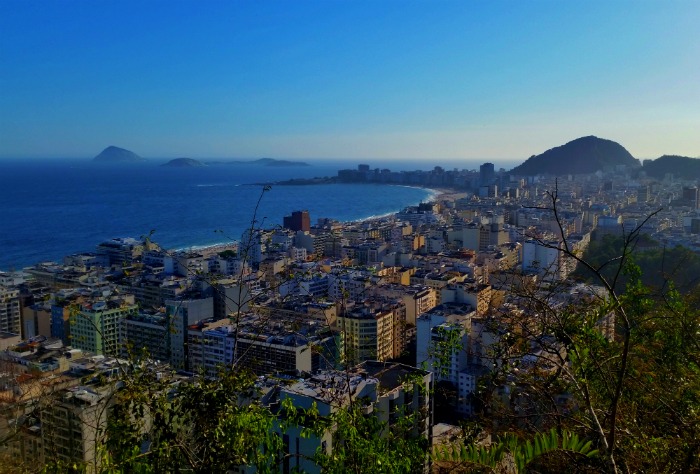 Over on the other side of the hill is Chapéu Mangueira, a quirky, colourful favela community built up of tiny alleyways and steep steps.
From what we discovered, this area is mainly residential, with a few small cafés and shops scattered throughout.
If you plan to stay in a favela for a few nights, this is where to do it.
From our balcony at Chapéu do Leme Guesthouse we could see across the rest of the favela and over to Copacabana Beach.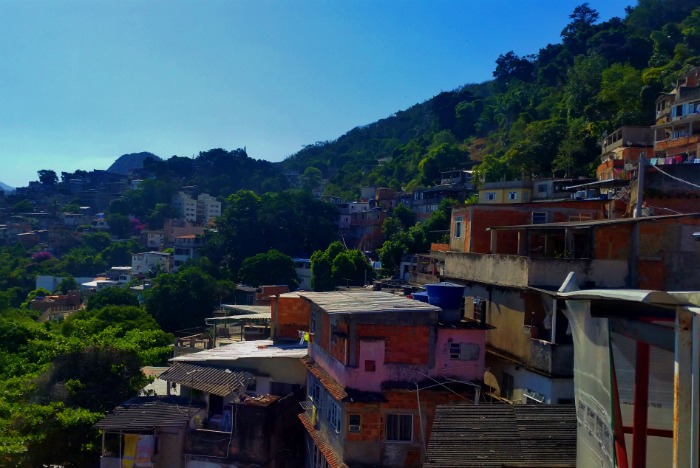 How to get there: From Copacabana and Leme walk to Rua General Ribeiro da Costa where you will be able to catch a moto-taxi up to the top of Ladeira Ary Barroso.
From here, you can turn left for Babilônia or right for Chapéu Mangueira. Then it's a matter of simply wandering the narrow alleyways and following the hand-painted signs.
4. Sugarloaf Mountain
There's no denying that Sugarloaf Mountain is one of the most touristic attractions in Rio de Janeiro but don't let that deter you from visiting.
The views from Sugarloaf are incredible - a photographer's dream.
To save a few dollars whilst fitting your daily work-out into your travel schedule, choose to hike up the mountain and they'll shout you a free cable car ride back down.
We found this to be a much nicer way of doing it as it allowed us to interact with other parts of the mountain and witness more unique views.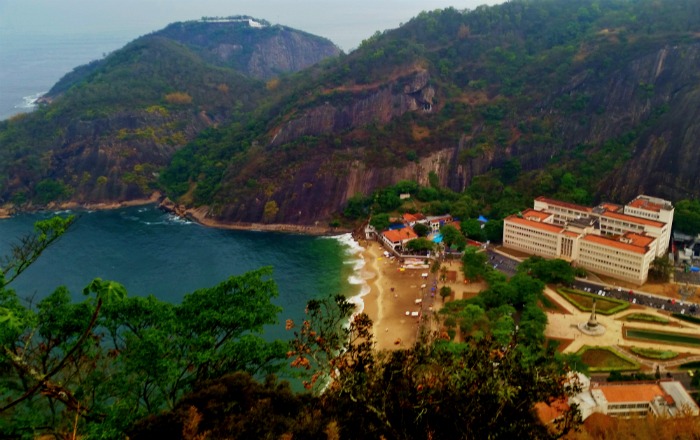 The best time to start hiking up Sugarloaf Mountain is about 45 minutes before sunset so you can capture it glowing over the mountains in the distance on the way up.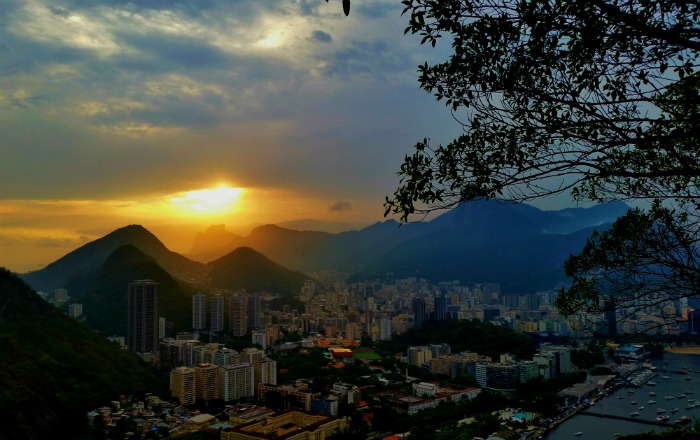 When you reach the top you will be delightfully welcomed with amazing panoramic views over Guanabara Bay, downtown Rio, the southern beaches and a number of other prominent parts of Rio de Janeiro, including Corcovado Mountain (Christ the Redeemer) and Niteroí Bridge.
Sit down with an ice cold drink and catch your breath as you watch the planes soaring in and out of Galeão International Airport and over the mountains afar.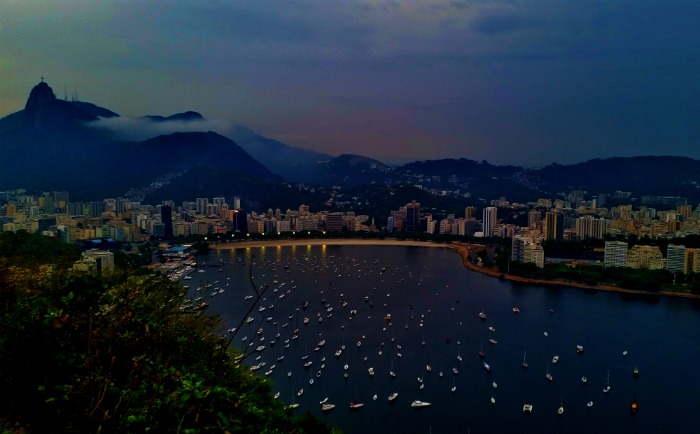 When you're ready to leave, just make your way over to the cable car operator and they'll send you back down the mountain, with more spectacular views of Rio de Janeiro on the way. The last cable car down is at 9pm each night.
How to get there: From Copacabana or Ipanema you can take buses 500, 511 or 512 which stop at the entrance or you can go by taxi, costing around $15 - $20 BRL.
From there, follow the signs to the footpath which will lead you up to the top of the mountain.
5. Santa Teresa
Perched on a hill, overlooking downtown Rio de Janeiro, Santa Teresa is a quirky little neighbourhood full of classic architecture, colourful street art and winding narrow roads.
It also happens to offer picturesque views across the city.
Located near the busy and vibrant neighbourhood of Lapa, where many people go to visit the famous Escadaria Selarón and experience nightlife in the lively Samba clubs, Santa Teresa is a unique place to stay and immerse yourself in Carioca culture.
Once upon a time Santa Teresa was an upper-class neighbourhood, built up of many spectacular mansions, some of which are still standing today.
These days it has merged into more of an artistic and cultural hotspot, a renowned setting for art studios, galleries and a variety of distinctive restaurants and bars.
Something really special you can do in Santa Teresa, other than strolling up the remarkable Escadaria Selarón and visiting the famous Museu da Chácara do Céu, is to ride on the old yellow tram.
This takes you across the Carioca Aqueduct and through the scenic streets of Santa Teresa, presenting frequent opportunities to witness awe-inspiring views of the city.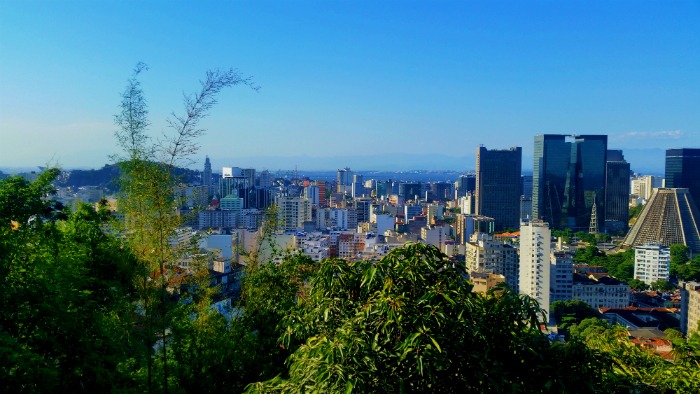 From our balcony at Terra Brasilis Hostel we had magical views over the city and beyond.
What I liked most about this was that at the end of each day the buildings below us softly glowed in yellow and orange tones and it only evoked feelings of pure content.
There are many guesthouses and pousada's along this strip if you want somewhere central yet quiet to stay.
From here, you can take a short walk down through Escadaria Selarón (the colourful steps) to the bottom of the hill where the exciting nightlife begins.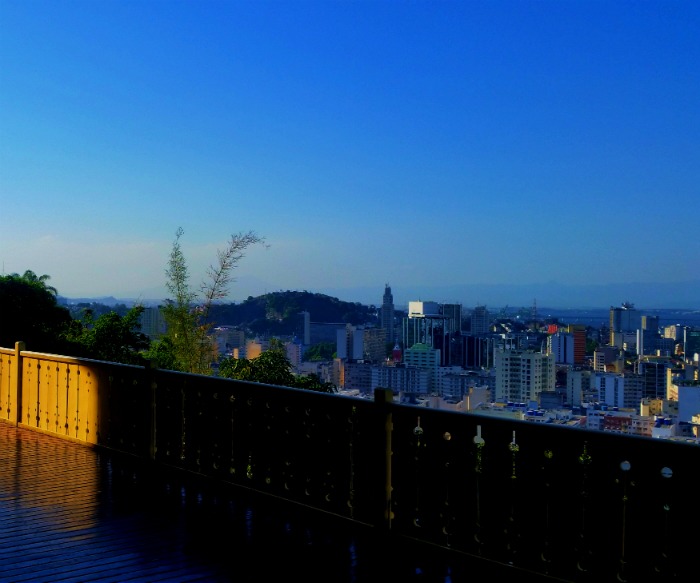 How to get there: I would recommend taking a taxi to the adjacent neighbourhoods of Santa Teresa and Lapa if you are staying along one of the beaches.
What you can do is get dropped off at the bottom of Escadaria Selarón and then walk up through to the top. From there you can turn left and the road will take you up the hill to Santa Teresa.
---
Rio de Janeiro, Brazil Travel Resources
Accommodation In Rio de Janeiro
To start looking at your accommodation options in Rio de Janeiro, choose Hostelworld for budget, Hotels Combined for comfort or Airbnb for local (and get $25 off).
Want stylish accommodation you can afford? Enter your dates and Hotels Combined will scan all the top booking sites (Booking.com, Hotels.com, Expedia, etc) for the cheapest prices possible:
Flights To Rio de Janeiro
If you are flying in to Rio de Janeiro, it is beneficial to use a flight compare site to find the cheapest flights. We recommend and use Cheapflights.com.
--> Click here to compare and book cheap flights to Rio de Janeiro
Any more incredible views of Rio de Janeiro to add to the list? Comment them below!