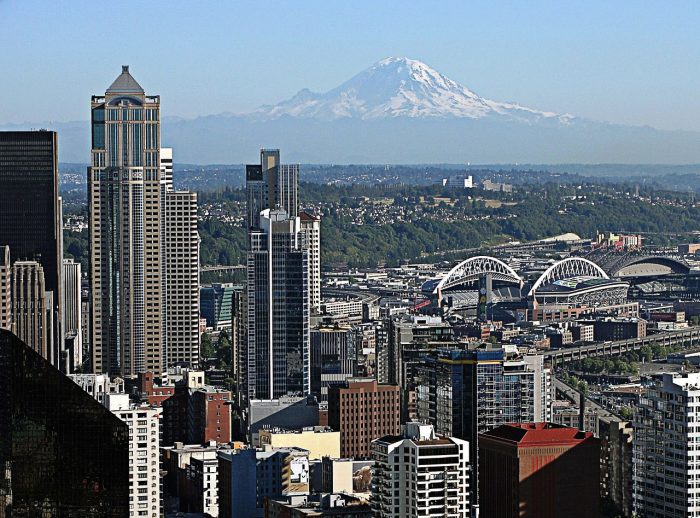 Looking for the best cities in the world where you can enjoy shopping and explore mountains and ocean adventures all together? Yes, that's possible! Some cities are so geologically diverse that they'll actually let you play with both sand and snow in the same day. Sounds exciting, right? If you think so, you should ready yourself now! This list of the best 5 cities with both mountains and the sea might be the key to help you decide where to go on your upcoming vacation!
5 Best Cities in the World Where You Enjoy Both the Mountains and the Seas
1. San Francisco, California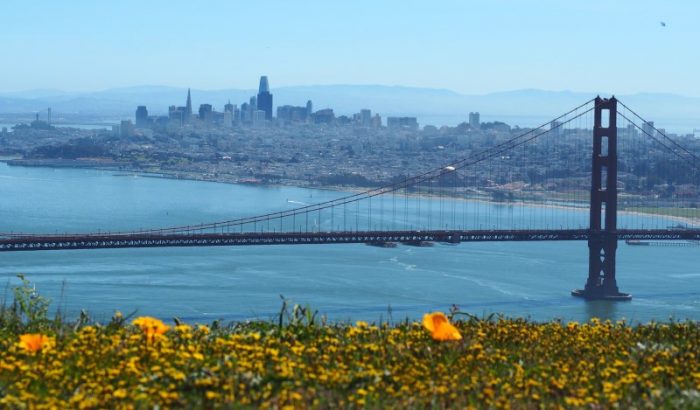 Ranking as one of the greatest cities in the world, San Francisco, California truly has it all. From its beautiful waterfront, to its famous grand-dame Victorians, soaring crimson bridge, cable cars, and dynamic diversity, it is indeed a home to a little bit of everything.
On your first visit, this "City by the Bay" will welcome you in the widest and grandest way through its Golden Gate Bridge. Have a taste of a welcome drink and the finest wine in Sonoma and Napa Valley. Or, you can head to the Fisherman's Wharf for some seafaring vibes and a chance to visit restaurants that offer amazing seafood recipes.
San Francisco is also known for having trend-defining cuisine, ranging from Michelin-starred dining to food trucks that offer the best street food that you can eat. The plazas in Ghirardelli and Union Square are the best spots for great dining options and shopping. If you want to buy some tech-ey stuff, come and visit Silicon Valley - the home to many start-ups and global technology companies like Apple, Facebook, and Google.
There are many things to do in San Francisco; the hardest part will be choosing which part of the city you want to see first!
2. Auckland, New Zealand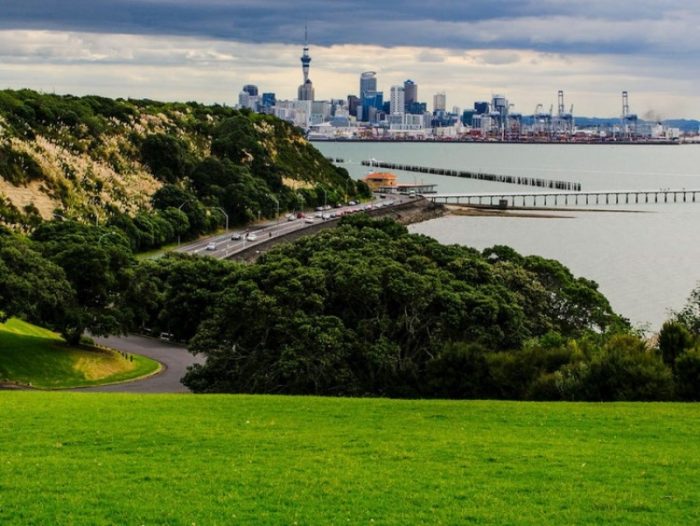 Beautiful beaches, hiking trails, holidays islands, outstanding food, and luxury shopping, plus the sunny climate, completes the package of Auckland as the largest and most diverse city in the world.
And one amazing thing about this world-class city is its geography and warm, humid climate, making it on the world's top 10 cities to visit list if you want to have a short break. This is most especially because, in just an hour ride, you can reach both the mountains and the seas for some activities and adventures that you'll no doubt want to try.
If you want to go island hopping, you can choose whether you want to go Waiheke, Motuihe, Rangitoto, or go a little further to Tiritiri Matangi, Kawau, or the Great Barrier. Each island has its own unique face with different activities that you can enjoy. And, if you are into surfing specifically, you can enjoy the waves at Maori Bay.
After water adventures, discover New Zealand's unique bird and tree species in the native forest of Waitakere and Hunua ranges. Then, enjoy the exciting urban side of the city in Parnell, Ponsonby, and Viaduct Basin for the best foods and restaurants. Auckland is also a shopper's paradise with a great reputation for great art and fashion. So, you'll definitely not get bored when you visit!
3. Santiago, Chile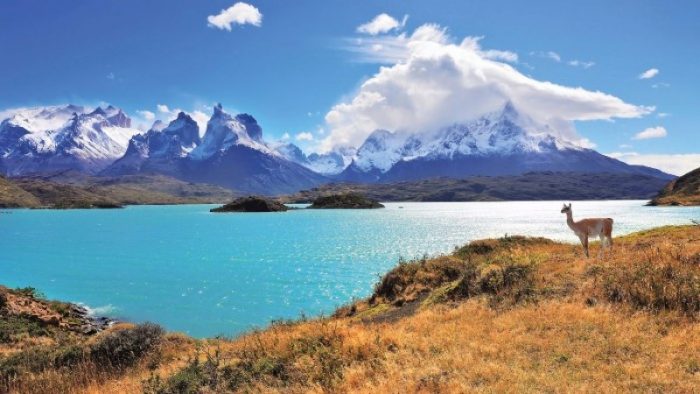 Santiago City in Chile is known to be a versatile city, as it hosts different international music and food festivals. And of course, it's known for its proximity to the famous Patagonia Ice Glacier, though it's quite a drive away from Santiago.
But, you don't need to travel deeply south in South America just to have fun. Because visiting the city of Santiago already offers a complete package for every traveler who wants to enjoy the great outdoors.
For over an hour drive, you can enjoy the cool breeze of beaches in the north of Valparaiso, like in the Maintencillo and Cachagua areas, where you can also surf on friendly waves.
If you love hiking, then head to Pochoco and Cerro Provincia, which are located inside the city itself. Skiing in Santiago is a must if you are visiting the city during winter. Just an hour drive in Santiago is the famed Pontillo Resort - the oldest ski resort in South America that was opened 70 years ago!
And lastly, don't miss out on enjoying the city life in Santiago. The city is filled with galleries, museums, handicraft markets, design shops, restaurant, bars, and cafes.
4. Barcelona, Spain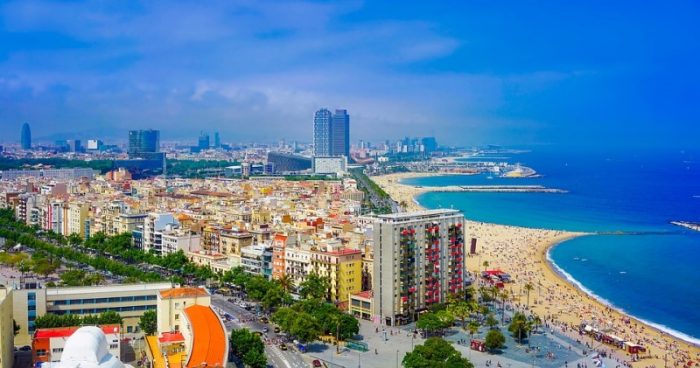 Barcelona is Spain's most vibrant city. It is known for its historic architecture, party scenes, and delicious food. But aside from that, Barcelona also offers a load of outdoor activities with the mountains and the seas.
Just 90 minutes away from Barcelona are the stunning beach coves of Costa Brava. It's the best place for you to enjoy the sea and taste delicious seafood dishes, especially in the morning. Then after, head west into Serra de Collserola Natural Park where you can get the perfect overlooking view of Barcelona.
The park is the favorite spot of locals to hike and bike with its must-see and friendly trails. Or, head up in a cable car to Montjuic - the city's urban peak and the prominent hill overlooking the Barcelona harbor.
If you want to go a little further, you can go west and visit the Monserrat Monastery. Or, drive 2 hours and to ski at the Masella Ski Resort in the La Cerdanya Valley. Well, with all these opportunities, it seems you need to dedicate a few days to Barcelona to fully enjoy the destinations and activities that it offers!
5. Manila, Philippines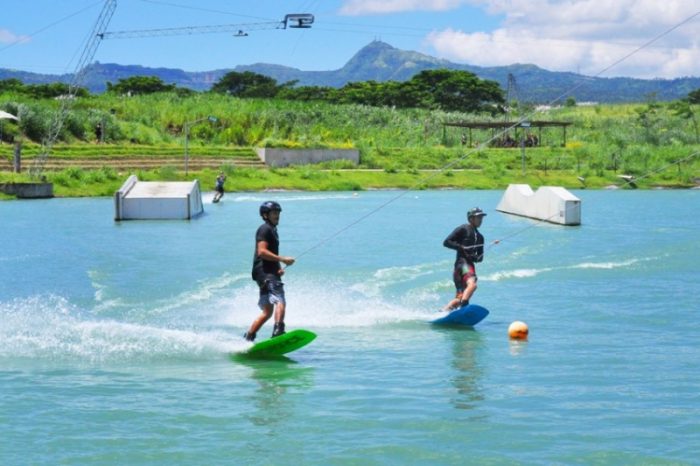 Last on this list of the best cities in the world with both mountain and sea access is Manila, Philippines. Just an hour drive from the city will take you to places with loads of outdoor activities and adventures.
Hit the waters and try wakeboarding in Nuvali, Calamba, laguna through the help of cables (not boats) that will pull you through the waters and obstacles. Or, head to the mountains of Rizal, and get amazed with the scenic views, beautiful waterfalls, and crystal clear rivers.
You can also try an all-terrain vehicle tour on the steep mountains and muddy jungles of the Sierra Madre. Then visit Masungi Georeserve, where the prime attraction is a 10-kilometer spine of limestone formations.
If you want to go diving and snorkeling, head to Anilao and be amazed by its beautiful, transparent, and calm waters. Go island hopping in Zambales, and discover the beauty of Capones Island or Anawangin Cove.
And before you leave, don't forget to party with the Filipinos at night at the best clubs in the city, like The Pool Club in the Palace. Or, spend your time discovering the rich culture and heritage of Old Manila through its walled city, Intramuros.
These are just some of the best cities in the world that offer sea and mountain adventures all at the same time. On your next trip, you should consider giving one of these cities a try. And let us know if there are new exciting activities or destinations in these cities that every tourist should look forward to. Happy travels!