It all started in the lounge room of a hostel we were staying at in Copacabana.
Dan had just finished confirming the details of our next little adventure and I was about to send an email to my parents announcing something I NEVER thought I'd be announcing.
Dan and I were about to go and visit one of the favelas in Rio de Janeiro.
Not only were we about to visit a favela, we were about to stay in one for 3 nights.
Now, I come from Australia.
A country where we have it pretty damn good.
Beautiful, pristine beaches, a great economy and plenty of freedom.
So you can only imagine what was going through my head (let alone my parents') when our trip to the favela was confirmed.
I was pretty scared.
After all the documentaries and news stories I had watched on Brazil in the past, I was even slightly hesitant to travel in Brazil at first, let alone spending 3 nights inside a slum.
Before arriving in Brazil I was under the impression that hundreds of people were shot every day in cities like São Paulo and Rio de Janeiro; drugs like crack cocaine used in abundance and taking the lives of hundreds of thousands of teenagers every year; and robberies happening at every blink of the eye.
I didn't even want to imagine what was going on inside the favelas.
According to the media, I was in for a really rough time.
Now, I'm not saying that none of this is true, but after being in Brazil for 4 months and living like a local with Dans' friends and family, I can say that the image of Brazil that the media portrays in Western countries is relatively skewed.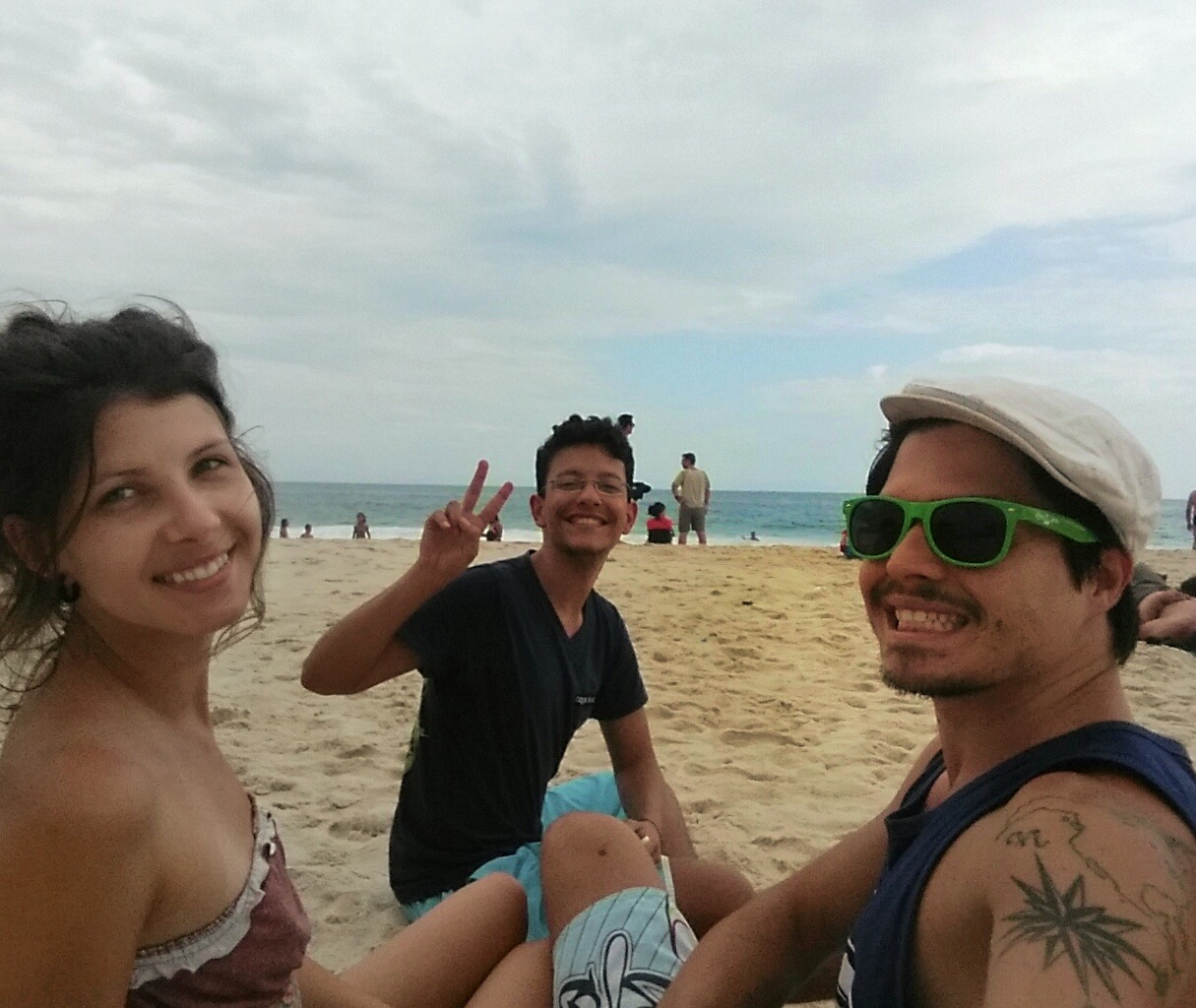 Yes, you do have to be more aware here than in countries such as Australia and New Zealand, but in my opinion, Brazil is not as dangerous as you most probably think and is an incredible country to travel in.
Which brings me to the question many people who plan to travel in Brazil may be wondering...
Are the favelas in Rio de Janeiro safe for tourists?
Save this article for future referral... Pin these on Pinterest >>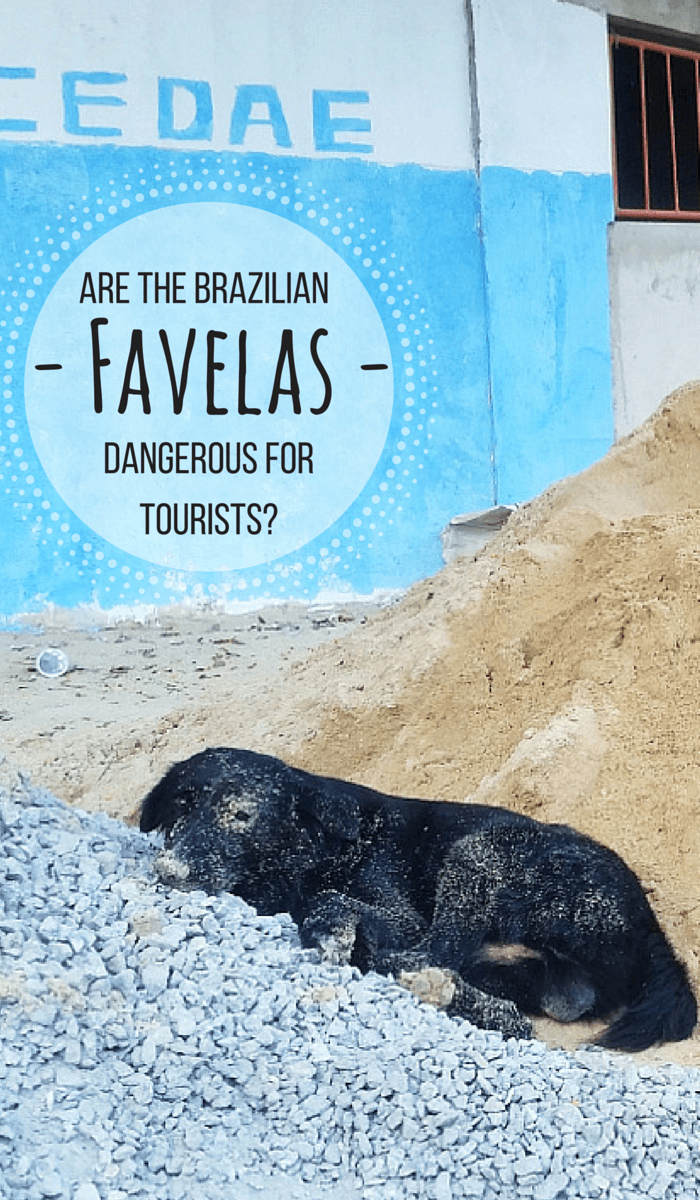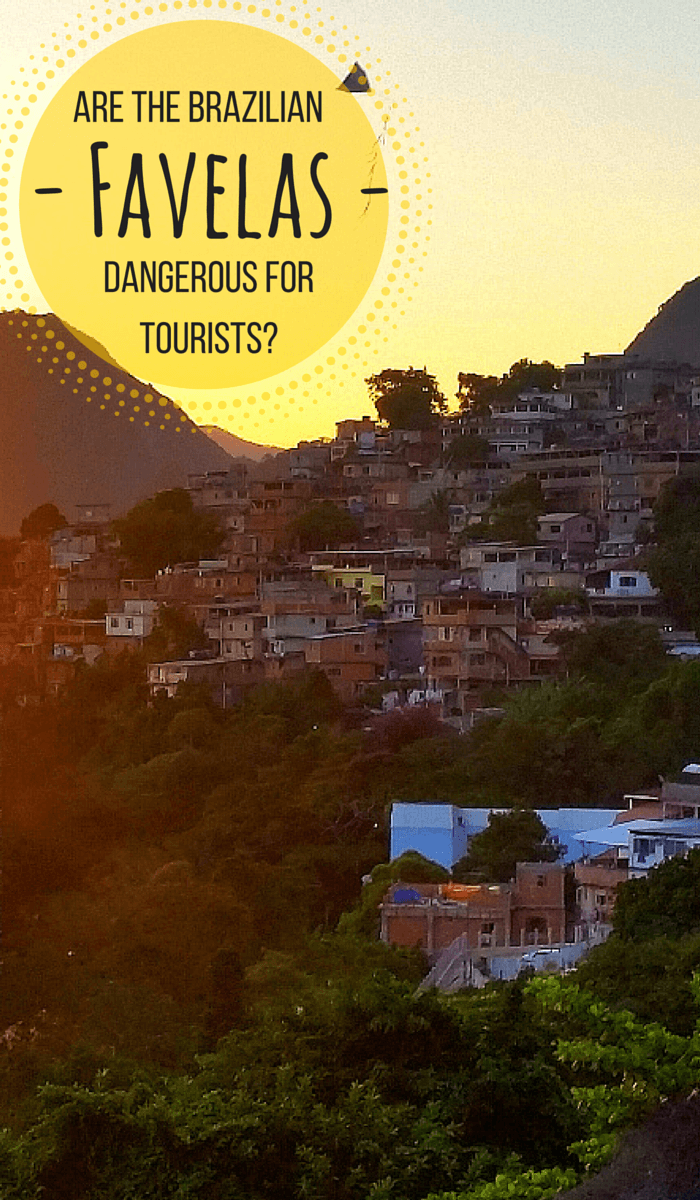 And my answer is, it depends which one you go to.
The idea of staying in a favela was first brought up one night while I was on a Skype call to Dan from Australia.
I don't know how it came up but we were trying to figure out where we were going to stay for New Years Eve (as I was arriving in the country 2 days earlier).
We knew we were going to be in the region of Rio de Janeiro and we definitely wanted to catch the New Years firework display over Copacabana and Ipanema but everything was already booked out.
Next minute, Dan's sending me pictures and videos of the favelas in Rio de Janeiro - hinting that we should stay in one.
I thought he was joking.
Seriously? Me? A gringo? Staying in a favela?
Isn't that just asking for trouble?
But according to Dan, no, not at all.
I found it quite hard to trust his conclusion and changed the subject.
Some days later, I arrived in Brazil, we stayed at a friend's house over the New Years period and we had a really great time visiting some of the local attractions like Christ the Redeemer, the Botanical Gardens and Sugarloaf Mountain.

A week had already gone by when Dan brought it up again...
"We can't come to Rio de Janeiro and not see what life is like in a favela..."
And with a little think about it, I gave in. He was right.
This would be an experience I would never forget.
Dan successfully twisted my little finger and we were booked into a guesthouse in a favela called Chapéu Mangueira a week later.
Mind you, this was after I had the chance to explore some of Rio de Janeiro, get a feel for Brazil and the people and work out whether or not I felt comfortable getting into something that is normally portrayed as quite dangerous here.
So what made me change my mind?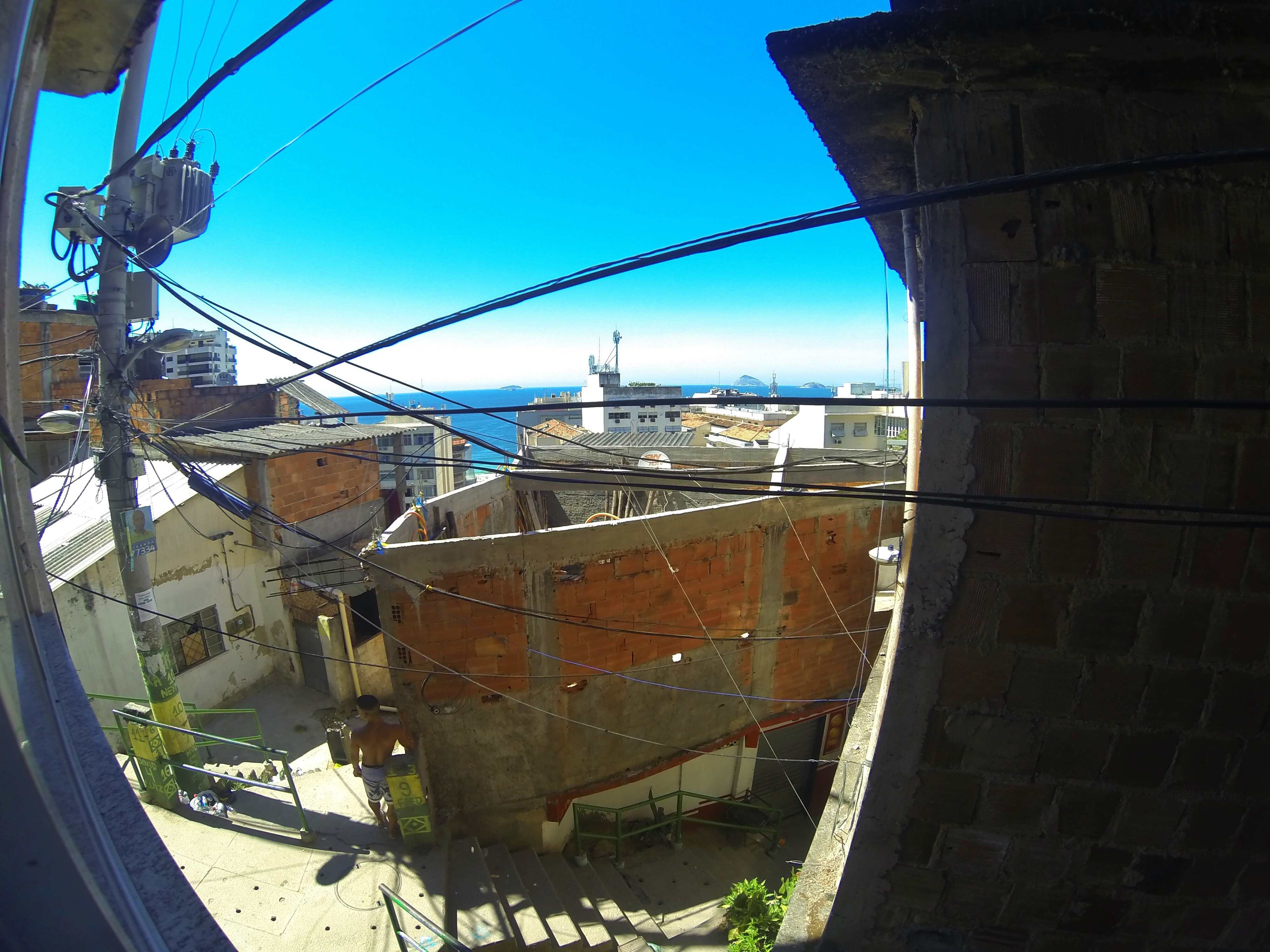 Well, soon after arriving in Brazil I learned that most of the favelas in Rio de Janeiro are now fully pacified by the UPP (Pacifying Police Unit).
This means that a law enforcement and social services program is now permanently working towards reclaiming territories controlled by drug lords and gangs and keeping them safe and free from crime.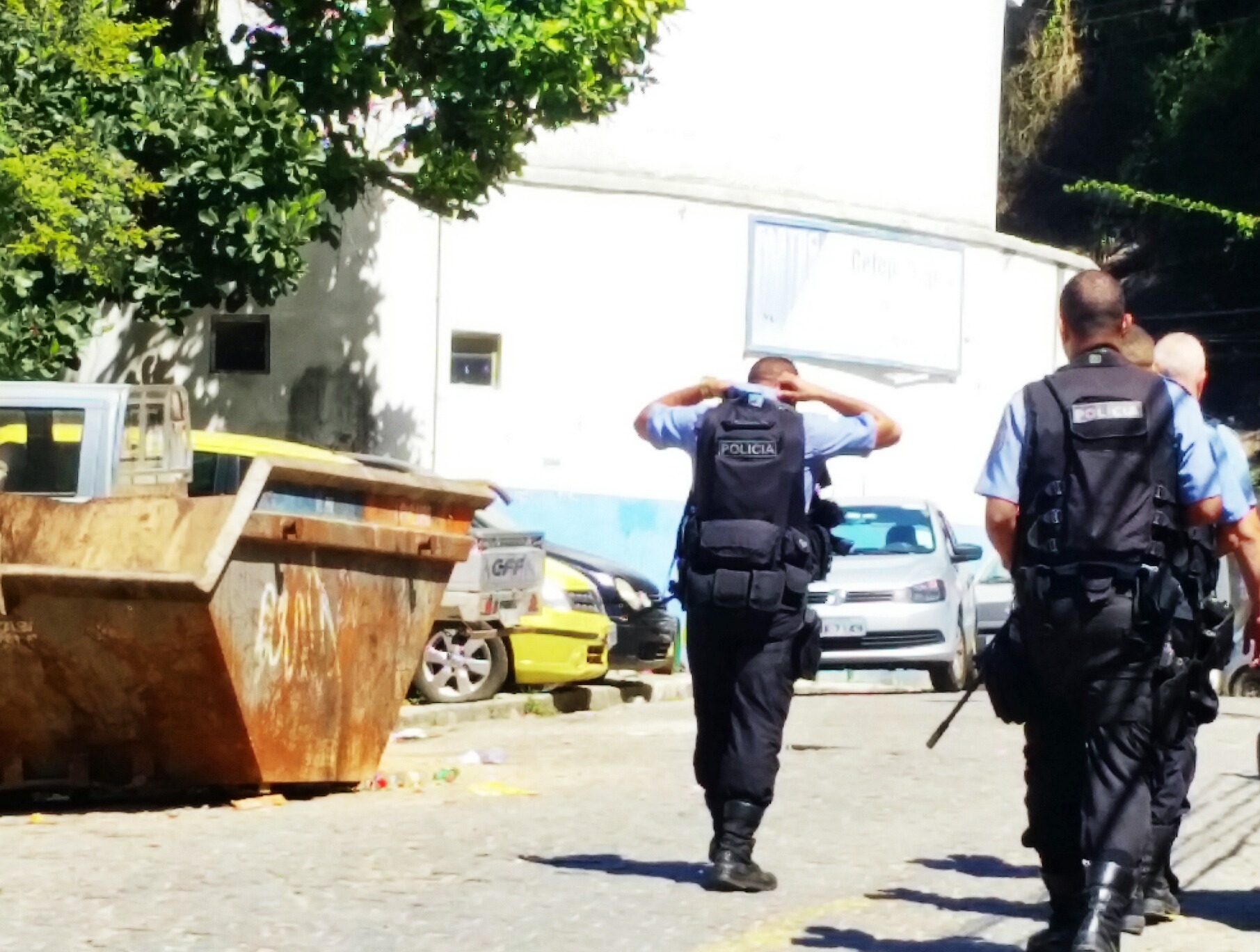 Since 2008, when the first Pacifying Police Unit was implemented in Dona Marta, most of the favelas in Rio de Janeiro have gained Pacifying Police Forces to permanently keep the communities under control.
It is said that with this implementation, crime has decreased dramatically and property prices have increased (especially with expats and tourists now more comfortable to visit).
By 2014, over 40 UPP's had been implemented in Rio's favelas, some of which being Cidade de Deus (City of God), Chapeu Mangueira (the community we stayed in) and Morro da Babilônia.
Rocinha (the largest favela in Brazil) is still not fully under the management of the Pacifying Police Unit as it is simply too big to keep under full control.
And while it is more developed than other favelas, I've been told by locals that it's not recommended for tourists to visit on their own.
Our experience in a Rio de Janeiro favela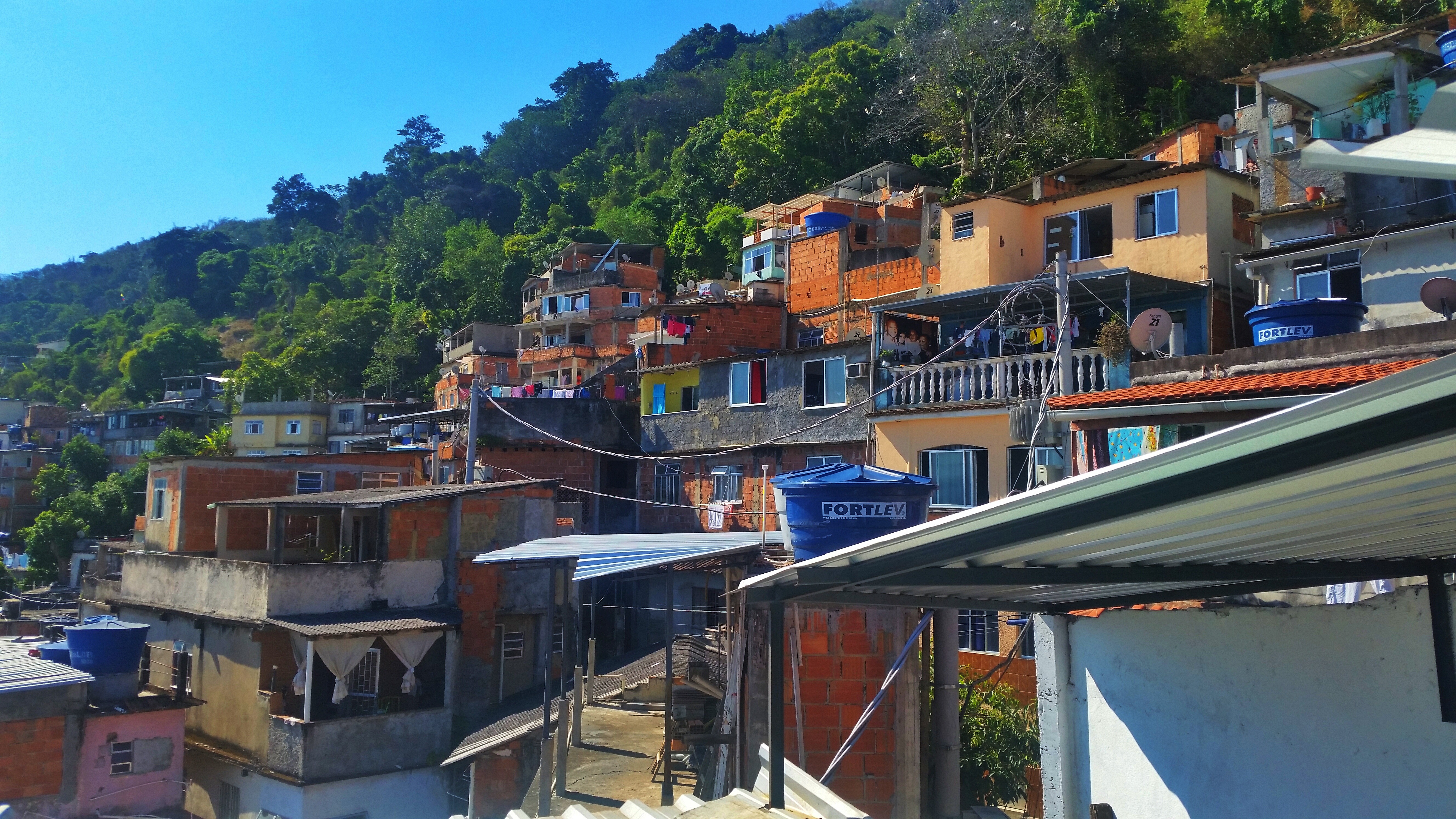 I'm not saying that the favelas we visited (Chapéu Mangueira and Morro da Babilônia) were the safest places ever, but we never felt threatened or worried when we went out, the people were friendly and the vibe was like nothing you've probably ever experienced.
In fact, I still stand by my statement that our stay in Chapéu Mangueira was the most unique and exciting travel experience I've had yet and I would definitely recommend it to anyone visiting Rio de Janeiro.
At times, there were some people hanging around the doorstep of our guesthouse who may or may not have been doing illegal things (I honestly don't know), but they never made us feel uncomfortable or unwelcome in their neighbourhood.
A few times the Pacifying Police walked by, including this one time when I was having a shower, decided to take a peek out of the window and they were right outside with their giant machine guns!
I still didn't feel unsafe though.
In fact, if anything I felt safer knowing that they were around to keep everything controlled.
Why we loved our favela experience in Chapéu Mangueira
While favelas are considered "slums", most of them are really beautiful in their own quirky ways.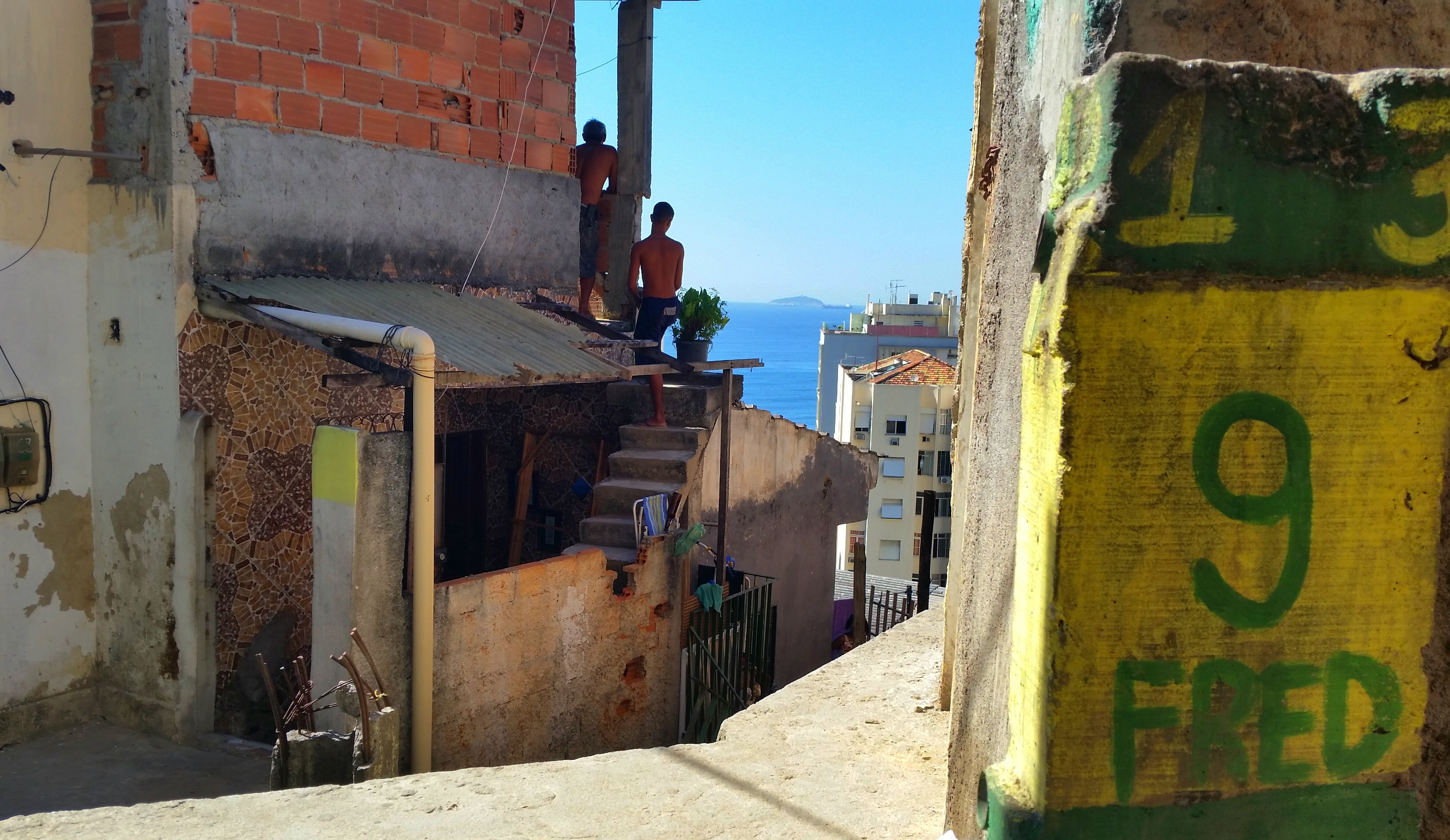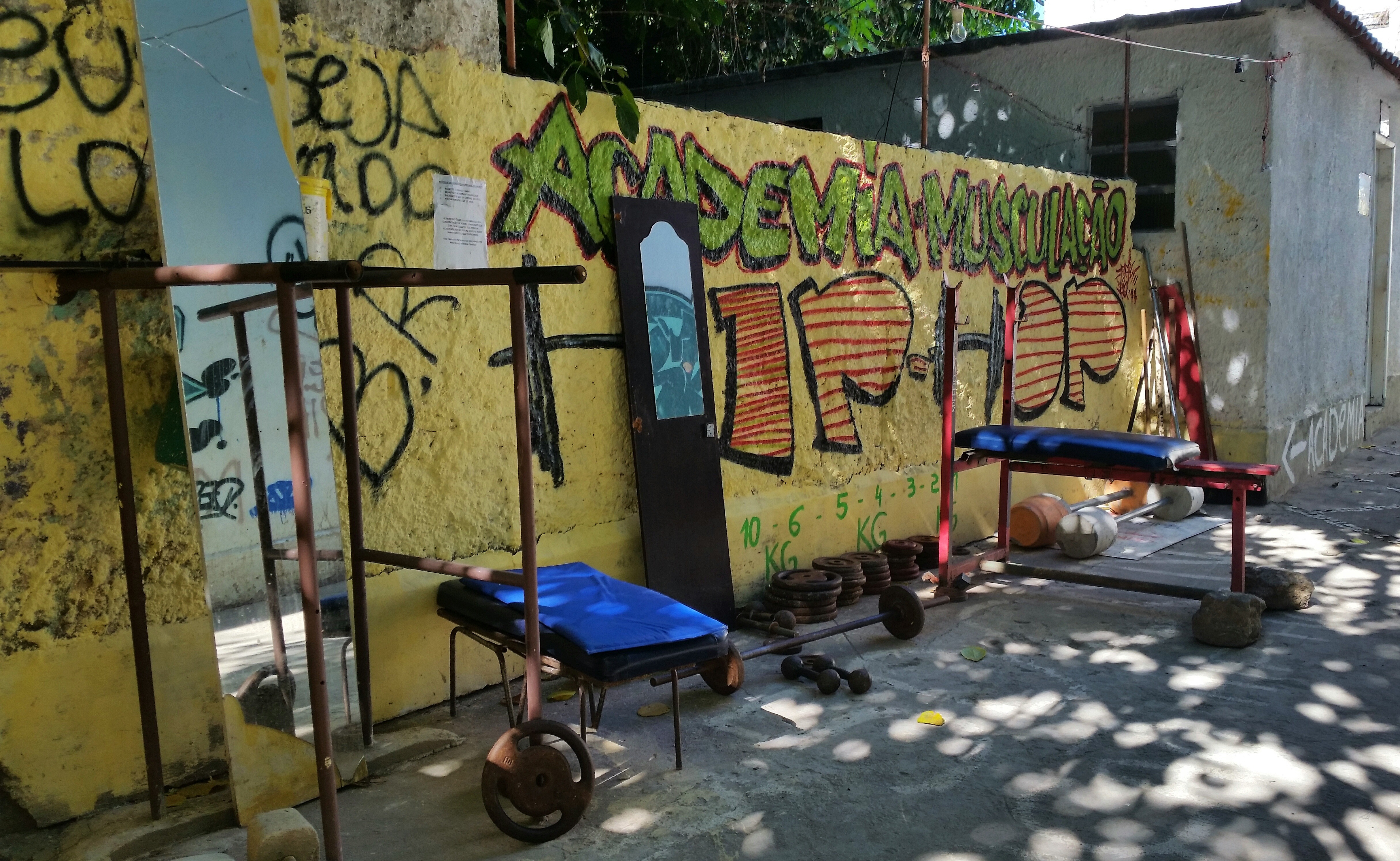 Both Chapéu Mangueira and Morro da Babilônia (which was only a 10 minute walk away) had incredible views over Leme, Copacabana and all of the colourful, crooked houses in between.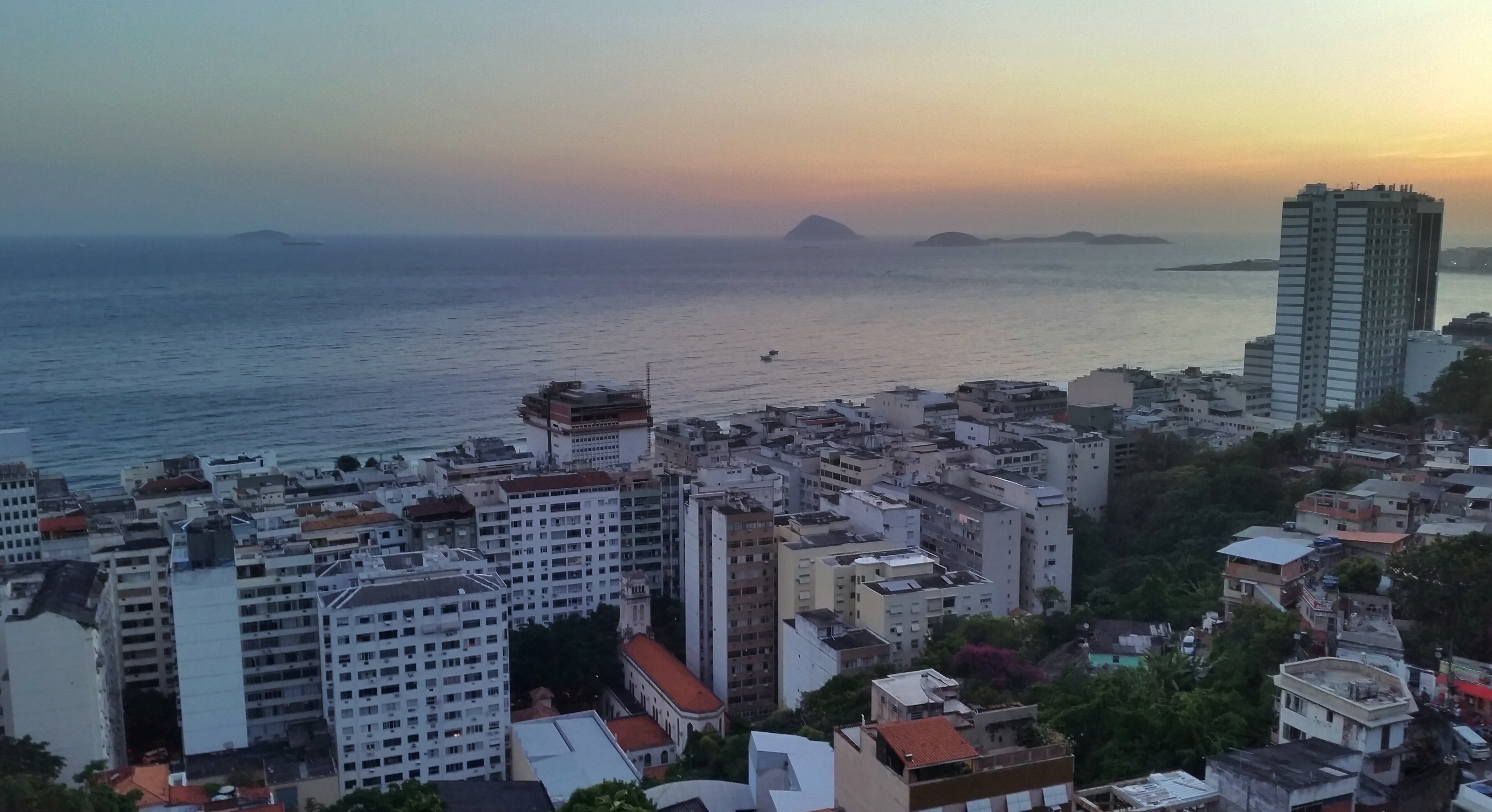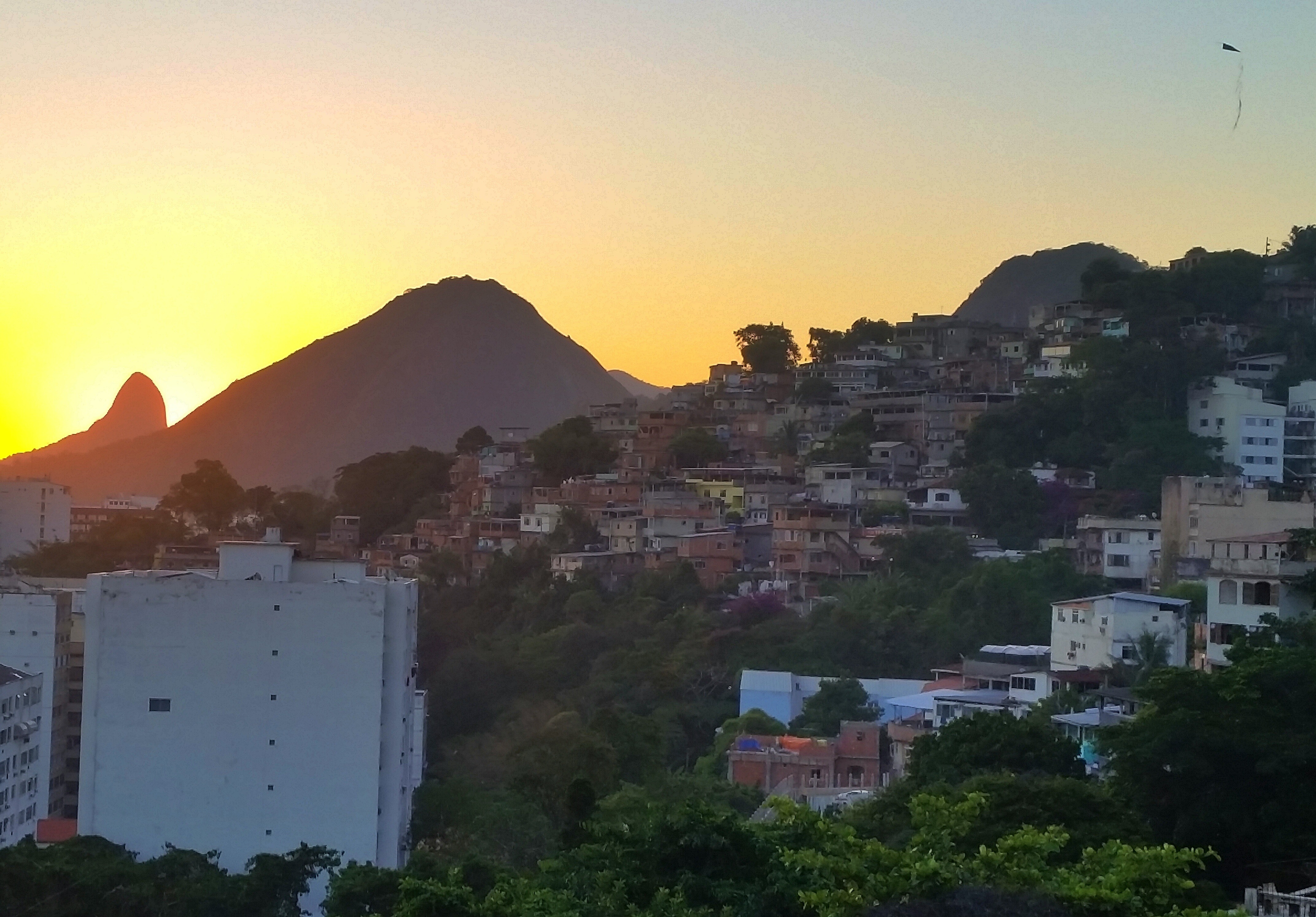 They were also built up of 2, 3, sometimes 4 story houses, maze-like alleyways and hundreds of small steep steps making their way up the side of the hill.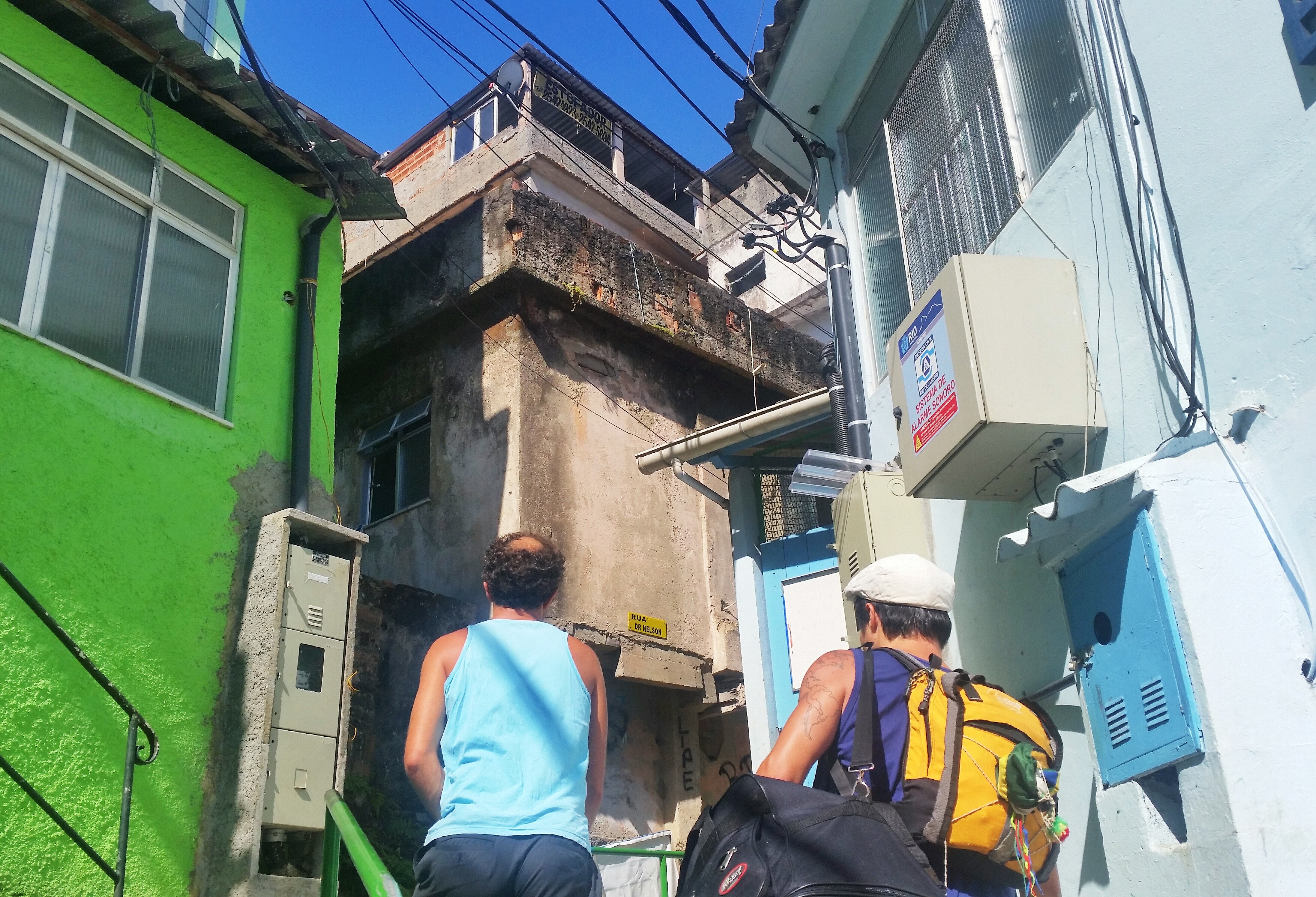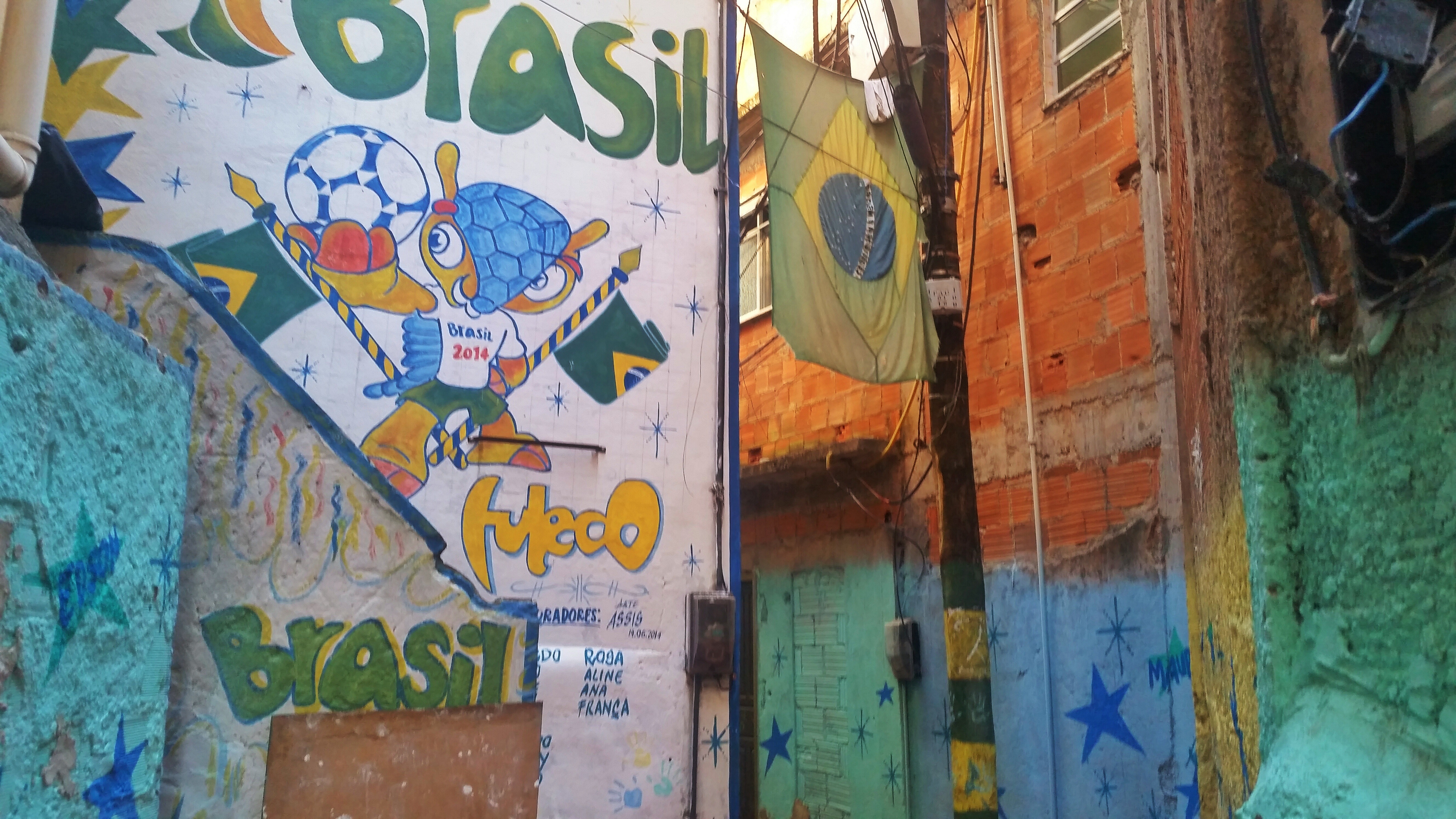 Leme beach (located at the end of Copacabana beach) was literally a 10 minute walk down the hill and across the road and there was a great little bar and restaurant called "Bar do David" waiting for us to pop in and have an afternoon beer on the way back up.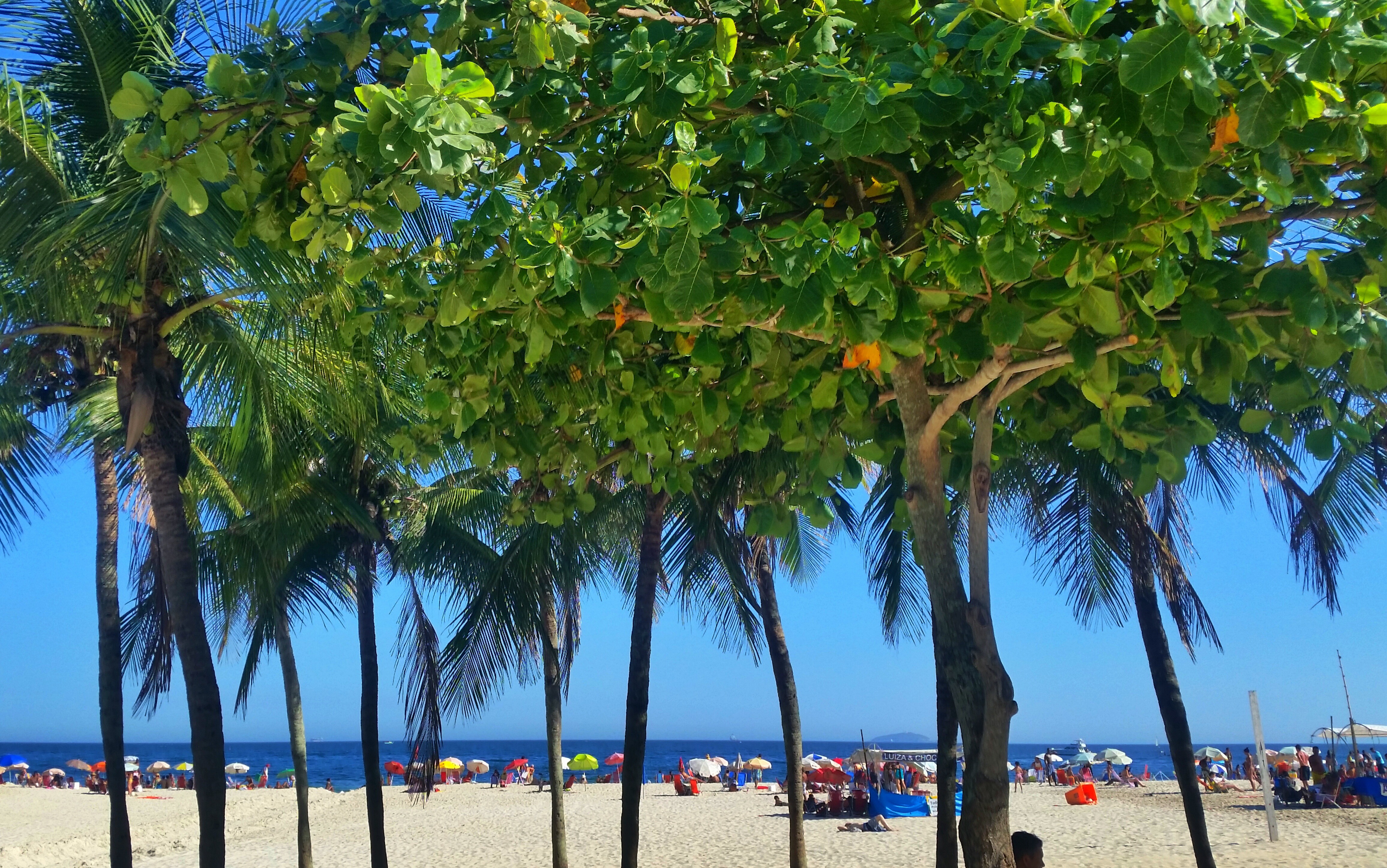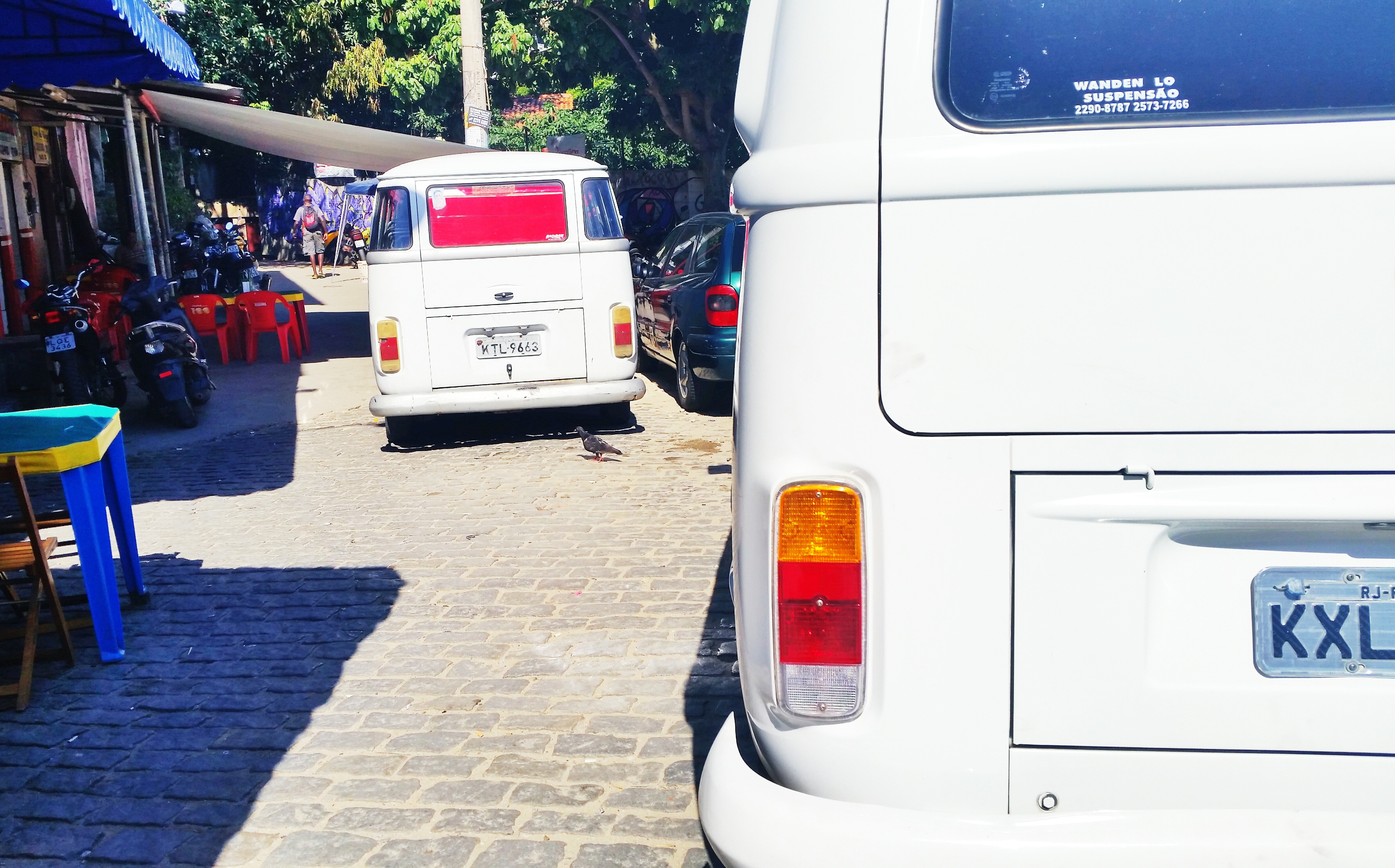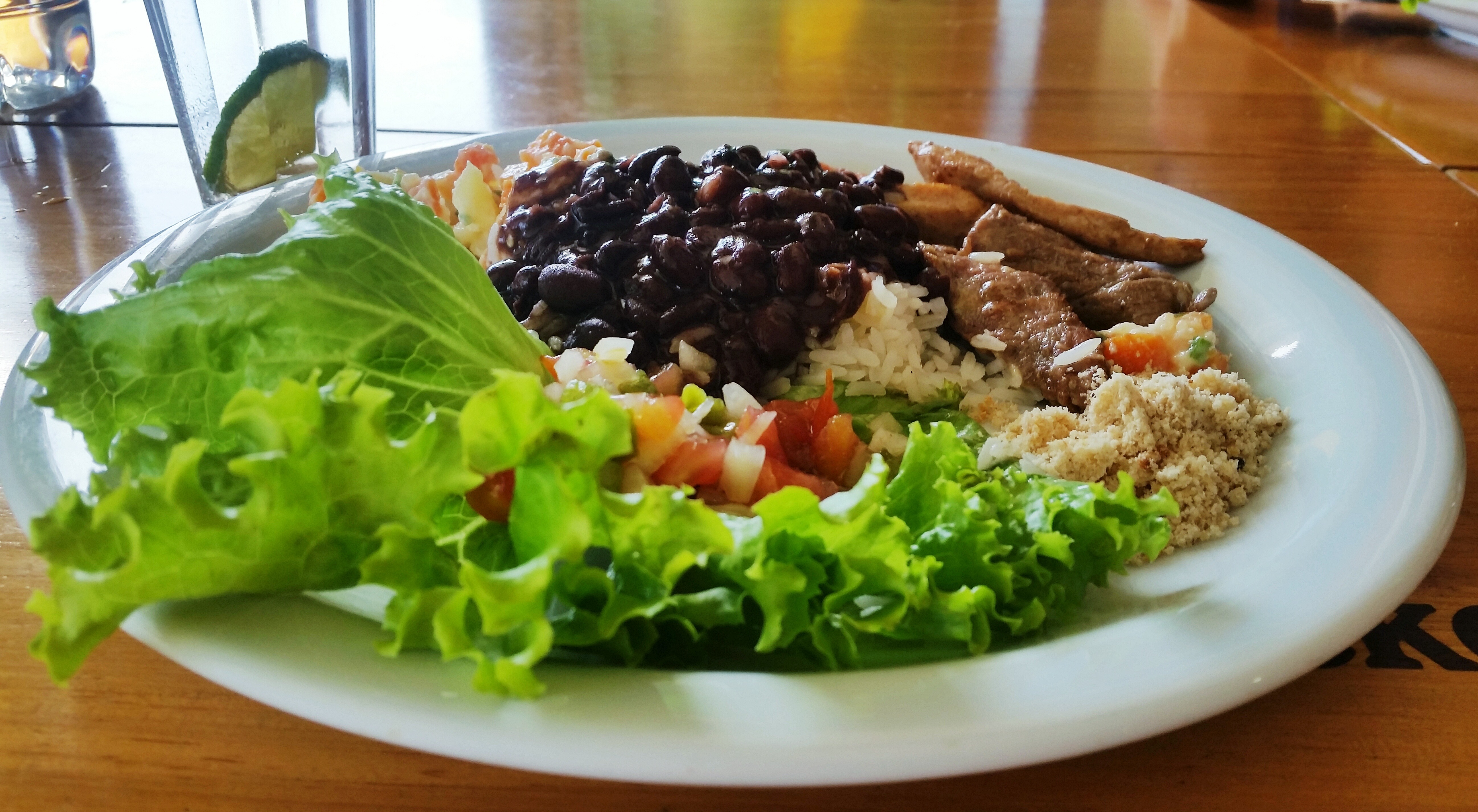 Also, if your legs get tired, moto-taxis run back and forth from the bottom of the hill to Chapéu Mangueira and Morro da Babilônia for a just few Reis (Brazilian currency).
My favourite moment of each day in the favela was sunset, when we could sit on our balcony, relax and watch the kids fly their kites.
It looked so graceful but in actual fact it was anything but that (see videos at the end of this post).
Every day we'd see the kids out collecting materials to build their kites - wooden skewers, wrapping paper, plenty of string and... glass. Yes, glass!
What some of them do is take a glass light-bulb, crush it up into tiny pieces, mix it with glue and then run the tail of their kite through the mix.
It then becomes a lethal weapon and I wouldn't recommend being around one when it's falling out of the sky.
Then it's competition time...
The aim of the game is to take as many kites down with your own as possible.
This is actually illegal now (but they still do it) as kites have fallen and injured people quite severely in the past.
Watch out for it at sunset...
Kids all over the favelas ascend to their roof-tops for a little kite action and while it does look beautiful, just know that some of them have other devious intentions ;-).
So, are the favelas in Rio de Janeiro really as dangerous as made out?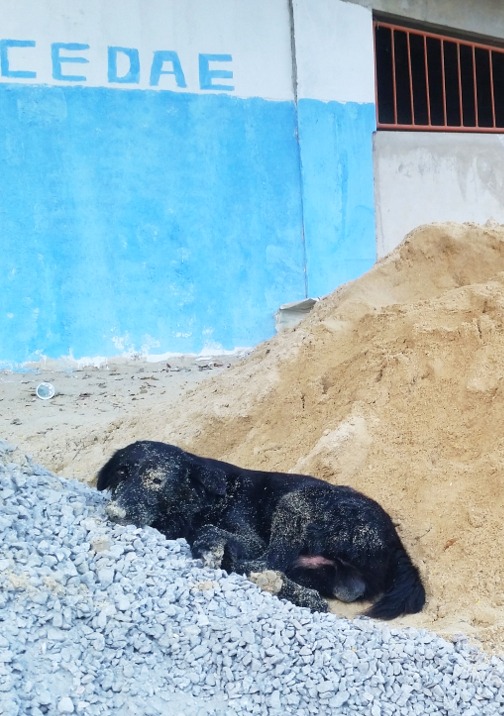 Well, based on our experience, we don't think that all favelas in Rio de Janeiro are dangerous...
Although, we do not recommend visiting favelas that are not yet under the full control of the UPP or favelas that are not actively open to tourism.
Edit 31/05/16: Important update! Something dangerous happened to us in a favela over one year later. Please read this post after as it has some important safety tips for you - https://storyv.net/lessons-gunpoint-brazilian-favela/
Do some research and check for favelas in Rio de Janeiro that have welcomed a number of other tourists, travelers and expats and find out what accommodation options there are.
If there are few, then it may not be a good idea but if there are plenty, the likelihood is that they are used to tourism and happily welcome it.
Also, by no means do you have to stay overnight once you get there.
There are plenty of hostels and tour companies that do favela tours just so you can get a little taste of life inside a favela in Rio de Janeiro.
If, however, you do decide to take the plunge and stay for a few days, Chapéu do Leme Guesthouse was safe, located in a prime position (views were incredible) and really allowed us to explore the area directly from our doorstep.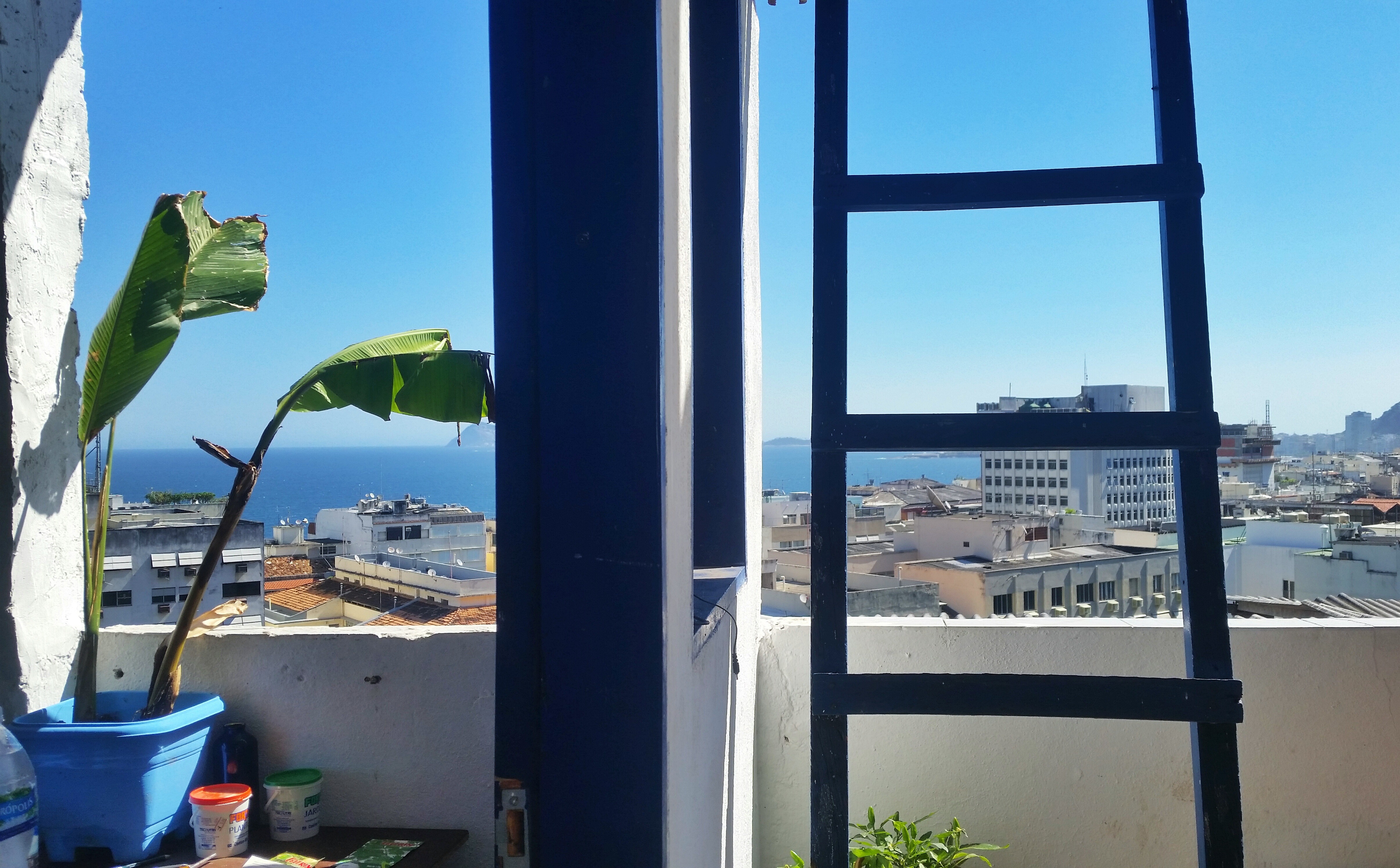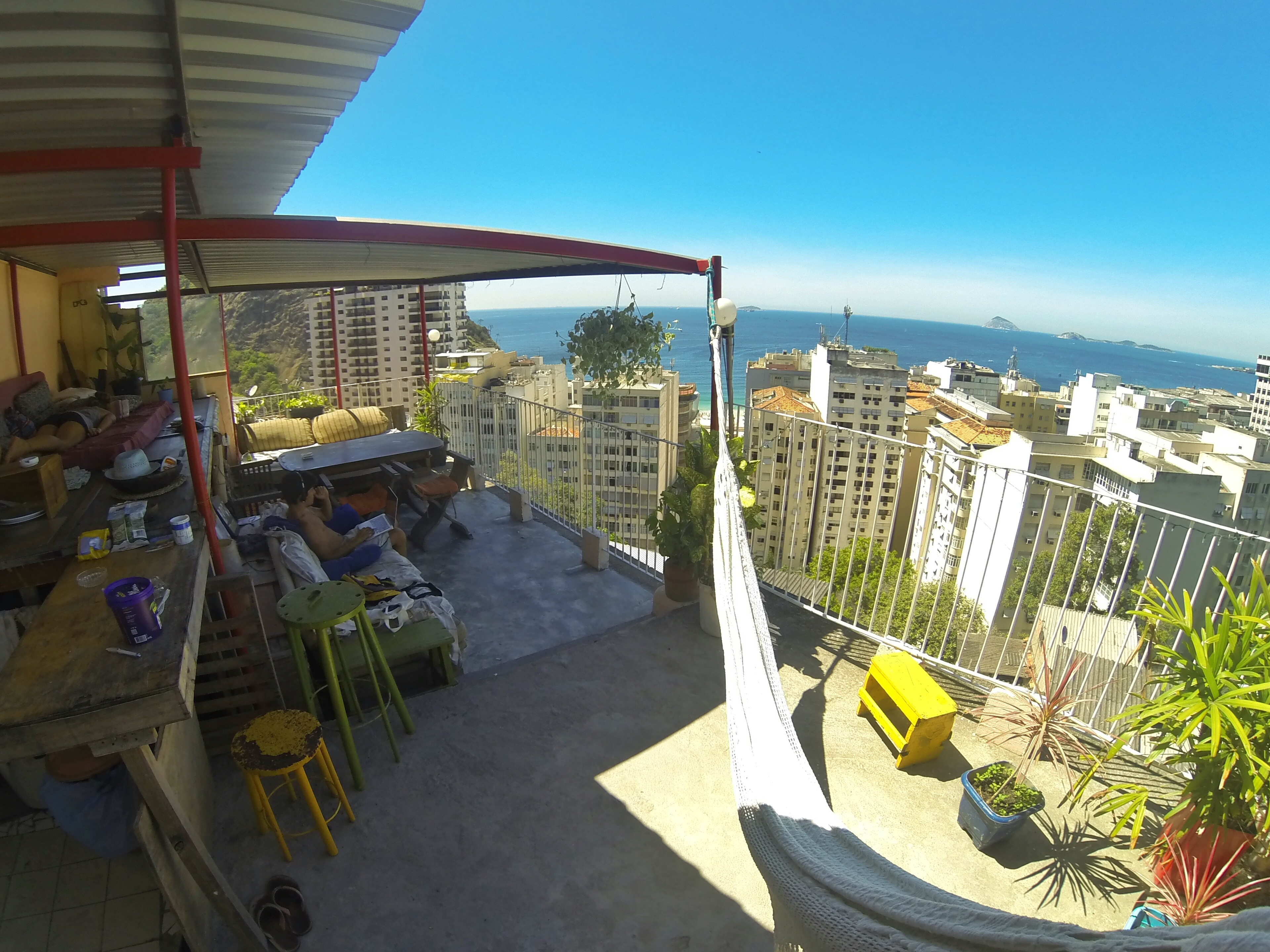 To truly take a look at our experience staying in a favela in Rio de Janeiro and decide if it's for you, we made some videos (part of our travel vlog series) from the time we were there.
Take a look and let us know what you think!
Edit 31/05/16: Important update! Something dangerous happened to us in a favela over one year later. Please read this post after as it has some important safety tips for you - https://storyv.net/lessons-gunpoint-brazilian-favela/
Day 1
Day 2
Day 3
Day 4 (leaving)
Subscribe for more videos here!
Have you been to a favela or slum before? Did you find your experience safe enough to recommend it to other tourists/travellers/expats? 
Thank you to Chapéu do Leme Guesthouse for having us. For the purpose of this post our stay was complementary but, as always, all opinions are our own.