As the clock strikes 12, hundreds of fireworks explode into a rainbow of colours in the sky whilst onlookers watch in awe from the waters edge.
Some even climb trees and metal frames to catch a better view and cruise ships line the horizon to watch it all from a more unique angle.
Champagne bottles burst open as smiling people dressed in white dance around in the foam screaming "feliz ano novo!" and an abundance of extended sticks are raised in the air to capture the first selfies of the year.
New Years Eve in Rio de Janeiro is a magical night full of energy and life and one I won't forget.
As the second biggest event in Rio de Janeiro, after Rio Carnival, millions of people from all over Brazil flock to Copacabana Beach ready to party until sunrise.
Thousands wear white as it is said that it brings good luck in the new year.
Others also mix it up a little with a pop of red for romance, yellow for success and green for health.
Many of the locals also toss flowers into the sea throughout the evening as a tribute to Yemanja, the goddess of the seas.
Because New Years Eve in Rio de Janeiro is such a huge and famous celebration, it is important to be smart about how you do it.
These next 10 tips were put together after I spent New Years Eve 2015 at Copacabana Beach and learned some things I would do differently next time.
New Years Eve In Rio de Janeiro: Tips To Do It The Right Way
Keep these tips for future referral… Pin this image on Pinterest >>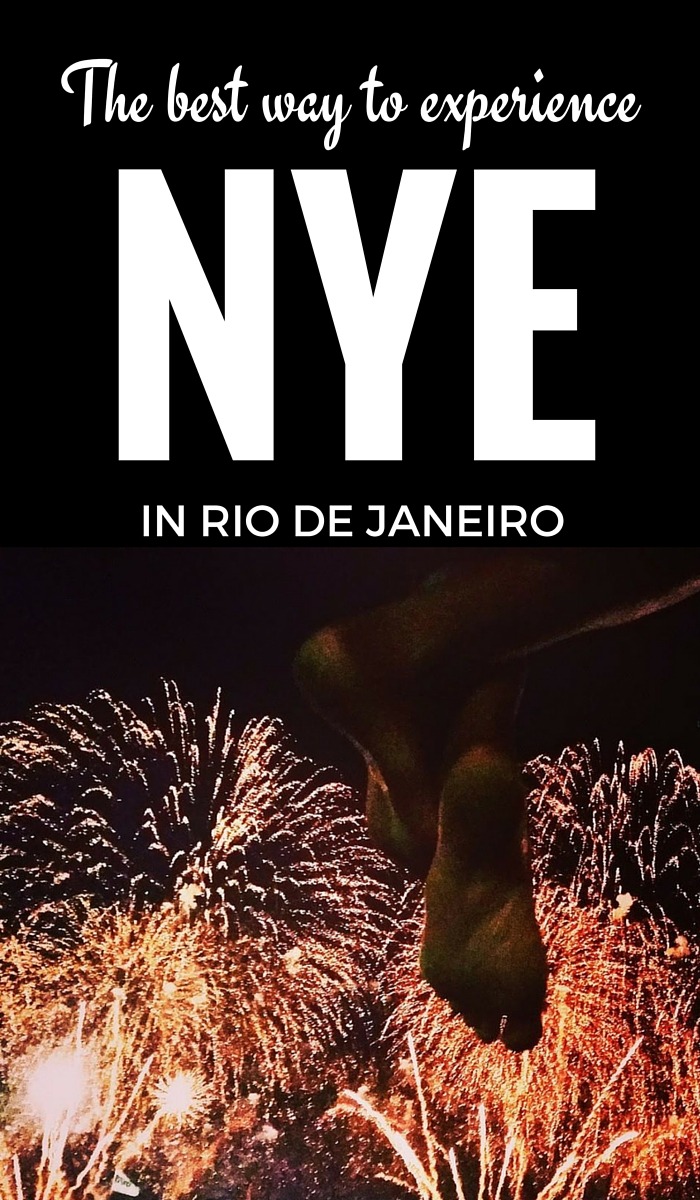 1. Book Rio de Janeiro accommodation in advance
Accommodation in Copacabana can be expensive at the best of times but when New Years Eve rolls around you might want to shut your eyes – prices can triple.
I suggest that you book your accommodation as soon as you know you are taking a vacation in Rio de Janeiro as the longer you leave it, the more booked out the place gets and the higher the prices rise.
If this worries you another option could be to stay further out. Rio de Janeiro is super connected by public transport anyway which makes it really easy to navigate your way around (and if you know how to speak a little Portuguese, even better).
We stayed about 1.5 hours away from Copacabana Beach by public transport (a lot quicker by car) and we had no problem getting anywhere.
However, if you're looking for something more comfortable and want to enjoy the Rio de Janeiro vacation vibe for New Years, here are some top recommended hotels:

The five-star Belmond Copacabana Palace is a stunning luxury hotel located right on Copacabana Beach and has a superb rating of 9.2 on Hotels Combined.
Here you won't even need to leave the hotel on New Years Eve because you'll enjoy one of the best views of the fireworks right from the balcony or your bedroom window.
Live on the luxury side of life this New Years Eve and book a room at Copacabana Palace. You won't regret it!
– Click Here to Find the Cheapest Rates –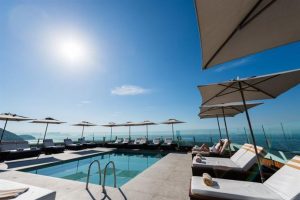 The four-star Porto Bay Rio Internacional Hotel is a stylish beachside hotel with offers an amazing rooftop with swimming pool to party the night away!
The incredible views of Copacabana Beach and Corcovado Mountain here are also uninterrupted which means you don't need to head down to the beach.
Although this is a four-star hotel, it has all the modern facilities and beautiful touches as a five-star. With a fab 8.8 rating on Hotels Combined, you're sure to have an amazing New Years Eve stay here!
– Click Here to Find the Cheapest Rates –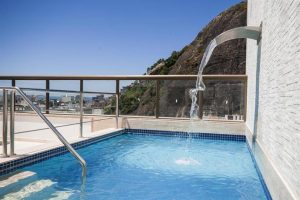 The 3.5 star Hotel Atlantico Rio is a comfortable contemporary hotel in Copacabana which offers all the essentials for an enjoyable stay this New Years Eve.
Here you'll have access to a rooftop swimming pool as well as an indoor bar and restaurant to enjoy the New Years celebrations.
It's also within close proximity to Copacabana Beach if you want to get in on all the action!
If you're looking for somewhere nice to stay on a slightly smaller budget than you'll need for the two hotels above, Hotel Atlantico is for you!
– Click Here to Find the Cheapest Rates –
2. Arrive in Rio de Janeiro at least 2 days prior
Rio de Janeiro is a city so full of life and rich in culture it gets me excited but for others it may come as a slight culture shock.
With this said, I would suggest that you arrive a couple of days earlier to get used to the place.
Areas such as Copacabana, Ipanema and Leblon are very well catered towards tourists so I don't believe you would have any trouble settling into any of these popular holiday destinations.
However, leaving Copacabana for a little while and getting out of the city centre is important if you want to get a real feel for Rio de Janeiro.
This will also help you to prepare for what's to come on New Years Eve at Copacabana Beach.
3. Catch public transport in Rio de Janeiro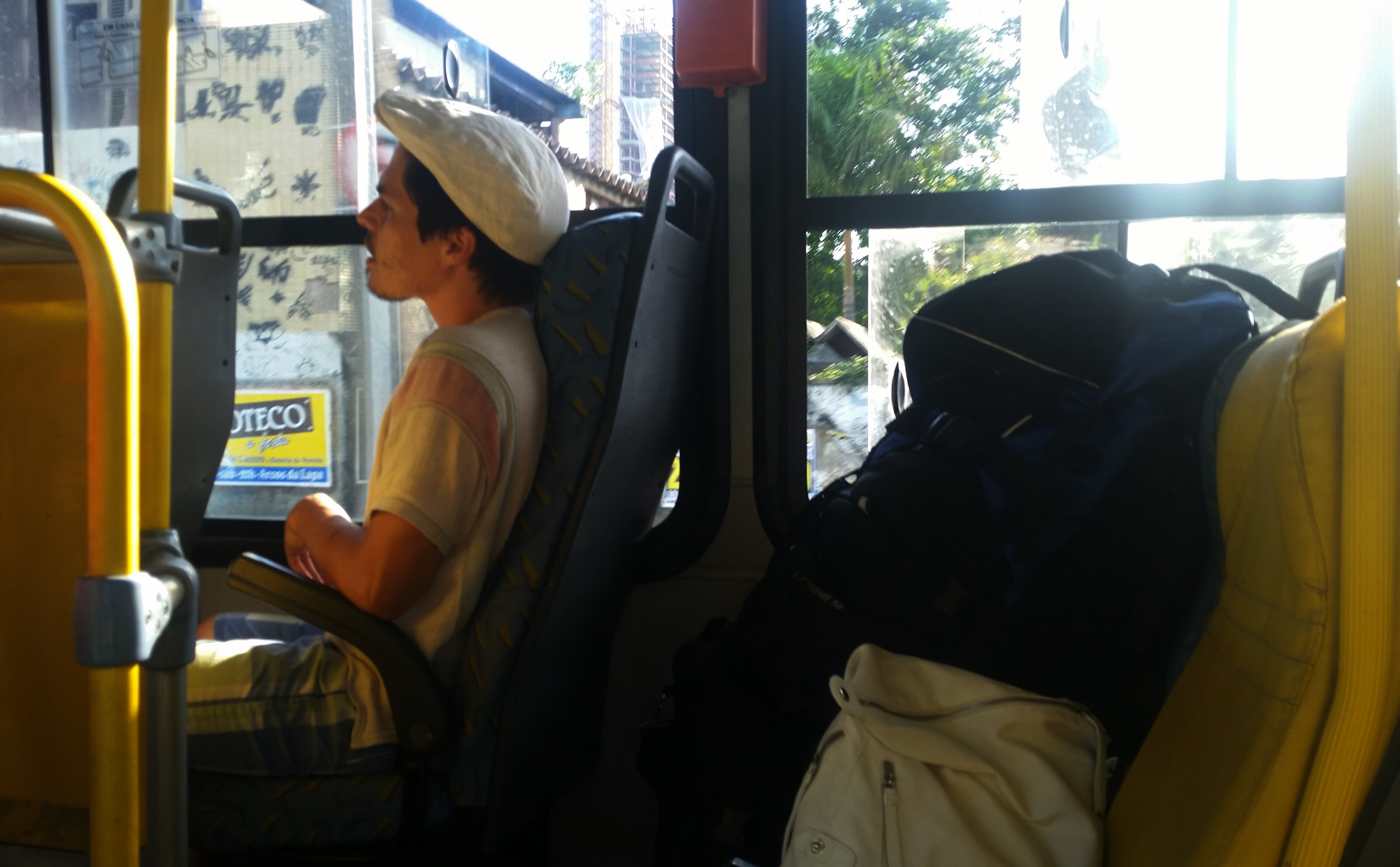 If you are staying further away from Copacabana or Ipanema beaches then I would highly recommend using public transport to arrive early in the evening.
If you can use the metro, do it.
Buses fill up fast and you'll be waiting for a long time to get on one. From Jacarepaguá, a neighbourhood in the West of Rio de Janeiro, we caught two buses and a metro which dropped us off in central Copacabana.
If you are planning to stay in Rio de Janeiro for at least a few days it would be beneficial to pick up a Rio pre-paid public transport card, available at most stations.
You can use this for buses and metros without having to line up and pay.
On top of that, if you use your card again within a 2 hour period the fare is free.
Handy for the budget conscious traveler!
4. Stick together and exchange phone numbers
2 million people turned up at Copacabana Beach for New Years Eve in Rio de Janeiro in 2015.
Just let that sink in for a moment. 2 million.
Now I have a few tips for you whether you are going as a family, with friends or meeting others there.
First, make sure you all have "the talk" before leaving.
By "the talk" I mean to make sure you all know what to do if you lose someone.
This is very important.
Second, exchange phone numbers.
Charge your phone battery, top it up with some credit (which means buying a Brazilian sim card if you don't have one) and save as many possible contacts as you can.
Third, upon arrival at Copacabana Beach create a meeting place which is simple to remember and easy to access.
If you lose one another and cannot make contact, head to the meeting place and wait.
5. DO NOT bring valuables to Copacabana Beach
Another highly important tip.
If you bring expensive valuables with you to New Years Eve in Rio de Janeiro, they are likely to go missing.
Copacabana is not a dangerous place but when 2 million people come together on one beach it can get hectic.
And when things get hectic some like to take advantage of the situation.
We watched someones phone go missing as well as someone else's hat.
If you are going to bring your phone (which is recommended) do not hold it up above your head when taking pictures and videos.
Keep it close to your chest and hold on to it with a firm grip.
People have been known to run through the crowd swiping phones that stick up in the air.
If you have a bag, keep it zipped up and hold it close to the front of your body.
Otherwise, bring minimal things and make use of your pockets.
6. Get down on Copacabana Beach early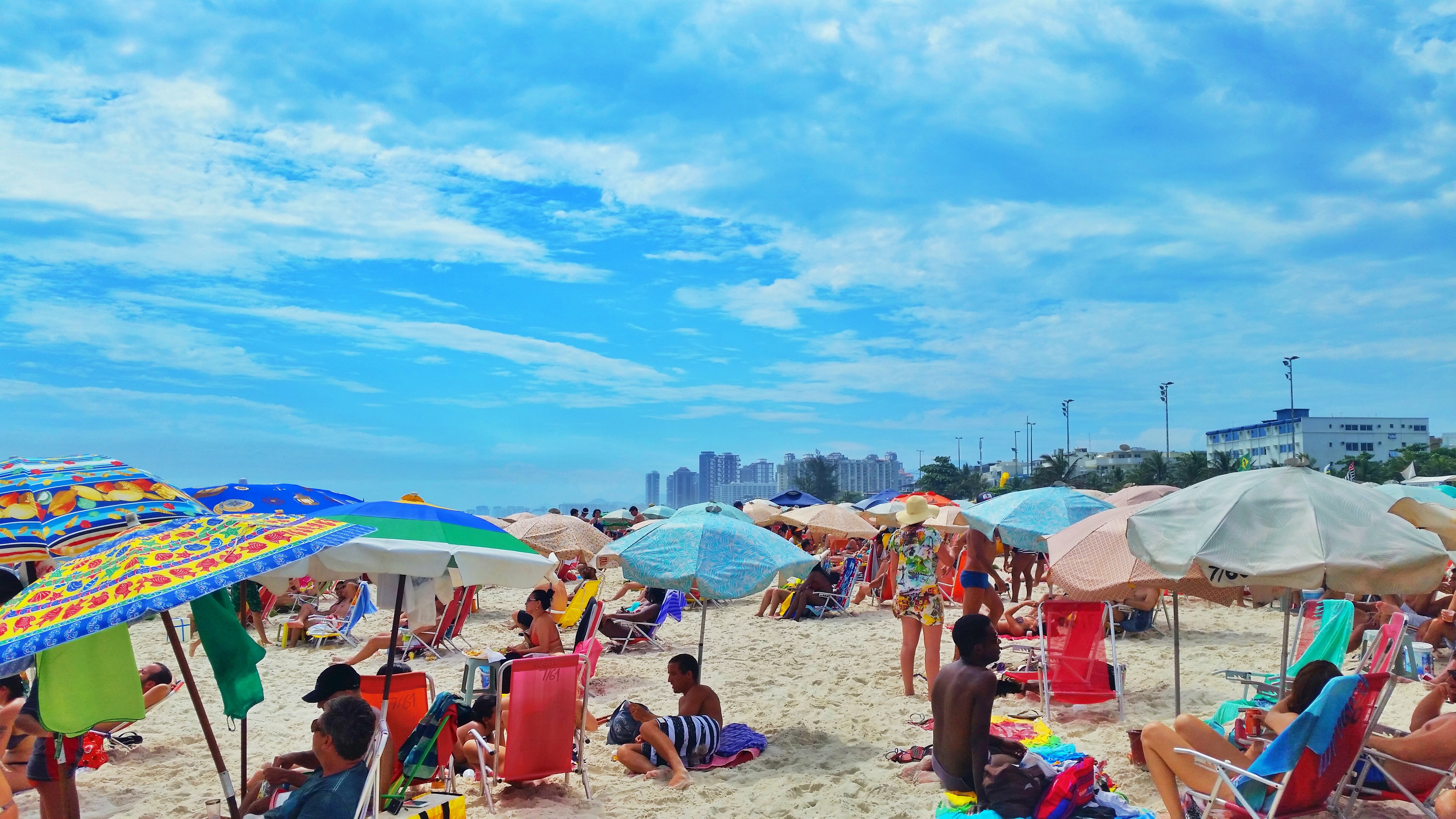 Come 10pm on New Years Eve in Rio de Janeiro last year we made the mistake of leaving the beach and making our way up to the street just to buy one drink.
Well, 10 minutes turned into an hour of pushing, shoving and squeezing only to get nowhere.
There were so many people trying to enter the beach while so many of us were trying to exit it became a mess.
Then a fight broke out right in the middle of the crowd, causing us to get swallowed by a mass of people trying to get away.
So what did we learn from this? Get down on Copacabana Beach early and stay there.
Don't try and spend your night between places because you'll lose all of your time getting anywhere.
I would recommend arriving between the hours of 4pm and 7pm if you want skip the initial herd of people as well as the crowded public transport situation.
7. Set up your spot where it is less crowded
Rio de Janeiro knows how to put on a show for New Years Eve with famous acts, an epic firework display and all night entertainment.
As the 2015 celebration marked 450 years of Rio de Janeiro, they took it one step further with 3 stages spread across Copacabana Beach.
As the party tends to centre around the main stage it can be very difficult to find a spot to sit without getting walked on.
If you prefer a little less chaos I suggest you set up in between two stages (or behind the main stage) as you will have far more room to move.
Many people arrive early to set up tents and tarpaulins which is a nice idea if you want to bring chairs, prepare food and stay out of the temperamental weather.
8. Bring your own food/drinks/water
The main reason I'm suggesting this is because of the huge crowd you have to force your way through to get to the food vendors back on the street.
It could take you an hour to get one beer and then you've got to try and find your way back again so it's just not worth it if you ask me.
Instead, bring a cool box with ice and fill it with food, drinks and plenty of water and save yourself some money while you're at it.
If someone does so happen to walk past selling food or alcohol just be really wary about it.
If it is meat, you don't know how long it has been out in the heat and if it's alcohol it could easily be spiked or made with cheap and nasty ingredients.
I would stick to packaged foods or things that don't contain meat and bottled drinks, especially water.
9. Stay in Copacabana until it is safe to leave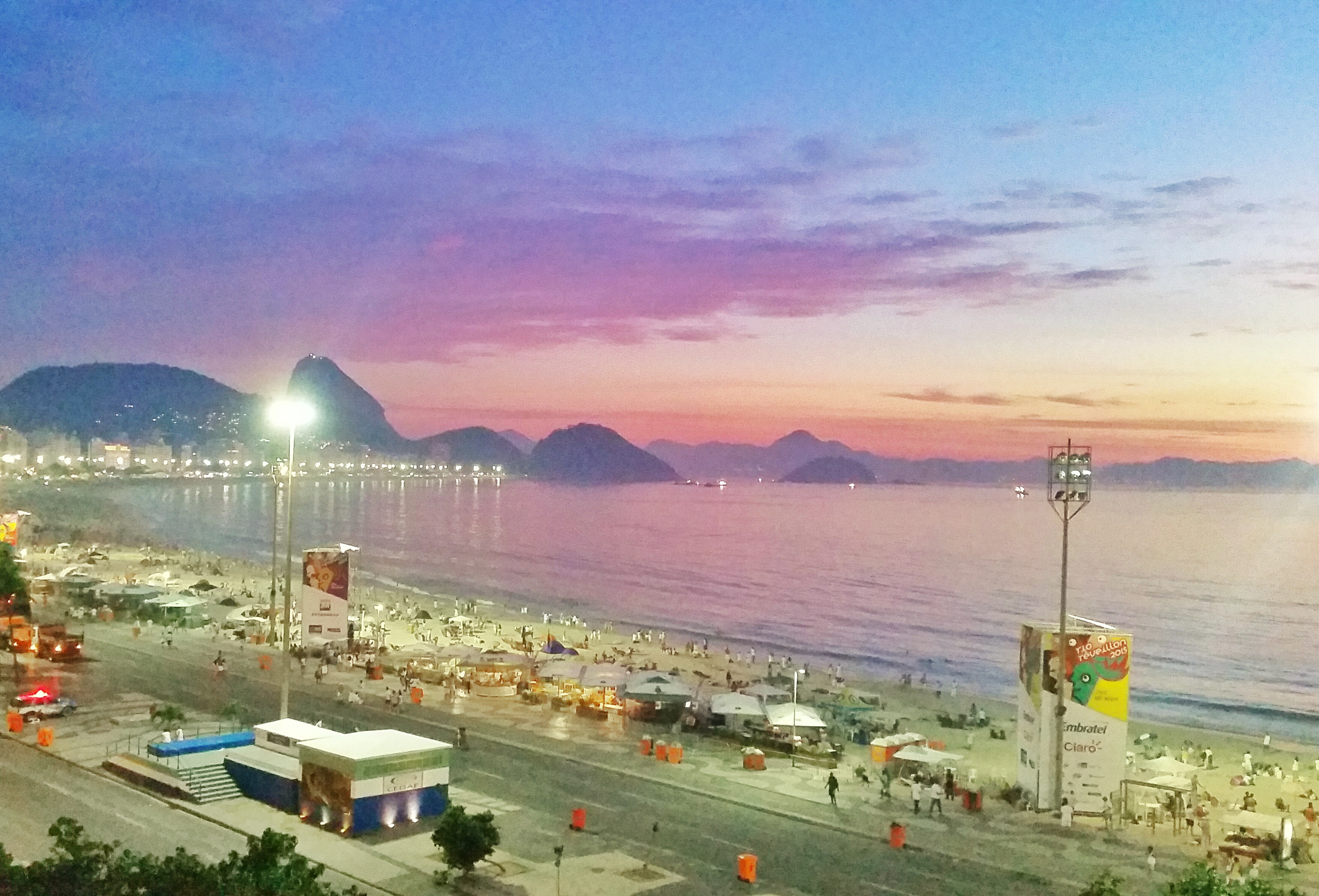 If you are heading back to your accommodation by public transport don't leave Copacabana until 5 am, when buses and metros start running again.
If you leave after the fireworks and main acts you are likely to face huge and potentially dangerous crowds as well as a long wait at the bus station.
Stay, chill out and listen to the live entertainment which runs until 5 am.
10. Enjoy yourself responsibly!
It's the time of the year and Rio de Janeiro is the place to be if you want to boogie down but it's also important to have your wits about you and stay safe.
Like I said, Copacabana isn't normally a dangerous place but when millions of people get together, the circumstances change.
If you are planning to bring young children then I would highly suggest that you don't walk into the crowds that surround the main stage.
In the case of losing someone there are many Police officers on duty that will help you to find them.
Also, in any moment of distress you can go to one of the many numbered towers that overlook Copacabana beach.
Accepting drugs and alcohol from strangers is obviously a huge no no but you should already know that.
Other than these few things, get your Samba shoes on because New Years Eve in Rio de Janeiro is an experience like no other!
If you haven't booked your Rio de Janeiro New Years Eve accommodation yet, now's the time before it all sells out!
–> Click here to view all the best/cheapest deals on Copacabana accommodation
Have you done New Years Eve in Rio de Janeiro? What did you think? If I have missed anything, please share your insights with us in the comments section at the bottom of this page!