The following is a story about a frightening experience we recently had in a Brazilian favela.
The day started out just how most of our days in Rio de Janeiro generally would - breakfast in the warm, balmy sunshine, followed by a few hours of work and a little pre-lunch nap before figuring out which beach we wanted to spend the afternoon on. The life, eh? (Trust me, it's not always like this).
It was a typically beautiful morning and we were gearing up to leave our accommodation in Ipanema to head for higher ground, the wonderful bohemian neighbourhood of Santa Teresa. The eclectic combination of art, culture and history here, as well as the incredible panoramic views on offer, make Santa Teresa one of the most popular neighbourhoods to visit in Rio de Janeiro. We'd been before and loved the atmosphere so much that we knew we had to visit again.
Packed and prepared to leave our little space by the ocean and journey onwards into the hills behind us, we wandered on down to a beachside restaurant for one last seafood lunch with our best Carioca friend, Daniel. Meeting him there, we spent the next hour chatting over a large pot of Bobo de camarão.
The food was delicious, our stomachs were full to the brim and the day seemed to be off to a good start, however no-one could have prepared us for what was about to come.
The clock turned 3pm and we needed to get on the move to Santa Teresa as we wanted to photograph Escadaria Selarón before sundown. Piling our bags into the back of our swanky Uber (black tinted windows and all), Dan and I decided to slide into the backseat and give Daniel some space in the front passenger seat.
The next 40 minutes were spent crawling through agonising bumper to bumper traffic just to get 10 minutes down the road. By the time we'd finally made it out of the thick congestion, the guys seemed to have formed a blossoming new bromance with the Uber driver. Unfortunately, due to my lack of Portuguese speaking skills, I spent my time daydreaming, playing 'spot Christ the Redeemer' and endlessly scrolling through Facebook.
Soon enough the GPS had led us to a steep, winding road that twisted it's way up to Santa Teresa. As soon as I saw the graffiti laden rock walls either side of us, I recognised exactly where we were. Given that we were on the same road and heading in the same direction as last time, I began to get excited, thinking that we'd be exiting the car near Terra Brasilis, a guesthouse we'd previously stayed at with a phenomenal view over the city.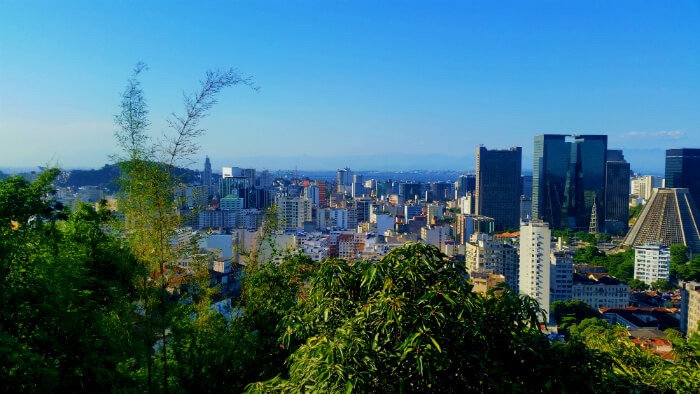 Turns out I was wrong.
Powering straight past the guesthouse and winding our way up yet more steep lanes, something began to feel really wrong. By this point we were getting up so high that we were literally looking down on Santa Teresa and the thousands of tiny colourful shanties that surrounded it. The view was unbelievable, we were literally overlooking the whole South zone of Rio de Janeiro but at that moment we were more concerned about the direction we were heading in.
Rolling along the edge of a mountain with a steep drop down to the houses below, Dan looked over at me with a strong expression of worry and confusion on his face.
"Hannah, did you book our accommodation in a favela?" he asked.
I replied with something to the extent of, "Uhhh, not to my knowledge... The reviews were good but if I did get it wrong, I don't want to stay here anymore. Please, let's go somewhere else."
And just to add, we have stayed in a favela before and had a positive experience but that was in a neighbourhood under the control of the UPP (Pacifying Police Unit) in a busier, more touristy part of Rio de Janeiro. This was not the same. We were out in the middle of nowhere. No-one visited this place unless they lived there.
By now, the road was too narrow to turn around so we decided to continue driving. There didn't seem to be anyone around and besides, we could have been on our way to somewhere completely fine. Based on the GPS map we were due to head back down the other side of the hill in just a few hundred metres so I calmed down, pulled out my camera and began to look through some of the photos we'd taken that day.
In the time it took us to get those few hundred metres down the road, I looked up three times to check where we were.
The first time I noticed a car braking quite heavily in the near distance, stopping for a few seconds and then continuing on...
The second time I saw a mixed group of local people, including small children, hanging out and having fun on the side of the street...
The third time we had come to an abrupt stop and there was a pistol being held at our drivers head.
I absolutely shat myself.
In fact, pretty much everything turned into a blur. I remember gasping, throwing my camera down beside me and quickly turning to Dan in despair. He was frozen.
Because the car windows were so tinted, the large gunman prompted our driver to wind down all of the windows so he could see in. At this moment I honestly don't think I felt a thing.
As the windows slowly descended the gang member began throwing questions at us. I couldn't understand anything, partly because I was in shock and partly because I didn't speak the language well, however, I believe the man was asking who we were and what the hell we were doing there.
Our amazing driver took immediate control of the situation, responding quickly and calmly, even with a gun being pointed at his head. The rest of us didn't say a word to ensure that there was no conflict in our response. We simply sat still and watched the gunman in case he prompted us to do something.
There came a point, during negotiation, where the gunman pulled away from our driver and inched closer to my door on the back left hand side of the car. These next two seconds of the incident have been literally haunting me in my sleep. Even as I write this, the picture keeps on flashing back...
Holding the gun out sideways, you know, like how they do in all the gangster films, the gunman bent over and began scanning the inside of the car through my opened window. This was the closest I have ever been to a pistol which is why I'm struggling to get it out of my head. All I keep on seeing is the end of the black barrel blurring past me in slow motion.
Eventually, the gunman stood back and looked at me, looking at him. Deciding to let down his shield and trust us, he lowered his firearm and gave us permission to pass through. It wasn't until then that I realised there was another gang member stood directly in front of our car, holding a fully automatic machine gun the whole time.
What. The. Actual. F**k.
Making way for us to continue our journey out of their territory, the gunman carrying the machine gun (which was almost as big as him) stepped aside and allowed us to go.
None of us spoke until we had left their sight and were back on the right path again. Then we exploded into a fit of jumbled words as we all tried to make sense of what had just happened. At least the guys had some sort of idea. I had no. freaking. clue.
Demanding that someone explained to me why we were just surrounded by a gang of drug lords with two guns (possibly more, I honestly don't know) pointing at us, our local friend, Daniel, who grew up in a favela, shed some light on the situation. His explanation wasn't much different to what I had suspected.
As we approached the gang in our shiny black executive sedan with all the tinted windows wound up, we could have easily been two types of people they fear - another gang trying to take over their territory, or cops.
Wait a minute, they were threatened by... me?
Driving through in a car like that, of course we drew their immediate attention. The problem was, even after we had wound down our windows and proved that we were clearly not members of another gang, it was difficult to prove that we were not cops. The reason for this is because favelas are often frequented by undercover Police who move in for long periods of time to investigate the drug trafficking trade as 'insiders'.
I was quite surprised when halfway through explaining all of this, Daniel turned to me and said, "for all you know, the guy holding the machine gun could have been a cop".
There's also a hell of a lot more that happens inside these favelas, including other cops being paid off for keeping schtum about the drug trafficking and illegal activity that goes on. So simply put, it's almost impossible to for anyone trust anyone.
Dan then went on to explain what was said between the gunman and our driver. I was both stunned and relieved by what he told me. Basically, as soon as the gang member asked us who we were and what we were doing there, our driver intelligently responded with, "I recently moved in on the other side of the favela and my house is on [street name]".
Amazingly, before winding down our windows and without any of us realising, our driver quickly glanced down at the GPS and found a random street name. Coincidentally, his ex mother-in-law lived on that street years ago, meaning he could explain exactly where it was if we were questioned. And good job he did because we were questioned alright.
After deciding to trust our word, especially because there was a young female in the car, the gunman responded in a strangely polite manner...
"Oh sorry, we've never seen your car before. In the future, just make sure you wind down your windows before passing through".
And that was it.
Adrenalin still pumping through my veins, I looked at Dan and asked in a shaky voice, "were you scared?"
He turned to me with with the look of shock still on his face and responded, "yeah, I'm not gonna lie, I was scared this time."
Side note: 10 years of living around the world and this was one of the first times an incident truly frightened him while travelling - and it happened inside his own country.
Before long we had arrived at our accommodation, located on the complete opposite side of Santa Teresa. Turns out, the GPS took us on a very unnecessary route around the hills of Rio de Janeiro to skip traffic before dropping us off at the very southern end of the neighbourhood.
Sleeping wasn't so easy that night.
So what did we learn from this experience in a Brazilian favela and how can these lessons help you to stay safe when you are travelling in Brazil?
1. Never Trust A GPS
There are over 600 favelas in Rio de Janeiro alone so it's not at all difficult to accidentally end up in one. The GPS normally offers a few different route options so before driving, riding or walking always make sure you are taking the safest one possible, even if it takes longer. Whether you're in your own car or an Uber, always ask the driver to double check the route. If you look on Google Earth you will be able to tell if the road runs through a favela because there will be a highly concentrated area of small houses and lanes.
2. Favelas Are Not To Be Taken Lightly
Last year we wrote about our experience staying in Chapéu Mangueira, a pacified favela in Rio's Zona Sul (South Zone). We also questioned whether or not favelas are as dangerous as made out and came to the conclusion that it depends where you go. Looking back on it now, I think that article was somewhat biased. Although we felt safe there, it doesn't mean to say that illegal activity doesn't go on and that you won't face danger.
So now I would say, if you do want to experience life inside a Brazilian favela, research the safest areas first (usually the places with the most accommodation options) and go with a local or someone who speaks Portuguese. I think the reason why I felt so at ease in Chapéu Mangueira was because Dan was with me the whole time.
Also, favelas vary in size, location and atmosphere. You will be more at risk if you decide to wander into a neighbourhood far away from the main tourist areas like Copacabana, Ipanema and Leblon, simply because the locals are not used to foreign outsiders entering. Understand the consequences before you think it's a cool idea to go 'off the beaten path'.
3. Travel In Small Mixed Groups
Looking back on this terrifying experience, Dan and I are certain that the gang was softer on us because I was in the car. A small, 24 year old female wearing beach get-up and hair in a top knot was not likely going to be a threat to a gang with members of this size. However, we honestly think it would have been a different story if it was just a car full of guys. It would have looked more suspicious, the gang would have put up a tougher facade and things could have escalated a lot more than they did.
So as an important note to you, travel in small, mixed (male/female) groups to look after each other in different situations and help prevent incidents like this from happening. As I mentioned before, it's also really wise to befriend some local people who know the area well and can speak Portuguese as this will help you to blend in and navigate your way around better.
4. Learn Basic Portuguese
Wherever you travel it's always a good idea to learn some basic language in order to get by. This is really important in Brazil as not many people speak good English. I'm definitely past the 'basic' stage but I had no idea what was being said at the car window that day. If it wasn't for the other guys I would have been screwed. Luckily, we were also in an Uber with a local driver but can you imagine if I had rented a car with all my foreign friends and decided to go on a little adventure? I would highly recommend downloading an app like Duolingo to pick up some essential Portuguese phrases.
5. Windows Down
Last but not least, if you do happen to end up in a situation just like ours, put your windows down straight away so that the people can see in, especially if they are tinted. They just want to make sure you are not a threat to them.
Finally, I'd like to finish by thanking our driver from the bottom of our sinking hearts. If it wasn't for his bravery and quick thinking, there would have been a lot more panicking on my part.
Watch the vlog from that day:
Have you ever been involved in scary a situation that put your safety at risk while travelling? We'd love to hear about it... Scroll down and leave us a comment!
If you like what you read and want more, join our travelling tribe for more tips and inspiration to help you travel more!
Pin this >>