Do you want to have unlimited rewards and access to thousands of first-class hotels around the world? With Capital One Venture Rewards Credit Card, you can enjoy these fabulous benefits and many more.
Like other credit cards, you can use Capital One Venture Rewards Credit Card for your daily spending activities. You can use this Visa-powered card for online and in-store shopping anywhere in the world.
Moreover, you can book flights and accommodation for almost any destination worldwide. The best thing is, you can earn huge cash backs and rewards packages if you're a frequent card user.

Capital One Credit Card Features
Capital One offers a complete line of credit cards for different people with different lifestyles. Each of these cards has exclusive perks and advantages depending on the needs and lifestyle of its owners. I
n this article, let's tackle the many features and benefits of the Capital One Venture Rewards Credit Card.
Capital One Venture Rewards Credit Card is one of America's best travel cards. You can also enjoy many perks and privileges. Here are just a few of them.
Capital One Venture Rewards Benefits
As a new cardholder, you'll immediately get 75,000 bonus miles after you spend $5,000 in the first three months upon receipt of this card. With this welcome gift, you can better fulfill your travel goals immediately.
Using this card, you are entitled to 2 miles per dollar on your every spending. The good thing is, you need not worry about annual limits. This means that the more you spend, the more travel adventures await you.
On top of these, you can also earn 10x miles when you book through Hotels.com. As a Capital One partner, Hotels.com gives you tons of privileges for your travels.
Aside from earning this 10x miles benefit, you can also stack this bonus with the Hotels.com Rewards loyalty program. This way, you can get 10% cashback in the form of one free night after 10 nights of paid stay in any partner hotels.
What's more, you enjoy worry-free travels and purchases through the card's insurance offers. You can fly anywhere in the world without being annoyed about airfare problems in flight cancellations and delays as well as lost luggage. Through extended warranty protection, you add one year to the manufacturer's warranty.
Eager to the request for a Capital One Venture Rewards Credit Card? Let's look at its requirements.
Capital One Venture Rewards Application Process
Order a Capital One Venture Rewards Credit Card by visiting their website and filling out the application form online. The bank may request you to show proof of identity (at least 18 years old). Capital One only grant this card for people with excellent credit rating. Hence, to qualify, you must have a credit score of at least 700.
If your application is approved, Capital One will give you a credit limit of at least $10,000. The bank will check your credit history if you request an increase in credit limit.
Fees and Interest Rates
The annual fee for this card is waived for the first year, after which you need to pay a $95 annual fee. You should also be mindful of the cash advance fee (either $10 or 3% of the amount of every transaction, whichever is greater) and late payment fee ($39 maximum).
The fee for balance transfers is 3% of the amount transferred. Capital One Venture Rewards has an annual interest rate of 17.24%, 21.99% or 24.49%, which depends on your creditworthiness.
However, there are no foreign currency charges with this card.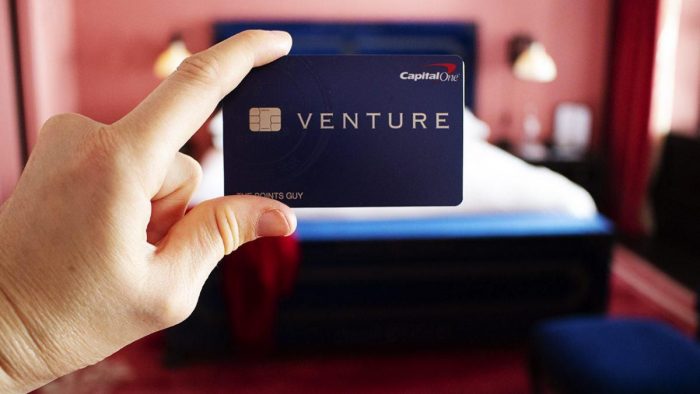 Contact Capital One
If you would like to reach out to Capital One with more questions or concerns, you can call them at 1 (877) 383-4802.
In addition, their main address  is located at 1680 Capital One Dr, McLean, VA 22102.
Conclusion
Overall, you can benefit from being a Capital One Venture Rewards cardholder if you are a frequent traveler who wants to earn extra miles from your purchases.
Note: There are risks involved when applying for and using credit. Consult the bank's terms and conditions page for more information.