It was 8.15 pm when we were riding back to VanGo, a.k.a the van, after our first day of bicycle exploration in Newquay, Cornwall a few weeks ago. Now, because I'm not the most skilled cyclist ever, I was riding the meaty, boyish Land Rover, which we creatively renamed 'Rover' whilst Dan was riding the slimline, girly Peugeot, which he personally renamed 'Peggy'. Yes, Dan was riding Peggy.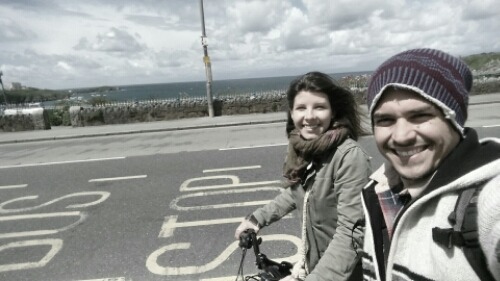 Anyway, rewind a few hours. We'd been riding around town all afternoon, stopping by Costa Coffee (of course) and the famous surf beach (not checking out any of the surfers) along the way. The town was great, very 'hip' and 'happening' with plenty going on for all ages.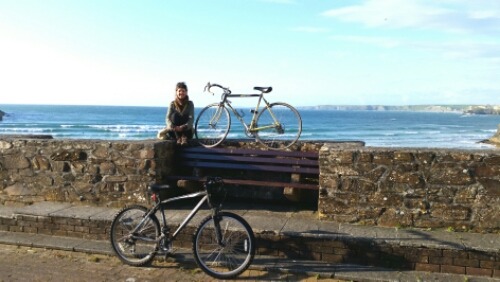 One thing that I couldn't help but stare at while I sipped on my Chai Latte, was the twenty - something year old woman sticking fake tattoos on people of all ages just outside the window. She had a small stall on wheels which looked as though it was custom made for her in a friends garage one weekend (in a good way) with a big umbrella poking out the top, parked on the sidewalk at the coffee shop entrance.
As I watched, more and more people seemed to be intrigued by her stall, creating a small crowd. It was like when you see someone busking on the street - the audience starts off slow but as soon as there are enough people there to create that social proof, the audience comes swarming in. So, I wondered what was so different about this stall for this many people to stop and give the woman business? Then I saw it. It was a simple, cheap and pretty darn good idea.
Just in the middle of the sidewalk, next to her stall, the woman had placed one of those little steps that toddlers use to get up on the toilet or short-legged people, like me, use to reach anything that's higher than 1.5 metres. $2 from the discount store, right? Well, that small investment had customers at her stall all afternoon, until it rained and everyone hibernated.
When the woman put a fake tattoo on a customer, she would ask them to stand up on the step where everyone could see them. It was kind of random, and no-one really understood why they were standing there like dorks but it worked. Everyone walking by wanted to see why there was someone standing on a step looking like a dork.
Once the rain hit, the street went bare and all of a sudden everyone seemed to be inside Costa Coffee, including the stallholder. Why not, right? If you can watch your shop while sitting inside a warm, cosy room drinking coffee and catching up on paperwork then it's a big plus!
But it wasn't until the woman ordered her coffee in an American/ Canadian accent (sorry Canada, one day I'll learn the difference! ) that I noticed she was an expat. She was also wearing the same jacket Dan had on all the way from Nepal, which we couldn't get over.
I was quite inspired really. This woman was a traveller. You could tell, she had traveller written all over her from her Nepalese yak wool jacket to her cord pants, ripped around the edges to her long, wavy hair to her little fake tattoo stall parked out the front of the coffee shop. While I could tell she'd been some places, it looked as though Newquay challenged her to stay for a while with the care-free, simple and laid-back lifestyle it offers in a beautiful part of the world.
Obviously, she wasn't going to get rich with money from sticking fake tattoos of dragons on 5 year olds arms. But that didn't matter because each day she was getting richer from experience.  From the interactions she was having with the locals, to the ups and downs of running a small business to getting familiar with the British way of life, she was creating value for herself and everyone around her.
"The effect you have on others is the most valuable currency" ~ Jim Carrey
It was also her motivation to begin a small, achievable business overseas that impressed me. While many of us do take up work when we travel to pay the bills, it's generally for somebody else and on minimum wage. She came up with a simple and easily achievable goal, made it happen and that's what's paying her bills and/or keeping her travelling. At the same time, she has the freedom to work where she wants, when she wants and keep all the profit.
It's much the same with online business. But there is one big difference. If that woman closed shop one day and moved on, that would be it, she'd need to find another source of income, stat. Online, you have the ability and tools to create a passive income, meaning eventually, you might not even have to look at your computer screen and you'll be making money. Cool, huh? I don't want to get too off track with my story here, so if you want to find out more about how you can earn while travelling, take a read of our brand new free eBook "Travel More" located on our home page (eek, I'm excited!).
Anyway, back on track! After my little moment of inspiration in the coffee shop, I was feeling energised to get back on Rover and ride him all around town (no, not in that way!).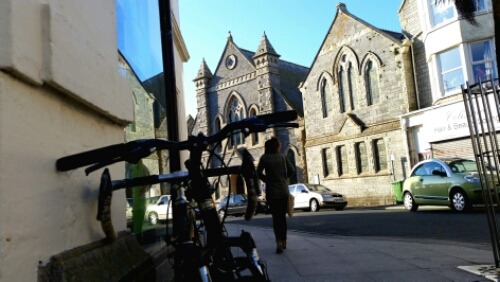 Now I'll fast forward to the beginning of my story. So we got back on our trusty bicycles and headed to the coastal path which would take us home (ha!). After pushing ourselves up a small incline for what seemed like ages to me, we popped out on the clifftop, facing out towards the deep blue, sparkling ocean and I couldn't believe what I saw.
Stopped in our tracks, breathtaken, we parked Rover and Peggy up on a green grassy hill overlooking the horizon. The air was fresh with a little chill and the wind had slightly settled after a day of swirling and whirling. There we sat, grins spread across our cheeks, eyes wide open, watching in amazement as the huge, bright orange sun made it's way down in the distance.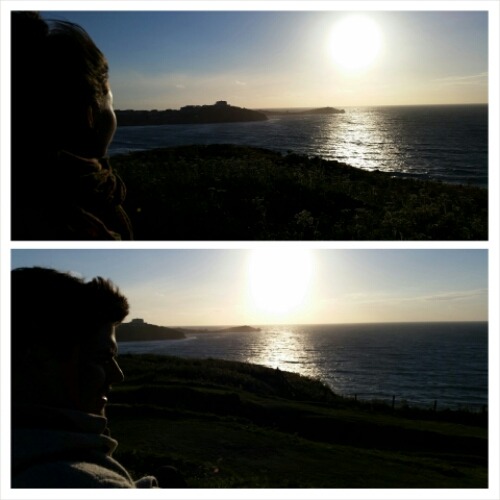 It wasn't that this was the most incredible sunset I'd ever seen in my life, this one was pretty cool too, but there was something about it that made it special. It was the way it made me feel after already being so inspired that day. It sort of summed up why I was there and reminded me how valuable travelling really is.
Gazing into the sky of pale blue and golden yellow and then seeing the way it reflected a glistening pearl colour onto the sea below was like looking at how the experiences I've had during my travels have reflected on me. From learning that travelling can be cheaper than I thought, to meeting and becoming friends with one of the best musicians I've ever met, to watching budding entrepeneurs start successful businesses, to eating worms, cockroaches and rotton eggs, to living in a van, I am always inspired in one way or another to achieve more and this wouldn't be possible without having stepped out of my comfort zone and travelling.
It's moments like these that truly remind us of the most important things in life.
Video!
Before parking our behinds we got some of the sunset on video for you to see. We WERE talking to you but the wind was a little aggressive on that particular evening and tried to ruin the moment. Nonetheless, the view was amazing and that was what we wanted to capture and share so we've added a nice little song to go along with it. Enjoy!
Read our post, What Buying Bicycles Taught Us About Travelling Europe, to find out why you should invest in two wheels while youjourney through Europe!
Travel inspiration - What inspires you? We want to know! Comment below 🙂