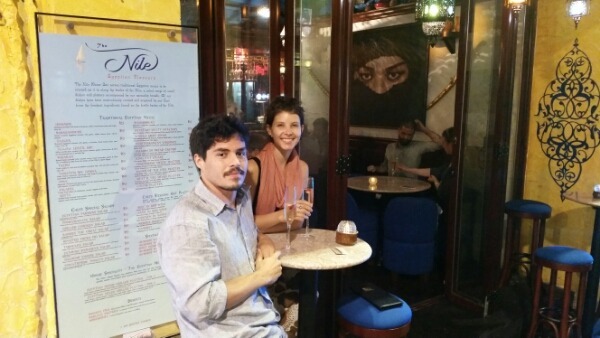 The Nile Egyptian Restaurant, Hong Kong
If you ever find yourself craving lamb souvlaki and great service while you're wondering the streets of Soho, Hong Kong, be sure to pay a visit to The Nile.
Ever tried Egyptian cuisine? We hadn't until last night and let me tell you it was an absolute treat.
Standing out amongst all of the other restaurants in the area with its bright  yellow paint job and 'Egyptian cuisine' written in large letters above, The Nile was one popular little place, attracting both locals and foreigners looking to taste something different. With tables inside and out i'd say they could comfortably fit around 50 customers but I'd book just in case because it's tasty and people know it.
When we arrived we were warmly welcomed and invited to take a seat where we wanted. The waitress promptly served us and we received our order shortly after. Lamb souvlaki with hummus, salmon in breadcrumbs  and a nice big glass of Kronenbourg beer from the tap to wash it all down. The middle eastern inspired meals were absolutely delicious. There was something so unique about the flavours that left us wanting more.
To top off our experience, the owner was more than accommodating. His big smile, excellent people skills and friendly, easy going persona were put to good use, keeping the restaurant full throughout the night. By creating friendly chit – chat with the customers  he was able to keep the mood feeling light and casual, creating a memorable experience for all.
After we had paid the bill and were gearing up to head off for an early night, the owner insisted that we stay for another drink on the house. Well, we couldn't say no to an offer like that! So out he came with two glasses of bubbly, strawberries and all. This is how you look after your customers! We left feeling full, well looked after and happy that we spent our last night in Hong Kong eating great food and having an enjoyable experience.
This guy knows how to run a successful business! It's the little things that really count. Creating a connection with your customers, ensuring that they are being well looked after, providing value for money, creating reciprocity and offering a unique and memorable experience are all ways in which you'll get customers consistently coming back. I think some could learn a thing or two from him!