Rio de Janeiro is well known throughout the world for its beautiful, diverse beaches.
Whether you're looking for a relaxed tropical paradise, something a little more rugged, or some good surf, Rio de Janeiro has it all.
Here are 7 stunning beaches in Rio de Janeiro we didn't want to leave and I'm sure you won't want to either.
Our Most Recommended Beaches in Rio de Janeiro…
Remember these top beaches in Rio de Janeiro… Pin this image on Pinterest >>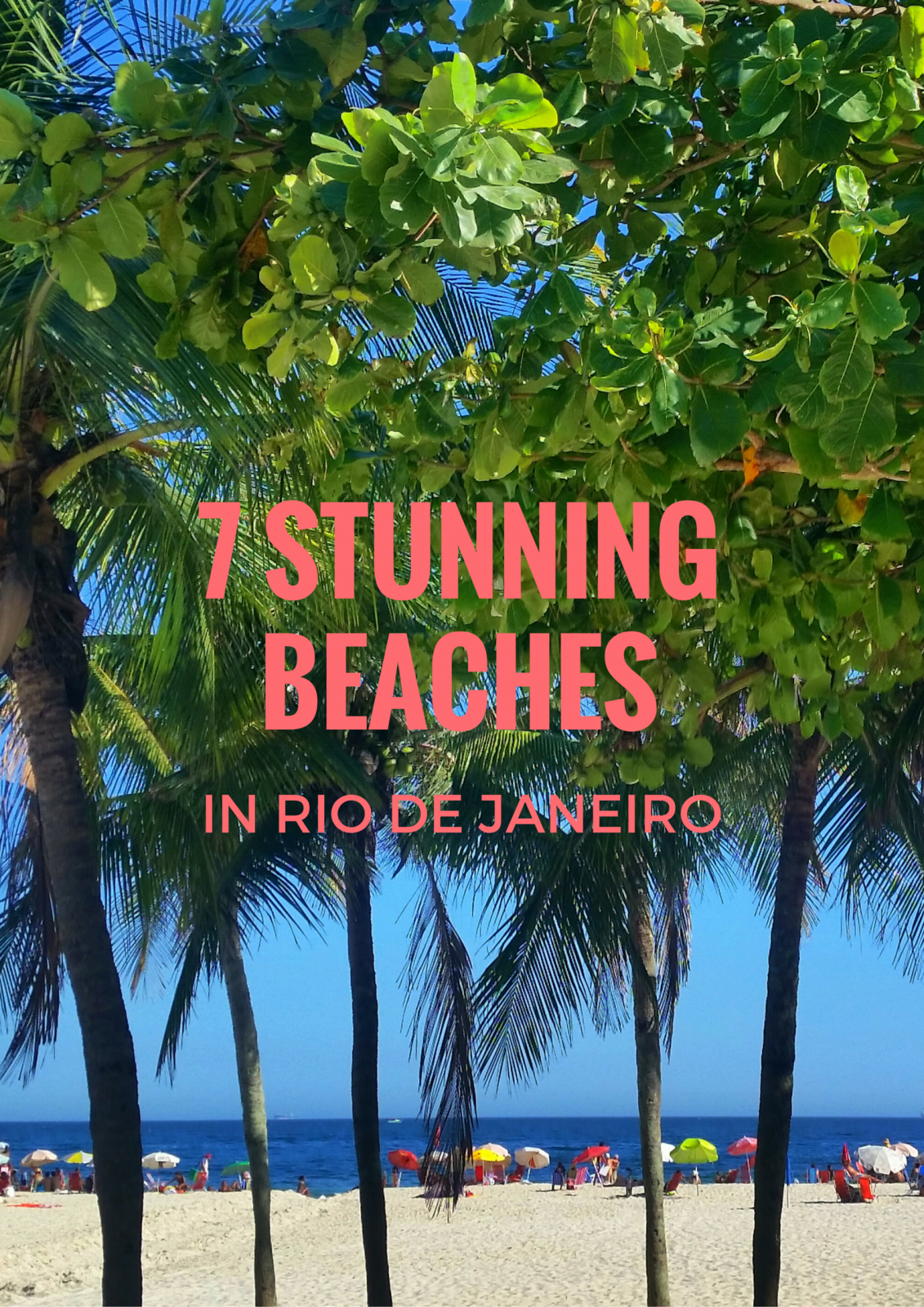 1. João Fernandes, Armação dos Búzios
Out of all the beaches in Rio de Janeiro, João Fernandes topped my list of favourites.
As soon as we stepped down onto the beach front, we fell in love with the relaxed yet vibrant atmosphere.
A number of typical Brazilian style bars and restaurants lined the shore where people were sat back chilling out with a cocktail whilst live samba music played in the background.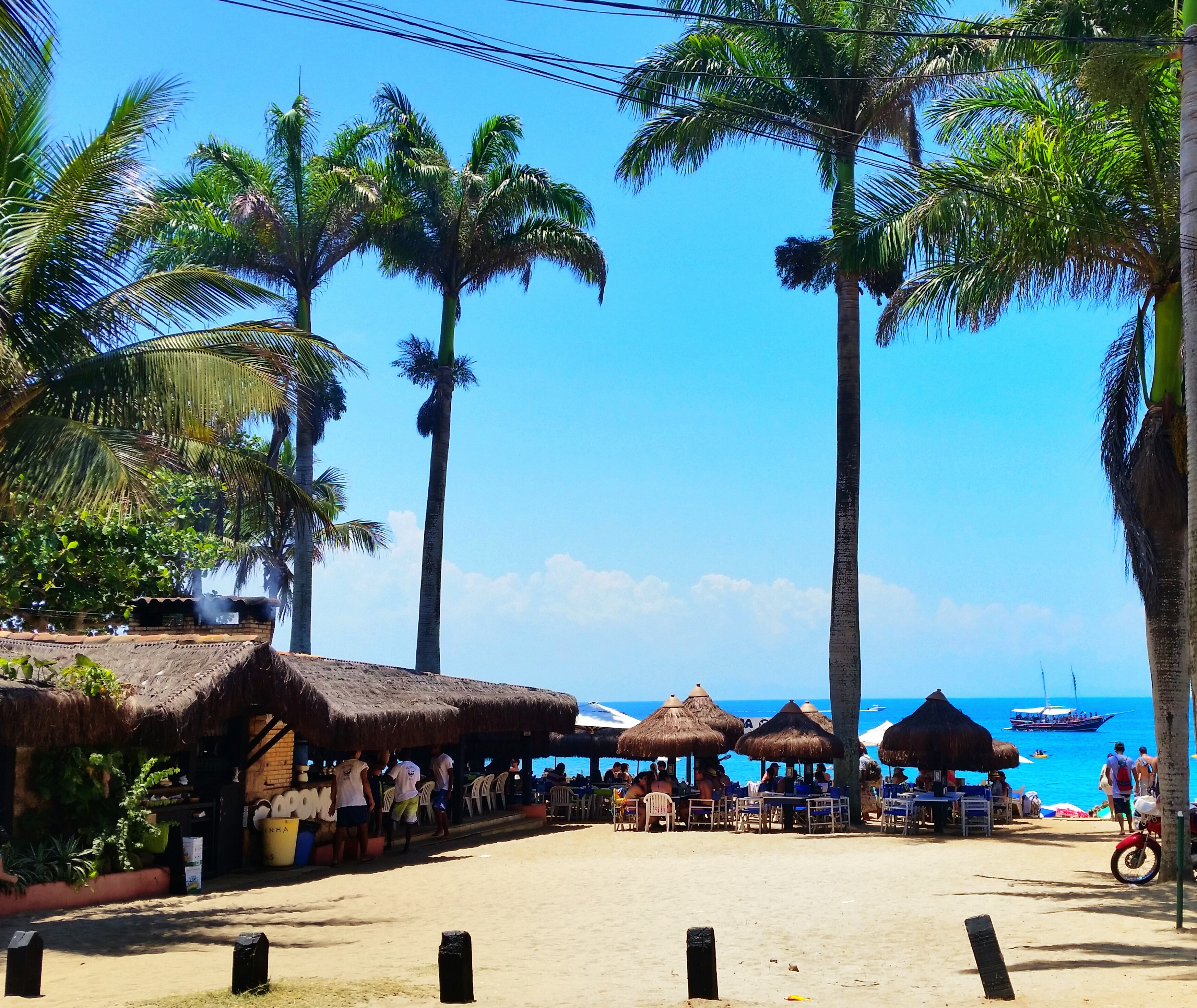 Situated on the Búzios peninsula, João Fernandes is a popular tourist hot-spot among the Brazilians and Argentinians.
During vacation periods, it can get really busy so food and beverage prices are slightly higher than average, however, it is well worth heading down for one drink in the afternoon just to soak in those holiday vibes.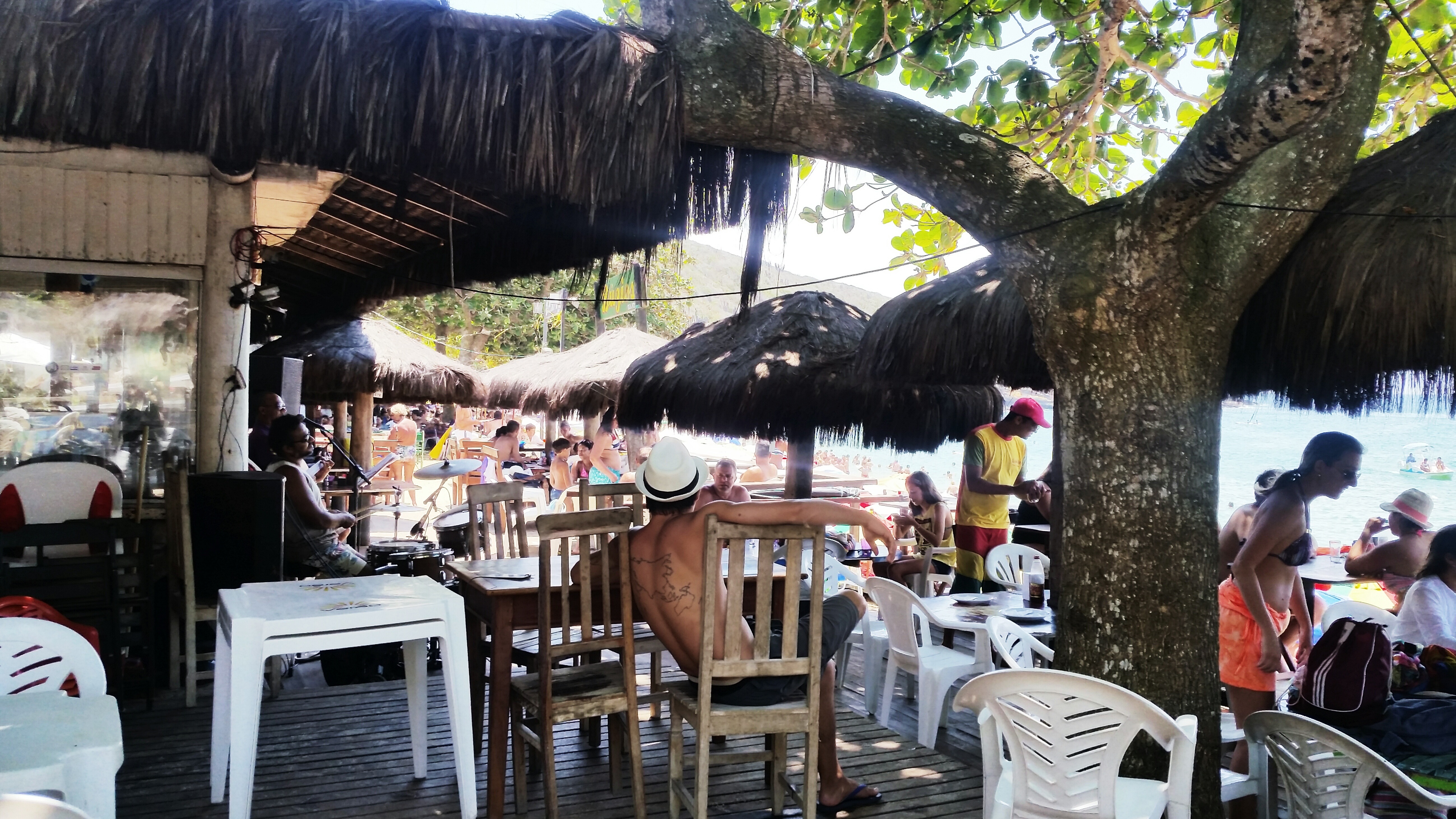 Colourful beach umbrellas line the sand, with deck chairs and tables from the bars above laid out underneath.
If you can find a spot at one of these umbrellas, the bars above normally offer full table service, including meals.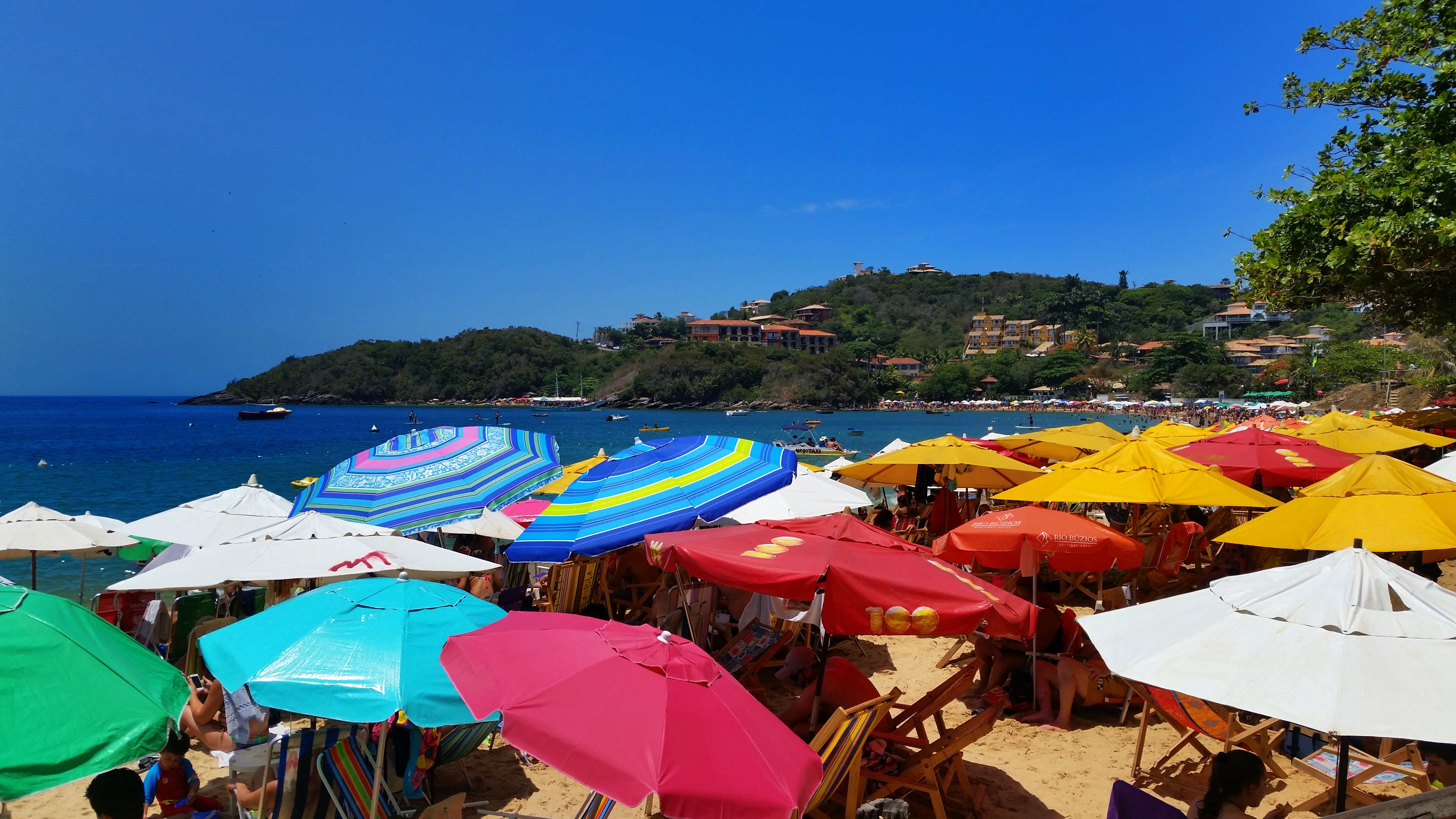 João Fernandes is one of the most fantastic beaches in Rio de Janeiro to bring children to due to it's small size and clear, calm water.
Sectioned off are groups learning how to stand up paddle board, snorkel, scuba dive and more, all of which I believe can be booked and paid for down at the shore.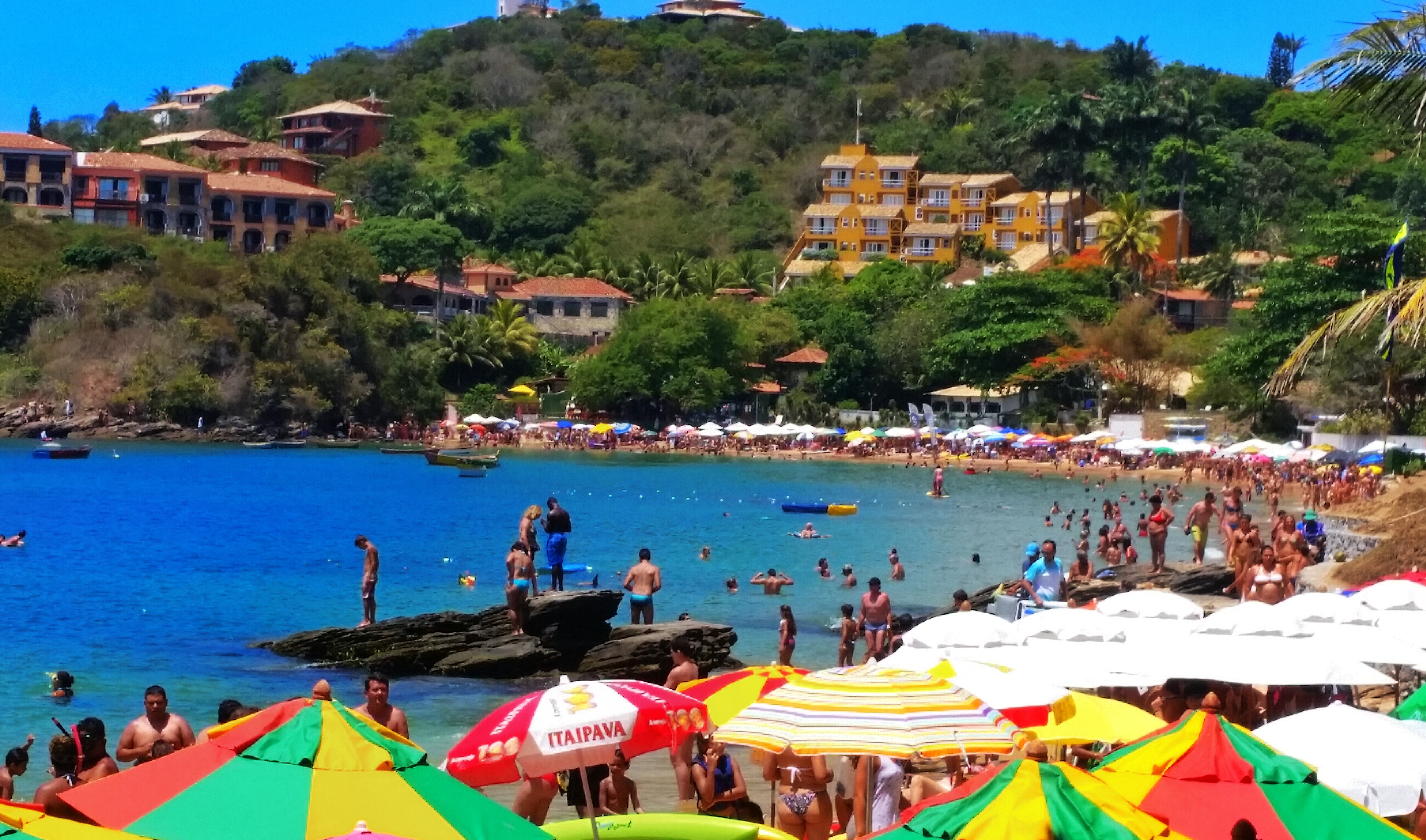 Later on in the afternoon the tide does come right in so you have a few different options.
You can either move up to one of the beach front bars, wander around some of the shops or head to the beach located around the corner to watch the incredible sunset.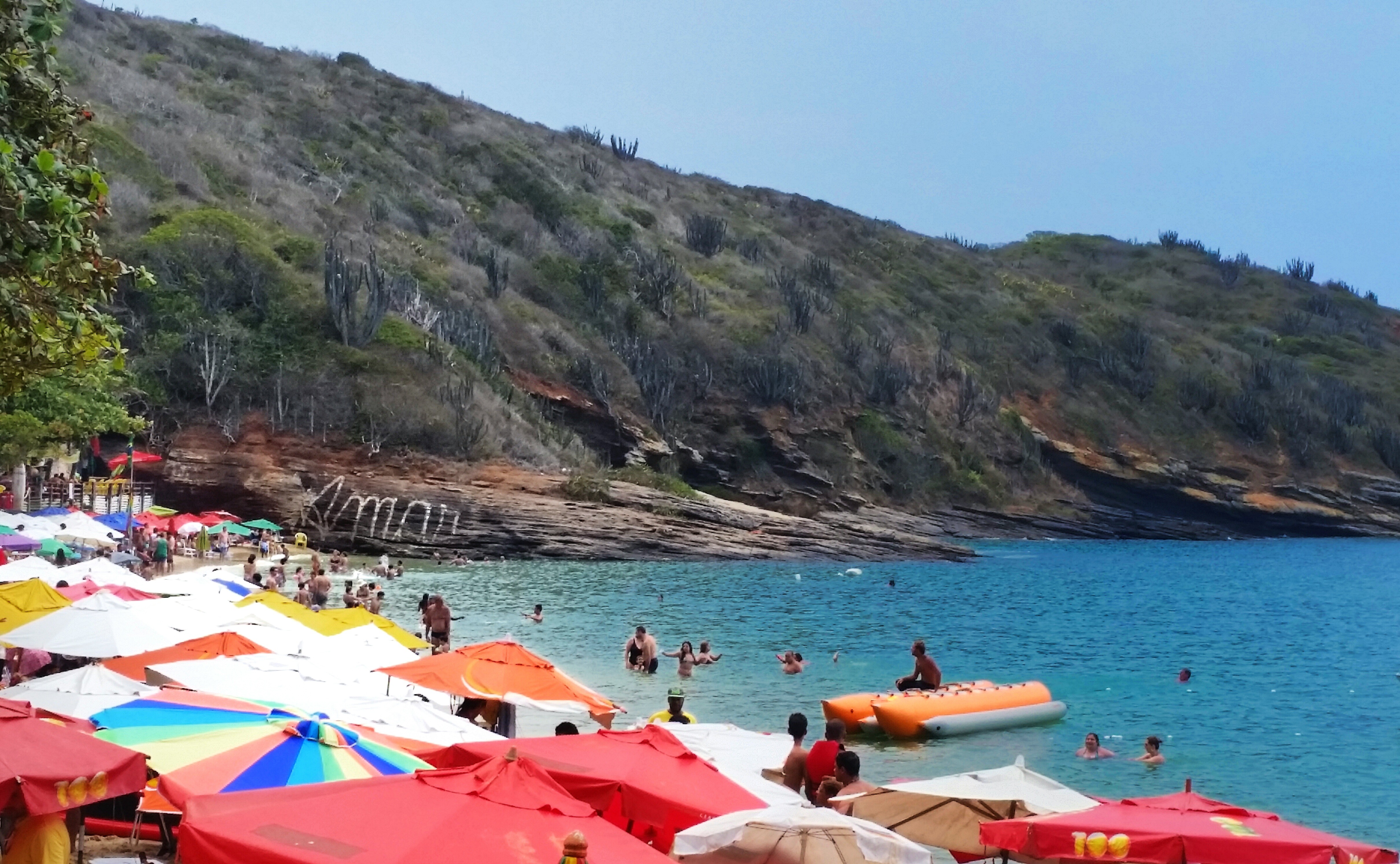 Perfect for: Couples and families on vacation and day visits
Where To Stay: We really enjoyed our stay at Lapa Búzios Hostel e Pousada as we found it clean, comfortable and centrally located in the Búzios peninsular (plus it had a pool). If you're looking for something closer to João Fernandes, there are a number of pousadas and hotels surrounding the beach.
How To Get There: Every couple of minutes the Búzios mini-buses are heading in and out of all the main beaches on the Búzios peninsula. It costs $5 BRL ($1.50 USD) each way and you can wave one down from the side of the street.
2. Prainha, Arraial do Cabo
When visiting Arraial do Cabo, located about two and a half hours east of Rio de Janeiro city, you cannot miss Prainha Beach, popular among many tourists and locals for its soft white sand, crystal clear turquoise water and stunning sunset views.
In fact, Arraial do Cabo in general offers some of the most pristine beaches in Rio de Janeiro.
It's a quiet yet beautifully rugged kind of place (and quite possibly my favourite) which offers visitors a relaxing holiday with a hint of adventure.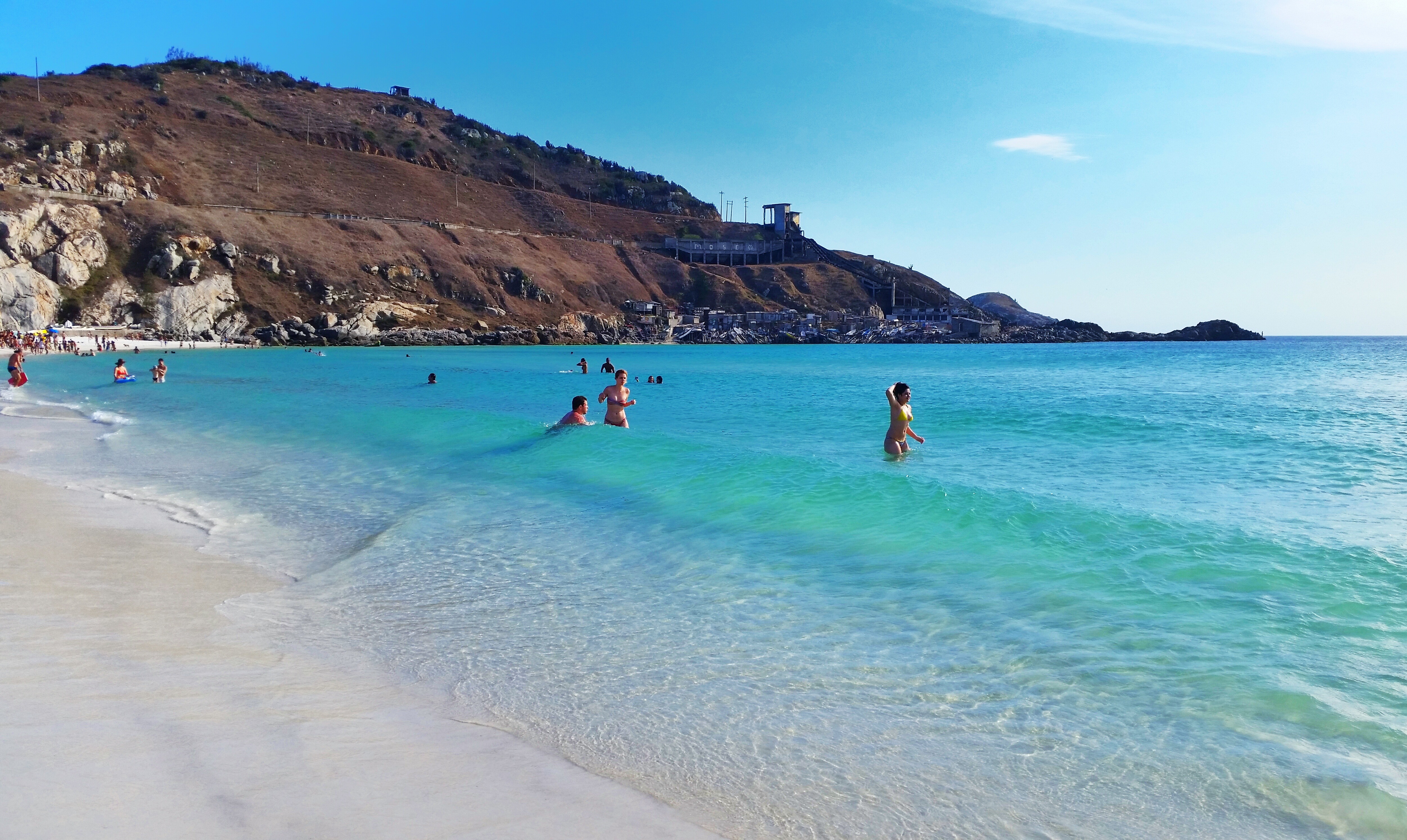 All along Prainha Beach you have vendors selling everything from pizza to caipirinhas and beers whilst visitors lay on the soft sand, warming in the sun.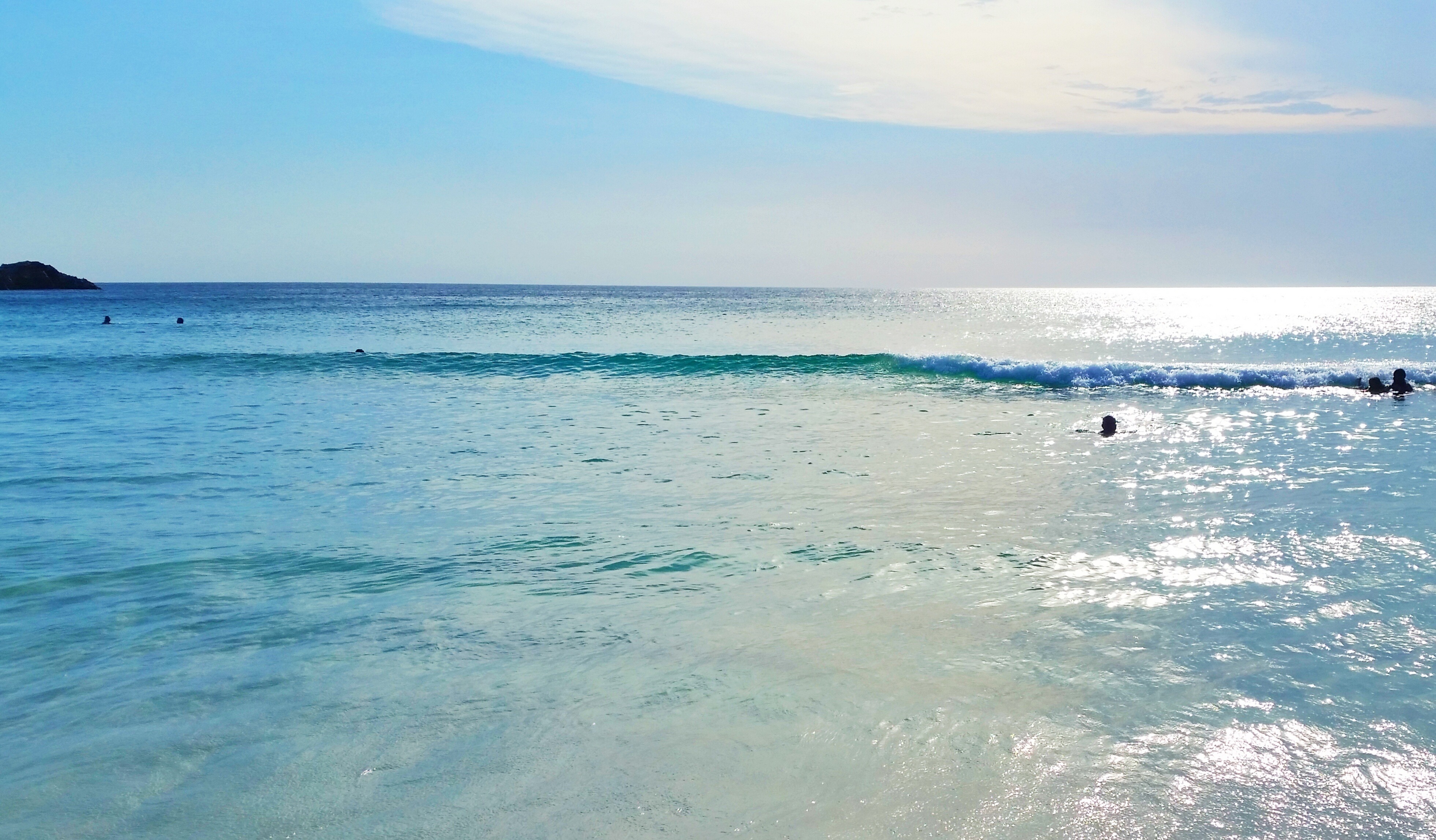 As the sun begins to set, the crystal clear water sparkles as visitors lay on rubber rings, floating over the gentle waves and soaking in the last of the suns rays.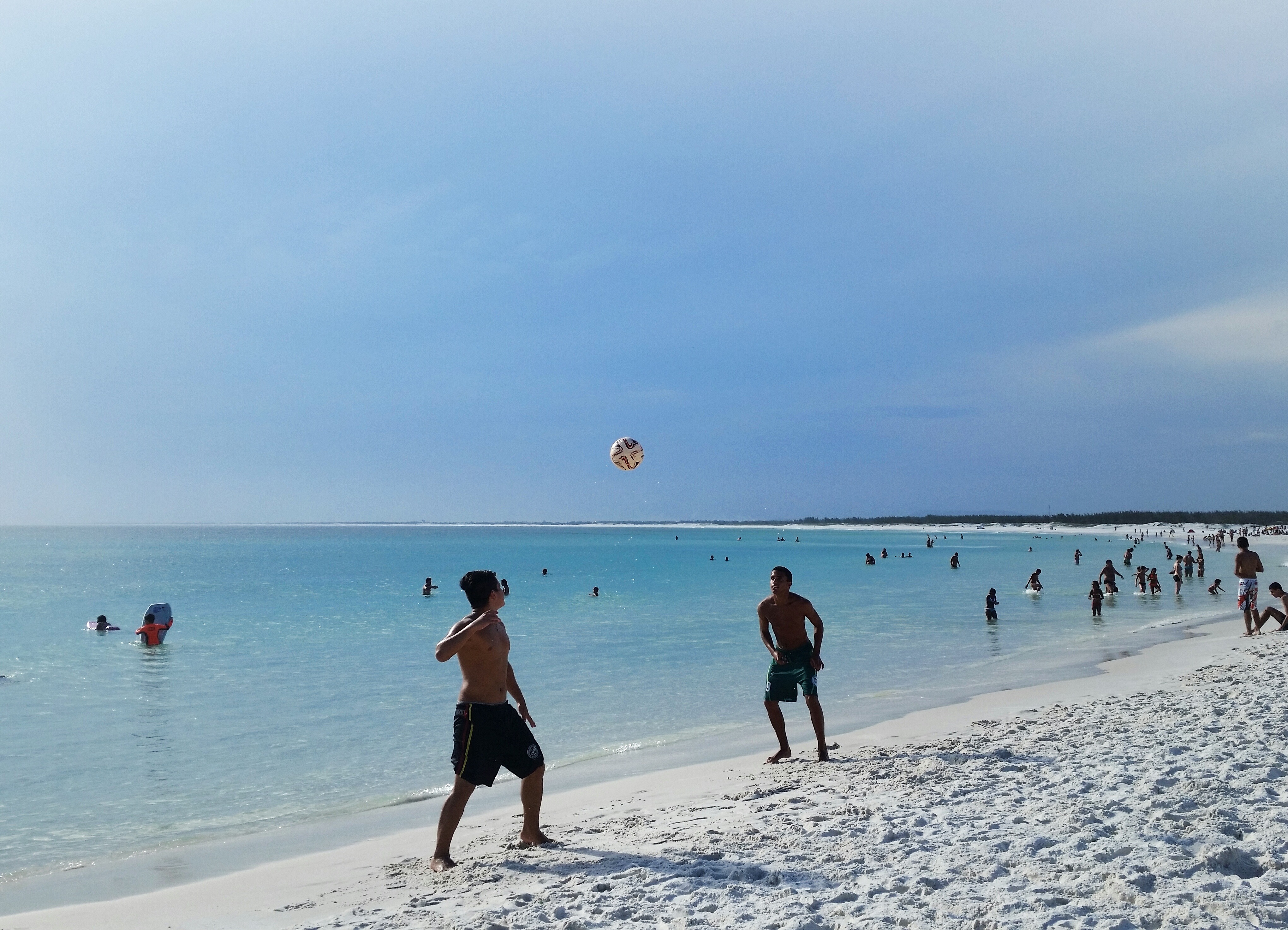 Come sunset you can walk up to one of the many delicious beach front bars and restaurants for some amazing seafood and views across the horizon before heading out and experiencing the nightlife.
Perfect For: Day trips and weekend getaways
Where To Stay: We spent 4 days in the popular coastal town, staying at the brand new Hostel Caravela where we enjoyed air conditioning, fresh linen and towels and breakfast each day. Only 5 minutes walk away were a number of different restaurants ranging from Brazilian self serve to Italian and Japanese. Then we had beautiful beaches either side of us, one of which being Prainha. If you prefer a little more luxury in your life, they also have a sister guesthouse named Pousada Caravela, only a short walk away from the beach.
How To Get There: Buses leave to Arraial do Cabo from Novo Rio Bus Terminal every couple of hours and once you've arrived, everything is within walking distance.
3. Ipanema, Rio de Janeiro
When you're visiting Brazil it's almost a crime not to experience one of the most famous and romantic beaches in Rio de Janeiro.
Ipanema had me at hello but when the glowing sun set between the iconic rocks standing in the distance, I was absolutely awestruck.
The neighbourhood itself is situated in the South Zone of Rio de Janeiro, between Copacabana and Leblon and is home to a number of world class restaurants, shops and cafes.
This is one of the most expensive places to stay in Rio de Janeiro but it's no wonder why.
On the beach you'll find active Rio locals (Cariocas) swimming, exercising, and playing volleyball while others relax in the sunshine, sipping on coconuts or purchasing some of the local souvenirs brought around by friendly beach vendors.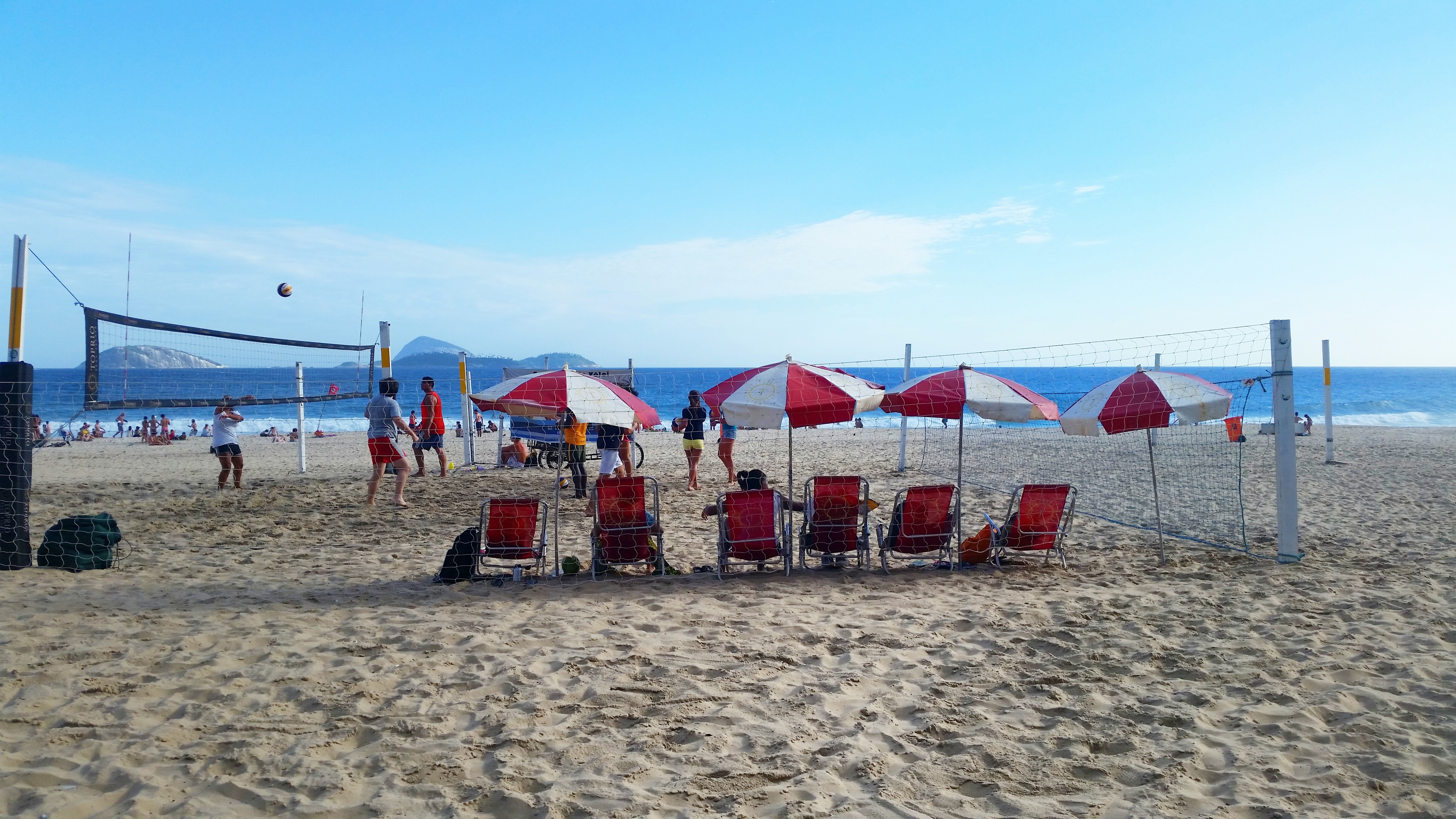 If you walk towards Copacabana from Ipanema Beach, you will first reach Arpoador.
This is a small peninsula that joins the two beaches and is a beautiful spot to grab a cold drink or an ice-cream, sit down and take in all the action happening around you.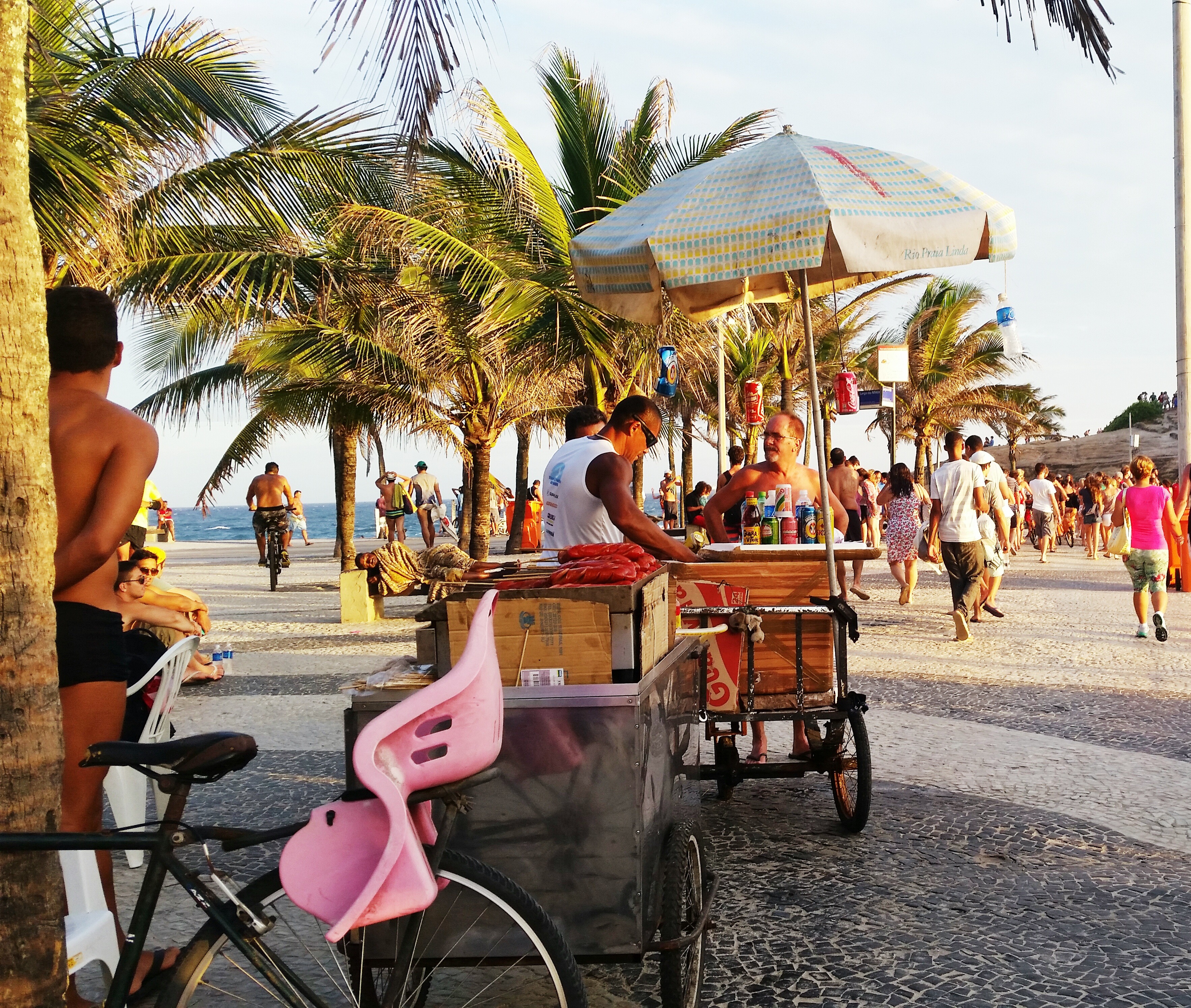 Arpoador is also well known among the locals for the spectacular views across Ipanema and Morro Dois Irmãos (Two Brothers Hill) at sunset.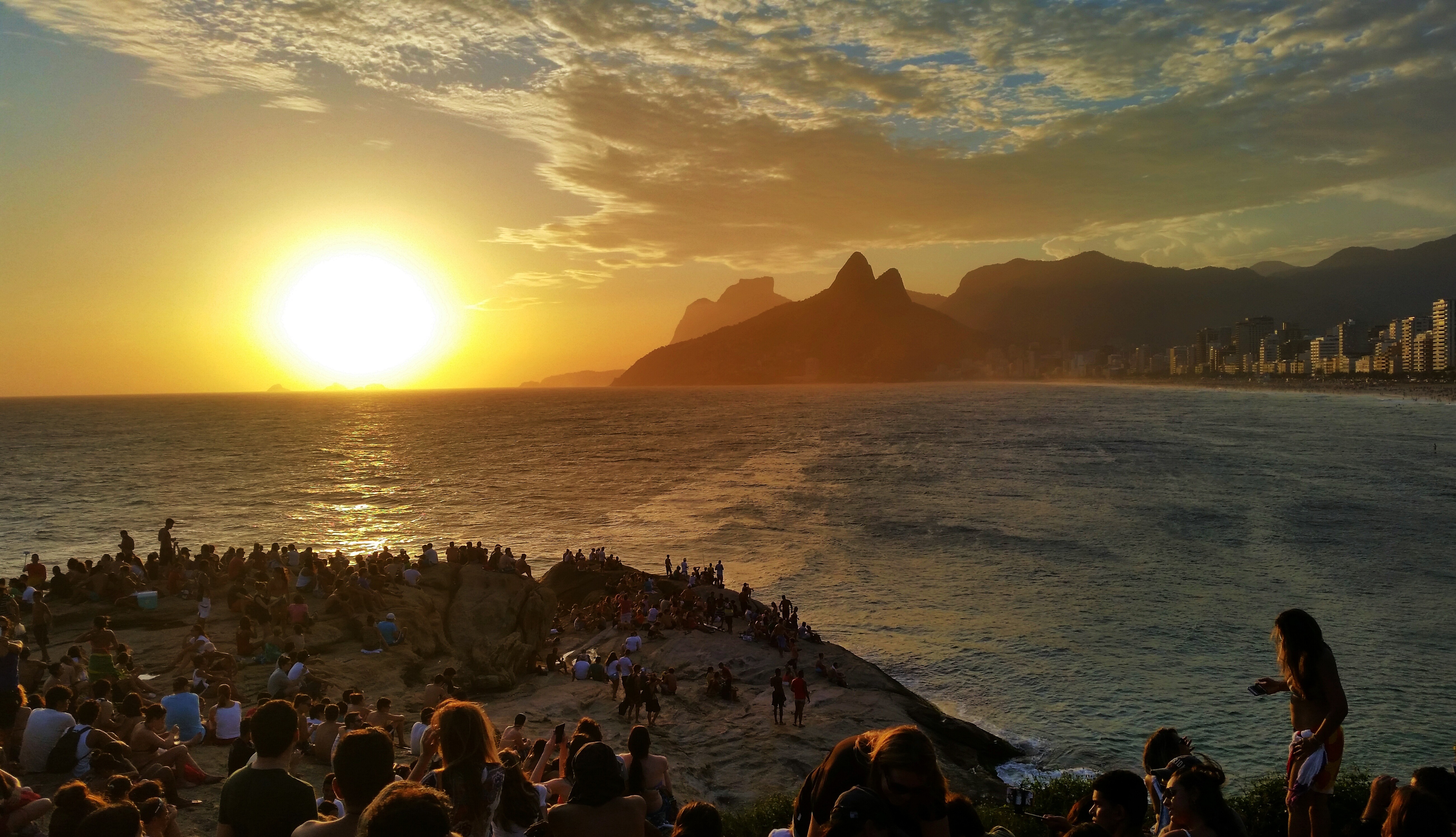 Ipanema Beach is a tourist hot spot with a number of hotels and restaurants stretched along the shore front.
When you look across from Arpoador, the buildings turn a golden yellow as the sun sets out to sea.
At this time many talented musicians and street performers appear on the peninsula, along the beach and in the streets behind busking and providing entertainment for people passing by.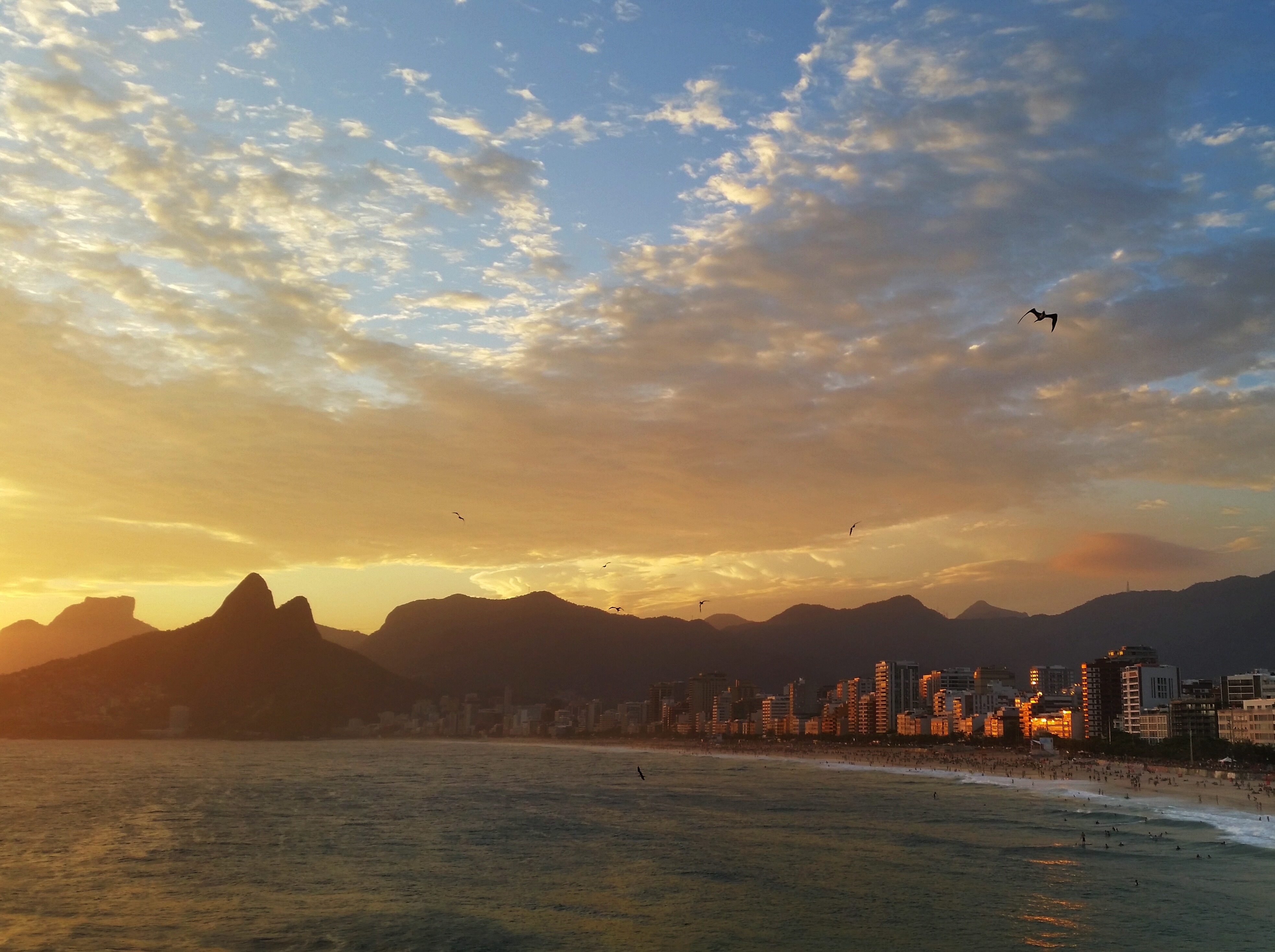 As the sun disappears behind the three rocks in the distance, the crowd claps and cheers before making their way back to Ipanema for a relaxing evening drink or dinner.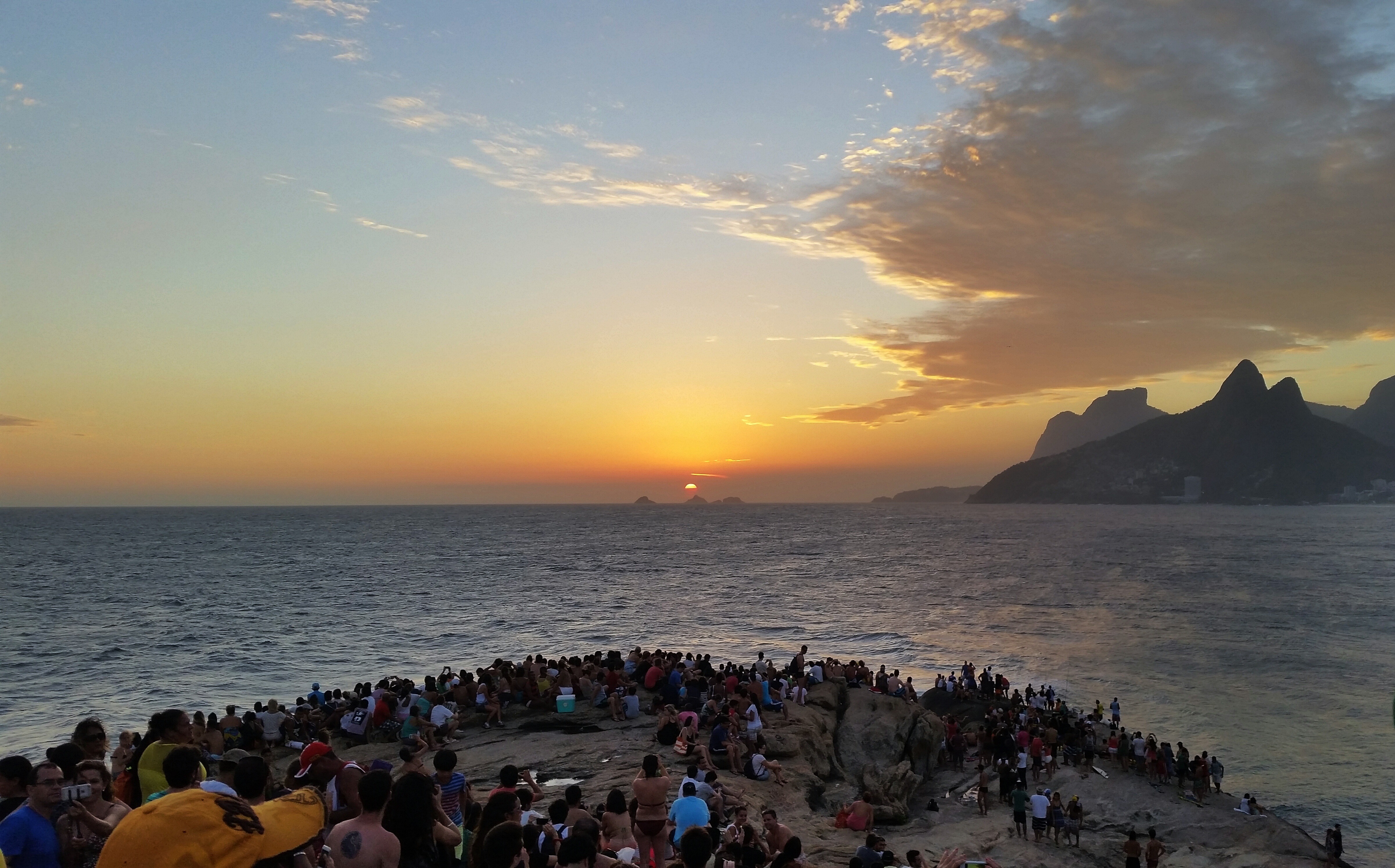 Perfect For: Families and couples on vacation, weekend getaways and day trips
Where To Stay: We stayed at El Misti Hostel, Rio which was located in the Copacabana neighbourhood, only a 15 minute stroll away from Ipanema. If you do want to stay in the Ipanema neighbourhood, there are plenty of lovely accommodation options located along and behind the beach.
How To Get There: Ipanema is very well connected to a number of other districts and beaches in Rio de Janeiro and can easily be accessed by bus, taxi, bicycle and walking if you're staying in the Leblon/Ipanema/Arpoador/Copacabana neighbourhoods.
Buses and taxis stop all the way along Ipanema beach and the orange Itaú bicycles are available to rent for $5 BRL per hour at the Southern end of Copacabana.
4. Itaipu Beach, Niterói
If you take a bus, mini-van or taxi across the longest bridge in Southern hemisphere from Rio de Janeiro to Niteroí, you'll discover a whole other array of incredible beaches with views out over to the city and mountains in the distance.
We ended up at Itaipu Beach when we met a local who invited us to eat at his mothers beach front restaurant.
After jumping in the car and taking a 5 minute drive around the corner, we parked up, grabbed our towels and headed towards the beach, winding our way through a number of small colourful alleyways until we arrived on the sand.
You then have the choice of taking a table, teamed with an umbrella, and having something to eat/drink from one of the beach bars, or laying on the sand.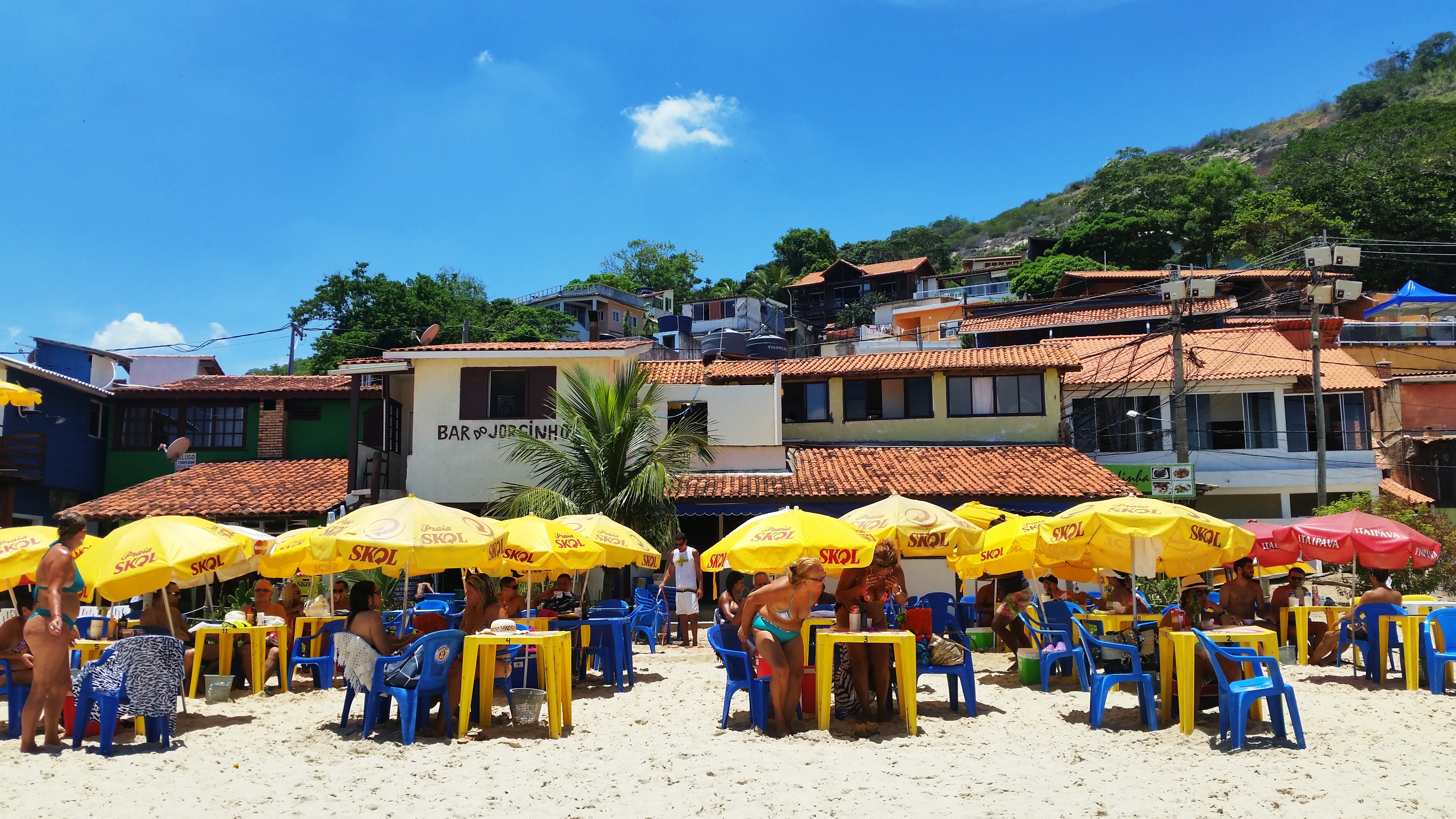 Itaipu is a small fishing village, with a relaxed, quiet vibe about it. It's different from many other beaches in Rio de Janeiro.
The water is calm and during summer, it's also quite warm.
These colourful boats lay across the sand, whilst some sun-bathers looking for more privacy set up between them.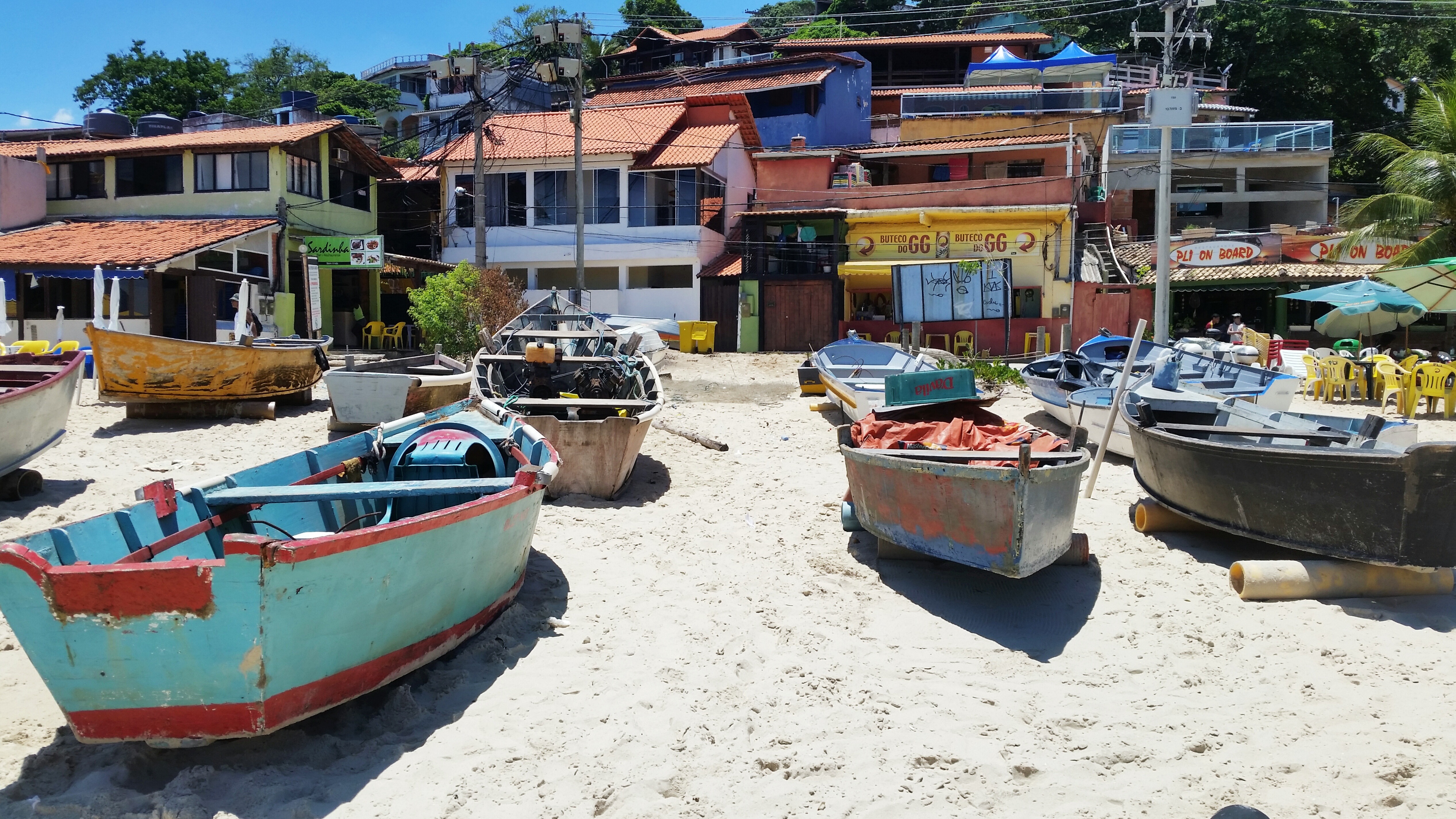 Along the top of the beach you have a number of bars, restaurants and kiosks, all offering a variety of food an beverage options, with a focus on traditional Brazilian cuisine and seafood.
We had a delicious Bobó de Camarão (shrimp in a cassava and coconut sauce) served with rice.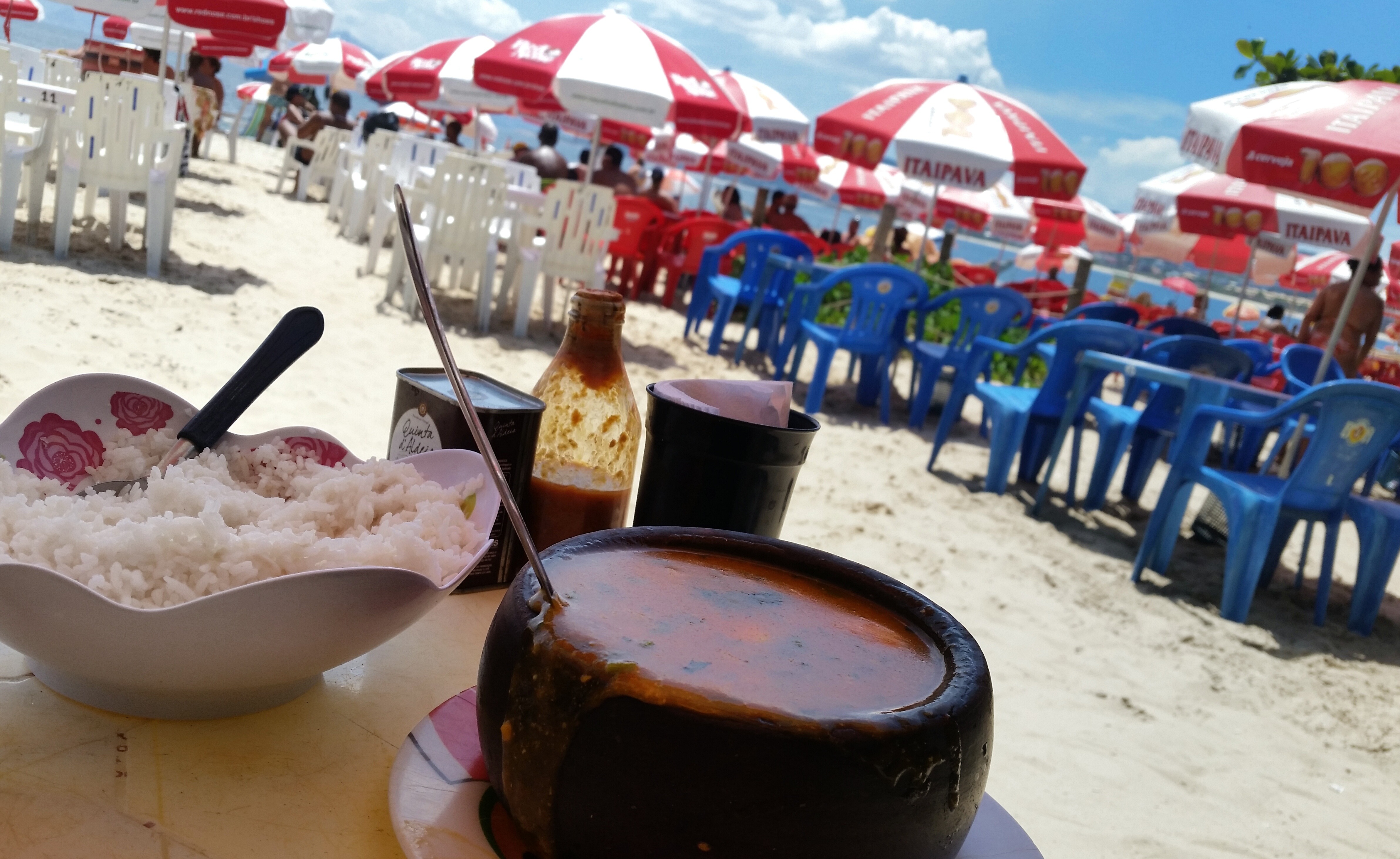 One of my favourite things about Itaipu Beach was the view across the bay towards Rio de Janeiro city, with the rocky landscape and boats floating out on the horizon.

Perfect For: Day trips from Rio de Janeiro city
Where To Stay: I would recommend staying in one of the neighbourhoods around Rio de Janerio and taking a day out to visit the beaches in Niteroí, including Itaipu.
How To Get There: I believe that bus number 740D goes from Ipanema to Niteroí boat terminal. From there you can get a taxi or catch bus number 38.
5. Leme, Rio de Janeiro
Leme is a small neighbourhood located at the end of Copacabana Beach that many people visit to escape the crowds of Copacabana.
It still has a similar atmosphere to Copacabana, being merely the end part of the beach, however, there's usually far less people and far more room to move around.
Like Ipanema, Copacabana and an array of other popular beaches in Rio de Janeiro, there are a number of small shops, cafés and juice bars dotted along Avenue Atlantica, the road that runs parallel to the beach, and all have a chilled out, surfy kind of vibe.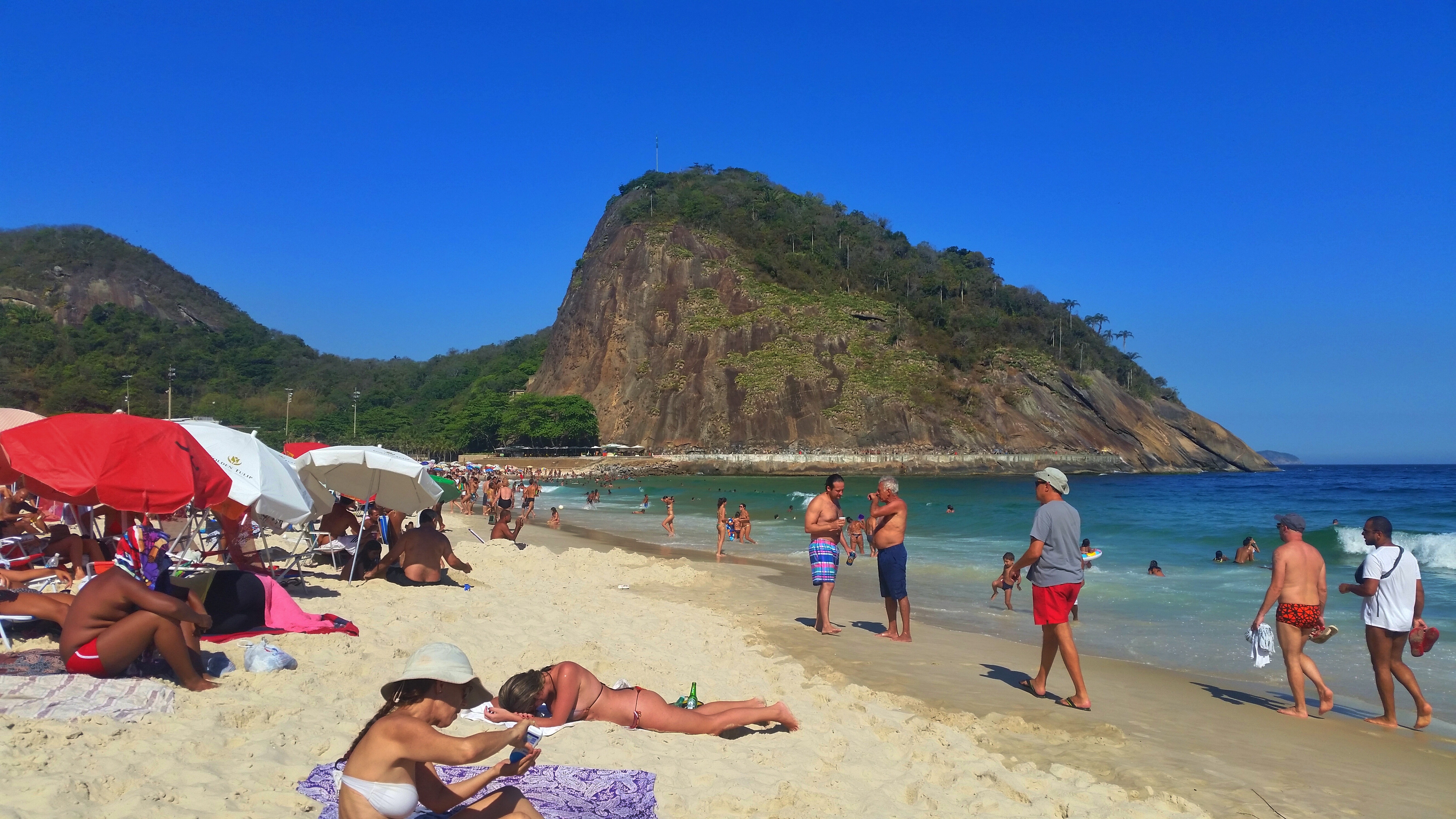 The water at Leme isn't too rough but it's not flat either so parents do need to keep and eye on children when they're swimming.
As for shade, I would recommend hiring an umbrella as the sun can get very strong in Rio during the summer.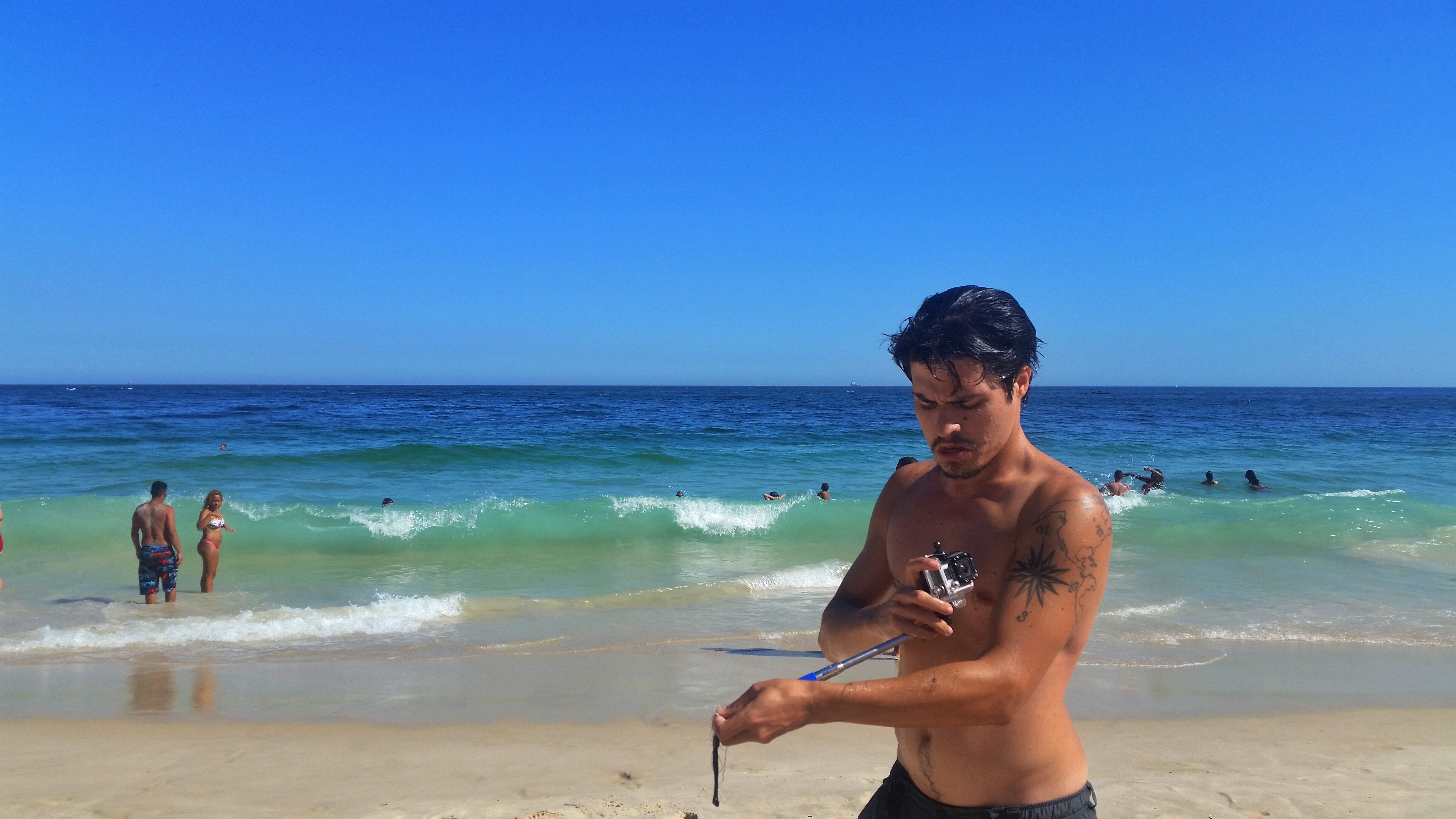 Much like many other popular Brazilian beaches, vendors do walk along selling everything from sunglasses and hats to cocktails and snacks.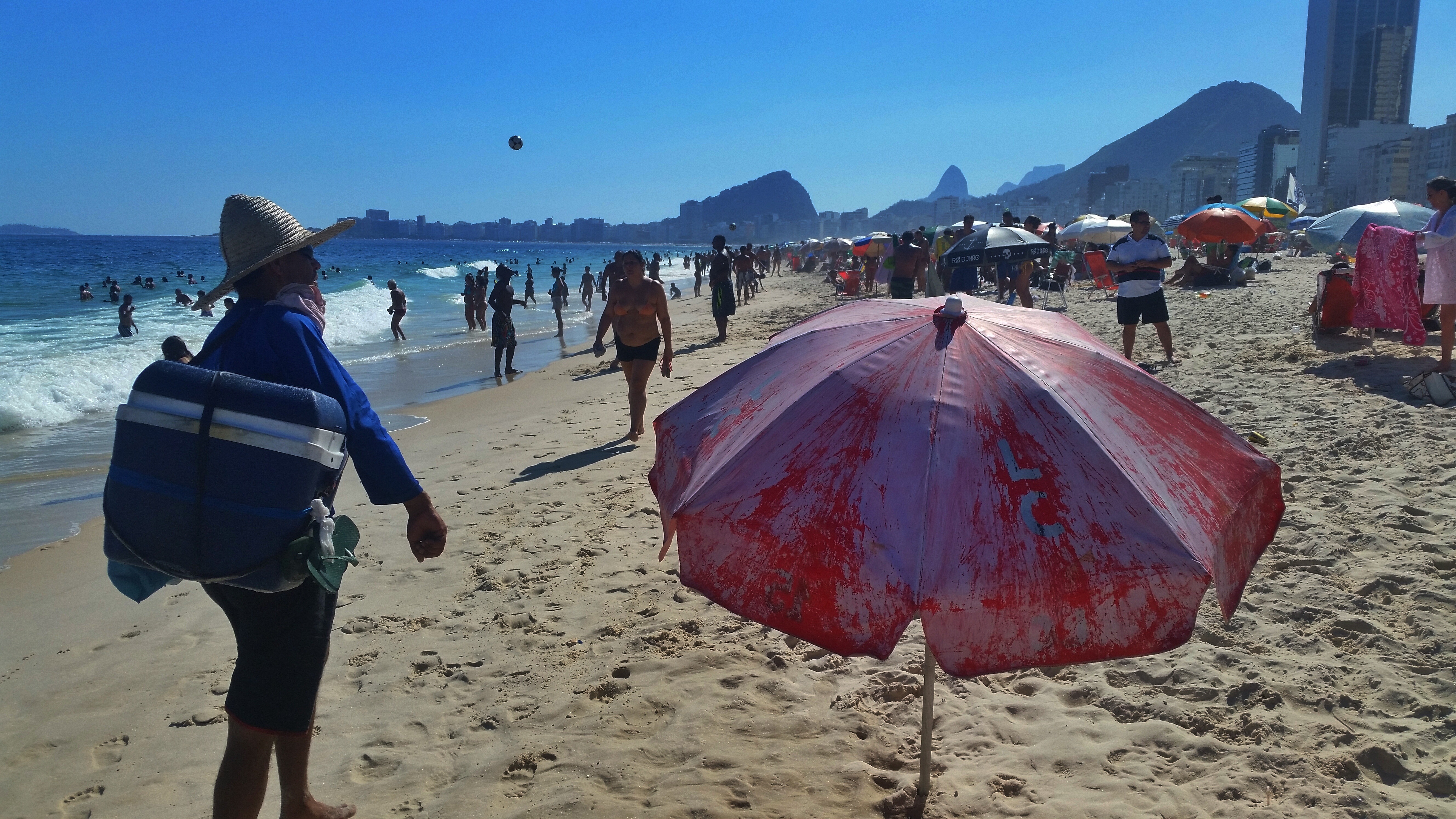 If you do need some more shade, head up the beach towards Avenue Atlantica, where you can sit and cool down under these trees with a refreshing coconut.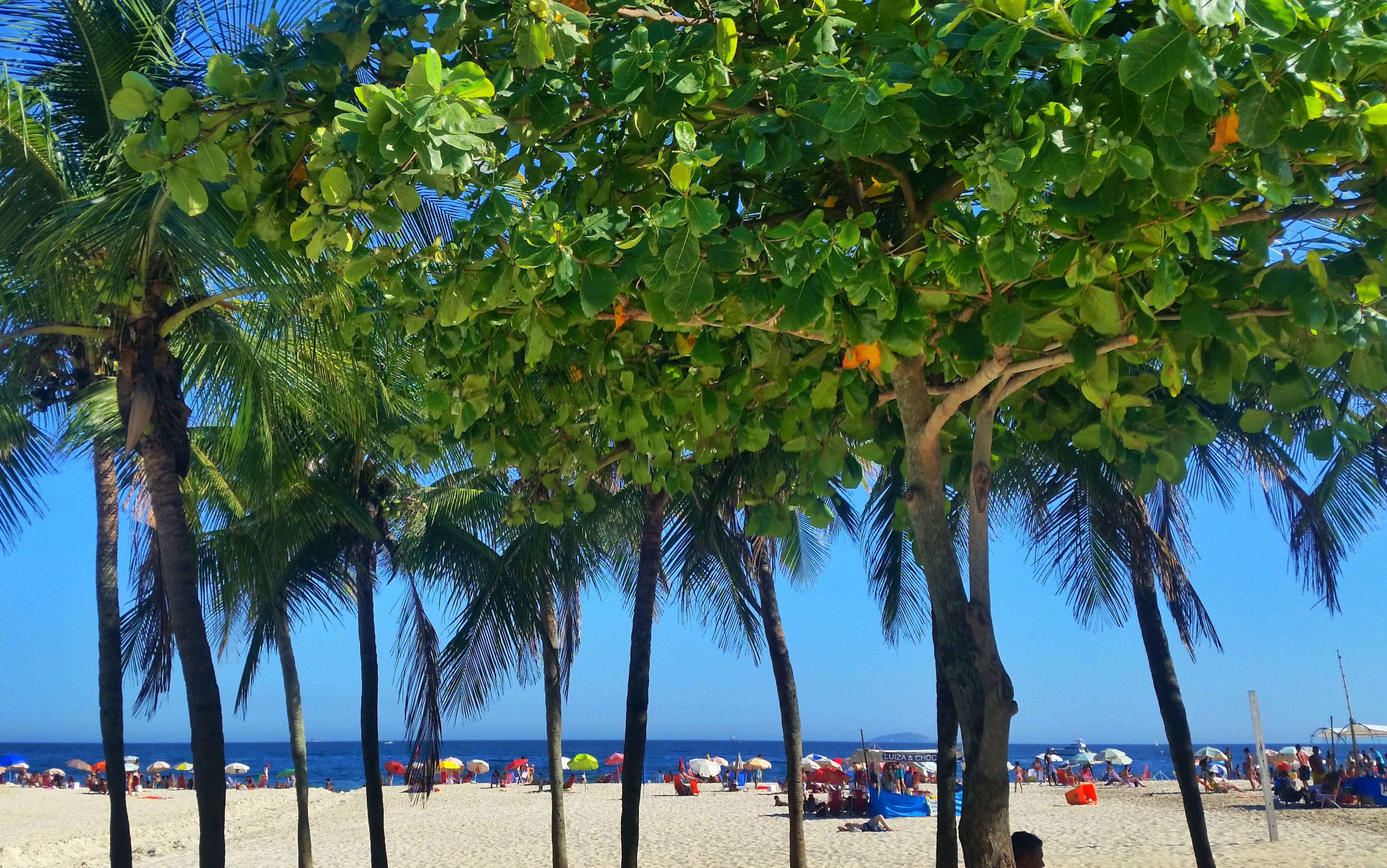 Perfect For: Day trips
Where To Stay: We had a fantastic and eye-opening experience staying in a pacified (safe) favela above Leme Beach, named Chapéu Mangueira.
The guesthouse was called Chapéu do Leme and it has the most incredible views out over the favela and coastline.
If you are looking for a more relaxing stay, there are plenty more hotel options in the area.
How To Get There: Leme is within walking distance of the famous Copacabana Beach which can be reached by bus number 123 or 485 from the Novo Rio Bus Terminal.
6. Forte Beach, Cabo Frio
When we first arrived in Cabo Frio, the first two things I noticed were the white sand and the bluest of blue water.
This was by far one of the most unique beaches in Rio de Janeiro that I had visited. The weather was warm and there was very little wind, making for a lovely beach to stroll along.
At one end was Forte São Mateus, a historical structure built to keep the pirates out many years ago and at the other end a group of bikini wearing beach goers were dancing and shaking in a free group exercise session.
The town itself is a tourist hot spot during the summer months, home to a number of beach side shops, cafés and restaurants as well as a large shopping mall a few minutes down the road.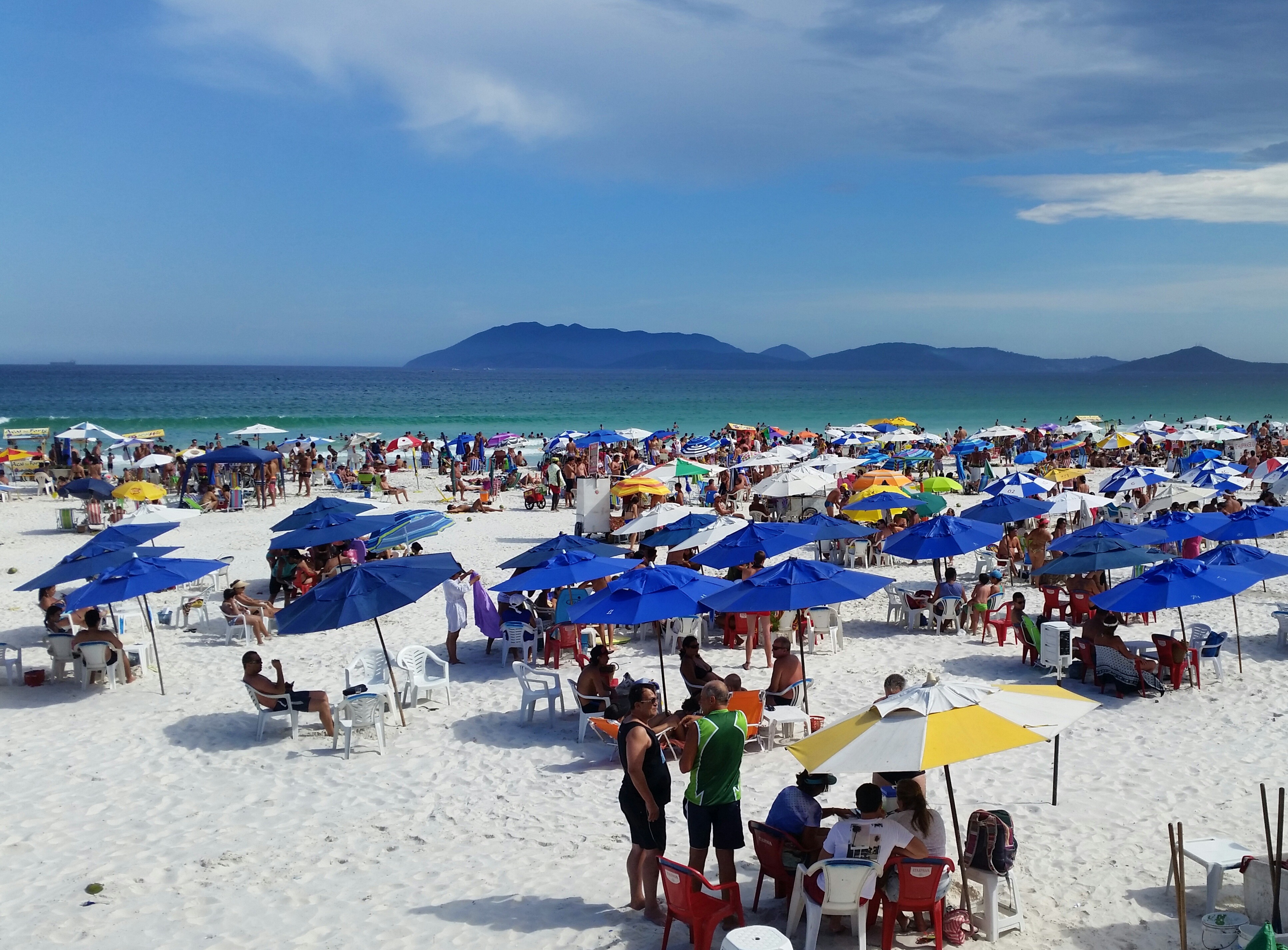 If you walk down towards Forte São Mateus, you'll notice that the water turns into a surreal baby blue colour and gets much warmer and calmer.
This is a beautiful spot to sit with stunning views up to the fort and across the beach.
Nearby there are also a few crystal clear rock-pools, which are great for children to splash around in.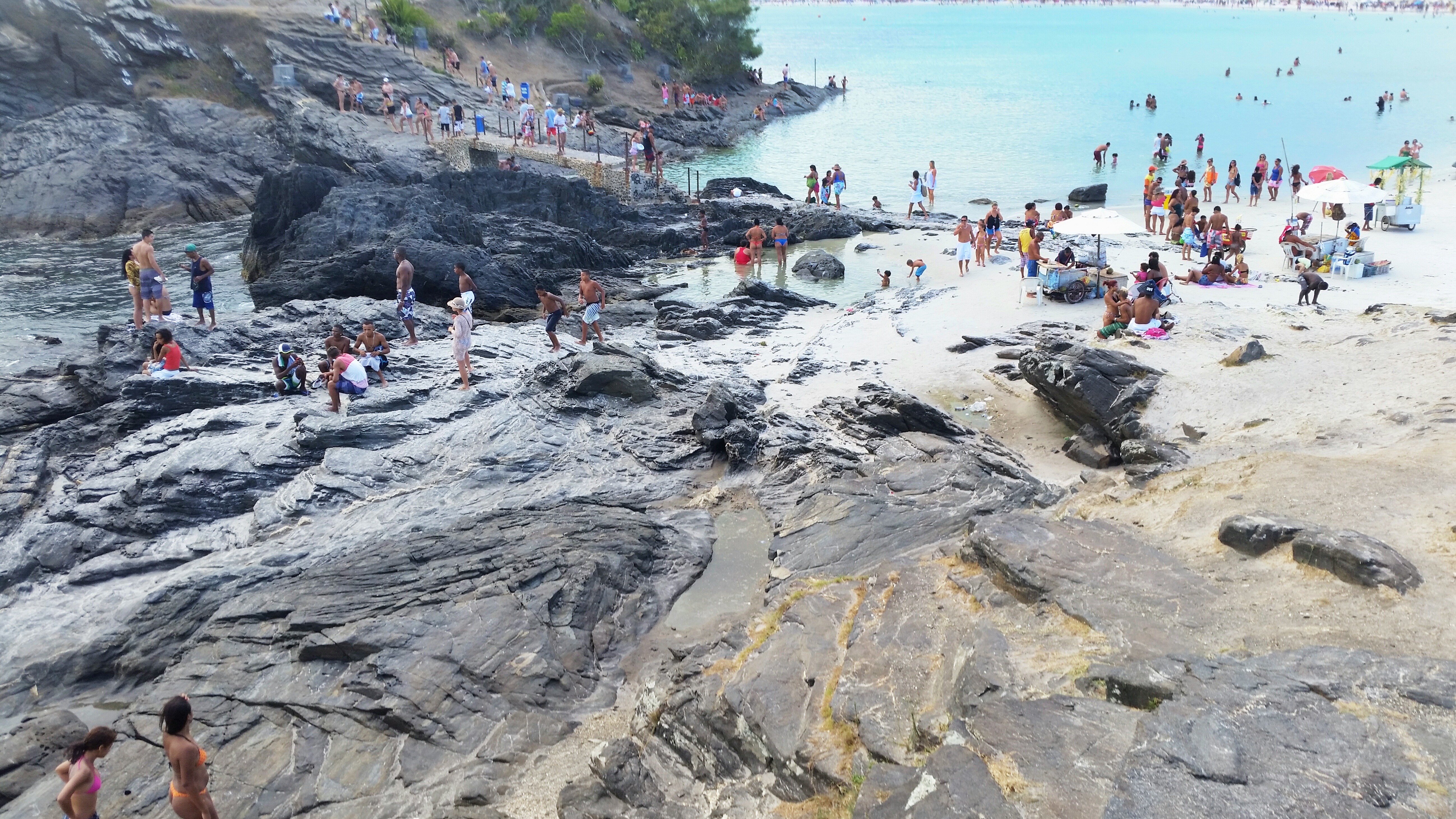 To reach the top of the fort you will need to head over the bridge and up the steps which will lead you to the top of the hill.
From here you'll have amazing views out over the ocean and beach front – a perfect photo opportunity!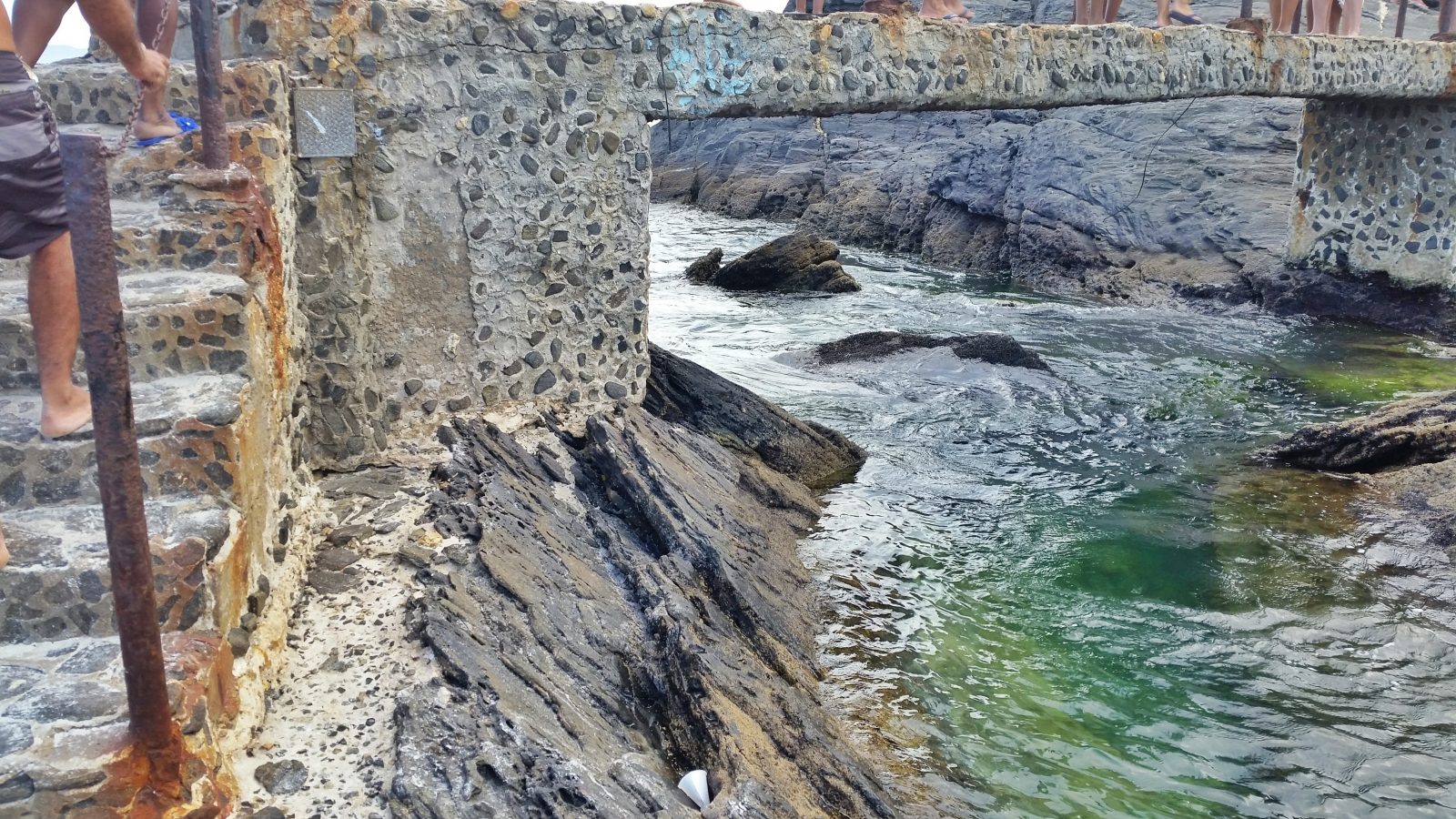 This is the view down over the quieter end of the beach where vendors walk up and down the shore front offering the Brazilian favourite, açaí, as well as pizza and other salgadas (savoury snacks).
With it's flat blue water and powdery white sand, Cabo Frio really is such a naturally beautiful holiday spot in Brazil.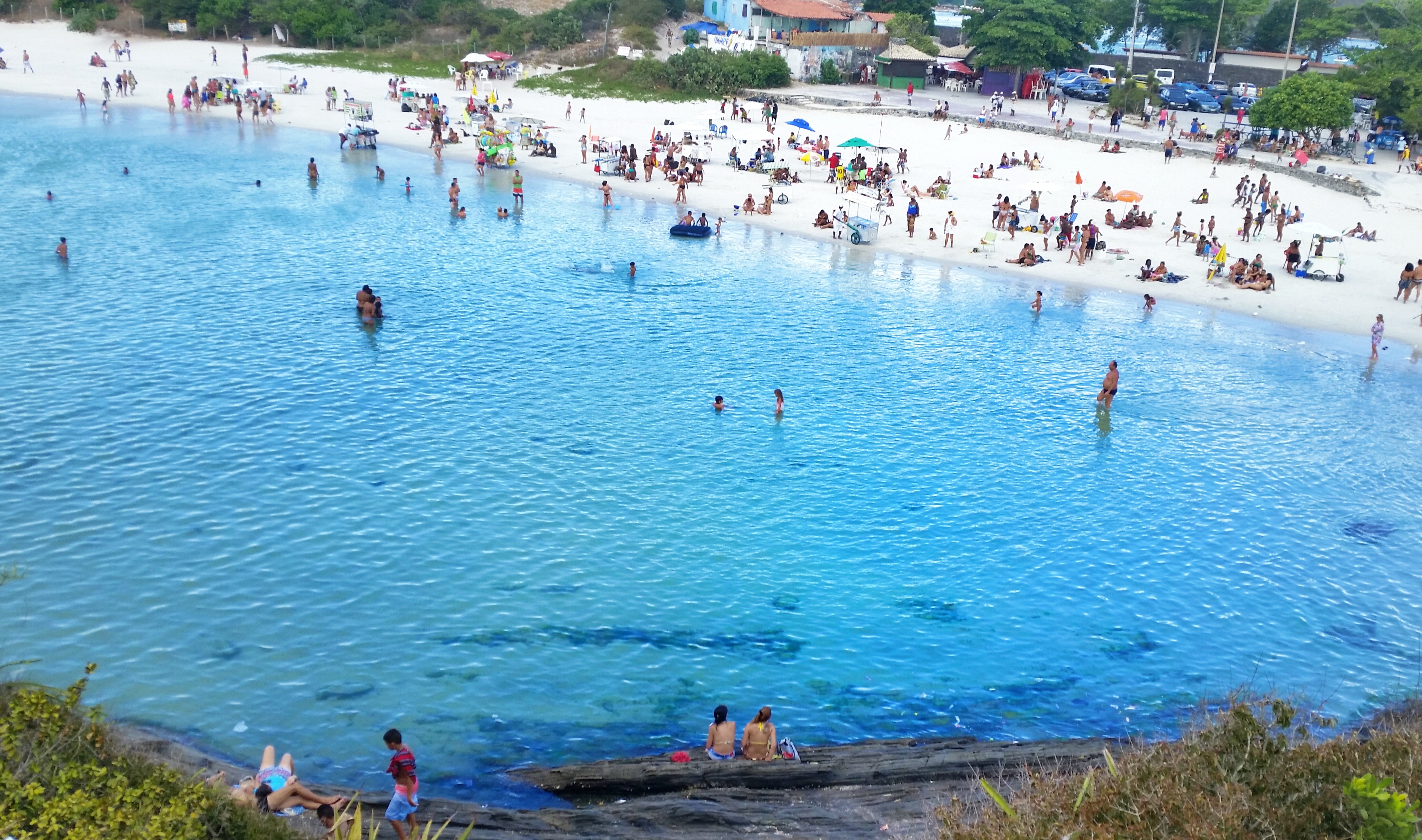 Perfect For: Family weekends and day trips
Where To Stay: A number of hotels line the Cabo Frio beach front, take a look here.
How To Get There: Purchase a ticket with the bus company, 1001, from Novo Rio Bus Terminal to Cabo Frio. The journey takes around 3 hours and costs about $50 BRL ($16.00 USD) one way.
7. Copacabana, Rio de Janeiro
Honestly, you can't go to Rio de Janeiro and skip Copacabana Beach.
It really is one of those places that you just shouldn't miss.
While it's not one of the most interesting or unique beaches in Rio de Janeiro, it's still a lovely beach with an energy and vibrancy about it that'll make you want to join in on all the action.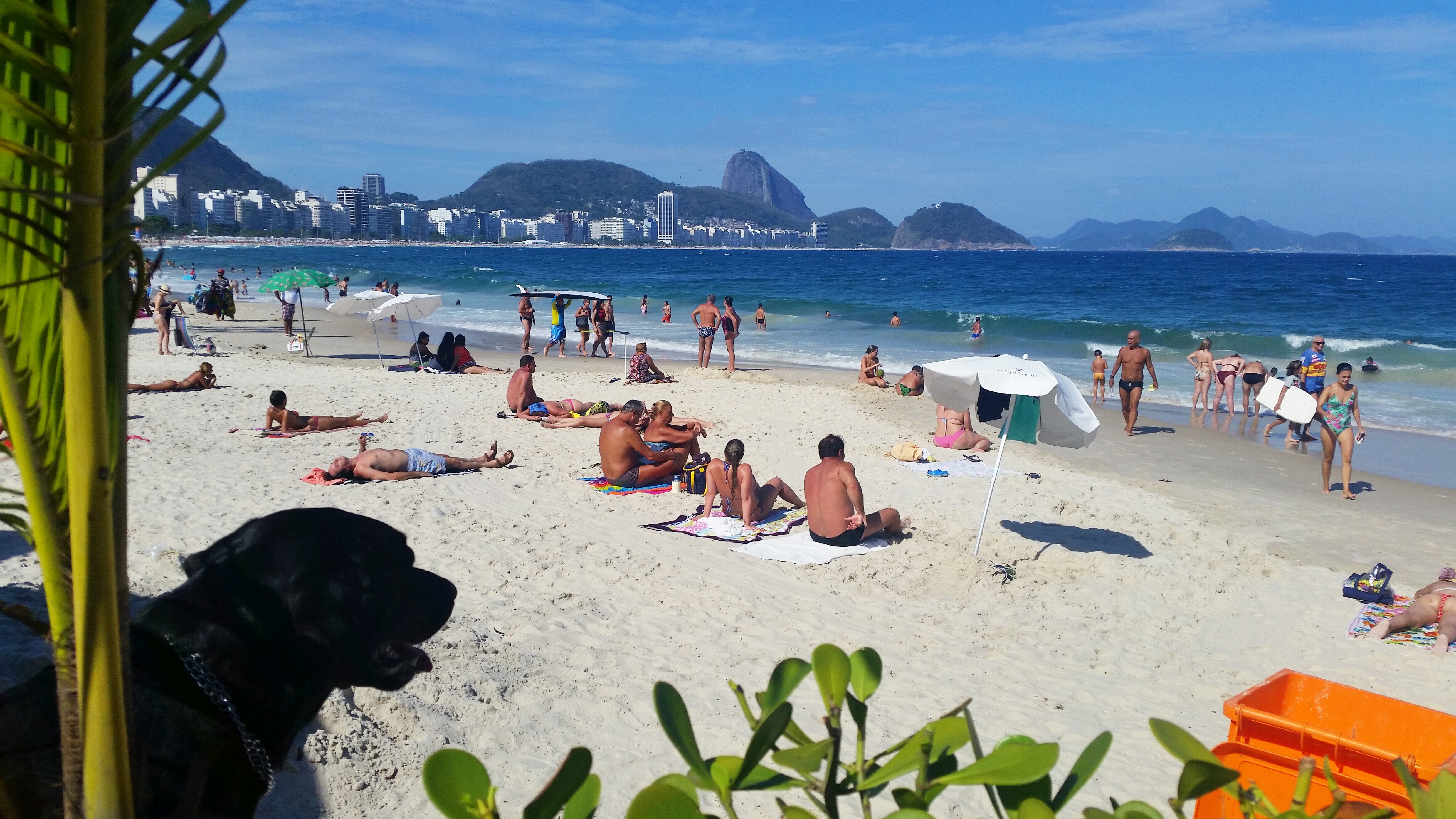 Copacabana Beach isn't for those who are looking for a quiet, relaxing time.
It's lively, it's vibrant and it's crowded…
Cariocas (Rio locals) from all over the city take to the worlds most famous beach around the clock to engage in popular beach sports such as soccer, volleyball, beach ball and gymnastics.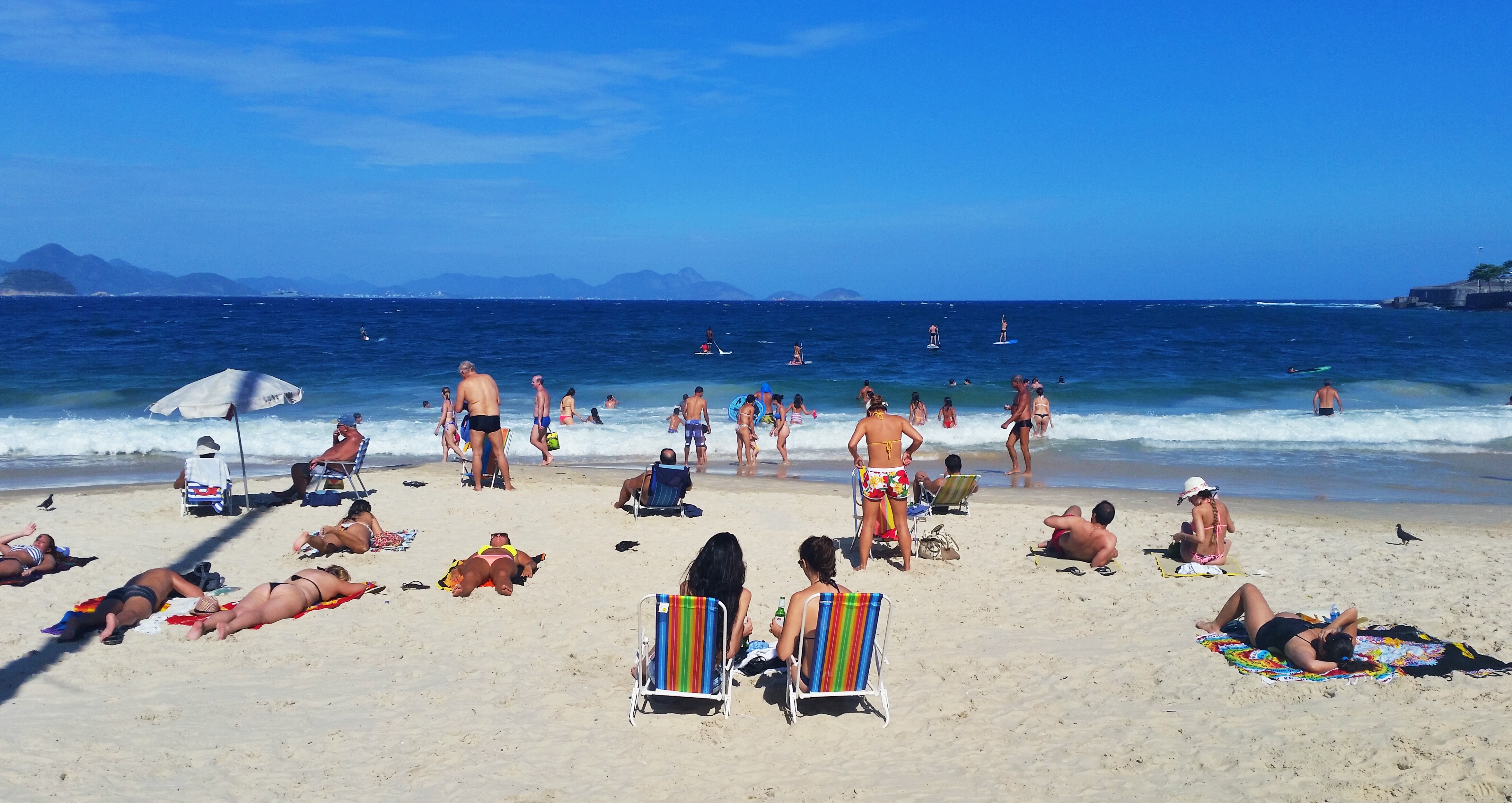 All day, beach vendors stroll the strip selling everything from sunglasses, kangas (sarongs) and jewellery to caipirinhas, barbecued shrimp and açaí.
Samba music constantly plays in the background, whether it's coming from the band busking throughout the bars, the guy trying to sell whistles on the beach or the Cariocas listening to their weekend tunes as they tan.
On weekends it can prove difficult even finding space for your umbrella and chairs (which you can also hire from one of the many umbrella kiosks dotted along the beach).
But hey, this is Rio!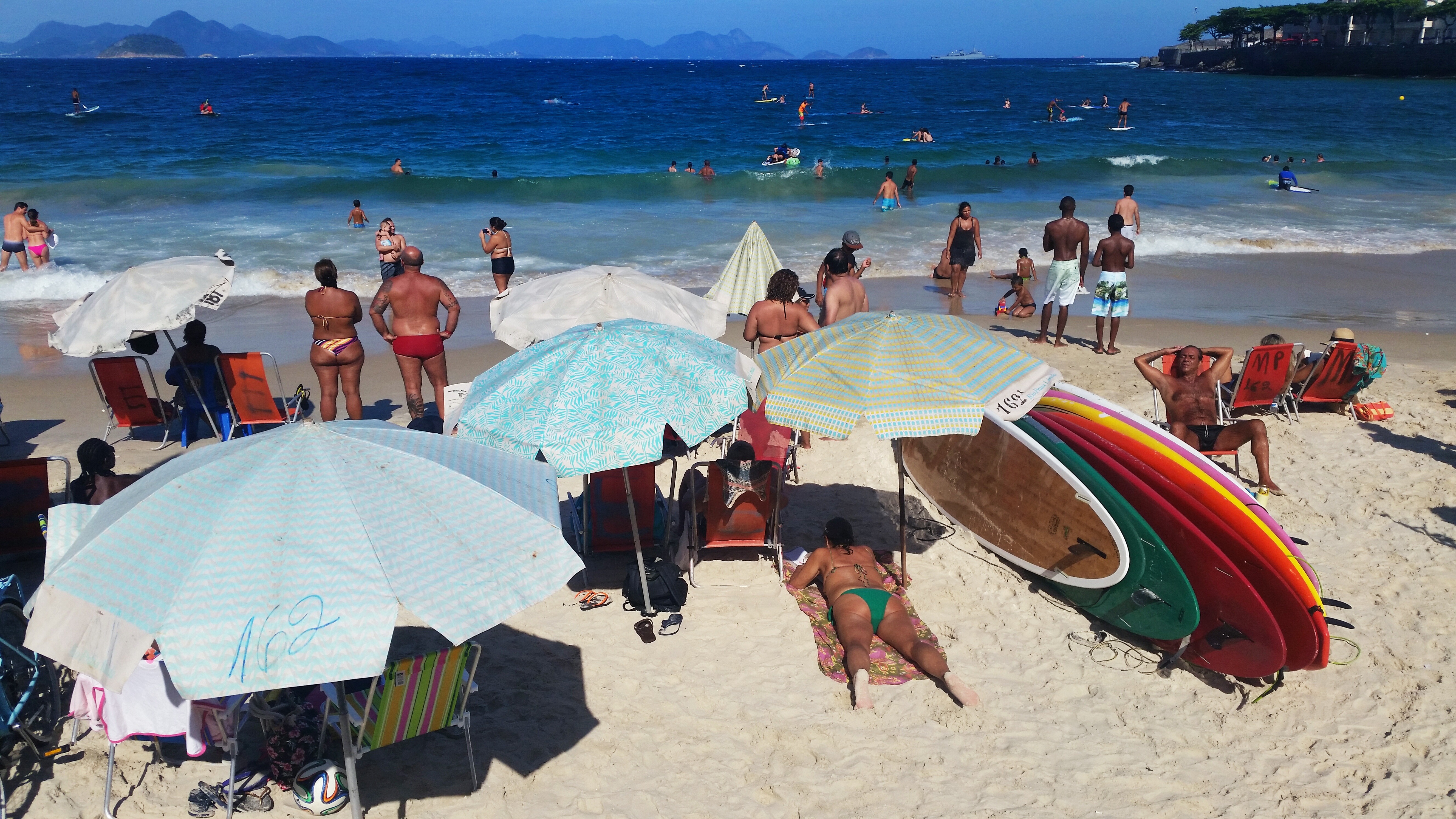 Down the end of Copacabana Beach, towards Ipanema, everything gets a lot more quiet and relaxing.
These colourful fishing boats only add to the attractiveness of this undisturbed little spot.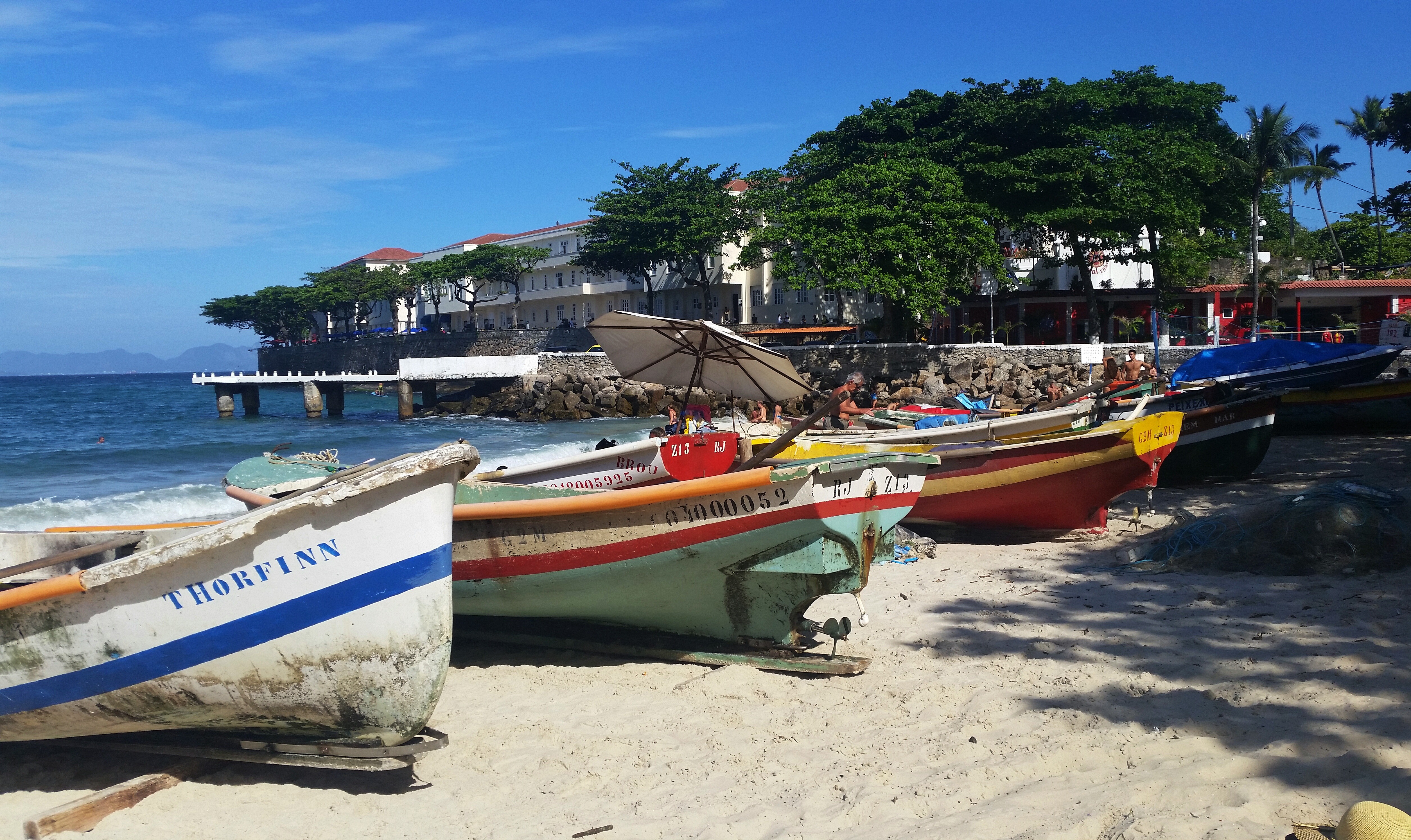 This is also where a few fishermen hang out during the day, knotting the fishing the nets and enjoying the sunshine.
If you walk just a few minutes around the corner from here, you'll end up at Arpoador, where you can watch the sunset over Ipanema.
On a warm day, a long walk along Copacabana Beach, up to Arpoador and the down through Ipanema, stopping for lunch on the way, is quite delightful!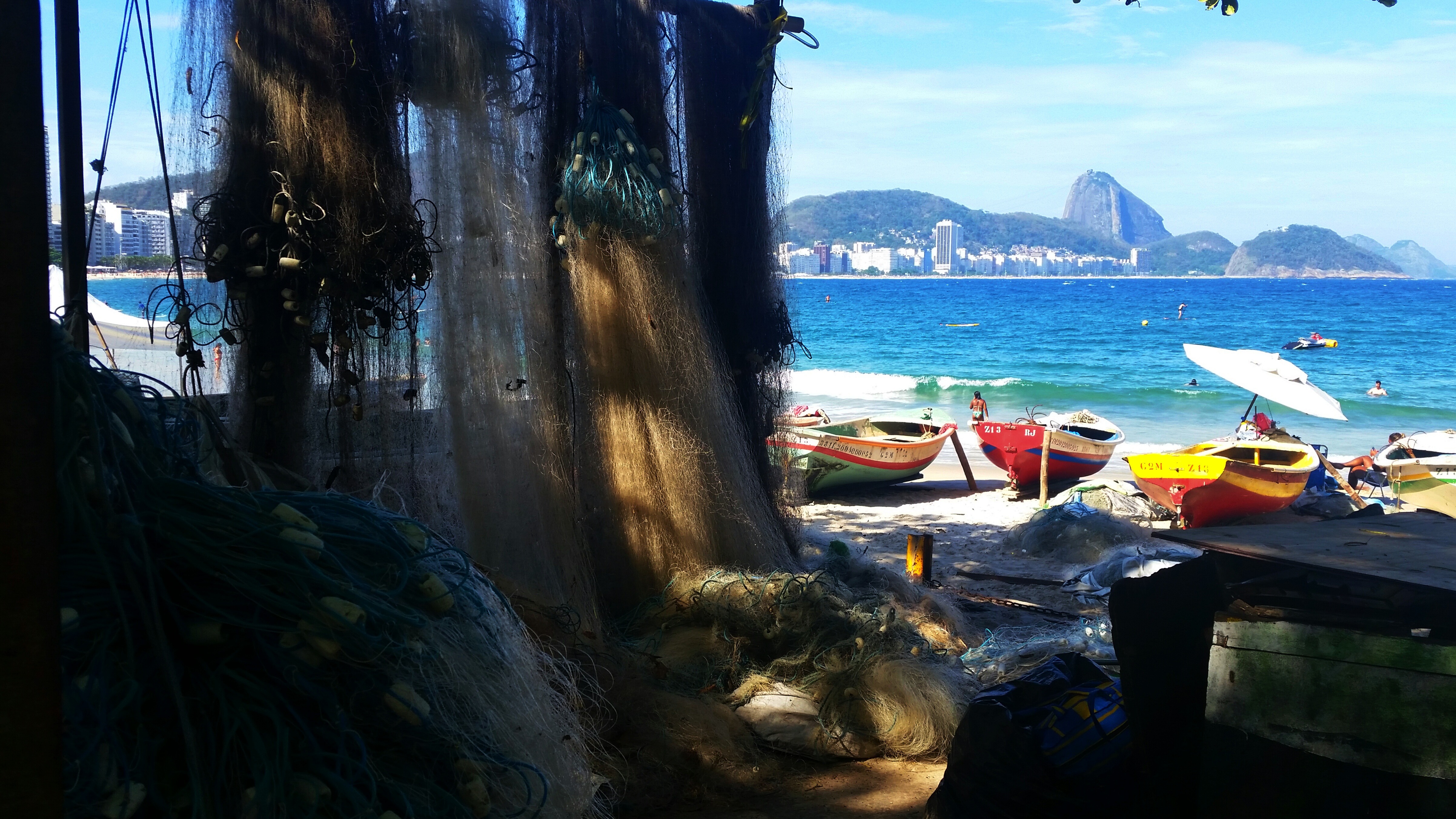 Perfect For: Family vacations and day trips
Where To Stay: As I said above, we stayed at El Misti, Rio which was perfect for us but if you're looking for a luxury stay, check out these hotels.
How To Get There: From the airport you can catch the Premium bus which will take you to Copacabana or you can catch bus number 123 or 485 from the entrance of Novo Rio Bus Terminal.
---
Rio de Janeiro, Brazil Travel Resources
Accommodation In Rio de Janeiro
To start looking at your accommodation options in Rio de Janeiro, choose Hostelworld for budget, Hotels Combined for comfort or Airbnb for local (and get $25 off).
Want stylish accommodation you can afford? Enter your dates and Hotels Combined will scan all the top booking sites (Booking.com, Hotels.com, Expedia, etc) for the cheapest prices possible:
Flights To Rio de Janeiro
If you are flying in to Rio de Janeiro, it is beneficial to use a flight compare site to find the cheapest flights. We recommend and use Cheapflights.com.
–> Click here to compare and book cheap flights to Rio de Janeiro
Have you been to any other beaches in Rio de Janeiro that you would recommend? Let us know at the bottom of this page!