Update! Our ultimate travel job guide – Get Paid To Travel: 101 Amazing Travel Jobs – is now live! If full time travel is your ultimate goal but you're not sure how to make it a reality just yet, don't leave without reading this first!
I was working as a dive instructor in Mozambique and beginning to grow out of the diving industry after four exciting and adventurous years.
Looking for a new challenge, I decided to go to South Korea and try teaching English…
Here's How To Teach English In South Korea
Why South Korea?
A couple from South Africa who were diving with me suggested I try teaching English in South Korea. They had done it for two years and loved it!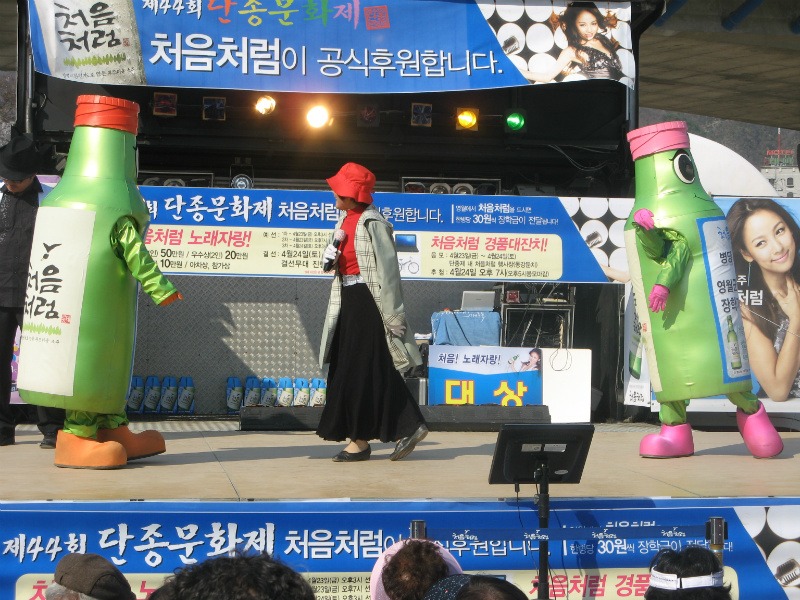 I packed my bags and headed back to the UK to do a 7 week CELTA TEFL course.
TIP: You don't actually need a TEFL course to teach in South Korea, but I'd recommend doing one as you have a better chance of getting accepted into a government programme like EPIK and your starting pay will be higher.
Plus, TEFL courses are fun and you learn a huge amount!
Where should you teach English in South Korea?
Spend a bit of time researching where in South Korea you would like to live – city or rural countryside.
I chose the rural province of Gangwon-do because I prefer living in the countryside, don't mind small towns, the pay is higher and it has world class ski resorts.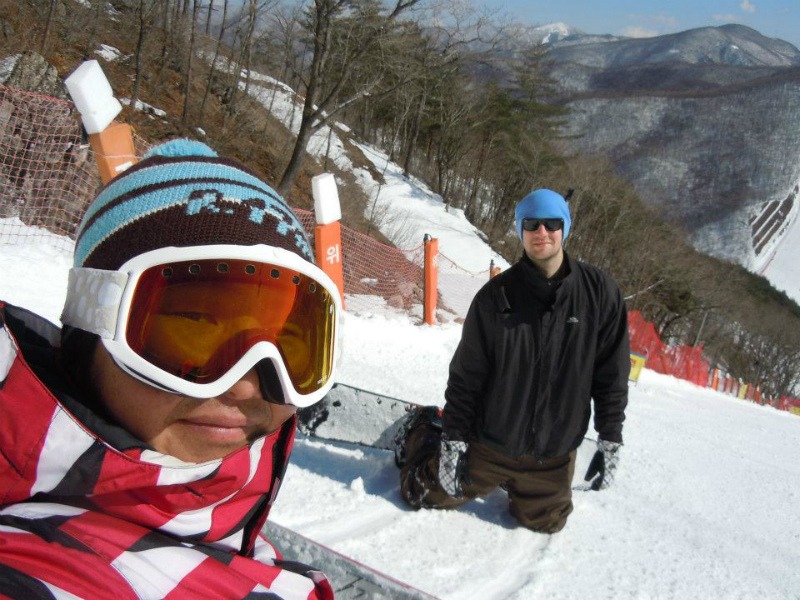 Who should you work for?
There are two options in South Korea: work for a private academy (Hagwon) or a government school.
I chose a government school teaching programme called EPIK.
Why?
Well, it's just my opinion, but some reasons include:
1. Better work schedule
In a government school you'll work 9-5 Monday to Friday with weekends off to explore South Korea. Hagwons can't offer this.
2. Fewer teaching hours
Expect between 12 and 22 teaching hours in a government school and 30+ at a Hagwon. You have much more time for lesson preparation if you work at a government school.
3. Secure job
Government school jobs come with a guaranteed stable pay packet every month whereas Hagwons are privately run – so if they go bust you lose your money and your job.
4. Better holidays
Up to 5 weeks paid holiday if you work in a government school compared to the 10 days you'll get at a Hagwon.
5. Easier job
You'll get help with classroom management from a Korean co-teacher. This is a huge bonus when you first get started in South Korea and may not have much experience as a teacher or speak any Korean.

EPIK (English Teaching Programme in Korea)
I chose EPIK over other government teaching programmes mainly because it was the biggest, seemed to offer the best opportunity of getting a job and operated in the province of South Korea that I wanted to go to.
Consider this…
With EPIK you choose the province that you'll live in, but you don't get to pick the town or the age group you'll teach.
If you want to guarantee where you go, choose to work in a Hagwon.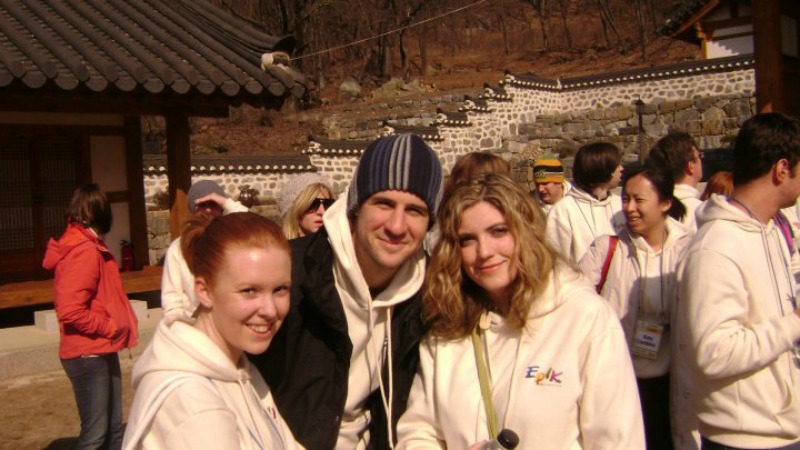 How to get a teaching gig in South Korea
Find a recruitment company that looks reputable. Some good ones include:
Korean Horizons
Teach Away
Footprints Recruiting
There's a lot of competition to get into the EPIK programme, so if you are accepted for a telephone interview with an EPIK coordinator you should be ULTRA POSITIVE and say you'll go anywhere in your chosen province.
My South Korean Teaching Adventure
I was placed in a small rural town called Yeongwol and taught at a Girls' Middle School with 400 girls aged between 11 and 16. It was an experience!
My home
I had a studio apartment which I happily called my home for two years. It was small, but had everything I needed and was in a fantastic location just half a mile from school.
I bought a bicycle for about $100 and cycled everywhere.
The Town
Yeongwol is a smallish, rural town situated in a hill valley with a population of about 40,000.
Surrounded by mountains with a beautiful river running through the centre, it offers fabulous hill walks in autumn and spring and warm summer swims in the river.
Winter in South Korea is freezing with temperatures below 0 for about 5 months of the year. But, it's a dry cold so you just wrap up warm and enjoy the snow.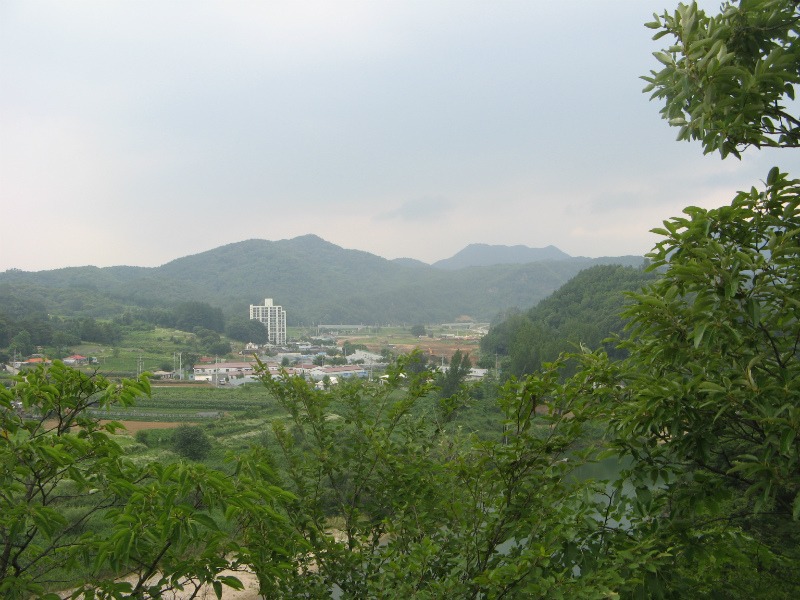 Things to do while teaching English in South Korea
1. Eat, drink and be merry!
Every other building in my town seemed to be a restaurant or a drinking establishment, which made the place fantastic for socialising.
Expect to find this in most rural South Korean towns.
TIP: A lot of restaurants in South Korea look shabby and rundown from the outside. Don't be put off because inside they serve the most glorious of dishes.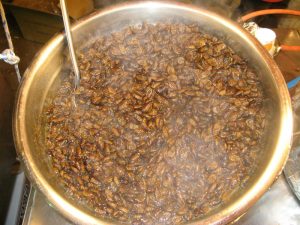 This is a massive pot of silk worm larvae -a South Korea delicacy that you should NEVER, EVER TRY!
If you are brave and really want to have a go, make sure you have a beer to hand! Absolutely foul!
2. Spend the weekend in Seoul
If you are someone that craves big city life then get on a bus to Seoul, the capital of South Korea.
Leave after work on a Friday and within a few hours you'll be in Seoul for a weekend of debauchery with your friends from all over South Korea.
Or just go for some shopping, cultural sight-seeing or a trip to a theme park if you'd prefer.
TIP: When you're in Seoul, take a trip to the DMZ – it's a fascinating place.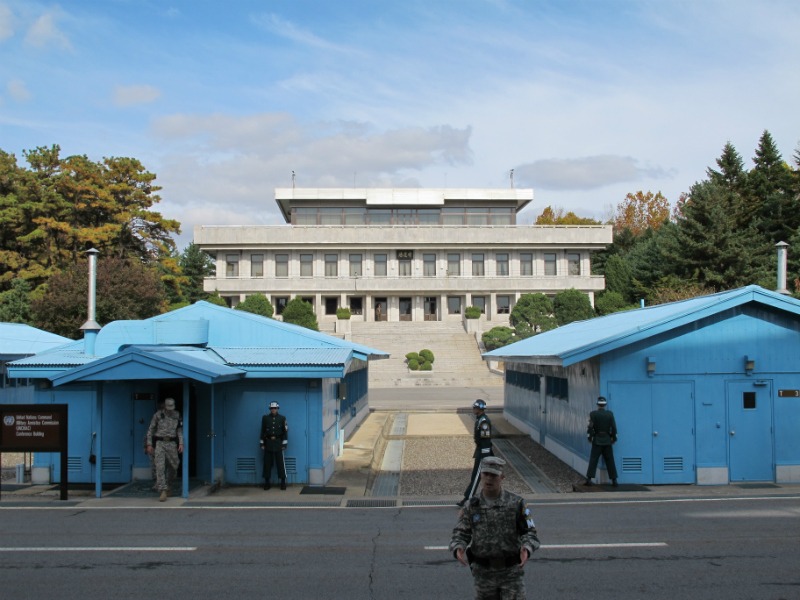 3. Explore your province
South Korea is made up of 9 provinces. Each one is unique and famous for specific things…
For example, my province was famous for its natural beauty and mountains. People would come from all over South Korea to hike, snowboard and visit the many local festivals.
4. See other parts of South Korea
Visit friends from your EPIK orientation that are placed in other provinces and get involved with school trips.
5. Travel to other countries
Many south east Asian countries are only a short flight away and you'll also have a long summer break to go and explore the world or go back home to visit family.
Teaching English in South Korea

Co-teaching
The idea of co-teaching is to teach each lesson with a Korean teacher. You lesson plan together and then deliver the lesson together.
It wasn't quite like this for me as I planned all my own lessons and taught all the lessons by myself.
That's not what EPIK wants, but I was happy for it to be like this.
The staff room
I got lucky with my teaching colleagues because they were all very open and interested to get to know me.
A number of them wanted to learn English so I did lessons with them during lunch time.
TIP: try to learn the most polite form of Korean so you're not rude to your elders. South Korea has a hierarchical society and respecting your elders is a big deal.
The Students
Many of the student showed a real interest in talking to me and improving their English.
In South Korea, students spend stupidly long amounts of time studying! They basically don't get a childhood. Certainly not like we enjoy in the west.
So, try to make your lessons as INTERACTIVE and FUN as possible.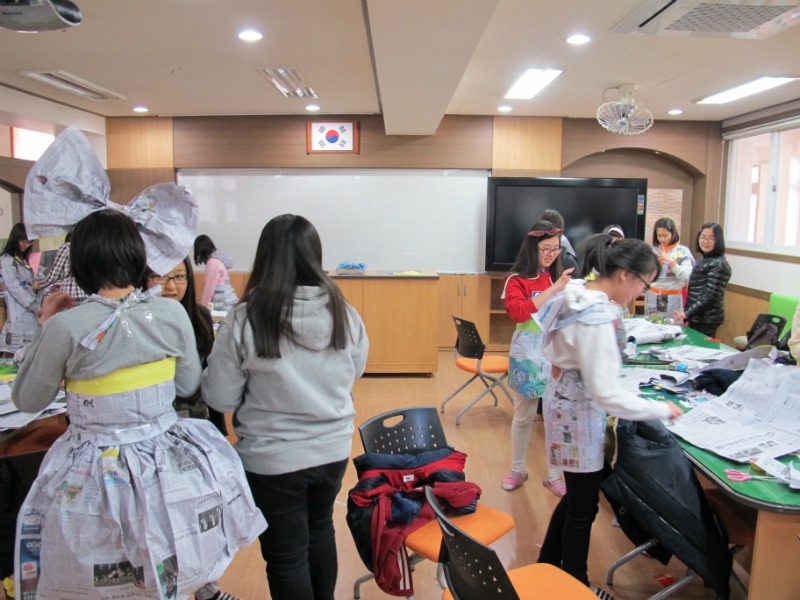 TIP: If you are working in a middle or high school make sure your knowledge of K-Pop is on the money! And do a lesson or three based around it!
Why did I like teaching English in South Korea so much?
Highlights of living and teaching in South Korea are:
Great food
Plenty of pubs
Friendly local people
Beautiful scenery
Easy access to Seoul and other parts of Korea
Living in a peaceful and relaxing town with very few tourists
A small but wonderful expat community
Having plenty of money because small town living is cheap
Teaching kids that were respectful – and if they weren't I couldn't understand them anyway!
Unexpected pleasures
The Language
Korean is really simple to learn to read and write. You can master it in about 3 hours.
This makes it really easy to order food in restaurants and travel around because you just sound out the words phonetically.
Karaoke
Try out a noraebang with your co-teachers or expat friends and be ready for a riotous evening of bad singing fuelled by beer and soju! It's a lot of fun!
The Food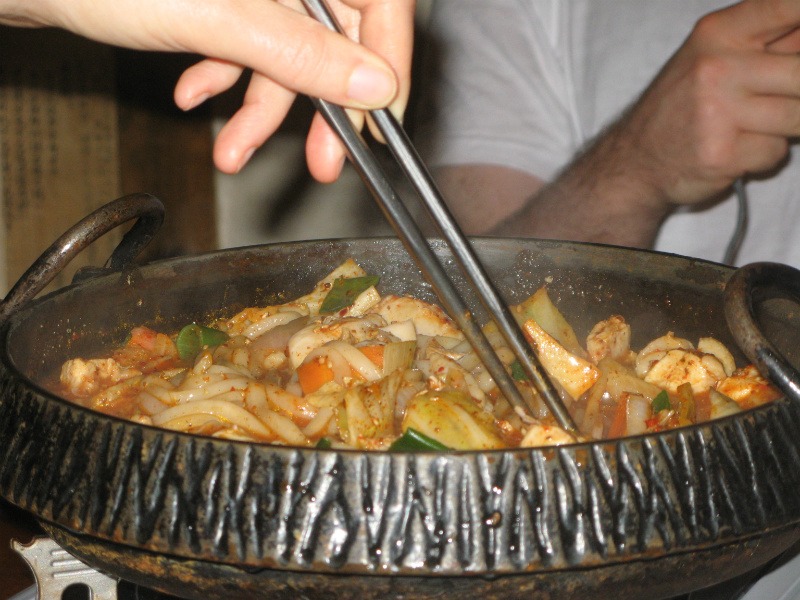 Food from South Korea is way better than I ever imagined it would be!
Kimchi will taste gross for the first week and then you will eat it with every meal.
Cooking your own food in a restaurant may sound weird to people back home but you will love it.
Final thoughts
I found South Korea to be a very homogenous culture and its people very warm and welcoming.
I like the way that Koreans focus on equal opportunity, both in the education system and the community.
Take the plunge. Go and teach in South Korea…
But don't just take the easy option by living in a big city. Go and experience the rural life and get a sense of the 'real' South Korea.
You won't regret it!
Do you want to teach English in South Korea? Leave all your questions for me in the comments section below…
Now it's time to teach English in South Korea! Pin this for quick reference >>