Incredible India, as they say, is a land of fantasy, contrast and fascinating splendour. A land where there is no dearth of stunning beaches, deserts or mountain ranges; it truly is a country like no other.
India is a very warm, inviting and rather extraordinary country. It's impossible not to be awe-struck by the infinite variety it offers. This variety comes in its culture, religions, places to visit and so much more.
From any trip you make to India, you're sure to take away memories that you'll cherish forever.
I don't know if you need any more convincing than this, but if you do, here are 10 wonderful things that'll inspire you to travel to India...
Incredible India: What Makes The Country So Special?
1. The Epitome Of Love – Taj Mahal
India's most beautiful masterpiece and one of the seven wonders of the world, Taj Mahal was built by Emperor Shah Jahan for his second wife Mumtaz Mahal.
The epic beauty of Taj Mahal cannot be compared to that of any monument in the world.
You will believe this only once you actually travel to India and witness this immeasurable beauty with your own eyes.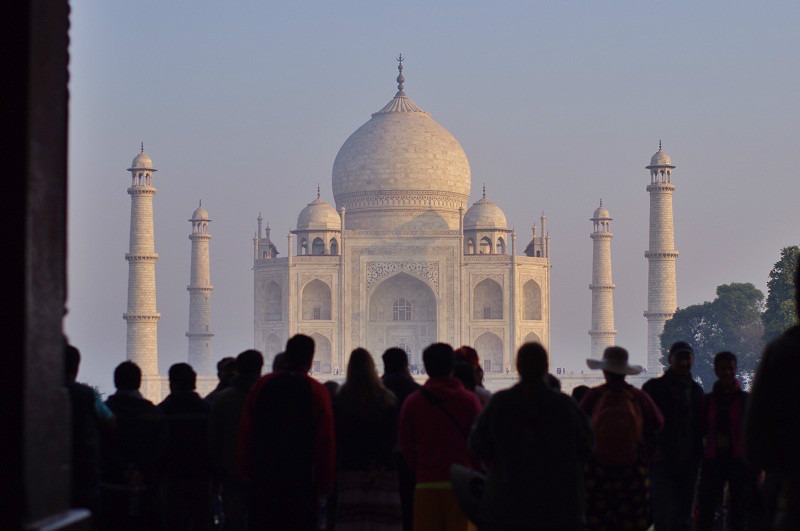 Recommended Accommodation: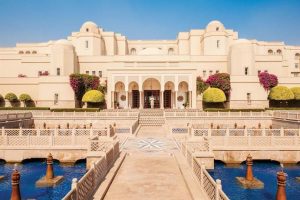 A stunning 5-star luxury hotel and spa in Agra, located just 600 metres from the iconic Taj Mahal. Enjoy uninterrupted views of the ancient monument from every room, as well as truly unique design that pays homage to its Mughal splendour. Priced from $700 per night, Oberoi Amarvilas offers a once in lifetime hotel experience. Book here.
2. The Festival Of Colours In Vrindavan, Uttar Pradesh
The diversity of India doesn't only lie in its cultures, religions and languages but also in its festivals.
Witnessing Holi – the festival of vibrant colours in India is a unique thing to do but being a part of a four-day celebration in the city of Lord Krishna himself is an experience like no other.
People from all over the world travel to India and visit Vrindavan only to experience this colour frenzy.

Recommended Accommodation: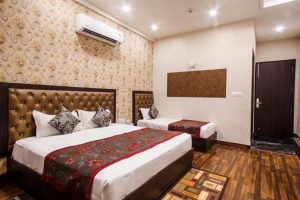 If you appreciate an eye for design and a high-tech vibe, you'll feel right at home at the 3-star Hotel Krishnam. This is a hip new hotel that's not only inviting and approachable, but it is totally affordable. With elegantly decorated suites and rooms and a top-notch location, this is a fantastic hotel from which to enjoy the Holi festival. Book here.
3. The Grandeur Of Forts And Palaces In Jaipur, Rajasthan
In Jaipur, the capital city of Rajasthan, you can witness a fusion of rich traditions and modern world.
If you have a thing for architecture, history and glorious palaces and forts, then this makes for one of the top reasons why you should travel to India.
The pink city, as Jaipur is called, is world renowned for its golden triangle tour and handicrafts.

Recommended Accommodation: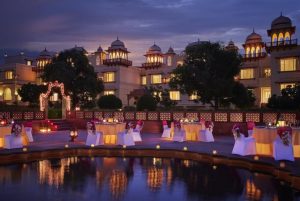 This 270-year-old Indo-Saracenic architectural masterpiece is set amidst landscaped Mughal gardens at Taj Jai Mahal Palace in Jaipur. This 5-star luxury hotel offers unparalleled opulence with tantalising comforts, at an affordable price. Here you'll enjoy the royal lifestyle whilst being able to explore the incredible sites of Jaipur. Book here.
4. The Spiritual Dip In The Ganges In Varanasi (Kashi), Uttar Pradesh
There is no dearth of holy and spiritually significant places in India...
When we talk about holy places, one can't possibly ignore this city of Lord Shiva, the Ganges and 88 of the Varanasi ghats.
Ghats are the riverfront steps that lead you to the holy river for worshiping (puja) ceremonies. Puja is truly a sight worth seeing and is sure to take you on a spiritual journey like never before.
Once you travel to India and witness the puja of the Ganges in the Varanasi ghats, you'll go back completely transformed from the inside out.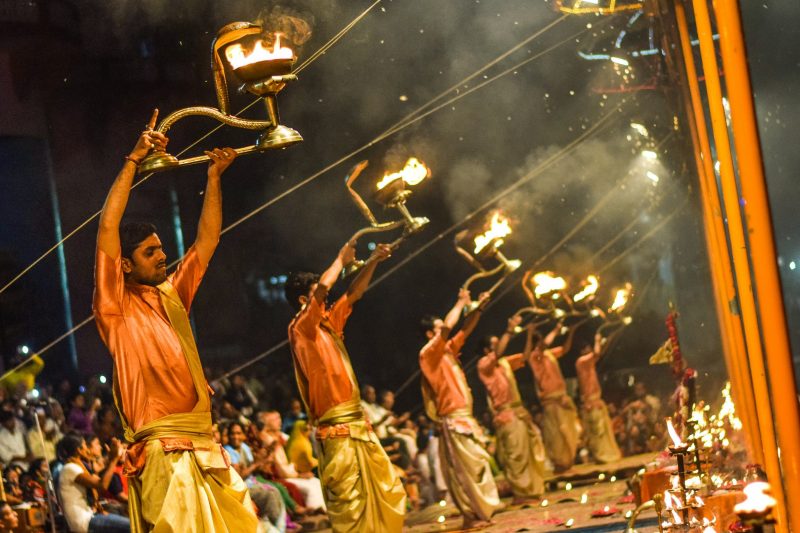 Recommended Accommodation: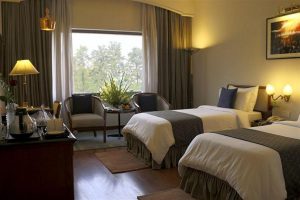 Clarks Varanasi is the only Heritage Hotel in the oldest living city of the world – Varanasi. Situated on 3.5 acres of lush gardens, Clarks is one of the very few hotels in Varanasi which can offer this along with modern facilities and contemporary rooms. Less than 10km away you'll find incredible places of interest such as Vishwanath Temple (Golden Temple), the Holy River Ganges with the Age Old Ghats and The Old City & the City Centre. Book here.
5. A (Road) Trip To Leh, Ladakh
You want to see a road which defies gravity, also called the Magnetic Hill?
Travel to India and head straight for Leh, Ladakh. Not only for this reason but also because of the scenic beauty this place has to offer.
With a very small population, the Ladakh region remains untouched even by tourists and hence, it does not fail to impress with its serene lakes and snow-capped mountains.
AND how can I miss the unimaginable terrains that make a road trip to the region worthwhile?
If you want to ride across the highest motorable pass in the world, don't forget the Khardung La Pass.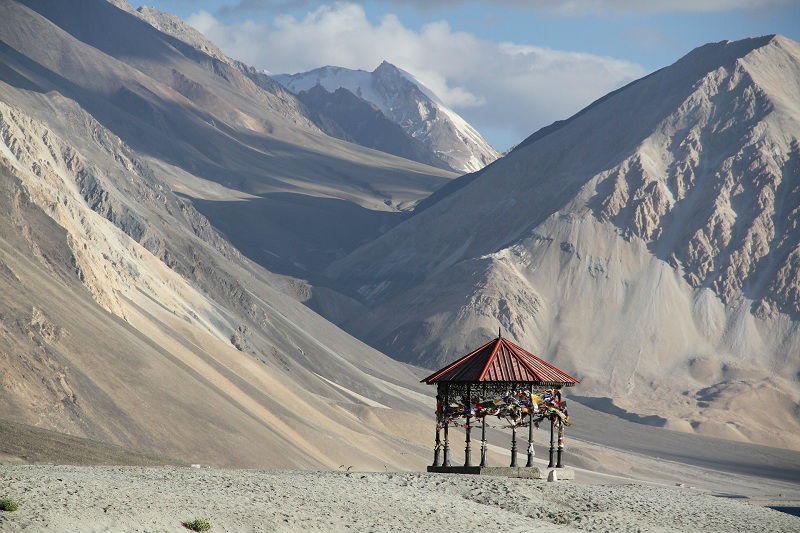 Recommended Accommodation: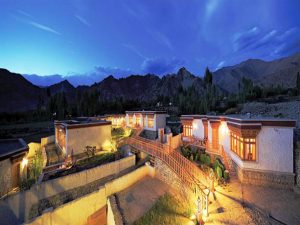 Surrounded by fragrant herb gardens, lofty mountains, a beautiful stream and incredible 360 degree views, Saboo Resorts is the epitome of luxury nestled away in the quaint village of Saboo. Located just 7 km from Leh, you can have the best of both worlds - quick access to the bustling town and a quiet place to wind down after. Home to 15 individual cottages with 2 queen sized beds in each and an on-site restaurant, this is the place to be when you visit Leh, Ladakh. Book here.
6. Adventure Sports In Bir Billing, Himachal Pradesh
If the idea of paragliding at the best site in Asia and second best in the world gives the adventure fanatic in you goose bumps, then Bir Billing in Himachal Pradesh is the place you need to be.
Whether you want to do a tandem ride with an experienced professional or you're a pro yourself, remember to settle your tummy and sit back to enjoy the breathtaking views of Kangra Valley and the Dhauladhar mountain ranges.
Also, did I mention, Bir Billing hosted the first ever World Cup of Paragliding in 2015?
To book your paragliding session in Bir Billing, visit Travel Bir Billing.

Recommended Accommodation: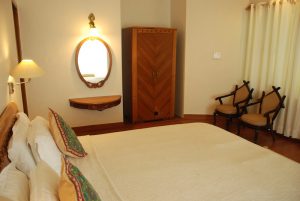 The Colonel's Resort is a luxury eco resort located in Bir, in the Kangra valley of Himachal Pradesh. Built by the owners, this resort is situated on a tea estate which is among the oldest in the country. At an elevation of 5,000 ft (1500 meters) you'll find yourself surrounded by the majestic Dhauladhars. Home to 11 luxury rooms as well as spacious deluxe tents, a tea garden and delicious chef cooked meals, you'll feel right at home in Bir. Book here.
7. Food That Will Leave Your Taste Buds Asking For More
Indians take their food very, VERY seriously and when it comes to diversity, Indian cuisine does not lag behind.
From Mughlai Chicken Biryani made in a huge earthen pot to finger licking (quite literally) Chettinad Fish Fry served from Tamil Nadu, India will give the foodie in you some serious food goals.
Also, in case you're a vegetarian, Indian food won't leave you disappointed for there are far more varieties of vegetarian delicacies than you'll be able to taste in one trip alone.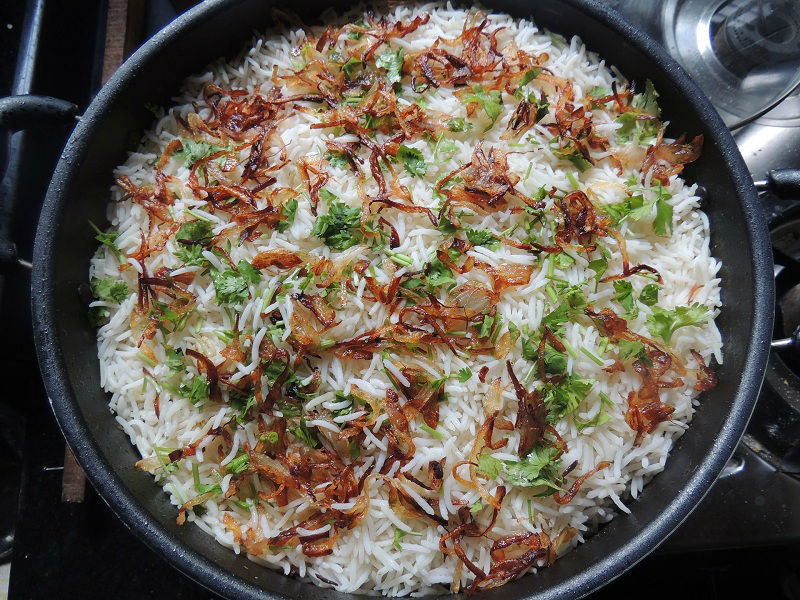 8. The Tea Estates In Darjeeling
This is for the chai lover in you!
Some of the finest teas in the world, known for their rich legacy, unparalleled flavours and aroma, come from a place which is set against the backdrop of the Great Himalayas - Darjeeling.
Most of the tea gardens in Darjeeling are over 100 years old making them legacy gardens.
Once you get there, you don't only get a tour of the estates but you also get to taste some of the finest teas in the world.
We also have Asia's highest elevation station in Darjeeling (if you fancy a train ride) AND the third highest peak in the world, Kanchenjunga.
Good enough reason to travel to India?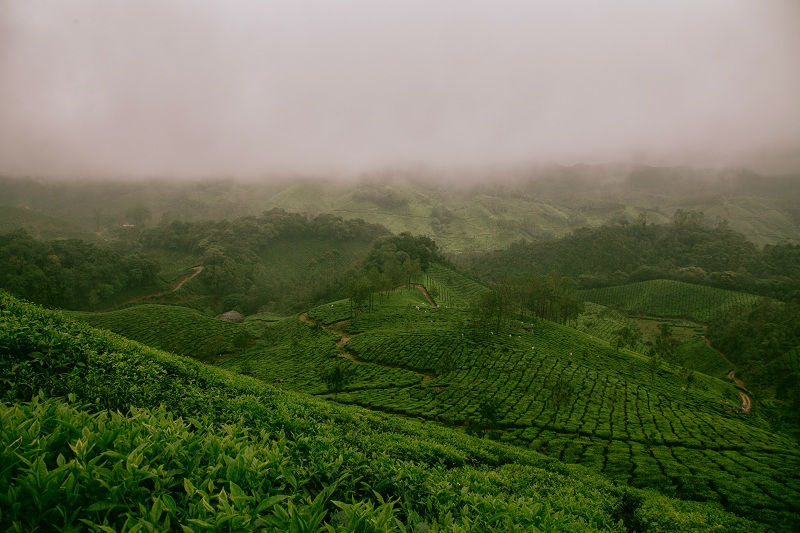 Recommended Accommodation: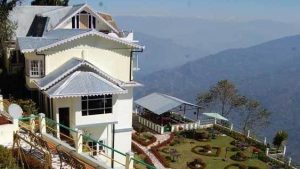 Nestled amid the majestic mountains of Darjeeling, the Central Nirvana Resort is the most scenic hotel in town. Here you'll enjoy beautiful colonial architecture and homely wooden interiors, making your stay in the Himalayas cosier than ever. This century-old heritage building, which was converted into a hotel in 2009, is centrally located and home to the best rooms in Darjeeling - think massive windows and breath-taking views of the sun emerging from the Mt. Kangchenjunga. Book here.
9. The Architectural Masterpieces
Everyone knows India as a country full of architectural masterpieces...
From the Khajuraho Group of Monuments in Madhya Pradesh, UNESCO World Heritage Sites, to the mysteries of Ajanta Caves in Maharashtra, these works of outstanding artistry and workmanship deserve to be appreciated.
There are no words to aptly describe the beauty and mysteries behind these treasures.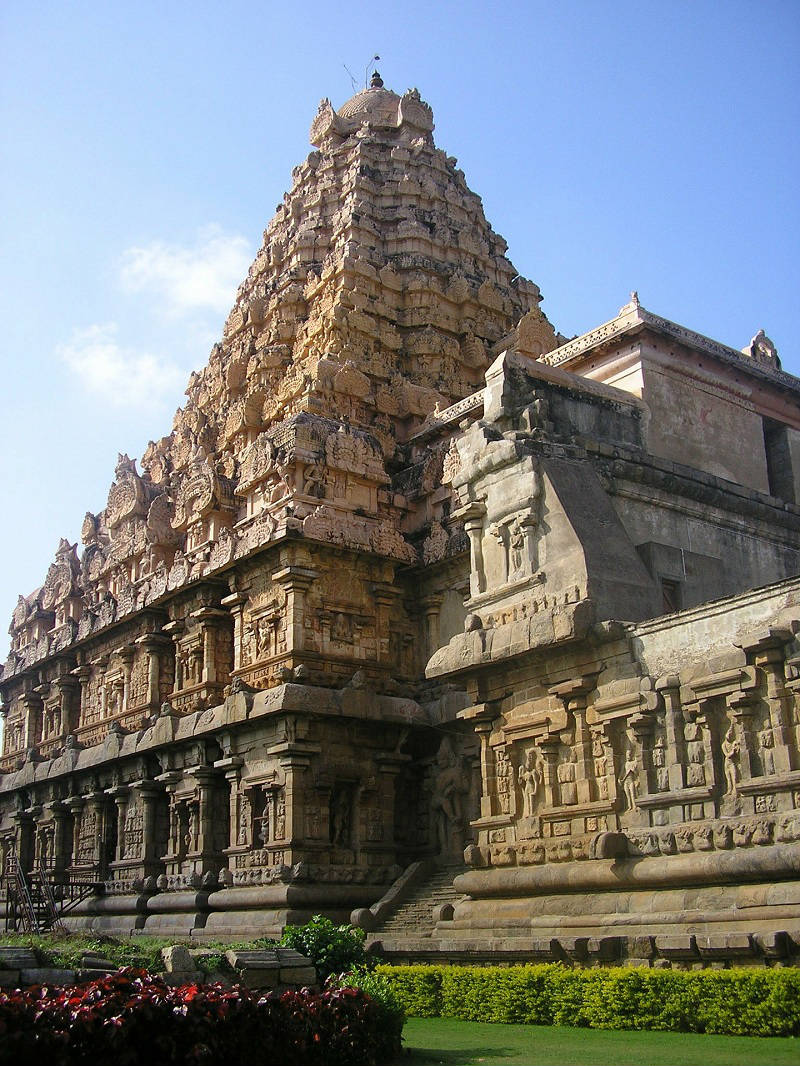 10. The Party Capital – Goa
The beach capital, the party capital and also the lover's paradise has to be on your to go check-list when you travel to India.
Why? First off, the white sand beaches are an absolute must visit.
You get to enjoy beach beds and umbrellas for free during the entire day if you eat or drink at the beach shacks.
Everyone who has ever been to Goa knows what Tito's and Mambo's are.
For the party animal in you, Goa hosts music festivals like Sunburn and Supersonic in the month of December.
And if you're looking for some peace and serenity to unwind, Chorao and Divar islands are your go-to destinations.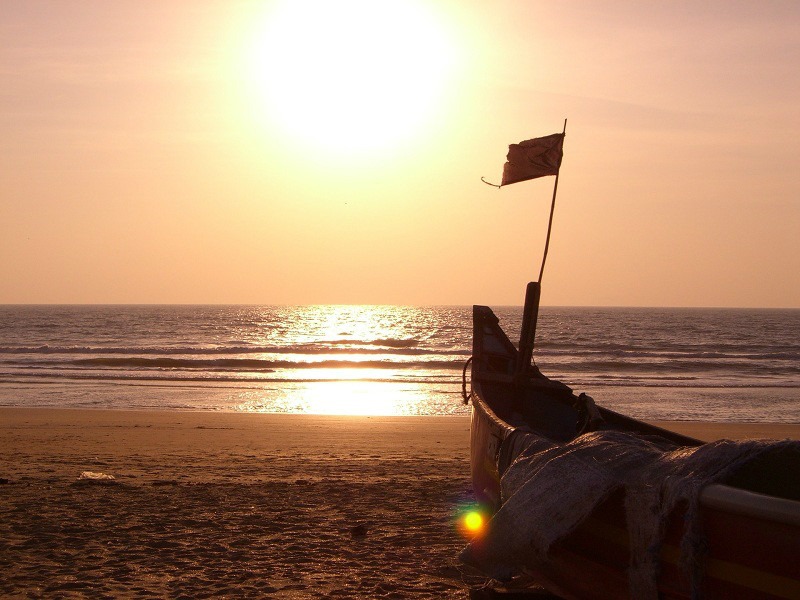 Recommended Accommodation: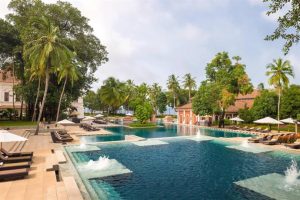 Redefining luxury in the centre of Goa, Grand Hyatt Goa overlooks the beautiful Bambolim Bay. Spread across 28 acres of tropical gardens and lush lawns that roll down to the water's edge, Grand Hyatt Goa is sure to give you all those amazing vacation vibes. This 17th century Indo-Portuguese palace is home to a number of stunning rooms and suites, a modern swimming pool, an on-site restaurant and bar, a fitness centre and a relaxing spa. Book here.
Have these authentic flavours of India got your taste buds tingling? Then don't wait, India is one of the most affordable countries in the world to visit, so book that plane ticket!
Are you planning to travel to India? What questions do you have for me? And if you've already been to India before, I'd love to hear how your experience was! Comment below...
Save these reasons to travel to India on Pinterest for quick reference >>