When I recently came across Ross and Jule, a couple who met each other on the road and now divide their time between long term travel and expat life, I knew I had to pick their brains. After all, experience is the key to knowledge and they have plenty of that to go around, so it would be senseless of me not to share their insights with you. In this interview you'll learn all about the biggest travel challenges they've faced together, the most important lessons they've learned on the road, which resources and strategies they believe you will benefit from using as a long term travel newbie and much more.  
Before we get started, you can find more travel stories and advice from Ross and Jule over on their blog, TheSunsetHunters.com.
The Sunset Hunters Share Their Best Advice For Long Term Travel Newbies
Pin this to your travel Pinterest boards >>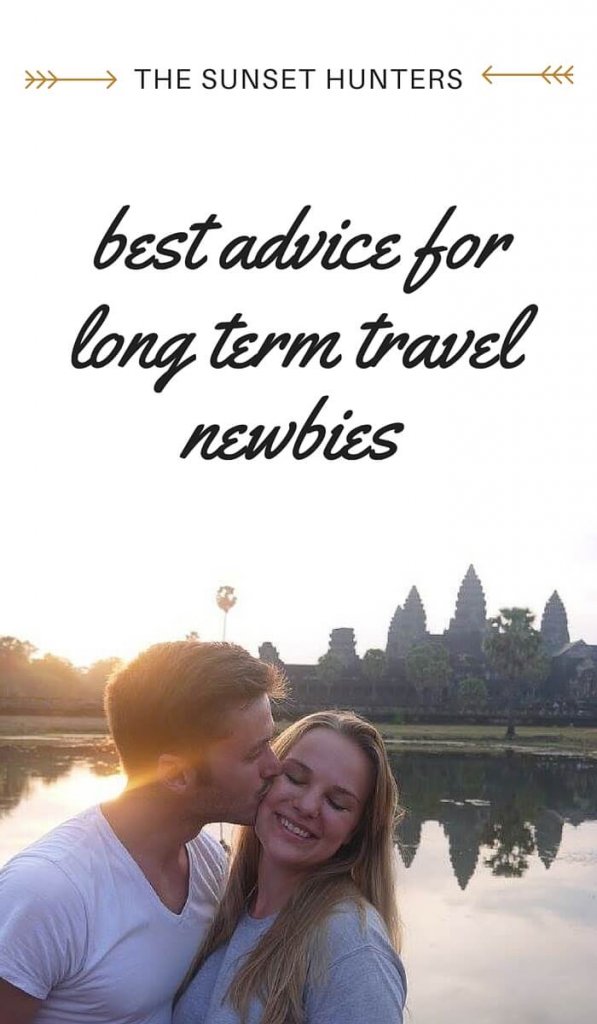 Hi there! We are Ross and Jule, a Scottish/German travelling couple. Our adventure began in February 2015 and we have since travelled 13 countries together and have been living in Shanghai, China, for the past 7 months. We've got a passion for beautiful sunsets, all things fitness and new experiences of all kinds.
Leaving China shortly, we will be returning back to Europe where we will base ourselves out of Milan and London. From there we will save for and plan our next adventures. We have a lot on our bucket list so we will see where it takes us next.
Favourite Travel Quote:
If you don't know your destination, you can't get lost.
1. When did you first start travelling independently and where did you go?
We both started travelling independently in February 2015 when we set out to explore Southeast Asia. We didn't know each other at that time but arrived on the same day and stayed in the same hostel in Bangkok and started travelling together. We had the same route planned out which would take us through the North of Thailand, Laos, Vietnam, Cambodia and finally to the famous full moon party in Koh Phangan.
From there, we caught a flight to the beautiful country of Myanmar, before heading to Singapore to enjoy the big city life. Once our bank balances told us it was time to move on, we headed to Bali, Indonesia for a spot of SCUBA diving and sunbathing. Our final stop was Malaysia, before briefly heading back to Europe to visit friends and family and heading back out to China.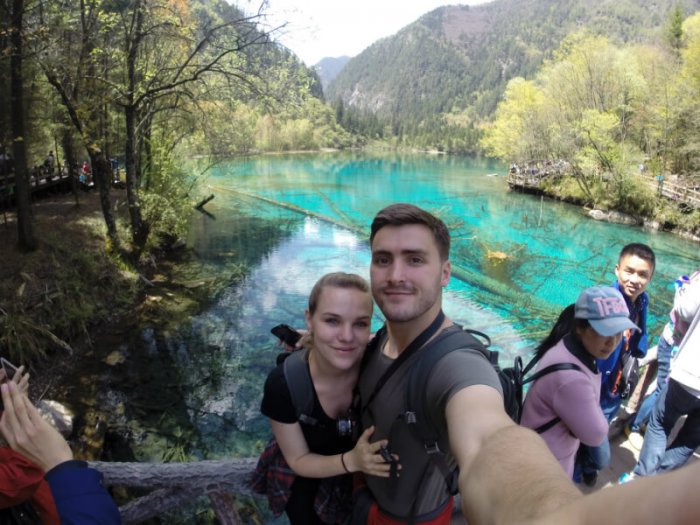 2. What then inspired you to travel more?
It's the thrill and the freedom that come with backpacking. Not having to be anywhere at a certain time, not having responsibilities, not having to stay in one place if you don't like it but being able to stay if you do, meeting so many amazing, interesting new people, getting a new outlook on life, trying new and unfamiliar food, exploring new places every day and living in one big colourful adventure…. the list goes on endlessly.
Travelling has made us more relaxed, more understanding and more compassionate people and it has made us realise that there is so much more to life than a 9 to 5. It has made us explore other options of sustaining ourselves while being able to explore more of this wonderful planet.
In the end, once you have experienced the freedom of travelling and once you are infected with the travel fever, there is no day that passes by without thinking about it and the only cure is to go back out and explore some more.
3. What is your favourite travel destination and why?
For us, there is no such thing as a favourite destination. We got asked that question a lot and after thinking about it for some time, we were still not able to come up with an answer. We do like some countries and places better than others, but overall every place has its own magic.
Vietnam for example was the country that surprised us the most and we fell in love with it instantly. Cambodia has such a rich history that we had hardly heard of before and it is also home to our favourite island in SEA (shout out to amazing Koh Rong). Myanmar instead has the friendliest, most lovely people and of course Bagan which for itself is a reason to visit the country.
We still have so many places on our bucket list (South America and the Philippines for example) but so far, we thought that travelling through SEA was a life changing and eye opening experience. The region as a whole is relatively safe and well developed for travellers and therefore one that we would strongly encourage every new backpacker to visit.
4. Where have you found long term travel to be most challenging? What challenges did you face and how did you overcome them?
All throughout SEA, the infrastructure is mostly well developed and adapted to travellers already. Even in Laos and Myanmar, two of the least developed countries in the region, travelling is fairly easy. We did run into problems in Myanmar when we weren't able to get any cash from any of the 3 ATMs because the connection had broken down, but other than that we did not encounter any challenges.
Instead in China, travelling is still a real challenge. While in SEA, most of the people speak English, people in China mostly don't. This makes everyday tasks a real challenge. Ordering food when there is no English menu? Challenge! Taking a bus? Challenge! It gets more difficult the further you venture from the big cities and from the touristy spots and the further you move away from the coast.
We recently went to travel through Sichuan and stayed in a Tibetan village from where we took a bus to Lanzhou, Gansu Province. For the whole bus ride, we weren't even sure this bus would take us to the right city, and we actually do speak basic Mandarin.
Whenever we run into challenges, the most important thing is to stay calm and see it as an important and amazing part of travelling. In the end, looking back, the challenges will always make for the best stories ('remember that one time we ran out of money in Myanmar and the ATMs weren't working?').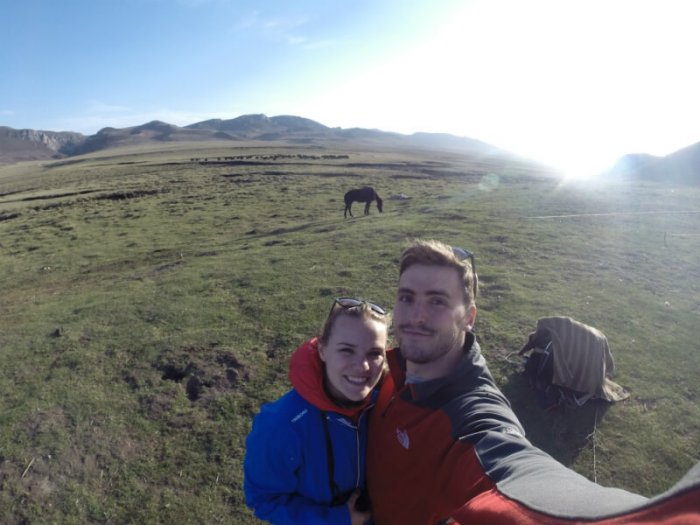 5. What is your travel style and how does this impact the way you budget, save and earn money before and during your travels?
We are backpackers and pretty broke most of the time, so we always try to keep our travel costs as low as possible. At the same time, we also appreciate clean hostels with good wifi connection and big-ish comfy beds, so it's always a trade-off between the cheapest price and the standard one can expect. We try to keep both of them in balance and therefore might not be the best budget backpackers out there.
Whenever possible, we prefer to plan our own trips instead of getting a tour. That said, in Beijing, as we were short on time and had a flight the same night, we took a tour to visit the Great Wall and we would not recommend it. Tours are almost always more expensive and force you into a time schedule, whereas when you just go out and explore places on your own you can decide how long you want to stay, where you want to go and what you want to see, and that is just so much better.
In order to fund all of our adventures, we of course have to work (a lot). We both teach English, which we would recommend to anyone temporarily living in China, and do some freelance work online. The good thing about teaching and freelancing is that you can do them on the road. All you need is a good enough wifi connection.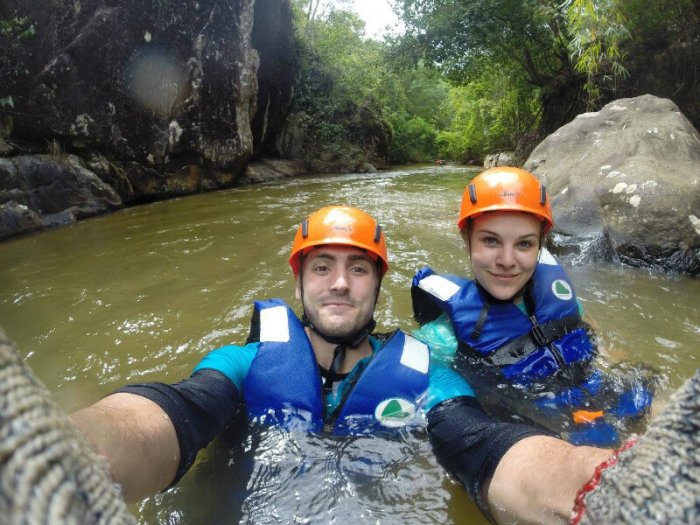 6. What strategies do you use to fund your adventures?
Work, work, work, work. We both teach English and freelance.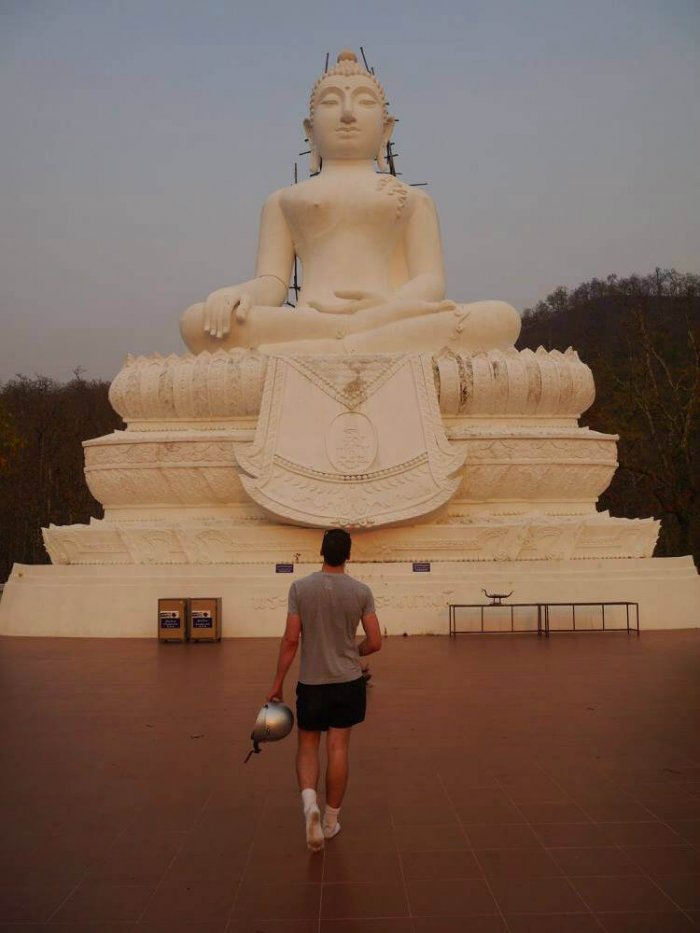 7. What pre-travel money saving tips can you give us?
Before we set out to SEA in 2015, Jule was working as a waitress with up to 5 shifts a week and Ross had moved back to his parents in order to put more money from his job in Sales aside. We budgeted 1000€ per month (each) initially before heading out to SE Asia, and were able to stick to it pretty well.
Before travelling, the best tip we can give is to think what you could do with every Euro/Pound/Dollar out on the road, and how much further it can take you. Is that extra beer on the weekend really worth it? That 5€ is a bed for a night in a beach hut in Cambodia!
Be ruthless with your saving and be prepared to sacrifice a little of your social life at home for a while. We will guarantee that you will more than make up for the missed parties once you are out in the sun and tubing in Vang Vieng.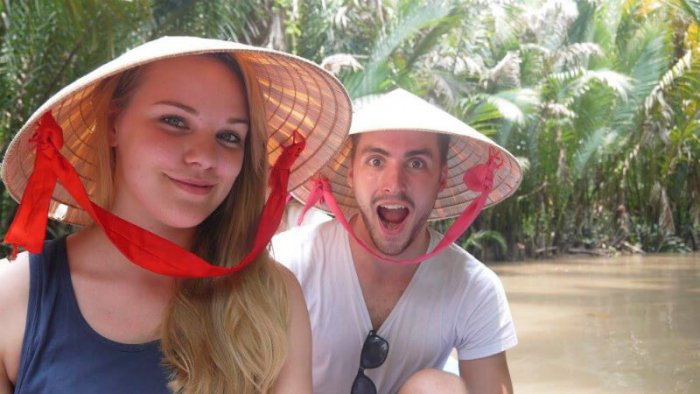 8. What are your top go-to resources for booking flights and accommodation?
For flights in general we like to get a first overview of cheap fairs and airlines on Skyscanner.com. When it comes to booking, we always check the airlines directly as usually the prices are pretty much the same to all the flight search engines, as these apply high fees and charges.
In SEA, our go to airline is Air Asia. They connect all destinations and have the lowest prices. In China, we can recommend ctrip,com and if you have access to a Chinese credit card and are able to figure the website out or have a Chinese friend who can help you with that, try qunar.com.
For accommodation our first choice will always be hostelworld.com. In countries like Myanmar where Hostels are still a relatively new thing and are booked out easily, we also like to look at Agoda.com. They have a good selection of cheap hotels and guest houses all over Asia. If you are on a really tight budget or like to get a more local feel for a city, you can try Couchsurfing as well. We personally haven't tried it yet but have many friends who love it.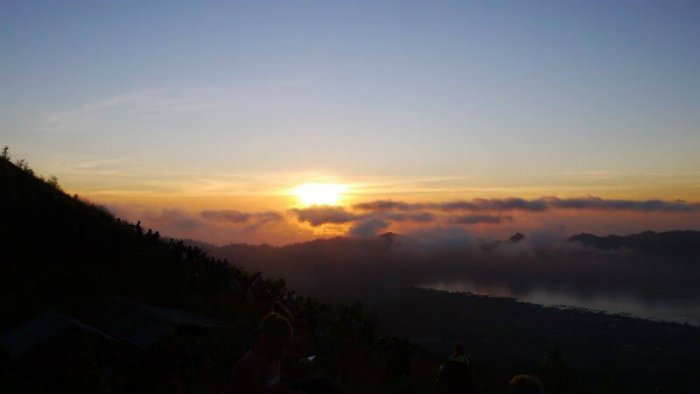 9. What is the most important thing you have learned through travel and with that in mind, what valuable advice can you give aspiring travellers?
Travelling has taught us so much that it is really hard to reduce it to a single most important thing. We will try to give you a collection of things we learned…
Travelling teaches you openness, positivity, and patience. It gives you a new outlook on life, shows you the many possibilities there are in this world besides the typical 9 to 5, and it makes you appreciate the comfort of your home. On that note, it will make you reconsider what to call home and it might kill your career ambition, which is not necessarily a bad thing.
What we would advise to anyone who is thinking about going on an adventure of their own, would be to not make any plans (Jule missed 3 flights that she had booked upfront because she thought planning would be a good idea, it was not.), book a return flight which you can change easily (if you need to book a return flight at all), and then just go. Just jump right into it and dive into the wonderful, new culture that will surround you, the new adventures that await you and the many people that will become your travel buddies and friends. From there, all we can advise you is to just go with the flow, and every little thing is gonna be alright.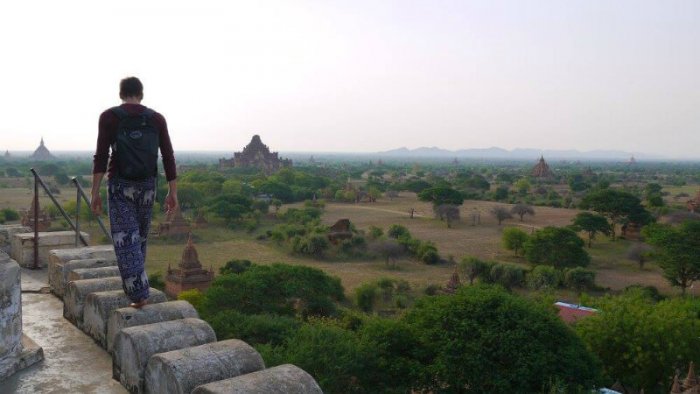 10. And finally, what have you got planned next?!
For us, the next destination will be Europe. Jule is moving to Milan, while Ross is moving to London. We will use the next few months to explore Europe more, travel to all the cities we haven't been to yet and save up for the next big adventure which will most likely be India, the Philippines and Australia.
Well, I'll most definitely be following their adventures to India, the Philippines and Australia in the future! How about you? Click here to follow The Sunset Hunters on Instagram.
---
Now it's over to you reading this! Leave your answers in the comments section below…
Have you ever tried long term travel? I'd love to know, what's the biggest lesson/strategy/tip you took away from it?
If not, are you considering long term travel? What else would you like to ask Ross and Jule?
---
Are you interested in being a featured traveller?
Click here to send an email to us
Share a few words about yourself and your travel experience as well as a link to your blog or favourite social media channel
We'll be in contact!
---
Want our 50+ page eBook, 12 Steps To Full Time Travel, for free?
To get it, all you have to do is sign up here with your name and email and we'll send it straight to your inbox along with many more tips and strategies to help you achieve long term travel. Nothing to lose, a life of adventure to gain!