Before arriving in Colombia we had absolutely no idea what to expect. It was our first time in the country and we'd barely done any research.
All we knew was that we were flying into the capital city, Bogota, and flying out of Cartagena one month later.
Our lack of research and planning wasn't particularly anything to do with us being lazy, it was more for the fact that we knew we would meet a ton of interesting people – locals and foreigners – who would be able to share their best tips and insights from real experience.
As soon as we walked through the door of our Airbnb, we knew that our time in Bogota Colombia was going to be unique.
First of all, the accommodation was a huge communal space which was referred to as a cultural house.
Some people lived there and others came to visit for small music gigs, yoga lessons, movie nights and much more.
We were welcomed into the cultural house by one of the housemates, Camila and the interesting thing about this experience was that not only did she give us a tour around the place, she also spent over an hour getting to know us and offering her advice on the best things to do.
You see, we only had 24 hours in Bogota as we had a commitment in Medellín the following day so she took that on board, weeded out all the things we weren't interested in (such as museums) and provided a small list of worthwhile things to do in a short timeframe.
Here's a list of top things to do in Bogota Colombia that we came up with together:
Start the day with a traditional 'Tamale' breakfast
Colpatria building
Paloquemo Markets
Lá Macarena
Lá Candelaria
Monserrate
The house was situated in a neighbourhood called Armenia which sat perfectly between two central areas of Bogota – Lá Candelaria, the historic centre, and Chapinero, home to some of the top leisure, dining and nightlife spots in the city.
This meant that we could pretty much walk everywhere or grab a quick (and cheap) Uber ride if we were running behind time.
The next morning we woke up super early, ready to hit the town for a big day of sightseeing.
The first stop was a tiny little bakery/café for one of the most unique breakfasts we've ever tasted.
Are you ready?
Things To Do In Bogota Colombia, As Recommended By A Local
Pin this to your travel board on Pinterest >>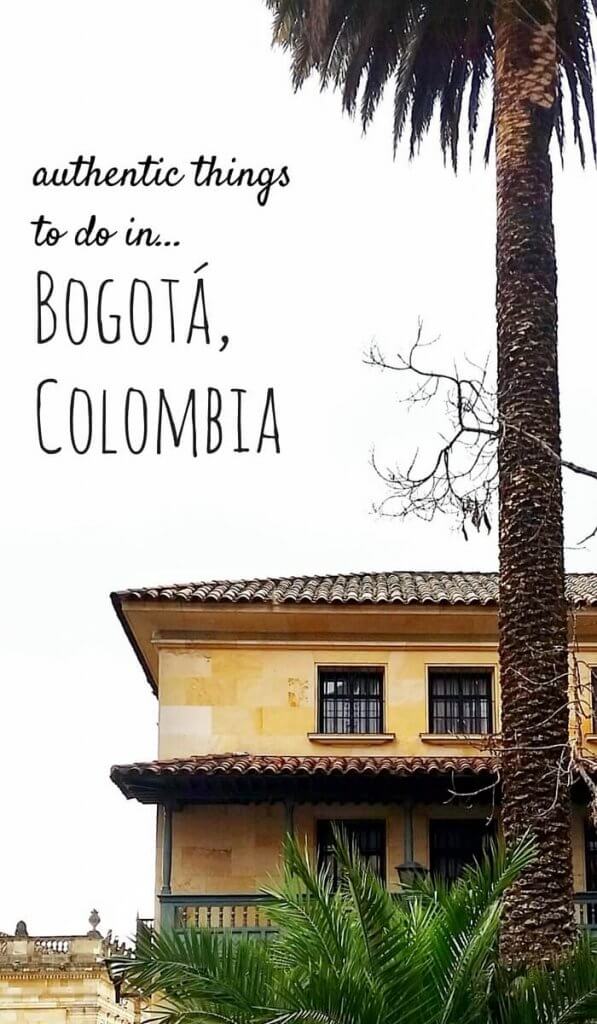 1. Eat a Traditional Tamale Breakfast
Camila mentioned tamale to us when Dan questioned her on what Colombians typically eat for breakfast.
From how she was explaining it, I gathered that tamale was something similar to paella – meat, egg, vegetables and beans all mashed together but with masa (a starchy dough) instead of rice.
What I found really interesting about this was that not only is the dish served for breakfast, it normally comes with a cup of coffee or hot chocolate and a slice of bread.
To me, this initially seemed like a weird combination but I had to give it a go.
As we exited our street, the first little café we stumbled across just so happened to serve Tamale on special for 5,000 COP ($1.65).
We ordered one, just in case we didn't like it, and then added an extra cup of coffee.
As the dish came out of the kitchen we noticed that the Tamale was wrapped and steamed in green leaves, known as plantain leaves.
This reminded me of the Brazilian dish, Pamonha, which is made from a sweet corn paste and wrapped in corn husks.
Tamale really did just taste like a mix of different meats and vegetables and wasn't too over the top in flavour.
We actually quite enjoyed the dish and I also didn't mind the coffee and bread combination with it.
One thing that I will say is that for such a low price, you get a huge amount of food that will fill you up for hours to come.
Give it a go!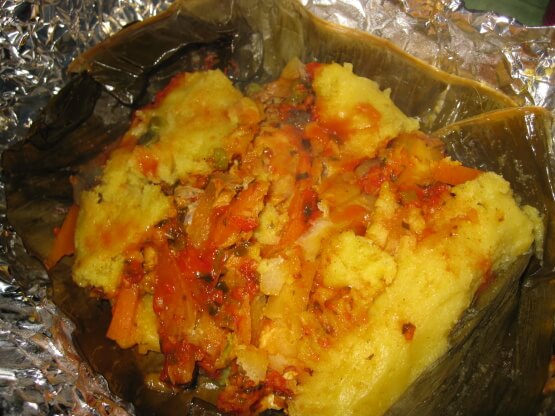 2. Torre Colpatria (Colpatria Tower)
Next on our list of things to do in Bogota Colombia was the Colpatria Tower.
Camila mentioned that she hadn't yet been there but heard from some of her friends that it was a top-notch spot to see the city from above.
Unfortunately we didn't quite make it up to the top of the Colpatria Tower because the sky turned grey and it began to rain quite heavily.
We figured that we probably wouldn't have seen much more than white clouds so it just wasn't worth it.
That said, on a clear day the Colpatria Tower would be a fantastic place to see the city from above as it is the second tallest building in Bogota Colombia  and very centrally located.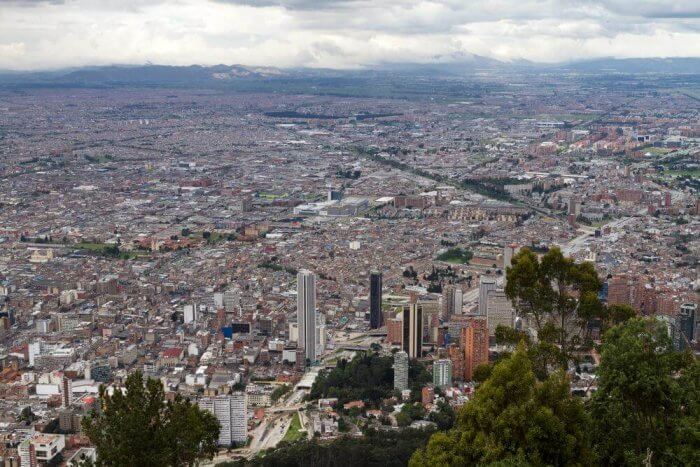 3. Plaza de Paloquemao Market
When Camila mentioned the Paloquemo Market I got a little bit excited.
I'm a total sucker for local markets anywhere I go.
In fact, I believe that you don't truly experience the authentic culture of a city until you've wandered through rows of street stalls sampling the native delicacies, meeting the local people and soaking in the unique atmosphere.
Camila told us that this would be something much less touristy to do and the perfect way to see a rawer side to Bogota.
Uncover Colombia even said it themselves, "Plaza de Paloquemao market is not your typical tourist destination on a visit to Bogota.
It will be one of the most authentic experiences you will have on your tour to Colombia."
So now I'm gutted to say that we didn't make it to Plaza de Paloquemao market.
Time ran away from us, Paloquemo was in the opposite direction to where we were heading and the bad weather meant that we would have been stuck in traffic for too long.
I'm the first to admit it, we didn't truly experience raw, authentic Bogota and I'm really sad about this.
Even though we didn't go, I'm still keeping Paloquemao on the list of things to do in Bogota Colombia because it's a valuable local recommendation and considered one of the most authentic things to do in the city, so make this the first place you visit!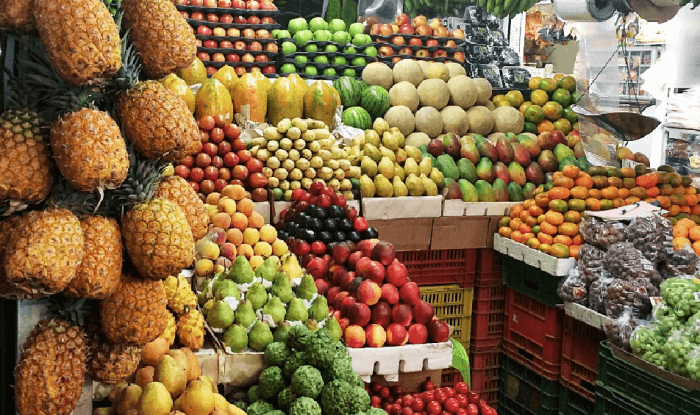 4. La Macarena
Before arriving in Bogota Colombia I already knew that La Macarena would be on our itinerary. In fact, it's about the only place I did do a little light reading on.
La Macarena is known as one of the hippest neighbourhoods in Bogota.
It's characteristic bohemian vibe and extensive variety of restaurants serving up cuisine from all over the world make La Macarena the go to spot for foodies, travelers and curious Bogota locals in search of culture, amazing food and a magical atmosphere.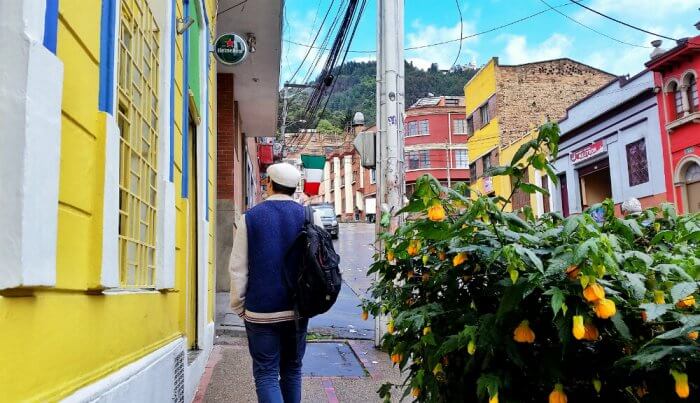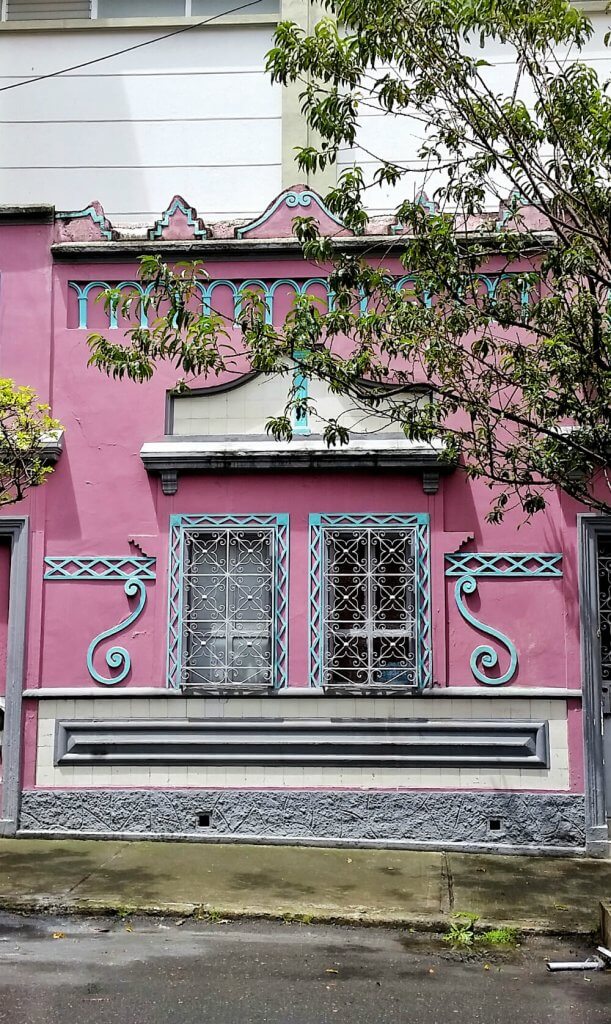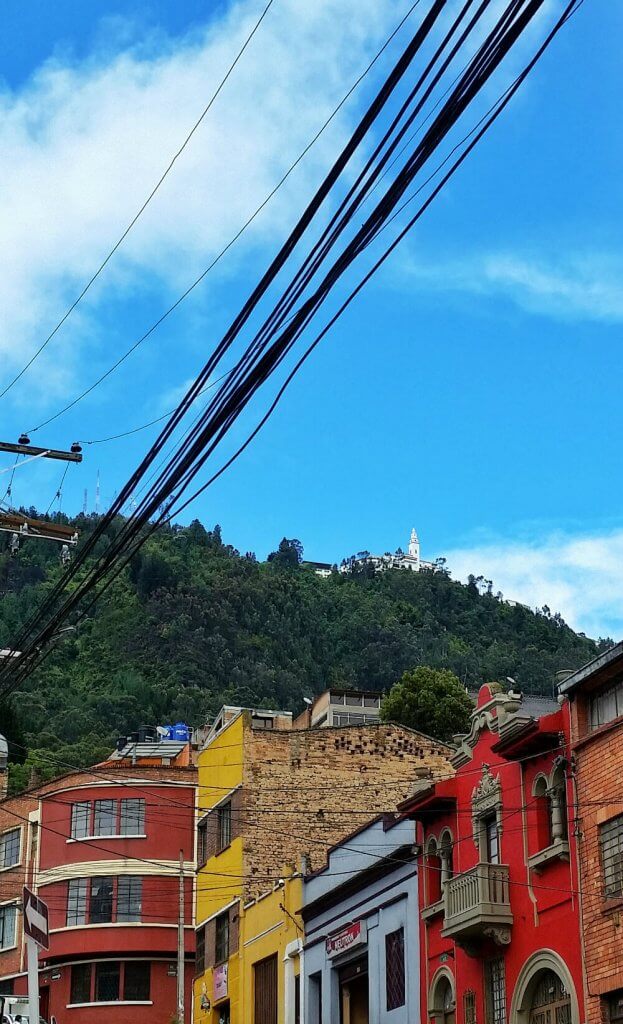 We stopped by Santa Fe Restaurant and Café for lunch and I can honestly say it was the best meal I've had in months.
Not only that, the restaurant was so full of character and charm we didn't want to leave!
Make sure you ask for recommendations on typical Colombian dishes, Santiago will be more than happy to guide you.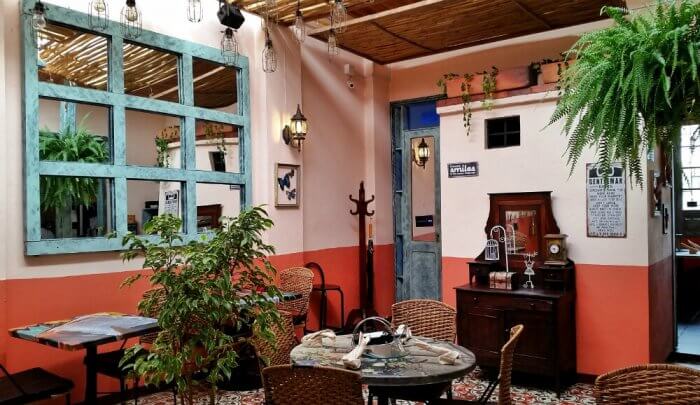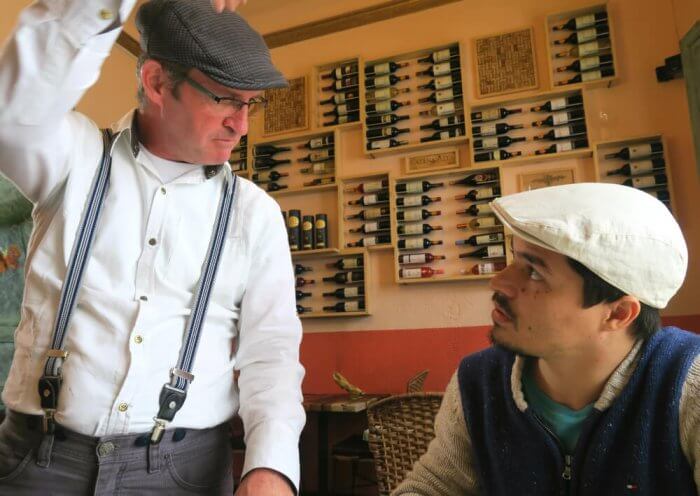 5. La Candelaria
Next on our list of things to do in Bogota Colombia was the historic neighbourhood of La Candelaria in the city centre.
I had heard from a few people that by day, La Candelaria is a beautiful place to visit but come night time it can get a little dodgy as the streets quieten down and most of the action dwindles away.
This is why people recommend booking accommodation away from downtown but visiting during daylight hours.
Home to Bogota's oldest buildings and attractions as well as some of the cities most colourful, characteristic little streets and alleyways, La Candelaria is truly worth a visit if you are interested in experiencing Bogota's cultural heritage.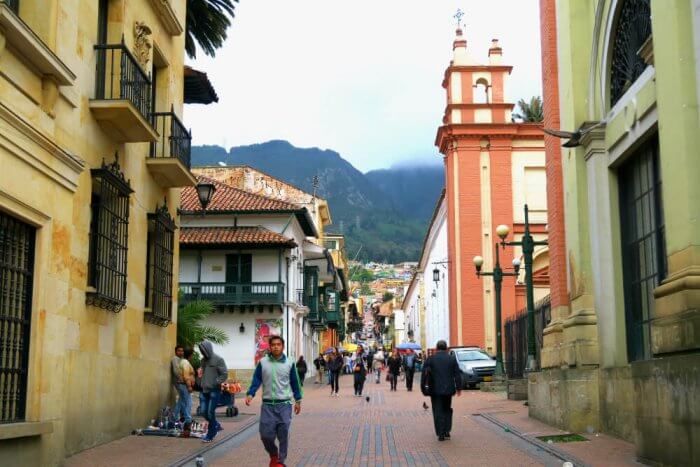 You can start at la Carrera Séptima and wander your way up the walking street until you reach La Candelaria.
It is here where you will find Bolívar Square, which is home to the Simón Bolívar statue, the Palace of Justice, the Primary Cathedral of Bogota and many more grand historical buildings.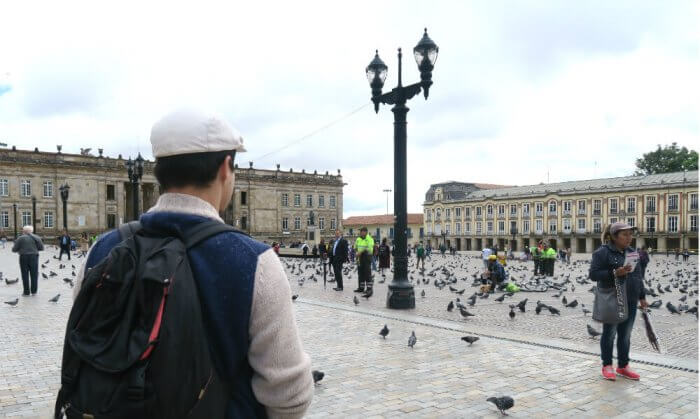 Once you cross the square you can turn left and this will take you up a long, narrow road lined with typical Colombian style architecture, including boutique hotels and museums.
All of the little streets in this area are full of life, colour and personality and if you consider yourself a bit of a photographer, I can almost guarantee that you'll be like a kid in a candy store.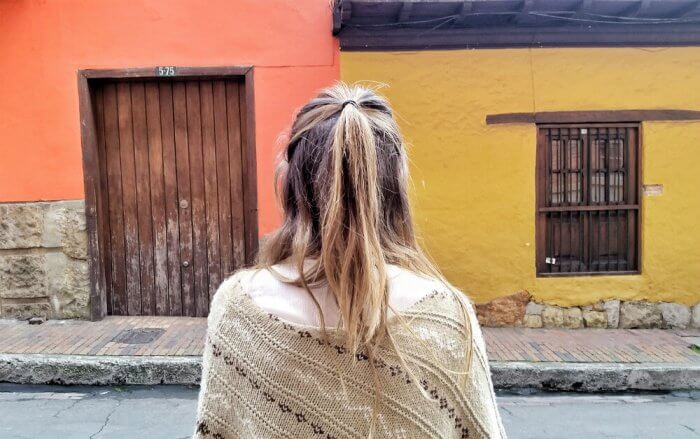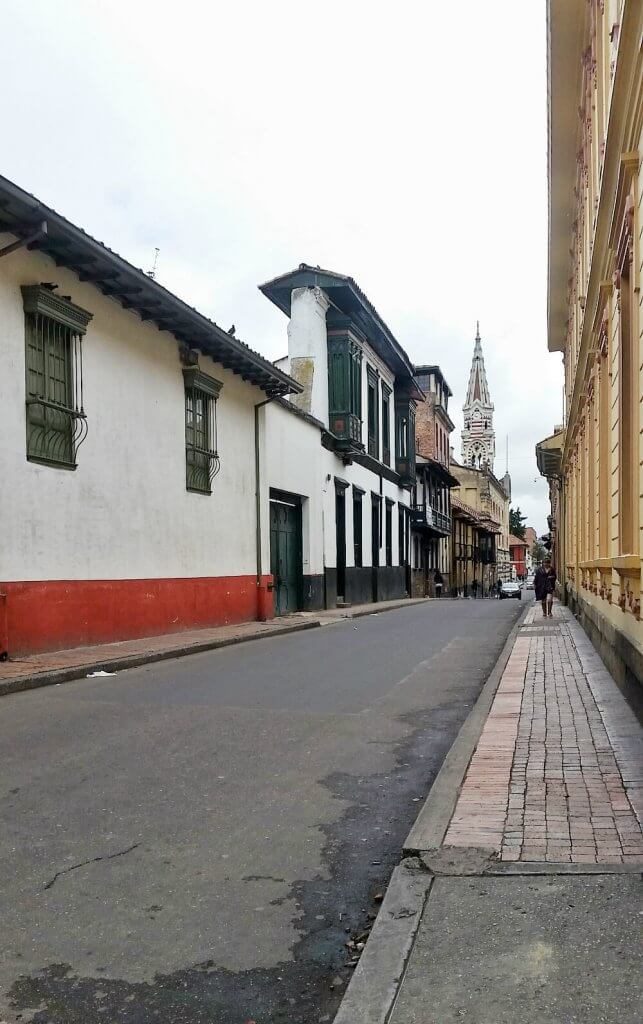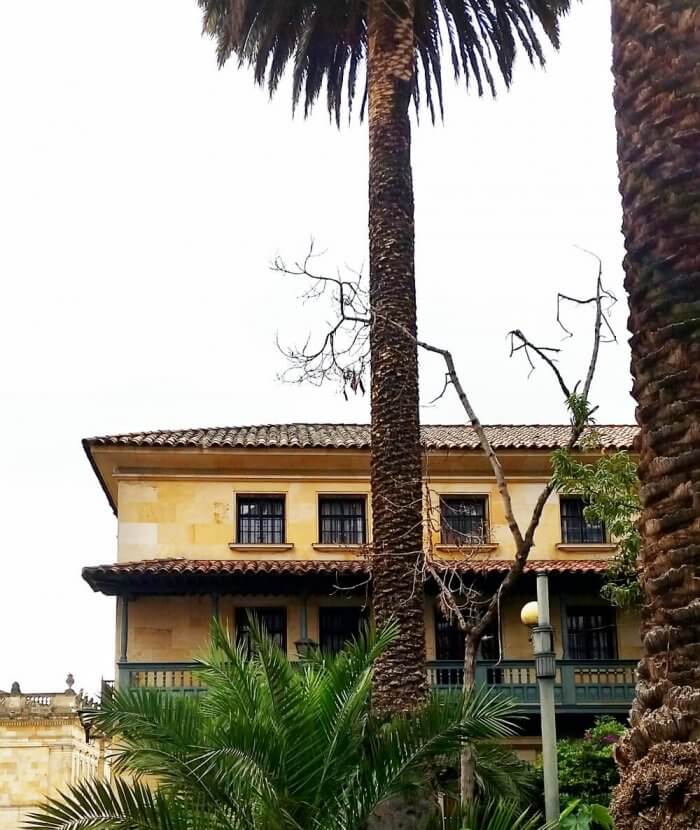 6. Monserrate
Last but definitely not least on our recommended list of things to do in Bogota Colombia is Monserrate.
It is is here where you can enjoy expansive views over the city and hills in the distance whilst watching the sunset from the best spot in the city.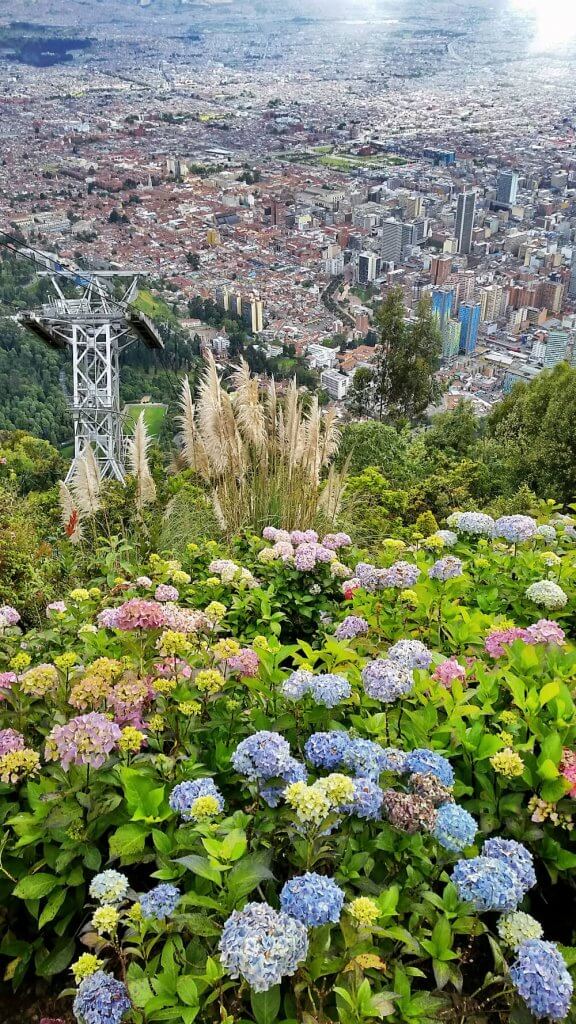 Monserrate is a 10,341 ft mountain which overlooks (and almost dominates) the city of Bogota Colombia.
On top of Monserrate is a seventeenth century church and religious shrine which is devoted to "El Señor Caído" (the Fallen Lord).
There are also two restaurants, a snack bar and a large viewpoint.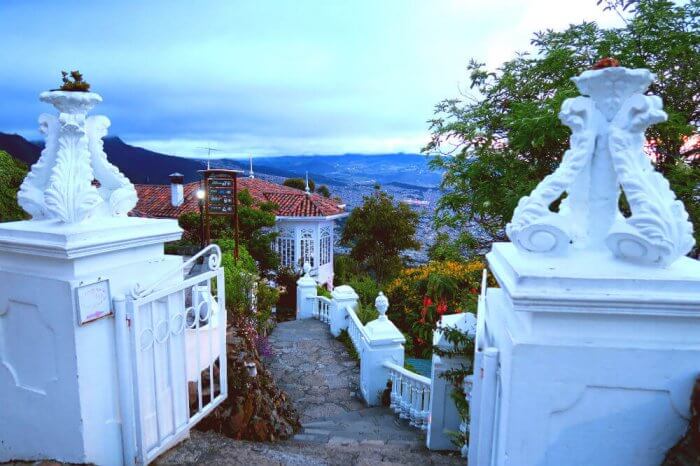 To get there, you are better off taking a cab or Uber to the base of the mountain as the nearby neighbourhood is a little unsafe to walk through.
You then need to pay the cable car fee which is $16,400 COP ($5.30 USD) round trip.
This cable car will take you all the way to the top of the mountain and then back down when you're ready to leave.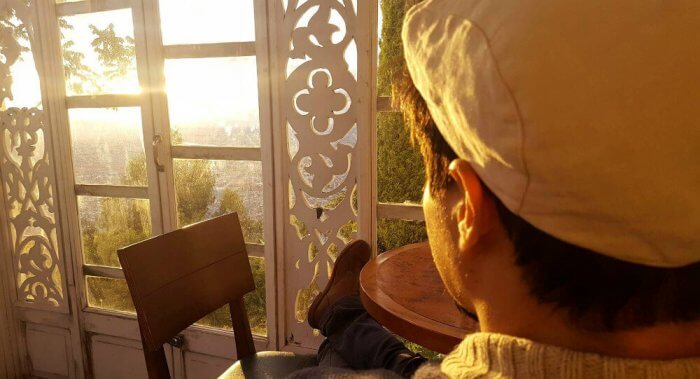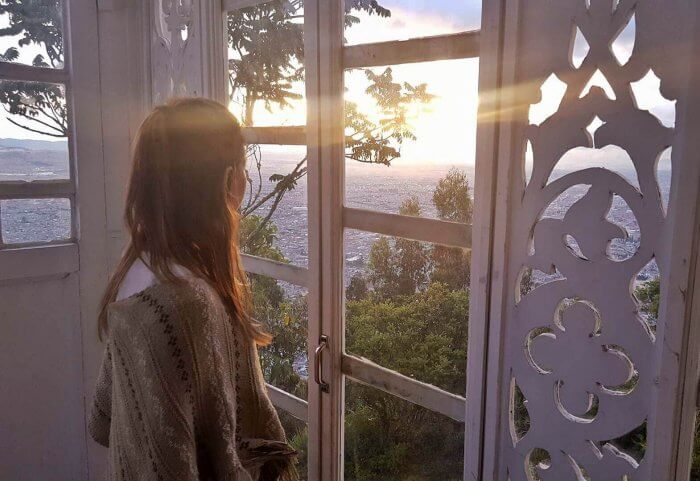 We recommend visiting at about 4pm to see the view while it's light and then staying for the sunset.
Bring a jacket or something warm as it can get quite chilly up there!
Bogota Colombia Tips:
While there are a few different hotel options in Bogota, we highly recommend staying with Airbnb because you can have a much more local, authentic experience in a small neighbourhood.
The weather is ridiculously temperamental – one minute it's cold and raining, the next it's boiling hot. I don't know how you can truly prepare for four seasons in one day but at least have it in the back of your mind before planning a full day of sightseeing.
Uber is really cheap for getting around – if you're alone, the drivers prefer you to sit in the front seat so it doesn't look so obvious (apparently taxi drivers have been known to cause damage to Ubers).
Walking alone at night is not recommended, especially downtown.
The tap water is fresh and safe to drink.
When walking in the street or sitting in a car with the window open, keep your phone out of sight because phone theft is quite common.
As I said before, we only had 24 hours in Bogota Colombia so unfortunately we didn't get around to doing all of things on our list.
As they were local recommendations though, I still wanted to include them in this post to give you a deeper insight into the more authentic activities you can do.
I hope that this has helped you out while planning your trip to Bogota Colombia and if you have any questions about traveling in Colombia please don't hesitate to post a comment below!
---
Bogotá Travel Resources
Bogotá Accommodation:
To start looking at your accommodation options in Hawaii, choose Hostelworld for budget, HotelsCombined.com for comfort or Airbnb for local (and get $25 off).
Want stylish accommodation you can afford? Enter your dates and Hotels Combined will scan all the top booking sites (Booking.com, Hotels.com, Expedia, etc) for the cheapest prices possible:
Bogotá Flights:
If you are flying to Bogotá, it is beneficial to use a flight compare site to find the cheapest flights. We recommend and use Cheapflights.com.
–> Click here to compare and book cheap flights to Bogotá
---
Now I want to know from you! Post your answers in the comments section below…
Have you been to Bogota? What other things to do would you highly recommend?
If not, would you consider travelling to Bogota? Why?
---
Do you want to know our 12 steps to full time travel?
We are currently giving away our 50+ page eBook, 12 Steps To Full Time Travel, for free! To get it, all you have to do is sign up here with your name and email and we'll send it straight to your inbox along with many more tips and strategies to help you achieve long term travel. Nothing to lose, a life of adventure to gain!