It doesn't get much better than holiday time in Spain – unless you bring all of your closest friends together in a luxury Spanish villa, that is. Then a typical Spanish holiday seems quite mundane.
There are many nice hotels in Spain, but Spanish villas are a better option if you're traveling with a group of friends because you can enjoy more privacy and superior amenities.
Furthermore, holiday villas in Spain can actually be quite an affordable option when you split the cost among a few of you. In fact, cheap villas in Spain are actually quite easy to find and can offer access to a level of luxury you may not be able to afford on your own.
If you're thinking about rounding up a few of your mates and jet-setting off to Spain this summer, here are our top 10 picks for holiday villas in Spain, perfect for millennial travelers!
10 Amazing Holiday Villas In Spain For Millennial Travelers
Pin this so you can bookmark these Spanish villas >>

10. Villa Taguluche Famara, Lanzarote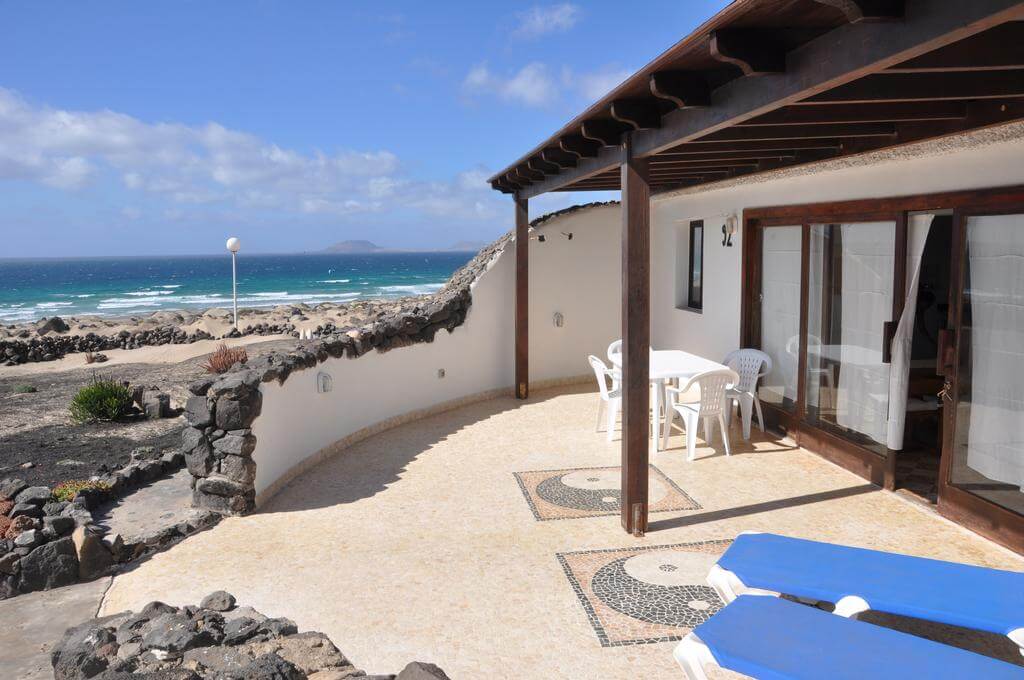 The Villa Taguluche Famara is a fantastic beach villa for young travelers who want to capture the island's volcanic energy on their Lanzarote holiday.
Here you can enjoy peaceful days out on the sun deck overlooking the ocean break, knowing that the water is only steps away from where you sleep at night.
Furthermore, all around the villa you will find great places for outdoor sports, including hiking and cycling.
Sleeps 6 | Prices starting from just £11 per person, per night.
9. Finca Es Talaiot, Mallorca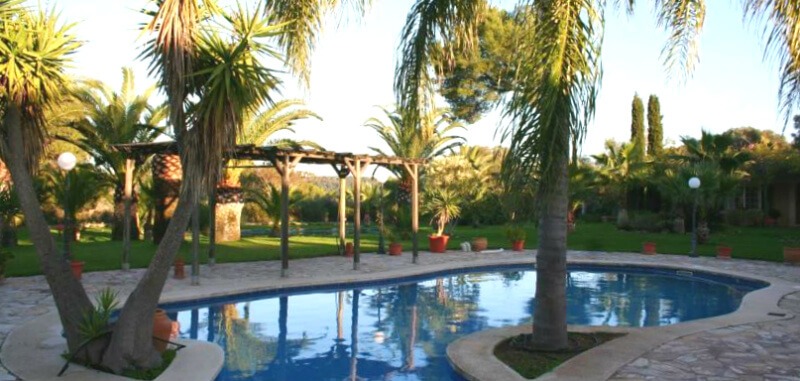 Do you want to experience an epic Magaluf holiday?
While there aren't any luxury villas directly in the town, Finca Es Talaiot is less than a half an hour away from the Magaluf nightlife.
This Mallorca villa will sleep up to 12 guests at a time!
Get ready to be treated to a large outdoor pool that gives way to a wonderful terrace complete with a view out to the countryside.
The villa's interior has a comfortable rustic design that is sure to put you and your friends at ease after a big night out.
Sleeps 12 | Prices starting from £64 per person, per night.
8. Can Basso, Ibiza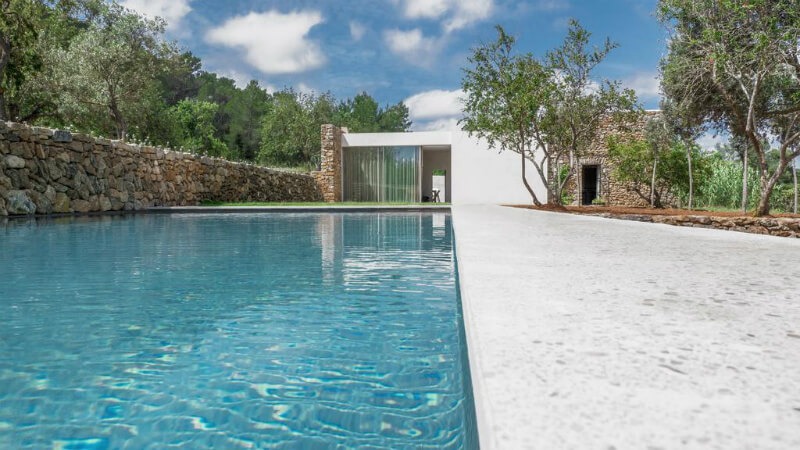 The Can Basso in Ibiza offers respite from the madness of the endless Ibiza hotel strip. However, it's still close enough that you'll be able to experience the legendary Ibiza club scene at least a few times on your holiday!
This rustic 6-bedroom villa, set against splendid views of the rolling Mediterranean mountain hills, offers a large private pool, a sun terrace and a beautiful pastoral garden.
Around the property you're encouraged to take peaceful walks through the almond and olive trees.
Sleeps 12 | Prices starting from £87 per person, per night.
7. Oasis del Duque, Tenerife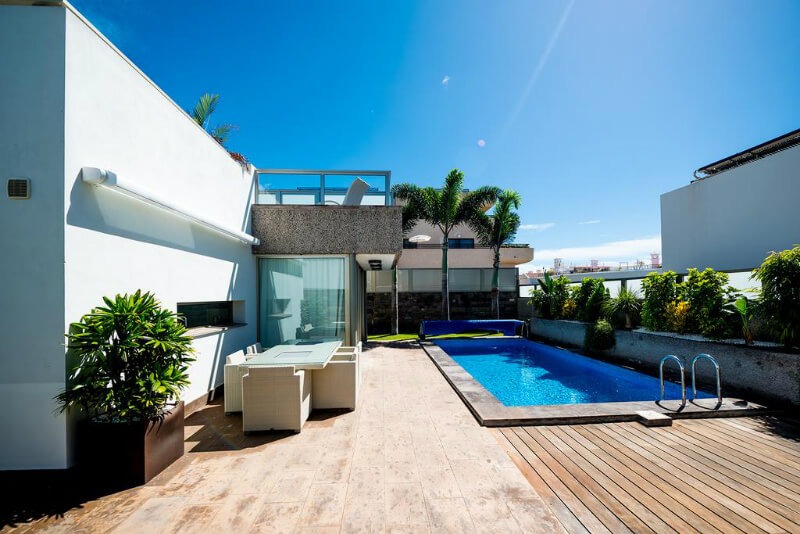 Oasis del Duque is just minutes away from the sunny beach of Playa de las Americas.
Here you will appreciate the chance to relax and rejuvenate in your spacious open living areas or by the generously sized outdoor pool.
Nearby there are the nearly limitless cliffs of Los Gigantes where you can go scuba diving or sailing.
If that's not enough, you can also take a trip out on the ocean to catch a glimpse of the magical dolphin show as they dance their way through the clear Atlantic waters.
Sleeps 8 | Prices starting from £35 per person, per night.
6. Palma Country House, Majorca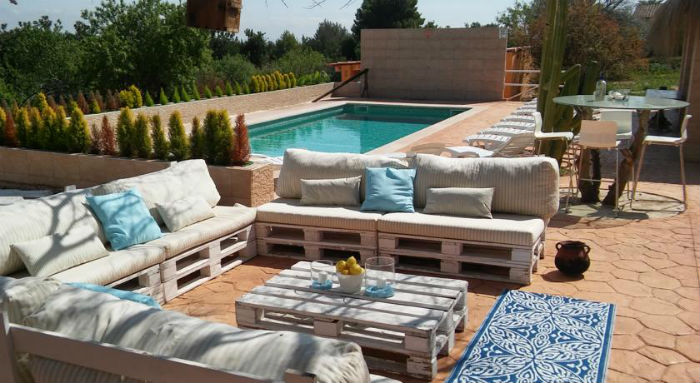 Palma County House finds itself situated within the enchanted Majorcan countryside.
Staying here you will be able to go out and experience the world renowned Magaluf nightlife, which is only around a 20-minute drive away.
When you're not partying, you'll spend unforgettable moments with your friends in an expansive garden, outdoor dining area, zen corner and gorgeous outdoor pool.
Staying in this amazing self catered villa is a much better option than staying in one of the busy Majorca hotels, in my opinion.
Think about it, 14 of you all together in one house, living it up by the pool, relaxing in the zen corner on your hangover days… Sounds nice, doesn't it?
Sleeps 14 | Prices starting from £38 per person, per night.
5. Nirvana2, Tenerife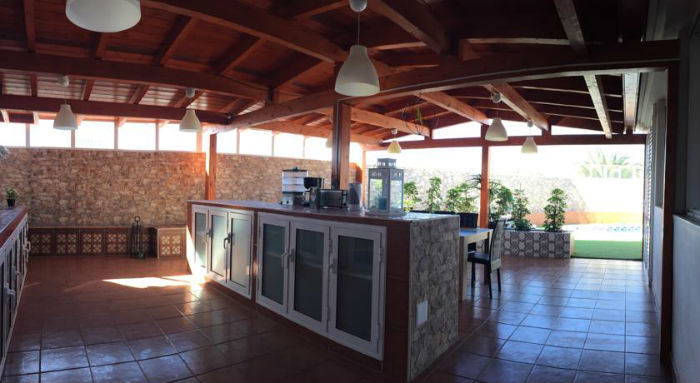 Nirvana2, located in the town of Adeje, provides easy access to a vast array of natural wonders on the island, including rich forests, spectacular plant and animal life, a towering volcano and incredible beaches.
Surrounding this 4-bedroom Tenerife villa, you will discover a huge amount of fun activities to do, including horseback riding and snorkelling.
On the property itself you can play tennis, hangout by the gorgeous private pool or treat yourself to some alone time in the residence hot tub.
Sleeps 8 | Prices starting from £47 per person, per night.
4. Villa Bini La, Menorca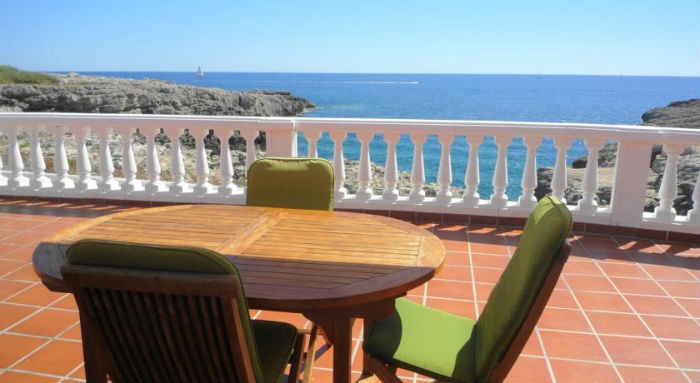 At the Villa Bini La you and your friends will wake up to the ocean radiating under the morning's soft light.
The island of Menorca is known for turquoise-water bays and long white sand beaches.
While the terrace here is where you'll probably spend most of your time, there is also a spacious open living room complete with comfy couches and a flat screen television if you fancy relaxing indoors.
This is a great example of how traditional holiday villas in Spain should be done.
Sleeps 4 | Prices starting from £58 per person, per night.
3. Casa Amor, Marbella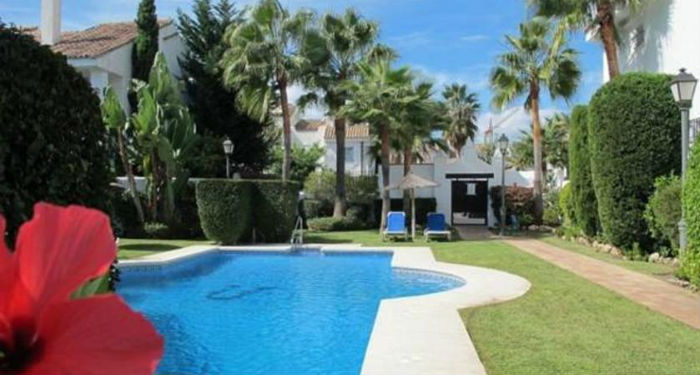 Casa Amor is one of the top villas in Marbella, which is a fantastic destination for young travelers looking to soak up the sun on the sandy Mediterranean beaches.
Inside the complex you will fall in love with the amazing private garden full of blooming flowers and palm trees. In fact, from the garden you will be spoiled with an incredible view of the mountains nearby.
To make things easier on you and your friends, grocery delivery can also be arranged. Cheers to that!
Sleeps 8 | Prices starting from just £14 per person, per night.
2. Villa Masé, Fuerteventura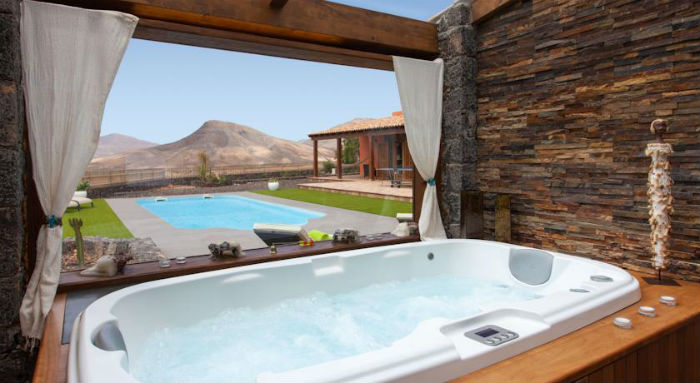 Villa Mase on the island of Fuerteventura boasts complete elegance and a sense of sophistication like no other.
With modern decor and furnishings, including a sauna, gym and hydromassage spa bath overlooking the mountain range in the near distance, you'll fall into absolute relaxation mode from the moment you arrive.
The sun shines year-long on this Fuerteventura villa, meaning that the warm swimming pool will always be welcoming you home after a long day on the beach.
Sleeps 8 | Prices starting from just £19 per person, per night.
1. Luxury Beach House, Gran Canaria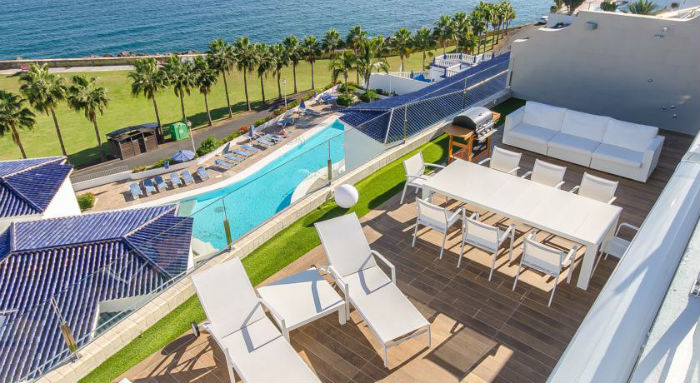 You and your friends will love the ocean view from the stunning outdoor pool at Luxury Beach House.
This is an amazing Spanish beach villa for a vacation among friends who are into island activities such as golfing, diving, fishing or snorkelling.
Nearly every corner of the villa includes a view out to the sea, meaning it's the perfect place to catch the Spanish sunrise or sunset.
Complete with a huge wooden sun-deck, ultra modern and spacious interior and views worth a million dollars, this luxury Spanish villa is one of the best you will find.
Sleeps 7 | Prices starting from £97 per person, per night.
---
Cheap flights to Spain
Spain is the perfect summer holiday destination – with warm weather, beautiful beaches and incredible nightlife, what more could you ask for?
---
By now, I hope that I've convinced you to round up your mates and take your next holiday in Spain! After reading through all the different options for holiday villas in Spain, you should have a good idea of what best fits your needs and price range.
These villas often get booked out in advance so once you've decided to do it, book it. You can find really cheap flights to Spain from many destinations in Europe and you can definitely eat and experience Spain on a budget. So what are you waiting for?!
Have an amazing Spanish travel experience!
Liked it? Pin it!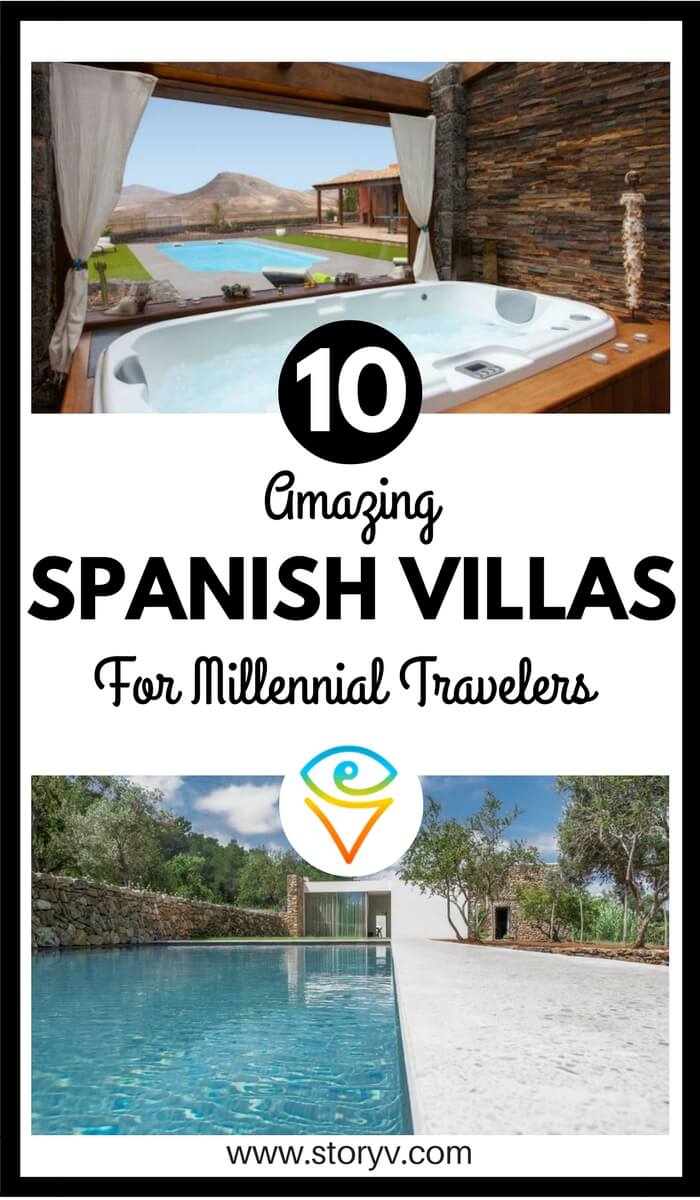 ---
Over to you! Leave your answers in the comments section below…
Have you stayed in and recommend any other holiday villas in Spain that we haven't mentioned? Let us know below…