The following is a complete travel guide to Palomino Colombia, based on our personal experience there. We loved every minute of our stay and hope that you find value in our tips and advice.
Palomino Colombia Travel Guide: The Paradise You Didn't Know Existed
Come back later! Pin this travel guide for Palomino Colombia on Pinterest >>
Where Is Palomino Colombia?
Palomino is a tiny tropical village located on the northern coastline of Colombia.
The Rio Palomino (Palomino river) divides the Colombian regions of Magdalena and La Guajira and Palomino itself sits just on the edge of the La Guajira side.
As these regions are situated in the north of Colombia, the rugged, untouched beaches are made up of volcanic sand, coconut trees and bamboo shacks, met by an alluring, aqua coloured ocean, otherwise known as the Caribbean Sea.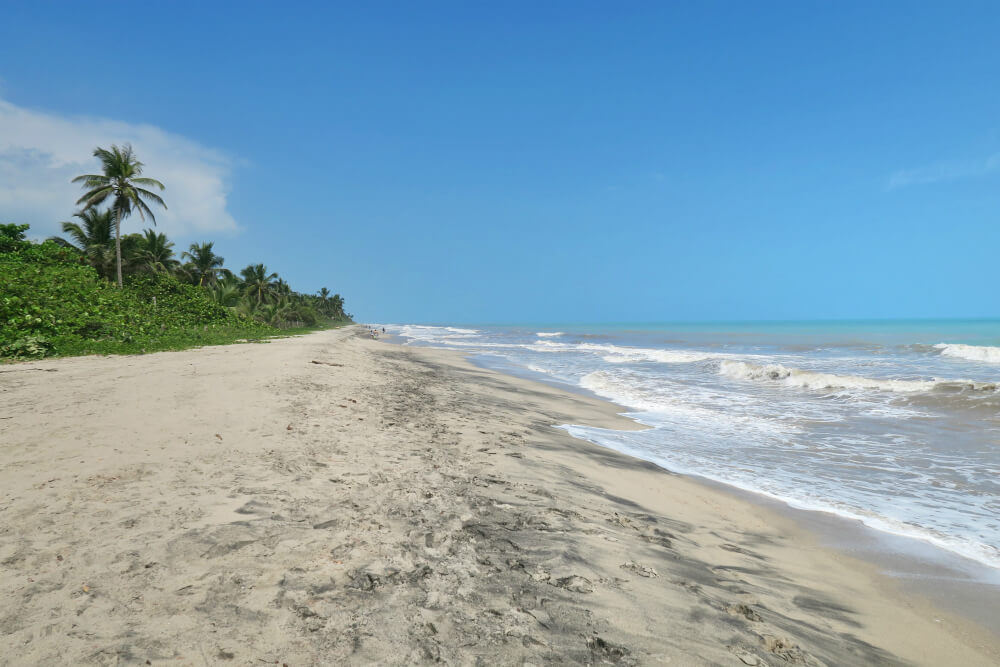 Palomino Colombia has one main road running through it where you will find a couple of gas stations and some local restaurants, bars and stores.
Then there are a number sandy roads which branch off the main road and lead down to the beach or river.
Most residential areas and guesthouses are located along these smaller lanes.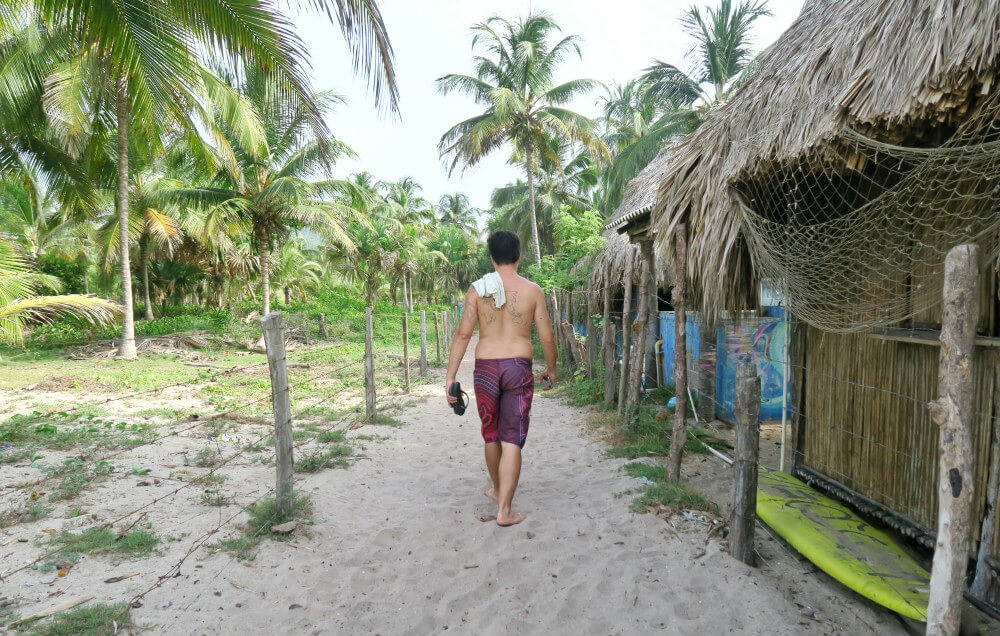 Palomino is situated just 45 minutes north of the popular tourist destination, Tayrona National Park.
Even though these destinations are located on the same road, share the same breathtaking ocean and posses the same raw natural beauty, Palomino continues to remain a secret paradise, unheard of and unvisited by the majority of tourists, both foreign and Colombian.
How To Get To Palomino Palomino Colombia
Palomino can be accessed via car or bus but if you are a tourist visiting for the first time I recommend taking the bus.
If you are visiting from Santa Marta by bus, you will need to make your way to the Mercado Publico de Santa Marta.
Tell your taxi driver that you are going to Palomino and they will drop you in the correct area.
Here you can jump straight on a bus to Palomino, which also stops at Tayrona along the way.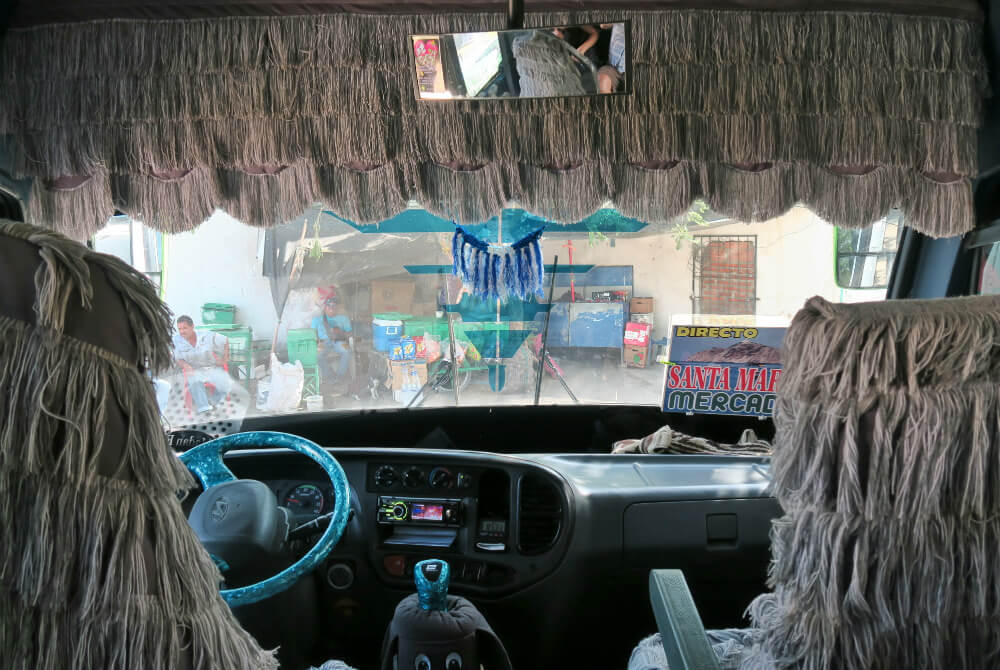 The cost from Santa Marta to Palomino by bus is 9,000 COP and the journey takes about 1 hour and 45 minutes.
If you are traveling to Palomino from Cartagena, you will first need to make your way to Santa Marta with a shuttle company called Marsol (40,000 COP) and then you can continue onto Palomino from the Mercado Publico de Santa Marta.
To leave Palomino and return to Santa Marta, you can get back on one of the same buses that dropped you off (except on the opposite side of the road) or, if you need to get back to Cartagena, you can get door-to-door service with Marsol for 75,000 COP.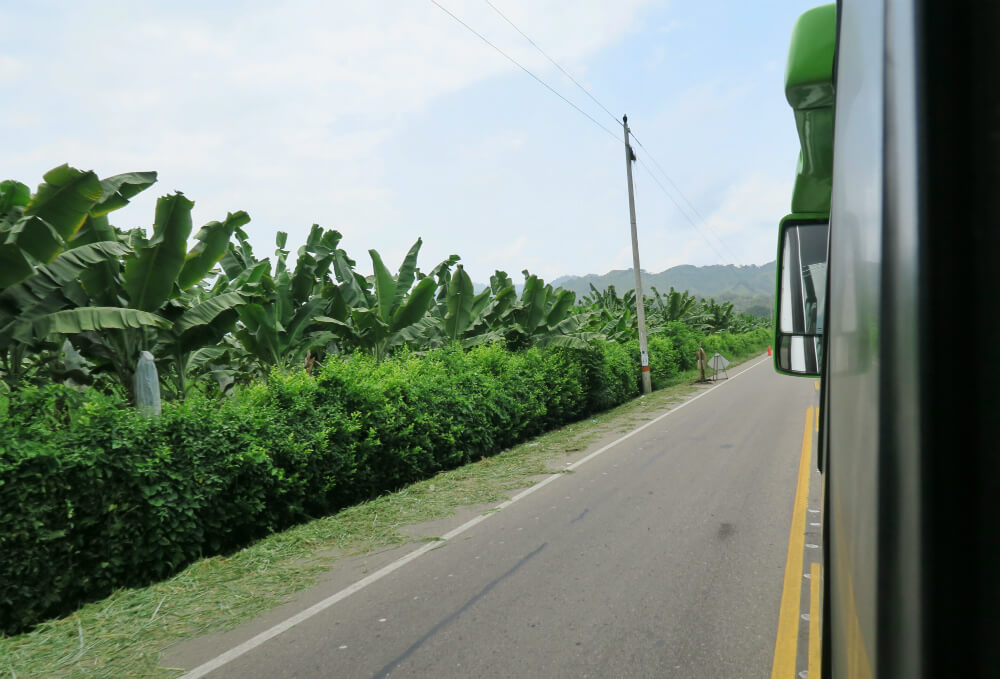 If you plan to go with Marsol, you can book your tickets one day in advance at a few different convenience stores around Palomino.
First Impressions Of Palomino Colombia
Before arriving in Palomino Colombia, I pretty much knew I would love it, hence why I was so excited to get there.
From what I'd researched, I had a feeling that it would be similar to a little village Dan and I lived in a few years back.
This village was called Pai and was situated in the mountains of northern Thailand. It was quite the hippy spot but mostly known about by foreigners.
Funnily enough, Palomino Colombia was exactly the same, except located on the beach instead.
The Native Tribes Of Palomino
What's even more enchanting about Palomino is it's proximity to Sierra Nevada de Santa Marta, the worlds highest coastal mountain range which is inhabited by four ethnic tribes – Kogi, Arhuaco, Wiwa and Kankuamo.
The Older Brothers are the leaders of wisdom and believe it is their responsibility to maintain the balance of the universe. They do this by making offerings to the sacred sites, giving back to the earth what is taken out of it.
The Mamos are the spiritual leaders and are in charge of maintaining the natural order of the world through songs, meditations and ritual offerings.
Together, the indigenous people of Sierra Nevada de Santa Marta's ethnic tribes number more than 30,000.
While you are in and around Palomino you may encounter indigenous people who come down from the mountains to trade.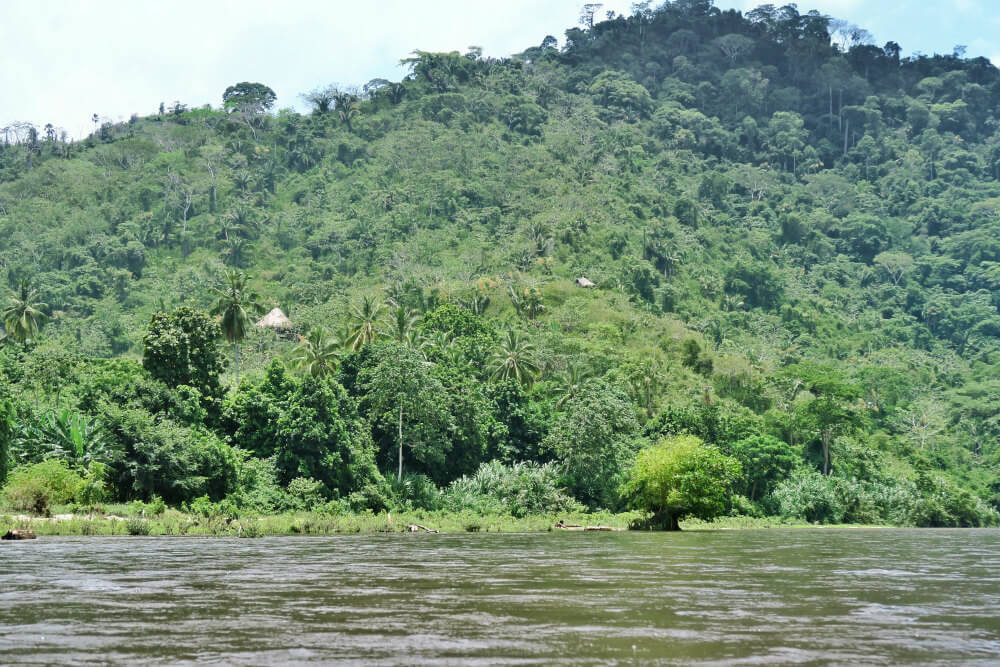 It is the Arhuaco people who make the characteristic knit bags that you will see all around Colombia.
It can take up to one month to make a bag and each individual bag is unique – in which the artist possesses a different story in mind during each creation process.
Sierra Nevada de Santa Marta
Most of this mountain range is so sacred that no-one, except the indigenous are allowed up past a certain point.
They believe that if they keep their mountain home protected, it'll keep the entire planet in balance.
The local people of this region say that if the Amazon forest is the lungs of the world, Sierra Nevada de Santa Marta is the heart.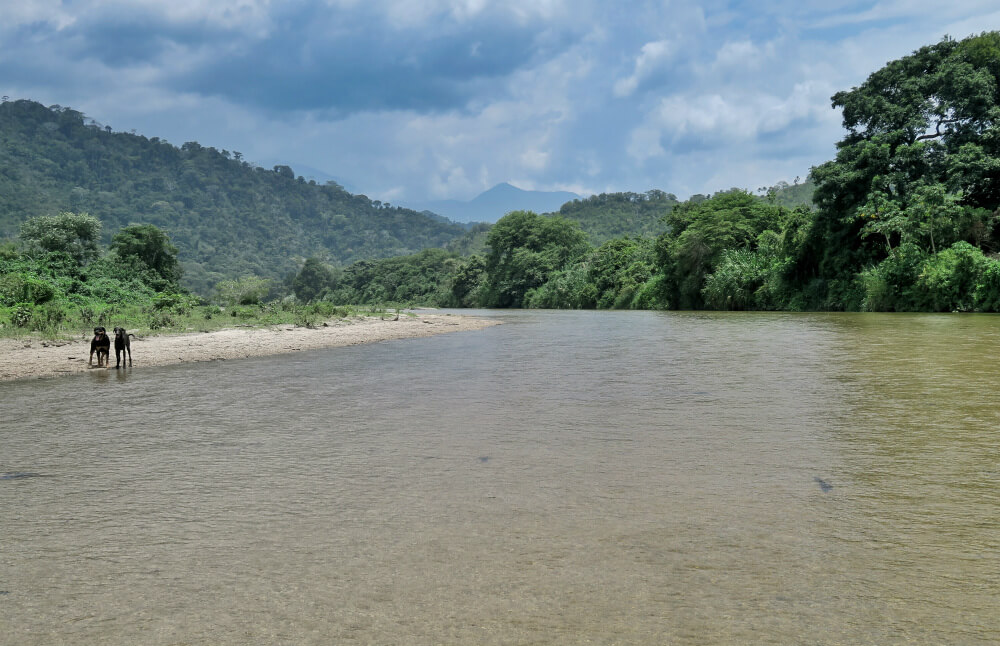 What's amazing is that within a short distance of 40 kilometres, you can experience all four seasons…
From the top peaks of Sierra Nevada de Santa Marta, which are freezing cold and laden with snow, to the Caribbean Sea, which is hot, humid and tropical.
From the beach of Palomino you can actually see the snowy peaks of Sierra Nevada de Santa Marta.
Rio Palomino
It doesn't stop there though, Palomino is also home to a blissful glacier water river which runs down from the Sierra Nevada and into the Caribbean Sea.
The river is surrounded by lush vegetation and a variety of interesting birdlife. You can also spot the local people bathing and washing their laundry on the riverbank.
Palomino Town
In town, the main road is situated about 10 minutes walk from the beach. Here you can find a few bars, restaurants, convenience stores, drug stores and the like.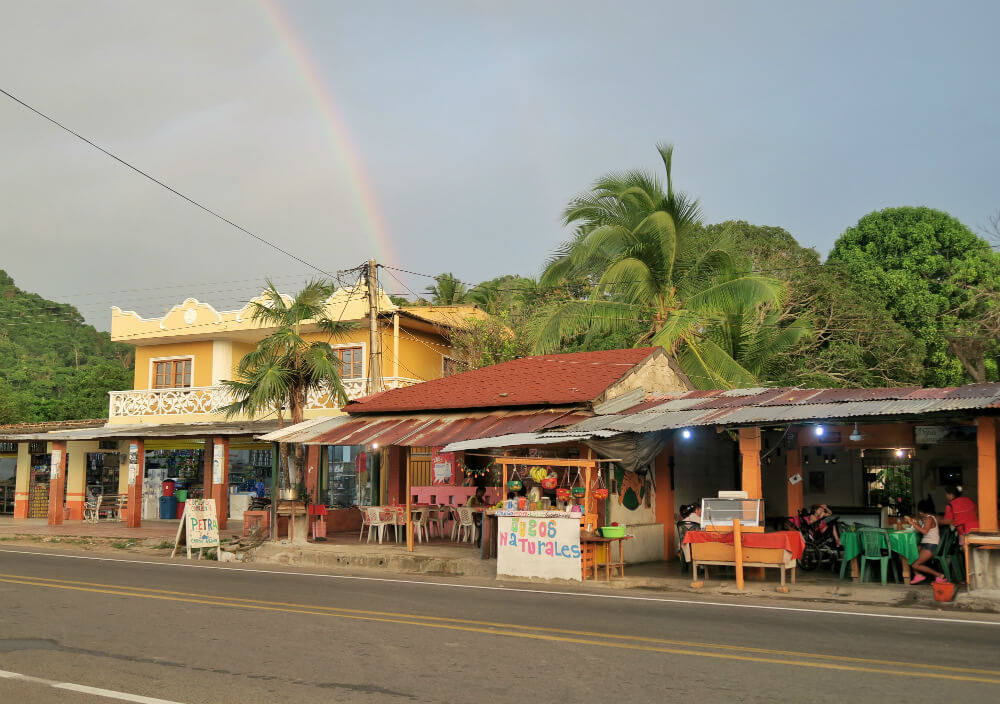 Most visitors to Palomino don't usually spend a lot of time on the main strip. In fact, this is where most of the locals hang out.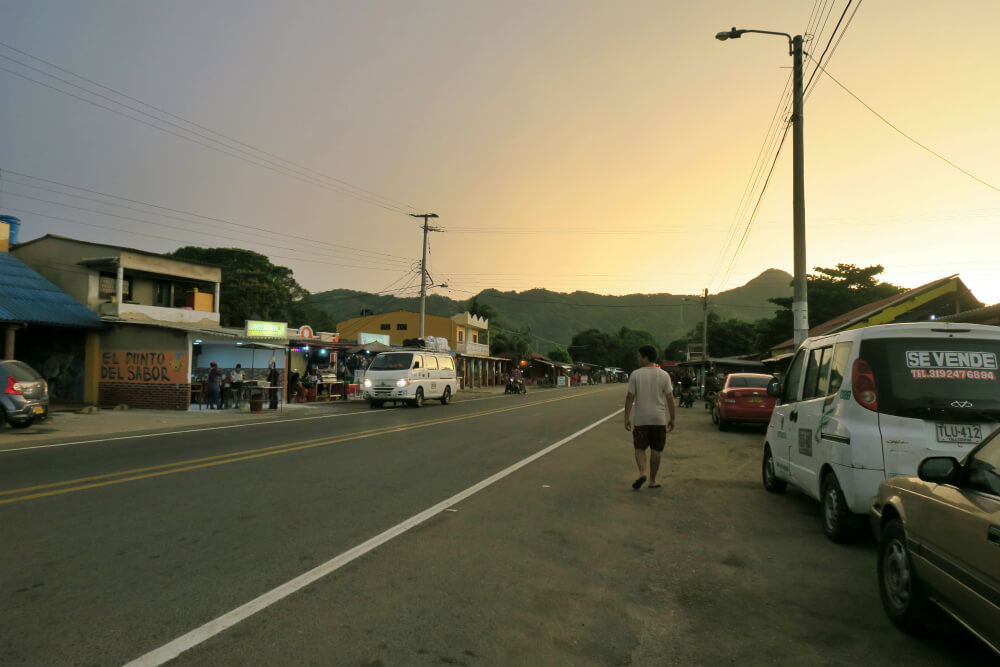 If you want to stick around the more lively areas, you can spend your days and evenings down by the beach…
There are a number of different guesthouses and beach shacks where you can grab a mojito and relax with friends, listening to the sound of crashing waves and breathing in the aroma of smoky air.
The Beach In Palomino
The beach itself is beautifully bare and rugged. There are no resorts or hotels, just a couple of shack style bars and restaurants amid rows of coconut trees.
The water is so blue it's almost luminous but be careful, the current is extremely dangerous a lot of the time. When we were there, a young boy went missing, so when they say don't swim, don't swim.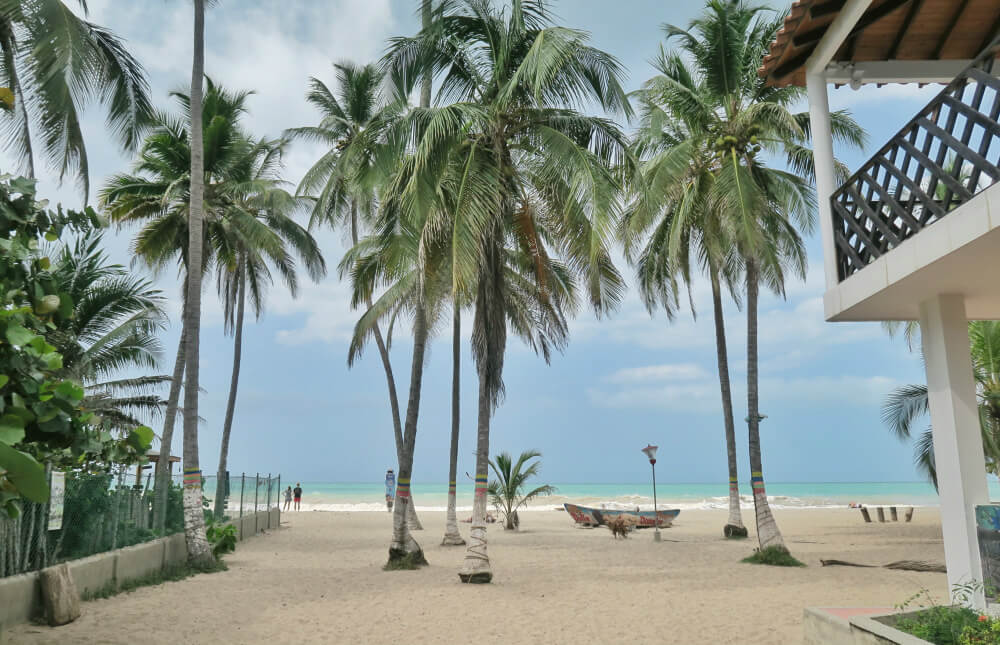 At around 5 kilometres long, you can enjoy a long stroll across the beach and potentially spot flamingo's, or you can lay down a towel and bask in the hot sun.
Bring lot's of sunscreen and shoes! The sand get's extremely hot!
One spot that we really loved was the river mouth. We ended up here after tubing down the river for two hours. From this spot you can see across to the Magdalena region, dense with tropical vegetation and mountainous terrain.
Getting To Know Palomino
There were a couple of times when we took the wrong pathway back from the beach or ended up amid fields and tiny residential areas by the river. These were our favourite moments…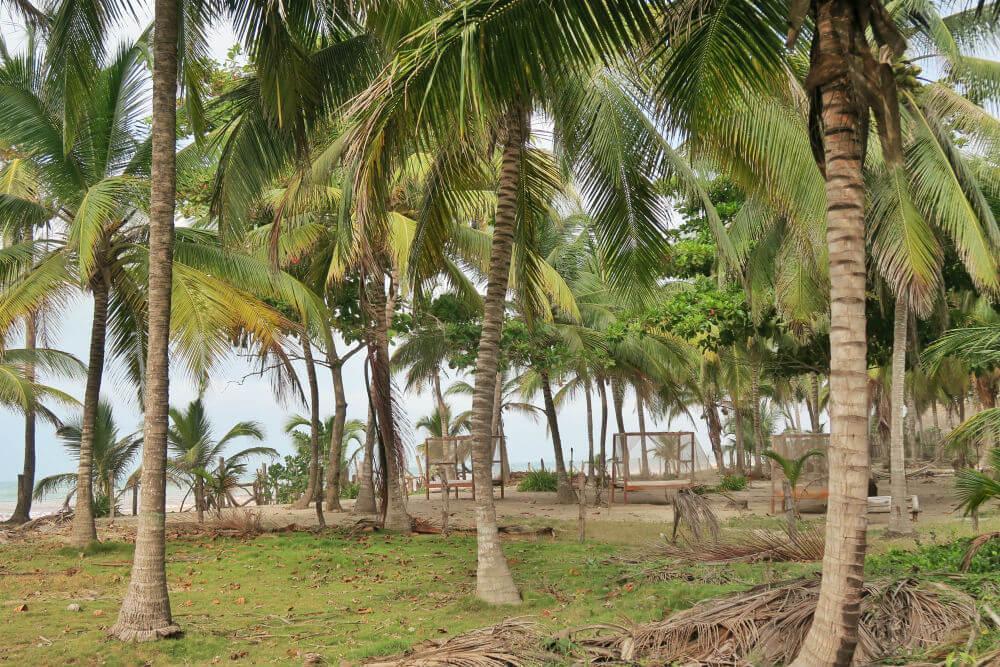 Being able to see the customs of the local people and indigeous cultures in such small, beautiful areas hidden away from the (not so) beaten track was both mesmerising and humbling.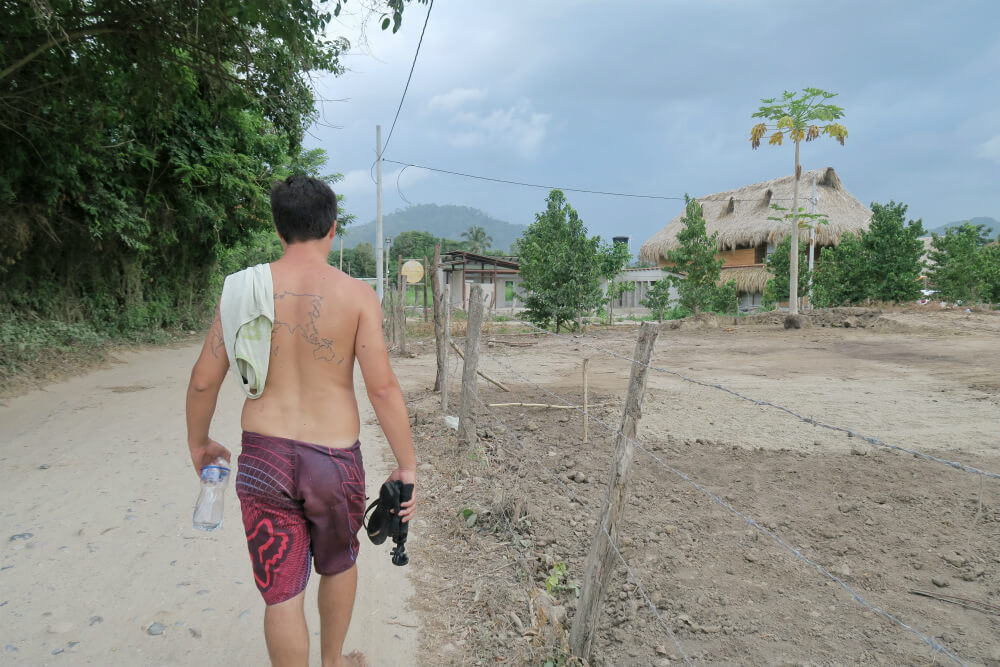 Most of the people in Palomino live a very simple life…
Water is only pumped into Palomino once a week which means they have to bucket shower and when that water runs out, they head down to the river.
The power lines are so old that the electricity goes off nearly every night… sometimes for up to three days. This happened to us while we were having dinner at a restaurant one night – it ended up being one of the most romantic candlelit dinners we've had together.
And because there are no telephone lines, there's no WiFi. The only way to get internet is to purchase a sim card with 3G coverage. Some of the hostels down by the beach offer 3G internet at a fee.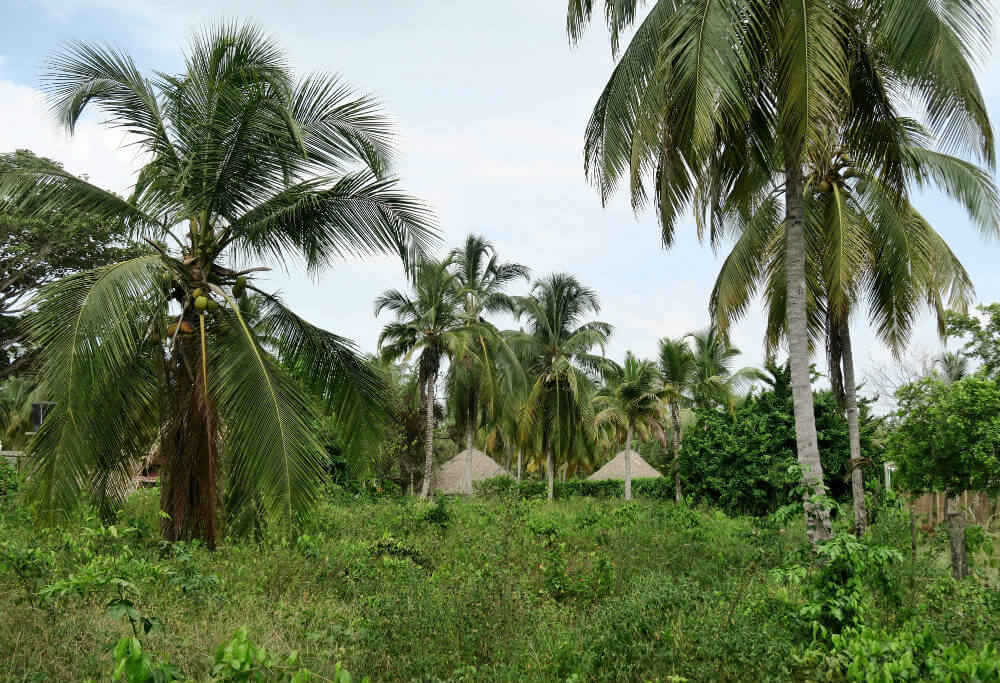 When visiting Palomino it is important to respect and look after the environment and local community by practicing low impact tourism.
As I said, Palomino is a raw, simple place but it is so incredibly special and enchanting at the same time. You can only truly know what I mean by this when you visit for yourself.
It could easily become one of your favourite places on earth too.
Where To Stay In Palomino Colombia
Palomino is home to a variety of different accommodation options, mostly hostels and guesthouses. You won't find a 5 star resort here. You'll be going back to basics and connecting with nature.
We loved our stay at TRIBE Guesthouse which combines nature and sustainability with a hint of sophisticated luxury.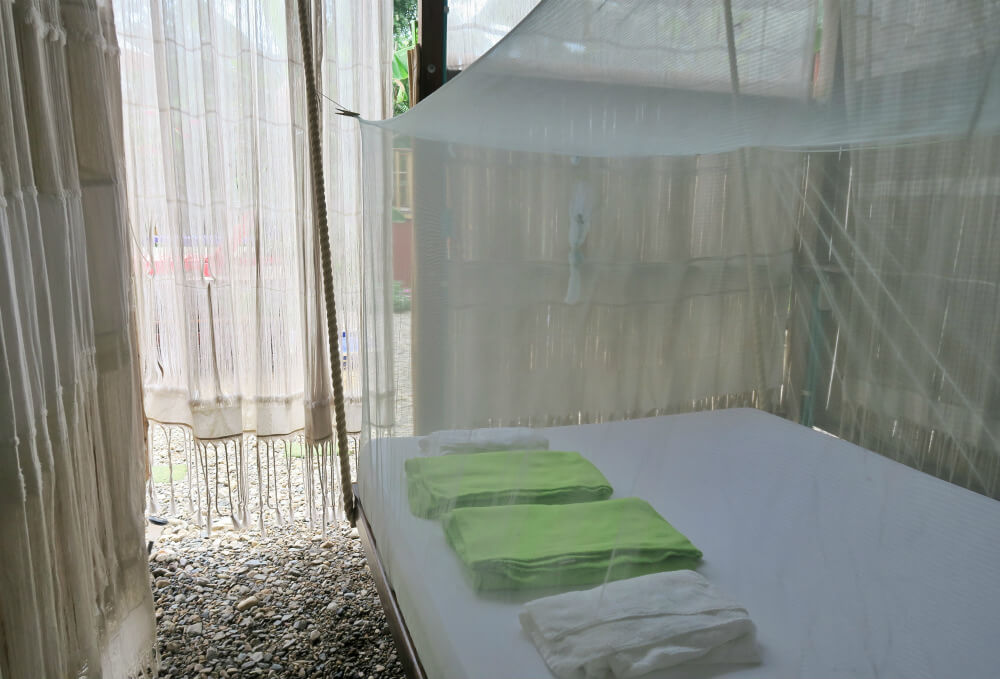 Not only did we enjoy sleeping in a queen size hanging bed, surrounded by an airy bamboo structure and white curtains, we also had the unique luxury of a private outdoor shower.
The hosts, Alejandro and Andrea, were two of the most welcoming, friendly people we've met and went above and beyond to give us an enjoyable, authentic experience in Palomino.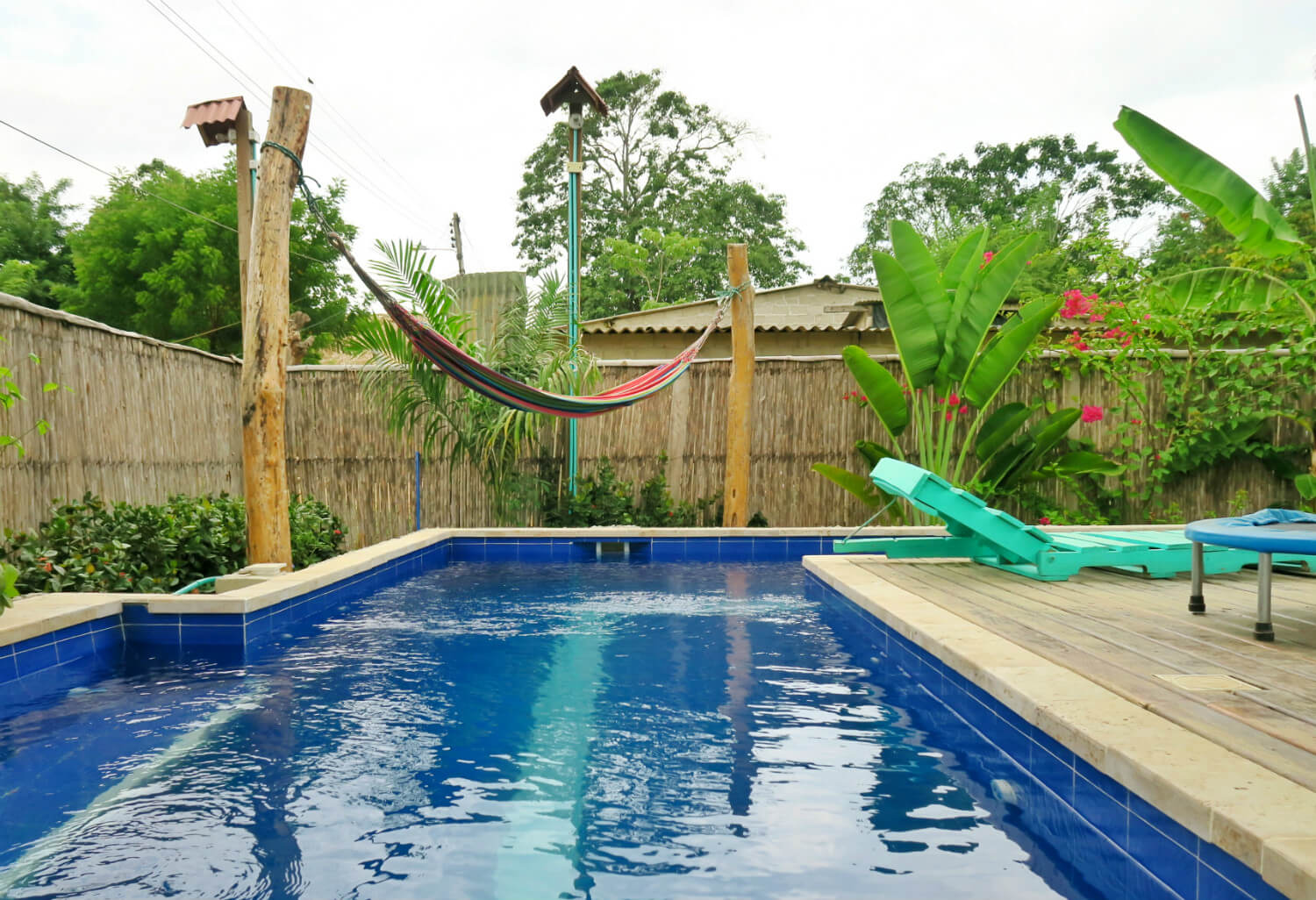 To read our full write-up, click here: TRIBE Guesthouse Palomino Review
Transportation In Palomino Colombia
Getting around Palomino is easy, especially if you stay at TRIBE because they offer pick-up and drop-off at the bus station as well as free bicycles for the guests to use as they please.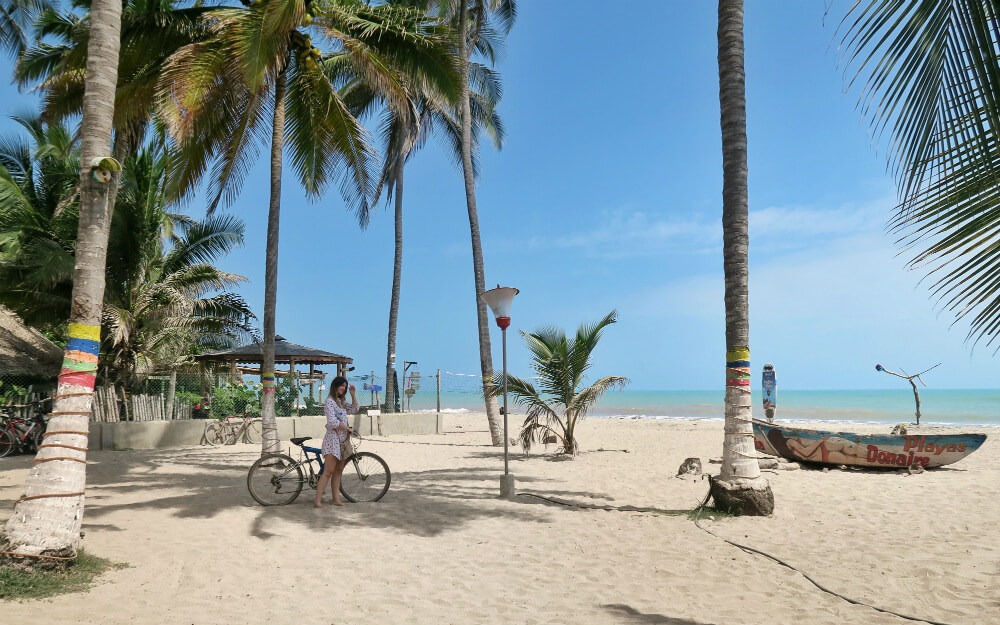 Not only can you ride bicycles around, you can also catch a ride on a moto-taxi as there are plenty to choose from.
As a word of advice though, if you're going to ride on the back of a moto-taxi, make sure you're with at least one other person.
These days, Palomino is not a dangerous place but it's best to be careful.
Otherwise, you can simply walk. Palomino runs at a slow pace, why not go with the flow? And because it's quite a small town, most places are easily reached on foot.
Things To Do In Palomino Colombia
First and foremost, Palomino is a beach destination on island time. With limited internet access and constant power outages, this is the perfect place to unwind and spend quality time with friends.
There are a few things that we highly recommend doing in Palomino though, and those are…
1 – Spend time at the beach
It's a beauty.
2 – Visit the river, it's not often frequented by tourists
TRIBE Guesthouse owners, Alejandro and Andrea, may take you for a fun trip down to the river in their old school Land Cruiser.
Have a swim, watch the locals go about their every day lives and throw a stick for their two lovely dogs. You'll love it! Okay… The dogs might too.
3 – Go tubing down the river
For 30,000 COP each, Alejandro and Andrea can organise for a guide to pick you up from the guesthouse and take you to the top of the river so you can float back down for the next two hours.
Along the way, you'll see tribal huts dotted up the mountains, beautiful trees and plant life, a variety of different bird species, local and indigenous people and probably some other tubers.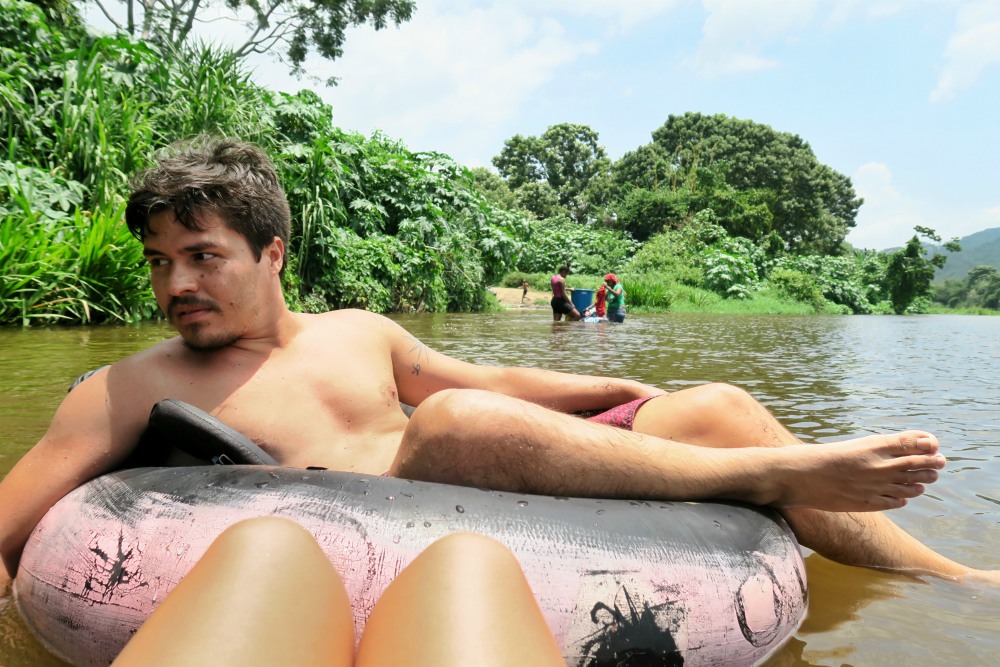 You'll also enjoy the warmth of the sun on your face while your body skims through refreshing glacier water (it's not that cold). Total relaxation…
The beginning of the trip is a bit dodgy, but that's any small town in South America for you…
You'll be picked up on a motorbike and asked to carry your tube (it's giant). Because I'm so small I struggled to keep steady on the the back of the bike and hold the ring.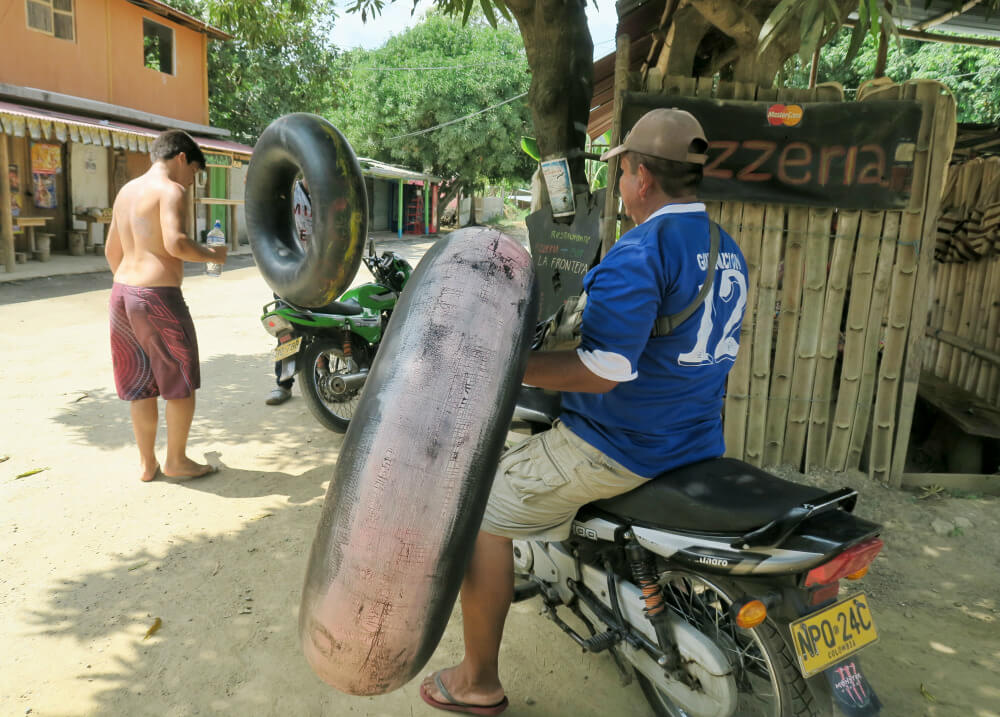 The journey isn't so far but you will be roughing it up and down rocky trails beside the river which got me feeling a bit nervous. Other people would just say it's all part of the fun though.
Once you jump off the motorbike you then have to hike 20 minutes up the mountain… with your ring… in the extreme heat. Wear flip-flops!
It's alllll worth it though when you get to the river and spend the next 2 hours gently floating down until you reach the Caribbean Sea.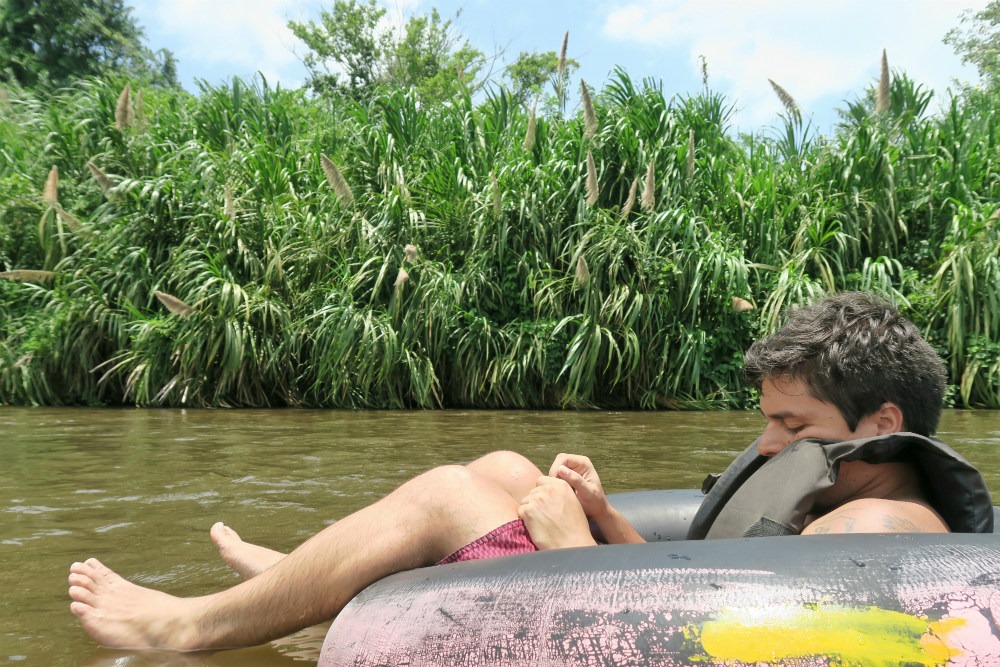 I suggest paying the 30,000 COP to go with a guide because he will look after your belongings in order for you to take photos along the way. He'll also guide you around the rapids and explain some of the history about palomino.
Where To Eat In Palomino Colombia
Two places that I highly recommend eating at are…
1 – La Frontera Restaurante Pizzeria
This pizzeria is the best in town… possibly the whole country, and just so happens to be conveniently located opposite TRIBE Guesthouse.
Seriously, I am not a pizza person but this was one of the best pizzas I've ever eaten… Crispy thin base… Just the right amount of topping… A good combination of flavours… Delish!
Here you can also order nice red wine and chill out in their garden which is decorated with fairy lights.
2 – The restaurant opposite TRIBE (name unknown)
This is the restaurant where the power went out while I was trying to gobble down a massive bowl of spaghetti.
Yes, it seems as though Palomino is rather up in the Italian food space but I've gotta give it to them, they do it well.
Here we enjoyed huge meals at a low set wooden table under the candlelight… My idea of a wonderful night!
You can find this mysterious place with no name (there is a name but it's not on Google maps) when you step across the road from La Frontera Pizzeria and turn left.
It's the first restaurant you come to on the right. You can literally see it from the front of La Frontera.
Cost To Travel In Palomino Colombia
Now you may be wondering what a place like this costs to visit… It's fairly remote but it isn't exactly much of a tourist destination, yet. It will be though, you wait.
If you stay at TRIBE Guesthouse for a weekend (2 nights), I would recommend budgeting $250 USD per couple.
You can do it on a cheaper budget, however, your accommodation may not have proper running water or beds (some use hammocks instead).
Points To Note Before You Travel To Palomino
There are no ATM's and most places only accept cash, so it is extremely important to withdraw cash in Santa Marta before traveling to Palomino. TRIBE Guesthouse accepts card.
There is no WiFi – you can travel with a pre-paid Colombian sim card with 3G data or you can pay a fee to use the 3G internet at one of the hostels or bars down by the beach.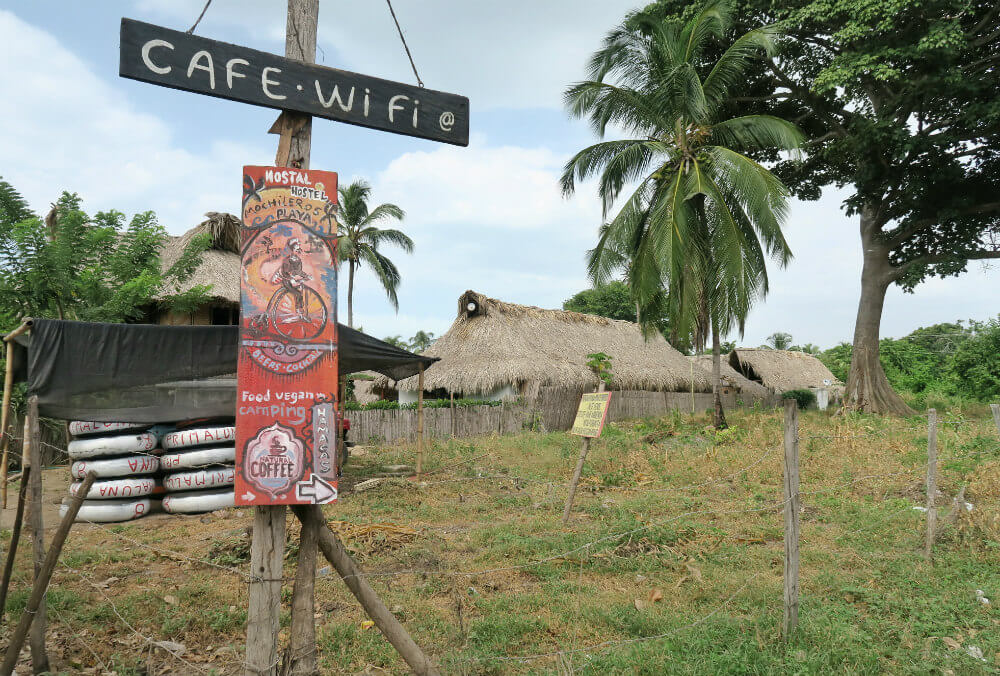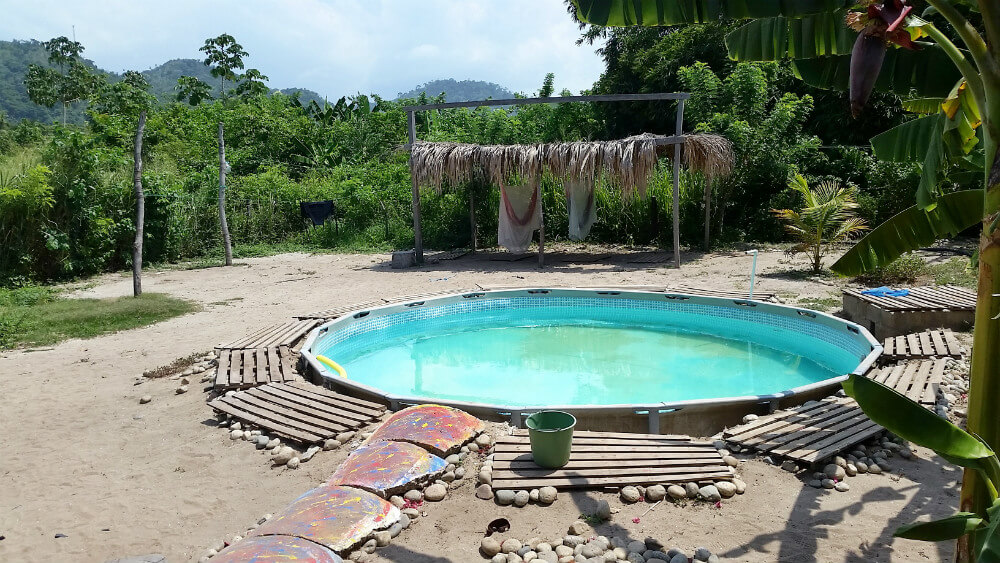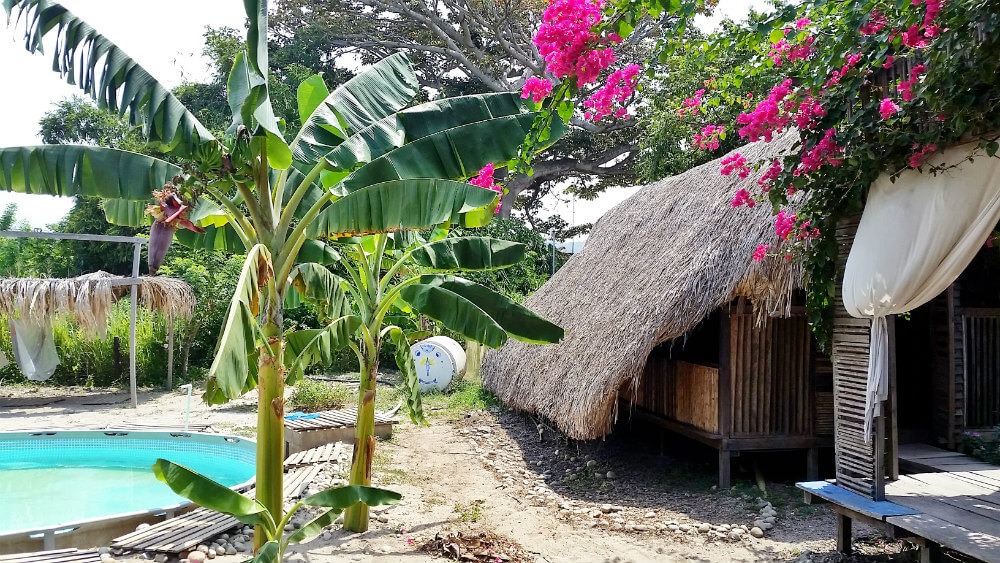 Being in the Caribbean region, Palomino can get extremely hot – be prepared with light clothing and sunscreen.
Palomino promotes eco-tourism – travel responsibly and be respectful of the environment, people and local customs
Palomino Travel Vlog
Conclusion
If you are traveling in Colombia and looking for a slightly more 'off the beaten path' destination to visit, Palomino is the place for you.
With it's stunning natural beauty made up of high mountain peaks, freshwater rivers and beaches that can only be defined as paradise, Palomino is a small village with a huge amount to offer.
Palomino truly is a secret paradise. Go… It may just completely steal your heart.

Palomino Flights And Accommodation
Want stylish accommodation you can afford? Enter your dates and Hotels Combined will scan all the top booking sites (Booking.com, Hotels.com, Expedia, etc) for the cheapest prices possible:
–> Click here to search for the best accommodation deals in Palomino
For flights to Bogotá, Medellín or Cartagena, click here.
---
Over to you! Leave your answers in the comments section below…
Does Palomino Colombia seem like your dream destination? Would you travel here?
Have you been to Palomino and have more tips and resources to add (including the name of the restaurant I don't know)? Let me know!