A lot of people can say that the Philippines has the most extended Christmas season celebration. This begins in September's month and ends in the next year's first week of January. It is a tradition that Filipinos will start to decorate establishments, streets, and houses. They decorate these with colorful, shining Christmas decorations when the "Ber" months set in.
Traditionally, Filipinos believe that your Christmas wishes can come true when you can complete all nine masses. That's why Filipinos will always give it the time even if they need to wake up as early as 4 am to join the ceremony. This is also a countdown to the day of Christmas.
Every celebration wouldn't be complete without food and festivities. When the "Ber" months come in, these foods are the highlights of every street in all parts of the Philippines. When you are visiting the Philippines this Christmas season, there are some classic foods you need to try out. 
Lechon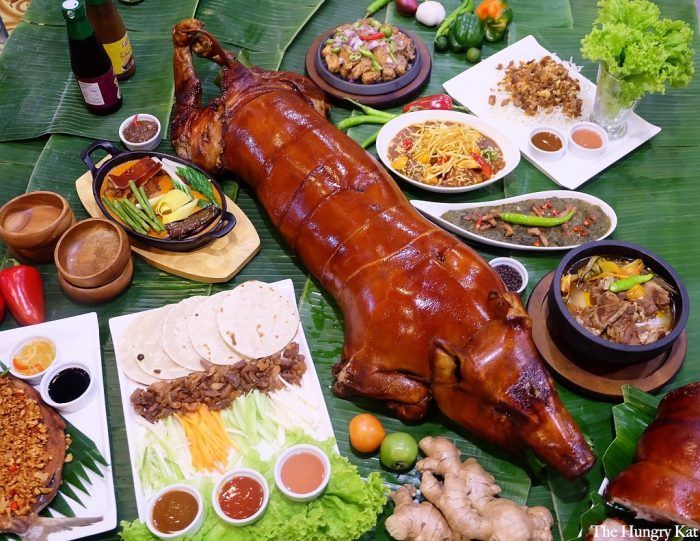 Lechon is the highlight of every Filipino party, especially during the Christmas season. Also, lechon is famous for its delicious fragrance, signature "sarsa", and a great combination of tenderness and crispiness.
Acclaimed by celebrity chef Anthony Bourdain as the "best pork dish ever", lechon is a super tasty dish that is inwardly plump and juicy, but outwardly crispy. You can make each slice and piece of lechon even more enjoyable by dipping it into a classic Pinoy sauce like the spicy Pinakurat vinegar, Mang Tomas lechon sauce, chicken liver sauce, chopped garlic vinegar, or native lemon soy sauce.
Bibingka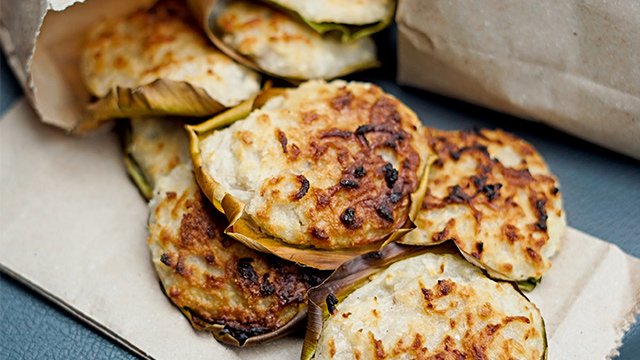 The Bibingka is a delicacy of sweet and luscious rice cake made of coconut cream, sugar, and ground rice, wrapped in leaves of banana and baked in an oven.
Instead, before serving, the rice cake is surrounded by a layer of shredded coconut milk, butter, and brown sugar. During the Yuletide season, the bibingka is considered to be one of the holiday culinary favorites in the Philippines, particularly after Simbang Gabi.
Ham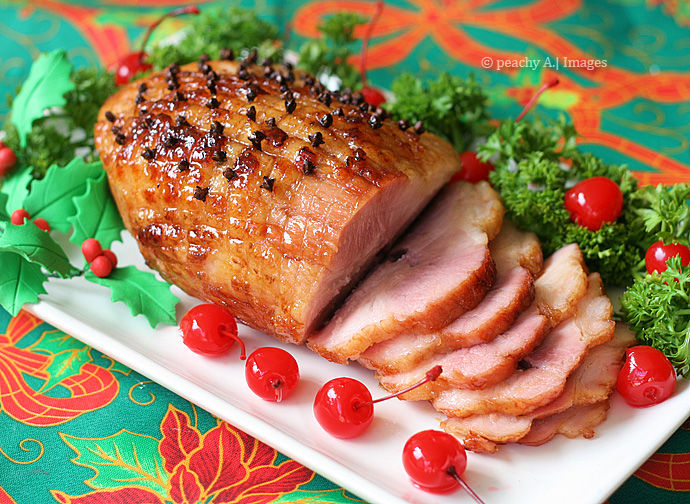 Ham is a mouthwatering holiday dish seen in almost every family in the Philippines for the celebration of Noche Buena. A great traditional Christmas ham in the Philippines, savory and distinctly sweet, it will tickle your palate with its tender meat and please your sweet tooth with its unique, syrupy glaze. This type of ham can be enjoyed alone, or fried to add more flavor and seasoning.
Leche Flan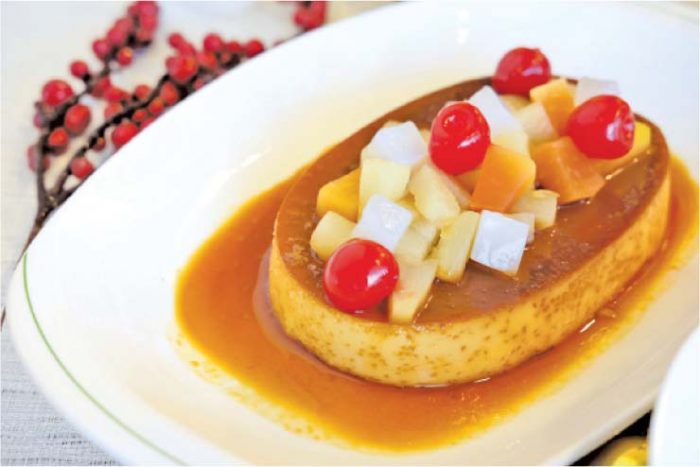 Leche Flan is a creamy custard dessert that can deliciously top off your meal at any party or Christmas gathering. The Leche Flan is just as hard to resist, sweet and syrupy, even for those who want to lose a few pounds.
Furthermore, it's one of those easy-to-prepare treats you can also make if you're not an expert on culinary things. The combination of sugar, fresh milk, condensed milk, and egg yolks makes leche flan taste uniquely good. 
Fruit Salad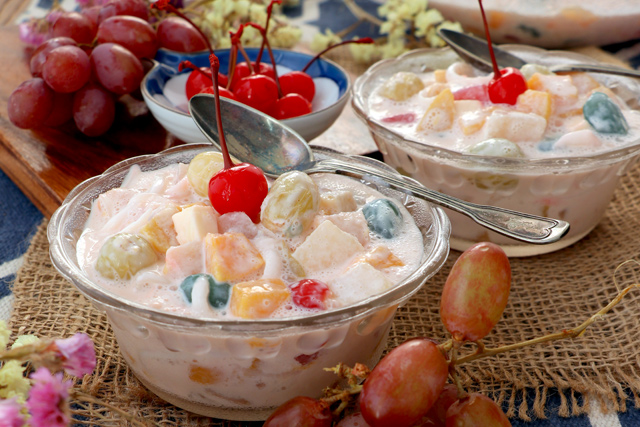 Fruit salad is a pleasant treat not only for the eyes but also for your grumbling tummy and taste buds. This is a staple appetizer or dessert for most Filipino parties. Also, the fruit salad is a mixed bag of goodies, with various types of fruits such as diced pineapple, pears, bananas, and apples. Whether canned or fresh, this nectarous fruit mash-up is mixed with cream and condensed milk, to add more sweetness and color to it.
Conclusion
The Christmas season in the Philippines does not only cover their unique taste to food but most especially their culture. Every part of the Philippines you go to, you'll find during the Christmas holiday season these Christmas traditions. For more reasons to spend your Christmas in the Philippines, click here.