A small group of students from John Perryn Primary School in East Acton, which includes a high proportion of children on free school meals, visited D&D London's skyscraper Plateau Restaurant in Canary Wharf and enjoyed an hour-long masterclass run by award-winning Head Chef Frederick Forster.
The budding cooks, who showed off their knife skills as they whipped up courgette and pepper soup, and scones with vanilla short cream, sugar cream and berries, participate in a cooking club every week. They used ingredients, which would otherwise have gone to waste, donated by London-based charity The Felix Project.
Their teacher, Kelly Oatway, said: "Most of these kids have not been to a restaurant like this – they have been to fast food restaurants. A lot are on free school meals and don't have parents who would bring them here, so having a chef show them how to make real food is great. This gives all the kids an opportunity and a confidence boost."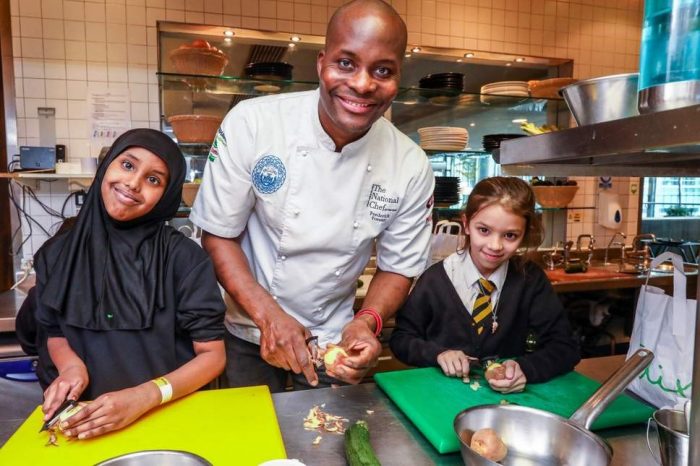 Speaking as she prepared soup, year six pupil Fatima, 11, said: "I always like to cook and help each other out and I enjoy it… It's really amazing to be here, it's my first time at a place like this. I was a bit scared I would mess up something before we came, but it's good."
Year 5 pupil Hussam, 10, said: "I feel like a pro chef," while classmate Kory, 10, added: "I feel proud of what we made today – I made the scones and the cream. They were my favorite thing."
Head Chef Frederick Forster was a 19-year-old student at Westminster Catering College when he had his first work experience in a professional kitchen – two weeks at Le Manoir Aux Quat'Saisons in Oxfordshire. He has since worked under Michel Roux and Gordon Ramsay at some of the world's top restaurants.
He said: "To get them in here and interested so young is just great.
"I saw a couple of the children were really adept in the kitchen, and generally speaking they all did a good job.
"It's about encouraging them to cook and it's about having fun, and I am showing them a courgette soup – so hopefully they will go home maybe inspired to eat some more vegetables.
"I come from South East London and a one parent family – it was a loving home but we never came out to eat at this kind of restaurant. So it's all about giving back to the next generation."