Helen is a city girl who lives and works in San Francisco, California, however, she's also very fond of the outdoors. In her free time, she loves to draw, travel and go hiking.
In this interview she shares her best tips on how to visit Havasupai, Arizona, a unique destination brimming with natural beauty.
How To Visit Havasupai Arizona: Traveler shares her best tips
Love these tips on how to visit Havasupai, Arizona? Pin this to your travel board on Pinterest >>

Hi Helen! Tell us a little bit about yourself…
Hi, my name is Helen and I am from San Francisco, CA. I have a regular 9-5 office job, it's not that exciting but in my free time, I love to draw and travel.
My favourite type of travel is hiking or going to places with gorgeous architecture. My recent favourite, which was on my list to visit, is the Bran Castle, also know as the Dracula castle in Romania.
It's little destinations like this that make my life more enjoyable. 🙂
When did you first visit Havasupai Arizona and where did you go?
I visited Havasupai, Arizona in late November of 2015 with a group of my girlfriends for our annual hiking trip.
We were there for two days, one night and was lucky enough to stay at the lodge because it was cold for me during that time.
I was also unlucky and had a terrible cold during that time too.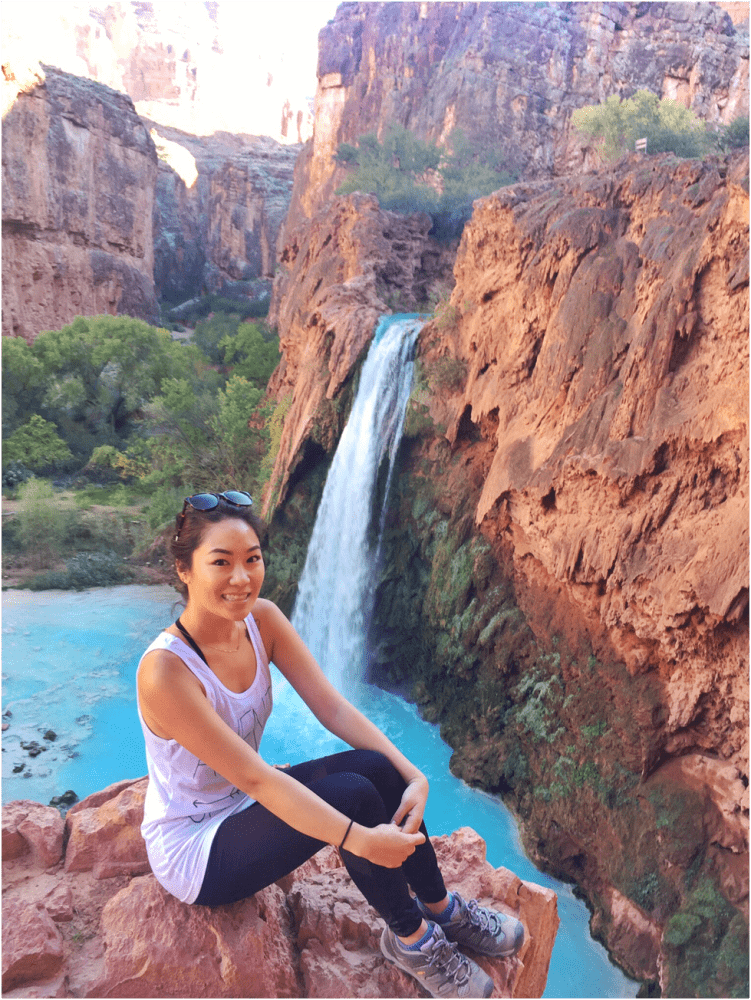 What was it that made you fall in love with Havasupai Arizona and did it inspire you to return?
Zero reception! Beside slow wifi :), the waterfalls are gorgeous, I love the natural blue/green colour.
It is very refreshing and no filters are needed when you take photos.
I am already planning to go back next year!
Your absolute top things to do in Havasupai Arizona?
Being able to enjoy the scenery with no reception….
You really get to disconnect from real life when you're there. I really enjoyed being able to play in the water and relax.
What challenges have you faced in Havasupai Arizona and how did you overcome them? Should people planning to visit Havasupai Arizona be aware of these challenges?
Making reservations!
They do not allow day hikers, all hikers are required to have permits which are included if you are able to book a campsite or lodge.
However, it is very hard to get a hold of them.
They do not have online reservations, so you are stuck with constantly calling the same numbers until someone picks up. And make sure you call at least 6 months before the time you plan to go!
I had to change my flights for this trip.
This is not a destination where you can book the flight first because permits are not guaranteed, so make sure you have reservations and permits before you arrange transportation or book flights.
Another one is underestimating the amount of time we would spend at the falls because on our last day we ended up hiking most of the way in the dark.
Even though there were 5 of us, we still felt very alone during the canyon section of the hike… Mostly because we only had one headlamp and one iPhone flashlight to light our way.
But it's the challenges that we came across that made our trip more memorable and fun.
In your opinion, what is the best way to travel in Havasupai Arizona and why?
You will have to drive and park your car at a lot then hike 8-10 miles into the Supai village, where the tourist office, market, cafe and lodges are.
They offer helicopter rides and you can hire mules to carry your stuff if you are not a hiker or if you are not able to carry everything you have.
It is pretty affordable but if you visit Havasu, expect the backpacking life…
It is not a luxury type of vacation where you can dress pretty to go shopping, it is an adventure in the canyons in order to get to the gorgeous waterfalls.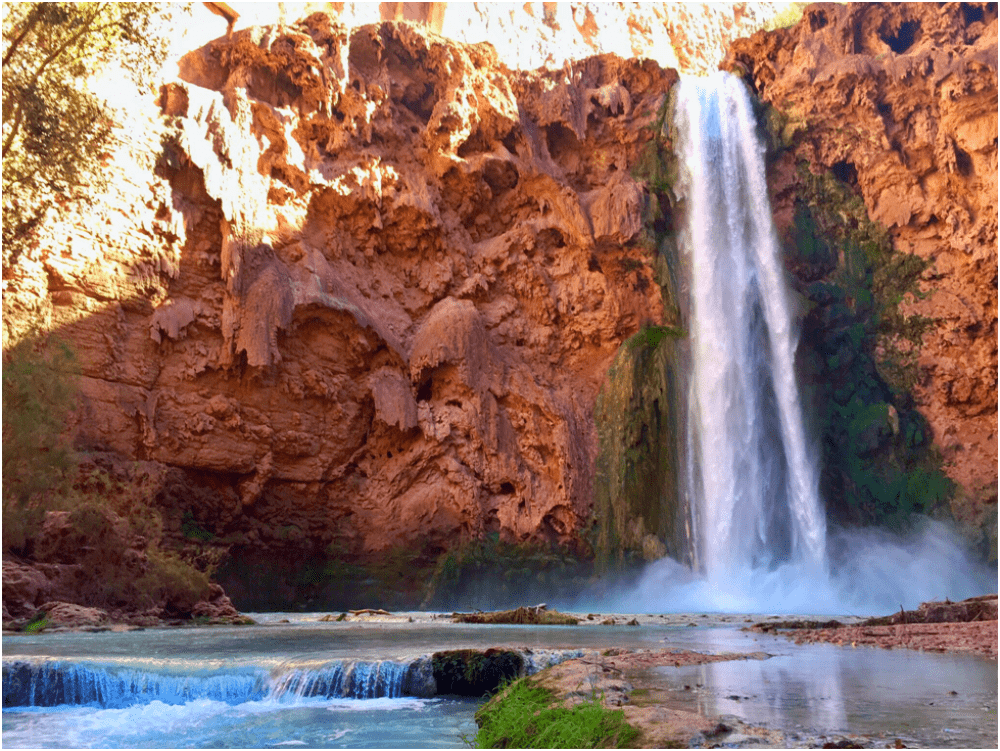 Based on this, what is the approximate cost of traveling in Havasupai Arizona?
It really depends as it can range from as low as $300/per person and up.
It all depends on if you're planning to camp or lodge, bring your own camping food and meals or buy it there at the cafe/market. The food at the cafe isn't terrible and it's reasonably priced.
This is where I found most of my resources for the trip: https://aoa-adventures.com/reserve-havasupai-permits/
Your top go-to resources for booking flights, accommodation and tours in Havasupai Arizona?
Haha, I am guilty of doing a lot of googling and following a lot of travel Instagram accounts.
When I see a destination I am interested in visiting, I would normally google flights and keep track of when the price drops and bookmarking things to do.
I use the "track my flight" option on google and other apps to notify me if there are any price changes.
Can you share three important tips about how to visit Havasupai Arizona?
1 – Pack enough water!
2 – Bring flashlights! We completely forgot ours and was left hiking 10 miles in the dark to our car with one iPhone flashlight and one headlamp amongst the 5 of us…
3 – I found water shoes to be very useful during the wet part of the hike. 😉
And finally, do you have any last words to inspire everyone reading this to travel to Havasupai Arizona?
I am horrible with words, I am a visual person so I will let the photos speak for themselves to inspire people to go out and visit Havasupai, Arizona. 🙂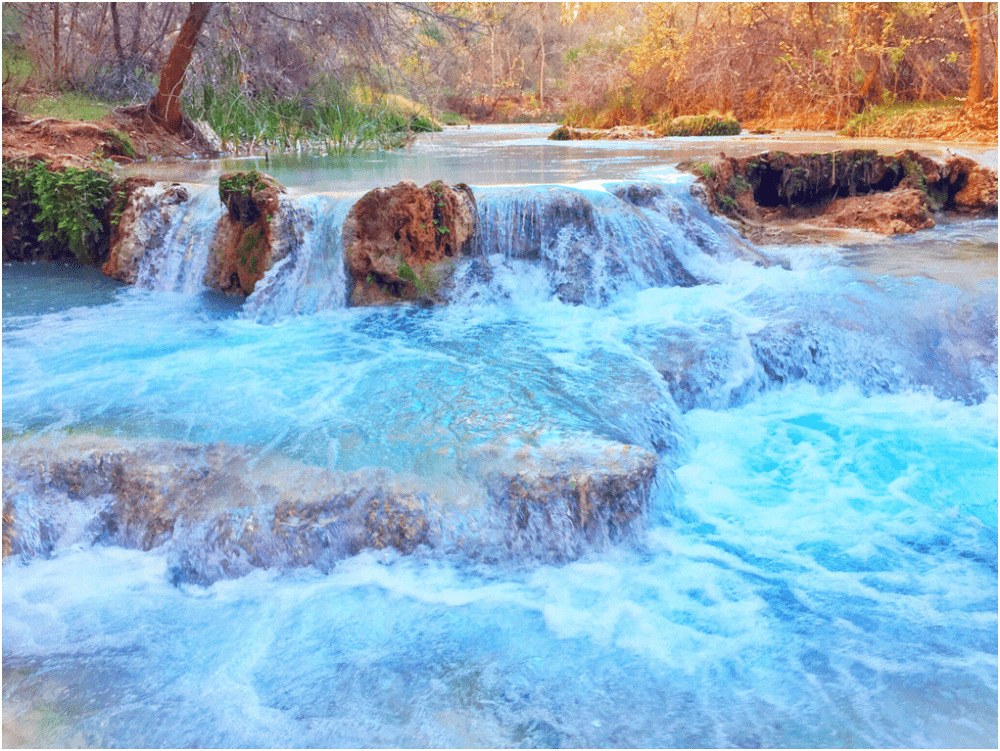 Helen, thank you so much for sharing your best tips on how to visit Havasupai Arizona!
To learn about Helen's next outdoor adventures around the world, remember to follow her on Instagram: @helennarts and @nartdoodles.

---
Now it's over to you reading this! Leave your answers in the comments section below…
Are you looking for more information on how to visit Havasupai Arizona? Leave your questions below and we'll do our best to help you out!
Have some more tips on how to visit Havasupai Arizona? Let us know!