Ashely McLean is an upstate New Yorker and adventurer at heart. In May this year she took the opportunity to jump over the US/Canada border and visit the amazing Niagara Falls. Here she shares her best travel tips and advice for you to consider before booking your trip to Niagara Falls Canada.
Everything You Need To Know About Niagara Falls Canada
Pin this to your travel Pinterest board >>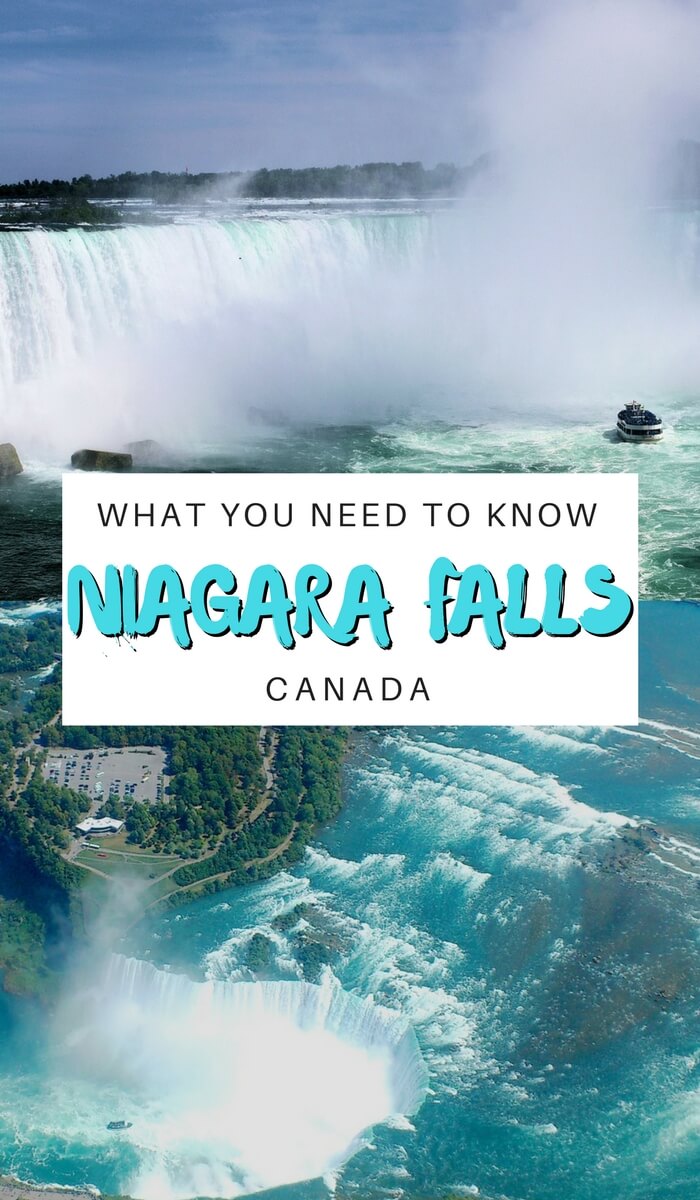 Hello readers! My name is Ashley and I'm from Upstate N.Y. I'm currently earning a bachelor's degree in cultural studies and communications at Empire State College. Fewer things make me happier than traveling to new places, meeting new people and learning the history behind it all.
When did you first visit Niagara Falls Canada and how long did you stay for?
I first visited Niagara Falls during Memorial Day weekend, 2016 (Saturday, May 28th, to be exact). We took a day trip and were there from 7 p.m. until around 11 p.m.
What did you like about Niagara Falls and did it inspire you to return?
There wasn't much to not like about Niagara Falls. The weather was my idea of perfect, around 75 degrees with a very slight breeze, and the sun was beginning to set.
Due to the later time we arrived, the crowds had begun to disperse, but there were still quite a few people there. I haven't returned yet but I plan to, for sure.
What challenges did you face at Niagara Falls and how did you overcome them? Should people planning to visit be aware of these challenges?
If I had known how breezy it would be next to the falls, I would have worn a light rain jacket or windbreaker. There is also an unavoidable mist that emits from the top of the water so unless you don't mind getting a little wet, wear protective gear.
For someone without any physical limitations, the walking isn't that bad. Everything is within close proximity. However, if you are someone or are traveling with someone who has trouble walking distances, I would take that into consideration.
There are plenty of benches and seating areas to take breaks, thankfully.
In your opinion, what is the best way to visit Niagara Falls and why? For example: solo, with a tour group, as a family, etc.
I don't think there is a bad way to visit one of the Seven Wonders of the World!
If you're traveling solo, you will love the freedom to see as much of the falls as possible. There are numerous spots to view the falls from different angles.
Personally, I feel that happiness is only real when shared with someone. I love taking in beautiful scenery and seeing that view from someone else's perspective, as well. I went with my significant other and their parents and it was nice to have someone to take photos for us!
If you're traveling with smaller children, make sure you're able to keep them close due to the large volume of people there. It's easy to get lost!
My grandmother also told me that's where her and my grandfather spent their honeymoon, so if a romantic getaway is what you're after then you're in luck.
Whether traveling solo, with family or with a tour group, if you don't get motion sickness easily (like I do) I would recommend the Maiden of the Mist, Niagara Falls boat. You can't get a closer view than that!
Based on this, approximately how much money would you budget to visit Niagara Falls Canada?
It's free to enter Canada (granted you have a passport or enhanced driver's license, among other forms of identification) and it's free to view the falls.
If you're staying overnight, you will have to consider the cost of a hotel. If you don't plan to drive your own vehicle, as we did, you will also have to consider the cost of renting a car.
Aside from those expenses, not a lot of money is required. We did choose to hit the casino afterward so we had a little bit of extra cash to spare!
Dining can be inexpensive as well, considering the tourist mecca of downtown Ontario. There are plenty of dives, diners and chain restaurants to chow down at.
If you're looking for a lower budget getaway, Niagara Falls is perfect (granted you're located relatively close and not flying in from somewhere else, otherwise plane tickets would be another expense to consider!).
When you go to Canada, you may have to do a currency exchange, as we did.
How did you get to Niagara Falls and would you recommend this way to other travelers?
We drove our own vehicle to the falls because we were staying with family in Buffalo which was only around an hour and a half away.
If you're located relatively close, I would recommend driving your own car. The traffic isn't any different from average Upstate traffic.
If you're flying in, renting a car would be good. I would not recommend biking because there are a lot of busier roads reminiscent of our highways here in N.Y.
Can you share with us three important Niagara Falls travel tips to know before visiting?
If I could give three tips for traveling to Niagara Falls it would be:
1. Bring a light jacket because you probably will get wet
2. Bring a camera because you do not want to miss the opportunity to show your friends/family the beautiful sights, and lastly…
3. Stay open minded! There are so many hidden gems in Ontario that we didn't even know about until we sporadically chose to venture downtown. There are plenty of souvenir shops, restaurants and entertainment.
And finally, do you have any last words to inspire everyone reading this to visit Niagara Falls Canada?
In the words of St. Augustine, "The world is a book and those who do not travel read only one page." I plan to read as many pages as possible before my time comes to an end and I hope I've inspired at least one person to do the same!
Thank you and I hope you've enjoyed reading about my Niagara Falls experience!
If you're interested in learning more about Ashley's travels, take a minute to visit and follow her on Instagram – @ashmcleanxo, Pinterest and Tumblr.
---
Over to you reading this! Leave your answers in the comments section below…
Have you been to Niagara Falls Canada? What other tips would you add?
Are you planning a trip to Niagara Falls Canada and have some more questions? Leave them below and we'll help you out!
---
Are you interested in being a featured traveler and sharing your travel tips?
Click here to send an email to us
Share a few words about yourself and your travel experience as well as a link to your blog or favourite social media channel
We'll be in contact!