Airports are one of the most critical places for travelers who fly to their destinations. Usually, the starting point for travelers, the comfort, facilities, and structure of the airport can make or break one's trip. An airport's integrity and design show a lot about how a country or city sees and respects its travelers.
Plus, it can set the tone of one's impressions of a place once they set foot in the airport. However, some airports go the extra mile and add a bit of luxury and comfort. Here are some of the most luxurious airports in the world. Read on and discover jaw-dropping facilities that range from world-class cinemas to duty-free shops selling solid bars of gold.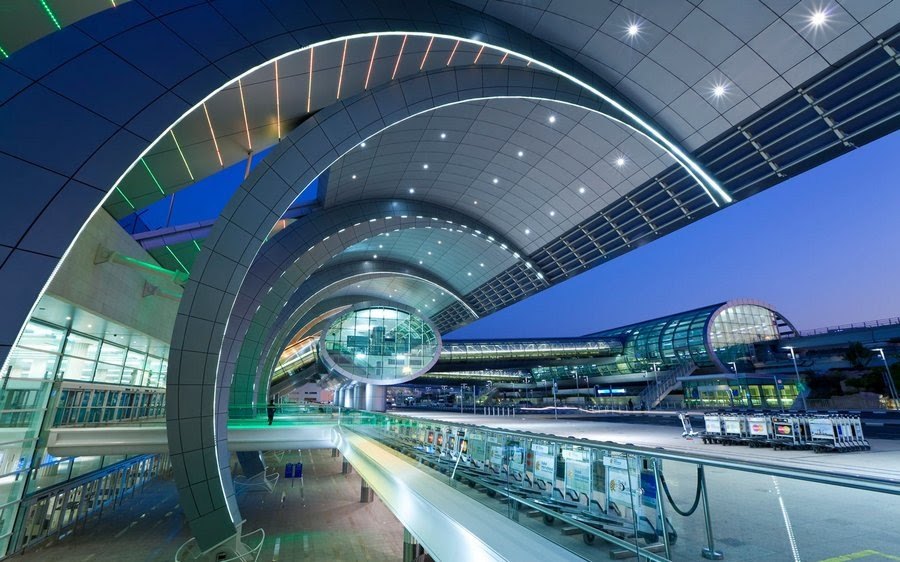 Hong Kong International Airport (Hong Kong, China)
The Hong Kong International Airport (HKIA) welcomes over 63 million passengers each year due to its state-of-art technology, innovative facilities, and stunning surroundings. A trip to HKIA is an adventure in itself, both for kids and adults.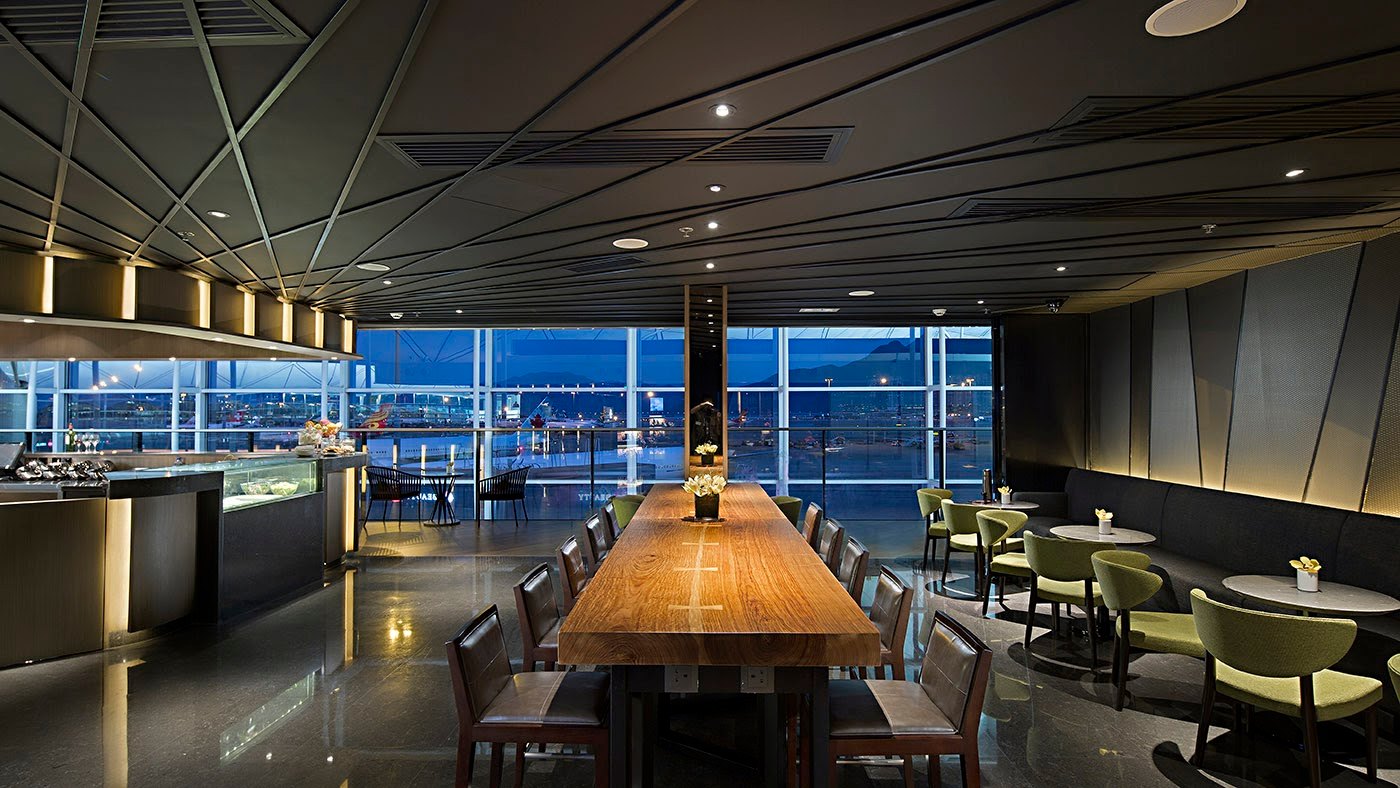 The HKIA is home to the Dream Come True Education Park, where kids can dress up according to their dream jobs. On the other hand, parents and guardians can either stay and bond with the kids or entertain themselves with a game of simulated golf over at GreenLive AIR.
They can also relax inside the airport's movie theatre, which happens to be the largest among all Hong Kong's IMAX screens! For those who prefer to learn more about Hong Kong, there are nine exhibitions and museums of art, culture, and music waiting to be explored inside the airport.
Zurich International Airport (Zurich, Switzerland)
With three tracks and three terminals, the Zurich International Airport in Switzerland is easily the country's largest airport. It also prides itself in being the cleanest airport in the world since its operation in 1947, as it is situated in Switzerland, which is renowned for its efficiency and cleanliness.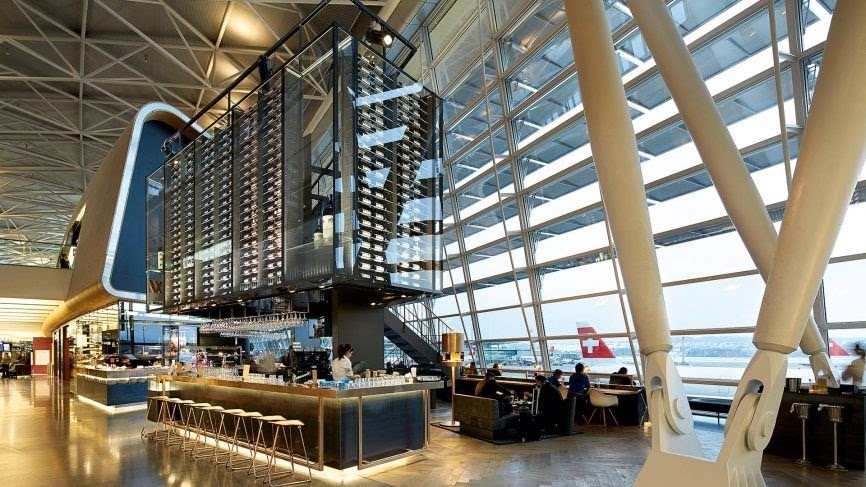 Fitness enthusiasts will also find paradise in this airport because of its fitness centers where passengers can choose from various activities ranging from a spinning class to indoor bikes. There are over 80 stores to choose from in the Passenger Airside Center, so you'll never get bored here.
The airport also has a massive lounge for cigars loves, and it even has its own hangar! People can get around by trains. These trains transport people between terminals while playing the sound of Alpine cattle bells.
Munich International Airport (Munich, Germany)
Booze lovers should take a trip to Germany's second-largest airport, the Munich International Airport. It stores huge amounts of booze and is also home to the largest indoor beer garden in the world, the Airbräu Biergarten – complete with chestnut trees and a maypole for authenticity.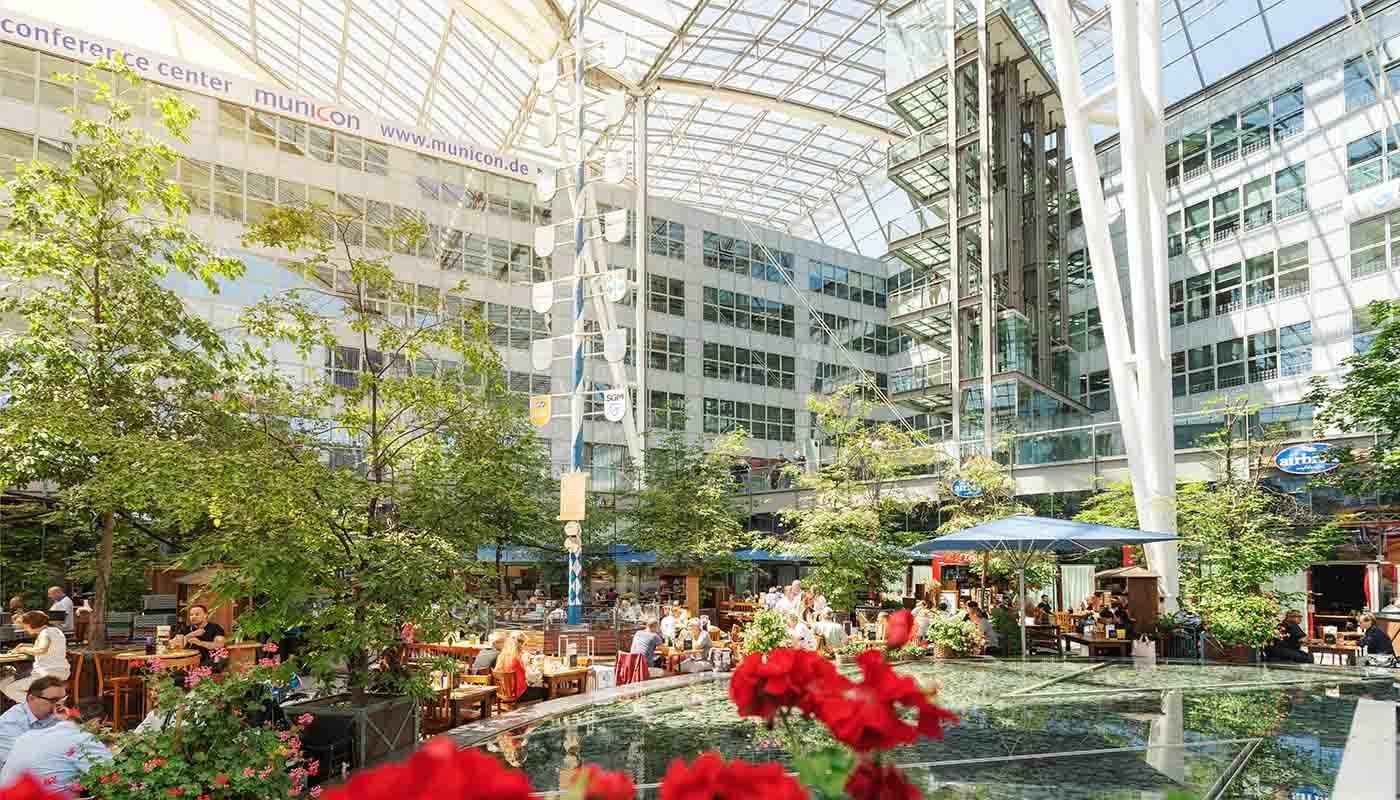 If your flight's running a little late, worry not, for you can keep yourself busy bar-hopping over 50 bars and restaurants inside the airport; this is aside from the on-site brewery where people can have tours and tastings. If, by chance, you get a little tipsy, take a nap in one of the sleep pods and wake up without a hangover!
With its Terminal 2's expansion, the airport gave way to its development into Lufthansa rooms and became one of the most modern and sleek airport buildings ever built. New restaurants, family waiting areas, and shops were also built.
Incheon International Airport (Seoul, South Korea)
South Korea's five-star rated and largest airport is not just an airport but a place for cultural convergence, showcasing diverse talents and daily performances from artists. Name it, and you'll have it – acapella, orchestra, or band concerts, as well as local and international music icons and attractions – can be found every day in this passenger terminal.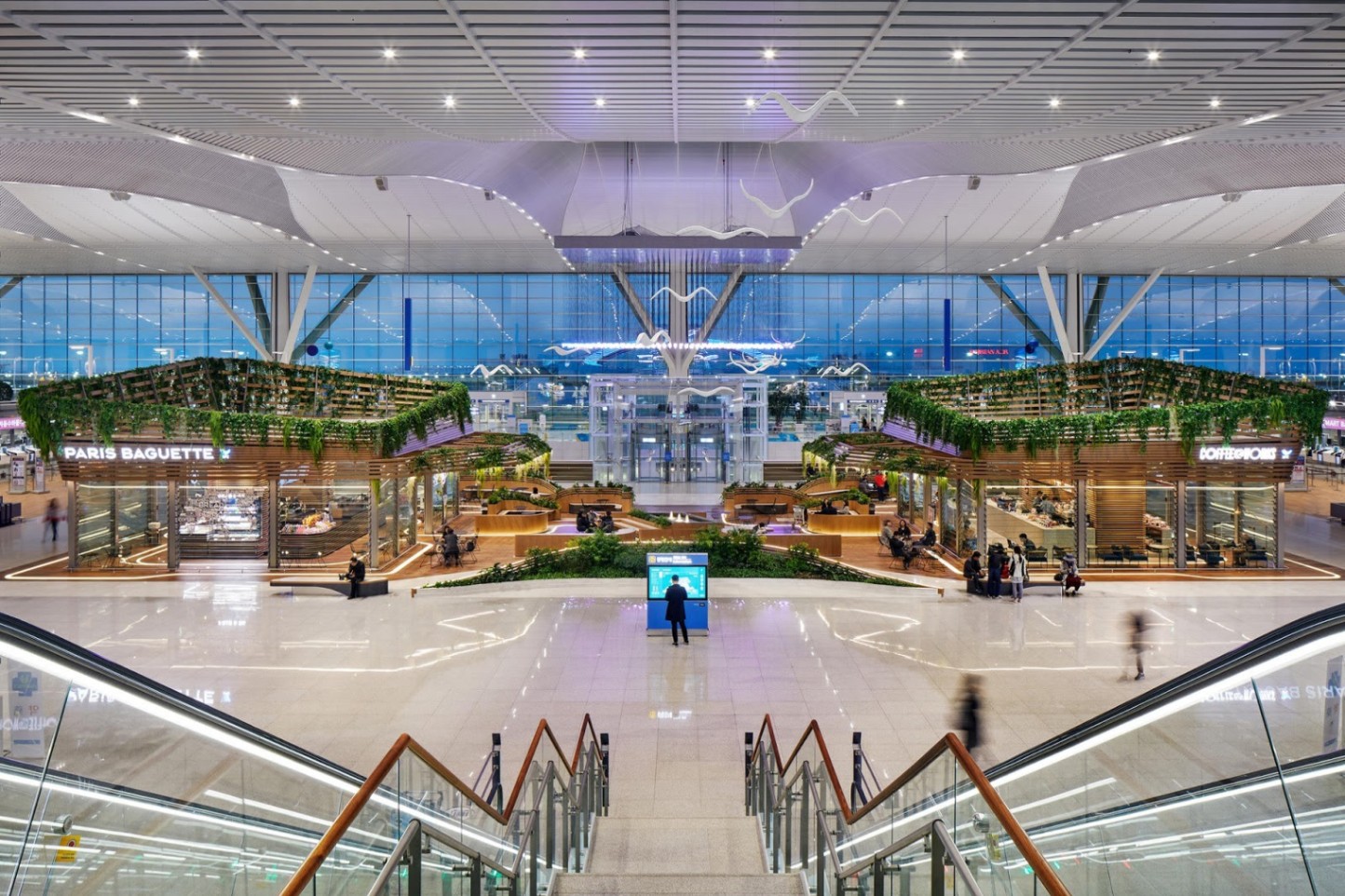 Incheon International Airport is also home to the largest duty-free shopping center in the world. Aside from that, passengers and travelers can enjoy an ice rink in the airport and spa services, scenic gardens, and baby lounges exclusive for passengers with infants and babies! Don't miss out on the parades, classical concerts, and artwork scattered throughout the area.
Passengers can also marvel over South Korea's culture and beauty in five museums and centers of traditional cultural experiences inside the airport. One's trip to Seoul cannot be completed without visiting the observation decks, from which people can view the spectacular Ocean Gong.
Changi International Airport (Changi, Singapore)
This award-winning premium airport serves over 60 million passengers yearly with its five terminals and two parallel runways. Changi International Airport has three gardens inside – Sunflower, Cactus, and Orchid.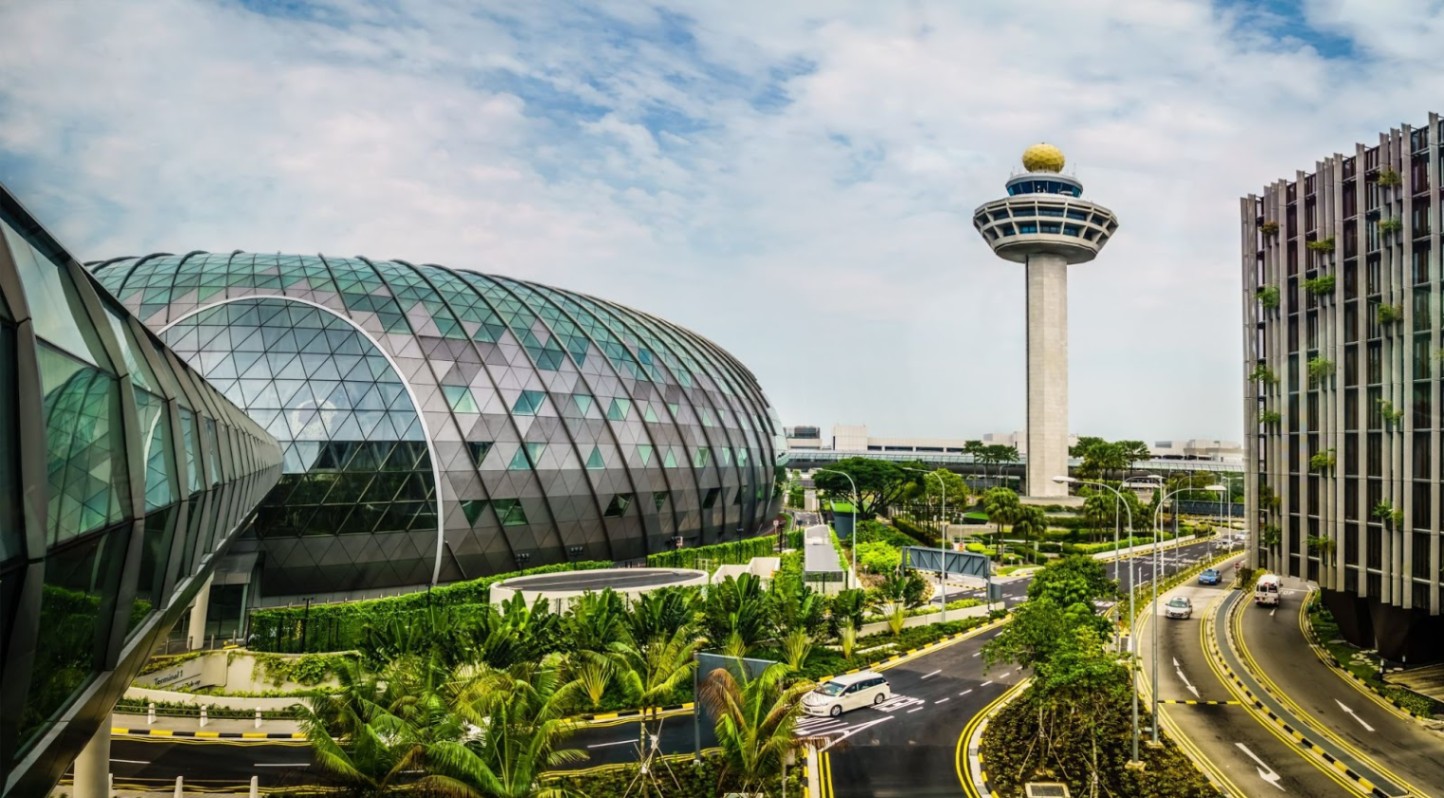 Aside from that, it also has its own movie theatre and entertainment decks with the latest consoles such as Kinect and Xbox, which passengers can enjoy for free! Its five main passenger terminals are arranged into a U-shape, with the Jewel at the center. The Jewel is a luxurious shopping mall that interconnects Terminals 1,2 and 3.
One can also enjoy a wide array of massages, ranging from head, neck, and shoulder massages to a full body massage and fish spa. There's also a rooftop swimming pool and jacuzzi, with a bar nearby for those who want to unwind after a long flight.
Haneda International Airport (Tokyo, Japan)
Tokyo's Haneda International Airport, Japan's largest airport, is a great place to visit, offering lots of entertainment suitable for all ages. Here, you can cross the twenty-five-meter-long half-sized replica of the bridge over the Nihonbashi River.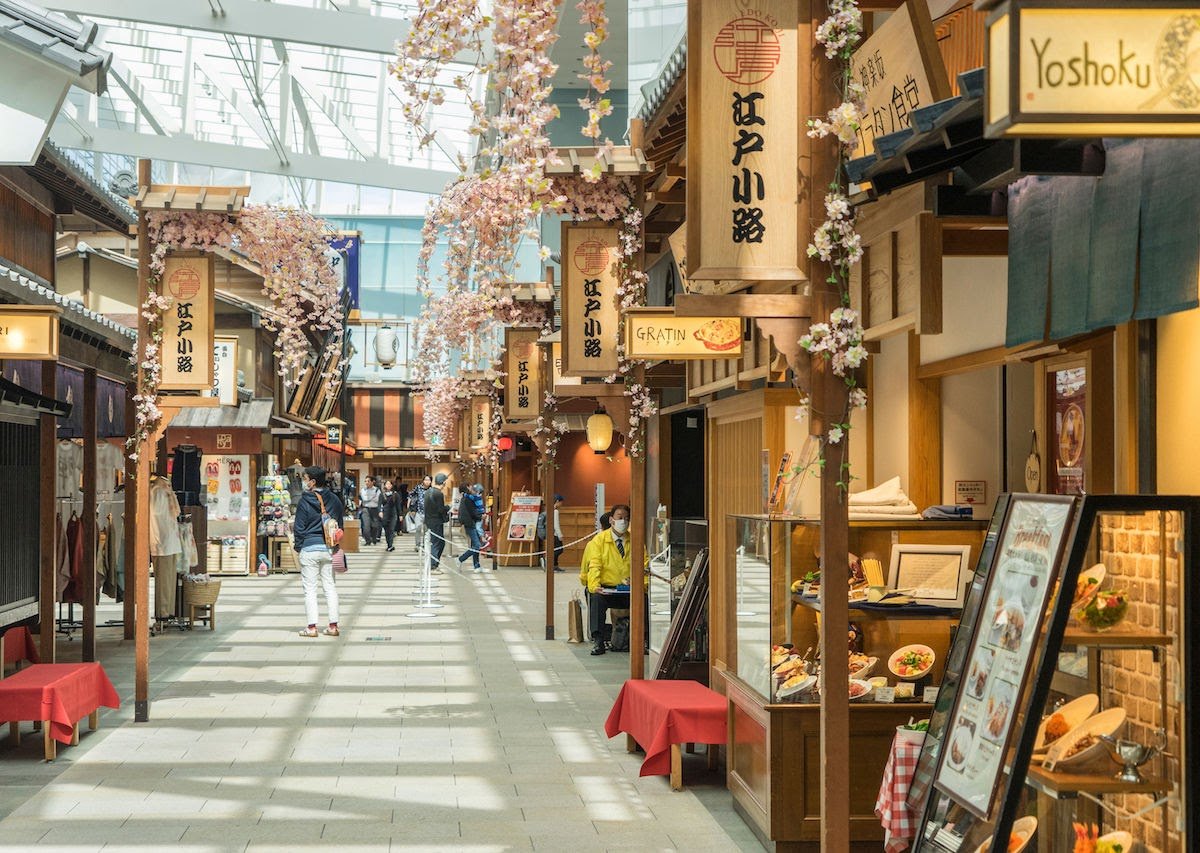 Passengers can have a taste of Edo at the international terminal's fourth floor filled with twenty-one (and counting!) Edo-inspired restaurants, serving the best yakitori, oden, udon, green tea, and much more!
Rent a Robohon at the Global Wi-Fi counter and meet a cute mini-robot that can serve as your tour guide while you are in the airport. Meanwhile, on the fifth floor, anime and manga lovers will drool over Tokyo Pop Town filled with character paraphernalia. For those who want to chill, you can admire the night sky at the viewing deck over at Terminal 2.
Dubai International Airport (Dubai, United Arab Emirates)
Dubai International Airport in the United Arab Emirates is the world's busiest airport for international passenger traffic. Its three terminals have superior facilities for passenger comfort, making sure that its style and design puts comfort above anything else.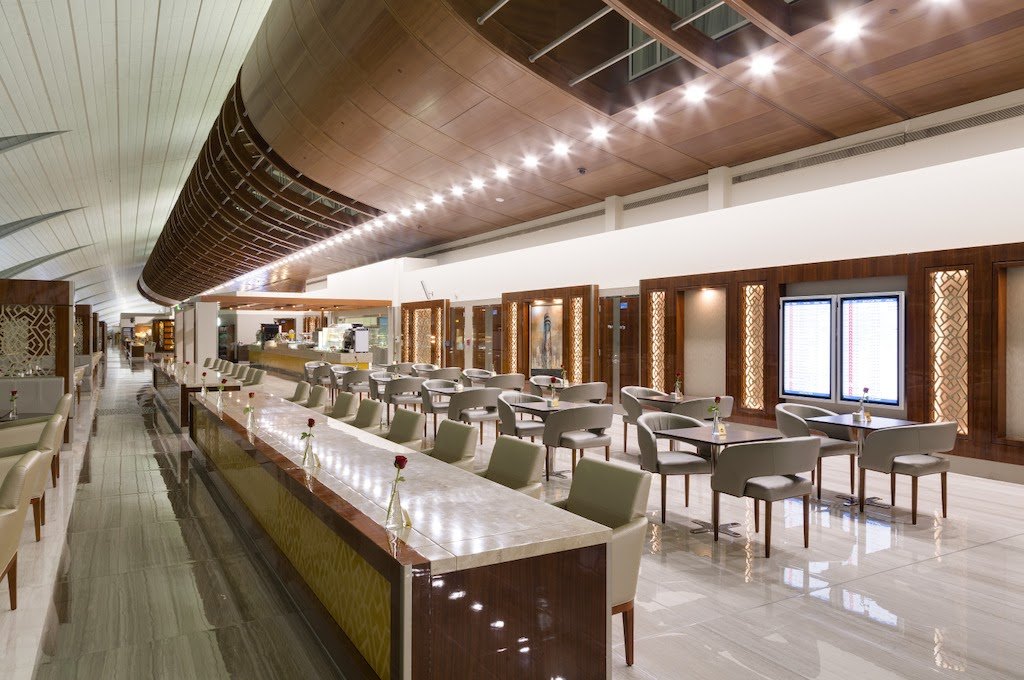 The airport features three lanes, each with a different style and dignity to cater to all types of passengers. Concourse A is home to first-class and business class lounges, as well as 4-star and 5-star hotels.
Concourse B contains three Emirates hotels, 18 restaurants, and first-class lounges, while Concourse C boasts a massive food court with 17 dining restaurants, a duty-free shopping area, and a 5-star hotel.
Hamad International Airport (Doha, Qatar)
Hamad International Airport guarantees luxury, space, elegance, and sophistication for its passengers. With its high ceilings, expansive architecture, and countless art pieces, the airport is one of the most luxurious airports to have ever been built.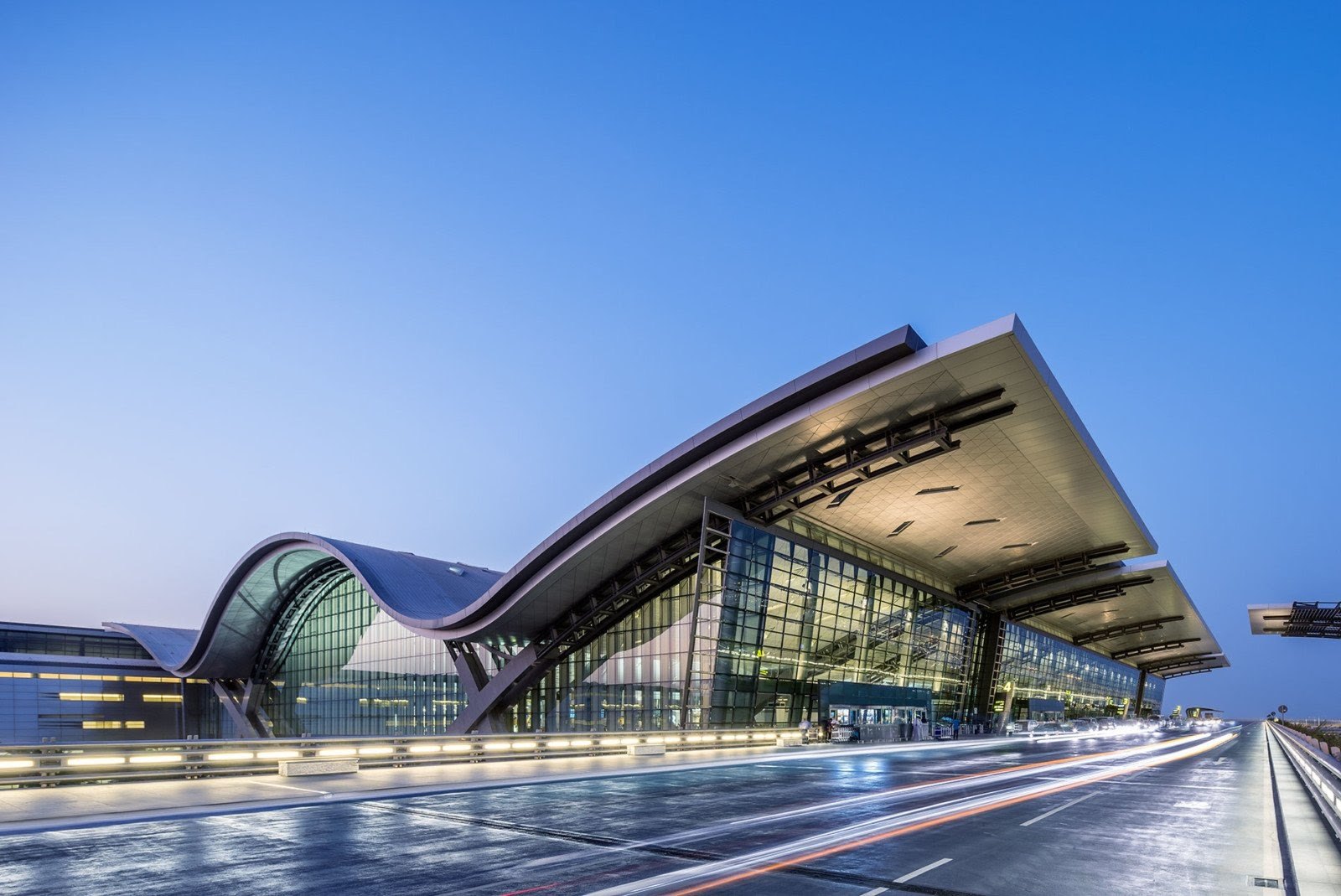 Called the "funkiest airport in the world," Hamad International Airport features over 20 art installations scattered throughout the airport, with the 23-foot bronze teddy bear inside a lamp being the most prominent of them all. The airport has ten art galleries spread throughout the area, waiting to be explored.
You can also shop at various high-end boutiques such as Swarovski, Chanel, and Hermès Paris. The airport is equipped with a spa, swimming pool, hydrotherapy pool, and even squash courts for the convenience and entertainment of its passengers. Minors traveling without company can also be safe and secure because of their dedicated lounge.
Copenhagen International Airport (Copenhagen, Denmark)
Copenhagen Airport, formerly known as Kastrup Airport, is home to shopping, extensive dining, and its own airport for kids.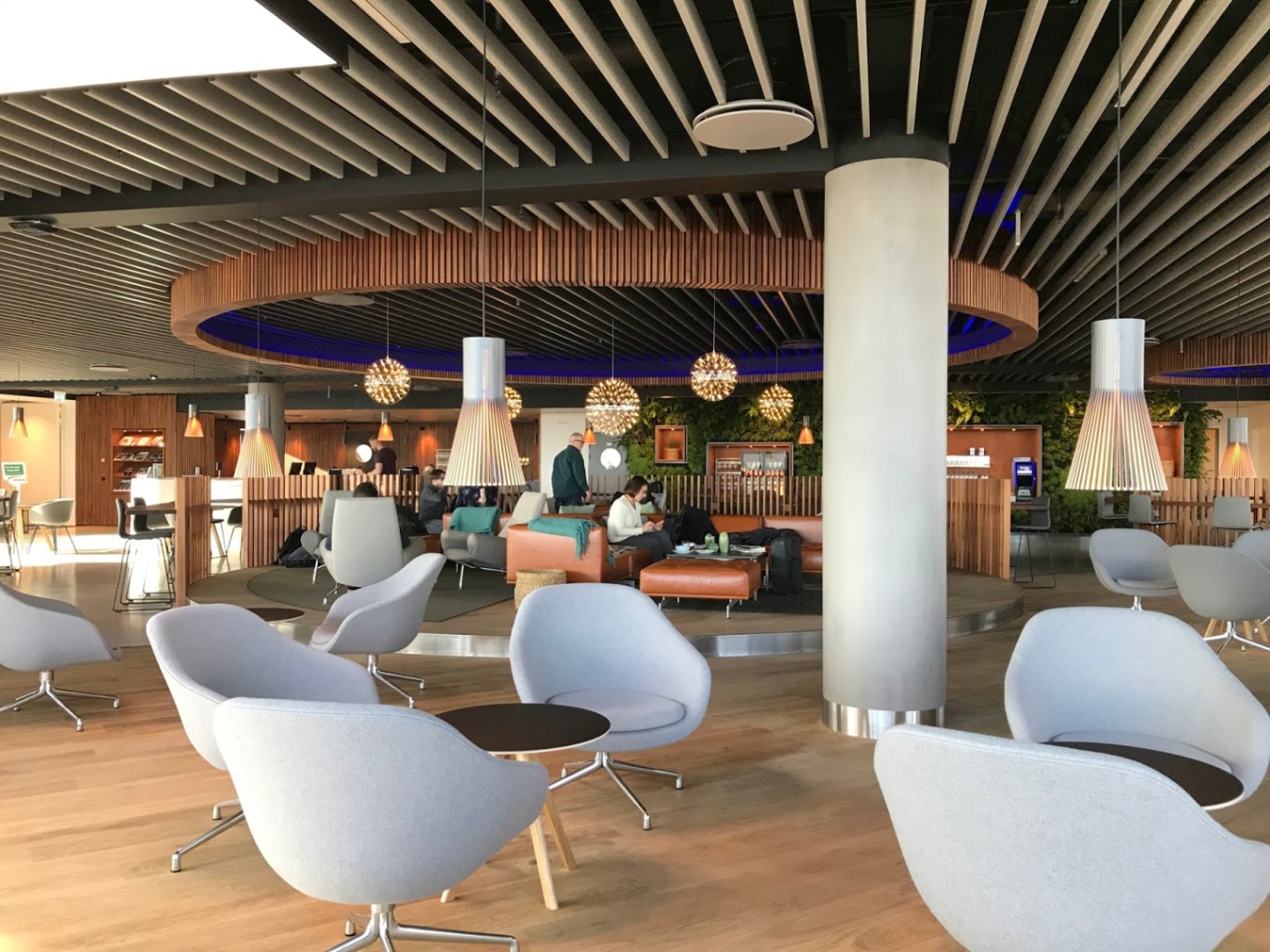 Serving 20 to 30 million passengers per year due to its accessibility and location, aside from amenities such as pools, showers, and museums – the airport has been voted as one of Europe's best.
Things you could do include getting pampered by massage spas and salons, shopping at high-end boutiques and duty-free shops, and stopping by Royal Copenhagen, a local porcelain maker since the 1770s, and grabbing a few delicious snacks over at Peter Beier Chokolade.
Abu Dhabi International Airport (Abu Dhabi, United Arab Emirates)
Abu Dhabi International Airport is a world-class, state-of-the-art airport that is known for its luxury and finesse. A gateway for ultra-rich travelers and billionaires, the airport is filled with VIP lounges, fine-dining establishments, and highly high-end duty-free shops.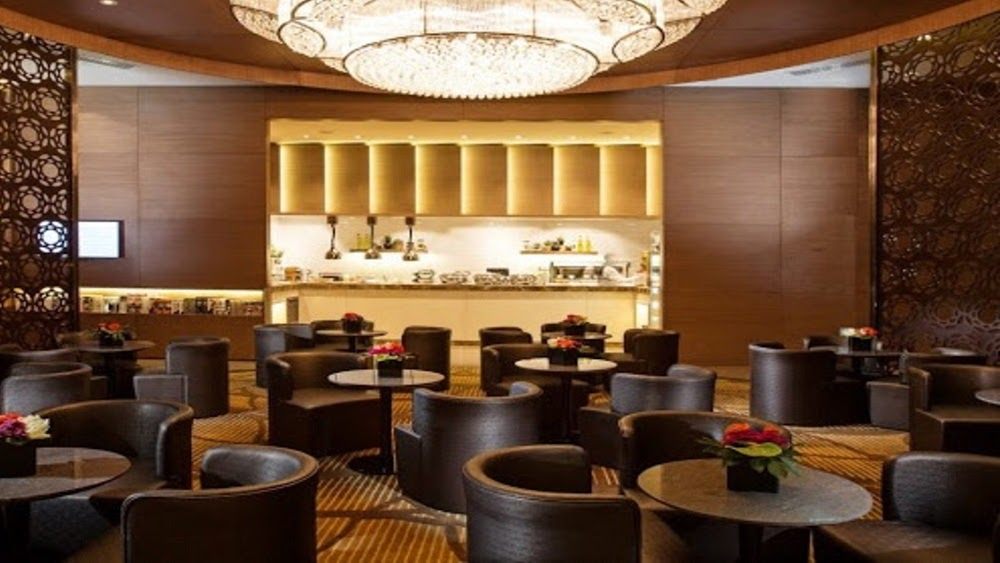 The duty-free shops are out-of-this-world as one can splurge on Swarovski crystals and even solid gold bars! Perfume and fragrances from some of the top brands can also be found in their duty-free shops.
Grab a few bites at the restaurants that offer some of the best cuisines in the world, such as fine Italian, Asian, and American dishes across the airport's three terminals.
Conclusion
Luxury airports are indeed places worthy of visiting on their own apart from a travelers' final destination. These kinds of airports heighten and improve one's trip and make traveling a trip that is definitely worth the bucks.