Having a cozy bedroom is one of the most important parts of your home. After the day's work, your bedroom is your sanctuary. Our bedrooms are the place to relax and for a while to hide from the rest of the world.
It doesn't have to cost a fortune to add great comfort when it comes to making your bedroom an oasis. Just a few thoughtful touches can go a long way in making your bedroom feel cozy.
Having a place to go unwind where you feel at ease is the best part of a busy day. Why not make that place your very own bedroom? Here are some tips you need to know if you want to achieve the comfiest and coziest bedroom ever.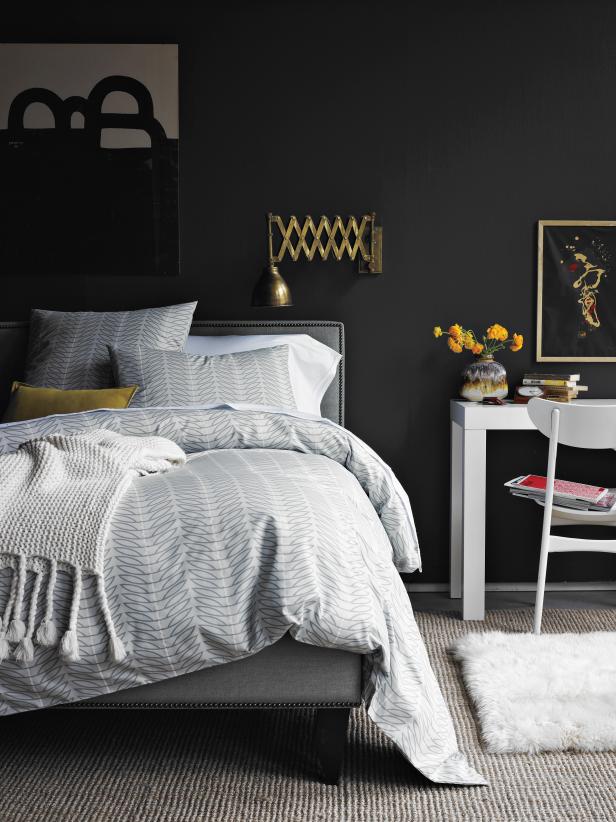 Choose Your Color
The first move is to come up with a color scheme. Stick to a two or three main color pattern. Black, white, and brown are some of the best choices. This will make your bedroom look more organized naturally because it's easy on the eyes. Maintaining a neutral color scheme will give you the ability to add subtle color pops throughout the rest of your house.
While light colors make a room feel larger, a darker shade envelops the bedroom, creating the perfect space for relaxation and sleep. In the ultra-dark space pictured above, the soft bed linen adds a nice contrast and looks like the ideal place to cuddle up in.
Know Your Lighting
Each time you re-do your room, try out the white string lights. Even though they are simple and cheap, they add an extra look to your room. These are also great for providing a more relaxing light when you want to switch off your bright lights.
If you have a fireplace, it is the perfect addition to a cozy bedroom when lit. Further, soft lighting choices are one aspect that really enhances the space. A chandelier with a dimmer is a great way to go if overhead lighting is a must.
Add Blankets
You can never have too many throw blankets when you create a cozy bedroom. Breakfast in bed never looked so good with a variety of textured throws in soft neutrals.
You can also add layers of rugs. Whether your bedroom is covered with carpet or hardwood, rugs are a great way to add color, texture and underfoot warmth. Consider layering rugs in various shapes and patterns for an extra-comfy look.
Add Thoughtful Accents
In this peaceful space, warm wooden accents and a vase full of fresh blooms come together to create the paradise for a nature-lover. You may never have to leave this restful oasis with a stack of books set on the shelf of the nightstand. Tapestries are perfect additions to any room as well. In addition, plump pillows also make the bed look extra comfortable.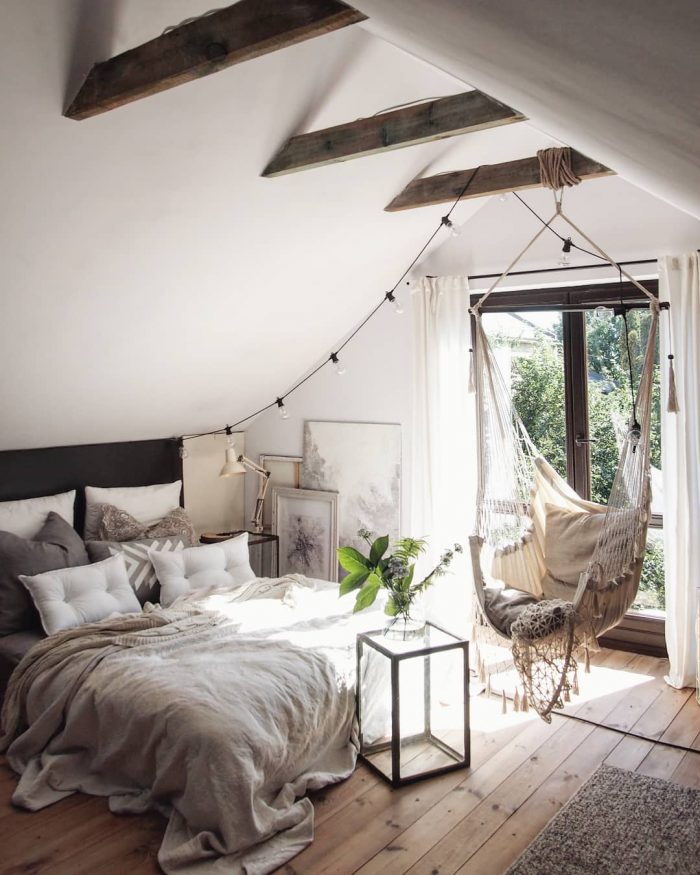 Add Wooden Items
Adding wooden ceiling beams may be a bigger project than throwing a few pillows on the bed. However, wooden accents add warmth to your space. As seen above, wooden ceiling beams are an intelligent architectural way to add to the appearance of a room without taking up space.
Conclusion
One thing is for sure, you need to keep your bedroom organized. Having a cozy and comfortable bedroom is essential to set yourself up for a good night's sleep. For more lifestyle tips, click here.