Planning on making family travel resolutions and spending more time with the kids this year? Why not take them traveling? It's the perfect way to collect special memories together that your kids will cherish for a lifetime.
Even if it's just camping or an immersion through arts and culture, they will learn more than you can imagine and really appreciate the experience, especially with the family alongside them.
So get ready to achieve your family travel goals with these 8 family travel resolutions to guide you in 2019.
8 Family Travel Resolutions for Lasting Happy Memories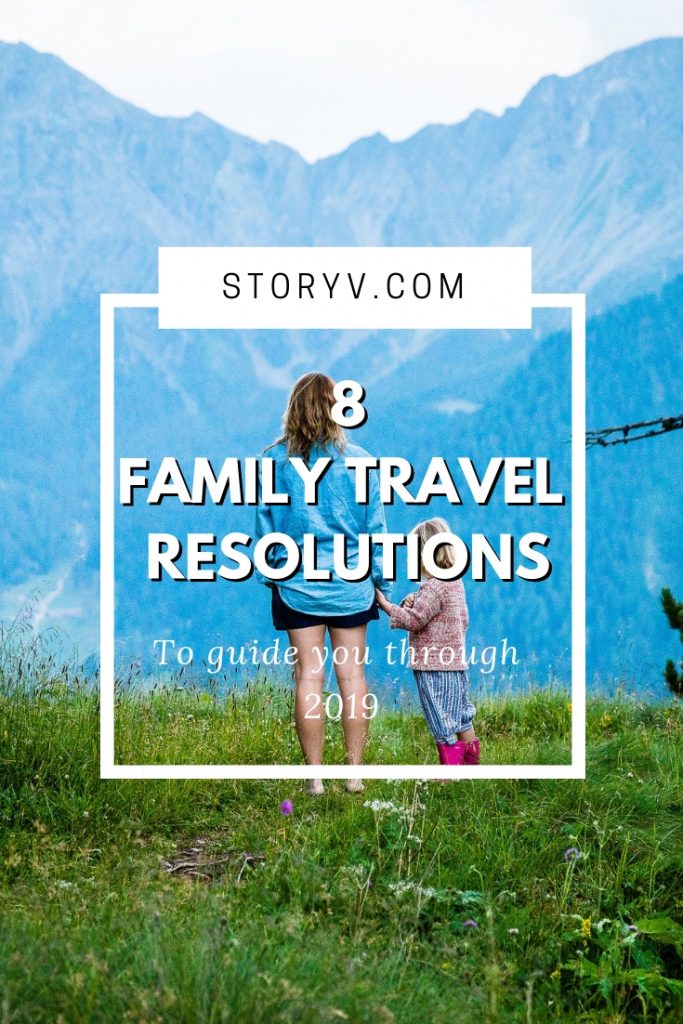 Spend some quality time with your family and create ever-lasting memories with these 8 family travel resolutions to guide you in 2019…
1. Spend more time with the kids outdoors
It's time to introduce your kids to the beauty and fun the outdoor world can offer. You can start by looking for family-friendly trails, adventure parks and farms.
Allow your kids to get to know and appreciate the beauty of nature through national parks, which are also great places to learn about different species and other living organisms.
Some of the most amazing family-friendly parks and trails to visit in the US include May Lake in Yosemite National Park, California, Cosby Nature Trail in Yellowstone National Park, Wyoming and Petroglyph Point Trail in Mesa Verde National Park, Colorado.
A little hike would be daunting but worth a try as the old saying goes, start them while they are young.
2. Introduce arts and culture to the kids
Contrary to what you may think, introducing arts and culture to the kids is one of the things they enjoy most about traveling. As they are in the most curious stage of their life, kids are often left with questions that aren't answered in their day-to-day lives.
So giving kids time to explore arts and culture will help them to understand the world around them. It will also help them to appreciate the works of others and maybe even get inspired.
You can try visiting the nearest art gallery or national museums in your area to see if that sparks their interest. And if it did, then it's time to take them out to someplace new where they can learn even more.
3. Explore your own city
There is no better way to start exploring than doing it in your own city. Not only is it cheaper but it's also a great way to get ready for bigger, further away vacations with the family.
If you want to introduce them to arts and culture, you can simply walk around your city and check out the street art. Or you can go and eat at a restaurant that offers the native cuisine of your city or country.
4. Be more adventurous
Don't be afraid to let the kids learn new things through travel and adventure.
Even if you're staying in your own city, you can teach the kids to be more adventurous by trying new foods. You can also try a nearby camping trip to let them spend a night without the comfort of their own bed. You can also try new activities like surfing which is a really great form of exercise as well. You can take them to a cooking class or how about bike ride?
It is actually more up to you what you do, as long as you are sure that the kids will be safe and the adventure will help them to learn something useful and new.
5. Go somewhere the whole family will enjoy
Look for a place that offers activities for both the kids and for you. You just need to do a little research to find out the best places to go.
Asking the kids what they want to try and do will also be a big help.
After all, you are traveling to have fun and that's the ultimate way to achieve the family goals you are aiming towards!
6. Save money without being stingy
Kids don't care about 5-star hotels and accommodation. As long as they are having fun and have what they need, they are fine. So traveling with the family shouldn't cost you much (compared to luxury vacation prices).
As I said, you just need to do a little research on places where you can save but can also give your family a fun and unforgettable experience.
7. Make lasting memories
Teach your kids how to treasure their memories by giving them a travel journal. In their travel journal, they can write one thing a day that they felt was the most memorable for them. They can also draw or snap a picture that will remind them how the day went.
This is a good way for them to reflect and realize all the things they learned after a day of being out traveling with you. This will also be a great memorabilia to help them remember the good days spent with you when they grow up.
8. Just relax and have fun
The trip is not only for the kids but for you too. So remember to relax and have fun. Kids grow up so fast you won't even notice and before long, they'll be teenagers traveling with their own mates.
So while they are kids, spend time with them and simply have fun. Try new things with them. Break the boundaries. Don't just be a parent but also be a friend and a playmate whom they can enjoy being with on their travels.
The first month of the year just began and now is the best time to start creating awesome travel memories together as a family. Work on these 8 family travel resolutions and you'll be reaching your family travel goals in no time!