Not everyone is a fan of long layovers. Many travellers avoid flights with long layovers because they see it as something that is hectic and inconvenient. On the contrary, long haul flights can be a rewarding experience as they give you an opportunity to explore a new country at a minimal cost. Also, they are cheaper than the direct flights.
If you are travelling from the East to the West or vice versa, chances are bright that you may have a long layover in Doha; especially if you're flying with Qatar Airways.
So what should you do?
Making The Most Of An Airport Layover In Doha, Qatar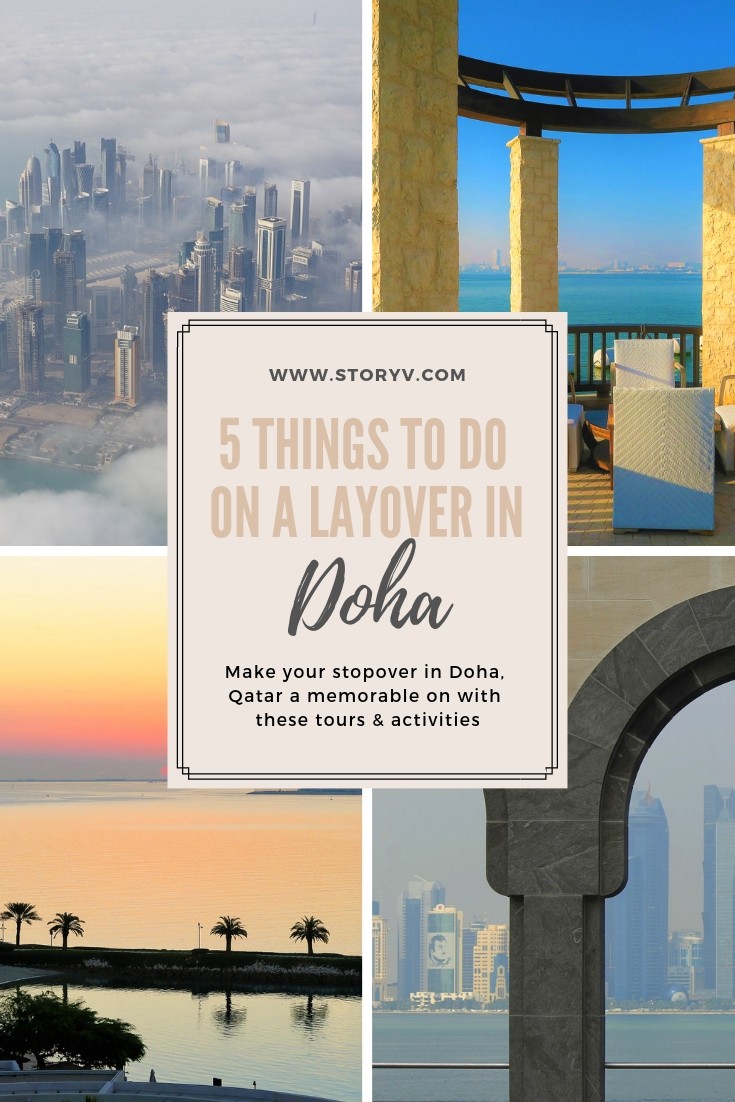 Wondering how to spend that long stopover in Doha? Whether you want to stay inside or explore the city, here's an insider's guide on some of the best things to do in Doha, Qatar during your layover…
1. Go on a Free Doha City Tour
The capital of Qatar, Doha is often known as the Pearl of the Middle East. The city features a right blend of modernity and tradition, which is worth experiencing at least once in a lifetime. Qatar Airways and Qatar Tourism give you this opportunity to explore the city while on a layover in Doha. If you have 5 or more hours of layover, you can take a free city tour and visit the magnificent Pearl-Qatar, Doha Fort, Doha National Library, Souq Waqif, Katara Cultural Village, and the Museum of Islamic Art.
2. Shop at the Airport
The Hamad International Airport is no less than a luxurious shopping mall. If you have some free time and don't want to step out of the airport, you can go shopping. There are several high-end designer stores and supermarkets within the airport premises. You'll find newsstands, duty-free stores and fashion outlets here. You can also take a pause at the Marmalade Market and Chocology for sampling some local food items.
3. Relax at a Spa
After that long flight hit the spa at the Vitality Wellbeing & Fitness Centre, located in the transit hotel between Gates A10 and B10 at the Hamad International Airport. They charge a flat fee of $35 for access to a gym, squash court, shower, swimming pool, and hydrotherapy tub. You can ask for an upgrade to a package, which includes spa treatments and massage sessions.
4. Get Some Sleep
Sleeping at an airport may sound like an inconvenient thing to do. Well, not at the Hamad International Airport. If you've just arrived on a long haul flight and have another one after a few hours, catching up on some sleep is the best thing to do.
There are several chairs with armrests for you to use. The Family & TV areas in Concourses B and C, Gates A3, and the central terminal have couches. If you are looking for reclining chairs, you can check to the Quiet Rooms in the airport.
For a much more comfortable sleep, The Oryx Airport Hotel is located inside the transit zone. You can rent a room for the night or a minimum of 5 hours during the day.
5. Take a Desert Tour
Want to make the most of your layover in Doha? Go for some dune-bashing in a 4×4 vehicle. There are several 4-hour Qatari desert safaris that you can undertake. The views of the setting sun and the barren open desert experience will infuse you with a sense of thrill and adventure.
While you are in Doha on a layover, make the most of it by indulging in some of these exciting activities. There are a lot of other things that you can sneak into your to-do list based on how much time you have on your hands.
A layover of any duration between 5 to 96 hours will give you a good opportunity to explore Doha and strike a spectacular country off your bucket list.