It is almost impossible for travelers and adventure enthusiasts not to imagine swimming with whale sharks as big as a school bus. Luckily, Oslob, Cebu can make that dream happen with its internationally-known tourist attraction, whale shark watching and swimming with the whale sharks.

Oslob is at the south tip of the island of Cebu in the Philippines. As the community stories go, the whale sharks are friendly, and many refer to these whales as "gentle giants".
Back in the day, the whale sharks came to the shores of Oslob, specifically Barangay Tan-awan, to search for food. The residents didn't fear the whales. Instead, they fed them and because of that connection; the whale sharks kept coming back to the shores of Oslob.
Today, whale sharks in Oslob, Cebu paved way for tourism to rise. The tourist attraction is known worldwide and because of its fame, tourists from all over the world come to Oslob, Cebu to watch and swim with these gentle giants.
According to National Geographic, whale sharks just like those found in Oslob, Cebu can reach up to forty feet or more and can weigh up to sixty tons. Whale sharks are considered human-friendly because their favourite meals are plankton and small fish.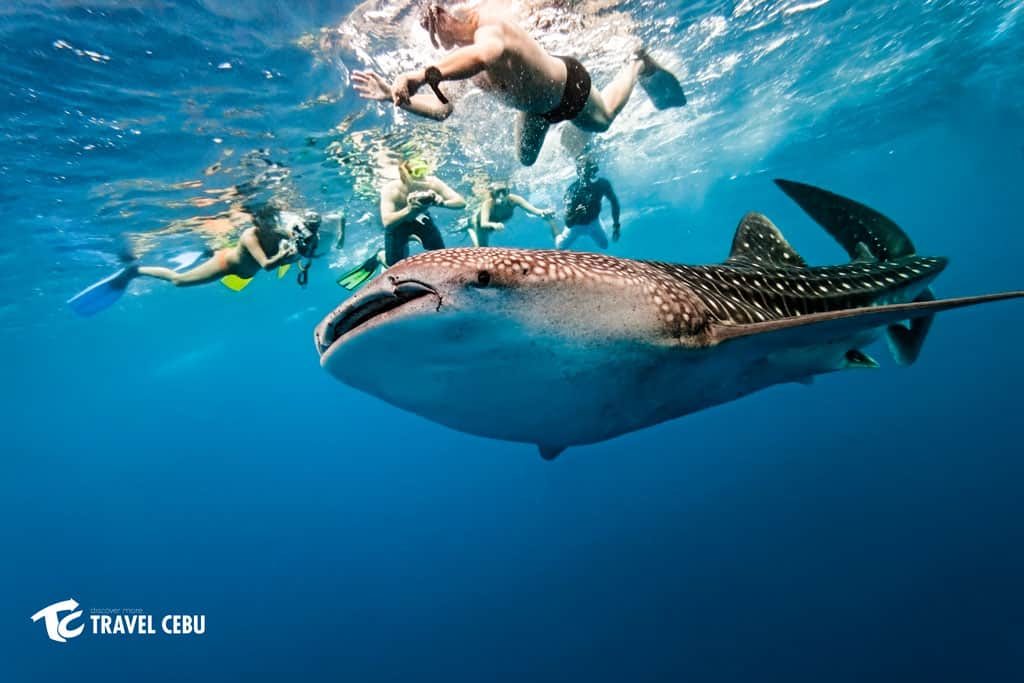 How To Get To Oslob
If you want to witness the whale sharks in Oslob, you must travel to Oslob from Cebu City, which takes about 5 hours. From Mactan International Airport, you can ride a taxi cab to South Bus Terminal. Another option is a Php 25-worth bus ride from the airport to SM City Cebu. From SM, take a jeepney ride with a 01K sign going to the South Bus Terminal.
Upon reaching the terminal, board a bus to Oslob or Bato. Tell the driver to drop you off at Barangay Tan-awan, Oslob. The one-way bus fare is Php 155 per head. The terminal operates for 24 hours. If you booked a trip in a travel agency, you can also rent a car or a van.
What to Prepare For Whale Shark Watching
Prepare cash and light swimwear. You are prohibited to apply sunscreen if you wish to dip into the water.
It is important to note that whale sharks in Oslob are only available for watching everyday from 6:00 AM to 12:00 PM only. Your interaction with the whale sharks is good for 30 minutes only. However, you can catch them and you can also feed them.
It is best to register at around 5:00 AM to catch the first batch of whale sharks.
For only Php 300 per head, you can watch the whale sharks with no swimming privileges. For Php 500 per head, you can snorkel with the whale sharks and they will provide you with a life jacket.
Whale Shark Watching Rules
When you interact with the whale sharks in Oslob, it is important to note a few rules as responsible travelers.
Here are some notes you need to remember:
1. Do not feed the whale sharks without authorized personnel.
2. Do you touch, ride, or chase the whale sharks.
3. Do not use flash when you're taking photos of the whale sharks.
4. Do not wear sunscreen if you're going to the water with the whale sharks.
5. Minimal physical movements are allowed.
Where to Stay in Oslob For Whale Shark Watching
When you reach Oslob, you can ask the locals for houses and rooms for rent. You can also book ahead via Agoda and TripAdvisor.
Here are a few accommodation options for you:
1. Hotel Sebastian Oslob offers a room that starts at Php 1,600 per night.
2. Issa's Haven Resort offers a room that starts at Php 1, 250 per night.
3. Seascape Beach Resort offers a room that starts at Php 3,000 per night.
The whale sharks in Oslob and the marine ecosystem are protected by the local fisherfolks and the local government unit.