Just over four months ago we arrived in London, bought ourselves a big white van with nothing inside it other than a few dusty pieces of old carpet and embarked on the most amazing summer UK road trip we ever could have imagined.
Starting off in London we decided to head East and make Brighton our first port of call. Over the next three and a half months we discovered corners of England, Scotland and Wales we didn't even know existed.
Regularly updating our Instagram account to take you on the incredible journey with us and inspire you to travel more, we ended up with a whole travel diary in pictures. It turned out to be an eclectic collection of memories and moments we'll keep dear to us for many years to come.
Out of the hundreds, if not, thousands of photos we captured along the way, we've picked out 20 of our favourite Instagram pictures to sum up what three and a half months of travelling on a summer UK road trip looked like. I also explain what each photo is about and why it topped our list.
So here goes...
Our summer UK road trip summed up into 20 Instagram pictures
What: The Royal Pavilion, Brighton, England
The incredible seaside palace of the Prince Regent (George IV), which was transformed by John Nash between 1815 and 1822, is one of the most exotic buildings in the British Isles. Housing original furniture, art works and Regency silver-gilt, some of which lent by The Queen, I think 'royal' is definitely the right word to describe this palace.
Why: Lit up by night with lilac and green tones it's fantasy–like appearance made us feel as though we were in a Disney land. We were just missing the magic carpet!
Brighton was also the first town we ventured to on our UK road trip after London, so I guess it brings back many memories of our time in the van!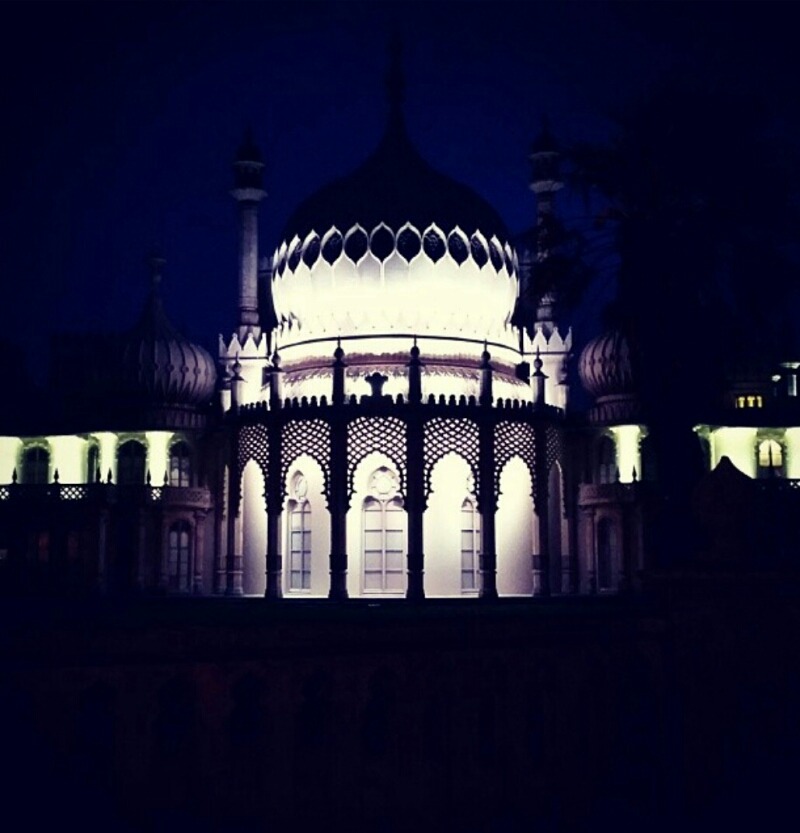 What: Babbacombe Downs,Torquay, Devon, England
This cliff is a two minute walk from my grandparents house and looks down on the coastline which runs all the way up to Dorset, the next county onwards. Directly below us on the left is Oddicombe Beach.
Why: The last time I saw this beach it was brimming with people making the most of the warm summer sunshine. Coloured beach houses lined the entire stretch and the café was doing well.
Today, what a contrast. I was shocked. The beach lays bare, apart from the few pieces of rubble scattered along the sand.
Over the winter of 2013 huge storms raged over England and completely ruined the entire coastline, leaving businesses such as beach-side cafés to suffer.
To add to it, there was also a massive landslide just above the beach where a house completely collapsed down the cliff. Debris made it's way down to the beach causing significant damage to the busy café.
The café now remains closed to all customers until council approve reconstruction of the damage caused by the landslide and storms.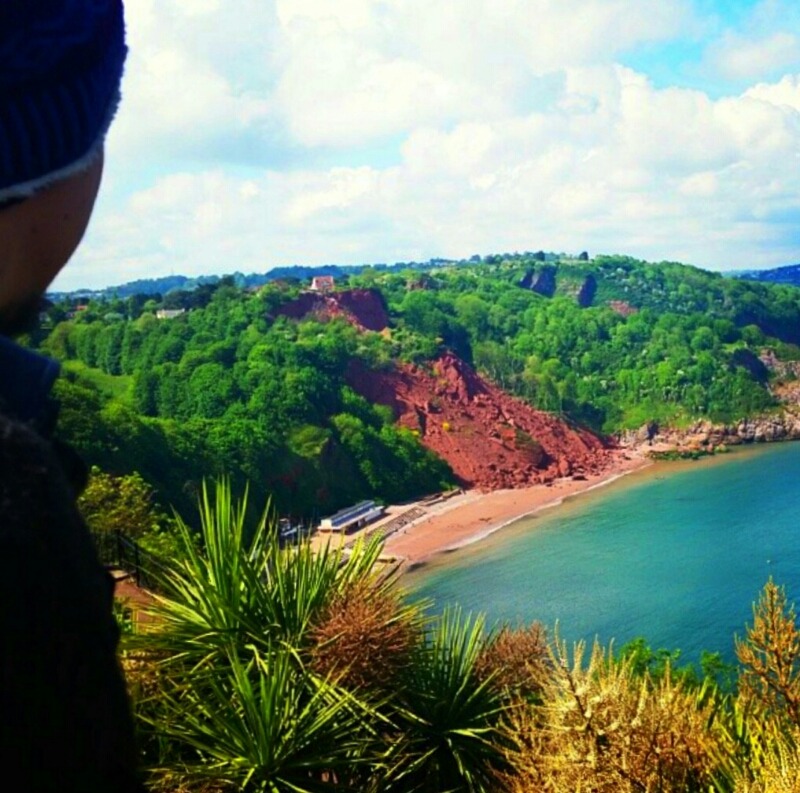 What: Haytor Rock, Dartmoor, Devon, England
Dartmoor National Park is a large area of moorland located inland Devon and is home to a number of tiny country villages that are beginning to attract more and more tourism. During the cold months Dartmoor becomes a winter wonderland as snow begins to fall, windows and doors close and fireplaces are lit, sending that all so familiar smoky scent throughout the villages.
At Haytor Rock, one must prepare for wind and rain by dressing warm and wearing appropriate footwear! Here you can stroll up to the top where most encounter wild Dartmoor ponies (not as friendly as they sound), cows and sheep along the way. At the top, you can experience spectacular views across the countryside and the many small towns of Devon. The rock itself is also fairly easy to climb and catch a glimpse of the view from another angle.
Why: I'm still not certain why we have a thing for this Instagram pic. I think it may just be because of its randomness. Dan, a black cow and a big rock in the fog? Doesn't happen all too often.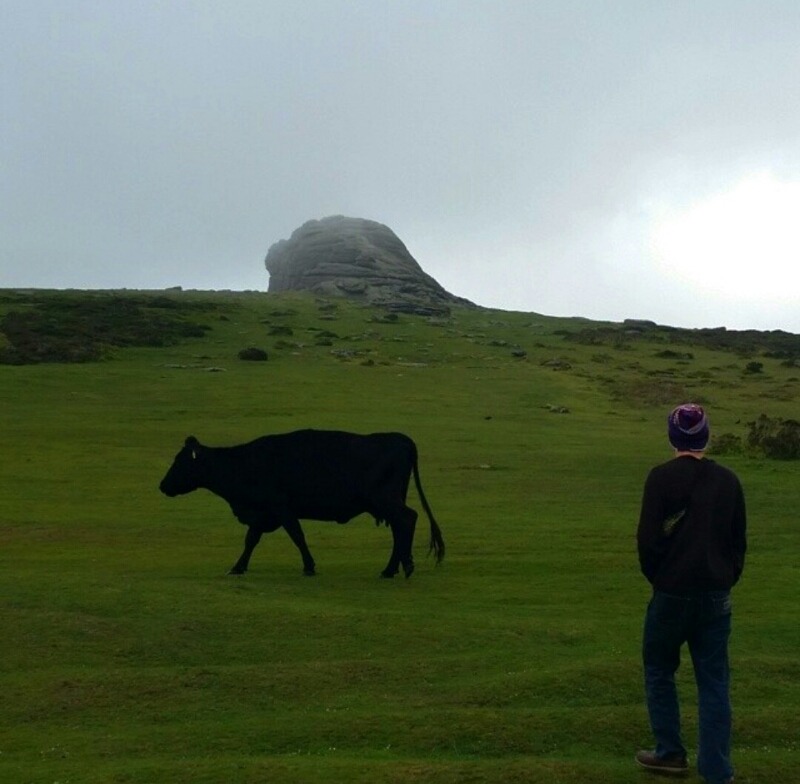 What: Polperro, Cornwall, England
Polperro, which in Cornish is Porthpyra (meaning Pyra's Cove) is a small fisherman's village on the south-east coast of South West England. The village itself is like no other. Visitors are to park their cars outside of town and walk down the hill to get in. Then once you're in, you are taken back to another time. Tightly packed fisherman's cottages, narrow and winding streets, local independent shops, centuries old pubs and a beautiful bay full of old boats await.
And to top it all off - no cars!
Why: This village was a dream. Literally, it felt like we were walking in a dream. Polperro tops my list of amazing places to travel to in England.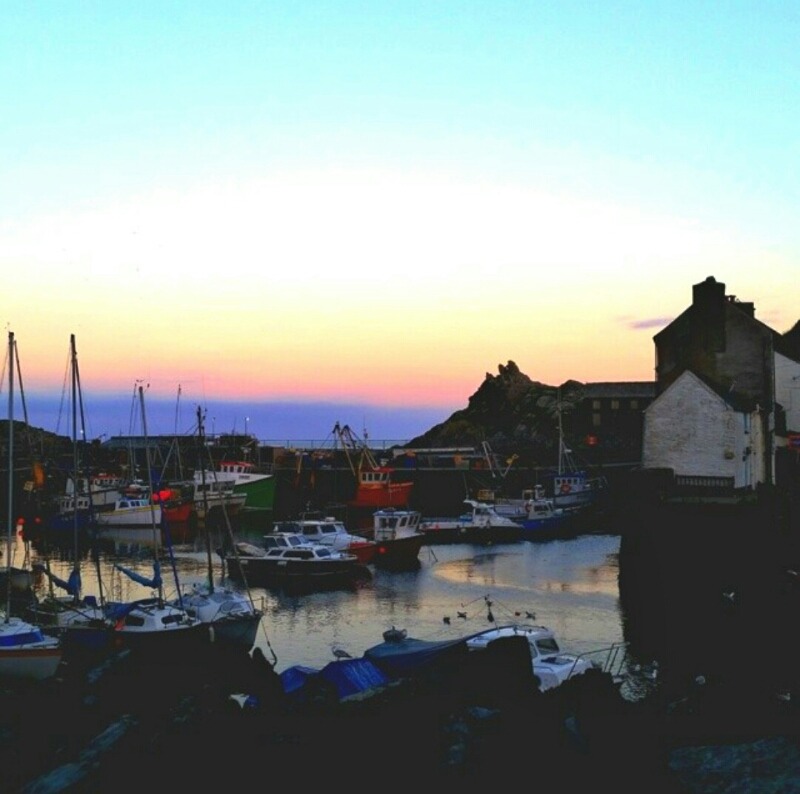 What: Trying out some different shots against the light in Looe, Cornwall, England (in other words, having a great time being children)!
After a beautiful walk along the coastal path from Millendreath to Looe with two of our closest friends from Thailand, we stopped in a huge field with stunning views that overlooked the ocean for miles. Here we sat and talked, soaked in the amazing sunset and messed around taking silly pictures.
Why: This picture just sums up the essence of travelling for us. The incredible people we've met along the journey have simply reiterated why travelling is so valuable and worthwhile. We've gone in alone and come out with some of the best friends a guy and gal could ask for and we are so darn thankful for every minute spent together!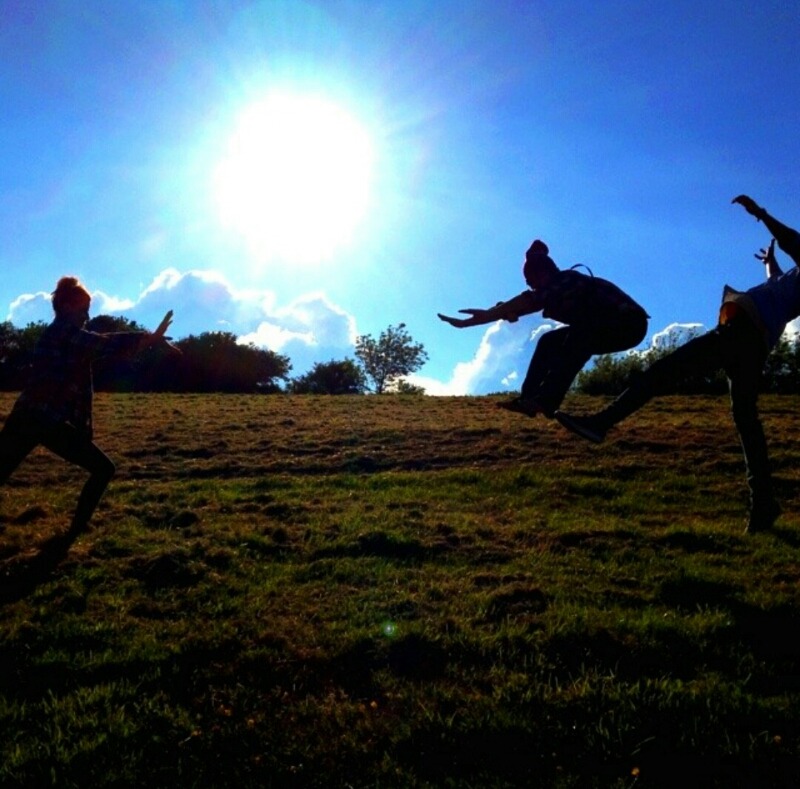 What: A body-boarder checks out the waves at Newquay beach, Cornwall, England
The afternoon is coming to an end and the sun is in just the right place to make this beach both look and feel beautiful.
Why: This one reminds us of our wild time along the Cornish coast on our UK road trip. When we could just stop next to the beach and light up the gas stove for a hot choccy or literally park the van down on the sand and wake up the next morning beside the waters edge. That was what freedom felt like!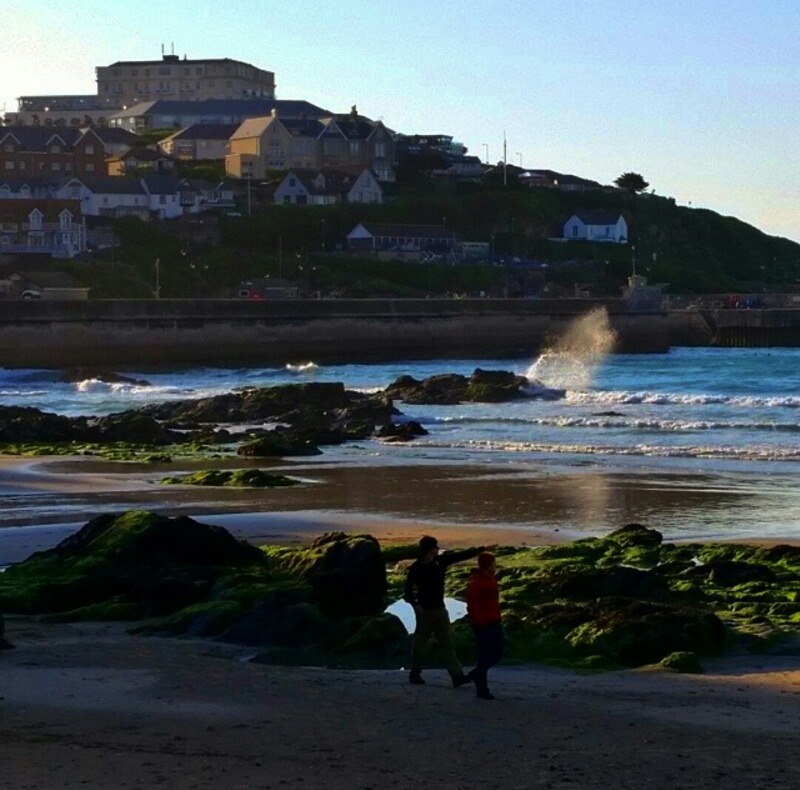 What: Dans Peugeot Peggy, parked up in the village of Padstow, Cornwall, England
Why: It was a fairly warm and sunny afternoon in another Cornish fisherman's village called Padstow. This was our second time ever to take the bikes out and explore deeper so we were so excited and curious. This picture actually makes me laugh when I look at it because when I caught Dan taking it I realised just how obsessed he was with photographing his bicycle.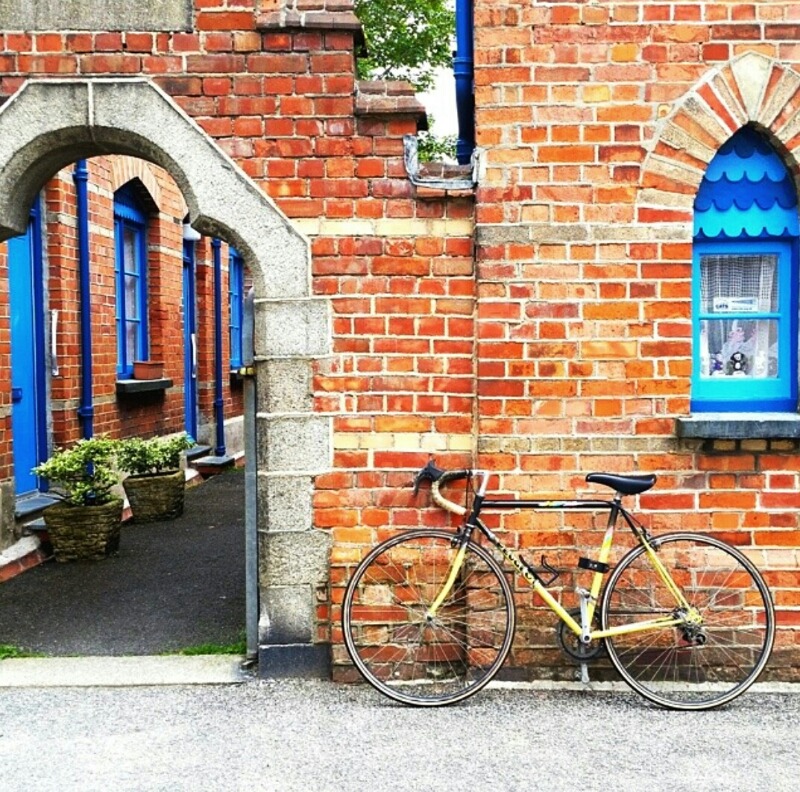 What: Cell doors, Bodmin Jail, Cornwall, England
On this particular evening we decided to go for dinner at the historic Bodmin Jail, which is now a restaurant and tourist attraction, offering creepy tours to explore the past. Before dining we decided to check out some things around the exterior of the building which is where we found these cell doors, right next to where they used to hang criminals.
After reading about some of the crimes that were committed to result in the death penalty, we sure are glad we weren't around back then.
Why: It was mainly the colours that first caught my eye. But then after staring at them for a little while longer, I began thinking about all the different kinds of people that lay lifeless behind these doors day after day until it was their time to go. From bread thieves to murderers, they were to all end up with the exact same consequence. Where the fairness is in that, I don't know.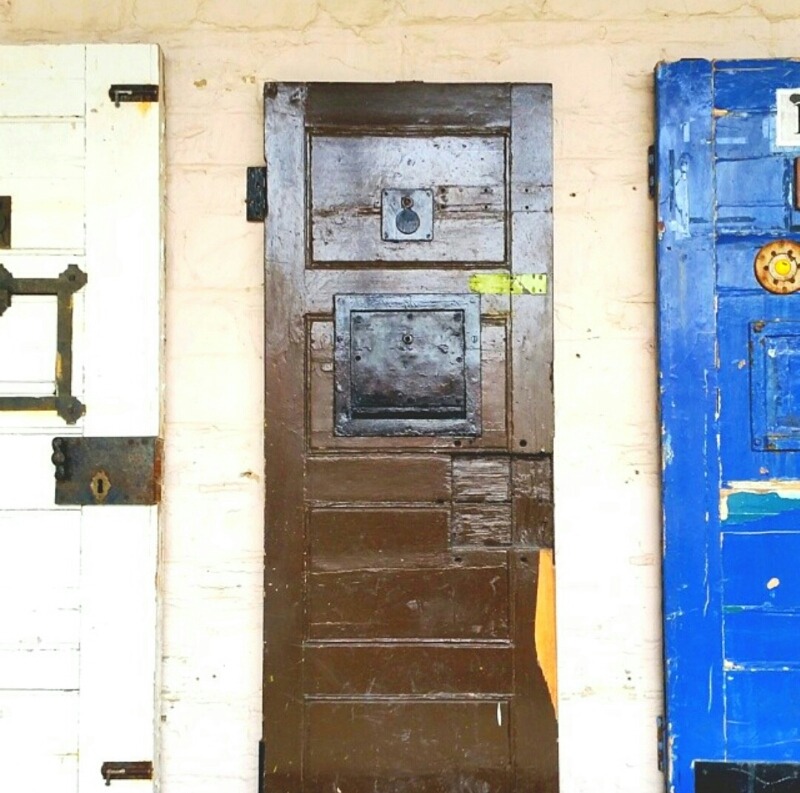 What: Private beach, Fowey (pronounced foy), Cornwall, England
Fowey was a truly unique village on the coast of Cornwall and really added a hint of luxe to our UK road trip. Why? Well first, because we somehow managed to score a free spa day (heated pool and jacuzzi) in a beautiful, luxurious setting at the stunning Fowey Hall just by having some lunch there. And second, because we came across some incredible little places like this private beach.
Why: I love this photo because it brings back the feeling of having a little more comfort than most of our other days living in a van on a road trip. It also had such a peaceful, serene vibe to it and that water was just calling out for us to jump in (although it may have been a little on the chilly side)!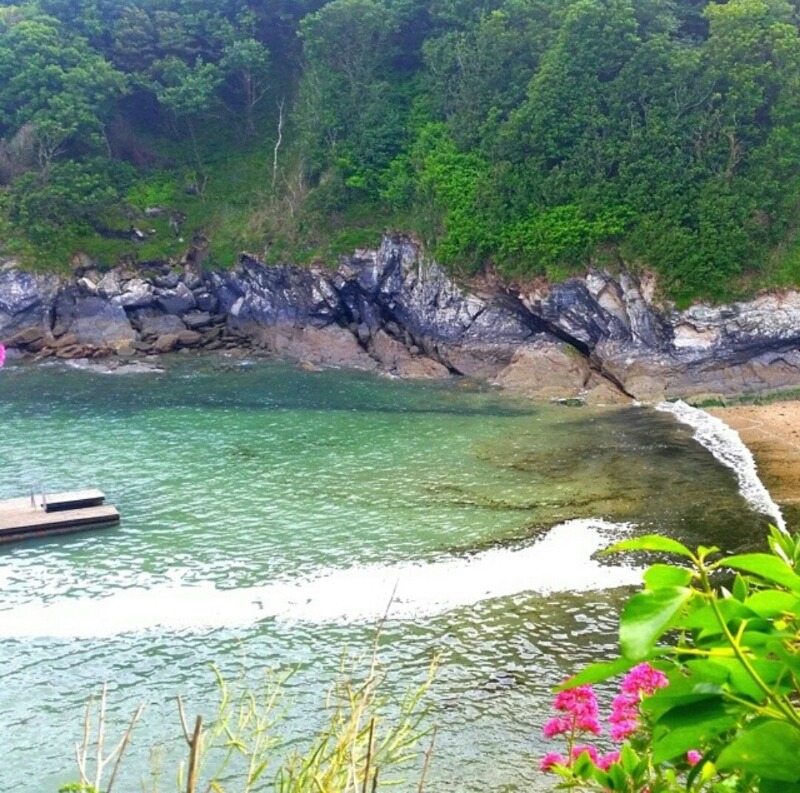 What: The sunrise view out to St Catherines Island from Tenby, Wales
Dan was up at the crack of dawn for this one. We'd been out the night before, enjoying a couple of beers in the historic town of Tenby before going to sleep in the van which was parked in a side street. All night Dan was sneezing and sneezing and just couldn't hack it any longer so he got up and went for a walk. He came back 2 hours later with a bunch of sunrise shots after exploring some unique nooks and crannies of town.
Why: There is barely ever a time when I'm up at the crack of dawn to see the sunrise. It just doesn't happen. I'm a sleepy kinda gal so I truly appreciate it when it's captured on the camera for me to wake up to 4 hours later.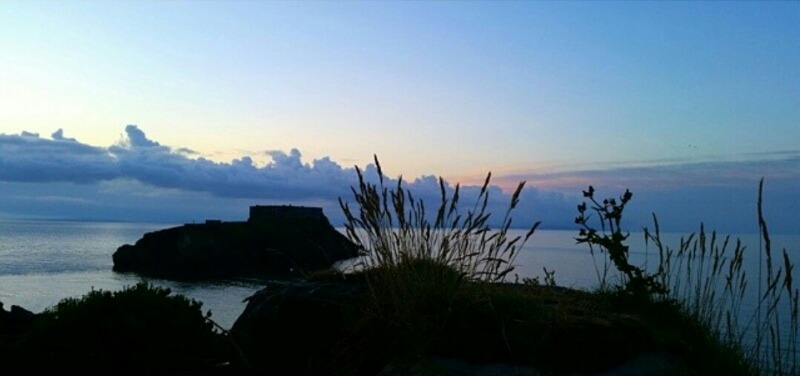 What: Pebbles at Newgale beach, Wales
It was a Sunday and the weather was looking mighty fine. We were on our way to St Davids in the van and decided to take the longer but more scenic route along the coast. And boy are we glad we did. Driving along a quiet country road through a bunch of fields and hills, we popped put at Newgale beach, a stunning stretch of turquoise water, yellow sand and thousands of pebbles.
Why: Summer was at it's absolute best on this particular day in Wales. We were out walking along the beach in short sleeves and skirts (well, I was anyway - not sure about Dan) and the smell of the ocean air reminded me of being back in the land of Aus.
One particular thing I miss about Australia is its beautiful long stretches of beach but on this Sunday, I was totally satisfied with what Wales was offering instead.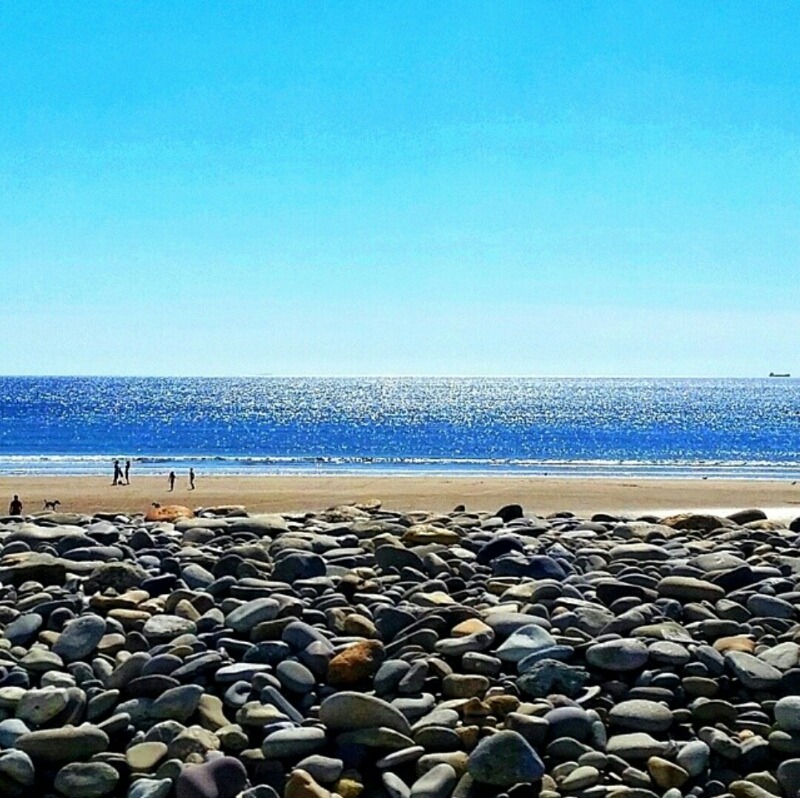 What: An old Welsh train carriage in Porthmadog, Wales
Porthmadog is a fairly small town located on the edge of Snowdonia National Park, Wales. It's where ocean meets mountains which makes for some pretty magnificent views. Catch it on a clear, sunny day and you'll be quite pleasantly surprised.
Many train tracks run through the centre of Porthmadog for trains heading into the Highland. This particular carriage came into sight when we were following the tracks down to catch a glimpse of the dreamy mountains on one side and the ocean on the other.
Why: Well, this one just sums up summer in Wales for us really. Beautiful scenery, hours of sunshine and a lovely old Welsh train carriage in a great little Welsh town - how does Wales get much better?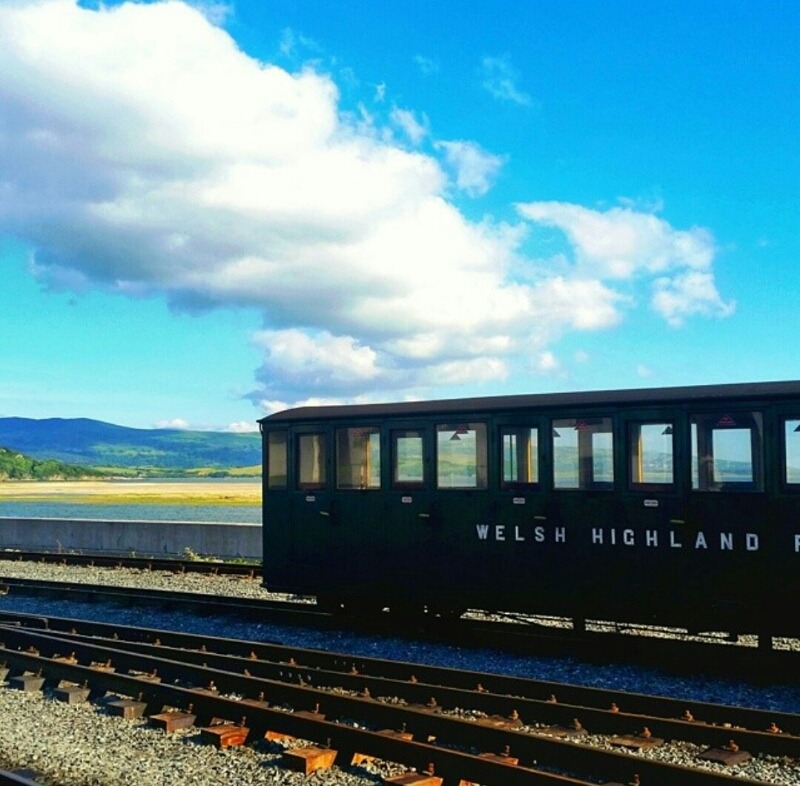 What: Mountains of Snowdonia National Park, Wales
Driving along on some bumpy country lanes in the middle of nowhere (lost) I caught a glimpse of this view at sunset out of my passenger window so we pulled down another little lane to try and capture it.
Snowdonia National Park is home to Snowdonia, the largest mountain in England and Wales as well as so much more. There's mountains, rivers, fields, streams, forests, caves, quarries, you name it and they are all absolutely breathtaking. We thoroughly enjoyed this part of the road trip.
Why: Look at it! What's not to love about that view. And when you're surrounded by this for miles, you know you're somewhere special.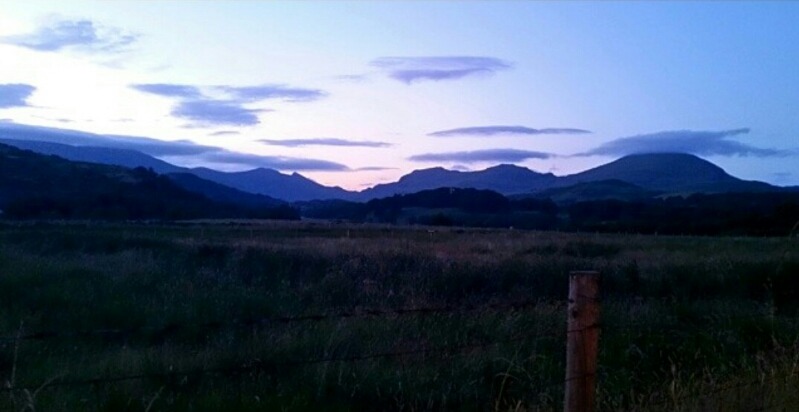 What: Sunset over River Mersey in Liverpool, England
We'd been checking out Liverpool by bicycle all day, stopping to get some work done along the way when we came across this beautiful sunset over the river on our journey back to the van. In fact, it wasn't the sunset that caught our attention at first, it was actually the massive cruise ship full of excited families, couples and friends about to embark on a beautiful summer cruise holiday.
Music blared whilst onlookers watched and waved enthusiastically across to their loved ones as the ship was preparing to set sail in the sunset. It was beautiful. They even had people performing stunts in the water and an aerial camera to capture it all from above.
Why: The main reason I like this one is because it shows a totally different side to Liverpool than I ever expected. Half of my family grew up in the North West of England and really hadn't given it much praise. However, when we arrived I was actually shocked by how different the picture was to how it seemed in my head prior to viewing it for myself. This was when I really began to understand these powerful words of Mark Twain:
"Travel is fatal to prejudice, bigotry, and narrow-mindedness, and many of our people need it sorely on these accounts. Broad, wholesome, charitable views of men and things cannot be acquired by vegetating in one little corner of the earth all one's lifetime."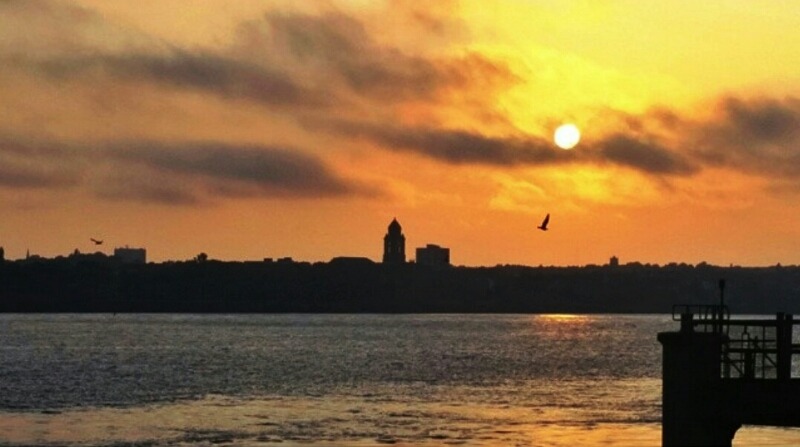 What: Crosby Beach, England
Crosby was our next destination after Liverpool City, about 20 minutes drive away. Looking at this stunning beach would you have expected it to be in the North West of England, 20 minutes out of a major city? We couldn't believe our eyes.
We'd only ended up in Crosby to find somewhere to take a shower which so happened to be a beautiful brand new leisure centre with a steam room and all, right on the edge of this beach. Oh and it might have just been one of the most perfect summer days we'd had on our road trip so far.
What Dan is doing with this statue, I don't know.
Why: Well, being able to park your home in a car park with this view just doesn't happen too often, especially in England. So I guess this one just makes me feel grateful for what we have in this world and definitely reiterates how the best things in life are free!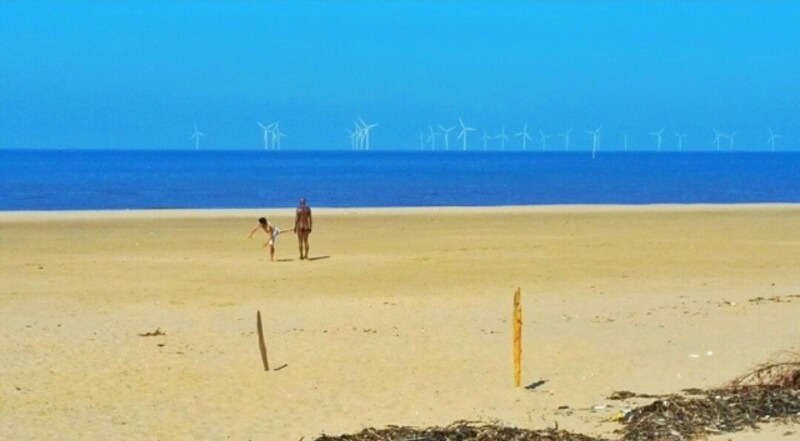 What: A land of fun in Southport, England
Southport was a stunning seaside town approximately 40 minutes North of Liverpool. We actually spent about 2 weeks here because we had absolutely everything we needed including a ton of things to do with a laid back vibe to it, internet everywhere (we didn't experience this too often), many absolutely delish pubs and restaurants and a really unique seafront where we parked our van night after night.
We captured this Funland in action one evening after having dinner in town. This actually sits at the front of a huge pier that literally goes about a kilometre out (and at certain points of the day it still doesn't touch the water)!
Why: Simply put, Southport for us was just pure fun! We loved the town and it's quirkiness and will always remember it as the the place to be during summer holidays in England.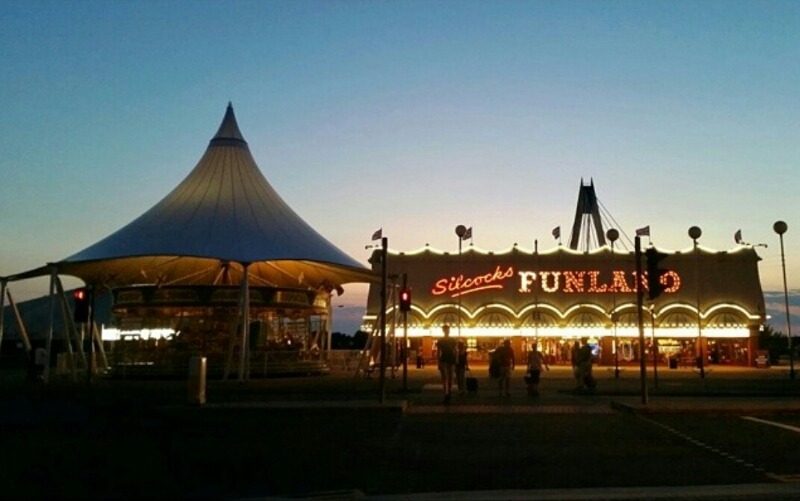 What: Sunset from the pier in Southport, England
Again, another one from Southport because we're big fans! This one was captured one evening when we decided to ride the bicycles down to the end of the pier. We were amazed by just how far out the tide was, it was barely viewable and that was standing at the very end!
We actually caught the sun as it was going down but it was at that annoying height where it made it super difficult to see anything, let alone take a picture on a smartphone. However, when we got back to the van I came across this photo and was quite amazed by how the sun looked as though it was breaking through the sky. I half expected angels to appear in white and start singing, as they do.
Why: I love how it looks as though the sun is cracking through the clouds, like an explosion in the sky. It also captures a whole other view of the sunset to what we were able to see without burning our eyeballs which was a lovely surprise when I went through our photos later on.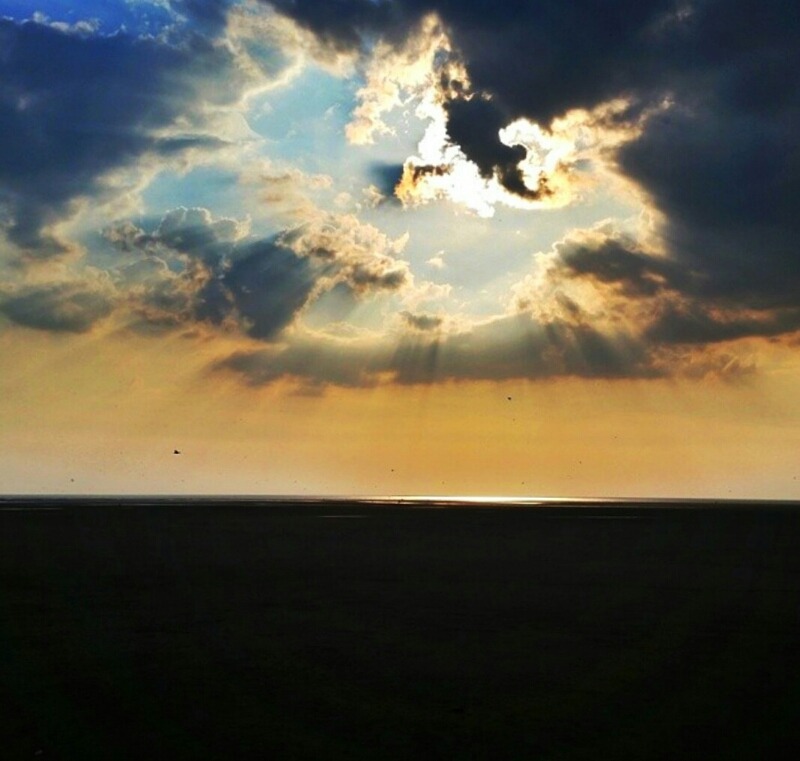 What: Water Tower, Lake District, England
Lake District, located in Cumbria, North West England has got to be one of the most stunning, picturesque places we had the privilege of driving through on our road trip in the UK. Wow, words can barely describe the beauty! Lake after lake, mountain after mountain, village after village, this place just doesn't get old no matter where you drive.
This water tower was captured while we were driving along Lake Thirlmere on the way to the town of Keswick one afternoon.
Why: For me, it's the colours - the rich orange of the brick against the bright blue sky and the deep pink flowers gracing the edge of the road - that effortlessly say, yep, it's summer.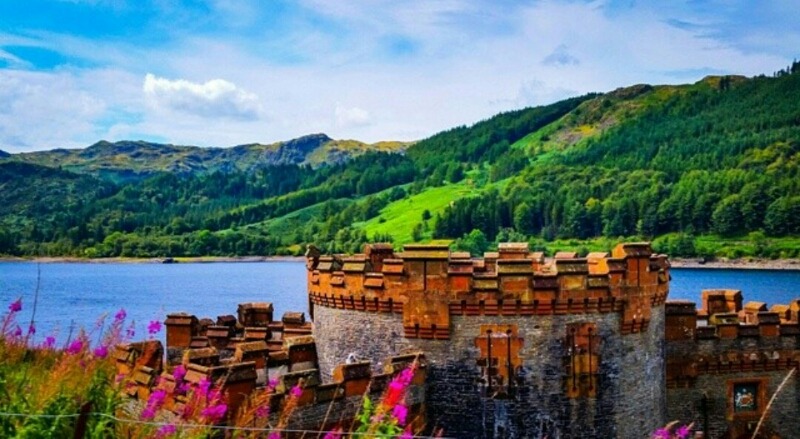 What: Crummock Water, Lake District, England
Another one from Lake District because this has got to be one of our all time favourite places to photograph. Even without all the proper gear you can still get some amazing shots, so imagine what you could do with a decent lense and a little more knowledge.
This is Crummock Water, a stunning lake with so much character. As we were driving along the winding road that hugged the waters' edge we just couldn't hold in our "oooh's" and "aaaah's". We were even stopping every 5 minutes to take pictures because there was simply so much to take in.
Why: Because this looks nothing like the England most people have in mind. There's so much more to the country than red buses and men with funny hats so I that's what I wanted to show you.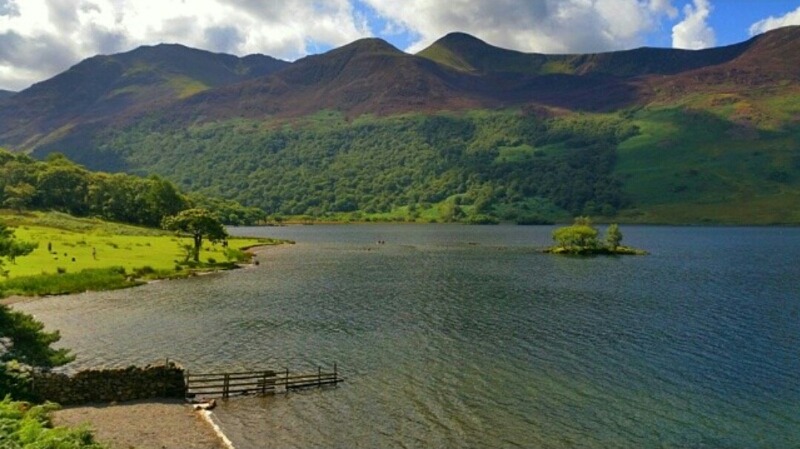 What: Queens View, Pitlochry, Scotland
We actually ended up at Queens View after we took a wrong turn on the way to Loch Ness and just followed the road. Well, we had nowhere else to be! And look where we ended up. This was one of the most amazing views I think I've ever witnessed and we were so lucky to end up there as the sun was going down.
Yes this is a tourist site but go at sundown on a weekday and you're lucky to find one other person there. However, in my opinion this is simply the best time to go. When speaking to the locals in nearby towns and cities after visiting I learned that it's not even a famous spot because nobody had heard of it. Scotland's best kept secret!
Why: Because this has to be one of the most beautiful things I've ever seen. Simple.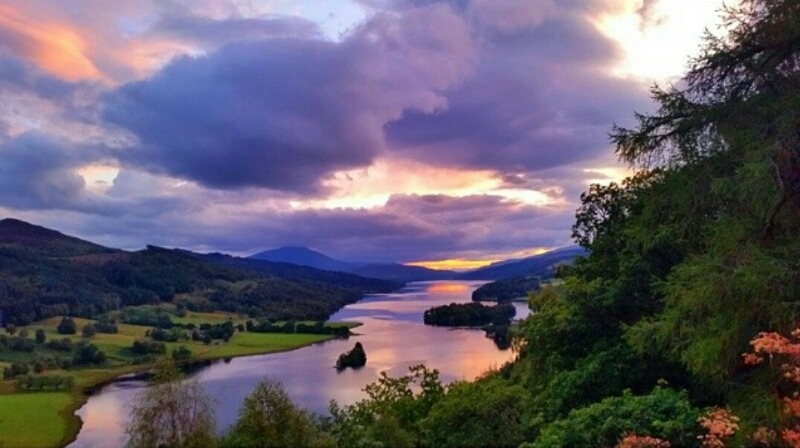 ***
To come with us on our new journey through Holland and beyond, be sure to follow us on Instagram for daily inspiration.
Do you have a favourite Instagram pic from your travels? Show us by tagging #storyv and you may well get featured!