Newly updated 9/6/17
Feeling uninspired? Unmotivated? Can't see any reason to get off the couch?
Well these 8 places to go for inspiration and motivation should help you to snap out of it!
As human beings I think we absolutely need to immerse ourselves in stimulating environments to get ideas flowing and things happening.
There is so much more potential to get inspired when we actively surround ourselves with different people, colours, flavours, sites, sounds, smells, experiences and so on.
After all, change is consistently among us and we are influenced by it every single minute of every single day, so why not embrace it and let our imaginations run wild instead of run away?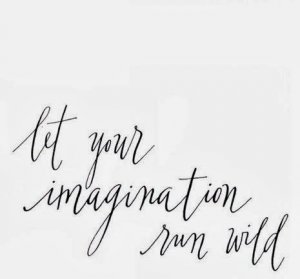 One of the reasons why I love to travel so much is because it has given me so much inspiration and motivation to keep challenging myself and now I can't even imagine how different my life would be if I were to have never left home.
From the people I've met, to the places I've been, to the sights I've seen, traveling has influenced me in so many ways.
Stepping out of the small bubble we all know so well can do immeasurable and amazing things for the mind.
Which brings me to this somewhat eclectic list of places to go in search of inspiration and motivation without even having to leave your city.
Here's where I go…
8 Places Anyone Can Go For Inspiration And Motivation
1. Collaborative Workspaces and Cafés
Get nerdy.
Cafés these days are really starting to surprise me with how well they cater to the modern day entrepreneur.
Most offer free WiFi, power sockets, comfortable seating and spaces to work both independently and with others.
I've even noticed that some are ditching the small individual tables and instead opting for one huge table where people can sit and work on their own or meet and join forces with others.
What better way to share ideas with like-minded people than over a cappuccino in a vibrant café?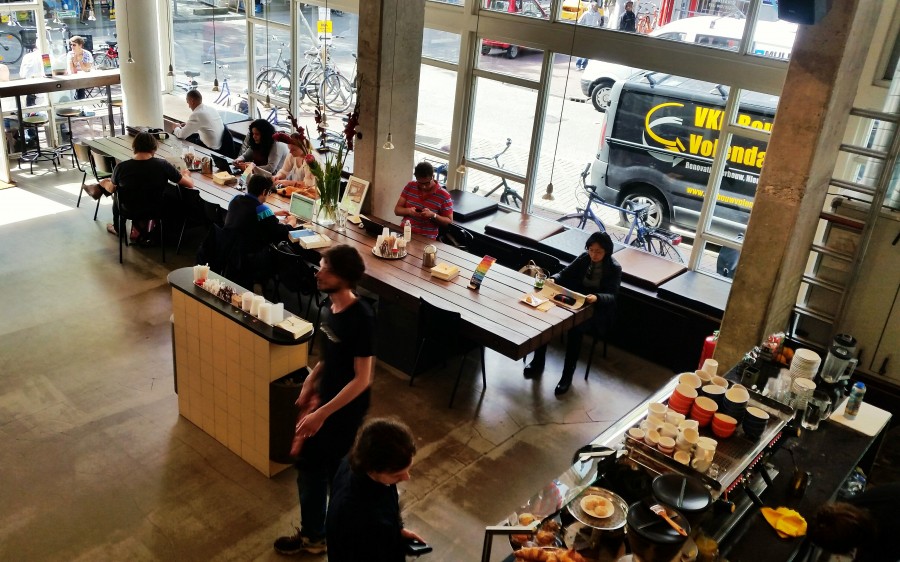 Which brings me to co-working spaces…amazing!
Popping up all over the place are these great collaborative offices where creativity and networking is taken to the next level.
You can pay to rent a space for the day, a week, a month or however long you like really and use the space to work on projects, meet potential partners and bounce thoughts around.
These places make learning fun, ideas flourish and things happen.
2. The Bathroom
Whilst enjoying a long, hot and steamy shower.
Dan and I are in agreement – behind the shower curtain is where the magic happens.
No not that kind of magic, cheeky!
Magic in the form of innovative, fun and plain crazy ideas that tend to just stem from nowhere after a few solid minutes of daydreaming under the pure delight of a good shower head.
There's nothing too interesting about the average bathroom is there, really?
So when it's just you and that relaxing flow of hot water, it makes for the perfect environment to tune into your thoughts without any distraction.
3. The Park
Or somewhere open where you can people watch without looking too obvious.
It's true, we all people watch.
We're curious beings and there's nothing wrong with that.
In fact, most of the time we spend people watching isn't to judge, compare or look down on others, it's actually the total opposite – to find inspiration.
Every one of us influence each other and it's a beautiful thing.
So where better to take to than the park or beach on a warm summers day? It's where everyone else is going – perfect!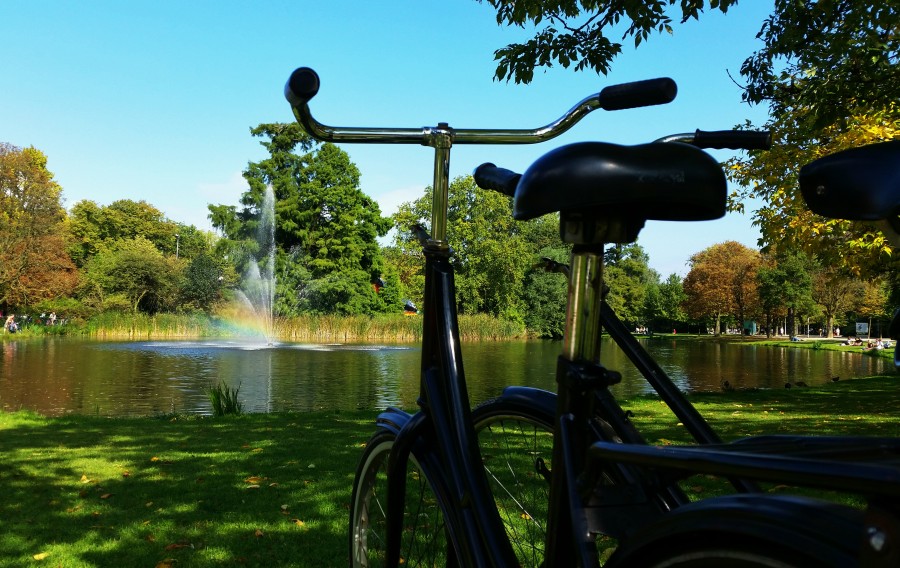 Lay out a blanket, bring some snacks along and spend some time looking around.
Anything that catches your eye or appeals to you in one way or another, write it down.
You'll get home with a book full of inspiration!
4. Bed
In the morning, with a good coffee in one hand and a pen in the other.
You're warm, comfortable and relaxed; you have an hour before you absolutely must get up and it's lightly raining outside.
Instead of sleeping, get someone to bring you a nice hot coffee and a notepad because this may be your most creative time of the day.
It could have something to do with dreaming all night or it may just be the coffee working, however this is a great time to just sit and connect thoughts to paper.
And often you'll find that once you can physically see your ideas on the page, you'll become much more motivated to take action.
The key to this is doing it first thing in the morning with little distraction.
5. A Street Party
Ok, so it's not every day a street party just so happens to be grooving nearby…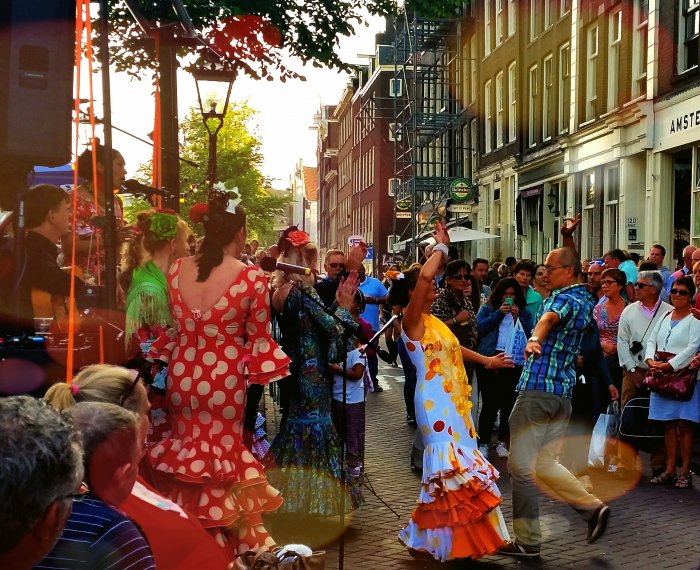 However, to encourage a positive mindset (which is vital for that motivation you're in need of) and assist ideas to flow freely, it's worthwhile spending plenty of time in colourful, vibrant spaces.
Awaken that mind of yours and fire it up with some positive energy.
Nothing ever gets done when you're down and in the dumps so get up and find out what's happening in your local area.
Whether it be a fair, concert, party or market, as long as the atmosphere feels warm and uplifting, you're in the right place.
6. Youtube
The best friend you didn't know you had.
In your spare time I seriously urge you to get on Youtube.
Wow, there is such a crazy amount of opportunity to learn about nearly anything you want just a few clicks away!
People are out there doing amazing things and it's likely that someone has made a video about it.
The world is at your fingertips…
Two of my all time favourite inspirational videos are Steve Jobs' touching speech at Stanford University back in 2005 and Jim Carreys' thought-provoking speech at Maharishi University this year.
And if this one doesn't motivate you to get off your ass, I don't know what will!
PS. We have a Youtube channel (hint hint).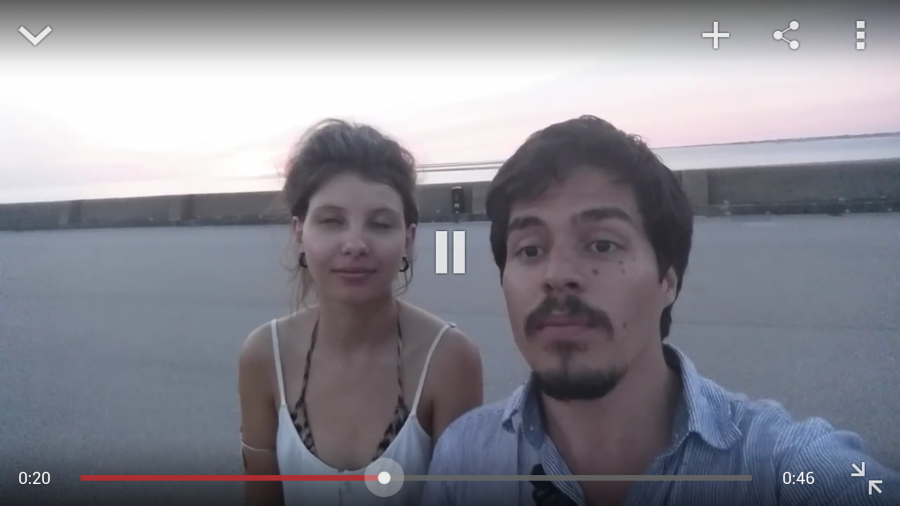 7. A Talk or Presentation
The real deal.
One of the times I felt most inspired was when we stepped into TATE, Liverpool, a huge art gallery/creative space full of unique and interesting people.
It just so happened that there was a scheduled conversation beginning about creative start ups so we stayed and listened.
Five amazing people sat before us from three emerging magazines and shared all their ups and downs in the process of turning their dreams into reality.
They gave their best tips, spoke about their future goals and even shared some of their most embarrassing fails.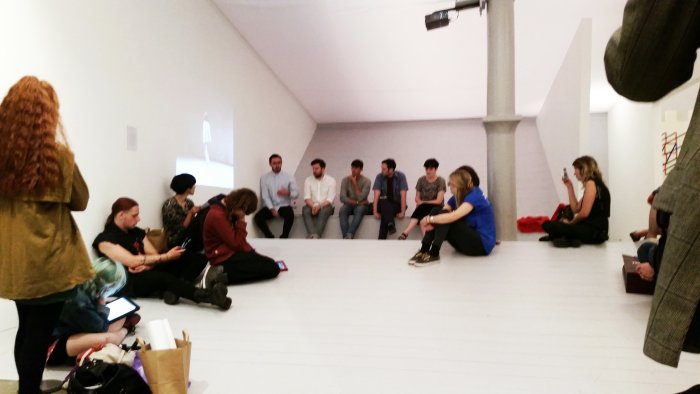 I walked out really inspired with so many new ideas and I was actually excited to get somewhere with internet to be a nerd.
And the fact that it was real life – I was actually able to go up speak with them afterwards and ask questions – made it all the more motivating.
Keep an eye out for presentations, talks, seminars and the like happening around town because they will probably be far more interesting and beneficial than you think.
8. A Hostel
Where travelers unite!
If you are one to travel then think about opting for hostels or guesthouses over hotels occasionally (not all the time).
Do your research and read reviews to find out which ones are dominating others when it comes to atmosphere…
If your accommodation boasts amazing atmosphere then you are guaranteed a totally different travel experience than if you were to stay in a hotel.
With hostel and guesthouse rooms usually being of the more basic sort, it means more people spend more time out socialising with others…
And because these people come from all corners of the world, it makes for a really interesting experience.
You might find yourself doing things you'd never normally do or take up something you've always wanted to do with the influence of others.
At our favourite hostel in Thailand (Common Grounds, Pai) I was truly inspired by so many people in so many ways that I started drawing, singing and even playing around with the hula-hoop on the odd occasion!
Come on, who doesn't love a bit of hula-hoop action?
You are capable of anything you put your mind to, so work out what kind of environment your mind responds to better and go there – often. Especially if it's the shower.
***
I'm really interested to know where you go for inspiration and motivation. Do you have a unique place? Share in the comments section below!
Did you find this inspiring? Save it on Pinterest for quick reference >>