Traveling to a tropical country or destination is an experience you should not miss. In fact, there are more activities you can do when you are in a tropical destination. However, just like any trip, you need to take care of your skin. Bringing the right beauty essentials to your next tropical experience is a must!
To achieve natural and healthy skin, you need a systematic skincare routine. Especially when you are visiting a hot and humid country.
Here are some beauty essentials you need to pack when you visit a tropical destination.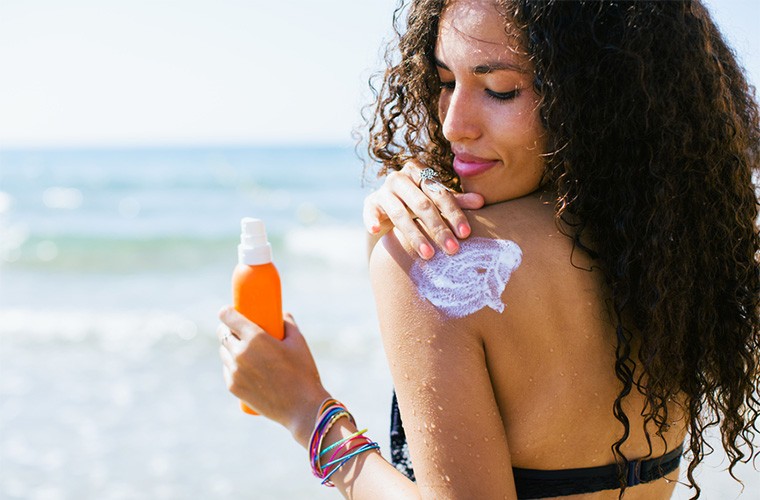 Sunscreen – Face and Body
Protecting the skin from the broad spectrum of harmful UV rays from the sun is one of the most evident and prevalent advantages of sunscreen. Also, sunscreen minimizes the penetration of UV rays into the skin and causes a variety of skin disorders.
Although applying an all-over body sunscreen to your face is not necessarily dangerous, it may be more comfortable to wear a sunscreen tailored for a sensitive skin. Sunscreen operates by a combination of physical and chemical molecules blocking and absorbing UV rays.
Here are some of the best products you can try.
Aveeno Absolutely Ageless Daily Moisturizer SPF 30 – A mixture of sunscreen and antioxidants is recommended by most dermatologists. This helps fight aging for the best daily security with free UV radical damage. This lightweight lotion has everything in one. It hydrates, has SPF 30, and for an antioxidant boost, it contains a mixture of blackberry extract and vitamins C and E.
Olay Total Effects Whip Face Moisturizer SPF 25 – It has a whipped consistency that absorbs in seconds and leaves a velvety smooth finish under your makeup.
Waterproof Makeup
When you go somewhere hot and humid, waterproof makeup is my best friend. Waterproof makeup is the best choice because it's going to get hot, you could cool off in the pool or sea, and you're likely to take a ton of photos.
Makeup staples for you are eyeliner and mascara. But, it is also important not to wear makeup that will run the gamble of panda eyes emerging.
Bath Bomb
Bath bombs are hard-packed dry product mixtures that effervesce in wet conditions. These are used for bathwater, incorporating essential oils, fragrance, and bubbles. The beneficial ingredients in bath bombs leave you smooth, soft, and silky, no matter what your skin condition is.
It will clean your skin, and it will also pamper and soothe the ingredients inside. Your skin is going to feel soft and youthful. After using a bath bomb, you don't even have to wash in the shower. If you use a colored or glittery bath bomb, however, it is recommended that you do rinse off after. If needed, wash the tub after draining the water.
Cooling Moisturizer
Swap your regular body moisturizer for a soothing aloe formula that will hydrate without feeling sticky or greasy for up to 24 hours. There is a wide range of options that can best suit your choice.
Sheet Mask
In deep hydration, sheet masks will drill your skin — firming, plumping, and rejuvenating your appearance. If your skin has dry patches, it seems less supple, or if you've traveled and spent a lot of time in the sun, get a hydrating sheet mask and remove the burden from your tired and overworked skin.
Conclusion
If you're travelling and you want to look natural, radiant, and glowing, try out these products! For more beauty tips, click here.