If you've ever stepped off a plane with stained and rumpled clothes, a pore-clogged face, a jet lag-induced headache, and a mouth that still tastes like hours-old airplane food, you know how tricky it can be to stay clean and rested while traveling. And that's just the first leg of your trip. Admit it, we are all in need of travel hygiene tips.
If you're properly prepared, you'll be ready for whatever travel trial comes your way: to use an apple or lemon to improve your breath, to take a shower without water, or to fall asleep in even the most cramped airline seats.
Whether you're on a trek through the Amazon jungle or a road trip through Germany, keeping fresh and clean on the road can improve your spirits, maintain your health, and assure you that fellow travelers and locals aren't scared off by your haggard appearance and penetrating odor. Check out our travel hygiene tips below.
Travel Hygiene Tips
Hands
Those travelers devoted to hand sanitization are religious about the act—and for good reason. Fun fact: you may be more than 100 times likelier to catch a cold while flying than you would on the ground, thanks mostly to low cabin humidity. Because of this, one important way to protect yourself is by keeping your hands clean.
While doctors mostly agree that washing hands with hot, soapy water is best for preventing the spread of germs, there are times when this simply isn't an option for travelers. In these cases, your best bet is an alcohol-based sanitizer (in cloth or liquid form). Squirt and rub before a restaurant meal, after using an ATM, or after contact with something many people will touch, like a stone bust from a souvenir shop.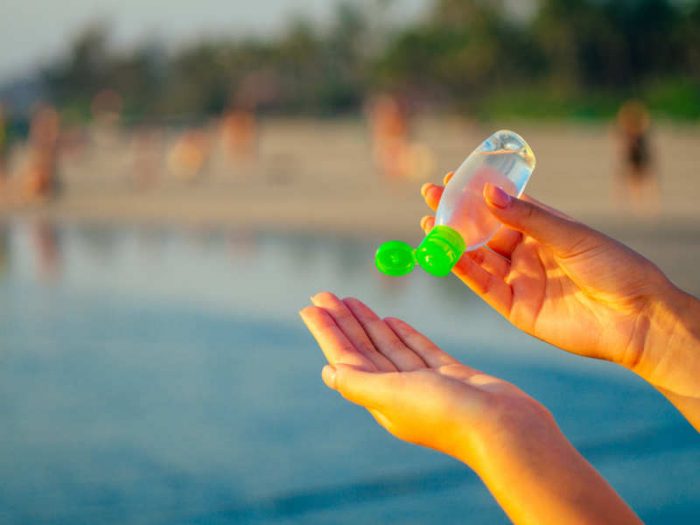 Face
A clean face can do a lot to offset dirty hands and foul breath. When considering your face on the road, there are two things to keep in mind: the climate of your destination and your skin type.
Leaving for Egypt's desert sands? Pack plenty of lip balm and moisturizer. Hiking the rain forests in Costa Rica? Nature will help you out a little. But no matter where you're traveling, sunblock is absolutely essential if you'll be spending any time outdoors.
Pro tip: Save room in your suitcase by packing a combination sunblock/moisturizer or sunblock/foundation.
Beyond staying hydrated, there's the question of facial cleanliness. There is a bevy of waterless facial products that can be used on the road—say, while camping. One tip is to pack a rinse-free facial cleanser and makeup remover; another option is facial-cleansing wipes. These individually wrapped cloths are alcohol and soap-free and don't require any water.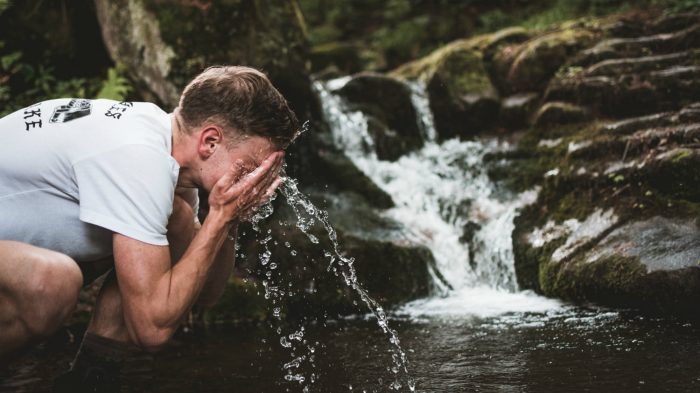 Breath
Is bad breath the greatest enemy to overall travel freshness? Your fellow airplane passengers might think so.
So what should you do to avoid that foul, sticky taste in your mouth and that look of revulsion from your neighbor on the plane or metro? Beyond the obvious mints or gum, and avoidance of garlic and kimchi (spicy pickled cabbage being the most popular variety), there are a number of products that promote oral hygiene on the road.
You can use those disposable mini-toothbrushes that provide a quick and easy mouth-freshening option when you can't brush your teeth for real. The brush head has a freshening bead that releases a mouth-cleaning liquid when you scrub, and a pick on the opposite end provides a floss option. It requires no water to use, and the ingredients are safe to swallow (except for the brush itself, of course!).
Another product of choice is the ever-reliable breath spray. You can literally feel the bacteria being singed away.
There are also a number of foods that, rather than encouraging halitosis, help clean out the mouth. Granny Smith apples are one such option, their tartness sparking the mouth's natural washing mechanism, salivation. Lemons and limes work great as well!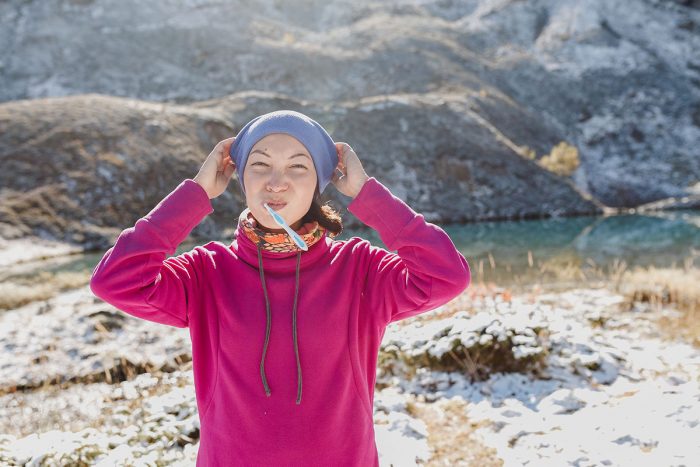 Clothes
If the cliche rings true—"look good, feel good"—then choosing the right clothes for the trip is a keystone of successful travel … as is keeping them clean and wrinkle-free.
In-transit, try a polyester "dry-fit" t-shirt—which is lightweight, wrinkle-free, and extremely quick to dry—as your first layer. And if you stain your wrinkle-free duds, try Tide to Go, which looks a bit like a magic marker but does a pretty decent job of eliminating stains.
Don't like the feel (or potential extra cost) of wrinkle-free garb? If you don't have access to an iron, go ahead and try a wrinkle smoother. This liquid product works by relaxing fabric fibers so that wrinkles can be smoothed out with your hand. Just spray on your crumpled top, stretch and smooth it out, and you're done.
Along the same lines, one of the greatest fears for hikers and trekkers is getting wet, then getting cold, then getting sick. But even the casual traveler can benefit from a packable waterproof jacket.
Pro tip: Get one that fits into its own pocket, making it easy to include in your carry-on.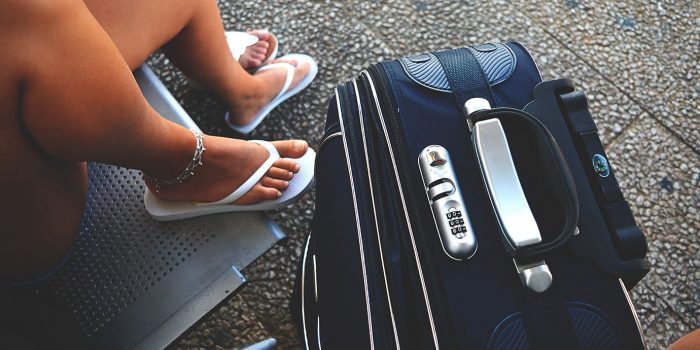 Body
For the body, clothing can go a long way in at least giving the impression that you're cool and dry. But when you're in a water-free environment and desperate for a shower, there are a number of "soap" products that can be used without water.
The aptly named No Rinse Body Wash is a popular option for adventure travelers. Known in the health care field (for use with bedridden patients) and also good for campers/trekkers who don't have the luxury of a shower, No Rinse products utilize a water-based odor neutralizer to provide a quick wash. Of course, the benefit here is that you don't have to rinse.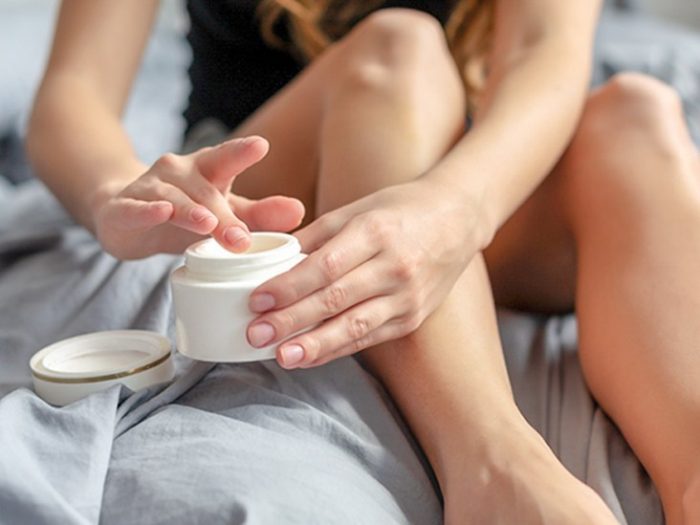 Mind
Beyond bad breath and body odor, "freshness" is also a state of mind. Part of it is matching your expectations ("I want to stay clean, dry, and awake") with reality ("I'm on a three-day hike through the Rockies with no access to soap").
But staying fresh and alert is about rest and relaxation, and one of the most admirable travel talents is the ability to fall asleep at will. On a plane? Get a window seat so you have somewhere to lean, and try a neck pillow.
Besides medicinal products, drowning out the surrounding noise proves to be the most effective sleep aid. Noise-canceling headphones can replace the irritating, low-level plane buzz with something more conducive to sleeping. But do your research on these before purchasing! The purpose is defeated if the phones start pinching your ears or leave indentations in your temples after 20 minutes of wear.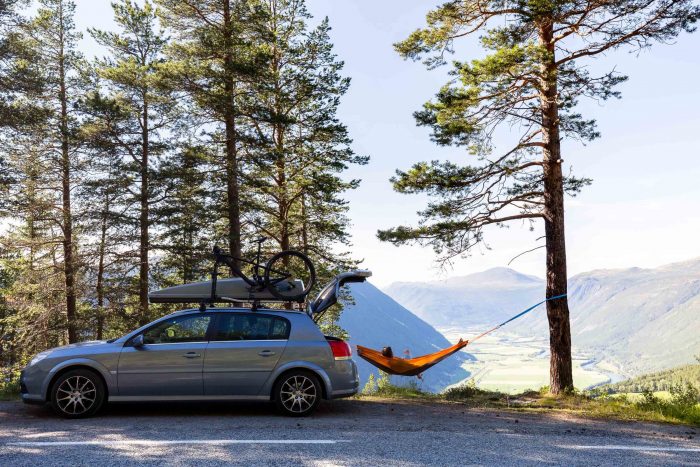 Ready to pack some essentials to help you stay fresh while traveling? No matter where you're headed, always keep in mind these travel hygiene tips. A little adjustment here and there can definitely do wonders for your health and overall well-being.