Emanuela Gessa is possibly the luckiest medical student in the world. Why? Because she get's to call the most beautiful postcard you can imagine, home. It's a destination many of us only dream of visiting, yet each afternoon, as the sun sets over the Mediterranean, Emanuela can smile to herself, grateful to have lived another day in paradise.
Sardinia: Italy's island of breathtaking coastal views, immensely welcoming people and captivating ancient history.
Laying in the middle of the Mediterranean Sea, Sardinia boasts incredibly varied landscapes, including 2,000km of crystal clear coastline as well as densely forested mountainous areas. The summers are hot and because they're on island time, the people enjoy a relaxed way of life that anyone would be jealous of.
In this post you will learn:
What to see and things to in Sardinia
Where to stay in Sardinia
The challenges you may face as a traveler in Sardinia
The approximate cost of a two week trip to Sardinia
The top travel resources to book your trip to Sardinia online
Why Sardinia should be your next travel destination (do we really need to convince you?)
20 Idyllic Places To See And Things To Do In Sardinia
Pin these things to do in Sardinia for later >>
Tell us about yourself…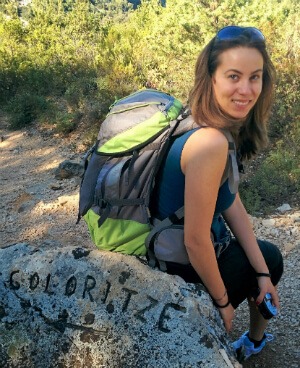 Hi! My name is Emanuela, I'm 27 years-old and I live in a small city near Cagliari, on a beautiful island called Sardinia.
I'm a medical student and a paramedic with a really strong passion for travel, literature, sports, blues and rock music.
I'm also an amateur writer and I love to write shorts diaries at the end of my travels, but I don't have a blog, I just share my work with friends on Facebook or Instagram.
Last month one of my friends convinced me to publish an article about my last travel experience in Calabria and for the first time, my piece was featured in a newspaper.
I was born in Sardinia and most of my family live in Sardinia too, so I've spent my entire life here.
What is it that you love about Sardinia and has this island inspired you to travel more around Italy?
When I think about Sardinia, the first thing that comes to mind is the beach. I love the crystalline water, golden sand, cold breezes from the north and warm breezes from the African regions, the smell of salt water, the wonderful climate and the alluring mountains above the sea.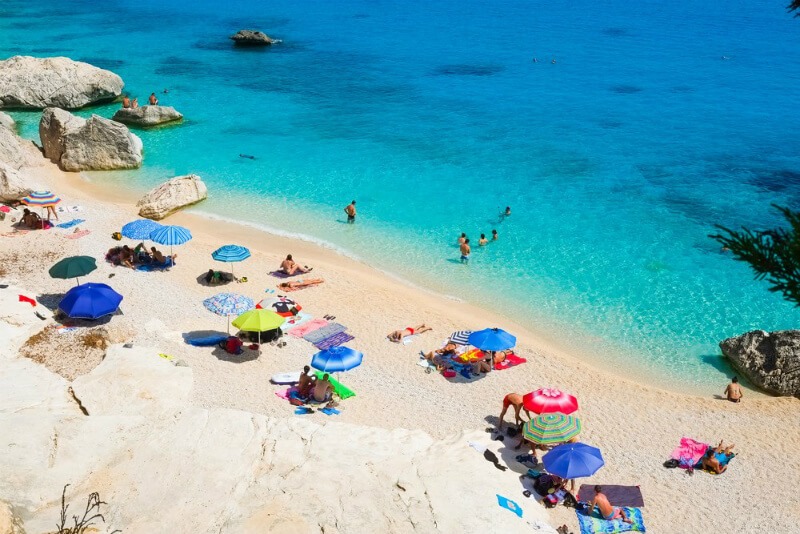 Also, the people… Sardinians are the most welcoming people I've ever met.
Sardinia is beautiful and life is genuine and simple, I really love It. It's a small island but my natural inclination for discovering new places and gaining knowledge of different cultures and traditions has brought me to travel around Italy and Europe a lot since I was teen.
Which places in Sardinia are your favourite and why? Would you recommend these as travel destinations? If so, where do you recommend staying?
Difficult question. There are so many places that I suggest seeing. Personally, I prefer the south and east coast…
First of all, Cagliari, the capital, is an ancient city with a romantic boardwalk. Rich in history, the city is the result of civilian stratification over 5 thousand years, from the Neolithic era to today.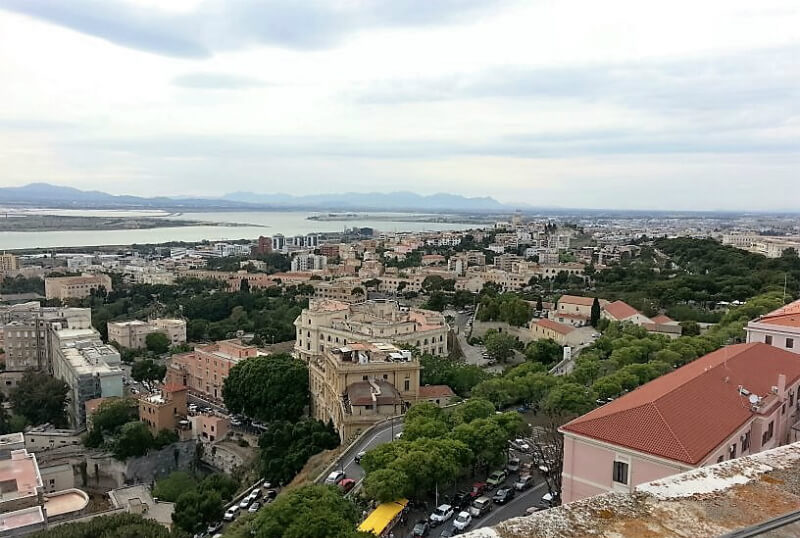 Villasimius is a very small city with a beautiful beach. You can rent an apartment in the centre of the city, 1km from the beach, or stay in hotels or holiday camps, like Tanka Village, which can be expensive during August.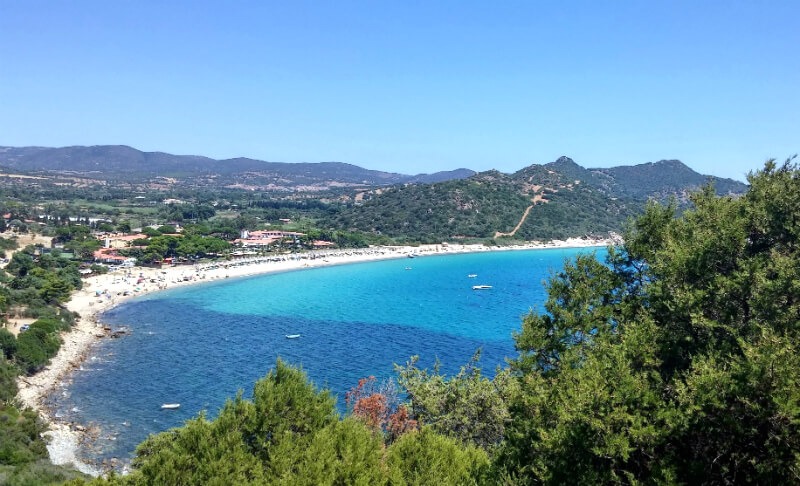 Pula is a popular holiday resort, with many hotels, hostels and B&B's for all budgets. The city is located near Nora, an ancient city built by Phoenician in the VIII century B.C., and is also just 20 minutes from the paradise of Chia. The ruins of Nora function as an open-air museum and the remains of the theatre is occasionally used for concerts in the summer.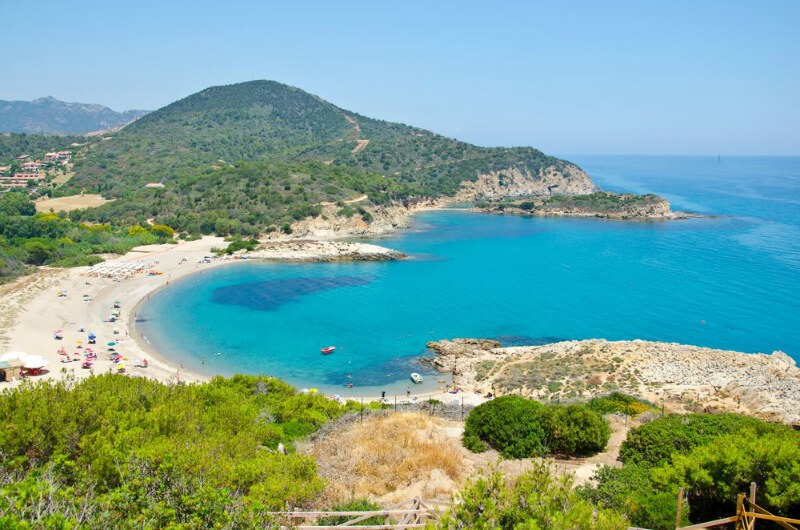 You absolutely have to see:
The beaches of Porto Pino with its sand dunes
Masua in south-west
The ruins of Tharros
The quartz beach (Il Arutas Beach)
Alghero and Bosa on the west coast
Costa Smeralda in the northwest
Costa Paradiso in the north (upscale – pricey during all seasons)
All destinations from Costa Rey to San Teodoro along the east coast
I tried to be brief, but there are so many amazing places to see in Sardinia.
Your absolute top things to do in Sardinia?
1 – Cala Luna and the Bue Marino Caves
In the northeast of the Island there is a protected area which can only be entered by sea. You can take a ferry from Cala Gonone and enjoy the beautiful bays in between the caves!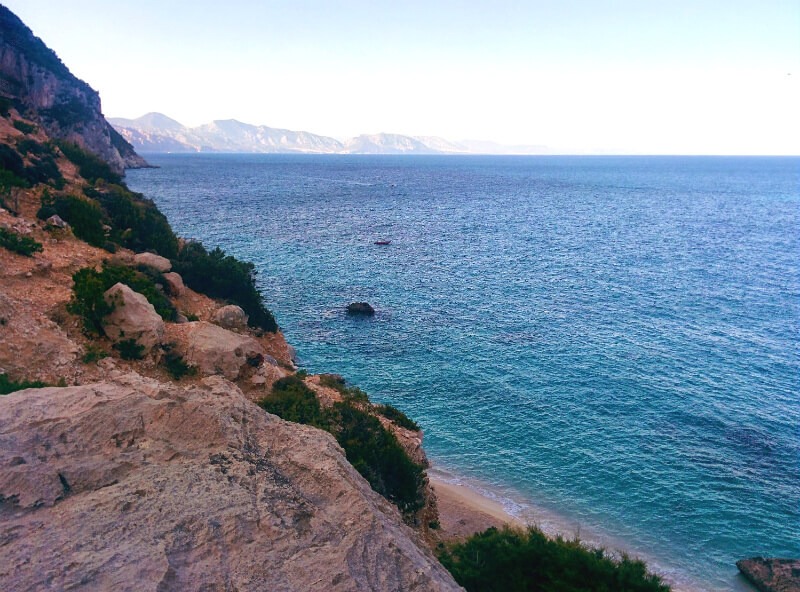 2 – Le Dune
If you want to know what paradise is like, the wonderful hills of fine white sand located at Porto Pino beach, near Teulada, are a must. Try making a sand-angel!
3 – The Gulf Of Angels
Chia, Su Giudeu and Tuerredda are the most recommended bays in the south of Sardinia.
You can admire white sand, stone peninsulas, crystalline water and even flamingos.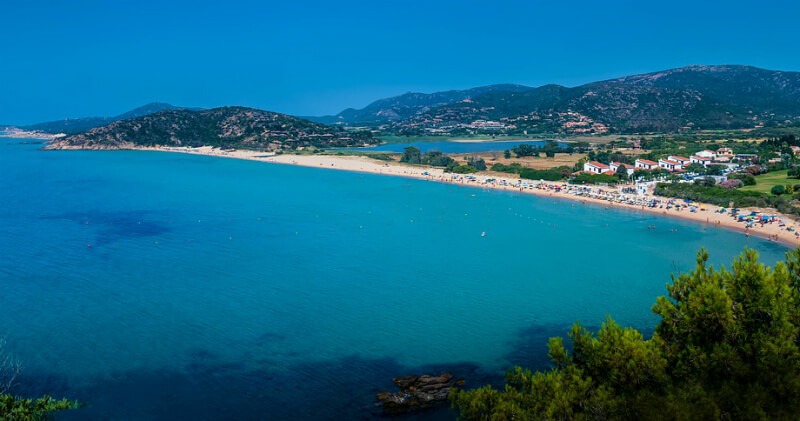 4 – Nebida, Masua, Porto Flavia and Pan di Zucchero (the mine zone)
A captivating blend of nature and history. The ruins of old mines and harbours stand out over white sand and blue water.
 5 – Su Gorropu
This is where the very wild and ancestral spirit of the Island lays. Su Gorropu creates the perfect harmony between soft hills and rough mountains and is home to one of the deepest european canyons. You can visit through a hiking trail called 'Sedda ar Baccas' which takes a duration of 3 hours.
6 – Asinara and Arcipelago di La Maddalena National Park
Here you will discover pure nature, emerald water and an immaculate habitat for many different species of birds, reptiles and fishes. You can also see the typical Sardinian donkey and the white donkey here.
7 – Road trip
Take a road trip through one of the many panoramic or coastal roads at sunset. My land is magical – careful, you could fall in love with her.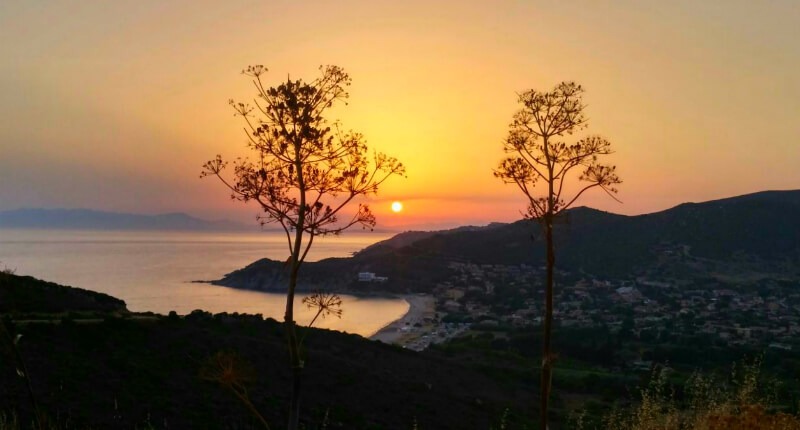 8 – Explore paradise (with no-one around)
During your road trip make a stop at a bay or a small cove between Cagliari and Costa Rey. Often there are very few people there, sometimes none. It will be one of the best experiences of your life.
9 – Taste the typical Sardinian food
For first course try: 'Malloreddus', a type of gnocchi with a sausage sauce, 'Culurgiones', a type of ravioli stuffed with potato or 'fregola', a type of pasta with clams
For second course try: 'Porceddu', which is roast pork, with 'Cannonau', a typical strong red strong wine
For dessert: Sweets like sebadas with honey or homemade pastries are very popular
10 – Sant'Efisio's celebration on the 1st of May
This is a religious event where you can admire traditional costumes and Sardinian music at a parade which occurs in the centre of the capital.
11 – "Sa Sartiglia", a medieval joust
This special event starts on the last Sunday of the Carnival period during February and finishes on the last Tuesday. Location: Oristano.
12 – Tharros, San Marco Peninsula and Is Arutas Bay
Tharros is an archaeological site on the water, founded by Phoenicians near the village of San Giovanni di Sinis. It's located just 1 hour from Cagliari, the capital.
Then there's the Quartz Beach, a Mediterranean bay with white quartz sand, which has a similar look and feel to rice. Where is this amazing place, you ask? Is Arutas, of course! Dunk your hands and feet into this therapeutic sand and simply enjoy it!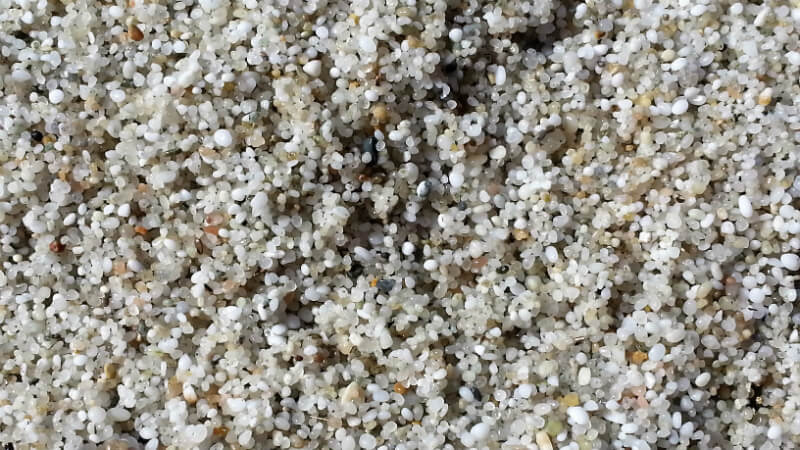 13 – Girotonno
Girotonno is a traditional tonnara (tuna fishery) located in the Island of Carloforte, in the south of Sardinia.
14 – Jazz music festivals
Time In Jazz in Berchidda and Musica Sulle Bocche in Valle della Luna
are two jazz music festivals that occur during the month of August. They are located in beautiful places, near the sea and in a small village.
15 – Museums 
Many museums are open in Sardinian cities throughout the month of May. All museums are free during the weekends.
What challenges do you face in Sardinia and how do you overcome them? Should people planning to visit Sardinia be aware of these challenges?
I think the downside of traveling in Sardinia is the public transport. It can be very difficult to move from one corner of the island to the other, especially in the summer season. So if you are planning a trip to Sardinia, you need to consider how you will get around (renting a car is a convenient option).
Pets are not allowed on any beach or in hotels, so if you travel with your pets, you should ask for information before arriving.
Another point to consider is the cost of your journey. During high season some places can be incredibly expensive for both locals and tourists, so be careful. If you want to remain on a budget, I recommend visiting in May or September/October, when prices decrease and the weather is nice too.
Another small challenge could be that not everyone speaks english fluently, so communication may be a little difficult, but not impossible.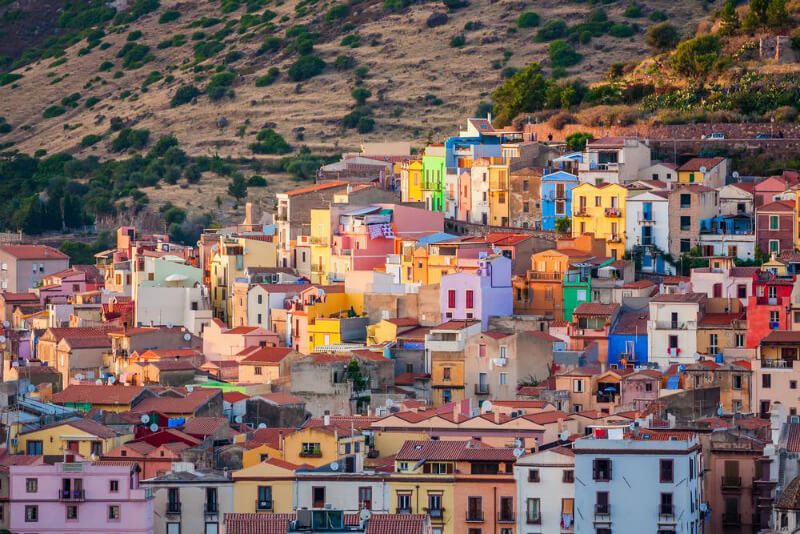 In your opinion, what is the best way to travel in Sardinia and why? 
I'll start by saying that I'm a supporter of 'on-the-road trips'. If you like DIY travels or adventure, I suggest visiting Sardinia with a rented car or motorbike because you can stop on costal roads and enjoy the views, discover small bays and coves that are not marked on the maps, and admire the small villages more closely.
If you want to experience Sardinia in the traditional way, I recommend choosing a local guide or tour group.
Sardinia has several ways to be visited, one for each pocket: the choice is yours.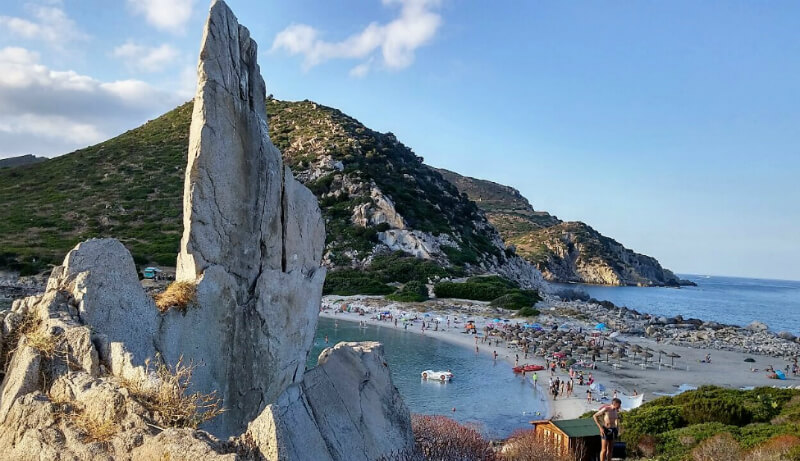 Based on this, what is the approximate cost of traveling in Sardinia (accommodation, food, transport, entertainment)?
Travel costs are so influenced by the type, period and duration of a journey in Sardinia.
For two weeks all inclusive in Cagliari or Villasimius during the June/July period, you could spend approximately €2,500 euro. In August, costs increase significantly for flights, accommodation and entertainment.
The North of the Island, famous for Costa Smeralda, is expensive throughout all seasons.
Sardinia is well connected with the Italian peninsula through low cost airlines such as Ryanair and EasyJet, and some larger airlines such as Alitalia, Meridiana and Lufthansa.
Restaurants and taverns aren't so expensive. During high season in Villasimius you may pay €50 euro per person for a fresh seafood dinner, including a starter, main dish, wine and sweets.
Public transport isn't excessive. You'll pay €1 euro for a bus ticket in Cagliari. Also, camping areas and B&B's are very accessible for every budget throughout the year.
The cost of living around Cagliari, Sardinia is lower than most other Italian capitals.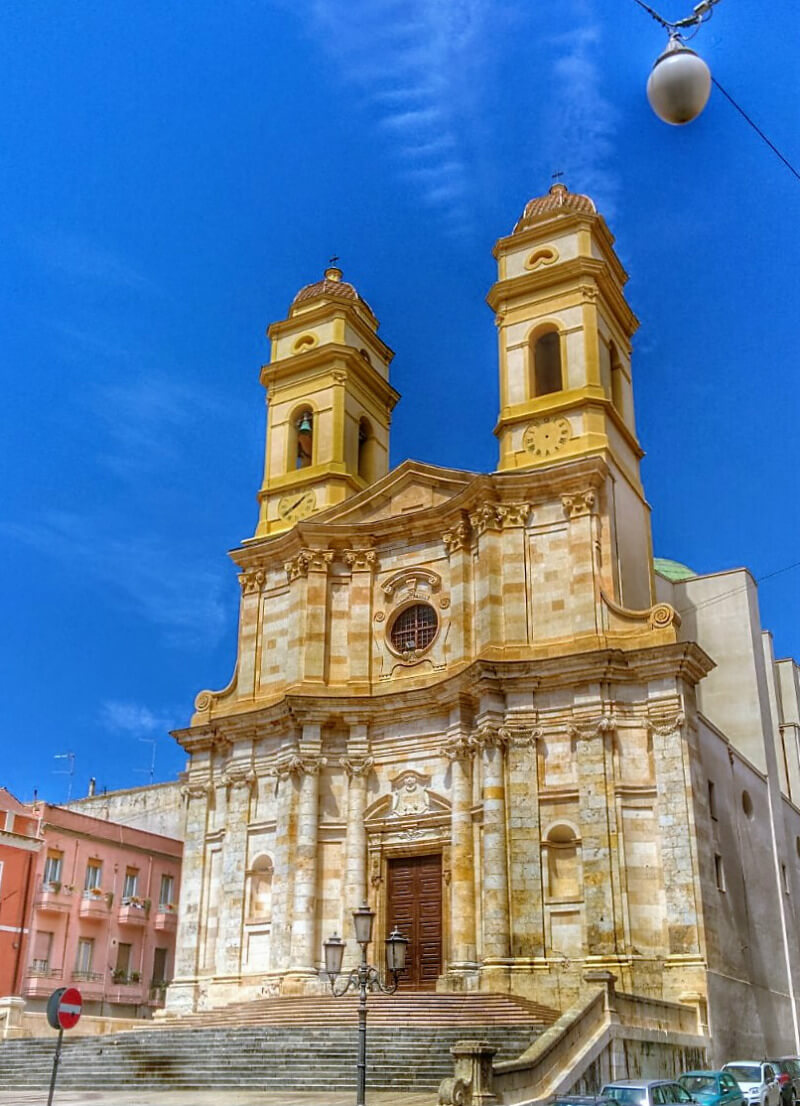 What are the best resources for booking flights, accommodation and tours in Sardinia?
I think that the classic resources will be fine…
For flights: Ryanair, Meridiana or Alitalia
For accommodation: Booking.com, Airbnb, Hostelworld or Trivago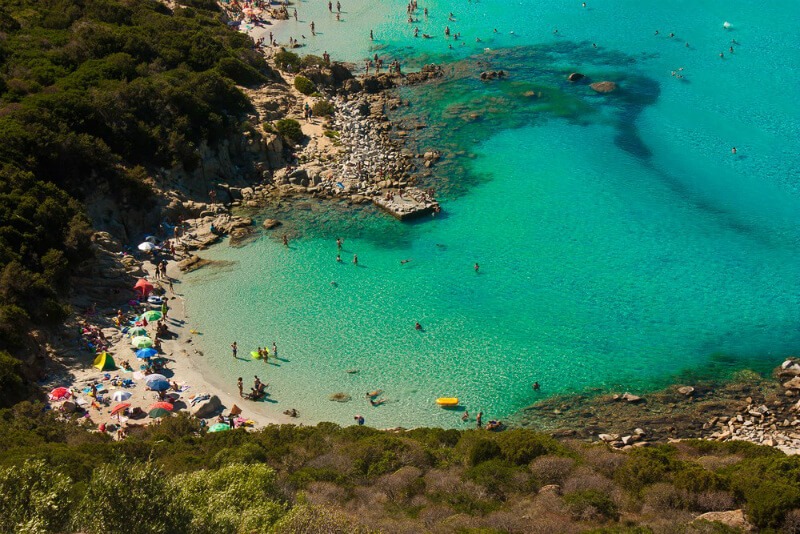 Can you share with us three important Sardinia travel tips to know before visiting?
First of all, be patient. On our island life goes by quietly and slowly, so grab an ice-cream and relax.
Secondly, meet local people and keep an open mind. There are so many ideas and traditions you may not accept or understand: give them a chance to impress you.
Finally, enjoy it! Listen to the peacefulness of the Mediterranean sea, feel the fresh water on your skin, and relax as the sea-breeze blows through your hair. And take suncream because the Sardinian sun is strong and hot.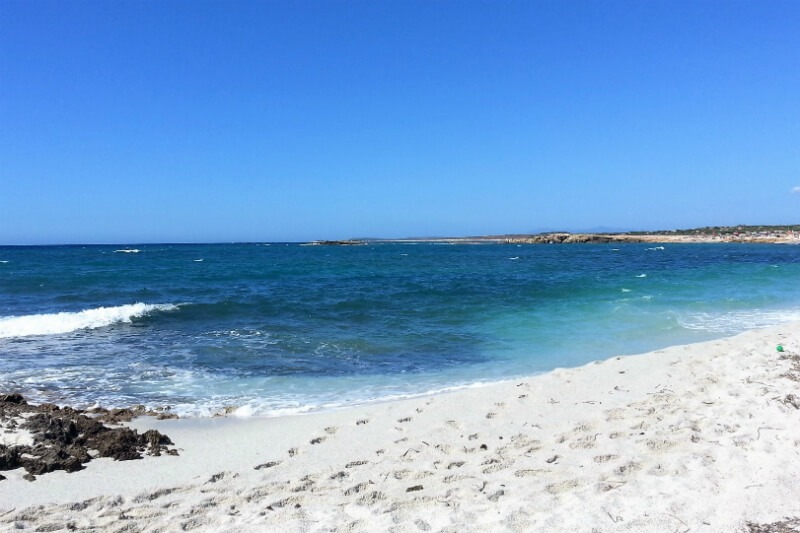 And finally, do you have any last words to inspire everyone reading this to travel to Sardinia?
Like Fabrizio De André, a famous italian singer-songwriter, said: "Life in Sardinia is perhaps the best a man can hope: twenty-four thousand kilometres of forest and coasts immersed in a miraculous sea should coincide with when I recommended to God to give us Paradise."
Sardinia is a mystic land with an ancient history that pervades every single tree and flower, every street and hill, and every living being on the island.
Everything is marked by her embrace. You can feel the magic in her sunsets, the strength in the eyes of her people, the determination in her mountains and the wildness and wisdom in her sea.
Sardinia takes my breath away every single time. You could be touched for a moment and return home changed.
Emanuela, thank you for sharing your travel tips, insights and things to do in Sardinia!
To see Emanuela's beautiful photo's of Sardinia and learn about her next adventures around Sardinia and beyond, remember to follow her on Instagram: @manu_03_ and Facebook.
---
Sardinia Travel Resources
Sardinia Accommodation:
To start looking at your accommodation options in Sardinia, choose Hostelworld for budget, Booking.com for comfort or Airbnb for local (and get $20 off).
Sardinia Flights:
If you are traveling to Sardinia from outside of Europe, it is beneficial to use a flight compare site to find the cheapest flights. We recommend and use Cheapflights.com.
Click here to compare and book cheap flights to Sardinia
Useful Links For Things To Do In Sardinia:
---
Now it's over to you reading this! Leave your answers in the comments section below…
Are you planning a trip and looking for more travel tips and things to do in Sardinia? Leave your questions below and we'll help you out!
Have you already visited and know of some more things to do in Sardinia to add to the list? Let us know!
---
Are you interested in being a featured traveler and sharing your travel tips?
Click here to send an email to us
Share a few words about yourself and your travel experience as well as a link to your blog or favourite social media channel
We'll be in contact!