A vast array of beaches in Brazil's northeast had been scribbled on my bucket list for far too many months. It was time to begin crossing them off. I envisioned multiple shades of azure patched across the alluring South Atlantic coastline, dense rows of towering coconut trees swaying in the soft wind and the sun's tropical warmth glowing down on my skin. Northeastern Brazil was my idea of paradise and leaving Brazil without dipping my toes in that translucent water first would have been a regret. So in autumn of 2016 we packed our bags and boarded a plane bound for Recife.
Recife is the capital city of the northeastern state of Pernambuco which boasts some of Brazil's most beautiful beaches. Consequently, Pernambuco's 187 km coastline receives thousands of tourists every year, particularly in Porto de Galinhas, Carneiros and Calhetas where it's not uncommon to be spoiled with everything I dreamed of and more.
To begin our trip to the northeast of Brazil we flew into Recife/Guararapes–Gilberto Freyre International Airport and then travelled via Uber to Boa Viagem, a beach neighbourhood located in the city of Recife. To get to our hotel, Dan Inn Mar, it only took us about 15 minutes. If you do decide to stay for a night or two in Recife, I wouldn't recommend this hotel as it was far too outdated for the price we paid (especially being a 4-star hotel). Most other hotels are situated in this area so it should take you around 15 minutes as well.
Boa Viagem is home to one of the most visited beaches in northeastern Brazil, Praia de Boa Viagem. This expansive white sand beach stretches the coastline for 8km and is popular amongst Recife locals. Even though the ocean here is calm and the water temperature remains at about 25°C all year round, I wouldn't recommend swimming. Since Suape Port was built in the 90's, Praia de Boa Viagem has been notorious for shark attacks so you're better off simply admiring.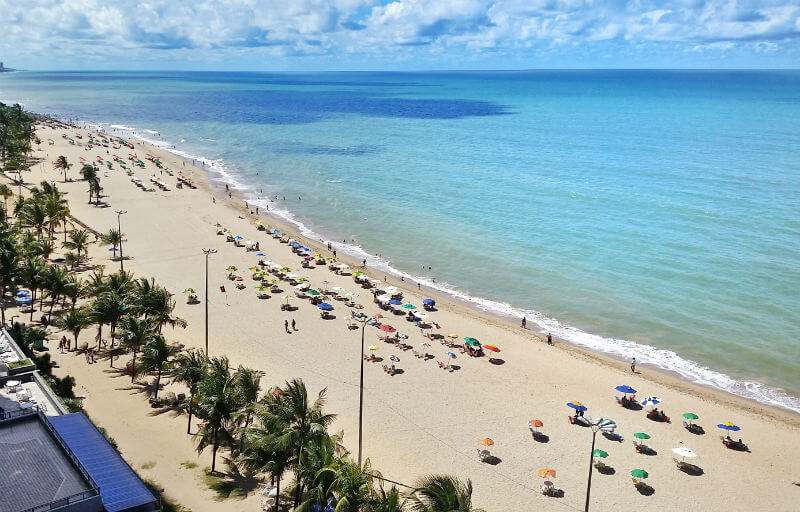 With all that said, my advice to you is this – use Recife as a base to come and go from Pernambuco but don't spend too much time there. While it is a lively city with plenty to do, it's not the paradise you go to northeastern Brazil for. Instead, I recommend driving 1 hour south of Recife to the little beach town of Porto de Galinhas. In my opinion, it is here where you'll find the definition of paradise.
Where is Porto de Galinhas?
Porto de Galinhas is situated 63km south of Recife in the municipality of Ipojuca in the state of Pernambuco. The small town centre sits snuggly next the beach.
How to Get to Porto de Galinhas
There are a number of ways to get to Porto de Galinhas from Recife.
The cheapest option is via bus and there is one that goes directly from Terminal da Avenida Dantas Barreto in Recife city centre or the international airport to Porto de Galinhas for less that R$10. The company is called Cruzeiro.
A more comfortable option is to hire a mini-van service. Any travel or tour agency at the airport or in the city will be able to help you organise this.
You can also go via Uber, which would be cheaper than a taxi (less that R$50) or simply hire a car and drive yourself.
Once you arrive in Porto de Galinhas there is a taxi service to get to and from the town centre to your pousada or hotel. Be aware that the driver may charge a set fee which is a minimum of R$10, even if your accommodation is just 2 minutes down the road.
What is Porto de Galinhas Like?
Porto de Galinhas is a small fishing village with a wealth of character. The town presents itself in a particularly cute manner, with colourfully painted shops and thatch-roofed restaurants lining uneven cobblestone lanes. There are a variety of boutique stores, travel agencies and cafés serving up delicious blends dotted all over town and the choice of restaurants is outstanding for such a small place.
Porto de Galinhas is a tourist hotspot, mainly for it's incredibly beautiful beaches and laid back holiday vibe. For this reason, you will find plenty of pousadas and resorts all over town, with many situated directly on the beach. If you're looking to get into full relaxation mode, this is a place to cut open a fresh coconut, pull out a deck chair and let go of all your worries.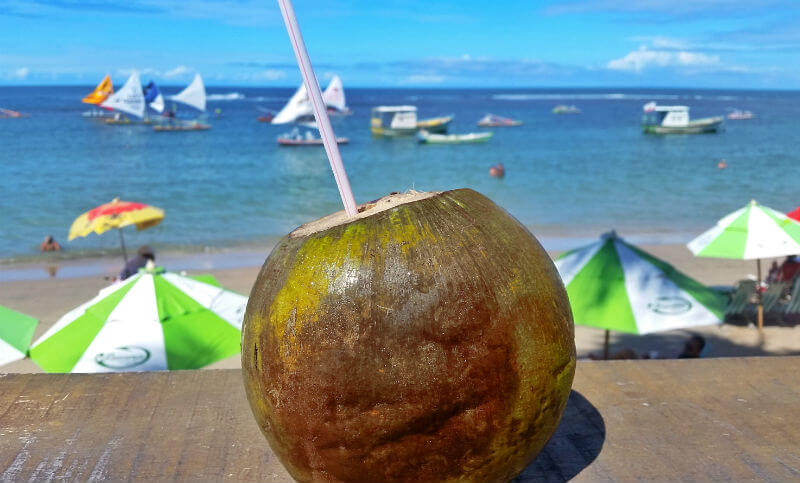 Beach and Natural Pools in Porto de Galinhas
One of the prominent reasons why so many people like to holiday in Porto de Galinhas is because of it's enticing bright blue water and amazing natural pools (piscinas naturais) that sit just off the foreshore.
The southern end of Praia do Porto de Galinhas is where you'll find the natural pools during low tide as well as a number of beachside bars and restaurants. If you enter further up the beach you'll notice larger surf, more beach vendors and a variety of pousadas and resorts open to the public for lunch.
I encourage you to take a long stroll away from the hustle bustle for a while to immerse yourself in all the natural beauty around. If you head south you'll hit Praia de Maracaípe where you'll be spoiled with coconut trees galore lining what seems like miles of rustic, unoccupied coastline.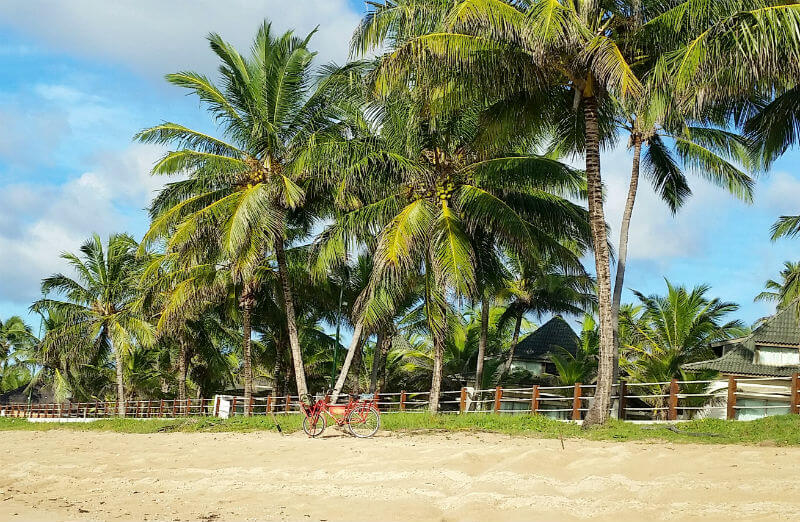 Another beautiful beach just a few minutes drive away from Praia do Porto de Galinhas is Praia Muro Alto. This beach is less frequented as it mostly accessed by guests staying in the upscale, luxury resorts that sit on the shorefront. That being said, you can still get to Praia Muro Alto through Praia de Cupe or via buggy on the paved road that leads from the Police Station.
Boasting yet more stunning natural pools which are home to a diverse array of colourful sea life, Praia Muro Alto is not to be missed. We visited at 6:00am when the tide was out and had the whole beach to ourselves – total bliss.

Things to do in Porto de Galinhas
Porto de Galinhas is primarily a relaxing beach destination where holiday makers enjoy spending their time soaking up the sun, eating seafood and drinking fruity cocktails. However, if you are more of the adventurous type, there are a few things to do in Porto de Galinhas that will satisfy your craving for excitement.
First, I highly recommend hiring a buggy to explore some of the amazing beaches in the area.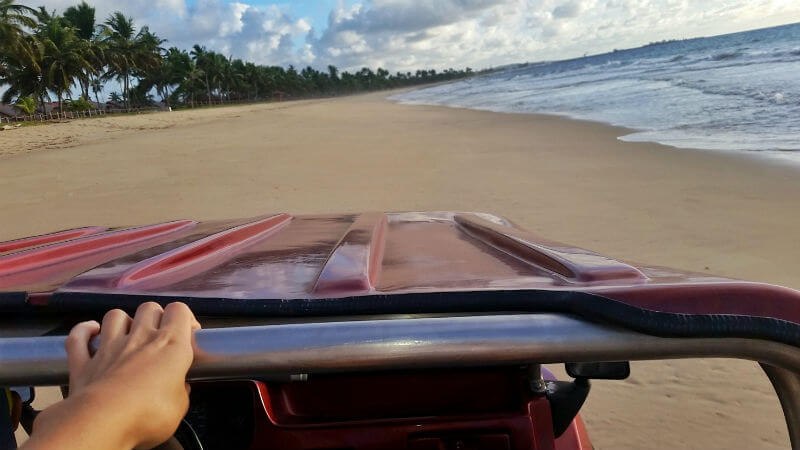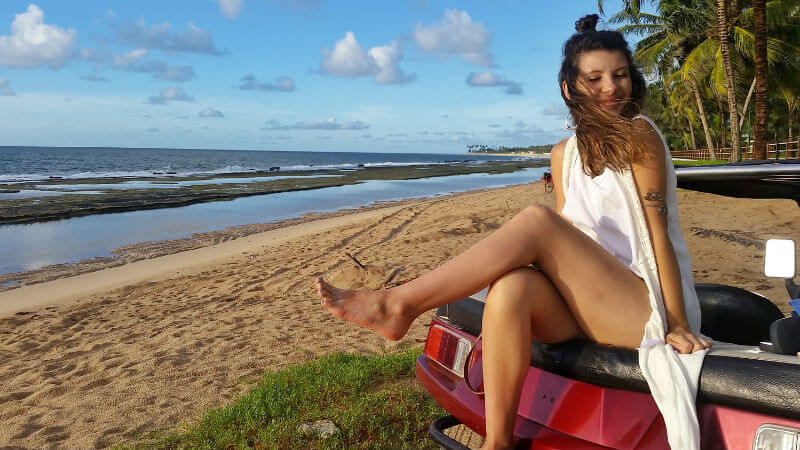 I suggest waking up really early one morning and heading to Pontal do Maracaípe where you can watch the magical sunrise before skidding your way across the sand to a number of other favoured spots. We booked our buggy tour through our pousada and it cost R$150 for a driver to take us on a 4 hour adventure.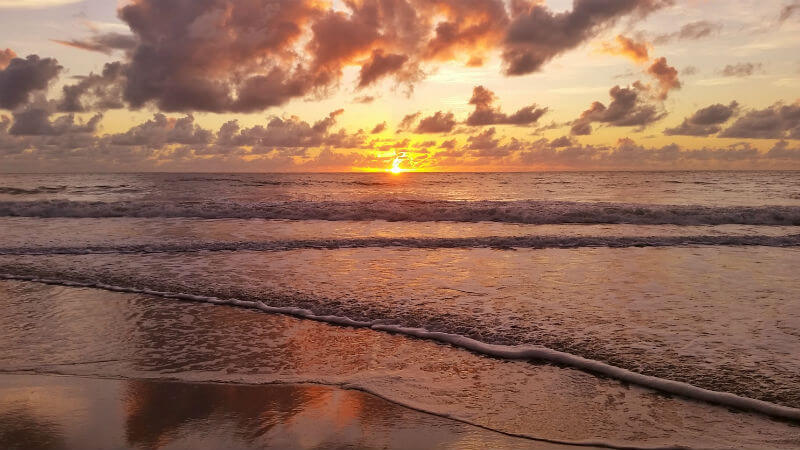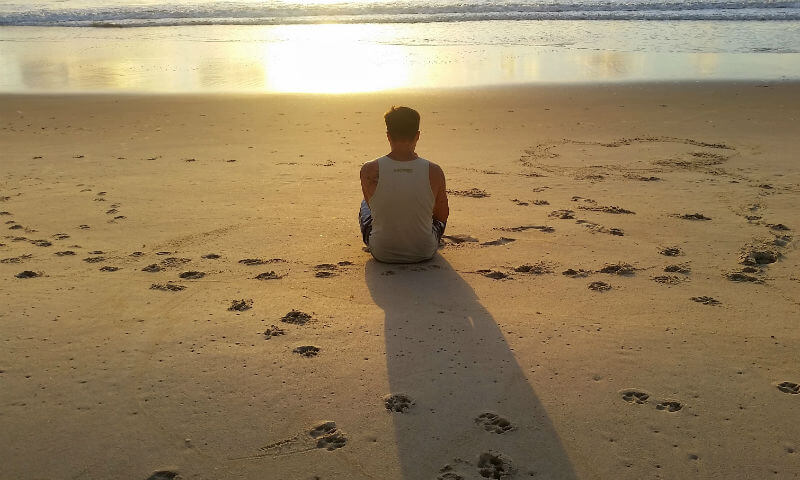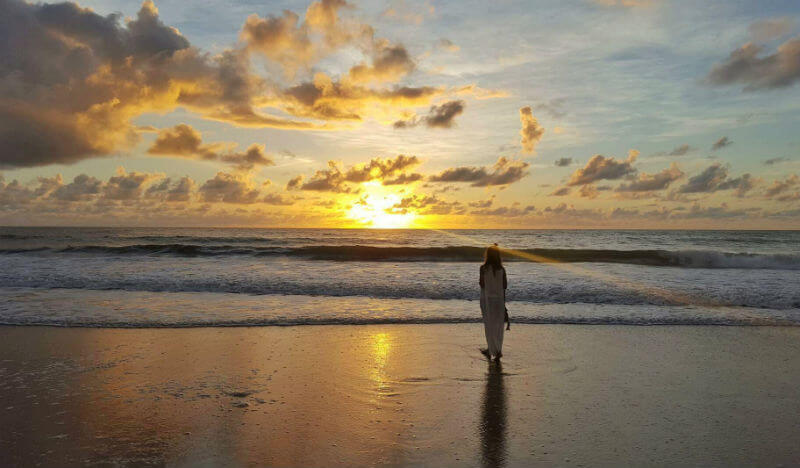 Another fantastic thing you can do while the tide is at it's lowest, is go out to the nearby natural pools in a jangada. A jangada is a small raft used to take visitors to the best area for swimming and photographing the lagoon. Unfortunately we didn't get a chance to do it but we watched as a large group of jangadas sailed out to the underwater rock formation just prior to sunset and it looked like an awesome experience.
Where to stay in Porto de Galinhas
There are so many accommodation options in Porto de Galinhas, you'll be spoiled for choice. Don't take that as an excuse to leave booking your accommodation to the last minute though because tourists love this place.
Your main accommodation options in Porto de Galinhas are pousadas and resorts. Pousadas are like the Brazilian version of guesthouses. They are generally smaller than hotels with a more personal, homely feel to them. Pousadas can range from budget to luxury and breakfast almost always included. There are over 100 pousadas alone in the small town of Porto de Galinhas and many of them are situated right on the beach. We stayed at Arandu Pousada, just one street away from the beach.
If you'd prefer to have all the facilities of a beach resort I'd recommend looking into the accommodation options at Praia Muro Alto. Most of the resorts on this beach are private and finished to a luxury standard. If you want a resort recommendation, I've heard only good things about Nannai Resort & Spa. Here you can stay in a gorgeous thatch-roofed chalet with your own private pool, overlooking the natural pools of Praia Muro Alto.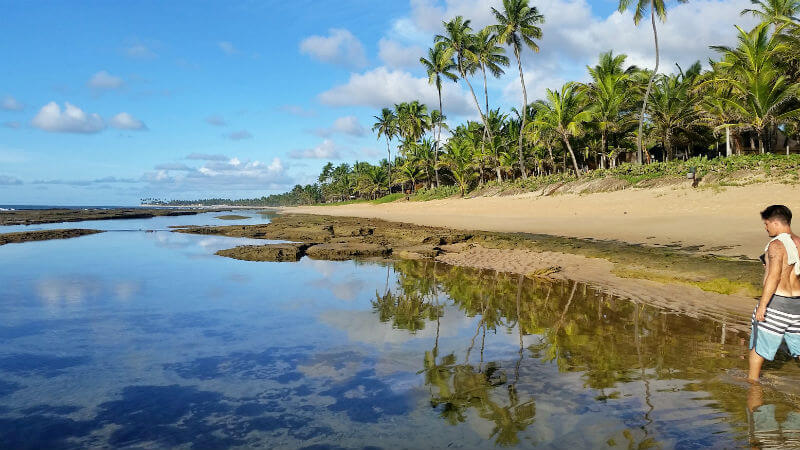 To look at all of the options for Porto de Galinhas accommodation, click here.
How long should you stay in Porto de Galinhas?
As Porto de Galinhas is a relaxation destination and the town itself is quite small, I don't recommend staying longer than one week. If you do have extra time, consider spending a few nights in the nearby towns of Carneiros or Calhetas to mix things up a little.
Weather and Tourist Seasons in Porto de Galinhas
Porto de Galinhas boasts an average temperature of 25°C year round so to avoid tons of Brazilian tourists all fighting for a spot on the beach, I would recommend visiting in low season if possible.
High season in Porto de Galinhas begins in December and continues through to March. This is when the temperature averages around 27°C. Although the temperature in July is slightly cooler, it is also considered high season due to the school holidays.
Low season in Porto de Galinhas runs from April through to November (with the exception of July). The temperature averages around 24°C at this time of the year, so even though the days continue to stay warm, the beaches become much less crowded. Everything from booking your accommodation to getting a table at a restaurant is much easier when you visit Porto de Galinhas during low season. We went in May and found it to be the perfect time to visit.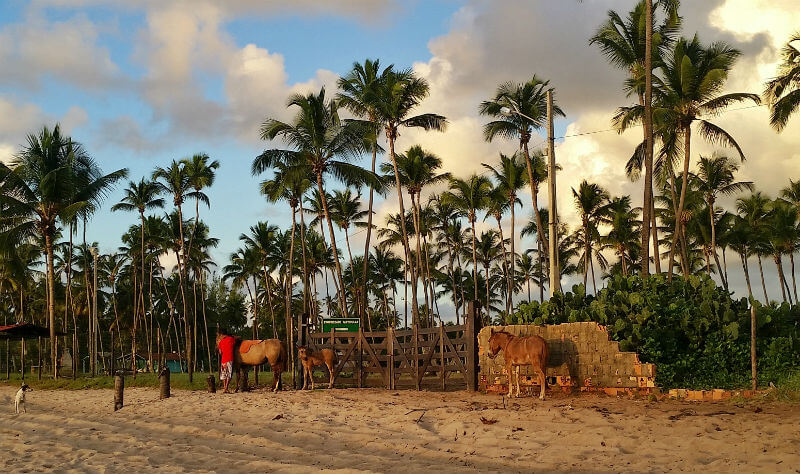 Conclusion
If a trip to the northeast of Brazil is on your mind but you don't know where to start, Porto de Galinhas is the perfect destination. Not only is it one of the best beaches in the state of Pernambuco, it's one of the most beautiful beaches in the whole of Brazil! After spending just 4 days in Porto de Galinhas I can honestly tell you that this is one of my favourite destinations in Brazil and I believe you'll thoroughly enjoy it too.
To start looking at your Porto de Galinhas accommodation options now before the best sell out, click here.
Boa Viagem!
Ps. If you want to learn how you can turn travel into a lifestyle, download our free eBook, 12 Steps To Full Time Travel now!
Pin this >>