Susanna Ladecky is an international lawyer based in Stockholm, Sweden. She was born in Slovakia but has lived in various cities around Europe since.
This year Susanna visited New York City for the first time, and while that alone is special enough, it was here that she and her fiancée decided to tie the knot.
Intrigued by her gorgeous New York City photos, we got in touch with Susanna to find out more.
Here she shares all about her dream wedding along with some very helpful New York travel tips for all of you looking to do the same…
New York Travel Tips From A Lawyer Who Had Her Dream Wedding There
Love this? Pin these New York travel tips to your travel board on Pinterest >>

Tell us about yourself…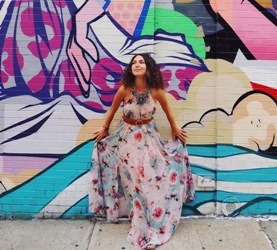 Hi! My name is Susanna, and I'm an international lawyer focusing on alternative dispute resolution.
I was born in Slovakia, but since then I came quite a long way.
Since 18 I lived in various countries from the UK through the Czech Republic to Sweden where I am currently based.
I did my first law degree in Prague and continued in Uppsala and Stockholm with two additional legal masters, as I'm quite a nerd (haha).
Instagram: @zuzannea.
When did you first visit New York and where did you go?
The first time I got to travel to New York was actually this summer when my then fiancée and I decided that New York is that one and the only place we should get married and spend our honeymoon in…
So I got to travel to New York for the very first time for possibly the biggest day of my life!
Because it was our first time plus we were creating important memories we really wanted to take advantage of New York and do all that typical New York staff, especially during our wedding day.
So we got married in Central Park…
Wandered around Upper East Side and Downtown Manhattan all the way through the Brooklyn Bridge to Brooklyn taking as many photos as possible with our photographer…
Took a ferry all the way back to Midtown…
Made a big entrance at the Top of the Rock all dressed up…
Enjoyed a wedding dinner with an insane view over Central Park cutting through Manhattan on the 48th floor of the beautiful Mandarin Hotel…
And closed it all with a Manhattan drink at the bar over-looking the Lincoln Circle.
For the rest of our honeymoon, we basically tried to stick to the same theme.
We enjoyed all the filming spots of the Friends show, Sex and the City, Home alone, etc. We also enjoyed museums, especially the Met, the Empire State Building, different parts of Manhattan like Chinatown, Little Italy, Soho, etc.
One of the most touching places was Ellis Island with the museum about the history of all the immigrants coming to the country with nothing but their dreams. Then there was Ground Zero of course.
There were also days that we spent on nerd stuff, particularly Intrepid which is an air and space museum, as my husband's crazy about this kind of thing so I love to enjoy it with him.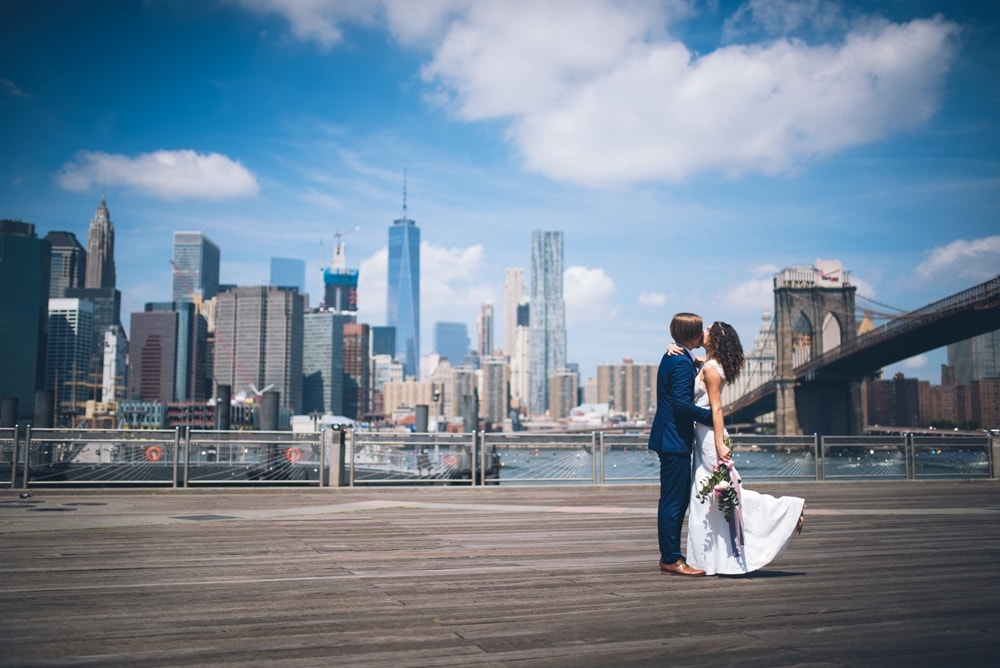 What was it that made you fall in love with New York and did it inspire you to return?
It's really hard to describe what it is that makes people all over the world fall in love with New York.
I remember that very first sight of the lit up Chrysler Building at around 11.30pm as we drove to our hotel from the airport…
The entire time I was thinking to myself: This can't be happening. I can't believe I am actually seeing this with my own eyes. I guess it's the overall atmosphere.
I like to look at places I travel to through history's eyes…
I'm looking for that background, the story behind every place I see, what it was like in the past, what people hoped it would become.
In New York, it's really not hard to imagine all this. All that hope of everyone who ever came to New York to seek new life and opportunities is mixing in the air and stays within the buildings.
It's that reassurance of being able to do anything you want…
It's so incredibly busy, yet there's something calming in it…
It's that "I'm proud to be a New Yorker" you see in passerby's eyes…
And that feeling that everyone around you is following some dream.
I felt inspired the minute I stepped into Manhattan, out of nowhere without being able to define that feeling… What it was or what brought it on.
I know it's very intangible, but I guess that's the beauty of New York. People feel inspired and hopeful without even knowing what is driving them.
The minute I saw that Chrysler Building from the cab I knew I didn't need any other reassurance of whether I would like it. I loved it. Just like that, instantly.
And for a feeling like this – that you're suddenly inexplicably happy without knowing why – you definitely want to come back.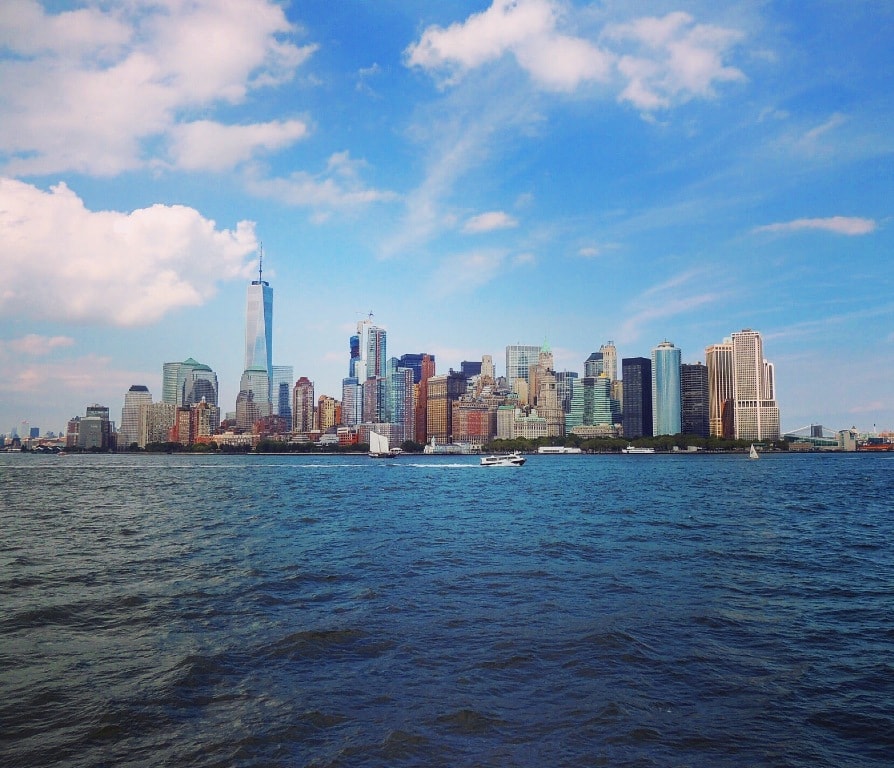 Your absolute top things to do in New York?
There are many different things to do in New York which are all of a very different nature and I love that diversity.
New York is always ready to keep up with your needs…
The absolute best thing for me is to spend the whole day wandering. Going for a two-hour brunch on rooftop in Chelsea and then just walking!
New York has beautiful architecture so just taking a walk wherever feels like an adventure!
Putting on my walking shoes and getting lost in Midtown, Upper East Side, Soho, Washington Square Park and Brooklyn, preferably all in one day…
Now and then buying a pretzel from a food cart on the street…
Going to central park and renting a boat, enjoying the skyline and feeding the ducks…
And then straight to the Empire State Building or a museum for the culture and rich history that New York has to offer.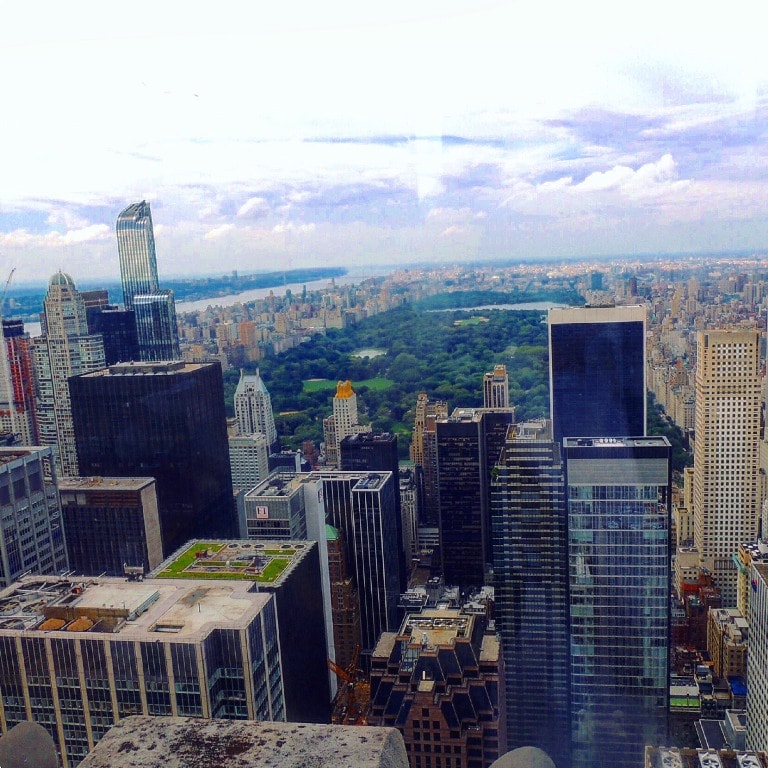 What challenges did you face in New York and how did you overcome them? Should people planning to visit New York be aware of these challenges?
One of the biggest challenges was the whole payment process…
Coming from Stockholm where you pay the price you see on the check and where it's pretty straightforward, it was quite challenging to get used to general American way.
If you're coming from countries where this is not common, then keep in mind as you plan your trip that most of the prices you see are not definite and you need to calculate the tax and the tip.
Other than that, I don't think we faced any bigger challenges besides that it's a big city, so have respect and be safe. This is, however, true of any city in the world.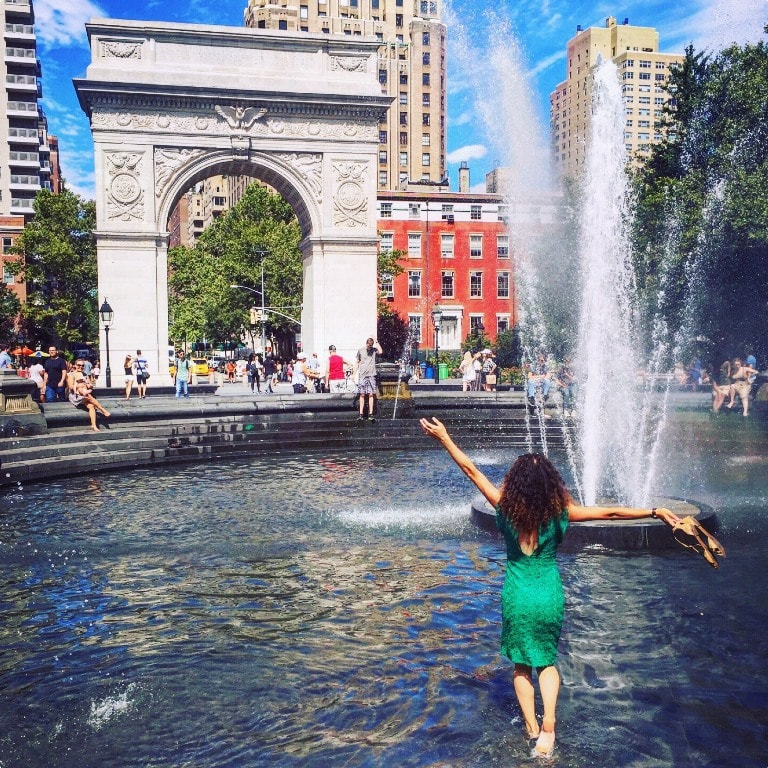 In your opinion, what is the best way to travel in New York and why?
The best way to travel is probably the subway…
It gets you to where you want to go quickly plus it's part of the New York attraction, especially if you stumble upon some subway musicians, it can be pretty magical!
You can buy a Metro card with a week pass that costs around $30 US.
We were mostly using subway but during our wedding day we of course opted for the yellow cabs. There's isn't a more authentic New York feeling than hailing a yellow cab!
The price moves depending on where you want to go of course but we mostly used it around Midtown and Upper East Side and never paid more than $15 US.
I would also recommend taking a cab from and to the airport. It is pricey as it costs around $50 US excluding taxes and tips but it's the most comfortable way.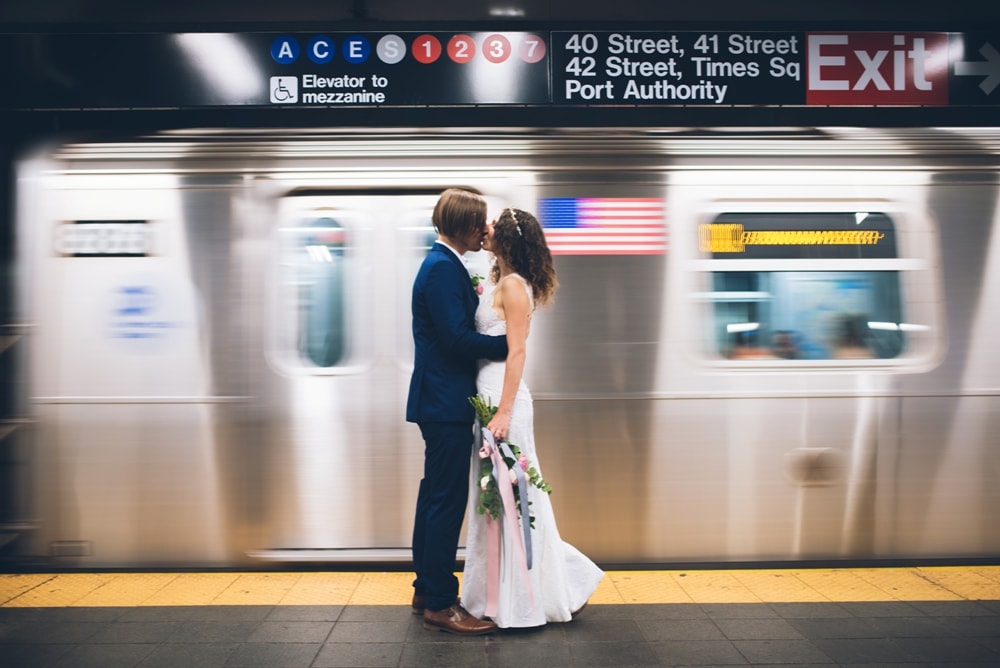 Based on this, what is the approximate cost of traveling in New York?
Excluding the wedding expenses, we spent approximately $4,600 US on the flights, hotel, food, transportation and all the museum and attraction fees (we purchased the New York card that offers free entry to a number of places around Manhattan, including the ferry to the Statue of Liberty – you save $70 US on the whole deal!).
Our hotel was a bit over the top regarding the price in comparison to what we are usually willing to spend on accommodation since it was on Park Avenue with the Empire State Building view…
And although we were upgraded by hotel stuff due to our wedding, it still was one of the most expensive items on our list.
There are, however, perfect possibilities to book the accommodation somewhere in a lower part of Manhattan with a more affordable price.
If you also get a good deal on the flight tickets (which for a major part depends on where you're coming from) I think one can get to travel to NYC on a $2,500-$3,000 budget.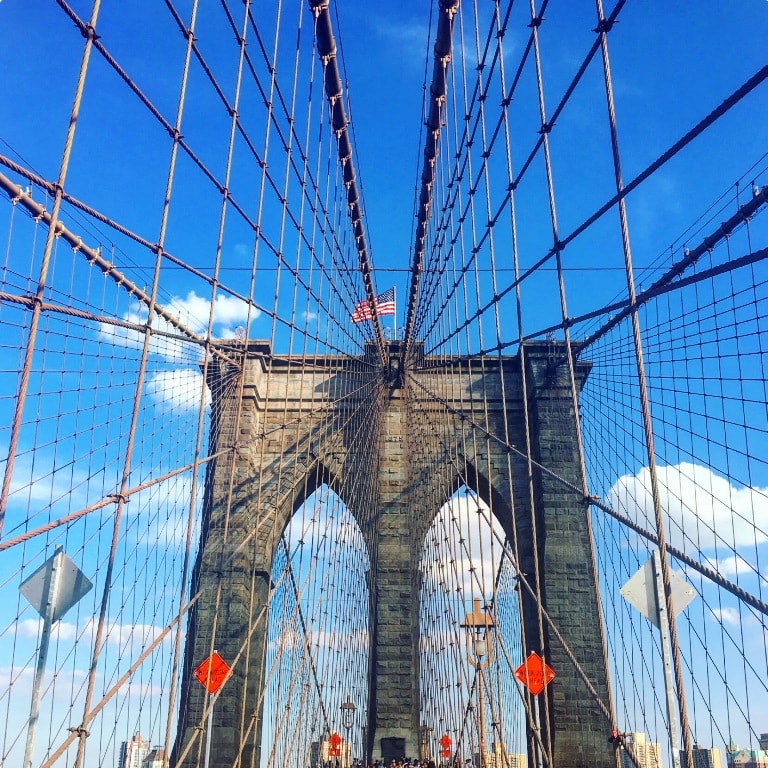 Your top go-to resources for booking flights, accommodation and tours in New York?
I always love to go back to booking.com when searching for a hotel. We have only had good experiences with this website, no matter where we are currently traveling.
In terms of flights, it varies. First I usually check out the websites of my two favourite airlines, Norwegian and British airways and then go to the general one – skyscanner.com – which usually offers the best deals currently available.
When it comes to organising the trip, these are the two essentials for me. We usually don't book any group tours, as we love to explore the city on our own.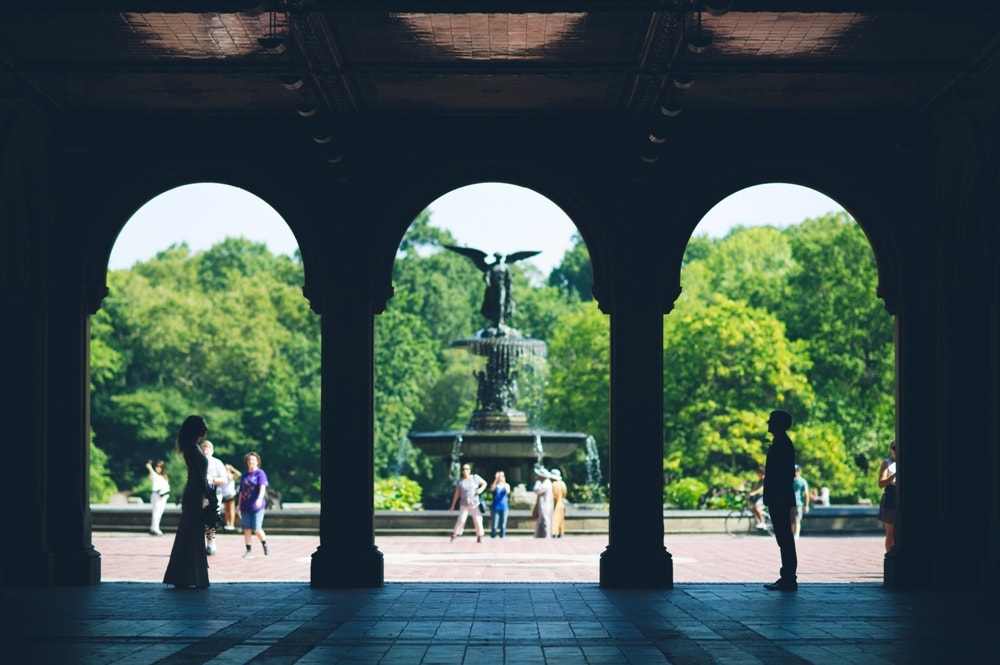 Can you share with us three important New York travel tips to know before visiting?
The most important tips would probably be:
1 – Do your research! At least have an approximate idea of what you want to see and do because New York is big and overwhelming. I had so many things I wanted to see that I sometimes had to make a note in my phone just so I didn't forget them!
2 – Eat! Eat! Eat! Try everything the city has to offer from street hotdogs through to lobster in the vintage Chelsea market through to a three-course culinary dinner. It's the city with the most delicious food!
3 – Try to experience the views from the Empire State Building or the Top of the Rock, both at night and during the day, every time it's a different experience!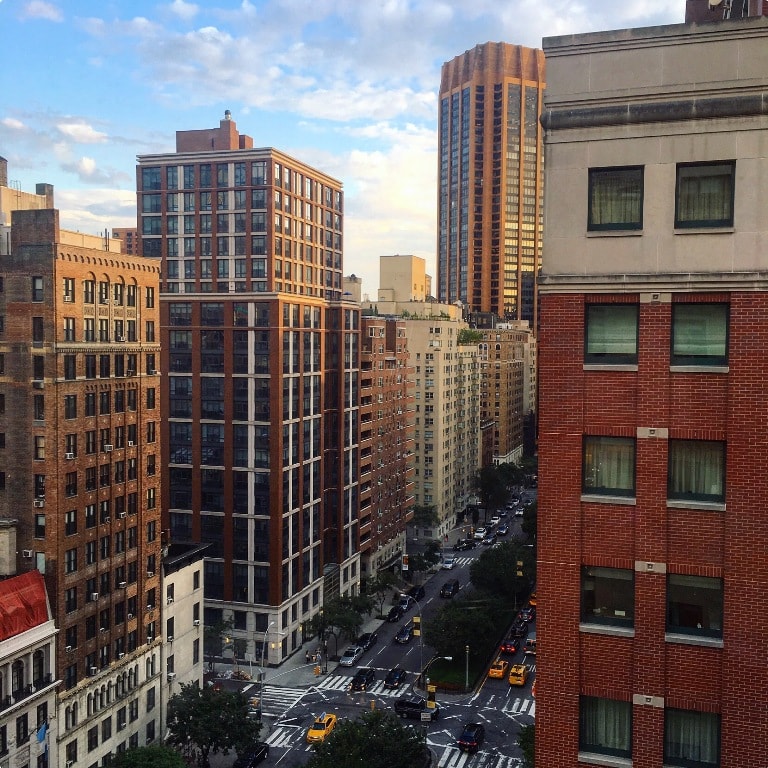 And finally, do you have any last words to inspire everyone reading this to travel to New York?
What I really love about New York is how crowded it is.
It may sound weird but the truth is, you never feel alone in the city…
Yet you still manage to feel like you're the only person in the entire world, especially when standing at the top of the Empire State Building at midnight watching the big lights.
You can completely forget the world and in moments like these, I really felt like it was just me and New York. I have never ever felt this way in any other city in the world.
Moreover, from whatever spot you look up, I guarantee you, you will see the Empire State Building and it sort of leaves a weird kind of reassurance in you that you are where you belong.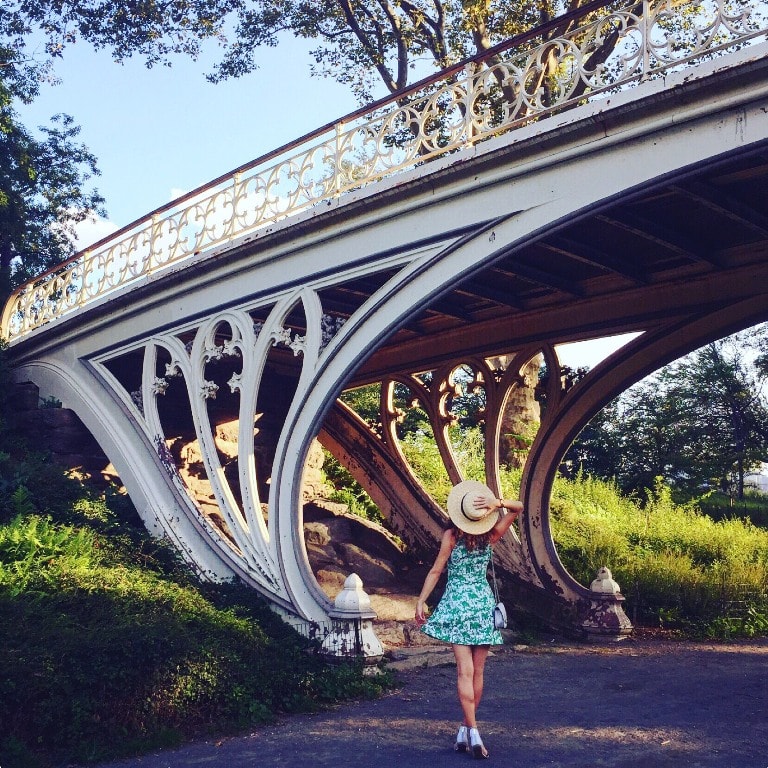 Susanna, thank you so much for taking us on a magical journey through sharing your New York travel tips and insights along with your dream wedding experience. We wish you all the best!
To learn more about Susanna's next adventures in Europe and beyond, as well as to see more of her New York wedding photo's, remember to follow her on Instagram: @zuzannea.

---
New York Travel Resources
New York Accommodation:
To start looking at your accommodation options in New York, choose Hostelworld for budget, Booking.com for comfort or Airbnb for local (and get $25 off).
New York Flights:
If you are flying into New York, it is beneficial to use a flight compare site to find the cheapest flights. We recommend and use Cheapflights.com.
Click here to compare and book cheap flights to New York
---
Now it's over to you reading this! Leave your answers in the comments section below…
Are you planning a trip (possibly your dream wedding or honeymoon) to the Big Apple? Want more New York travel tips? Leave your questions below and we'll do our best to help you out!
Have some more New York travel tips to add to the discussion? Let us know!