Hot springs in Bali are one of the secrets of the Indonesian love for having a fit and healthy body. These therapeutic thermal waters can ease away body aches and pains, and they also have other health benefits to provide.
The springs boost blood circulation, reduce stress, and promote better sleep. The high silica content of hot springs can smooth and soften dry, rough skin, while the sulphur content in the water has medicinal properties that may relieve conditions such as eczema and psoriasis.
And, these qualities are nothing compared to the beauty where these hot springs lie that will feed and relax your mind. Pretty impressive right? So, if you want have the hot spring experience, you should visit any of these 6 hot springs in Bali, Indonesia, not just for good health, but also for lasting memories.
6 Hot Springs in Bali for Wellness Retreats
1. Toya Devasya Hot Springs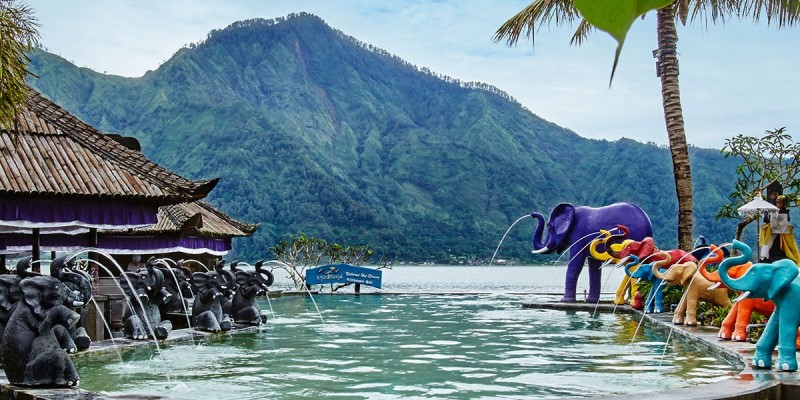 Toya Devasya is one of the natural hot springs in Bali. It is located on the edge of Lake Batur in Kintamani. The hot water in Toya Devasya comes from the Batur volcano that is one of the best relaxation spots and cures to skin diseases.
Toya Devasya brings every tourist an all-encompassing hot spring experience. Not only does it offer relaxation through its hot springs; you can also enjoy other facilities like lodging and restaurants in Toya Devasya.
There are also other activities to do there, like cycling, hiking, canoeing, and swimming in its fascinating infinite pool facing the Batur Lake.
Address: Toya Devasya Natural Hot Spring & Camping Resort, Jalan Puri Bening (STA), Toya Bungkah, Kintamani, Bali, Indonesia 80652
Opening hours: 7am – 7pm daily
Entrance fees: $21.14 US
2. Angseri Hot Springs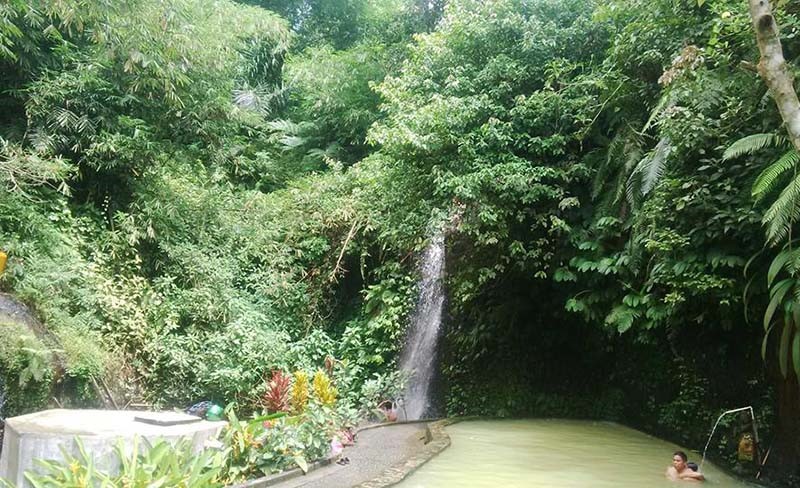 Want to wash away your troubles in total isolation? Angseri Hot Springs is the best place to go!
Located in Banjar Munduk Lumbang, Angseri Village, Angseri Hot Springs is surrounded by lavish rice paddies and small channels, making it a little more challenging to locate. But getting lost trying to find this hidden paradise is just a small inconvenience when you dip into the hot springs with lush vegetation and a rich green environment all around.
Address: Desa Angseri, Kecamatan Baturiti, Tabanan
Opening hours: Weekdays: 8.30am – 6pm, Weekends: 8am – 8pm
Entrance fees: around 9,000 IDR for the pool
3. Batur Natural Hot Springs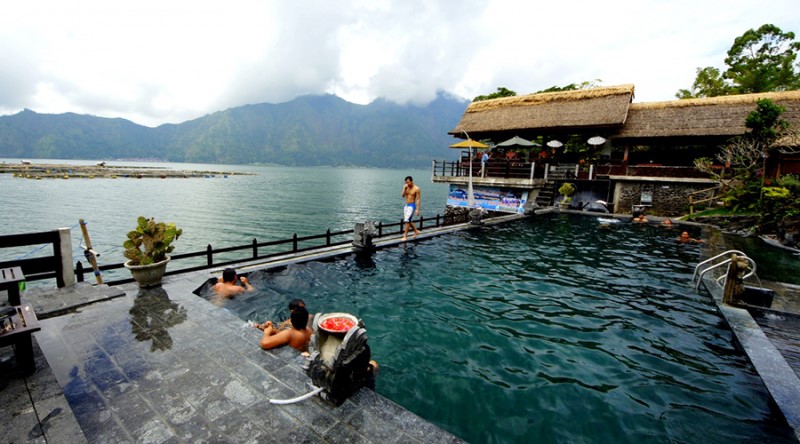 Located in between two of Bali's famed volcanoes (Mount Agung and Mount Batur), Batur Natural Hot Springs perfectly offers a combination of a breathtaking view and a relaxing bath.
With a $10.57 entrance fee, tourists can have a welcome drink, locket, towel, soap, shampoo, snack, and unlimited time in the pool of the Batur Natural Hot Springs.
It is the best place to relax in the hot waters while enjoying a very scenic view. Plus, the benefits it can give to the skin and your overall heath are astounding.
Address: Toya Bungkah, Kintamani, Bangli
Opening hours: 7am – 7pm daily
Entrance fees: $10.57 US
4. Banjar Hot Springs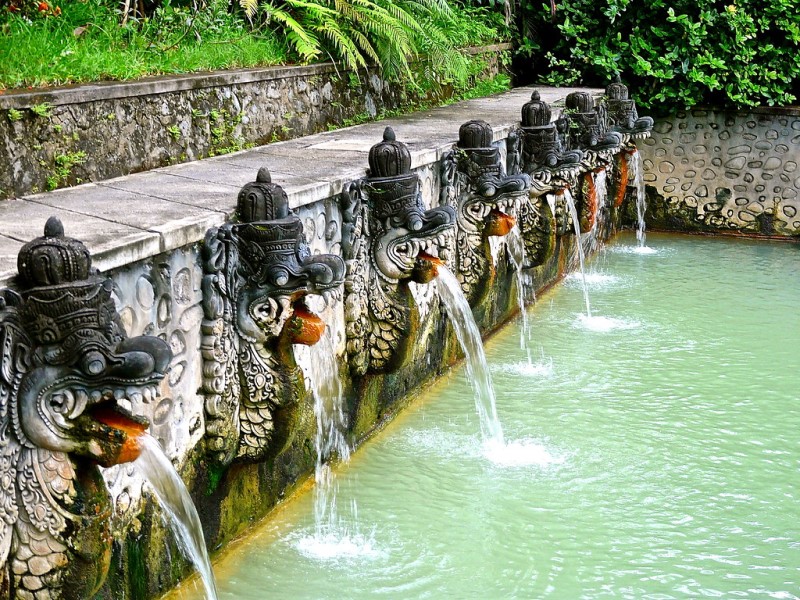 Banjar Hot Springs is one of the most popular hot springs sites in Bali. It is locally referred to as "Air Panas Banjar", and it's located approximately 5 km southwest from the famous Lovina coast in North Bali.
Over time, the centuries-old hot springs have become a favorite retreat and recreational site among locals and tourists, while it continues to upgrade with modern facilities.
The Banjar Hot Springs are surrounded by exotic tropical flowers, and hot water spills out from the mouths of intricate stone-carved dragons, giving it a more effective healing feeling.
Address: Jalan Banjar, Banjar district, Buleleng, North Bali
Opening hours: 8:00am – 6:00pm daily
Entrance fees: Rp5.000/adult and Rp3.000/child
5. Penatahan Hot Springs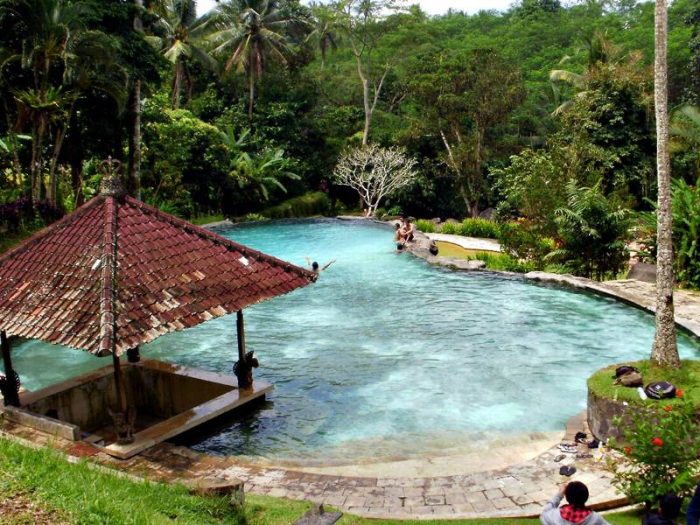 Penatahan Hot Spring is located in the Tabanan regency on the west part of Bali. It is close to Batukaru Temple and adjacent to the Yeh Ho river. Locals calls Penatahan Hot Spring the "Yeh Panes" or "Air Panas Penatahan".
The hot water of the spring comes from Mount Batukaru that flows down to the hill bank at Penatahan village.
Aside from the water with healing properties because of its minerals and sulfuric content, Penatahan Hot Spring also offers a stunning view of nature for anyone who wants to relax and have some peace of mind.
Address: Penatahan Village, Penebel, Tabanan, Bali
Opening hours: 7am – 7pm daily
Entrance fees: $0.70 US
6. Banyuwedang Hot Springs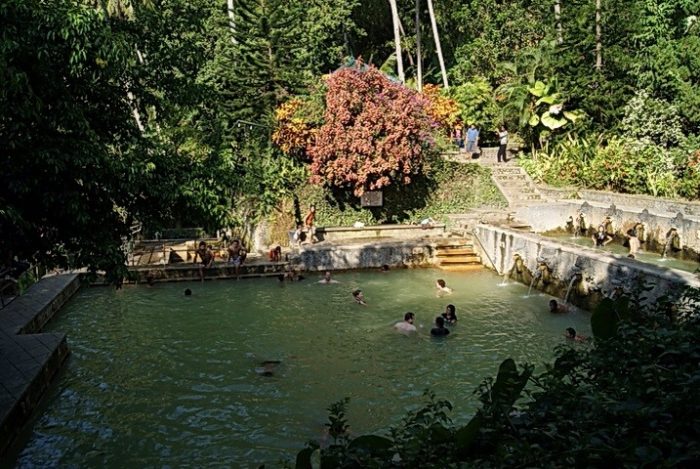 Banyuwedang Hot Springs are located on the west side of Bali. Adjacent is the West Bali National Park, surrounded by vast mangrove and the beautiful North Sea of Bali. Taking a bath in Banyuwedang Hot Springs gives you a relaxing and stunning view of the mangrove forest with scenes of both land and sea.
Known to have sulfur content, most of the visitors come to Banyuwedang Hot Springs to cure their illnesses and gain a sense of healing.
Address: Jalan Raya Singaraja-Gilimanuk, Pejarakan, Gerokgak, Buleleng
Opening hours: 8am – 6pm daily
Entrance fees: $1.77 US
Take all the worries and pain away by visiting these hot springs in Bali, Indonesia,which were designed to give you comfort and peace of mind. Take a break from all the hassles in life, treat yourself, and get the best bath of your life! Visit Bali now!