Sketching or drawing is soothing, relaxing, and enjoyable.  It allows you to immerse yourself in the scenery and really look at your surroundings. It's an excellent way to spend your time.
Further, sketching places and experiences during your trip is a great way to help you remember them. It's also useful for art journaling and adding a different dimension to your diaries and travel papers. So, taking photos while traveling is not the only way to help you remember the place you visit.
Sketching is not only relaxing to do, but it is also good practice for your creativity. A lot of people have travel planners and sketches; even those who are not extremely into art and drawing. For them, it is their way to express their feelings when they see extraordinary details around them. But how do you do it? Here are a few steps to get you going on sketching your travels.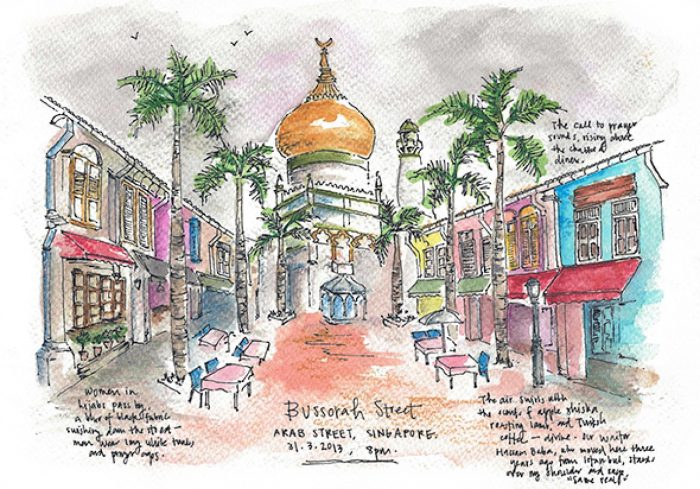 Buy Your Equipment And Materials
Your art kit includes your materials and things you need for your travel sketching. The kit can consist of the following items but feel free to add in your own items as well.
Moleskine large, watercolour
Moleskine small, sketch
Lamy fountain pen black ink (for all drawing and writing)
Edding 1800, Profipen 0,3 and 0,5mm
Rembrandt pure sable brush 3 and 6
Lamy pencil 0.5mm, H
Ordinary pencil 2B
Waterbrush, medium Koi
Pentel paintbrush, black
Stabilo fine-liners
Portable watercolor set
Choose Your Subject
During your trip, you will see many attractive sites. When you do, take a photo of them. Afterward, perhaps when you are relaxing in your hotel in the evening, sketch them! Your natural interests and curiosity will be your compass as you start sketching during your travels. When it comes to deciding on a topic of your sketch, think about what you already like to do at home when you're on the road. Perhaps you love taking photos of street scenes or seeing what you're eating for breakfast.
Sketch, Even If It's Not Perfect
The purpose of sketching is to bring life into what you have seen. With this, start sketching with a pencil, erase a few lines when needed. However, you need to remember that it doesn't have to be perfect. Let the color bring life into your drawing. It is impossible to capture everything during your travel sketching.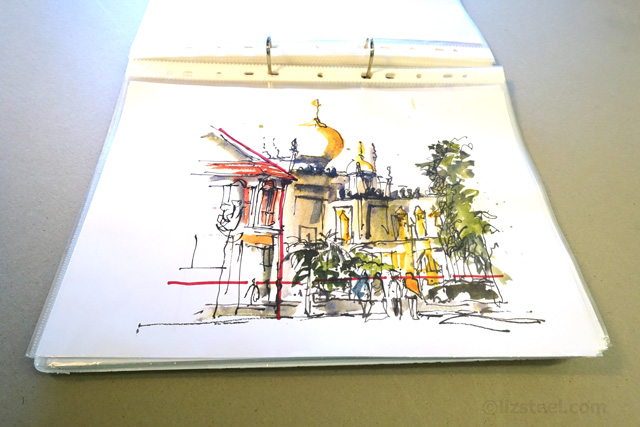 Observe, Sketch, Repeat
Before you start, review your subject. You should spend more time looking at your subject than on your page. Remember, you don't want to become so involved in the sketch that you forget to enjoy the moment when you are actually there in person. Think of simple shapes and consider their relative size and position. Lightly mark them as a framework for your sketch.
Add Some Color
When you add color, don't feel like you need to cover every detail. Sometimes a simple touch here and there works just as well, keeping your sketch vibrant and clean. You can also just choose the color, or two colors, that you remember most from the scene and choose to highlight those specifically.
Conclusion
Traveling with a sketchbook can shape how you can see the world. Also, this will show how you communicate and connect with other cultures. Sketch whatever you're interested in. Vary your subjects from small details to magnificent views. Think of it as a visual diary of your experiences, and add notes about who you are with, what you hear, and how you feel.
For more travel tips, click here.