Dan Bartasavich is a 48-year-old traveler who has well and truly caught the travel bug.
Retail manager turned tour guide, Dan now takes every chance he can get to explore new places.
After visiting Thailand and Cambodia this year, he returned with a bucket load of valuable tips up his sleeve…
So today Dan is here to share his Cambodia travel tips to help make your own travel experience smooth sailing.
Cambodia Travel Tips: Essential Things To Know Before Going
No time? Come back later… Pin these Cambodia travel tips to your travel board on Pinterest >>

To start, can you give us a short introduction about yourself, where you're from and what you do?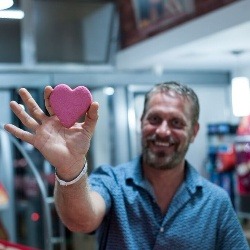 My name is Dan Bartasavich, and I'm 48 years young!
After 20 years in Retail Management, I'm in the process of reinventing myself.
Currently, I'm a Fist-mate/tour guide for a WATER TOURS company in Rehoboth Beach Delaware.
Since 1987 I've had a bad case of wanderlust, but since 2012, it's gotta bit outta control!
When did you first visit Cambodia and where did you go?
Our trip to Thailand and Cambodia was this June and by far our favourite! 22 days of awesome! To travel independently is to really see a country.
The only guide/driver we hired was for the Bangkok to Poipet drive and border crossing and we used Angkor Wat Services.
MR.RATH hooked us up with transport, and he was our guide for three days. He was essential to the experience of history!
What was it that made you fall in love with Cambodia and did it inspire you to return?
The temples of Angkor Wat are what originally inspired us to go, but the true highlights were the amazing people, and the day spent at Kompong Khleang floating village.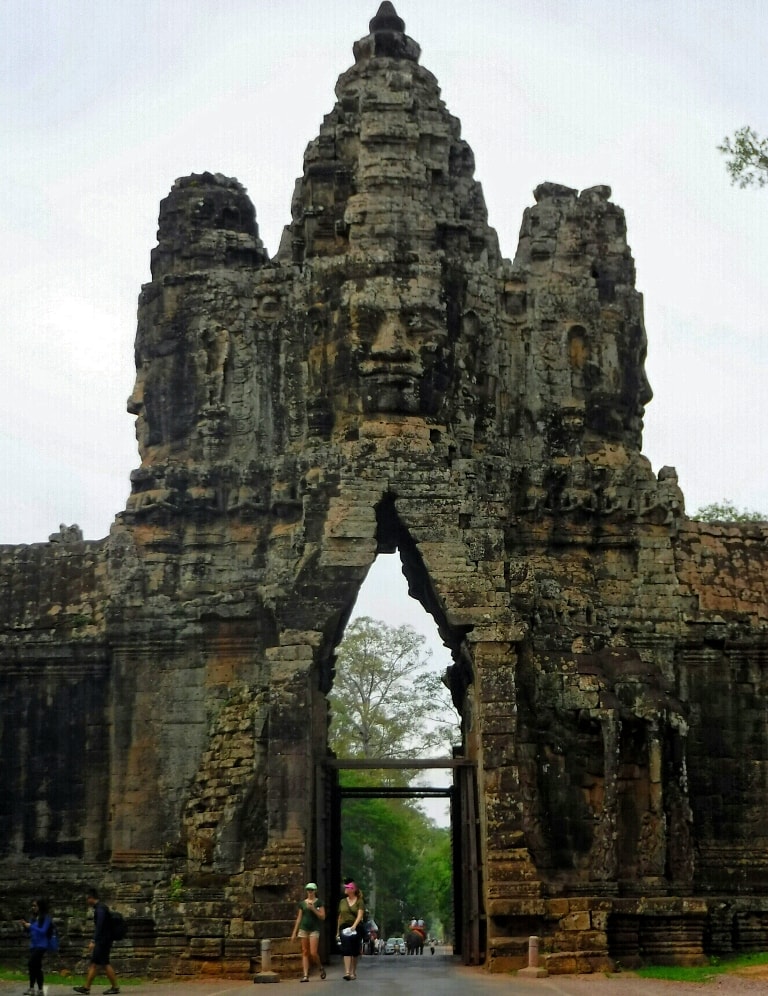 Your absolute top things to do in Cambodia?
We spent three full days in Siem Reap, one full day in Kompong Khleang and two days traveling back and forth from Bangkok.
Some people say the drive is a waste of time and to fly from Bangkok to Siem Reap, but for us, we made it part of the adventure.
I would also say that stopping off at the cliff-side monastery as well as stopping at the family roadside garage turned restaurant for a noodle bowl are musts!
What challenges did you face in Cambodia and how did you overcome them? Should people planning to visit Cambodia be aware of these challenges?
Obviously, the greatest challenge for travelers in Cambodia is the language barrier.  Smile,  make eye contact, Wai/bow accordingly, and anyone can get by!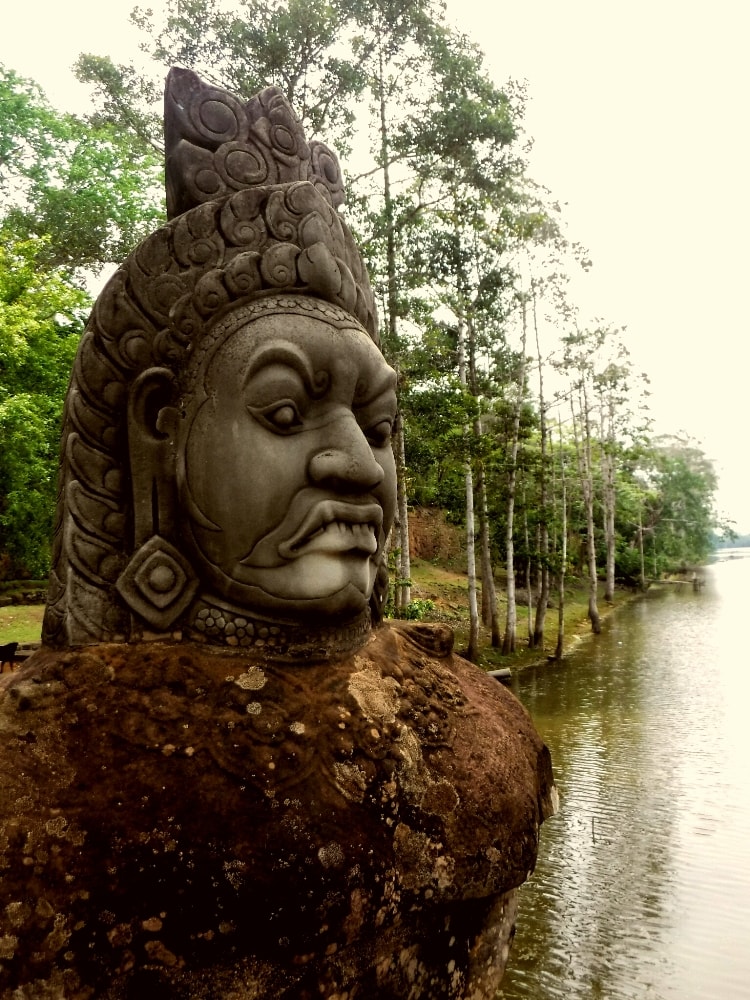 In your opinion, what is the best way to travel in Cambodia and why?
We called in the professionals at Angkorwatservices.com because it was the most cost effective for us.
We added up the cost of transportation, a tour guide and entrance fees; it soon became obvious to use them.
Our guide, Sophoan Rath was stellar! He was the essence of Cambodian hospitality.
They have a special culture of giving, caring, and nourishing family and friends as I've only seen one other place – Jordan!  Both countries are renowned for their friendliness.
Based on this, what is the approximate cost of traveling in Cambodia (accommodation, food, transport, entertainment)?
Cambodia can be done on a shoestring budget and I must admit; we used points from Credit cards for the entire trip.
Allow $30 a day for nice accommodation in Siem Reap, less outside of the tourist area.
Don't get me wrong; you can find $200 per night rooms, but why?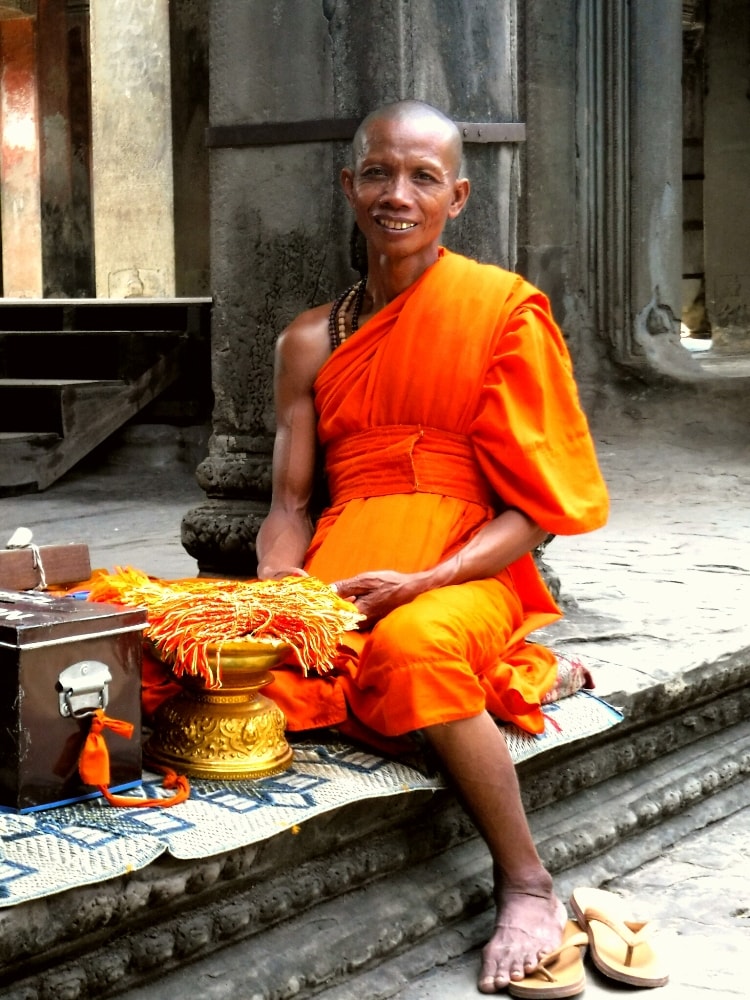 Can you share with us your most important Cambodia travel tips to know before visiting?
1 – Break big bills asap. Everything costs very little but when big bills are flashing, prices go up…..
2 – Visiting the temples? Go off season, skip the sunrise trap and go the opposite way to the large tour groups.
3 – Get out of town.
4 – Don't visit the orphanages, go to the Landmine museum instead!
5 – Don't support the sex trade, just saying… Buy some art instead, support a real TRADE!
6 – Don't ride the Elephants, volunteer at a sanctuary instead but research first to ensure its a true Sanctuary.
7 – Download maps ahead of time.
8 – Research, research, research, but remain open while you are in the country!
Dan, thank you so much for sharing your helpful Cambodia travel tips!
To learn about Dan's next adventures around the world, remember to follow him on Instagram: @theotherbart.
---
Cambodia Travel Resources
Cambodia Accommodation:
To start looking at your accommodation options in Cambodia, choose Hostelworld for budget, Booking.com for comfort or Airbnb for local (and get $25 off).
Cambodia Flights:
If you are traveling to Cambodia via air, it is beneficial to use a flight compare site to find the cheapest flights. We recommend and use Cheapflights.com.
Click here to compare and book cheap flights to Cambodia
---
Now it's over to you reading this! Leave your answers in the comments section below…
Are you planning a trip to Southeast Asia and looking for more Cambodia travel tips? Leave your questions below and we'll do our best to help you out!
Do you know some more Cambodia travel tips to add to the list? Let us know!
---
Are you interested in being a featured traveler and sharing your travel tips?
Click here to send an email to us
Share a few words about yourself and your travel experience as well as a link to your blog or favourite social media channel
We'll be in contact!