Future UK travellers! As a word of advice from a couple currently travelling Europe by van, don't buy a Lyca sim card when you embark on your UK trip. Here's the reasons why.
Upon arrival at terminal 4 in Heathrow airport, we were in need of a sim card for our smartphone, STAT. It needed preloaded phone credit and internet data so we could go in search of a van to sleep and travel in, preferably that night or the next day.
We hadn't pre – bought any 'overseas phone packages' or 'international sim cards' because we'd been travelling long enough to know that they were a rip off. Also, no matter which airport you arrive at, whether it's in Almaty,  Kazakhstan or Heathrow, England, you'll always find a colourful array of sim cards from different companies waiting for you in the arrival lounge. It's just a matter of choosing the right one.
Unfortunately, we didn't choose the right one, which is why we're letting you learn from our mistake.
Standing at the sim card vending machine (yes, a vending machine for sim cards) we were faced with far too many choices but they all seemed to offer similar deals so we picked the one that stood out most (the bright green one in the middle). Advertising unlimited 4G data, 500 UK minutes and unlimited UK texts for £20, it seemed quite a good deal.
With unlimited data we thought, perfect, we can turn on the tethering and connect the laptop to the internet when we need to work from rural locations. And there was definitely enough credit on there to find ourselves a van. So we inserted our £20 note in the slot and off we went.
It wasn't until that night that we were in a situation where we needed to connect the laptop to the mobile hot spot (tethering). After trying all sorts of different combinations of turning things on and off and working our way into areas of the phone settings no one's ever been before, we were still unable to get it to connect. So we called Lyca mobile for a little help, it really shouldn't have been that difficult.
When the customer service rep answered, we told him the details of our dilemma, only to get the response,
"I'm sorry, but we don't offer that service."
I'm sorry but didn't we just pay for unlimited data? Why should it matter which portal we use it through?
Anyway, after 15 minutes on the phone, trying to sort this problem out, Lyca didn't budge and we remained without the tethering option.
Some days later we'd bought our van and were on the road, getting out of London as fast as we could. It was then that we noticed that our 'unlimited data' wasn't as 'unlimited' as we originally thought. The whole time we were in the South of England (about 1 month) we probably got internet data signal 4 times. The rest of the time we had to rely on WiFi in cafés.
You may be thinking why on earth we rely on the Internet so much. Well, to put it fair and square, the Internet keeps us travelling. Without it, we'd be without money (an important factor when it comes to seeing the world).
So you can probably see why we were a little peed off when we weren't getting signal anywhere other than within a 1 mile radius of London (ok, we're exaggerating a tad). If a company is going to advertise unlimited 4G data (which is meant to be the fastest kind, offering the widest coverage) then they should bloody well deliver it.
Hence, why you will notice that we spend a lot of time sightseeing around McDonald's restaurants throughout GB. At least they deliver free unlimited WiFi, surprisingly ok coffee and service with a smile (:–D would you like fries with that?)
As we are about to embark on an adventure through mainland Europe, we decided to just recharge with Lyca for another couple of weeks to get by, instead of buying a whole new sim and having to change our phone number. But then there was another silly thing that happened.
The bundle that we are on costs £15, so we bought £15 worth of credit. We then called up to choose our bundle and turn the credit into mobile data. But with £15.01, Lyca mobile did not allow us to do so because we had an insufficient balance. So we could only assume that they were charging us to make the phone call that swaps the call credit for data, meaning we had to buy £5 more to cover it!
So what is the best mobile network for UK travellers? Definitely not Lyca. Based on some of the research we've done around the place we've gathered together a few companies which seem to be winning with the locals and expats.
3 (Three) – They already have an advanced 3G network, the fastest in the UK. 4G is the next evolution in their commitment to bringing you an even faster, smoother and more reliable internet experience.
O2 – Offers a high quality, complete package for customers, with high quality network, unlimited access to public Wi-Fi hotspots, great value pricing and are commited to providing great customer service.
Orange – Voted best Global Operator at the World Communication Awards
Let's recap on why you shouldn't buy a £20 Lyca sim card with unlimited 4G data when you get to the UK:
They do not allow you to activate  Internet tethering even when you purchase unlimited data.
Their '4G' coverage sucks – unlimited doesn't actually mean unlimited, didn't you know?
£15 will not cover the cost of your £15 bundle.
You will most probably spend your days café hopping, asking for free WiFi and if there's no such luck then you'll be faced with Ronald Mcdonald.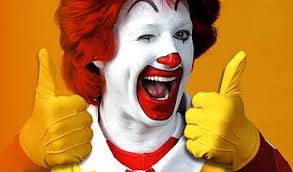 What do you think? Have you had a similar problem with Lyca or any other networks? Do you have any recommendations? Let us know!
Like this post? Keep up to date and inspired to travel more by liking us on Facebook!