Finally, World Cup day had arrived and we were preparing for it in Looe, Cornwall. The day was glistening and good vibes were flowing.
To kickstart it, we took a wander through the little town of Looe, one of our favourite places, and down to the bay where the ocean lay flat and sailboats drifted in the distance. It had gone 7.00 pm and families were still out lounging in the sunshine, frying sausages on their barbeques and creating memorable summertime experiences. 
Live this experience with us and watch the video…
It wasn't long after when we were perched on a soft leather couch, right in front of the TV screen at The Ship Inn with a shandy in hand, ready for Brazil to win. The sun was still out and we were excited to meet up with some good friends who we had met in Thailand.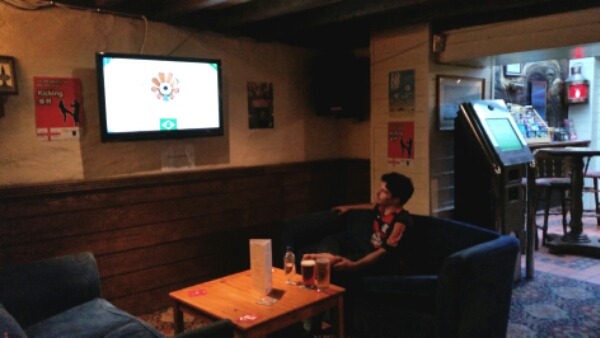 The game began, the couch was full, we had a bowl of chips in our laps and the whole pub was sat watching the big screen in anticipation. All of a sudden, "Brazil scores!" But hang on, where was Dan, the only Brazilian in the pub? At the bar.
The game carried on, back and forth and no one was really getting anywhere until, Croatia was penalised and Brazil was given a free kick (excuse my useless football terminology). Everyone sat on the edge of their seats, fists clenched, ready to jump and roar. The player readied up for a goal as the crowd went silent. Waiting and waiting, it was all about to happen when, I looked down where Dan was meant to be sitting and he wasn't there. Where was he this time? In the toilet.
How did he manage to get his timing so bad, twice?!
Luckily, as the player went for the kick, Dan made a run for it and caught the goal just in the last split second. Phew.
Good job Brazil, you did us proud!
Where are you watching the World Cup from? Who's your team? Let us know! Comment below 🙂