Appalachia is a geographic area in the east of the United States. It ranges from the New York State Southern Tier to northern Alabama and Georgia. The Appalachian Mountains extend from Belle Isle in Canada to Cheaha Mountain in Alabama. Typically, the area usually only applies to the central and southern parts of the range. This area stretches from Virginia's the Blue Ridge Mountains southwest to the Great Smoky Mountains. Appalachia was home to nearly 25 million people as of the 2010 United States Census.
Additionally, Appalachian heritage is very rich and diverse. The Scotch and Irish agricultural traditions included the farming method of some of the areas. They have influences of massive farming near the home and livestock farther from home. They rotate crops for better production, and learned the slash and burn method of creating fields from the Cherokee Indians.
The food in the area is very diverse. For instance, what the people eat at the state base of New York, the peak of the Appalachian range, is quite different from what they eat in northern Georgia. However, there are many restaurants you can try out to explore this diversity. Here are a few of the examples.
Los Jalapenos
Contact Information:
100 Rocky Bottom Dr.
Unicoi, TN 37692
(423) 743-3512
Los Jalapenos is open until 10 pm. They serve Mexican food at reasonable prices. According to some reviews, Walmart is conveniently in the same shopping center. Therefore, you can easily resupply right after a good meal.
Lakeshore House Restaurant & Lodge
Contact Information:
9 Tenney Hill Rd.
Monson, ME 04464
(207) 997-7069
The Lakeshore House Restaurant & Lodge is excellent for summer and winter recreation. It is just three miles south of the Appalachian Trail. This small village is a great stop for both hikers and outdoor enthusiasts looking to rest, get their mail drop, resupply, do laundry, enjoy a home-cooked meal, and relax. As a family-owned establishment, they aim to meet the needs of all types of groups. Further, this includes those with children and even well-behaved animals.
Rebekah Anderson owns and operates the Lakeshore House, with the help of several faithful, local employees. Additionally, Rebekah, her partner Charlie, and, at times, her three children are involved in the business' daily operations. Upon walking through the doors, there's a unique feeling of being at home. Within moments of your arrival, you'll be treated like a friend.
Yellow Deli
Contact Information:
23 Center St.
Rutland, VT 05701
(802) 775-9800
This establishment is owned by the Twelve Tribes Community. Their specialty is the sandwich, Deli Rose, and the chili and fruit salad. The deli is open 24/7, except for 3 pm on Friday until noon Sunday. Hikers get a 15% off discount at the deli and the outfitter. They also offer free breakfast and loaner clothes with a night's stay at the donation-based hostel ($20 suggested) located upstairs. The Yellow Deli also offers a shuttle to and from the trail for your convenience. As such, this is a great place to stop in Appalachia.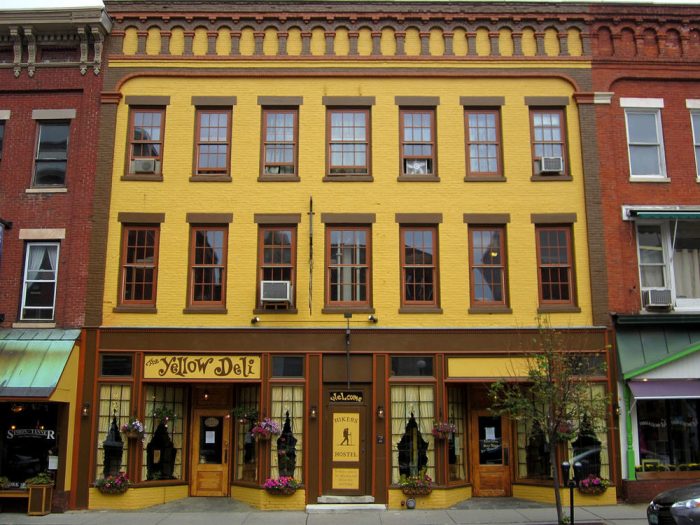 Conclusion
As established by the Appalachian Regional Commission, the Appalachian Region includes all of West Virginia and parts of 12 other states. These states include Alabama, Georgia, Kentucky, Maryland, Mississippi, New York, North Carolina, Pennsylvania, South Carolina, Tennessee, and Virginia.
Ultimately, these restaurants are just a few of the many locations you can explore. These unique experiences will help you learn more about their culture, people, and food. Additionally, for more travel tips in the United States and abroad, click here.
Featured image: newsweek.com