Melly, also known as A Baker Abroad, is a north American pastry chef who is currently living in Cambridge, England.
Born and bred in Florida, Melly has been teaching pastry courses at a culinary school for the last 6 years and in her spare time, she loves to travel.
As a travel and food blogger, Melly says that her greatest passion in life is traveling, which is why she was so ecstatic to use England as a jumping point to really explore Europe.
After recently hopping over to Scotland, Melly is here to share her amazing Edinburgh travel tips, perfect for first-timers!
Edinburgh Travel Tips: Traveling Foodie Shares Top Things To See And Do
Love these Edinburgh travel tips? Pin this to your travel board on Pinterest >>

To start, could you please give us a short introduction about yourself, where you're from and what you do?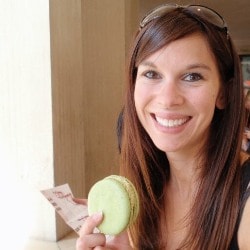 Hi! I'm Melly! I'm a Pastry Chef who came into the opportunity of a lifetime to move from Florida to England.
Being an absolute travel-addict I couldn't resist trading in my flip flops for several more layers of clothing even though I adore the sunshine state.
With my expertise, I'm on a mission to help other Foodies plan awesome trips by providing travel tips with a focus on food my blog, A Baker Abroad.
When did you first visit Edinburgh and where did you go?
My latest trip was to Edinburgh, Scotland. In fact, I just got back less than 24 hours ago and I loved it so much I just couldn't wait any longer to share the details with you!
Although it's just about freezing right now, it turns out the end of November is a perfect time to travel to Edinburgh! That's because the city is currently hosting their annual event, Edinburgh's Christmas.
It's a collection of holiday-themed festivities including a Christmas Market, a light show, a Scottish Market, and even an outdoor ice rink.
Being a lover of all-things-Christmas, I spent most of my trip exploring this event.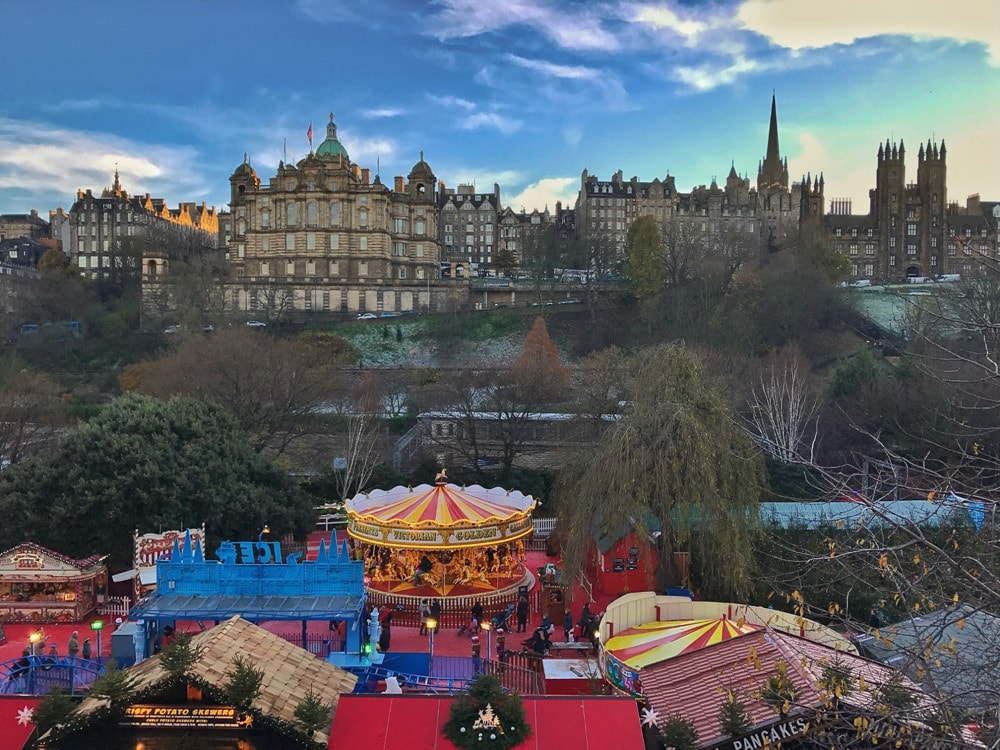 What was it that made you fall in love with Edinburgh and did it inspire you to return?
I think I fell in love with Edinburgh before I even stepped foot in Scotland!
I found out about our move about 6 months before we actually relocated so I had A LOT of time to research (and gawk at UK-based Instagram feeds.)
I actually started wishing we were moving to Scotland because it is just so picturesque!
So naturally, Edinburgh went straight to the top of my travel wish list.
Seeing it in person definitely did not disappoint!
With the mix of architecture between its Old Town and New Town areas my husband and I both agreed it's one of the prettiest cities we've ever visited…
So yes, I am absolutely inspired to return – probably a couple times a year.
Your absolute top things to do in Edinburgh?
1 – Get in the holiday spirit while munching on marzipan and sipping Gluhwein at the Christmas Market.
2 – Stroll along George Street – probably the prettiest street in New Town (which is more beautiful at Christmas!)
3 – Shop till you drop in New Town – the pedestrian streets between George Street and Princes Street are littered with every kind of store you could dream up. It's a shopper's paradise!
4 – EAT! The food in Edinburgh is fantastic! Edinburgh has quite a diverse food scene, offering just about every type of international cuisine. They have a plethora of Michelin starred restaurants (Foodies rejoice!)
5 – Take in the view of Edinburgh Castle from Princes Street Gardens – because castles are even more majestic when they're perched high on a cliff.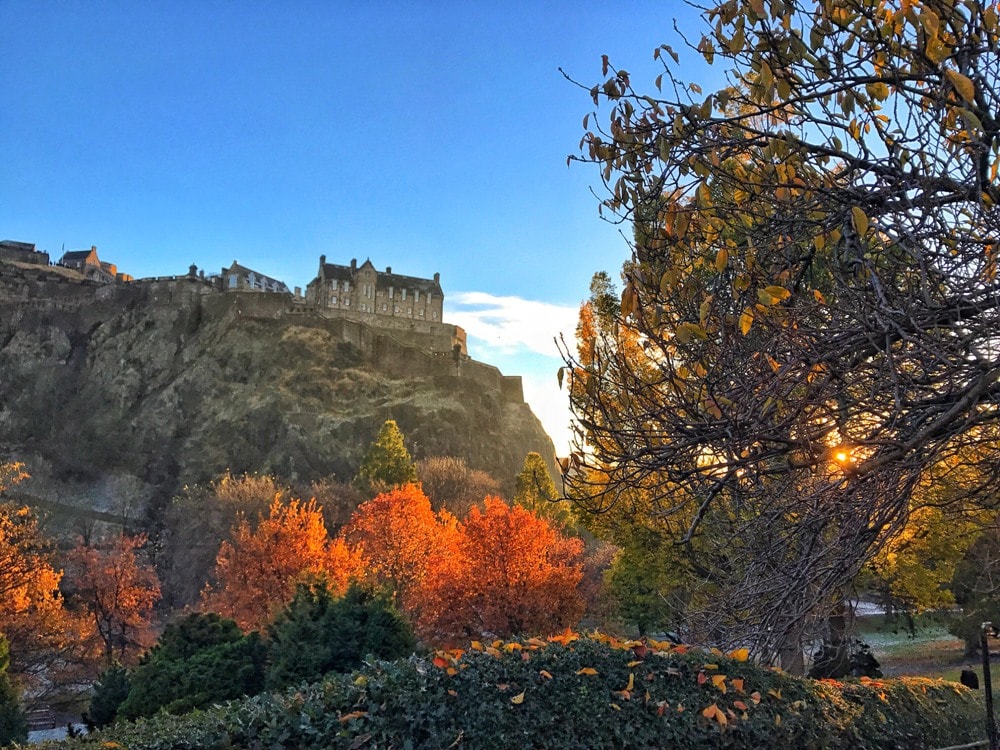 What challenges have you faced in Edinburgh and how did you overcome them? Should people planning to visit Edinburgh be aware of these challenges?
Edinburgh takes its food scene seriously. There are over 4,000 restaurants in the city and if you want to go to the best ones it would be worth your time to research in advance and make a reservation.
I saw people get turned away left and right from restaurants because unlike other cities where you can be put on a waitlist, restaurants in Edinburgh will simply say they are full.
Also, if you are traveling with kids inquire about the restaurant's policies if you plan to dine in the evening. Many pubs and restaurants don't allow children after 8 pm due to their licensing restrictions.
Just because you see a kid's menu posted outside the restaurant does not mean children are necessarily permitted at the time you may wish to dine. A simple call ahead can save you from experiencing frustration.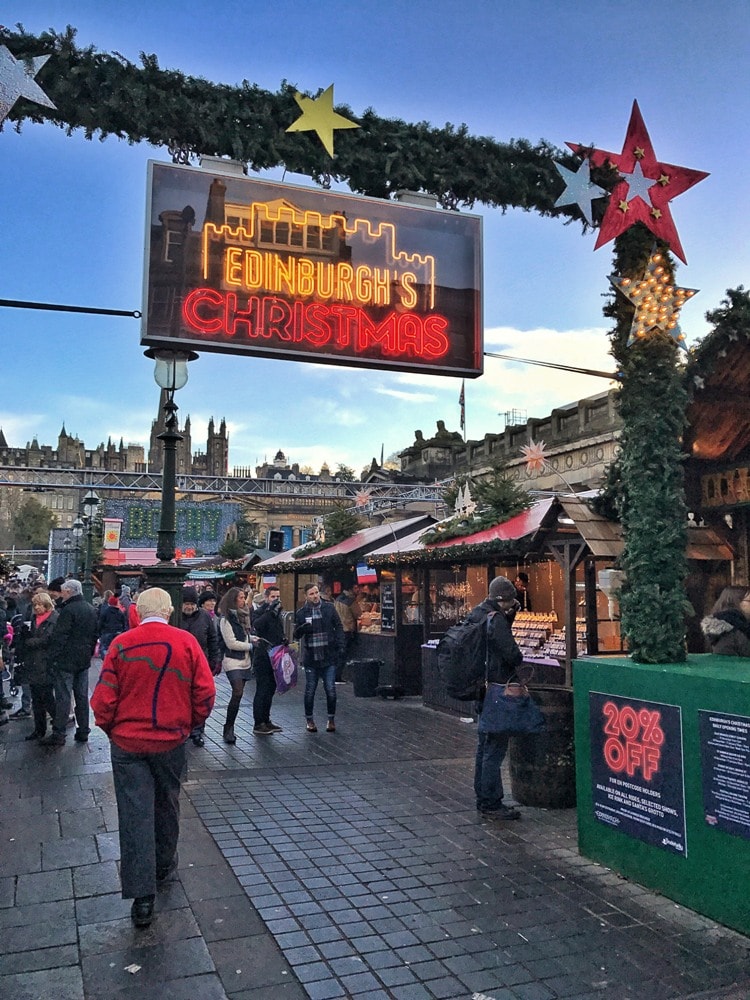 In your opinion, what is the best way to travel in Edinburgh and why?
I always prefer to travel independently and stay right in the heart of the city to be near the area I want to explore. I feel this helps to really immerse myself in the culture of the city.
For this trip, I chose to stay in a flat through Airbnb in New Town. I loved it! It was perfectly situated among the restaurants, pubs, and shops of Rose Street.
The only downfall was hearing bagpipes playing at the local pub while laying in bed after midnight on the weekend… but hey, that's a pretty enjoyable problem considering I was visiting Scotland!
Talk about being immersed in the culture!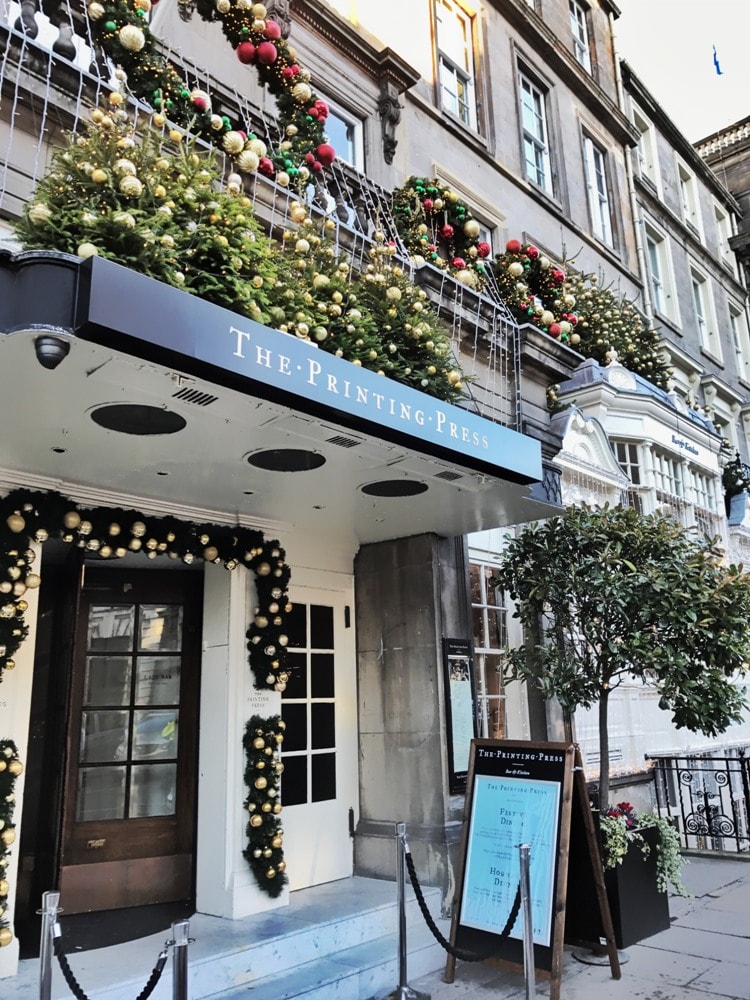 Based on this, what is the approximate cost of traveling in Edinburgh?
My Airbnb flat was about £100 per night…
Train tickets from Cambridge cost about £80 per person – and provided stunning costal views!
Food prices were relatively inexpensive for the high quality of food that we found. Entrees at most restaurants cost between £8-£15.
Going to the Christmas Market is a great way to keep entertainment costs low. The market is free to enter.
Your top go-to resources for booking flights, accommodation and tours in Edinburgh?
Regardless of where I travel I always compare hotels on TripAdvisor to homes on Airbnb to see what I can get in my budget in the area I prefer.
We booked our train directly through Virgin.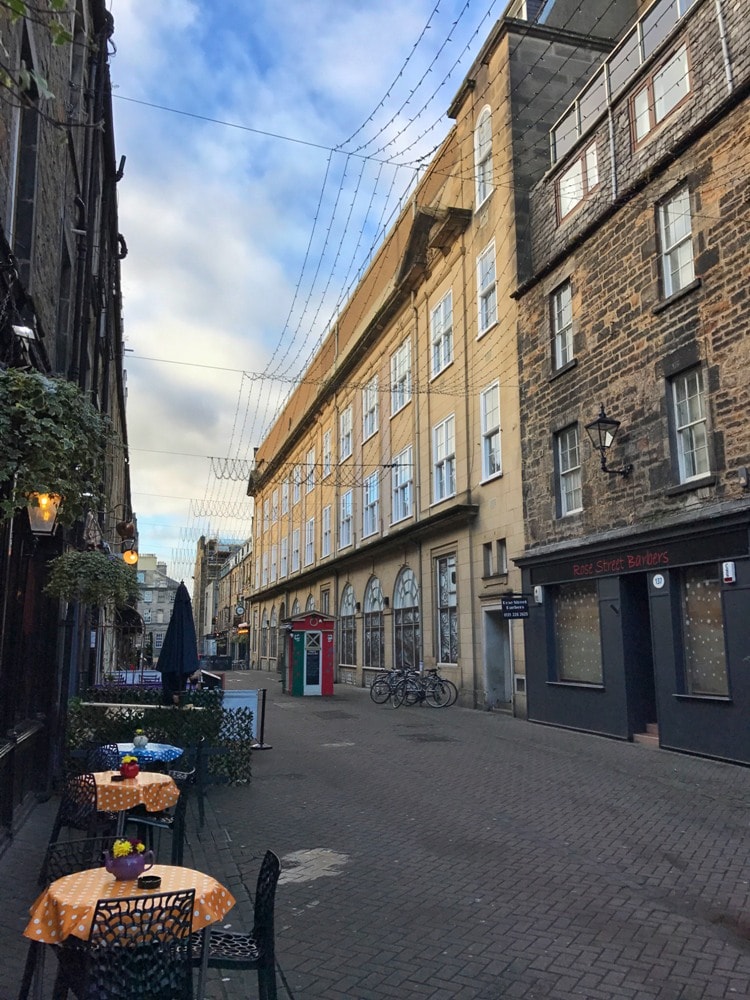 Can you share with us three important Edinburgh travel tips to know before visiting?
1 – The city is full of hills! Pack the appropriate shoes to conquer these (sometimes steep) hills. Old Town and New Town are completely different, but both are lovely.
2 – Research each to decide which area contains more of the attractions you wish to experience. Choose to stay in that area to reduce the number of hills you'll need to tackle -your calves will thank you!
3 – For the foodies: Most of the top rated restaurants are located in New Town. Make your reservations before you go. Also, make sure to pop into coffee shops. Both Old Town and New Town are sprinkled with charming coffee shops that all offer unique teas and cakes.
And finally, do you have any last words to inspire everyone reading this to travel to Edinburgh?
Oh, Edinburgh is one of those few cities where you think it can't actually look as idyllic as the pictures you've seen, but then you go to experience it for yourself and you're even more blown away by its beauty!
This city should be on everyone's 'Top Ten' list. I know I'm already thinking about a trip in the spring (and secretly wondering if I should just go every month…)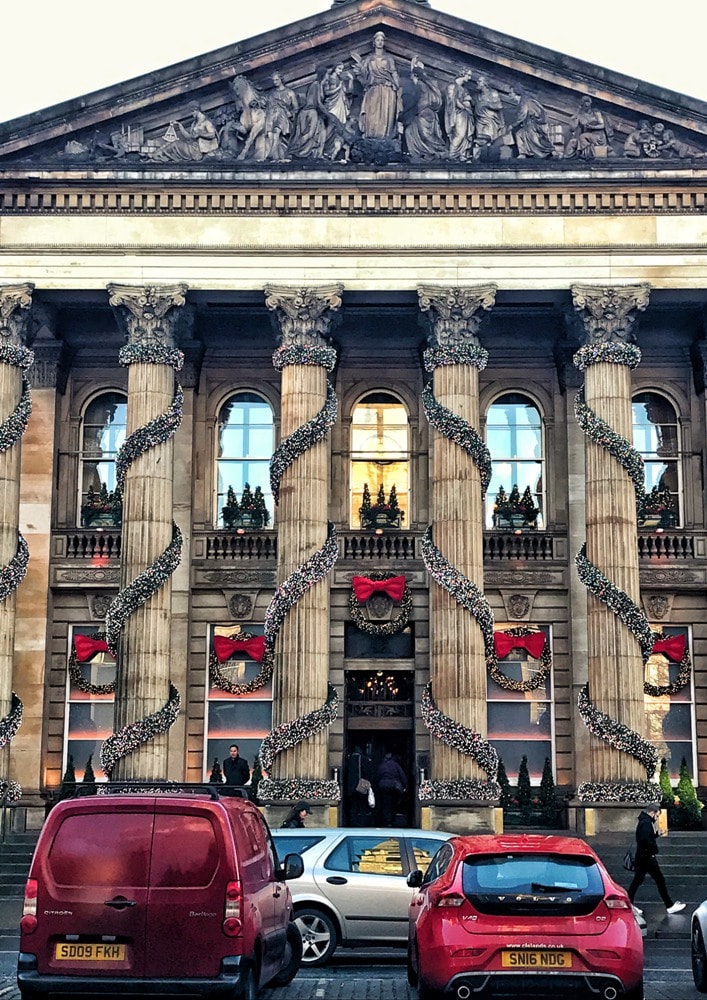 Melly, thank you so much for sharing your amazing Edinburgh travel tips!
To learn more about Melly's next adventures to Edinburgh and beyond as well as drool all over her food photos, visit her blog A Baker Abroad, and check out her Instagram, @abakerabroad, Facebook and Pinterest.

---
Now it's over to you reading this! Leave your answers in the comments section below…
Are you planning a trip to Scotland and looking for more Edinburgh travel tips like these? Leave your questions below and we'll do our best to help you out!
Have some more Edinburgh travel tips to add to the Melly's? Let us know!