Update! Our ultimate travel job guide – Get Paid To Travel: 101 Amazing Travel Jobs – is now live! If full time travel is your ultimate goal but you're not sure how to make it a reality just yet, don't leave without reading this first!
The following is an in depth guide to building an online business while you travel through creating and selling digital information products. It's quite lengthy and it took me a long time to put together but I believe this will be a really valuable resource for those of you who are looking into different options for earning an income online.
Throughout this guide I am going to show you:
What are digital information products?
Why create and sell digital information products?
How to find your niche
How to create a blog/site
How to build an email list
How to create digital information products
Why bonuses are important
What are opt-in forms, squeeze, sales & thank you pages?
How to sell digital products?
How to deliver digital products?
** Before I forget I also recommend checking out these 15 awesome travel job courses that'll teach you the exact skills you need for many kinds of remote jobs you can do from anywhere.
Travel Jobs: How To Create And Sell Digital Information Products (And Make Good Money)
Don't forget this one! Pin it for later >>
What are Digital Information Products?
In simple terms, digital information products communicate information (usually educational) through various types of digital media, the most popular being eBooks, video courses and training programs.
Some other types of digital products include:
Pictures & photos
Digital music
Audio products
Web services/software
Designed web graphics/templates
Artwork
You can create digital information products on just about any topic in any niche.
Some popular niches include:
Health/fitness
Business
Online Business
Relationships/dating
Travel
Technology
Food
Beauty
Fashion
Many of the top digital entrepreneurs and marketers deem this to be the most lucrative way to grow a location independent business and earn an income online.
Why?
In this day and age we are constantly hungry for information. The majority of us spend our time online looking for information.
"How to make money traveling"… "How to save money on flights"… "How to work online"… And the list goes on and on.
We have a pain, a problem, and we want it solved.
Enter digital info products… There to save the day.
Digital information products help you to solve a specific life problem or show you how something is done successfully.
And the demand for digital information products is HUGE.
Why Create And Sell Digital Information Products?
According to research by Statista, the revenue from eBooks in the US market alone will reach $8.69 billion by 2018.
That's just eBooks. And only in the US.
Now think about how many countries there are in this world with information hungry people sat on the other side of the screen.
And then think about the fact that training programs and courses generally sell for far, far more than eBooks.
This has got to be an 11 digit industry!
Not only that, the market isn't even saturated!
A recent study by Selz, an e-commerce and digital product selling app, showed that only 11% of online sellers in the US, Australia and the UK are selling any form of digital products.
The rest are still offering online services or selling physical products.
There are also a ton of other reasons why digital info products are the way to go if you want to build a lucrative online business while you travel.
From the fact that creating, launching and marketing your product has never been easier…
To the fact that production and delivery costs are very low (resulting in higher profit margins)…
To the fact that you can run and completely automate your business entirely online, allowing you to earn an income from anywhere…
There's no packaging or shipping costs involved as digital products are sent… well, digitally, and you have unlimited earning potential.
Sooo, seriously, what more can I say?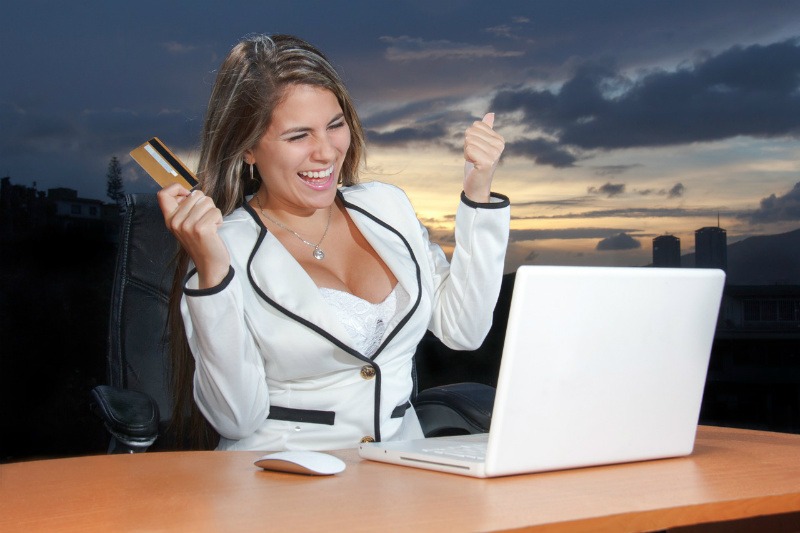 Finding Your Niche
Now that you understand what a digital information product is and why basing your location independent online business on digital product creation is a smart move, let's talk about your niche.
The very first thing you need to decide on before looking into product creation is your niche.
When you figure out your niche, then you can get an idea of what kinds of products to create and sell.
For example, we are in the travel niche so we focus on creating products (eBooks, courses) designed to help you travel more.
Your niche can be something you have knowledge about but must also appeal to a wide enough audience that you can make consistent sales.
Once you have determined your niche, you then need to learn what your potential audience are struggling with so that you can help them through the info products you produce.
A few simple ways to do this without a large audience yet include:
Sending an email out to your new subscribers asking them what their pain is
Searching through forums in your niche and finding out what people are asking for help with
Typing terms that relate to your niche in the Google search bar and seeing what phrases pop up – eg. how to travel… and seeing what shows up
Using a tool like Google Keyword Planner – type in your keywords (relating to your niche) and it will show you what people are searching for
Surveying people you know who are interested in your niche by asking what their pains are
Going to other people's blogs in your niche and reading through the comments
Once you have your niche and solution all figured out, it's time to create your brand.
You need to create a brand that represents your niche and is easy to remember so that you attract repeat customers.
You need to be the expert or authority in your niche.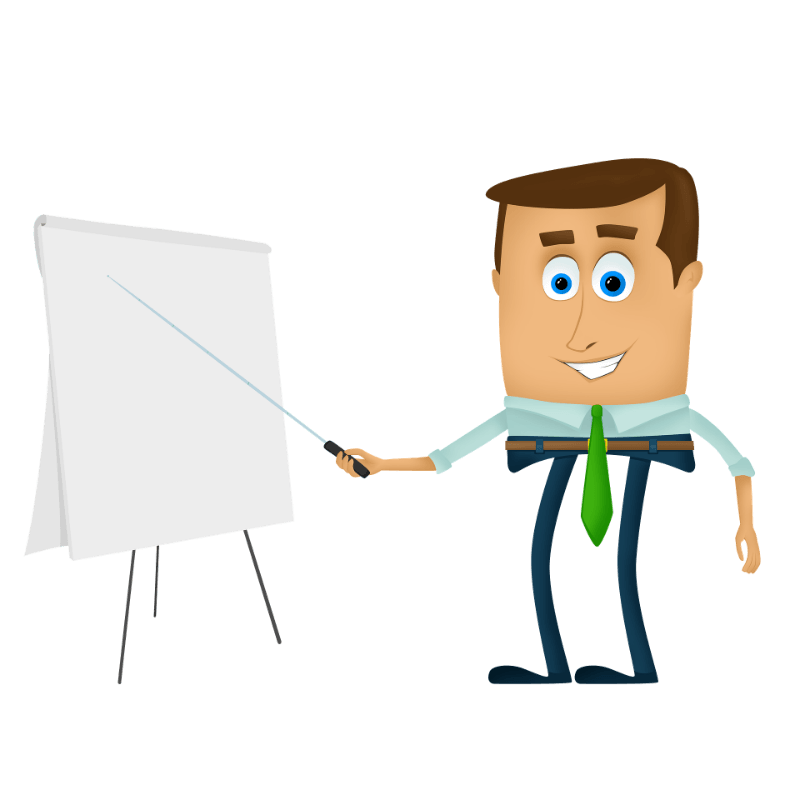 If your niche is vintage cars, you need to position yourself so that when someone wants to learn how to restore vintage cars, they think of you and the products you sell.
So how can you achieve this kind of authority?
Start by creating content…
Creating a Website
To earn an income selling your digital information products from anywhere in the world, the logical next step is to start a website based on your niche.
For example, if you plan to create digital information products about caravanning and camping, make a website and start blogging about caravanning and camping.
You can start a blog on a number of different platforms but the most established and universal content management system is WordPress.org.
You first need to purchase your domain name and find a platform to host it on.
We recommend Bluehost.com as they offer our readers a cheap as pie introductory price and are endorsed by huge online entrepreneurs such as Pat Flynn from Smart Passive Income.
It is important to tell you now, if you want to start a location independent business and earn an income from anywhere by creating and selling digital products, you must invest in it by becoming self-hosted (eg. www.storyv.net not www.storyv.wordpress.com).
To learn how to set-up your blog/website quickly and easily without any crazy coding or technical overload, AND receive our reader discount, go through my step-by-step blog guide.
If you don't need the tutorial but still want the discount, click here.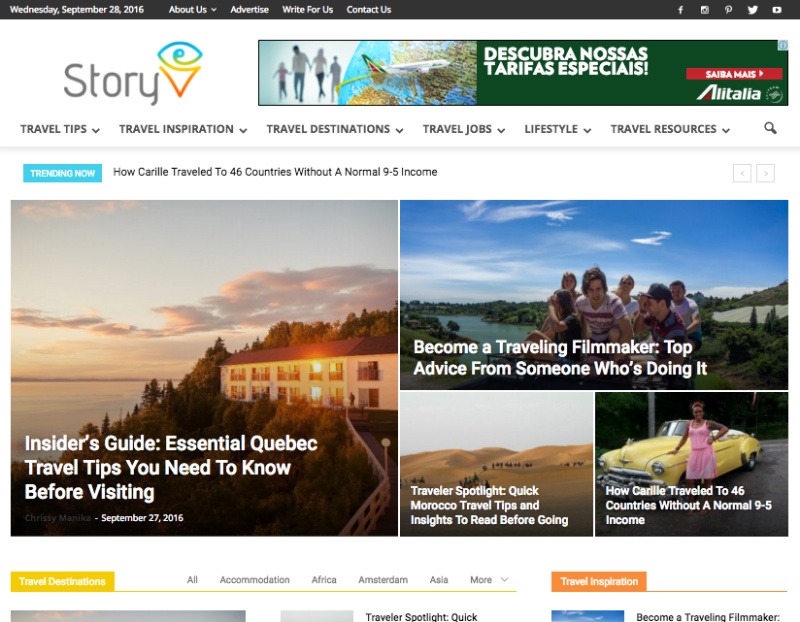 Building an Email List
The next step in the process of running a business from anywhere through creating and selling digital info products, is to start building your email list.
Your email list will be your number one asset.
Don't skip this step because you'll seriously regret it further down the track.
Building an email list is seriously one of the most important things you can do as a digital marketer.
When you provide the opportunity for your readers to become "community members" and receive exclusive content, free gifts (such as eBooks and trainings) and discounts from you, of course they are going to become your most loyal readers.
So when you work hard towards creating that loyal audience, they will continue to come back, read your content, buy your products and show their support.
As soon as you set up your site and start blogging, you need to start building your list and then emailing your subscribers regularly.
Email marketing is extremely powerful… You can create an entire 'funnel' so that once someone subscribes, they continue to receive targeted emails and offers on automation.
But that's just touching the surface of what you can do with a funnel.
To send email broadcasts out to your subscribers as well develop an effective email marketing funnel, you need to sign up to an email service provider.
Recommended Tool: Kartra
There are a number of email marketing platforms out there, however, if you want an easy to use all-in-one marketing platform that not only sends emails, but also stores contacts, builds pages, hosts videos, creates members areas, processes payments and much more, you need to use Kartra.
This platform is super easy to use, it comes with various pre-made templates and emails and it's just $1 to get started.
I will explain more about how to get subscribers further down the post… Keep reading.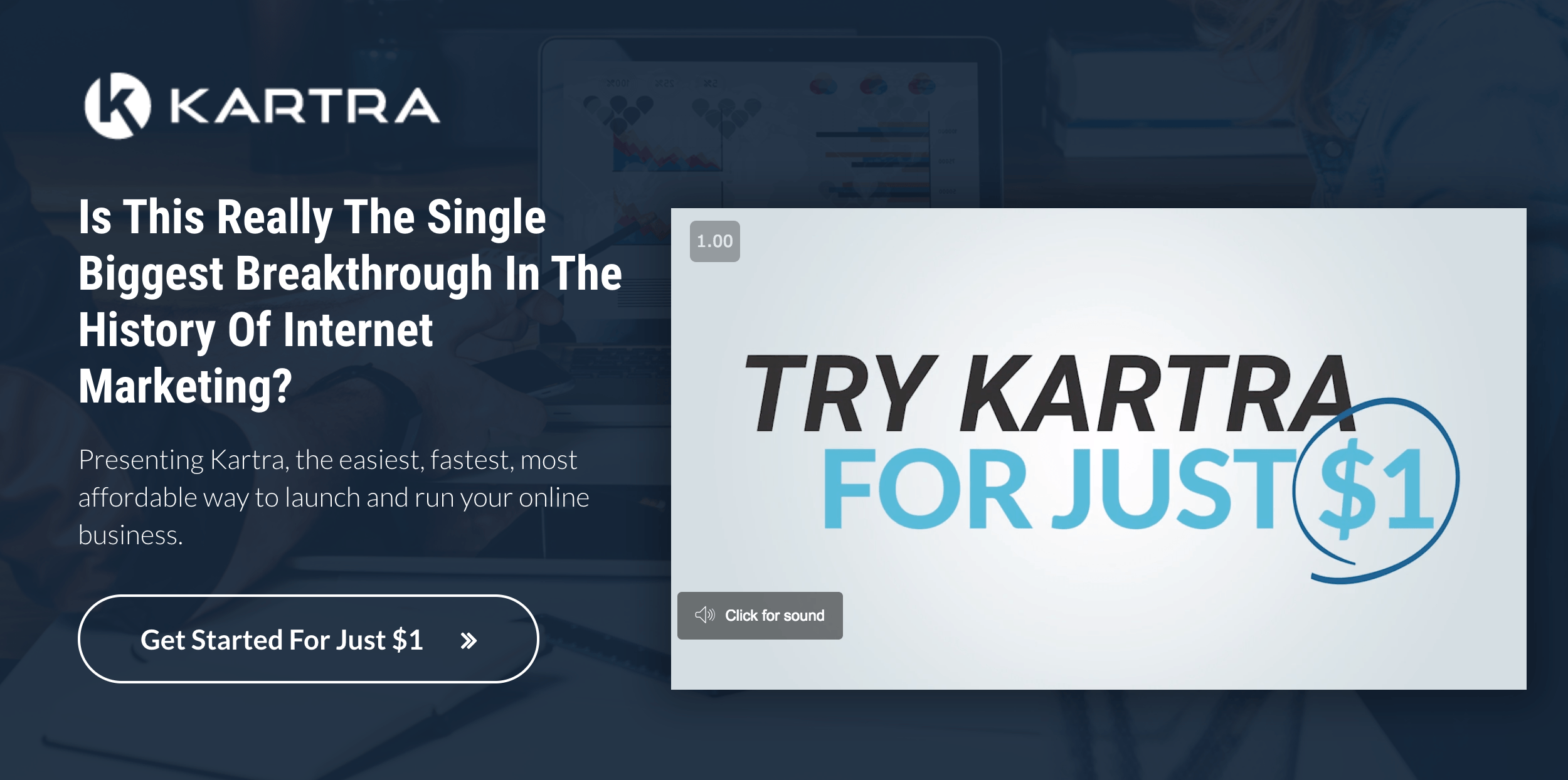 How to Create Digital Information Products
Creating your digital information product is actually the simple part. It's the marketing that's the hard part.
eBooks
Start by simply writing your eBook on a word doc. Just get your words on paper.
Next, send it off for a good edit before having it proofread.
Alina Popescu from Wayward Ink Publishing says:
An editor's job is to edit, proofreading comes after. I think a lot of us underestimate the importance of a good edit, and finding a great editor is quite difficult. So, go for a thorough edit first, and then move onto proofreading. I would also recommend getting someone else than your first editor to do that, because it's easier to spot small typos. Human error is real.
You can find editors on Fiverr, however, if you want a good editor, be prepared to invest more using a platform like Upwork.
When you receive it back from editing and proofreading, send it off to a designer.
You can also find designers on Fiverr, however, if you want a good designer, let me know and I'll put you in touch with someone I know.
Your designer can then make the pages of your eBook beautiful, design a book cover and marketing material and also format your eBook for PDF, Kindle, ePub and other devices.
Once you've received it back, simply upload the most common format (PDF generally) to the gallery on the back-end of your site by clicking 'add media'.
Once the media is uploaded, WordPress will produce a link and then you can send this link to your customers when they purchase the eBook.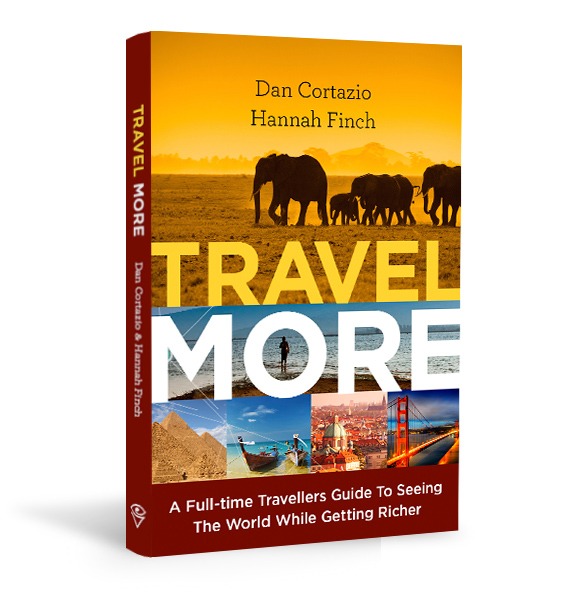 Courses
The most common type of courses are video courses.
These can be really simple to make, it's just coming up with good content that can take some time.
A lot of people who sell video courses literally film their videos, edit them and then upload them to Youtube as private.
Then they simply send a link to one video per week or every few days (depending on the length of the course) via email.
Another alternative is to upload the videos to a membership section on your site so that your customer has access all the time.
I do recommend investing in quality production for your videos, whether this means hiring a company to shoot and edit or purchasing your own equipment and software.
Pricing
In terms of pricing, digital information products can range anywhere from a few bucks to a few hundred thousand bucks (I'm not kidding).
So pricing is something that you will have to do your research on.
Look around at other products in your niche and see how much they are going for.
Then ask yourself how valuable it is to your customer. How much is he or she willing to pay for it?
And test. Test one price, promote it and see what the results are. Test another price and compare. Test, test, test, test, test. You get it.
One thing I will say is that 'cheap' products don't always sell more than high ticket products.
In fact, often high ticket products sell way more.
Why?
Because people don't see value in a product that's just a few bucks. How is a $20 course going to change someone's life… really?
A $1,000 course on the other hand… That's sure to put a dent in their pocket and motivate them to take the lessons seriously.
Bonuses
Once your digital product is finished, it's important to come up with some valuable bonuses to give away for free on top of the product.
These bonuses add immense value to your product whilst simultaneously proving that you are an over deliverer and will go above and beyond for your community.
For example, let's say you offer a course on how to do professional make-up for a total of $149. Your bonuses could then be:
An eBook about working with clients – Worth $39
A 3 video series about starting a professional make-up business – Worth $99
3 live 'Google Hang-outs' – Worth $29
Access to a private Facebook group – Worth $19
That's $335 in value and they get it all for $149. Immediately this comes across as a BARGAIN.
Can you see how this is a powerful strategy?
Not only do bonuses considerably increase your sales and help you to continue growing your business and helping others, they also help your potential customers to step over that buying line and consequently change their lives.
You may think it's funny or over the top when I say that a digital product can change someone's life but it's absolutely true.
Consider the example I gave above…
If your $149 professional make-up course and bonuses can help someone who's earning a low salary flipping burgers at McDonald's to discover their passion, turn it into a career and consequently provide a good life for their family, then you've changed more than one life.
Simple.
There are people who hold back from offering bonuses because of this mentality of "why would I give my work away for free?"
But the thing is, you can either give $335 worth of value and potentially earn $149, or you can give $149 worth of value and potentially earn $0. That's the difference.
Bonuses are essential.
When creating a digital product and bonuses, always think… "How can I give the most value to my audience?", not "How can I make the most money?".
Opt-in Forms, Squeeze, Sales & Thank You Pages
So now that we've gone through how to create a digital product and come up with bonuses, let's talk about the pages you need to create in order to actually sell your product.
There are a few different kinds of plugins and pages you need on your site in order for visitors to subscribe and purchase your digital products.
You need:
Opt-in Forms
Squeeze Pages
Landing Pages
Sales Pages
Thank you Pages
Opt-in Forms
Opt-in forms can come in many different shapes, sizes and colours but the ultimate goal of these is to collect email addresses.
A lot of marketers use pop-up opt-in forms, scroll mats and sign up boxes at the end of posts or in their side-bar.
Opt-In form example: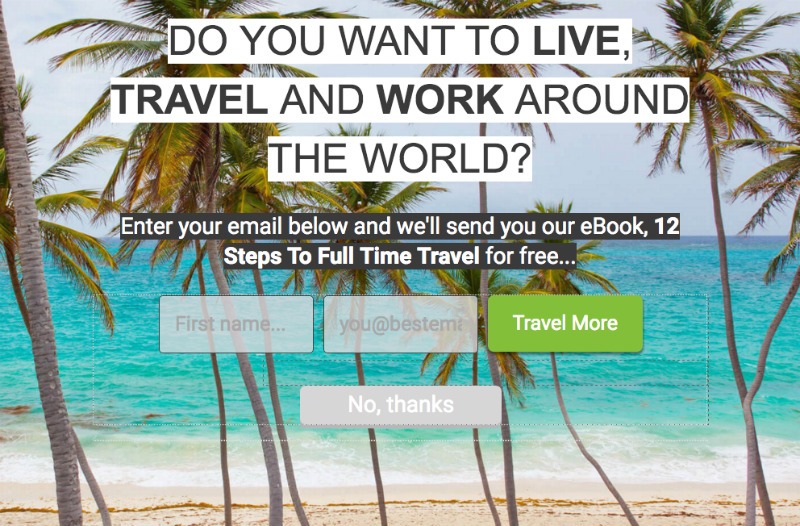 On our site, we have four different places where you can subscribe and receive our free eBook: On the top of each post, on the bottom of each post, in our website footer and we also have a scroll mat which rolls down every third time you visit our site (if you haven't already subscribed). You can simply navigate away from this by continuing to scroll down.
It is important to make opt-in forms obvious and easy to use on your site as well as give a good reason why someone should sign up (a free tip every day, a free eBook, a free video, etc).
Opt-in forms are crucial if your goal is to build a list and run a successful online business selling digital products. In fact, they're crucial no matter what.
Think about it… How many times have you randomly ended up on a blog, loved it, couldn't find a place to sign up, left and never returned again because you couldn't remember the name?
Don't let this happen! Give your readers plenty of chances to subscribe before they leave and you'll have a consistent flow of return visitors.
You can easily integrate opt-in forms with your email service provider, so that when someone subscribes, their name and email goes straight onto your email list.
You can fully customise pop-ups, subscription boxes, scroll mats and more and significantly grow your list using the functionalities of the Thrive Leads plugin.
Squeeze Pages
Squeeze pages can also be very different from one another but their ultimate goal is to squeeze information out of someone or get them to take a specific action.
This could mean subscribing, answering a survey or tweeting something.
In return, marketers generally offer an 'ethical bribe' where you take the action requested of you on the page and they'll give you a free download, an entry into a competition they're running, or something similar.
Example of a squeeze page: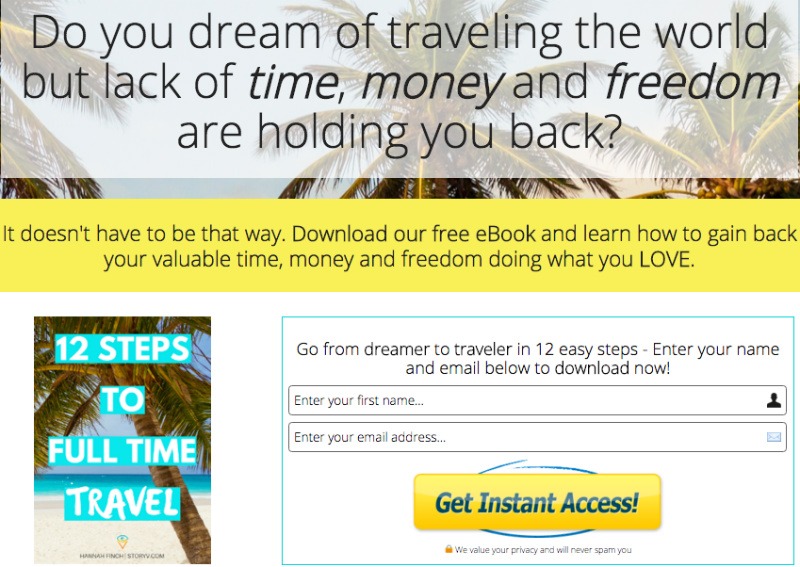 We generally link to our squeeze page from social media, blog posts or guest posts so that readers can opt-in to receive our eBook.
OptimizePress is easy to use, it can be integrated with WordPress and you can create beautiful pages in minutes with 0 coding.
Or, if you'd prefer to use an easy all-in-one marketing platform that not only builds pages, but also stores contacts, sends emails, hosts videos, creates members areas, processes payments and much more, you need to use Kartra.
This platform is super easy to use, it comes with various pre-made templates and emails and it's just $1 to get started.
Landing Pages
Landing pages are pretty much any page that someone ends up on when visiting your site.
The most effective landing pages, however, are those that are clear when it comes to what the visitor has to do once on that page.
This may be a squeeze page or a page where you display your top Youtube videos or an 'about me', it's up to you.
But it should always have a call to action… Where do visitors need to go after landing on that page? Think strategically.
And then, instead of linking to your website homepage all the time from social media and the like, link to your landing page so that visitors take an action before leaving (it could be a simple opt-in).
Many marketers use software and plugins to create distraction free pages.
Basically, these tools help you to easily build pages that look like they are part of your site, except, they don't have any distracting navigation bars, sidebars, ads, etc.
These distractions can cause potential subscribers or buyers to drift away from the main goal – which may be to share a post, sign-up or buy your product.
Landing Page Example: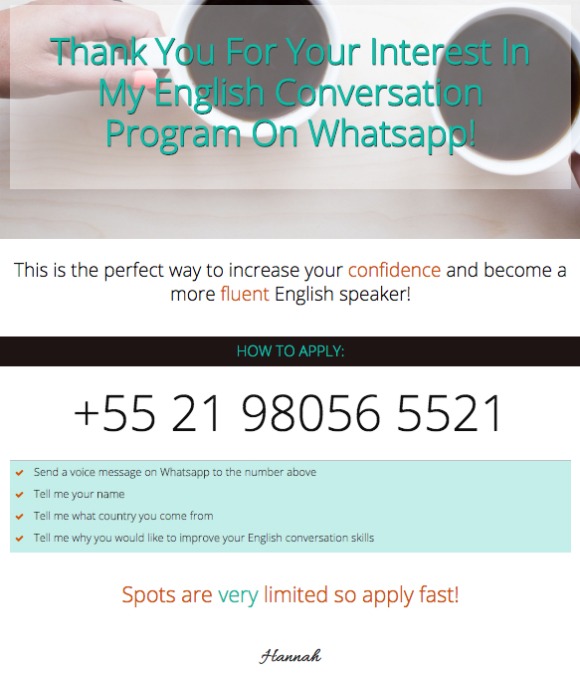 OptimizePress is easy to use, it can be integrated with WordPress and you can create beautiful pages in minutes with 0 coding.
Or, if you'd prefer to use an easy all-in-one marketing platform that not only builds pages, but also stores contacts, sends emails, hosts videos, creates members areas, processes payments and much more, you need to use Kartra.
This platform is super easy to use, it comes with various pre-made templates and emails and it's just $1 to get started.
Sales Pages
Next we have sales pages. These do exactly what they say they do… Sell things.
A sales page may simply feature a sales video and 'buy now' button, or it may be full of great copywriting, graphics and numerous 'buy now' buttons.
It's up to you how you design your sales pages but they must be able to give your potential customers a clear idea about what they are buying and persuade them to take action.
Good copywriting is e-ssen-tial when it comes to selling your products and services.
But not only does good copywriting need to shine out of your sales pages, it also needs to shine out of every opt-in form, squeeze page, landing page, thank you page, blog post, email, advertisement, social media post, video, and yeah… You get the point… Everything.
Without good copywriting you're throwing money to the wind and causing potential customers to lose out on what could be a life-changing purchase.
Copywriting is basically the art of writing to sell. Persuasive writing. Few people are actually great at this, it's truly an art.
So, if you're struggling, I suggest reading through other successful marketer's copywriting in their emails, on their blogs, on their sales pages…
Listen to their video scripts, interviews and podcasts…
Then model what is working.
Don't copy but take notice of the key words they are using, their sentence structure and their voice.
There are many aspects that make up good copy but study and practice every day and you'll soon form a knack for it.
If not, you can simply hire someone who has.
CopyBlogger is an incredible resource for tips and how-to guides on copywriting.
Just like your squeeze page, a sales page needs to be completely distraction free.
Sales Page Example: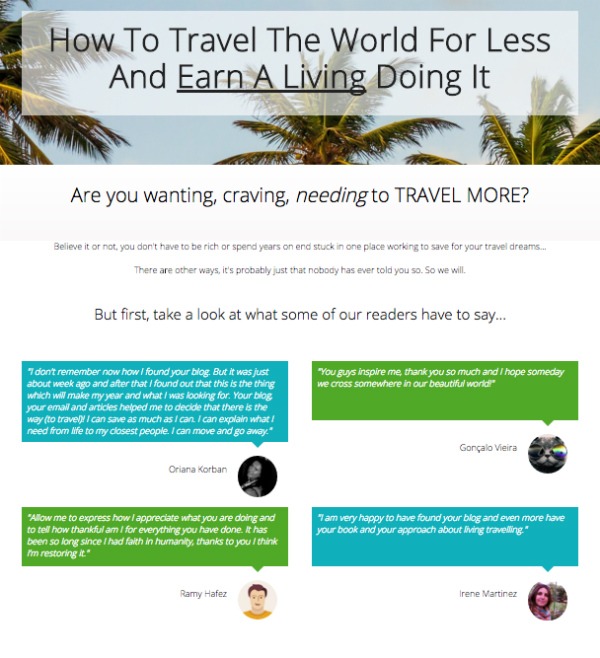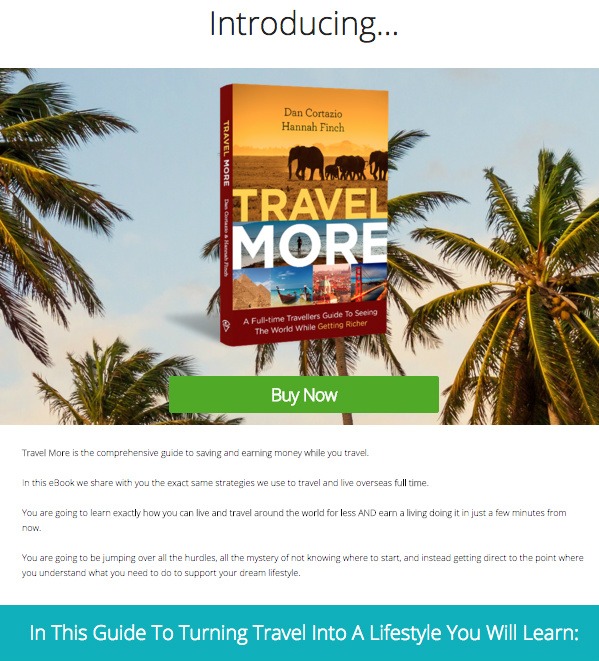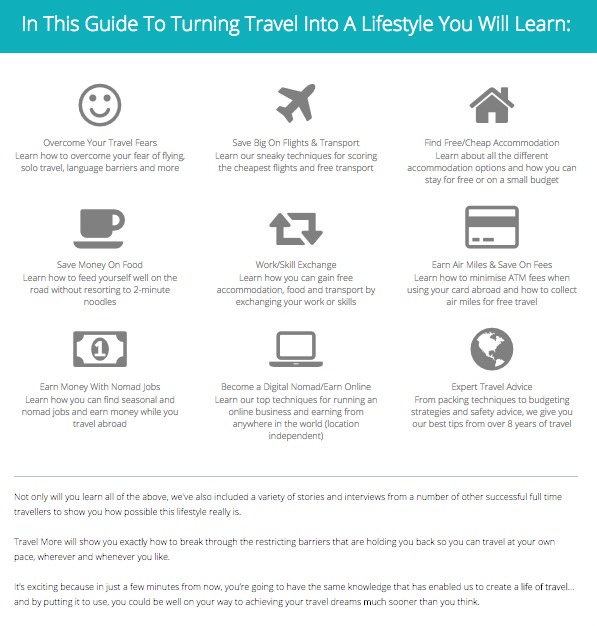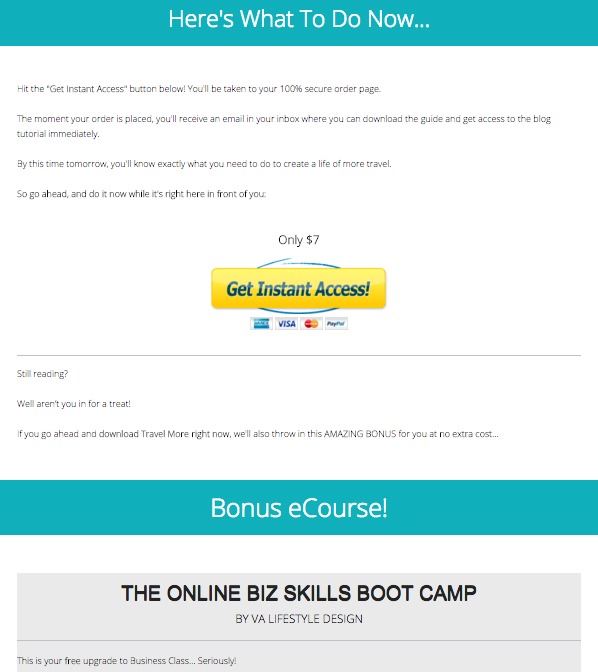 For it to work to its full effectiveness, there should only be one possible action to take on your sales page, and that is to purchase your product (or exit the browser).
Again, plugins and software can achieve this…
OptimizePress is easy to use, it can be integrated with WordPress and you can create beautiful pages in minutes with 0 coding.
Or, if you'd prefer to use an easy all-in-one marketing platform that not only builds pages, but also stores contacts, sends emails, hosts videos, creates members areas, processes payments and much more, you need to use Kartra.
This platform is super easy to use, it comes with various pre-made templates and emails and it's just $1 to get started.
Thank you Pages
A thank you page is also exactly what it sounds like.
When a person subscribes to your list, downloads something from you or purchases your product, you then need to send them to a page which thanks them and gives them instructions on what to do next.
If you're giving away a free download, you can upload this to the thank you page so that once they've entered their email, they'll be redirected straight to the product.
You can also send the product to their email address, so in this case it's important to let them know that they need to check their inbox, spam folder, etc and add you to their address book.
Thank you pages also work well with a call to action, such as 'liking' your Facebook page or taking the next logical step.
For example, if you give away a free eBook on how to colour your own hair, the logical next step would be to learn how to cut your own hair, so send them to the sales page of another product which teaches this and charge for it.
Thank you page example: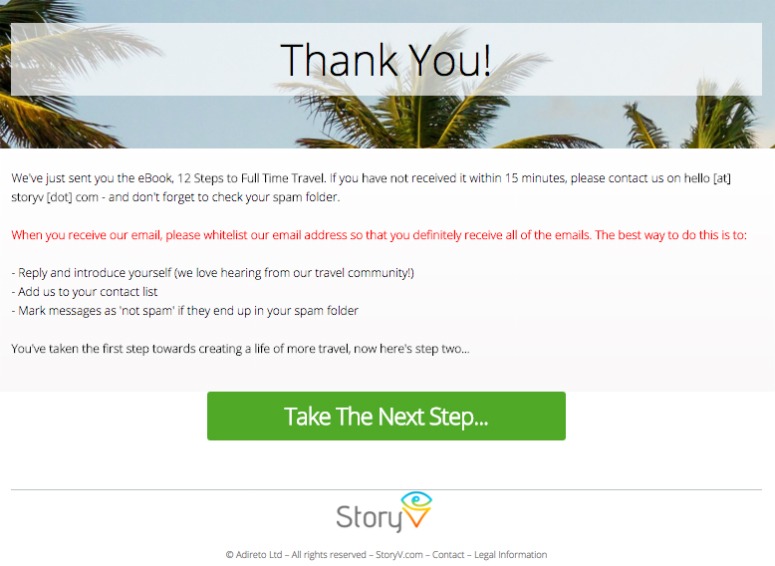 The reason why it's important to include a call to action on your thank you page is because new subscribers are the most engaged they'll probably ever be at this time. Don't let it go to waste! 
OptimizePress is easy to use, it can be integrated with WordPress and you can create beautiful pages in minutes with 0 coding.
Or, if you'd prefer to use an easy all-in-one marketing platform that not only builds pages, but also stores contacts, sends emails, hosts videos, creates members areas, processes payments and much more, you need to use Kartra.
This platform is super easy to use, it comes with various pre-made templates and emails and it's just $1 to get started.
How to Sell Digital Products
Now, once you've created your product and have all of your opt in/sales/thank you pages complete and working (do numerous tests) then it's time to launch your product to the world!
To do this effectively in a way that actually brings sales in (and not waste hours of your time creating an amazing product only to receive crickets in return), there are a few proven sales strategies you can execute.
These strategies are tested and used by the most successful entrepreneurs in the digital space and continue to bring in amazing results time after time.
There are also a number of psychological triggers that persuade buyers to take action. These triggers include but are not limited to reciprocity, commitment, trust, likability, authority, anticipation, social proof and scarcity.
It is important to take these psychological triggers into account when planning and executing your sales strategy.
Strategy 1: The Traditional Product Launch
A traditional product launch occurs when:
You create buzz before presenting your product
You offer a free training series or digital product (pre-launch) to attract your target audience – this can be a snippet or a prelude to the main product
On launch day you pitch your main product after offering the free training, and include various valuable bonuses for a limited time
After your pitch, you only keep the cart open for a limited time (generally up to 7 days)
The traditional product launch creates:
Social proof – Through gaining likes, shares and comments on social media, pre-launch
Authority – When people recommend and share your free product/training or even your main product, it shows that you have knowledge and experience in that niche
Trust – Because when people see you as an authority with knowledge and experience, they automatically trust that your training is the answer for them
Anticipation – By showing the value of your free training in advance, it causes people to build up excitement and engage more with you content when it goes live
Scarcity – This strategy persuades a buyer into taking action through the use of limited time bonuses and open carts (otherwise…

FOMO

)
Some common ways to offer a free product or training pre-launch include a video series, webinar, online congress or eBook.
A 4-part video series proves to be highly effective, in which you teach and give value in the first 3 videos and then the fourth is your sales pitch for your product.
You can release one video every 2 – 3 days during your pre-launch (pre-launch generally runs for up to 10 days), continuing to add each video to the same page.
Then, when the fourth video (your pitch) is added, you can add the link to purchase underneath, with a timer counting down the amount of time left before the bonuses are gone or before the cart closes (you can set it so that bonuses are only offered for the first day or 2 and your cart shuts off on a particular date).
To draw traffic (audience) to your free product or training, there are a few effective ways to go about it:
Ads (on Facebook, Twitter, Pinterest, Youtube, etc) – Invest in highly targeted paid traffic and send them direct to your landing page with your product or training ready to watch or download.
Email – Reach out to the people who already follow you and engage with your content. Your email subscribers are your most loyal/trusting audience.
Social media – In the pre-launch phase, consistently share good content and mention your free product/training on your social media channels (Facebook, Twitter, Youtube, Instagram, etc)
Blog posting – If you already have a popular blog, create a blog post each time you release a new video or once your free product is able to be downloaded.
Guest post – If your blog isn't popular enough to create a big stir, guest post on someone else's site and link to your free training. If that's not allowed, link back to your blog, use a tool like Thrive Leads to capture your audiences' emails and then let them know about the free training via email.
Interviews and podcasts – Like guest posts, you can also reach out to other bloggers and podcasters to do an interview where you can talk about your free training. Obviously, when guest posting, interviewing and podcasting, you need to organise for the content to go live on the first day of your pre-launch (otherwise it won't be effective).
Affiliate Marketers – It's good to have a practice run on your own first but when you decide to launch next time, you can bring affiliate marketers on board. These affiliates will help to promote your product for a commission on each sale they make. Choose your affiliates wisely and you can tap into huge and highly targeted audiences.
And yes, all of these traffic generating methods can be used in conjunction with one another to create a huge, 'like, everyone knows 'bout it' kinda launch.
Once a person has found your free training or product though any of the ways mentioned above and they've clicked on the page to watch or download, it is important to capture their email address and subscribe them to your list.
This is so that you can help them with further advice (including links to blog posts), and offer premium training (including the product you're about to launch).
If they are already on your list, it's just as important to capture their email because they will be segmented onto another list along with all the people who are interested in your free training.
You can then create more targeted content and campaigns for this audience as they are closer to the buying stage.
So you go on to give them your free training, get them to comment, share it if they liked it, etc etc, then when the day comes to launch your product, it's important to send your audience to one page with a clear call to action.
Most marketers go for a simple page with the sales video, the option to watch the other 3 videos again (if you're doing a video series), a few strong testimonials, a large call to action ("buy now", "add to cart", etc), and then a timer counting down until the cart closes or the bonuses run out.
Generally, most people talk about the benefits, bonuses and value of the product within the sales video but some choose to repeat these points again on the actual page.
And remember, benefits over features – always
So then when someone clicks to purchase your product, you can send them to pay via a service like Paypal, collect their email address and then finish all the rest of the communication, including giving them access to the product, via email.
All of this might sound like a ton of work…
"Like, what the hell? How can I keep up with all these people's payments and emails and pages and timers and sending everyone their products and, and… Oh ma gaaawdd?!"
DON'T WORRY! There are tools for absolutely everything. Most of these tools work on automation, so you set them, and they will continue to get the job done while you sleep.
This strategy came about through an American entrepreneur called Jeff Walker.
Now, thousands of people around the world are using it to not only transform their own lives, but to transform the lives of others too.
Jeff offers some fantastic free training. I highly recommend signing up for it to learn more about coming up with a product idea and launching it to the world.
Strategy 2: The Perpetual Launch
So now might be a good time to tell you that you can further automate the traditional product launch strategy and turn it into a perpetual launch.
With the use of an automated email funnel system, you can model an entire product launch (pre-launch and all) at any time to every single person who ends up on your email list.
So, your product launch doesn't just happen for one week of the year or one week every six months, it happens every single day, but continuing to use those same scarcity techniques (cart open for 7 days, limited bonuses, etc).
How does this work?
Well, I'm not going to get too much into email marketing funnels here but basically, when you subscribe to a blog, you'll get placed into their funnel (if they have one).
An email funnel is when you preset emails to send out to subscribers on automation.
For example, someone subscribed to your site yesterday and they received your welcome email one minute later.
Then someone else subscribed to your site today and received your welcome email one minute later.
You can set up your whole funnel so that these subscribers continue to receive content and offers from you at different times.
In this case, one person will receive each email a day before the other.
Others might receive those same emails one year before the other.
Do you see how this can work for a launch?
Every single person on your email list subscribed at a different time, so even though you still go through the whole pre-launch and close the cart after 7 days, the process can be repeated every hour of every day because it's being sent out one subscriber at a time on automation.
Due to the nature of this strategy, it's not effective to create traditional ads or posts on social media about your free product or training.
This is because you will promote it within your emails and these emails are continuous.
They are perpetual.
They don't just go out to everybody together at one time.
The same emails continue to be sent out to new people day after day.
So of course, you do initially need to get people onto your email list and you can achieve this by creating opt-in forms and pages on your site.
Many marketers offer a little something to their new subscribers for signing up.
For example, we offer our eBook, 12 Steps To Full Time Travel.
What is effective though, is ad retargeting.
I'm trying not to get too techy on you right now but seriously, you've gotta hear this.
In the world of ads and marketing and crazy online stuff I don't quite understand myself, there exists this thing called a 'pixel'.
Here's how it works in very basic terms… Let's say you want to retarget people with Facebook ads (I'll tell you what that means in a minute).
You can grab your unique pixel (code) from your Facebook ads manager and insert it onto the backend of any webpage you want (providing you have access).
Then, when people visit that page, the pixel remembers them and then you can create ads on Facebook that only target those people.
So let's say, you go through the whole pre-launch/launch process and people visit your sales page (which has a pixel on it) but didn't purchase your product.
You can then retarget them with ads on Facebook to sway them towards purchasing.
I recently read something that said retargeting is basically re-engaging with the people who almost bought from you, and making the sale by reminding them to come and buy.
Apparently it can take around 8 – 12 interactions with someone to make a sale, and you can boost your sales simply by reminding those who left and didn't buy.
A perpetual launch is done in the exact same way as a traditional launch, except it's entirely inside your email funnel and repeated day after day to every new person who joins as a subscriber.
Strategy 3: Direct Sale
It's important to note that the launch strategies I mentioned above are generally used for higher ticket products.
If your product is only $30, it's not worth your time and money to go through such a big process.
The purpose of a launch is to show your audience the true value of what they're getting.
Selling high ticket products requires you to spend a lot more time and effort nurturing and convincing your audience.
Lower ticket products don't require so much of this.
Of course, you look after your customers no matter what, but it doesn't take as much energy to show the value of your product when you're selling at a low cost.
So, send your audience direct to your sales page. No free training, no lead up to the main event, just the product, straight up.
Bonuses and a limited time open cart are still highly recommended for all the reasons I've touched on throughout this post so far.
So how can you send potential customers to your sales page?
Just like you'd do in the first strategy I mentioned (the traditional product launch):
Invest in ads (on Facebook, Twitter, Pinterest, Youtube, etc)
Email marketing
Social media
Videos (Youtube)
Blog posting
Guest posting
Interviews and podcasts
Take on affiliates
I know someone who's having great success investing in Facebook ads for his eBooks using this strategy.
You can also have a series of emails in your funnel, sending subscribers straight to the sales page.
And again, you collect their email addresses when they hit 'buy now' so you can send them the product (on automation), as well as future emails and offers relating to that topic.
You can also use the retargeting method with this sales strategy…  Simply place the pixel directly on the sales page and if someone doesn't buy, send them back for a second or third look.
Strategy 4: External Sale
You may have heard of online education platforms like Udemy or Skillshare before.
If you are not interested in doing your own sales, you can simply create a course on an external platform instead, and earn a percentage of the sales.
This strategy still requires you spend a lot of time promoting your course (especially because you'll be competing with thousands of other course producers) and there is far less opportunity to scale your income due to fees and advertising restrictions.
Delivering Your Digital Product
So you've made the sale and now it's time to send your customers the product.
There are a few ways to go about this…
A basic way is to send via email.
You can integrate your email service provider with the payment system so that once they've clicked 'purchase' and entered their details, you can set an auto-response which sends them an email with a link to the product.
If it's a video course with a number of modules, you can simply email out one video per week on automation (so they have a full week to digest the information).
If it's an eBook, you can PDF it, upload it to your media gallery on the backend of your site, copy the link and then send it via email (again, on auto-response).
Alternatively, you can create a membership area using a tool like Kartra where customers can login in and access all of the course material and bonuses.
Again, if you'd prefer to use an easy all-in-one marketing platform that not only builds pages, but also stores contacts, sends emails, hosts videos, creates members areas, processes payments and much more, you need to use Kartra.
This platform is super easy to use, it comes with various pre-made templates and emails and it's just $1 to get started.
Digital Information Product Conclusion
By now, I'm hoping that you've gone from having little to no knowledge about digital information products to actually knowing where you need to start and how to begin earning an income from them while traveling.
This is not the kind of gig where you can just sit back, relax and make money from a few clicks of a button. Maybe in the future, things will look more like that but for now, you need to work.
That said, this is the kind of gig that you can do from anywhere and if you take it seriously enough, you could be funding your full time adventures around the world by the end of next year.
Digital product creation and marketing is difficult at the beginning, not gonna lie…
BUT, when you've done it once and know the steps you need to take, the strategies can be repeated over and over again.
There is no limit to digital info product creation so seriously, don't hold back, go for it!
Oh, and by the way, don't feel weird or pushy about taking people by the hand and helping them over the buying line…
If your product is truly valuable and capable of helping and making a difference in people's lives, you are doing your audience a disservice by not offering it to them.
** Remember, check out these 15 awesome travel job courses to learn the exact skills you need for many kinds of remote jobs you can do from anywhere.
Recommended Resources
People To Follow:
Jeff Walker
Ryan Deiss
Neil Patel
Pat Flynn
Frank Kern
Educational Resources:
Tools:
Liked it? Pin it!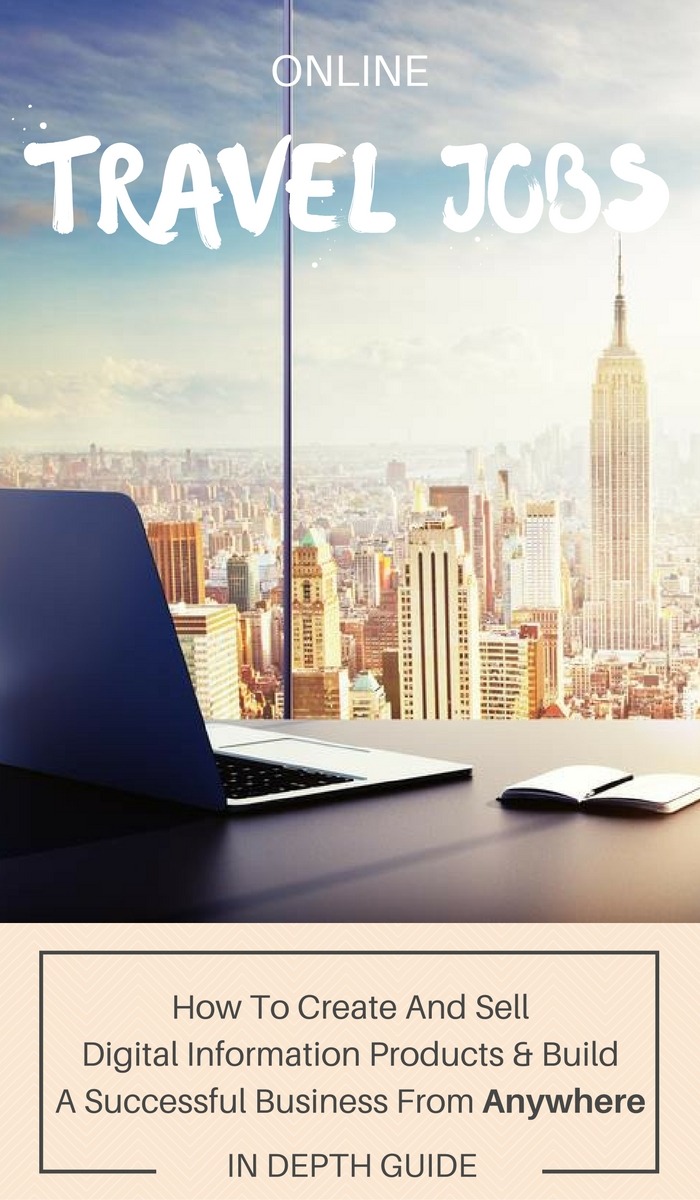 ---
Over to you! Leave your answers in the comments section below…
Are you considering digital info product creation while you travel? Do you have any more questions? Ask away!
Do you already have a digital info product business and have some more tips to add? Please share you insights!
This post contains affiliate links. If you click on one and make a purchase, we will receive a small commission to keep the site running at no extra cost to you.