Orange is a highly-energetic colour that exudes excitement, enthusiasm, warmth and fun.
Given it's striking nature, companies take advantage of orange's playfulness to spell out "fun" through their products and advertisements.
You can clearly see this effect in the logos of Nickelodeon, Fanta, Mozilla Firefox, Payless, Gatorade, and so much more.
Do you know who else uses this little trick?
It's none other than Mother Nature.
In the second instalment of our Shades of the World Series, we bring you 8 amazing orange places to visit around the globe.
Even without visiting in person, you can absolutely feel the fun, warm vibes of each place when you scroll through — and who knows, this might just inspire you to book a ticket and go!
Amazing Playful Orange Places Around The World...
8. Uluru Rock Formation, Australia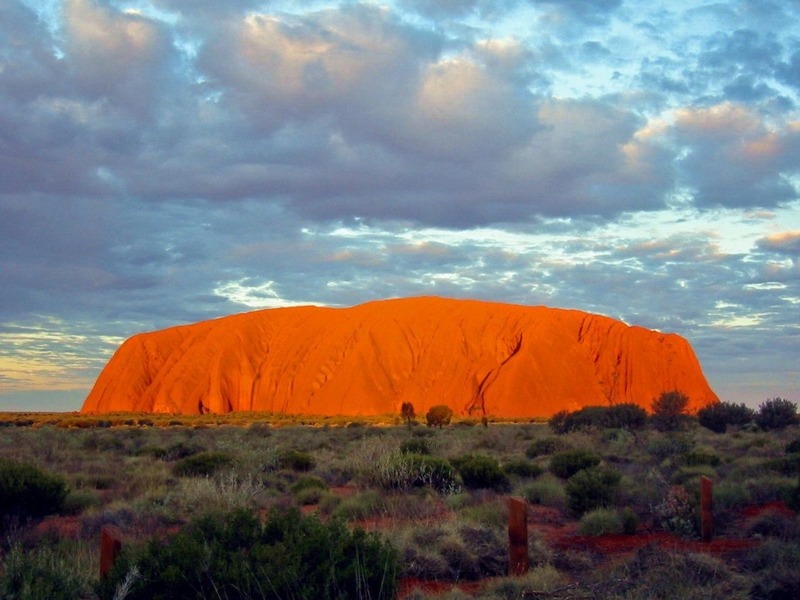 Australia truly "rocks" with this massive sandstone rock standing at over 2,800 feet in the heart of the country.
What's special about this famous monolith is its gradual change of colour at different times of the day, wearing its orange hue as the sun sets over the horizon.
You might want to catch Uluru Rock at its best during sunrise or sunset, but the natural wonder looks stunning any time of the day.
In addition to being an impressive landmark in Australia, the Uluru rock formation also serves as a sacred ground to indigenous Australians, so make sure you pay homage to the site whether you're hiking or simply looking at it.
7. Fushimi Inari Taisha Torii Gates, Japan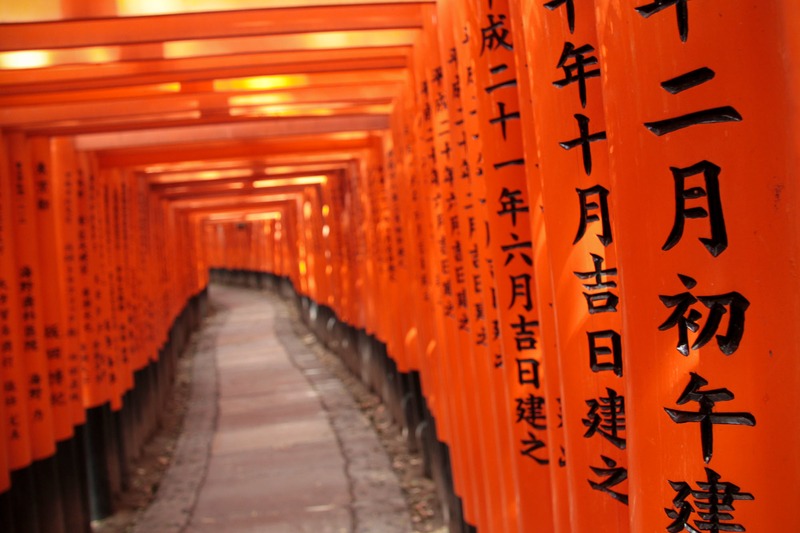 Toriis ("Gate"), for the Shinto Religion, is more than just an iconic symbol of Japanese architecture. It is a symbol of transition from profane to sacred.
Fushimi Inari Taisha has more than 10,000 of these sacred gates in Japan, and still counting!
Since its construction during the 8th Century, this Shinto shrine has been a distinguished place of worship dedicated to the kami ("god") of rice and sake (Japanese wine).
The gates lining the pathway are actually donations from business owners to evoke prosperity.
The wishes are not limited to businessmen though, as the shrine sells tiny, much cuter versions of the Torris so you can still send a prayer or two without spending a fortune.
6. Antelope Valley Poppy Reserve, United States of America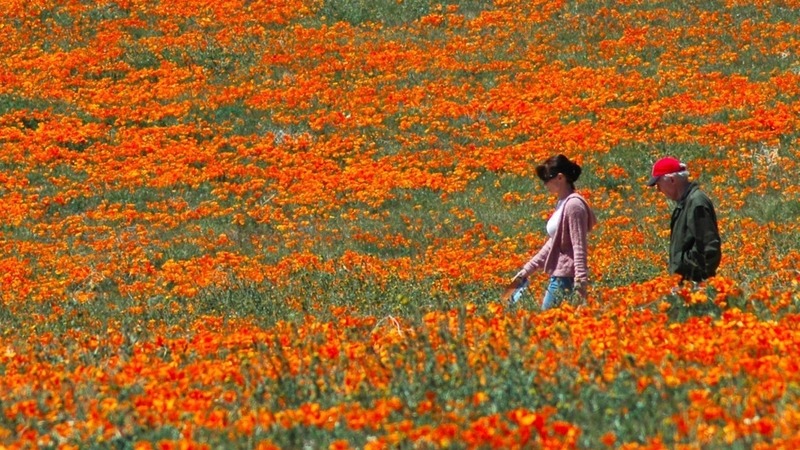 If you've checked out our previous Shades of the World post, where we listed the beautiful red tulip bulb fields in England, this flower paradise will surely give you the same cheerful vibe, only this one's brighter.
Prepare to tickle your nose in a flurry of orange petals as you visit Antelope Valley Poppy Reserve in California, USA.
This poppy-covered hill spans about 7.21 square kilometres, gaining its blanket of orange throughout the months of mid-February to mid-May.
Californian poppies are such eye-candies but their intensity is highly dependent on rainfall, so you might like to check out the website first before going.
We understand that the poppies are too pretty to resist, but the state law enforces complete prohibition of flower picking. Remember to tell your hands to behave!
5. Dallol Volcano, Ethiopia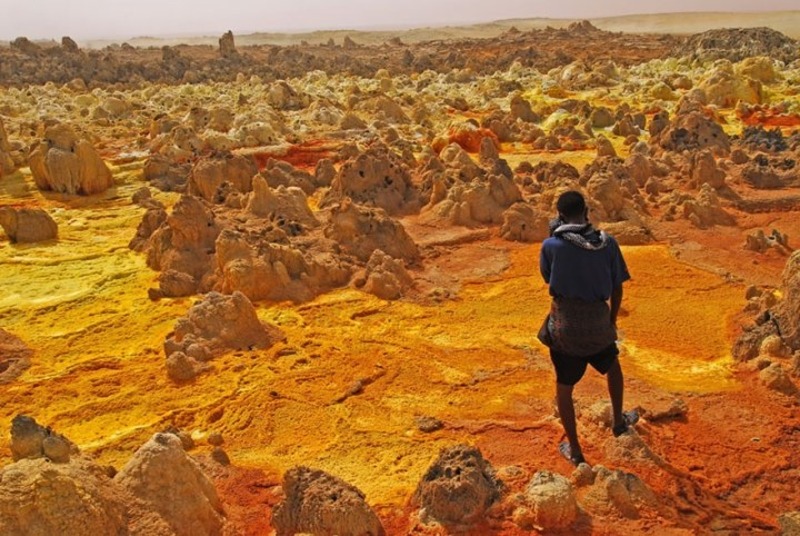 If someone tries to scream "The floor is lava!" in this area, well, they're not far from the truth.
This is an actual volcano in Ethiopia called Dallol, the most alien-looking volcanic crater in the world.
The vivid shade of orange covering the area is attributed to the presence of sulfur, salt, iron oxide, and other minerals, molded together by geological activities.
Dallol Volcano holds the record for the highest average temperature for an inhabited area and given the rep, the place offers no convenient mode of transport aside from camel caravans and 4WD rides.
Suit your inner daredevil for this thrilling ride to the hottest, most surreal volcano in the world!
4. Antelope Canyon, United States of America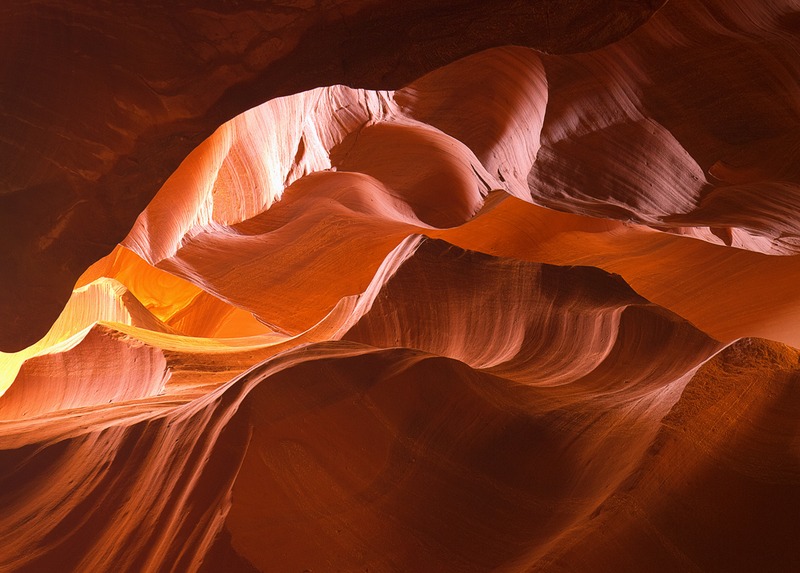 Are you sure that what you're seeing is not just another desktop wallpaper you used before?
Well, partly. While most of us think this popular Windows wallpaper is taken from Grand Canyon, it is actually shot from Antelope Canyon in Arizona, USA.
Close enough literally, as it is a few hours drive away from the former.
This slot-type canyon is divided into two sections, one being "The Crack" (Upper) while the other "The Corkscrew" (Lower).
Aside from the flowing formation of the rocks, Antelope Canyon is also popular for sun beams seeping through the openings of the site, providing good lighting for both recreational and professional photographers.
The canyon, though ultimately enthralling, poses a threat of flash food during monsoon season. Tours within the area are under exclusive guidance so take note of do's and dont's.
3. The Amber Room of Catherine Palace, Russia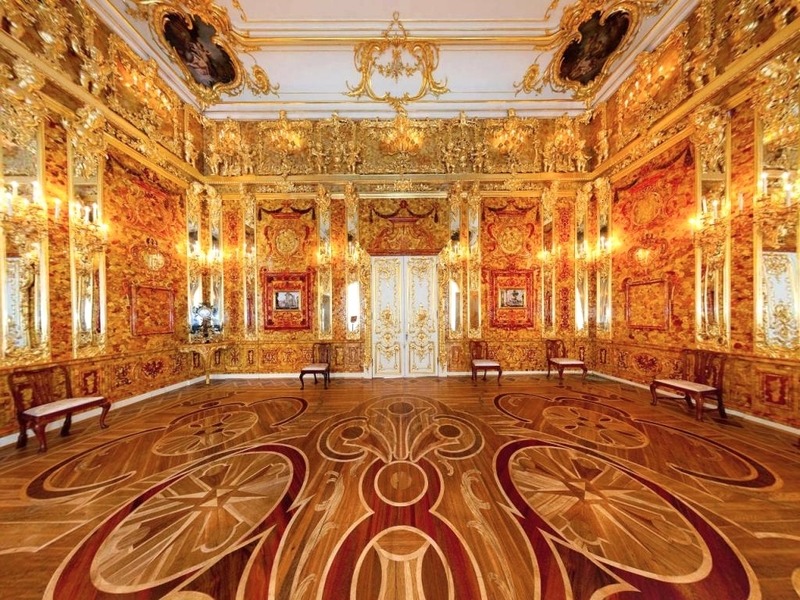 When you visit Russia, palaces don't have to be imaginary anymore. There are lots of them in the country to bring your inner prince/princess to life!
Inside one of the most influential palaces in Russian history, Catherine Palace, is the Amber Room. Originally built during the 18th century in Prussia, this world-famous chamber was once the 8th wonder of the world.
However, the Amber Room we see today is only a replica as it was looted by the Nazis during the World War II. The whereabouts of the original room is still unknown today.
If you want to live your Disney childhood dreams, visiting this historical, amber-plated room is a choice you'll never regret—or forget!
2. Fly Geyser, United States of America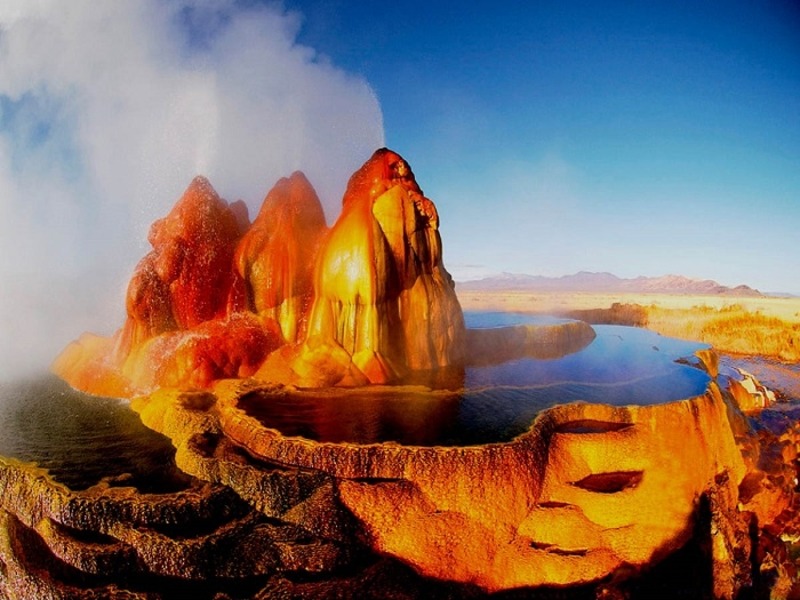 Of all the accidents happening in the world, Nevada's Fly Geyser is the most beautiful (and least fatal, obviously).
Can you believe that this otherworldly landscape is man-made? The geyser actually molded into its vibrant, irregular formation all because a sealed-up geothermal well refused to hold.
Because of this flunked well-drilling, the dissolved minerals started accumulating, later on forming into a colourful mound...
And then Mother Nature did the rest — and she did it best!
1. Yi Peng Festival in Chiang Mai, Thailand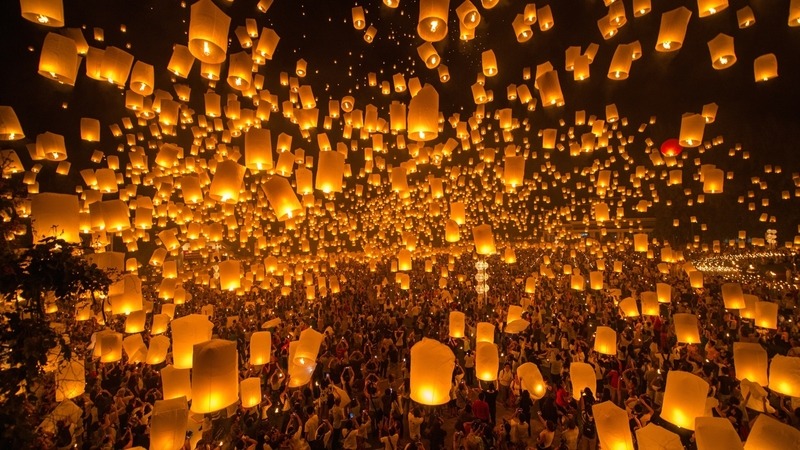 Let me guess: you sang "and at last I see the light..." in your head, right?
Didn't we all?
We can't blame you; everybody would say this is from Disney's Tangled if not for the heading.
Watching these Lanna-styled lanterns float up, up and away is indeed a magical sight to behold in Chiang Mai, Thailand.
Though usually celebrated in November, the schedule for the festival of lights may sometimes vary depending on the lunar phase.
Yi Peng festival signifies the release of negativities that happened in the previous year, so let out your heart's burden before releasing your lantern into the nights' sky.
Some say that when you make a wish before you set the lantern free, it will be granted. Make it a sincere one for the lantern-release to be truly symbolic.
Orange Shades Of The World In A Nutshell
In low-spirits? Feasting your eyes upon anything orange will give you the energy you need to get through the day!
If looking at everyday objects in this bright, playful shade does the trick, how much more inspired and energised could you feel by marveling at this colour in beautiful destinations around the world like these?
I'm sure there are plenty more incredible orange places out there, perhaps it's time to go see for yourself!
Tell me, what does colour orange mean to you? Share your thoughts when you leave a comment below and remember to keep an eye out for the next post in our Shades of the World series!
Feeling inspired to go in search of these amazing orange places around the world? Save this image on Pinterest for quick reference >>