Interested in getting a credit card that has zero annual fees and a low APR on purchases and balance transfers? If so, look no further. A Citizens Bank Credit Card offers both low fees and excellent security, making it a top contender among the credit cards you should consider.
Applying for your own Citizens Bank Credit Card will open a world of possibilities. Aside from having no annual fees, you also get to shop with the lowest rates! So, what are you waiting for? Read on to find out how you can avail of a Citizens Bank Credit Card today...
Citizens Bank Credit Card Features and Benefits
To better understand the privileges that come with owning a Citizens Bank Credit Card, let's take a look at the Citizens Bank Clear Value Mastercard...
The Clear Value Mastercard offers you the lowest APR credit card for a purchase and balance transfers. With rates as low as 14.24%, this card allows you to shop without the extra guilt. And if you're transferring your balance, you can certainly save a lot when you apply for this card today.
Shop without worry since your card is equipped with excellent security features. With a chip-technology embedded and enabled through your credit card, all your data is protected.
Even better, you will be awarded an extended warranty protection. This means you can double the original manufacturer's or store brand's warranty for up to one year when you make a purchase on your card!
And best of all, you can enjoy all of these benefits for free! This card has no annual fees for life.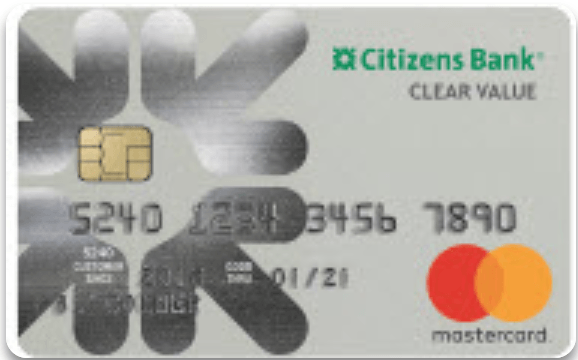 Applying for a Citizens Bank Credit Card
Applying for a Citizens Bank Clear Value Mastercard is easy as pie. Simply fill out the online credit card application form found on the Citizens Bank website. You will need to provide your proof of address, proof of income, employment details, and your social security number.
To be eligible, you must also be of legal age and must have a good credit standing.
Once you have sent in your application, the bank will review your submission. If approved, they will grant you a credit limit based on your financial score. Your credit limit can range anywhere from $500 to $10,000 depending on your creditworthiness.
Citizens Bank Credit Card Fees and Charges
To fully maximize your rewards, you need to be diligent when paying your credit card dues. Bear in mind that with the Citizens Bank Clear Value Mastercard you are exempt from paying annual membership fees for life.
However, some charges you do need to be aware of include:
APR (Annual Percentage Rate): Ranging from 14.24% to 22.24%, depending on your credit standing
Cash Advance Fee: $10 or 3% (whichever is higher)
Foreign Transaction Fee: $1.50 or 3% (whichever is higher)
Late Payment Charge: Up to $38
Citizens Bank Address & Contact Details
Address: One Citizens Plaza, Providence, RI 02903 USA
To get in touch with Citizens Bank, call 1-800-922-9999.
Conclusion
Overall, if you want a credit card that gives you bang for your buck with no annual fees and some of the lowest rates on the market, look no further. The Citizens Bank Clear Value Mastercard might just be the one for you.
Note: There are risks involved when applying for and using a credit card. Please see the bank's Terms and Conditions page for more information.